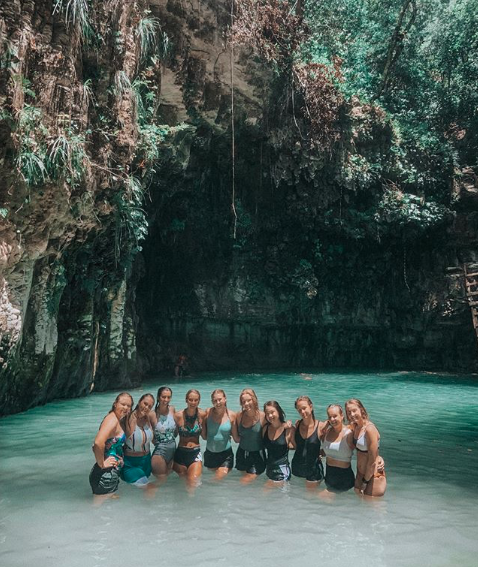 Heading to the Dominican Republic? Don't miss out on the unforgettable adventure waiting for you at the 27 waterfalls of Damajagua — it's easily one of our favorite things to do in this country.
---
Don't miss out on the best beaches or adventures in the DR.
Dominican Republic Destination Guide.
---

Located only 30 minutes from Puerto Plata is one of the best hidden gems in the Dominican Republic. We already love Puerto Plata for a lot of reasons, but the idea that you can just head to 27 waterfalls on a weekend is a huge perk. Thinking you need a Saturday or Sunday in these falls? Here's the info you need to make your trip here a total success:
What Is 27 Waterfalls?
Hidden up in a tropical canyon is a string of waterfalls that you can hike to and slide down, swim under, and jump off on your way back down. You'll head up with a tour guide (it's required) who will help make sure you're jumping off of safe spots, might explain some of the history of these gorgeous falls (some of which have ancient legends stemming back from the Taino Indians who first discovered this gem), and from our experience will just make the adventure even more fun.
Tour Options + Prices
The entrance fee depends on how many falls you want to do. You can do 7, 12 or 27 waterfalls. Seven waterfalls takes about two hours to complete and costs around 400 pesos, 12 takes two and a half hours and costs around 450 pesos and 27 takes three and a half hours and 550 pesos. Times can also vary depending on how quick your group is, since part of the time includes simply hiking up.
Some ILP volunteers have gotten a "locals" price since they are living in Puerto Plata as a volunteer for a semester. It's worth asking about. All tours include a helmet, life jacket, and a trained guide. You can also add-on some additional amenities (that we'll mention below) if you'd like.
Our Recommendation
Do all 27 waterfalls, if you can. It's a longer day and a more intensive hike, but seeing all 27 is well worth your time. Some of the falls you'll see are more like a gentle stream flowing downward (like a natural waterslide) but some are pretty intense.
As a small aside, if you're here during the dry season (December - April or so) you might not be able to do all 27 falls, but can see 7-12 of them. It's well worth seeing the falls anytime you're here, just know that the weather patterns can impact the experience.
+ Some Highlights
At the Jaiba pool, you'll find fresh water crabs who live in the cracks along the rock wall. The more daring adventurers can jump off a nearby tree branch and try to catch a crab before they drop into the pool.
The biggest waterfall you'll see is about 25 feet and you can jump off of it. It's crazy fun, but if you're nervous about heights you don't have to do it (your guide can walk you around the falls and back onto the hiking trail).
7 waterfalls high, there is a really neat cave that you can swim in, plus if you stand under the pounding falls you can get a decent massage. There is also an area when you can experience hot and cold water in the same pool — there is colder water on top, but swimming to the bottom means experiencing a warm current.
At the 27th waterfall, you can enjoy an incredible view of the source of the Damajagua River, and if you're brave enough, swing from the Tarzan Vine Swing off the 30 foot high cliff. Talk about an adrenaline rush!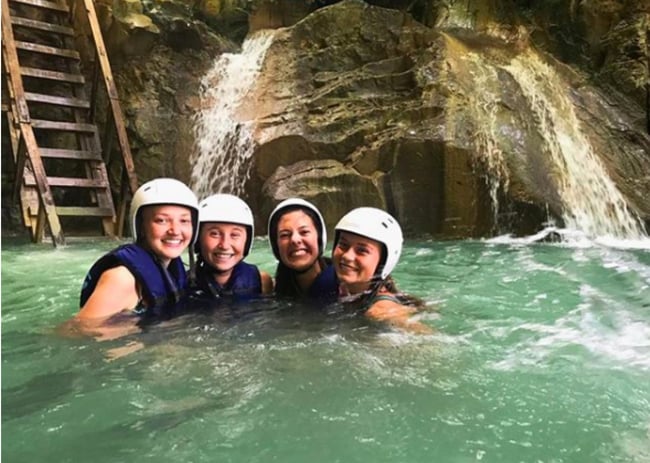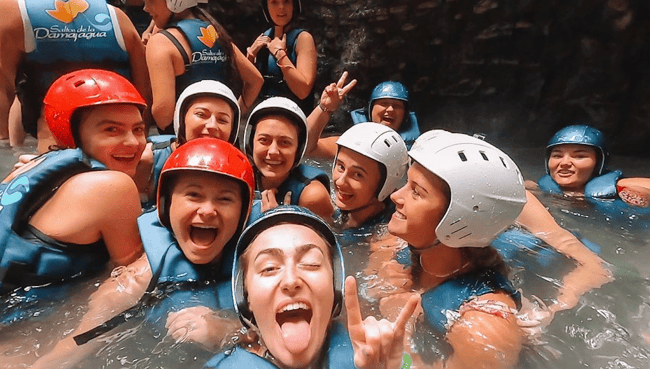 Helpful Tips
What Should You Bring?
You will want to wear a swimming suit and wear water shoes with good grip. We love Chacos or Tevas for this because you can hike in them, but they are also fine to get wet. Shoes are also available to rent if you didn't pack your adventure sandals.
You'll want a water bottle for after your hike and we also recommend a Go Pro if you have one.
You can't bring anything with you on the actual hike so bring a water bottle and cash, but leave it in the locker before you start your hike. It's also not recommended that you wear any jewelry, sunglasses, hats or other items you might lose on your hike.
Renting A Locker
You can rent a locker for 100-500 Pesos (depending on the size you'd like). The larger lockers are big enough for the stuff of three or four people. When you're purchasing your entrance tickets at the front desk, just ask! They speak English and are very helpful so you can easily sort out how many lockers and what sizes you need for your group.
Something to keep in mind: It's hot and really humid when you're hiking up the falls at the beginning, so you're encouraged to buy a water for 30 pesos to help you stay hydrated on the way up. You'll have to throw it away before entering the falls and buy another one at the end if you want more water ....which is why I recommend having a full water bottle stashed in your locker so you don't have to buy another one once you finish. You'll be so thirsty after hiking the waterfalls that you'll be glad you did.
Tip Your Guide
Every group has a guide go with them and from my experience they speak great English which is really handy. This isn't the type of place where you can decide if you want a guide or not; it's required. Make sure you have cash on hand to tip them at the end.
Split The Photographer
Past groups recommend hiring a photographer for the experience (so you can get photos of your time there). If you're headed there with a group, it shakes out to be a few dollars if you split the cost.
How To Get Here
From Puerto Plata, it's a cinch. You can either take a guagua or a taxi. The guagua is cheaper than a taxi and is the preferred way to go (the guagua is about a dollar each way while the taxi is going to run you $30-$40 each way). Don't take a taxi unless you have big group that you can split the cost between.
If you need to tell the gua-gua driver where you need to go in Spanish, tell them "veintisiete charcos" which means 27 waterfalls. The gua-gua does make frequent stops, so if you're in a hurry, take a taxi (it takes 20 minutes by taxi, about double that for the gua-gua).

You'll get dropped off on the side of the main road, but you'll need to walk about 5-10 minutes down a side road to get to the entrance of the waterfalls -- you can't get lost because it's a straight road.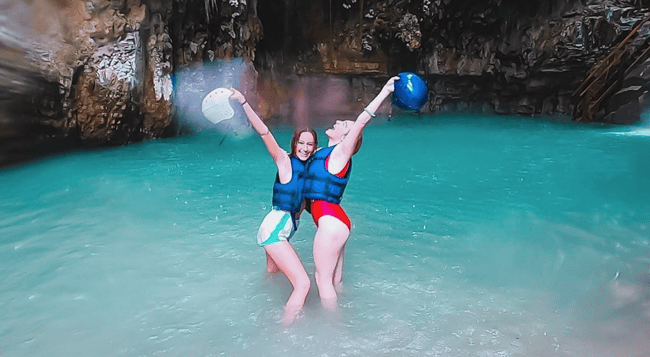 See what else you're missing
International Language Programs send volunteers to the Dominican Republic to teach English. In a nutshell, volunteers will be teaching English to children who wouldn't be able to receive an education like that. You can use weekends off , free time during the teaching days and vacation days to really explore the rest of the island. Sounds like a dream, right?