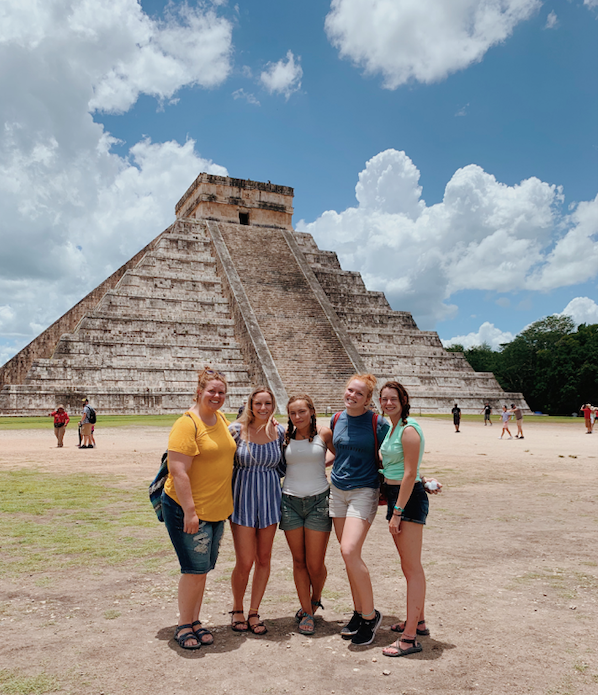 Swimming with whale sharks, exploring white sand beaches while island hopping, seeing a world wonder, and doing a lot of swimming in jungle cenotes — here's how to do see the best of the Yucatan in Mexico.
Our Mexico volunteers have it made. Don't tell the other countries, but Mexico is kinda the best spot to do the most traveling if you're on a budget. There are so many spots to see on the weekends, plus you can spend your long vacation doing something pretty amazing things, like spending your time backpacking the Yucatan. This part of Mexico is filled with postcard beaches, once-in-a-lifetime adventures like snorkeling with whale sharks, and tons of cities you'll want time to explore.


---
Thinking Mexico's the spot for you?
Come see what a semester with ILP in Mexico is like!
---
Luckily for you, we've talked with Amy, an ILP volunteer who spent her vacation backpacking the Yucatan — and we have her whole itinerary here, full of details like how much time to spend in each place, how to get around, top things to see, and more. All ILP volunteers get the chance to live abroad for the whole semester, with weekends off and vacation days where you can travel all around. And for anyone in Mexico, you should consider tackling this kind of dreamy vacation.
The Itinerary
This is just an outline to help you visualize what's possible — we're jotting down all the details of what Amy and her volunteer group did in case you'd like to do the same, but know there are tons and tons of variations to this plan.
Day 1 — Getting To Isla Mujeres
Amy's group started their trip busing to the airport from their ILP city. It worked out to get a good flight from Mexico City over to Cancun, so it was an early start to first bus to Mexico City, then fly over to Cancun (a 2ish hour flight). Once you're in Cancun, you can book an ADO bus to take you downtown, where a taxi can take you to the ferry dock. That's where you'll get a ferry over to Isla Mujeres. We love love love this island, it's a tiny collection of beyond beautiful beaches, tons of island adventures, and a chill relaxed vibe that's exactly how you want to kickstart your vacay.
At this point, Amy and her group could check into their hostel which was right on the beach, so time to get a massage, relax in some hammocks on the sand, and watch the sunset to celebrate day one of the vacation, as a way to prep for doing all the Isla Mujeres things tomorrow.
We have a list of the best things to do in Isla Mujeres here, including the info on that dreamy beachside hostel.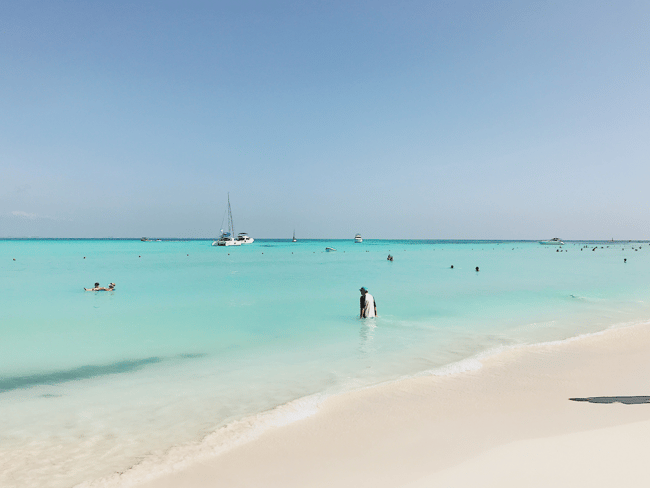 Day 2 — Isla Mujeres
Okay, the absolute highlight of this whole vacation may have happened on Isla Mujeres because how in the world do you beat snorkeling with whale sharks? We have info on how to snorkel with whale sharks on Isla Mujeres here, but what Amy had to say about it should convince you it's a must: " I seriously felt like I had a spiritual experience in the water being that close to a huge animal like that."
This particular tour group also included a lunch of fresh ceviche which Amy said was her new favorite thing she'd eaten in Mexico (yum!). Snorkeling is a pretty full-day adventure but after, there was still time to head to the Statue of Ixcel and explore the caves and beaches there, and spot an iguana or two ... and head back to the hostel for more beach time at Playa Bonita and maybe even another massage on the beach, listening to ocean waves, before bed.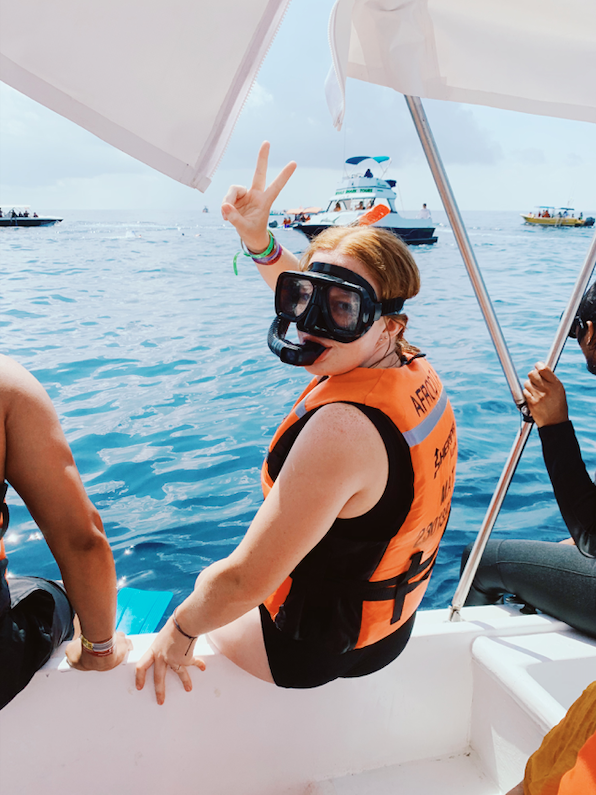 Day 3 — Isla Mujeres To Tulum
Time to check out of the hostel, ferry back to the mainland, and hop on an ADO bus to get to your next stop, Tulum. We have more info on the buses in Mexico but just know you'll love the prices — Amy snagged this fare for less than $4. Love it.
In Tulum, the main highlight is Playa Ruinas, so after checking into their hostel, it was time to head there via a tour. One of the highlights of Mexico are the ancient ruins and the gorgeous beaches in this country, and this spot combines both of those. Our post all about Tulum has some DIY options or tour prices for you, but Amy's highlight was the historical ruins and the chance to go snorkeling again with sea turtles (they had released baby sea turtles a couple of vacations earlier in Puerto Escondido which is a must) so "we all were in LOVE with the idea of seeing big turtles."
The beaches, snorkeling, and ruins took up most of the first day in Tulum, but day two had the best of the best: the cenotes.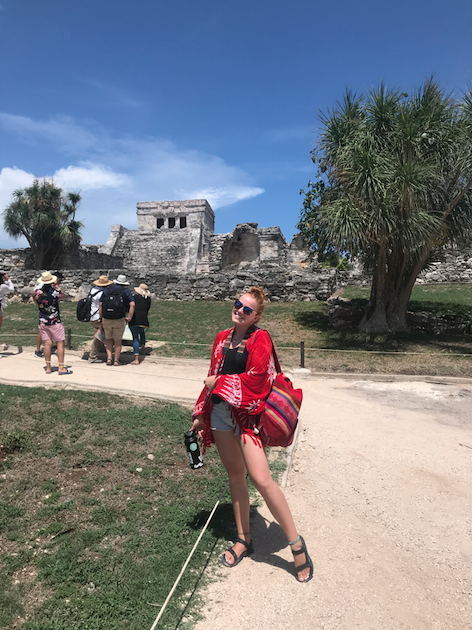 Day 4 — Tulum
Want to hear what Amy has to say about this part of Mexico? "The BEST part about Tulum is the cenotes!!! Cenotes are a must-see if you're going to the Yucatan peninsula. The water is so nice compared to the blazing heat outside. Here's a list of all the cenotes we visited: Gran Cenote, Cenote Calavera, and Dos Ojos." While in Tulum, you have to visit the Gran Cenote.
If you don't know, cenotes are sinkholes filled with bright blue water, sometimes surrounded by a thick green jungle. There are a few different kinds, some are partially exposed, and feel kind of like a cave you can swim to from the river that flows into it. Others are completely underground (like a flooded cave), but my favorites are the open cenotes. These guys are like round swimming holes punched out right from the lush jungle (and are mad pretty).
And the Grand Cenote is an excellent example, with tons of perks. Find baby turtles swimming in water that's crystal clear (and perfect for snorkeling). We have all the info on cenotes here (complete with prices and details about Grand Cenote, and our other cenotes).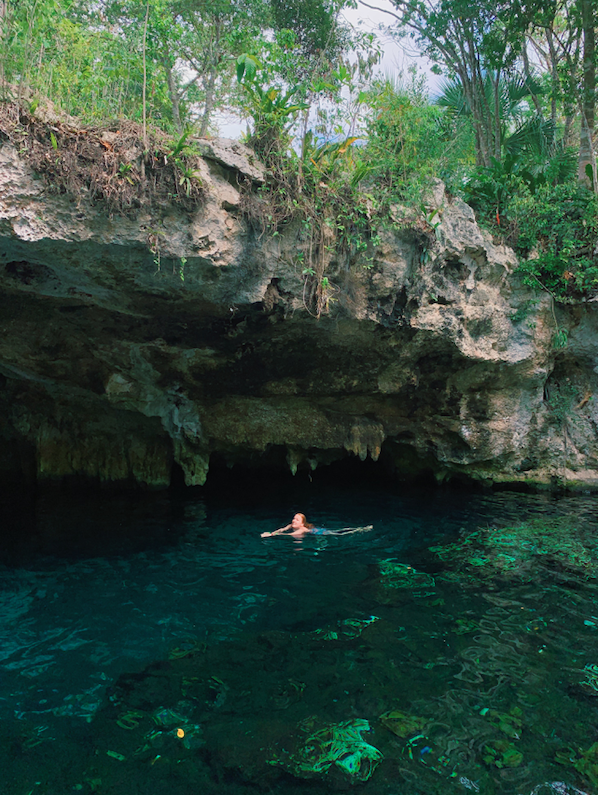 Day 4 — Tulum To Merida
Amy's group woke up in Tulum and bussed over to Merida for a couple of days. Merida's known for a really unique heritage, so plan on soaking up festivals, finding little shows outside of towering cathedrals, photographing the colorful colonial mansions, and exploring sprawling markets filled with your favorites foods from this part of Mexico.
The group hung out in the city, walked around a bit, and spent time in the city center admiring the quirks of the city. See if you can spot the Tu y Yo chairs — two seats in an "s" shape, with a unique history, supposedly designed so dating couples can look into each other's eyes and have a conversation but not be too close to each other physically.
Here's a post all about Merida to help you plan out your trip here.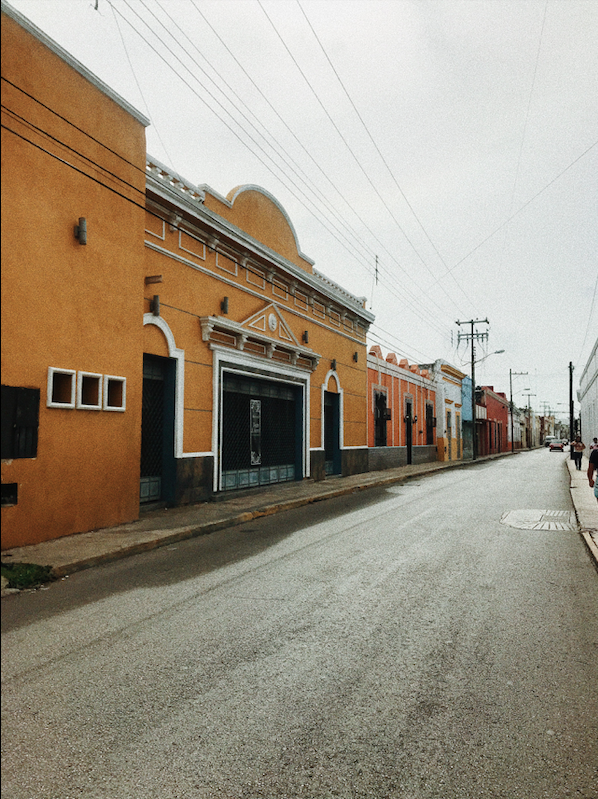 Day 5 — Merida
Day two in Merida started off by seeing the temple located there for members of the Church of Jesus Christ of Latter-Day Saints, then a trip to the city center to admire the art exhibit there and the towering main cathedral. Amy's group had been volunteering in Mexico for three months now and was missing a bit of home, so it was an afternoon at the movie theaters to see an American movie, zip around in an Uber to the nearest Dairy Queen, and do a little more exploring in this city before it got dark (and before the Pok-Ta-Pok games).
A huge highlight is the Pok-Ta-Pok games in this city. It's an ancient Mayan game where the goal was to hit a five-pound rubber ball into stone hoops situated on steep walls in the court. The winner was sacrificed, which was a high honor. Now, the games are re-enacted, but thankfully without the sacrificing ... and some added flair. In the final moments, the ball is lit on fire, encouraging very fast passes!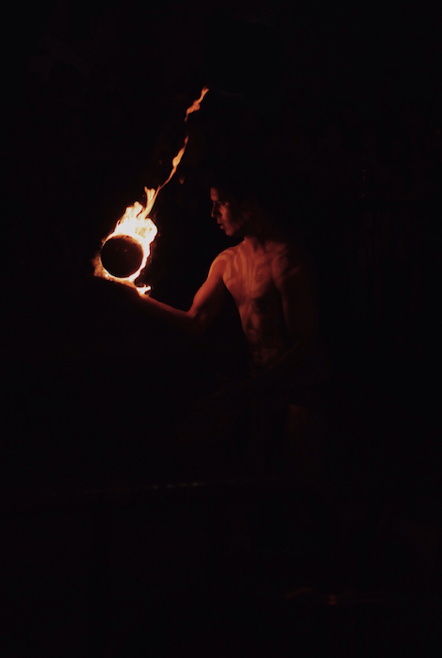 Day 6 — Merida To Valladolid
Ready for another vacation highlight? Time to fall in love with Valladolid. Take another ADO bus from Merida over to the sleepy town of Valladolid for a day swimming in "the most gorgeous cenote ever".
You can read all about the fun thing to do in Valladolid, but yep, the Ik Kil Cenote is a huge pull. Amy recommends renting out a life jacket because the water is quite deep (and you won't want to tread water the whole time), and to test your hand at jumping into the cenote from the rocky cliffs for quite a rush. It's a popular thing to do and well worth the 80 pesos to get in. We do have some more info on this cenote on our blog post all about Mexican cenotes ... there are a few more around Valladolid if you have the time.
Amy and her group spent the rest of their time in Valladolid wandering the sherbet-colored streets and peeking into spectacular churches (really, they are quite amazing here). Oh, and you'll want a few meals too, because there are dishes you can't really find anywhere else in Mexico — Valladolid's famous for them. Get all the details on things to do in Valladolid here (it's one of our favorite places in all of Mexico).
Pst: This group almost hung out in nearby Tizimin (it would be easy to fit into your itinerary, here). Tizimin's known for cenotes, ruins, pink lakes, and more.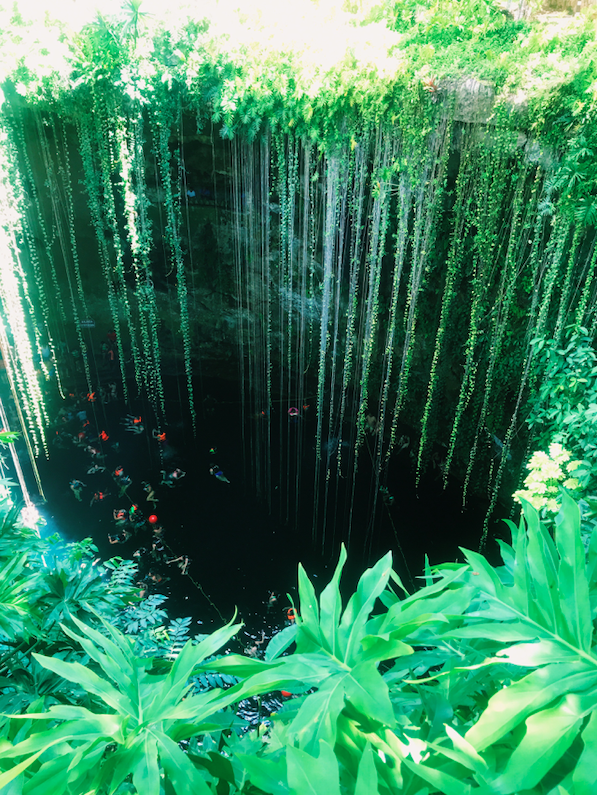 Day 7 — Chichen Itza
Time for a world wonder! One of the reasons Valladolid is such a highlight is how easy it is to get to Chichen Itza from this place — it's just an hour-long drive on an ADO bus (or slightly less ... you can also take a colectivo. There's more info on the post about Valladolid). Amy and her group woke up early and stayed all day. Amy recommends packing up comfy shoes and cool clothing: it is hot and you will be doing a ton of walking. Snag more pictures and all the info you need about visiting Chichen Itza here.
Chichen Itza To Cancun
Amy's group decided to leave from Chichen Itza to get back to Cancun, so if that's your route too, plan on a 3ish hour drive on an ADO bus. Amy's group spent the night in Cancun after arriving at the Hostelito Mexican Venado hostel.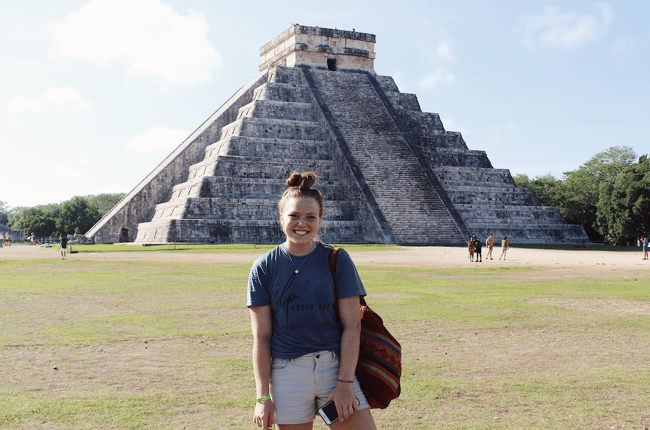 Day 8: Canun, then back home
It's the last day of Amy's vacation, and they'd booked an early flight out of Cancun back to Mexico City, then a bus back to their ILP city. But if your itinerary allows, you may want to spend a bit of time in Cancun — actually, I'd recommend spending time at one of the day trips or nearby spots in Cancun instead. It's not a favorite city for ILP volunteers and is best used as a jumping-off point to more than a handful of hidden gem vacation spots, like the "Maldives of Mexico" on Lake Bacalar, more cenotes, Isla Holbox, or Isla Contoy.
Get a full list of our Cancun tips and tricks (and day trips) here.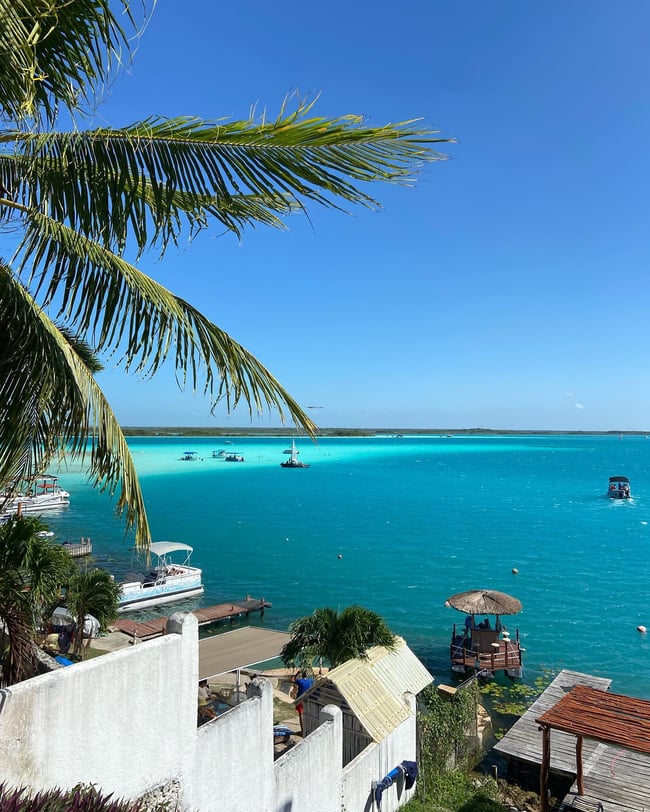 How To Plan + Book Things
Booking Buses + Places To Stay
In Mexico, we love getting around by bus. There are a couple of companies to know about that can get you to every place we cover on this trip backpacking the Yucatan. Luckily for you, this post about taking the bus in Mexico makes it all a cinch to figure out.
When it comes to places to stay, most volunteers go to the hostel route (booking via Hostelworld) or Airbnb. One thing to note? We recommend paying a bit extra for a room with AC if that's an option if you're traveling during the summer. It's not a guaranteed thing for everywhere you book and it can get hot in Mexico so sleeping without a place without AC can get pretty toasty.
Cheap Flights In Mexico
We kind of hinted at this above, but typically ILP volunteers fly to their beach vacations (like the Yucatan), which means taking a bus to a larger airport with better airfares than what their local airport may offer. Mexico City is a good bet. We have a post about airlines with cheap flights in Mexico right here if that's helpful to know.
Planning It All Out
Amy plans her vacations like I do — via Google doc. There's an itinerary page where you put where you are going, your transport info, where you are staying, the costs, then an idea page where you can just put all the ideas (all day things, like a nearby city or museum), restaurants to try, links to important sites for tickets, etc. I like to have an itinerary doc so I can actually see how the ideas will fit into a day.
I also like to look into how long it takes to travel between things. It's super helpful to know it's a 45-minute bus ride, but it's only offered in the morning or at night. Or maybe the ferry ride is longer if you book second-class tickets.
Google docs make it easy to share with everyone you're traveling with. They can add their tips and opinions so it makes it easy for everyone to help plan. Plus, if anyone else wants to know what I did on my vacation in the future, I can easily share that Google Doc and boom — they have where I stayed, what I saw, where I ate, etc.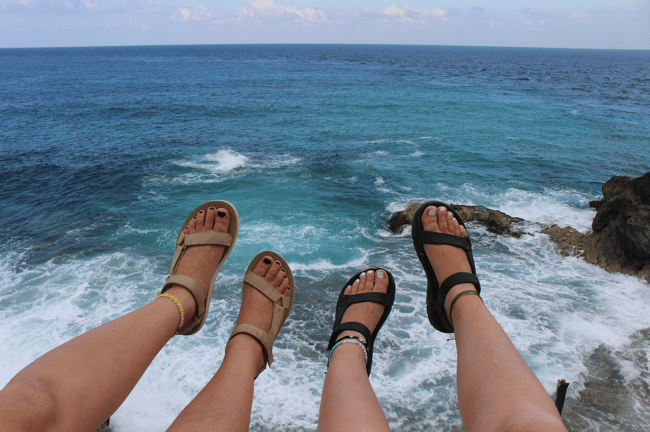 About ILP Vacations
ILP volunteers typically get about 9 total days off during their semester. Sometimes that's all at once, or sometimes you have a longer vacation, then some shorter trips (like a 3, 4, or 5-day weekend). When you add your time off with the weekends, you can end up with quite a bit of time off.
One of the biggest perks of Mexico is that there are so many cities that make for a day trip or weekend visit, meaning you can spend your longer vacations flying to these cities along the Yucatan. Need an idea of how many weekend trips are waiting for you? That post has our favorites. Wondering where to spend your 3-4 day vacations or your long vacation? This Mexico vacation planner post has your answers. Can you tell we like the vacations in Mexico?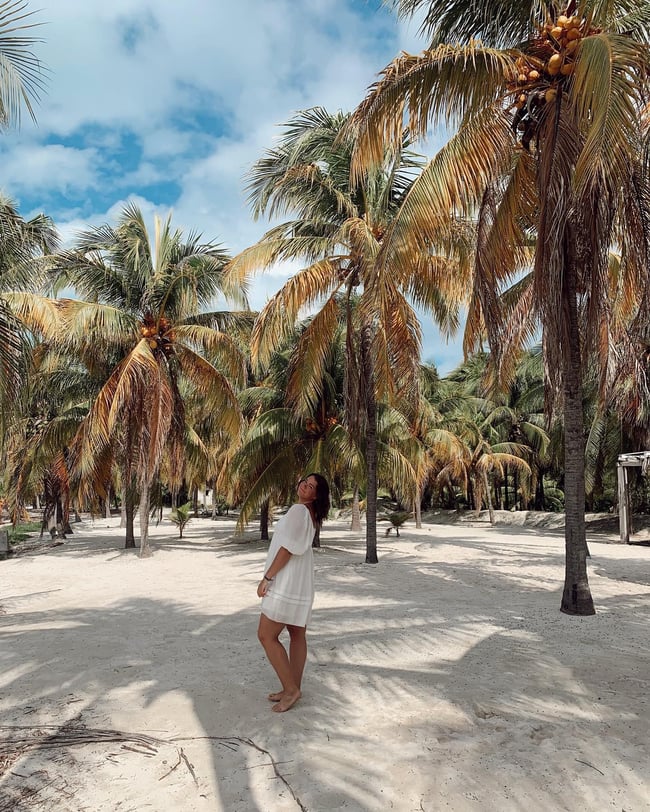 We'll let you in a little secret
Volunteers come home absolutely raving about a semester in Mexico — we think it could be these beaches, or snorkeling with turtles and whale sharks, or quite possibly the food you can get on our semester. And in the is post, we didn't even talk about how cute the kids are you teach on your semester. In any case, we think you're ready to dive in and see what Mexico is all about.