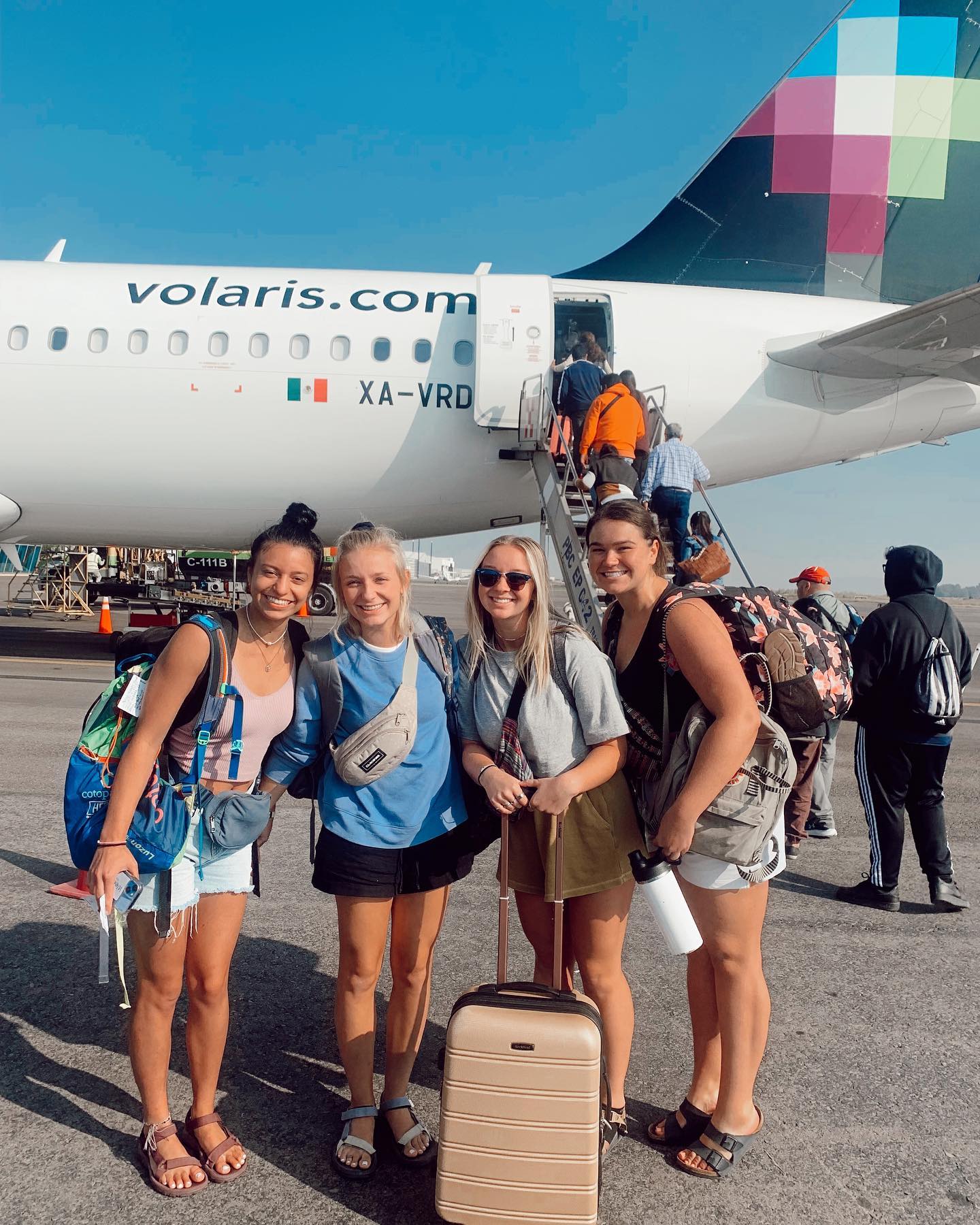 If you have places like Chichen Itza, Valladolid, Merida (and more) on your itinerary, it's a cinch to add the adventures of Tizimin, Mexico to your travel plans!
Anyone who knows just a little bit about Mexico knows that it's way more than the cruise stops and resort-filled cities you typically hear about. Take a bit of a deeper dive and find colorful spots like Tizimin — it's off the beaten path of more famous places like Chichen Itza but is an easy stop-over filled with dreamy cenotes to swim in, sprawling ruins to explore, and nearby pink lakes.


---
READ MORE: You really do have it all in Mexico. Here's why.
---

If you're like our ILP volunteers who love vacationing in Yucatan, you're going to want all the details on adding Tizimin to your packed itinerary. ILP Mexico volunteers typically take a short flight to this part of Mexico on vacation to really maximize their time here ... there is so much to see!
Groups typically spend a week or more backpacking all around the Yucatan, stopping off in several cities. When it comes to Tizimin, we're pulling out the highlights so you can decide which activities fit best into your travel plans. Whether you're just visiting on a quick day trip or want to spend more time in Tizimin, here's the info you need:
Top Tizimin Things To Do
Cenote Kikil
Are you obsessed with cenotes yet? This is easily one of Mexico's coolest attractions — the idea of plunging into a turquoise pool hidden deep in the jungle is exactly the kind of adventure I'm looking for! You'll find thousands (yes, thousands) of cenotes in Mexico, but obviously, we have our top picks. Read all about cenotes here, but get the details on Cenote Kikil below:
Cenote Kikil is one of our favorites for a few reasons. First off, it's huge! This particular cenote carves a large, open pool (more than 100 feet across) out from the surrounding trees and trails. The cenote is near a cattle ranch and is nestled in a thick forest. You can float on your back and see flocks of birds flying overhead. There is a small wooden deck with stairs that make it easy to get in and out of the water.
Your entrance fee includes a life jacket (it's mandatory). There's also a restaurant onsite if you want to snag lunch on your visit. You can find changing rooms as well, but bring your own towel and dry bag with you to keep your valuables close.
Getting Here:

The cenote is an easy 10-minute taxi drive from the city center of Tizimin.

Find it here

.

Hours + Costs:

Open 8:00 AM to 6:00 PM. The entrance fee is 200 pesos (best to bring cash for this).
The Kuluba Ruins
We're all about the ruins in Mexico, especially the ones most people don't visit. The Kuluba Ruins reference the Mayan-Toltec style also found in Chichen Itza, but instead of a crowded tourist attraction, you'll visit a series of ancient Mayan ruins that are slowly being overtaken by the surrounding forest. Historians believe the first settlement of this area stretches back to 300 BC, with evidence that the Mayan people occupied the area due to the high number of cenotes (which were often used for religious ceremonies).
The ruins remained relatively undiscovered in the modern era, and just recently have gained a little more attention. There are reports of conservation teams interested in restoring areas of the ruins, but it still feels pretty off-the-beaten-path. Exploring here almost feels like discovering the ruins yourself: Plan on seeing faded signs, and hardly any other visitors unless you count the monkeys (families of spider monkeys tend to hang out in the trees here).
Getting Here:

The ruins are a short 40-minute drive from Tizimin (best to get here via taxi).

Find it here

.

Cost + Hours:

The ruins are currently free to visit, however, there's talk about making this a paid attraction with some restoration efforts. Some visitors mention that a groundskeeper/guardian named Willi often appears to chat a bit with those who visit. Some have given him a tip for his efforts, but that's up to you.

A Heads Up:

The ruins can be kind of tricky to find. Make sure you have the route mapped to double-check your taxi driver's route. You'll also want to wear long pants and closed-toe shoes: you're trekking through some vegetation that can hide ticks. Wearing layers, applying plenty of bug spray, and doing a tick check when you get home is recommended.
Ek Balam Ruins
These ruins are the more popular of the two near Tizimin. It's a popular day trip from Valladolid, but you can easily come here from Tizimin for a day of exploring, climbing atop stacked pyramids, and soaking in the 360° views. Only a small portion of the city has been uncovered (around 45 structures), including a village, a temple, and a pyramid (El Torre) to take a closer look at — that's all that's left of a once-thriving city where some historians believe more than 20,000 people lived!
We love that these ruins are more established but are way less crowded than the ones you'll find in Tulum, or Chichen Itza. You can also climb on several of the structures (something you can't do anywhere). After exploring, you can cool off at the nearby Cenote X'canche which is a 10-minute drive away.
Getting Here:

You can be here in less than 40 minutes, making it an ideal day trip. Best to hire a taxi (it's popular enough there should be taxis waiting to take you home when you're finished).

Find it here

.

Hours + Cost

: It's around 400 pesos to get in (bring cash, there aren't ATMs nearby). The ruins are open from 8:00 AM to 5:00 PM. Best to arrive early, before the tourist buses arrive from Cancun, typically around 11:00 AM.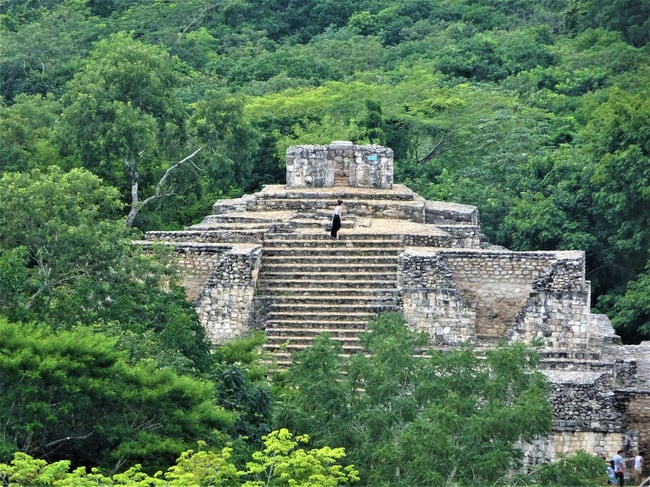 The Pink Lakes Of Las Coloradas
This isn't in Tizimin but could make for quite the day trip if you've been dying to take some very pretty pictures. Las Coloradas is a teeny tiny fishing village that has become quite popular with Instagrammers thanks to the salt-drying pools that are cotton-candy pink in color. The salt processing here is a big deal for the economy, but the unique algae, brine shrimp, and plankton that color the water pink are really the stars of the show.
A visit here isn't much. You aren't allowed to step in the water, but you can get some stellar pictures if that's your thing. What was once a very quiet town has become pretty touristy. You'll find photo backdrops, and large cameras aren't allowed (but you can take pictures on your phone).
If you do visit, you will want to time your visit right when the salt is ready to be processed for the best coloring — the salt pools are more of an orangey-brown right when they are filled, and slowly become pinker and pinker as the water evaporates (and the color concentrates). There isn't a posted schedule, but you can search on Instagram to find more recent pictures. We've also heard a rumor that early October is a good time to visit, but again, it's hard to predict. You'll also want to wait to visit if it's been raining heavily. The color is best in the middle of a sunny day when the water level is low.
Getting Here:

It's an hour's drive. from Tizimin. You can opt for a taxi, or you can tackle the journey via bus. There is a bus from Tizimin to Las Coloradas via

Autobuses Del Noreste En Yucatan.

Cost and Hours: It's a 75 peso entrance fee.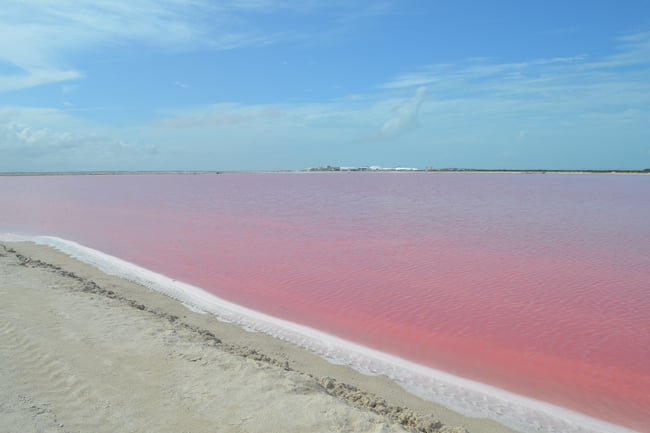 Some Tips About The City + Area
Tizimin is more of a quiet stopover kind of city, rather than a tourist destination. Visiting gives you a glimpse of the culture here, especially when it comes to the food. There are a handful of restaurants around focused on preserving the classic regional dishes — Tres Reyes is the most famous restaurant in the area, serving up classic dishes for more than 40 years.
Because of the slow pace and location, Tizimin is perfectly suited to visit just for the day. Or, come for two days if you'd like to tackle the ruins, cenote, and nearby pink salt pools.
Getting To Tizimin (From A Few Places)
As was hinted about, Tizimin is easily reached from a few of our favorite cities in the Yucatan, making it a cinch to visit if you're already in the area. If you didn't know, traveling by bus is our favorite way to get around while in Mexico. In this linked article, we've pulled together links for companies to book with, answers to commonly asked questions, and some other tips from ILP alumni to help you feel like a pro when navigating the bus system here. It's a helpful post to read when planning out bus travel all over the country (and between these cities):
From Valladolid
ADO buses have routes here that make the 1-hour drive multiple times a day. Prices are inexpensive, too — just a couple of dollars. We love the chill vibes and things to do in Valladolid (Tizimin would make for a very fun day trip while you're spending time in the chill city of Valladolid.
From Chichen Itza
Of course this towering world wonder is on your Mexico itinerary. Visiting Chichen Itza is kind of a must while you're in town, but what do you do after? There is a spread of cities to visit next, like Tizimin. Buses connect via Valladolid to make the 2-hour journey. We recommend heading to Valladolid for a day or two, then traveling onward to Tizimin. Book on ADO.
From Merida
Merida is another recommended destination on your Yucatan travel itinerary (just the fire festivals in Merida should convince you to visit!). The bus ride from this city is more of a drive, so plan accordingly (it's about 4 hours to get between Merida and Tizimin, via ADO buses). But remember: Tizimin is a 1-2 hour bus ride from places like Chichen Itza and Valladolid which are great additions: We love the idea of traveling to Tizimin, then hanging around Valladolid for a couple of days before visiting Chichen Itza on a day trip.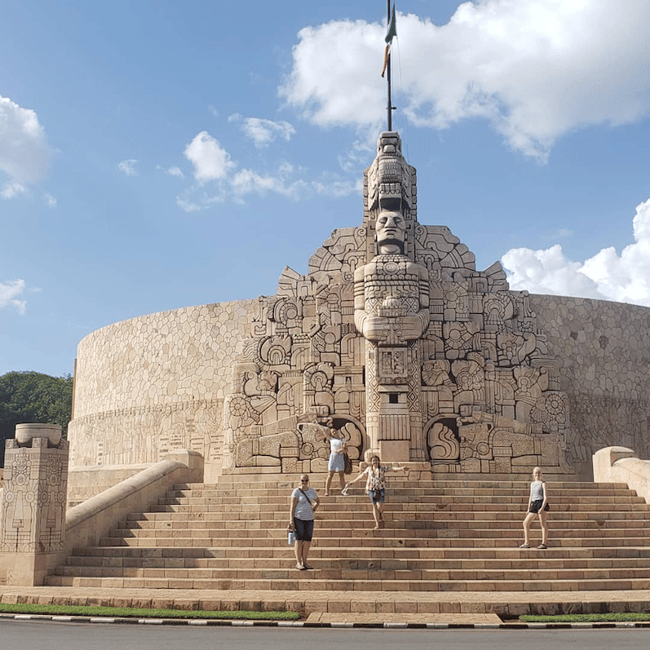 What's this about ILP volunteers living and vacationing in Mexico for a semester?
We're accepting applications to do just that! ILP (that's us, International Language Programs) sends college-age volunteers abroad for a semester of teaching English and plenty of free time to see all that Mexico has to offer. We have programs all over the world, but do pick favorites when it comes to Mexico …can't you see why?