Here is your ultimate bucket list for everything you need to see, do, and eat while volunteering in Ukraine!
Ukraine is an amazing country we are totally in love with. The gorgeous cathedrals, yummy pastries, and endless stacking dolls are just a few of our favorite things. There is tons to do while living abroad in Ukraine, so where do you start?
---
Ready to really experience Ukraine?
We put together a guide just for you all about volunteering in Ukraine.
---
Your Ukrainian Bucket List:
Eat Chocolate At The Lviv Chocolate Factory
Attend A Ballet
Take A Picture At Every Metro Stop
Eat A Kebab At Musafir

Take A Picture With Big Mama

Spend A Weekend in Lviv
Shop At

Vsi Svoi

Visit The LDS Temple

Relax On The Beach
Walk Through The Underground Tunnels
Drink A Smoothie At This Cute Cafe
Hang Out On

Khreshchatyk Street

Make A Language Mistake
Hang Out At The Lviv Chocolate Factory
If you are a chocolate lover this is the place for you. And, if you're not a chocolate lover ... well this will turn you into one! The Lviv Chocolate Factory is a must visit location.
The menu is full of delicious desserts that you really can't go wrong with BUT, there is one thing you have to try. Order a cup of hot chocolate and thank me later. Instead of the American hot chocolate you may be used to, this is a literal cup of melted chocolate. Which means it's thick and rich and of course delicious.

Here is the info you'll need to find the chocolate factory.
Attend A Ballet Or Opera
The National Opera of Ukraine is where you need to go to catch a famous opera or ballet. The operas are amazing and performed in Russian, Ukrainian, and Italian which gives you a lot of variety. The ballets are magical and you can catch shows like Romeo and Juliet, Swan Lake, and Ukrainian classics. Wondering which ballet to see? Here's a breakdown of the theater + ballet scene in Ukraine
Here's their address: Volodymyrska St, 50, Kyiv, Ukraine, 01034
Most tickets will cost you around $10-$20. Buy tickets here.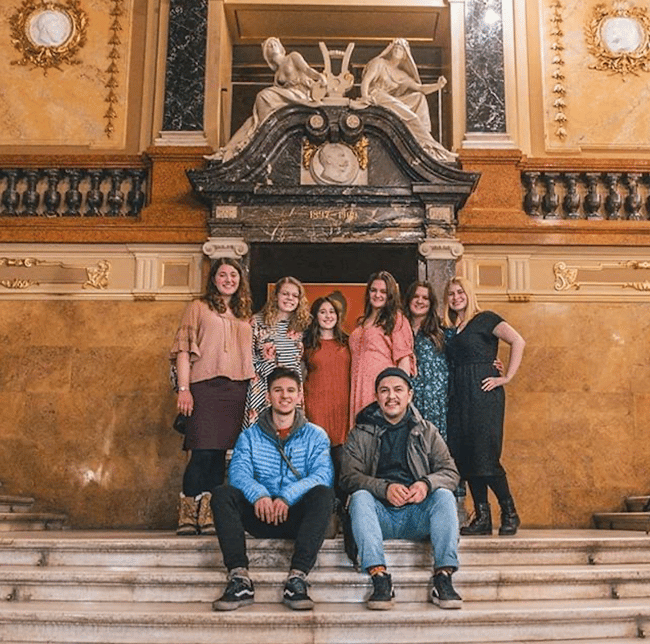 Take A Picture At Every Metro Stop
Did you know there is a gorgeous underground world in Ukraine? The metro stops are incredible! Make it a goal to hop off at each stop and take a picture of the unique and intricate designs you can find. Get a glimpse at some of our favorite metro stations in Kiev here.
Eat A Kebab At Musafir
Kebabs are a must try while you're in Ukraine. This is a favorite place of ours where there is a bunch of yummy options on the menu. While kebabs are a classic, you'll also want to try their soups (and really everything else they offer).
Address: Saksahanskoho vul. 57A, Kiev 01033, Ukraine
If you're looking for other good restaurants check these out.
Take A Picture By Big Mama
It's impossible to miss Big Mama as you are wandering through the city. This is a a huge statue commemorating some of Ukraine's most pivotal parts in history. There is also a museum near by where you can learn more about Ukraine's interesting, saddening, and beautiful history.
This post will tell you all you need to know about "Big Mama".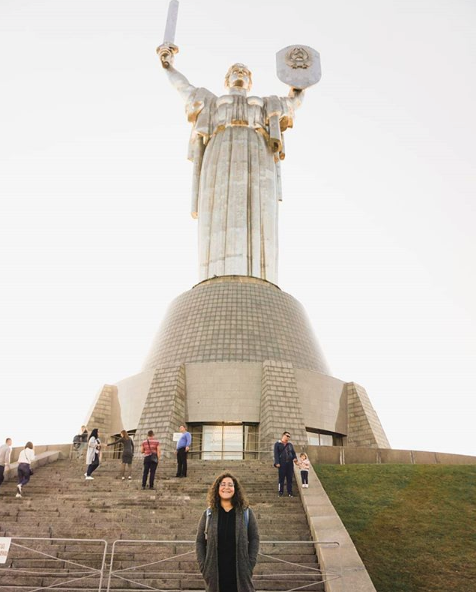 Spend A Weekend In Lviv
Lviv is the perfect weekend getaway. Hop on an overnight train and make your way to Lviv. This cute city is full of stuff to do and will be one of your favorite places in Ukraine!
Here's a full guide about Lviv so you don't miss out on anything while visiting.
Shop At Vsi Svoi
This is the biggest store selling Ukrainian brands in the world. There are several floors full of great shops. Some of the brands are high end and can get pretty pricy, but you can also snag great deals on shirts ($10) and dresses (about $24). Grab your ILP group and get shopping!
All the info you need right here.
Visit The LDS Temple
There is an LDS temple in Ukraine! You'll see it if you attend church on Sundays. Take a break and visit the temple while you're in Ukraine. It's beautiful!
Here's information on how to get to there.
Visit The Beach
You probably didn't think of the beach when you think of Ukraine. But, now you should! There are actually a few beaches you can visit in Odessa, Ukraine and it's the perfect place to relax. You can rent chairs and umbrellas, grab some yummy food, and soak up the sun during the warm summer months.
Here's what you need to know about the beaches.
Walk Through The Underground Tunnels Of The Lavra
The Lavra is a huge monastery full of different cathedrals and museums. It's beautiful to walk around and unlike anything you've probably seen. One thing you have to check out is the underground tunnels. You are given a candle and use that to light your way as you weave through the passageways. Don't be alarmed when you walk past an embalmed monk, there's hundreds of them in the tunnels!
You'll definitely see this while walking around Kiev, but here's the address: Lavrska St, 15, Kyiv, Ukraine, 01015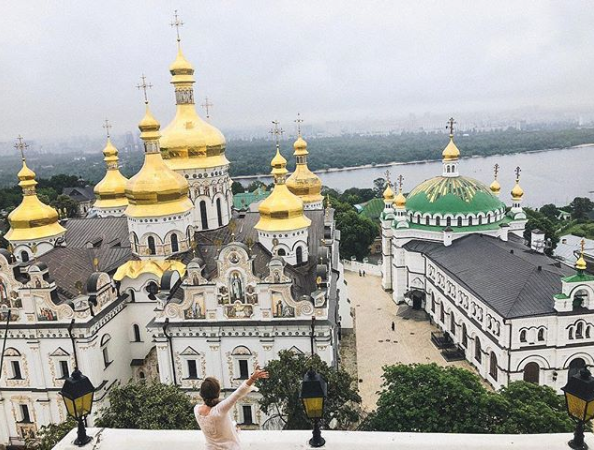 Drink A Smoothie At This Cute Cafe
Right outside of the Arsenalna metro stop is a cute cafe. They have delicious smoothies that are perfect when you are craving something cold!
At that same metro stop (underground) they also sell embroidered Ukrainian shirts which you should definitely stock up on.
Hang Out On Khreshchatyk Street
This is the best place to be on the weekend in Kiev. They shut the street down to cars and the street becomes crowded with people. You can find food vendors, street performers, tourist shops, and clothes shops here.
Make A Language Mistake
If you are wanting to learn Ukrainian or Russian while there, be prepared to make a few language mistakes. Add it to your bucket list and use the language as much as possible. You're sure to get some good laughs and have great stories, just like Lindsay did!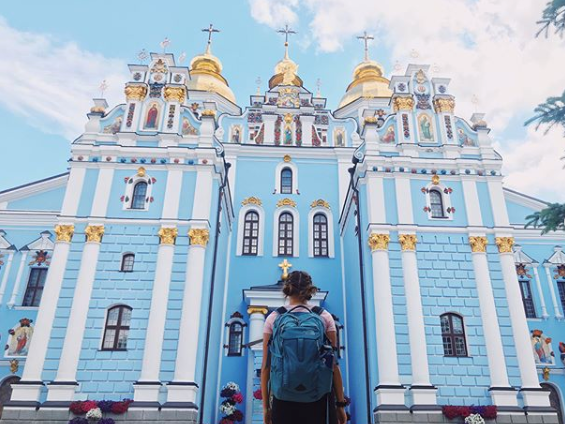 Ready for your own semester in Ukraine?
There's a lot of amazing things waiting for you, and tons of ways you can really make a difference in this country. Click the button below to get your application started to volunteer abroad!