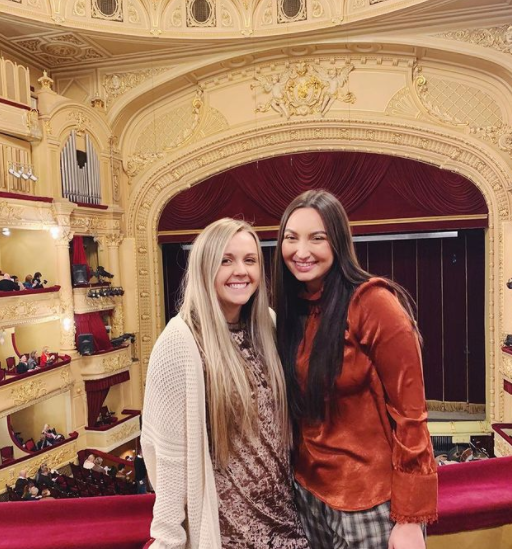 We love Kiev, Ukraine for lots and lots of reasons. I mean, how do you not adore a city peppered in cathedrals and bursting with history? But one way to totally soak it all up is to visit the theater.
Kiev has some pretty amazing performances that you shouldn't miss — it's just one of the life experiences you can't get anywhere else. If you're living in Ukraine for a semester you really don't have any excuse to not hit the theater during your semester. It's more affordable than you think. A few volunteers go more than once because the prices can be so low.


---
Get a glimpse into what volunteering in Ukraine is like, right here

---

If you spend a semester volunteering in Europe with ILP, you'll only be teaching English part-time, with every Saturday and Sunday off ... umm, hello perfect schedule for visiting the theater? There are hundreds of shows and performances, playing year round. I've pulled some of the most shows for you to see, plus some info on booking tickets at famous theaters in Kiev and a couple of vacation spots.
Shows To See
Buying Tickets + Famous Theaters
Some Helpful Hints
Shows To See

One of the reasons the theater is so popular and famous in Ukraine is because of the history Ukraine has with Russia. So many of the world's most well-known composers, directors, and dancers are Russian, with many famous dancers who were born in Ukraine. In a nutshell, this part of the world is a culture hot spot for this type of art. Here are just a few of the more famous performances to see in Ukraine.
Romeo And Juliet
This classic love story might have been written by Shakespeare but it was popularly brought to ballet by Sergei Prokofiev, who was born in what is now Ukraine but at the time was considered a part of Russia. Prokofiev composed the music for the ballet in the 1930's which has been used for decades. The story had been performed ballet style before, but Prokofiev's version is one of the most famous — some think the music he composed for this ballet is the best in the world.
This version of the ballet had its premiere in St. Petersburg, at the Kirov Theater in 1940. It's now a popular production playing at many theaters across Ukraine, Russia, and the rest of the world.
Shumka's Nutcracker
Shumka refers to tradition folk dance in Ukraine which is a massive part of the country's culture. It's easily recognizable, with patterned and floral tops, skirts, vests and other costuming. This version of the Nutcracker is combined with ballet and folk art, along with folk music, creating a distinctive Ukrainian production. The show does still employ the score by Pyotr Ilyich Tchaikovsky, who had ancestors from Ukraine.
The Nutcracker
A Christmas classic you are probably a little familiar with, but seeing it in Ukraine is a completely different experience, thanks to its Russian influence. Ivan Vsevolozhsky was the director of the Russian Imperial Theaters and commissioned Russian composer, Pyotr Ilyich Tchaikovsky to create the score for both a ballet and an opera. The project was heavily inspired by ETA Hoffman's story "the Nutcracker and the Mouse King" and evolved to be the story you know today.

The first performance ever of this famous ballet was at the Imperial Mariinsky Theatre in St. Petersburg Russia, in 1892. It's now performed all over the world. Our Fall semester volunteers should be able to see viewings of this ballet before Christmas time (right before they go home).
Swan Lake
Even if you don't know much about ballet, you have probably heard of Swan Lake, right? This classically beautiful and iconic ballet first premiered in Moscow in 1877 and is one of Russian composer Pyotr Ilyich Tchaikovsky's masterpieces. Initially shown at the Bolshoi Theater (more on that theater below), it is one of the most famous and most Russian ballets you could see. It's been revisioned and redone dozens of times, and made a second premier in St. Petersburg in 1895.
It's one of the most famous ballets in all the world and tickets tend to go very quickly for any showing. The role of Odette and Odile is one of the most sought after for young ballerinas.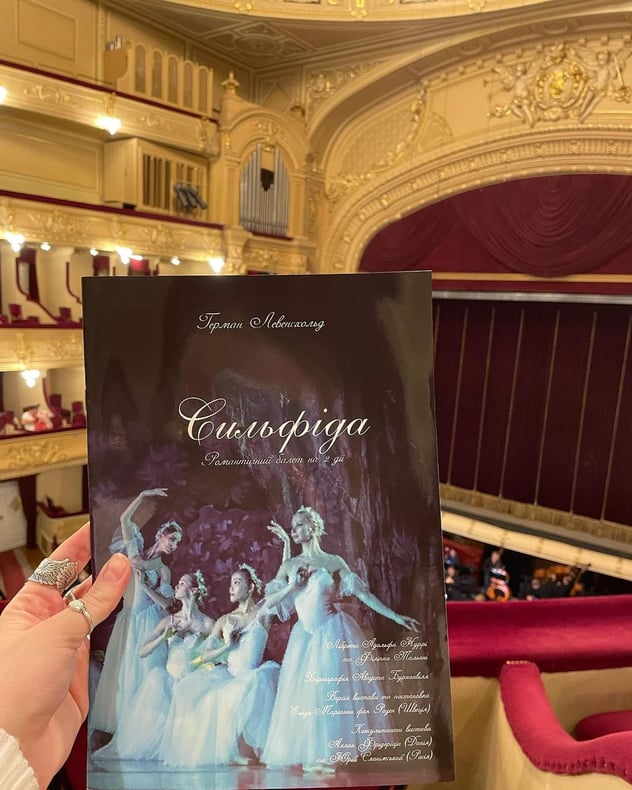 Buying Tickets + Famous Theaters
The National Opera House In Kiev
It's the third oldest Opera house in the country, with world-class ballets and operas performed here annually. You'll find shows in a range of languages — Italian, Russian, and Ukrainian to name a few. The structure was initially built in 1867 but a candle caught fire during on the performances in 1896, engulfing a large part of the building in flames.
However, the opera house was rebuilt and finished in 1901, and for over 100 years ago, they've hosted some of the world's most talented performers. Oh, and the outside (and inside) is absolutely gorgeous.
Buying Tickets
Prices in this theater are more than affordable, ranging from 50 hryvnia to 600 hryvnia .... that's only $25 USD for the most expensive ticket, people! That's not the case for all their shows, but even still. Some shows (like playings of the Nutcracker) do have tickets for $60+ USD. Unreal. To give you some perspective, to see a show at the most famous theater in Moscow, you'd need to pay at least $50 USD. Some tickets are in the hundreds.
Get more information on booking tickets here.

Lviv Theater of Opera and Ballet
Lviv is favorite place to spend a vacation for more than a few reasons. This city is full of the best cafes, stunning architecture, and just an epicenter of culture. So it would make sense for you to fit in a show during your visit here, right? Volunteers love taking pictures of the outside, but seeing a show here really takes the cake. The theater officially opened way back in October of 1900, built in a Neo-Renaissance, with help from artists all over the world to create the paintings and sculptures you can admire inside and outside. Get your Lviv guide here.
Buying Tickets
Prices are similar to the other theaters, with a range of 50 - 1500 hyrvnia which is really affordable for such a prestigious theater. Get the performance schedule and book tickets here.


Odessa National Academic Theater of Opera and Ballet

Okay, so everyone loves taking a vacay to Odessa and just seeing this Opera house is going to be something that should be your itinerary anyways. But it's even better if you can make seeing an actual show happen while you're in town. It's a gorgeous theater built in both the Neo-Baroque and Rococo styles, and was the first building in Odessa to be lit by Edison Company which is pretty rad.
Buying Tickets
While one of the most famous places to attend a show, prices are affordable. Most shows have tickets in the 200 - 700 hyrvnia range (about $6 USD to $30 USD) on average, but you'll find some more expensive shows. Get the schedule and book tickets here.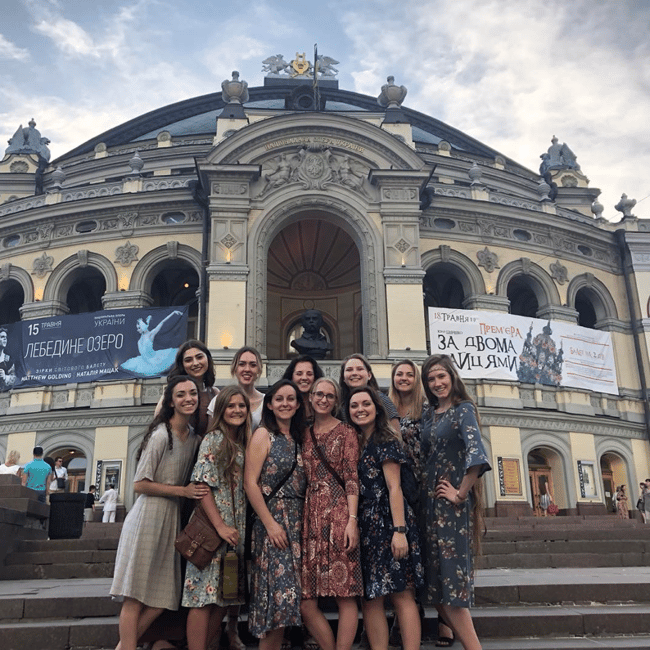 Helpful Tips
Buy Early
Tickets, especially in the more famous theaters can sell out fast. It's a popular activity for locals, so tourists are competing with everyone else to get a ticket. The ticket procedure varies from theater to the theater, but for example, some only sell tickets 1-3 months in advance, and sell out quickly. Plan on booking a week in advance, at the minimum.
Even better, if you're wanting to see a ballet during your semester, decide which show you'll want to see during your semester, and buy them the minute they are available.
Dress Appropriately
Especially if you're seeing a ballet in one of the more prestigious theaters you will want to dress up. You will not be allowed inside if you aren't up to the dress code. You'll find online some recommended dress code guidelines, but a good rule of thumb is that you'll see everyone from "nice dress" all the way up to "black tie". You'll want to feel comfortable in the crowd, so wearing a button-up shirt and tie (and a jacket) along with slacks for the gentlemen, and a nice dress + heels for the ladies typically will be just fine.
Going along with that, you'll want to make sure you're arriving early. For the more prestigious theaters, you won't be allowed in after the show starts.
Read Up First
Many theaters will provide a program which includes a synopsis of the production, but they aren't free. I'd recommend bringing cash to purchase a program as a keepsake but you can also just read online about what your ballet or performance is about so you don't have to buy a program.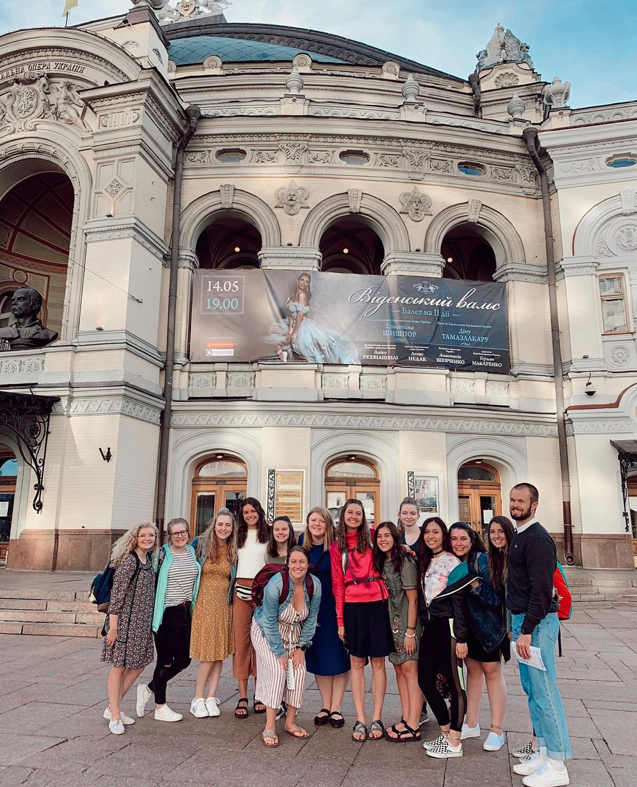 Dying to discover Ukraine?
There is so much to this country you'll need a full semester to really experience it all. International Language Programs sends volunteers to many countries around the world, including Ukraine! Spend a semester teaching English, going to the theater, exploring cathedrals, and traveling in Europe on your vacation days. Sounds like something you'd love?