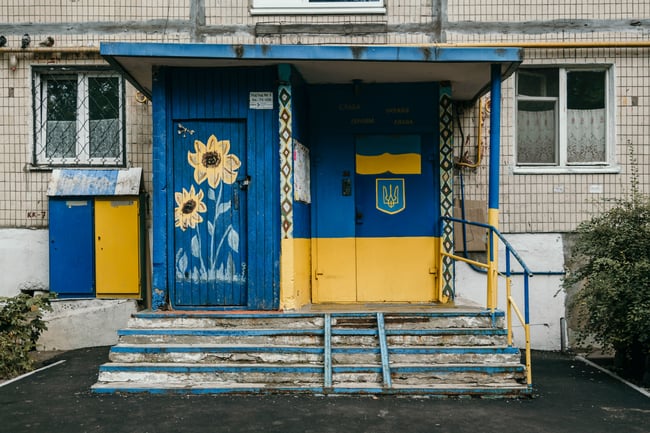 Planning to spend some time in Kiev? There are a lot of hidden gems waiting for you, including some phenomenal street art!
Kiev is known for a lot, including its amazing street art! The number of giant murals has exploded over the past few years, making the otherwise ordinary treks to different museums, parks, or one of these great restaurants a whole lot more exciting. And what tourist doesn't love that?! If you're planning to spend a semester living in this unique city as a volunteer through International Language Programs, then you're in for a real treat because you'll really get to know the ins and outs of daily life in Ukraine.


---
Want to visit Europe as more than a tourist?
Learn More About Volunteering As An English Teacher Through ILP
---

Make sure you also check out our total guide to exploring Kiev, and include some of our favorite free things to do on your itinerary. While there are 150+ murals painted by local and international artists on walls all over the city, this is just a list of our top 10 favorites to help you started on your art hunt. They are spread ALLLL around the city, so keep your eyes wide open and you never know what you'll find.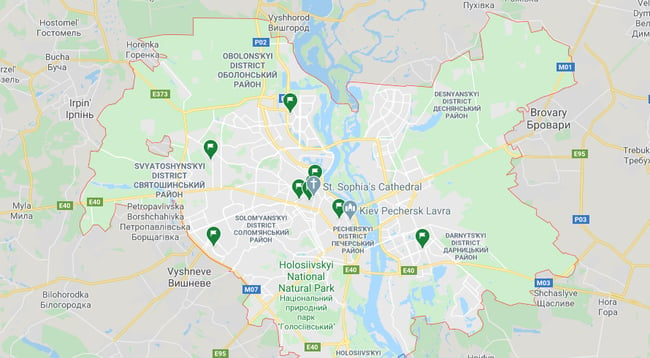 Fun Resources To Help You Find Them
There is actually a very nifty IOS app that will help you to locate murals around the city! Check it out here.
For a complete map of all the street art in Kiev, visit this website!
If you're planning to stay in a small section of Kiev, then this self-guided walking tour would be an awesome thing to try out! It has information for all of the major murals (some of which are also listed below) within a 5 km distance.
The Girl In Sunflowers
This is a patriotic mural, since the sunflower is the national flower of Ukraine. The colors are vibrant and because it's painted on the side of a giant apartment building, you can't miss it!
Address: Anny Akhmatovoi St, 4, Kiev, Ukraine
Bird Hanging From A Light Bulb
Honestly, the artist's ability to capture the bird's shadow on a brick building is the best part of this mural. Don't miss spotting the poppy flowers and simple dove that sit just below the bright yellow body of the bird.
Address: 12 Ivana Franka Street, Kiev, Ukraine
Colorful Explosion
This mural isn't far from the maiden, so should be easy to come see if you're in the area. It was painted by a Lithuanian artist, Egle Zvirblyte.
Address: Mykhailivskaya Street 7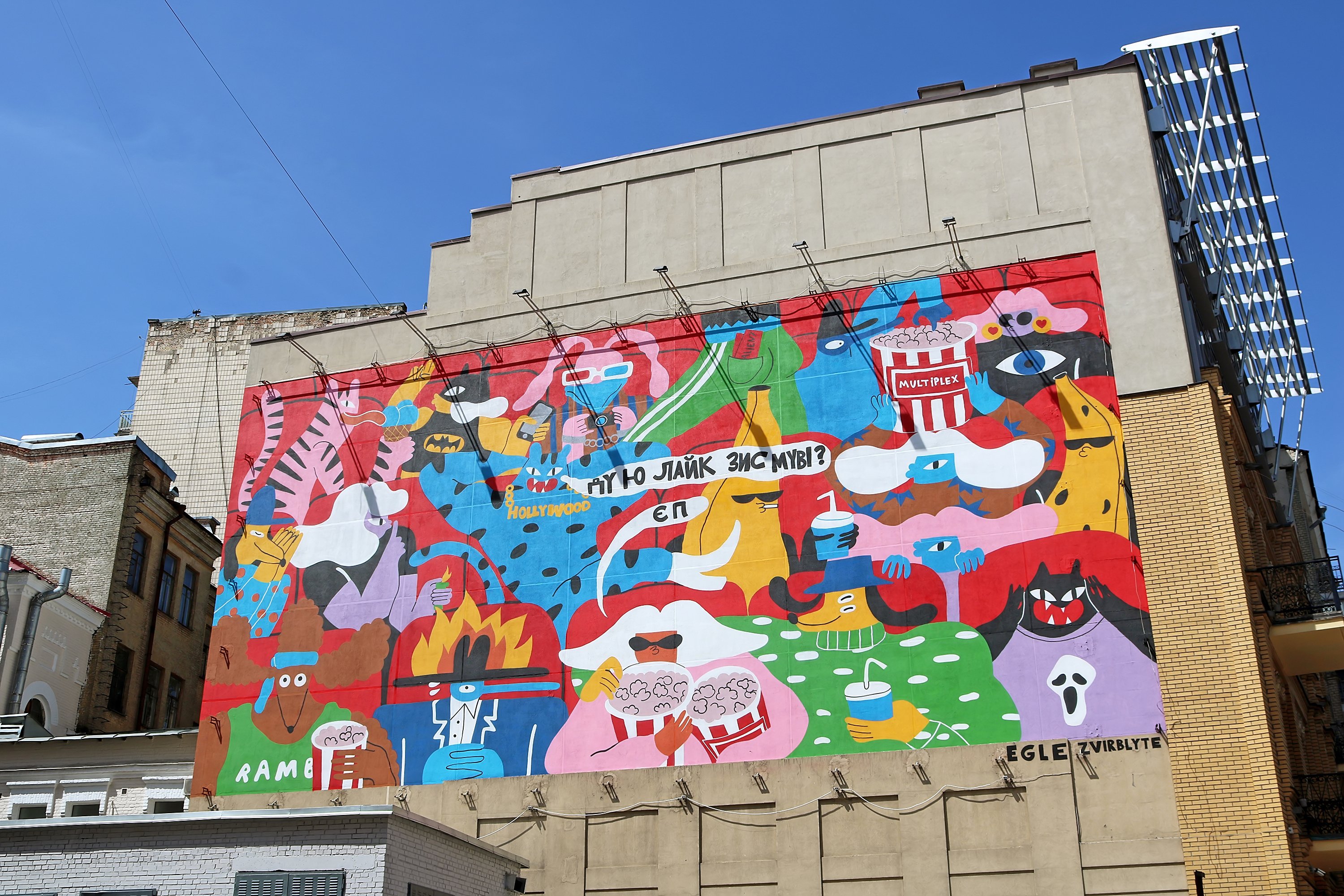 Rural Scene
The country charm of children playing among fields of wildflowers makes this mural look like something from Mother Goose or the stories of Hans Christian Andersen. There's even a fairytale castle in the background!
Address: 12 Ivana Franka Street, Kiev, Ukraine (on the corner of Viacheslava Lypynskoho Street)
Rise Up In The Dirt
This mural depicts the hands of a manual laborer, scraping together a pile of mechanical odds and ends. In the center is a single daisy, sprouting from the rubble, which can symbolize many different things to an observer. This is also the first mural in the world to be painted on the side of a police department.
Address: Moskovska St, 30, Kiev, Ukraine
The Renaissance (Revival)
Probably the most famous of Kiev's murals, this five-story painting symbolizes the rebirth of Ukraine following the 2014 revolution. The young girl depicted is wearing a traditional wreath of flowers in her hair and represents a strong hope for the future as she protects the new generation.
Address: Borychiv Tik St, 33/6А, Kiev, Ukraine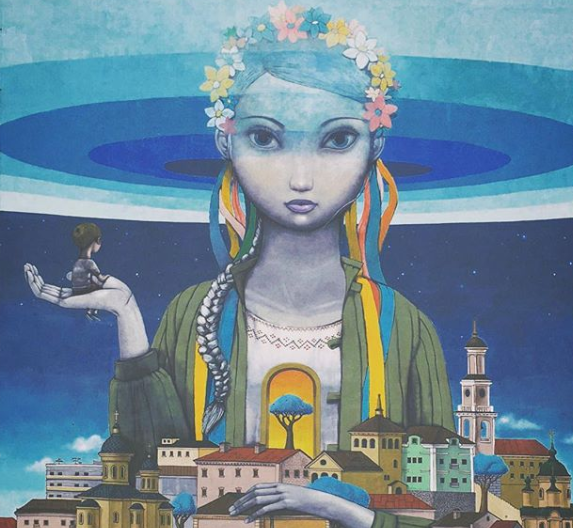 The Dreamer
This colorful mural depicts a lifelike elephant attached to a huge cluster of bright balloons and is just as cute as it sounds. Who says elephants can't dream of flying too?
Address: Akademika Tupolieva St, 7В, Kiev, Ukraine
Time For Change
Mystical and fantastical, this mural is pretty fascinating. It's supposed to symbolize the fight between good and evil, light and darkness, but you could probably come up with hundreds of other stories to explain what's happening. Since it's difficult to pin down what all the creatures depicted actually are, you'll just have to see it for yourself.
Address: 4-6 Striletska Street, Kiev, Ukraine
The Black Sea
This mural was created by South African artist Jake Aikman. Just like you might assume, it shows the waters of the Black Sea. Hey, if you don't have time to make it out to the coast you can come get a glimpse here.
Address: Bulvarno-Kudriavska St, 35, Kiev, Ukraine
The Young Musicians
There are two black and white sister murals that both feature young girls with their string instruments. The texture of the paint gives it a melting effect that is both very striking and graceful.
Address: Zoi Gaidai Street 7б and Zholudeva Street 4б
The Gymnast (Rizatdinova)
This mural depicts an upside-down Ganna Rizatdinova, the Ukrainian rhythmic gymnast, who was a world champion several years ago.
Address: Strilets'ka St, 12, Kiev, Ukraine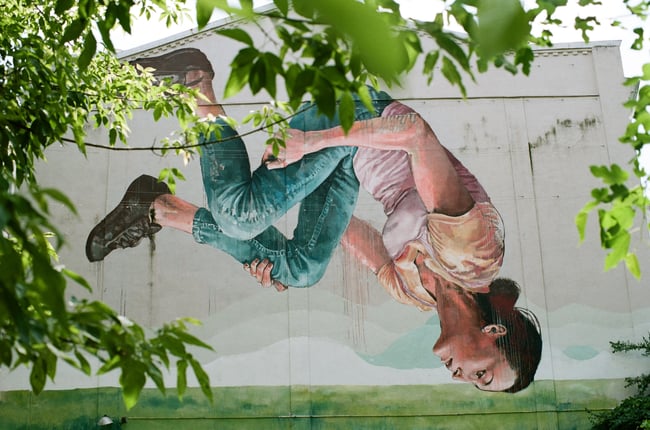 Want to see all of the amazing places our volunteers get to explore?
Lucky for you, they share a lot of their experiences on Instagram and we love following along with their adventures. Click the button below to check it out for yourself!