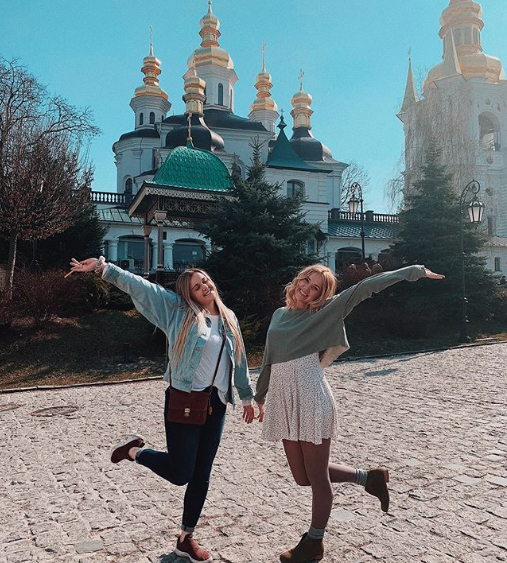 When traveling through Eastern Europe, make sure you stop and see these beautiful cathedrals. Make sure you visit them during your semester abroad in Ukraine!
Some of the most beautifully designed cathedrals we have ever seen are in Kiev, Ukraine. With the bright colors and Russian-styled onion domes, what's not to love?


---
Need more ideas of what to see in Ukraine?
Check out our go to guide for Kiev right here.

---

While you'll likely find your favorites peppered in this city, there are the ones you just can't miss! Get your camera ready and get ready to be amazed because these towering cathedrals come in a rainbow of colors and detail the history of this country in the most impressive ways:
What Cathedrals Should I See In Kiev?
There are many beautiful cathedrals in Kiev, but these are some of our very favorite. Here is a map to show you where they are compared to one another!
St. Andrews
Located on top of a hill, St. Andrews is a short walk up Andriyivskyy Descent, also know as "souvenir street". The vibrant blues of these cathedral will have you in awe, found in the historic Podil neighborhood. Built in the mid 1700's by an Italian architect, this towering cathedral is hard to miss but if you look closely, you might be able to spot cracks in the foundation, due to a shifting foundation. Certainly something to see while the church is still standing!
Enjoy bartering and buying a few souvenirs as you work your way to the top of the hill where you'll find yourself stopped in your tracks, gawking at this gorgeous cathedral. Here's more on Andriivskyi street.
Nearest Metro Stop: Kontraktova Ploscha (Blue Line)
Address:

Andriivs'kyi descent, 23, Kyiv, Ukraine (It's right at the top of this hilly street)

Pechersk Lavra
While in Kiev, make sure you head to Pechersk Lavra (or just Lavra) which is a huge monastery full of many different cathedrals and museums .... sometimes, it's nicknamed the "monastery of caves". The Pechersk Lavra in Kiev has two parts. The upper Lavra is where you can enjoy the amazing architecture (inside and outside) of the church buildings and museums.
Lower Lavra is where things really get interesting. Wander through the hundreds of narrow passages in this monastery and see where monks used to worship. The coolest part is that through these narrow passages, there is over 100 monks embalmed in cases for us to admire.
Certainly stunning on the outside, one reason we love the Lavra is how intricate and historic the insides are. Be sure to plan out a couple of hours to really explore what this place has to offer — it's a complex that includes several towers, cathedrals and sites you won't want to miss. Get more on the Lavra here.
Here's a peek at one of the buildings you'll see at the Lavra, the Cathedral of the Dormition (we cannot get enough of those pastel pictures on the outside).
Nearest Metro Stop: Arsenal'na (red line)
Address: Lavrska St, 15, Kyiv, Ukraine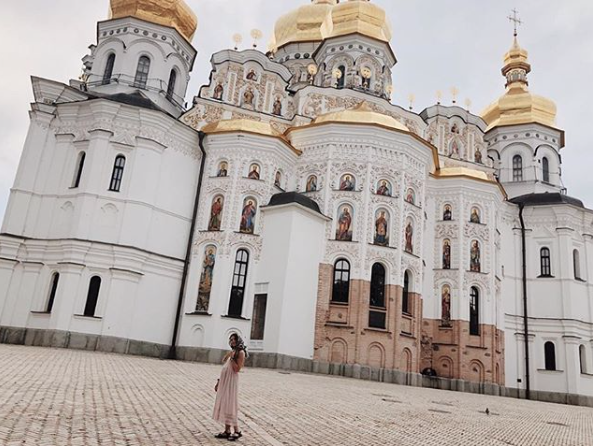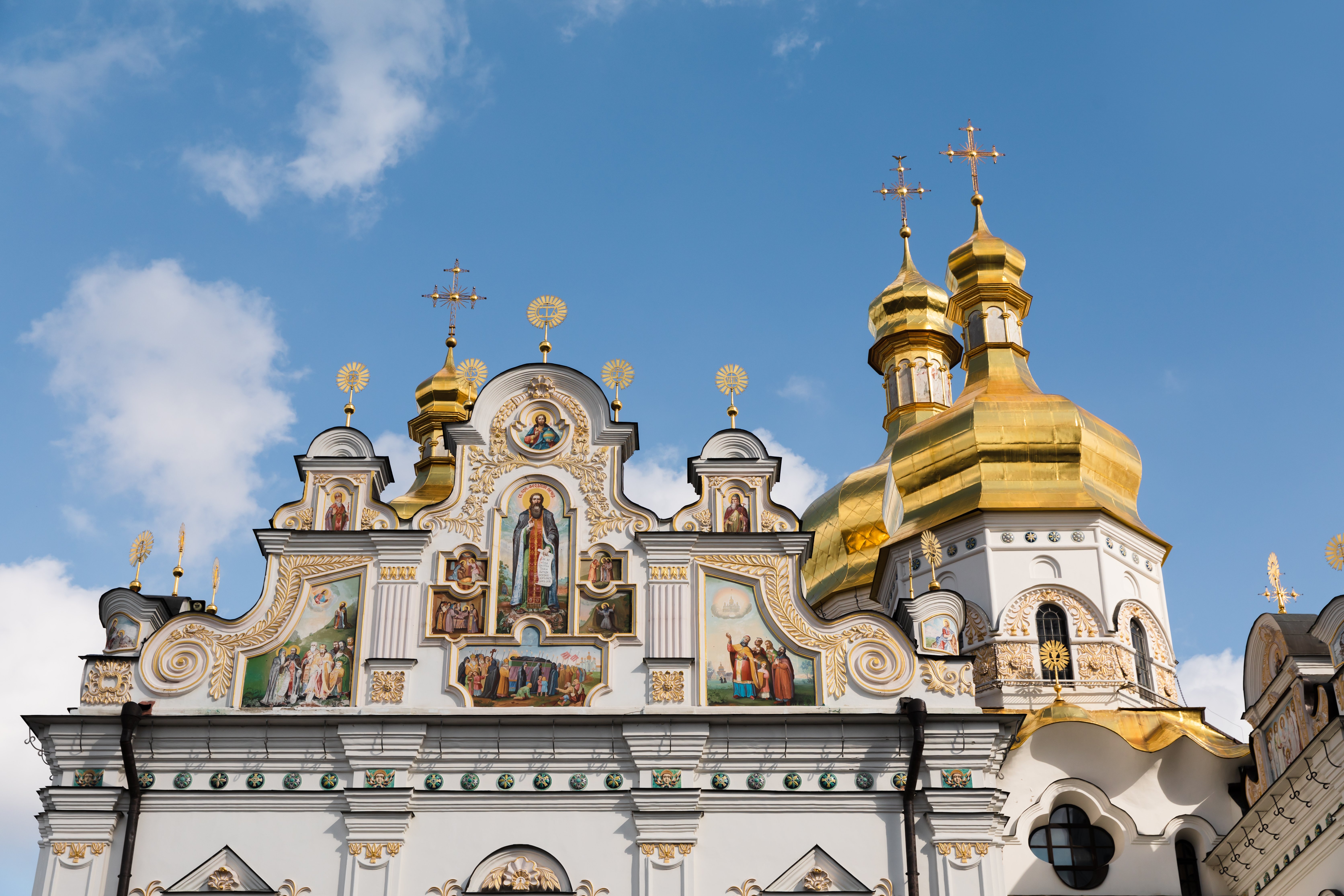 St. Sophias
Besides 13 beautiful golden domes, there is a lot to love about St. Sophia's. This cathedral is known for its ancient mosiacs and frescos. Make sure you go to the top of the bell tower for some of the best views of the city. This is also one of the only cathedrals that was left standing during WWII!
Nearest Metro Stop: Maidan Nezalezhnosti (blue line)
Address: Volodymyrska St, 24, Kyiv, Ukraine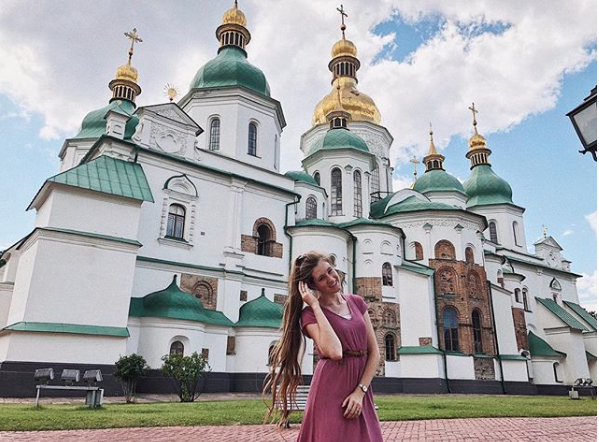 St. Michaels
Right down the street from St. Sophia's is St. Michaels, this perfectly situated cathedral is a must see. Make sure you check out the wall fresco and the intricate design of the bell tower on your way in! (After you're done admiring that baby-blue and intricate detailed exterior, that is).
The original cathedral was demolished by Soviet authorities in the 1930s, but thankfully the cathedral was reconstructed and opened in 1999 following Ukrainian independence in 1991.
Nearest Metro Stop: Maidan Nezalezhnosti (blue line)
Address:

Triokhsviatytelska St, 8, Kyiv, Ukraine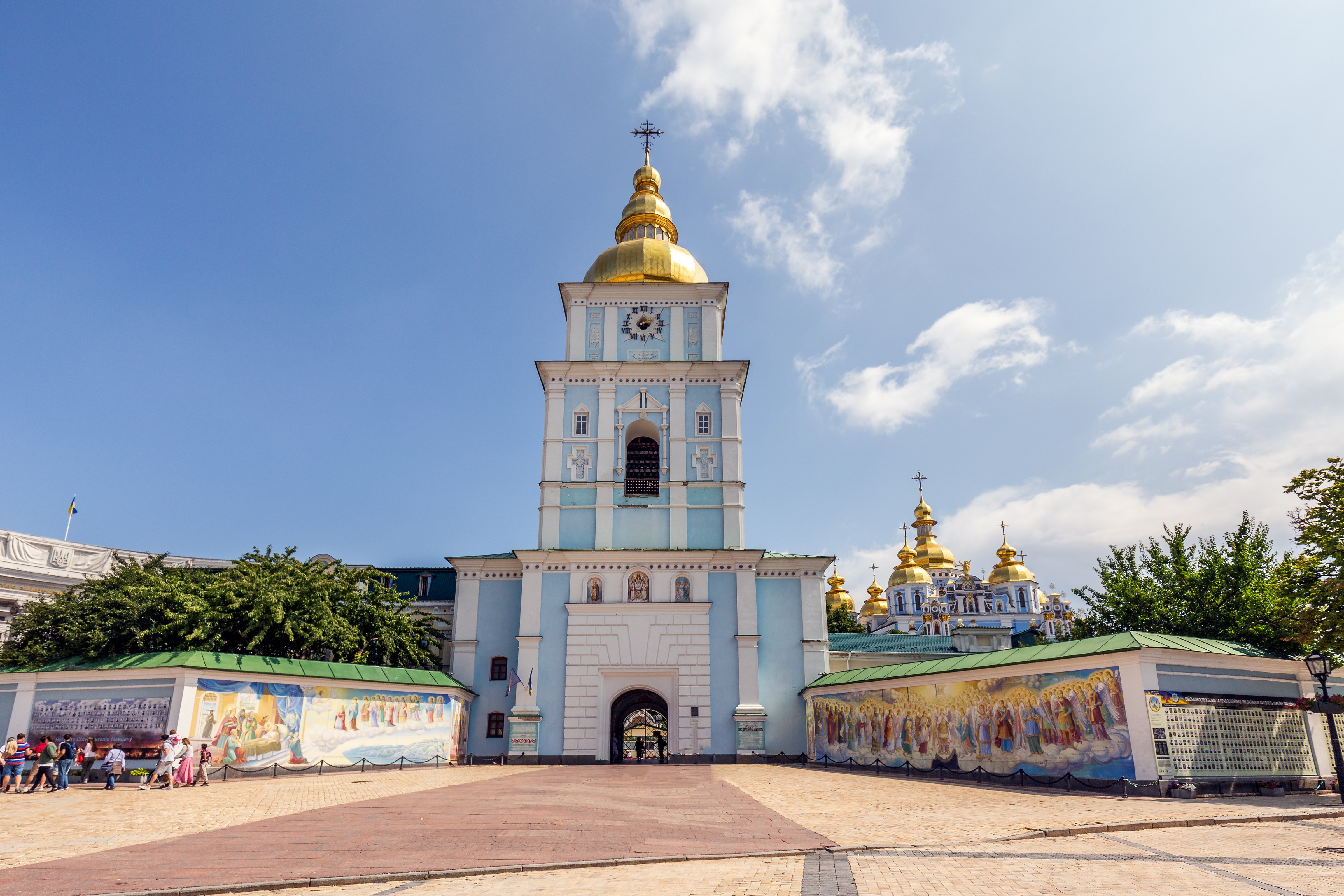 St. Volodymyr's
St. Volodymyr's is considered the "mother cathedral" to the Ukranian Orthodox Church, making it extra special. It took 34 years to complete and every detail thoroughly thought through. The cathedral was built to commemorate a baptism and Christianization of Kievan Rus, and people from all over the Russian Empire raised funds to help its construction.
The bright yellow is cheery and inviting, and the the inside is intricate and beautiful complete with mosaics made my Venetian craftsmen and marble imported from Tuscany. Make sure to visit this cathedral throughout your time in Kiev — As the seasons change the tree around it are especially beautiful.
Nearest Metro Stop: Universytet Metro Stop (Red Line)


Address:

Tarasa Shevchenko Blvd, 20, Kyiv, Ukraine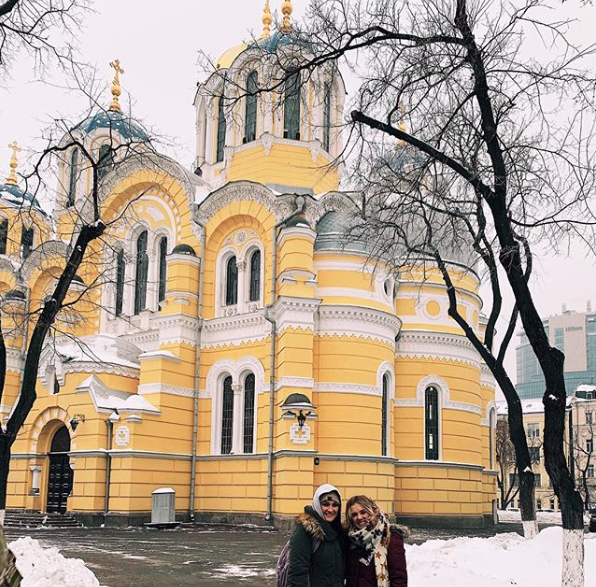 St. Nicholas
St. Nicholas Cathedral has a gothic style and stand out from other cathedral you'll find in the city. This one is unique in a few ways, the biggest way probably being the organ inside. With almost 400 pipes the organ is beautiful and loud! The cathedral is often referred to as "the house of the organ".
Closest Metro Stop: Respublikans'kyi Stadion
Address:

Velyka Vasylkivska St, 75, Kyiv, Ukraine
St Pokrovsky Monastery
Founded in May 1889 by the one and only Grand Duchess Alexandra Romanova, which earned the convent the nickname, "The Duchess' Convent". Then it was later renamed the Convent of the Virgin Protectress. The space was home to a royal garden, then later the cloister hosted many therapy and a surgery buildings, a medical school, a specialized school for girls, a gold-embroidery and an icon-painting workshops, a chapel with museum, shops selling books and icons, a bakery, kvass brewery, shelters for the orphans, blind and sick, etc. Now, only a handful of theses buildings remain, but we still love visiting this pastel pink cathedral.
Find it: Closest metro stop is Lukianivska
Address:

Bekhterevs'kyi Ln, 15, Kyiv, Ukraine, 04053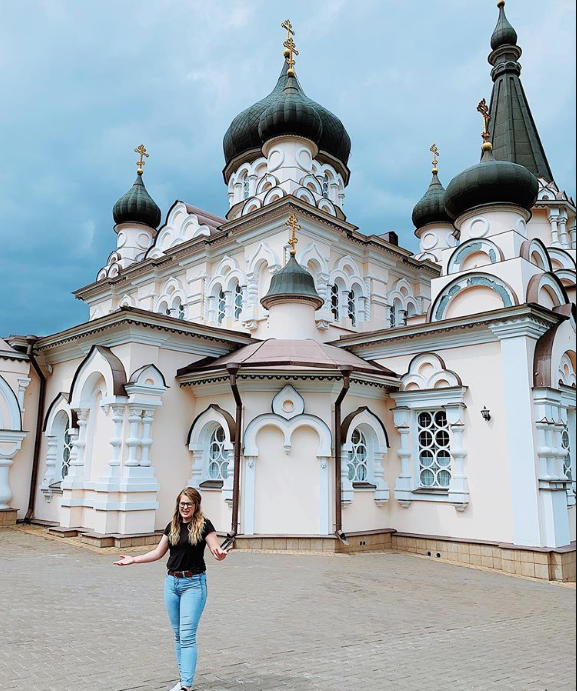 St. Panteleimon
First of all, the location of St. Panteleimon's is amazing! Its surrounded by simple, yet gorgeous gardens, the black domes are one of a kind and the red paint catches your eye like no other. It's really one of a kind and we cannot get enough of that gingerbread-esque detailing ... after you've seen a few cathedrals in Kiev, you'll recognize how unique St. Panteleimon's really is. However, if you take a quick trip to Tallinn, Estonia, you might notice some similarities between this cathedral and the Alexander Nevsky Cathedral — both are built in the same "Russian revival" style.
Though looted and thoroughly damaged in WWII, this church has been restored, allowing you to glimpse inside for golden chandeliers, painted icons, and stunning mosaics, plus the chance to admire the stunning details on the exterior.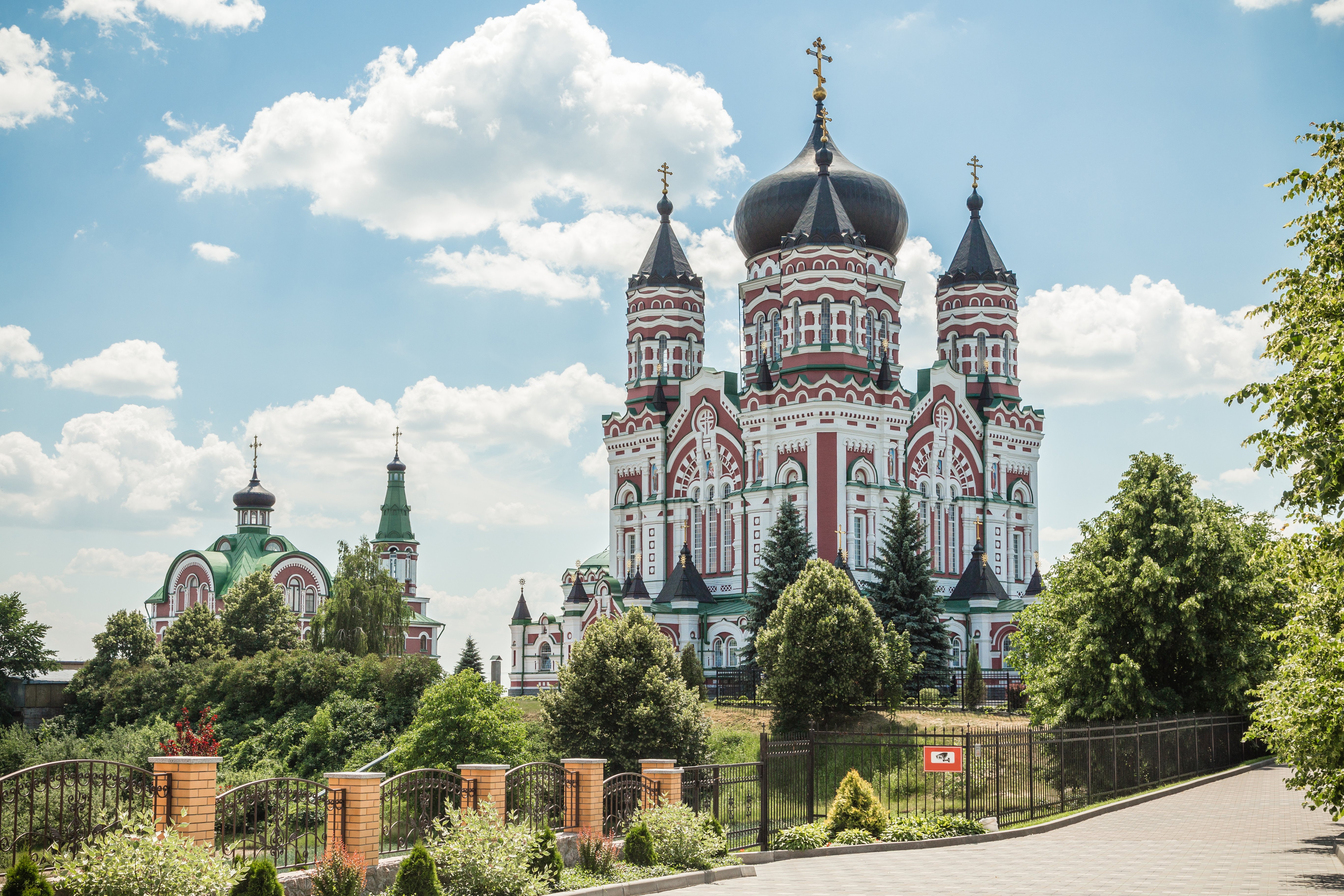 Want to see more of Ukraine?
Volunteering in Ukraine is the way to do that! International Language Programs(ILP) is a non-profit organization who sends college-aged volunteers abroad to teach English in places like Ukraine. Get more info and see more pictures right here —