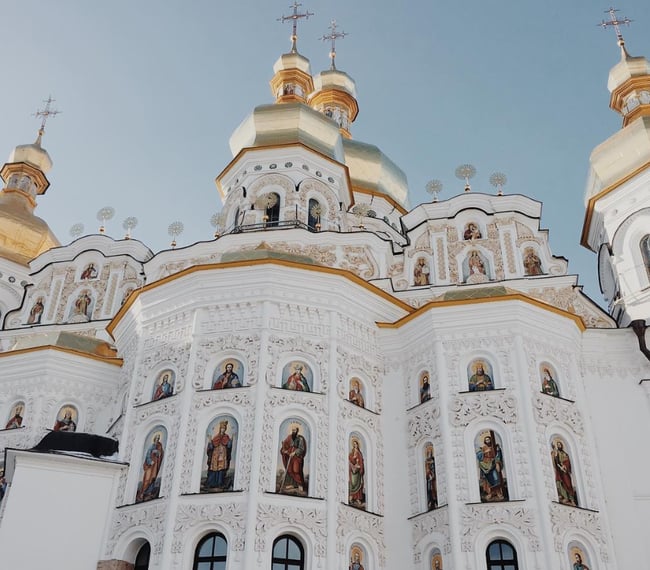 If you've been to Ukraine, you know it's the land of stunning cathedrals and monasteries. Here's everything you need to know about visiting one of our very favorites: The Lavra!
It's no secret that we LOVE Ukraine, and after visiting this country, you will too! Kiev is not only the capital, but also a cultural hub. Plus it's the location of several schools where volunteers with International Language Programs are able to teach English for their semester abroad. We've got all the best places to stay, shop, and eat on our complete guide to visiting Kiev! Make sure you check it out when planning your trip.


---
Want to see what it's like to live in Ukraine as a volunteer for a semester?
A Day in the Life of a Volunteer in Ukraine
---


One of our favorite places in Kiev is The Lavra—an Orthodox monastery that is so beautiful and unique it made it onto our ultimate Kiev bucketlist! Picture this: golden domes, winding labyrinths lined with the remains of monks, old religious artifacts...yeah, cool! So here's everything you need to know about spending a great day at this unforgettable place.
Everything To Know About The Lavra
The History
The full name of this monastery is "Kiev Pechersk Lavra" translated as "Monastery of the Caves". Fun fact: every monastery in Ukraine has "lavra" in the title, but this is "The Lavra", for pretty obvious reasons. Founded in 1051, this monastery has an almost 1000-year history.
The tunnels and caves underneath The Lavra were dug by the monks who lived, studied, and worshiped there. Through an entire millennia this monastery has survived multiple fires and raids. It was made into a museum in the 1920s and is still one of the largest museums in Kiev with relics from the 16th to early 20th centuries. In the 1920s it was reestablished as a sacred church. It has a beautiful overlook of the Dnipro River and is considered one of the holiest places in Ukraine, so many of its visitors are pilgrims coming to worship and pray.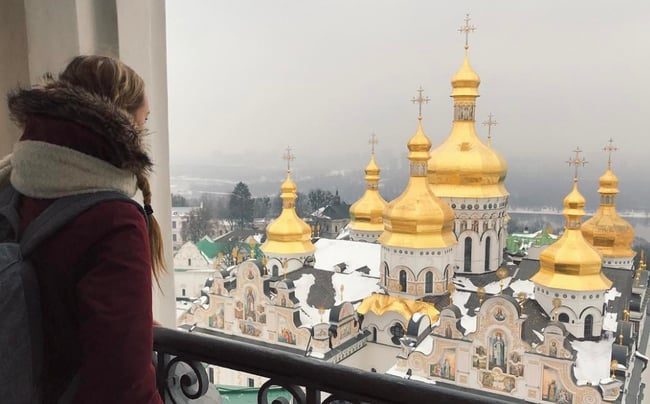 How To Get There
In all honesty, since this is in such a central location, you can likely just walk here. But if you're coming from farther away, the easiest and cheapest way to get around Kiev is by the metro (it's literally 50x cheaper than the London Tube, so there's that).
If you decide to take public transportation, take the metro to the stop called "Arsenalna". From there you can walk outside and take trolley #38 or bus #24 for 4 stops and they will drop you off right at the central entrance to The Lavra.
We recommend making the 20ish minute walk from the station to the entrance of The Lavra, since the streets are charming and quaint, and in good weather it's something you don't want to miss. Just walk along Mazepy Street and Slavy Square through the Slavy Park and Holodomor Memorial.
Address: Lavrska St, 15, Kyiv, Ukraine, 01015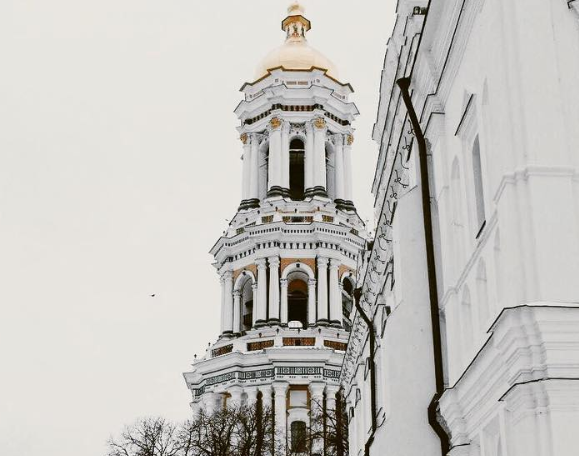 What To Do There
The grounds are open from 9:00 AM to 6:00 PM (with other areas open at 6:00 AM and closing at 8:00 PM or so) and you can check out this site for all the info you need. There are multiple buildings and structures that make up The Lavra and all are must-sees. They are easily divided into two areas: the upper Lavra and the lower Lavra.
The Upper Lavra
Owned by the government, this is home to several churches and museums. The admission fee of 30 UAH (about $1USD) gives visitors access to many of these structures, but some require an additional fee. One of these is the iconic Great Bell Tower which you can pay another 30 UAH (if you don't have proof you're a student, it's more) to climb for a stunning view of the entire area. If you visit this section around 4:30 PM or 5:00 PM, you can be up there when the ring the bells. It's deafening, but amazing (and that view is just killer).
The heart of this area is the Dormition Cathedral (also called the Church of the Assumption and the Uspensky Cathedral). Make sure you also check out the Museum of Historical Treasures where you can see all sorts of precious jewelry and metalwork, including a collection of Scythian gold.
Another popular spot that you CANNOT miss is the cutie Museum of Micro-miniatures. It's a bit tucked away, so you might need to ask someone there where it is. Admission is 25 UAH (double for non-students). To see the displays you actually have to look through a microscope because they are so itty bitty (chessboard on the head of a pin?). Check out the gallery here! Everything was made by one artist: Mykola Syadristy.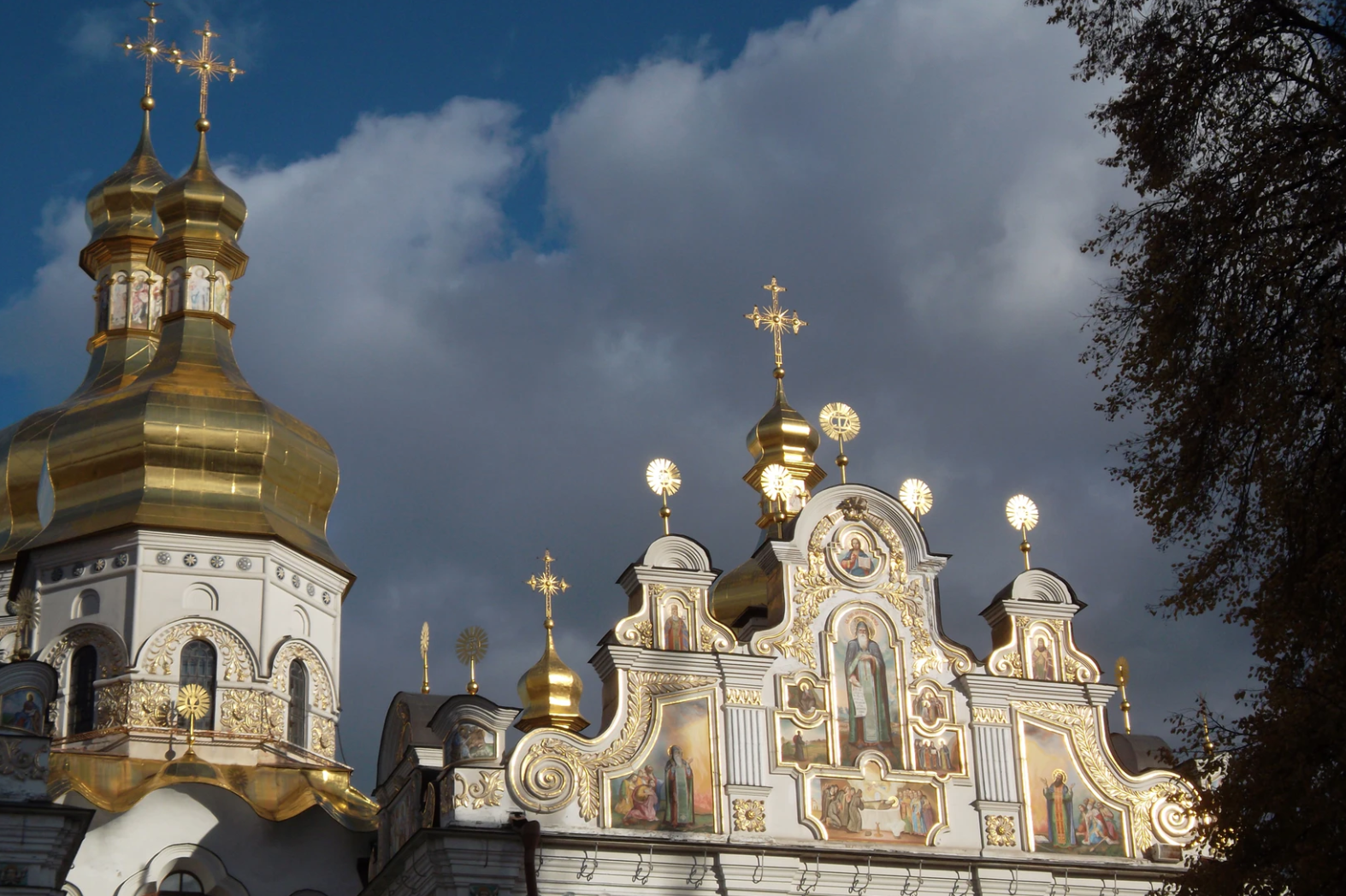 The Lower Lavra
This is the collection of caves and tunnels that house the remains of over 100 monks. Entrance to these catacombs is free, but most visitors will pay the few UAH to purchase a small candle to light your way as you walk underground. As a heads up, you will need to wear a floor-length skirt and a headscarf for this section of the monastery.
Another fun fact: The remains of the monks have been naturally preserved due to the caves' cool and dry climate. Believers think the survival of these remains is evidence that these monks were truly holy men.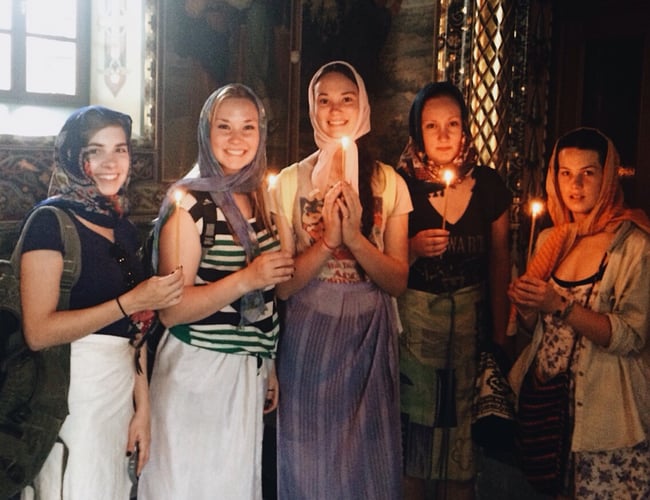 What To Bring
There is a strict dress code for visiting the Lavra, so make sure you're prepared before going. Women must wear a skirt and have their heads covered with a scarf. It is usually possible to borrow these at the entrance to the monastery, but we recommend bringing your own if you can.
Make sure you also bring your student card, because students get quite the discount for both the Great Bell Tower and the Museum of Micro-miniatures.
Nearby Adventures
In the distance, you'll be able to spot the silvery silhouette of the Big Mama statue! It's just a short walk away, so if you have a bit more time we recommend stopping over there and exploring the museum. This blog post has all the details.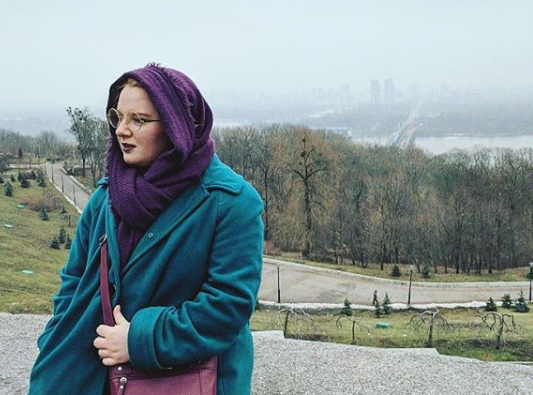 Want to spend a semester volunteering in Europe
but not sure how to afford it?
That is an initial concern for many of our volunteers. Check out this guide for our suggestions on how to afford this dream and make it a reality!