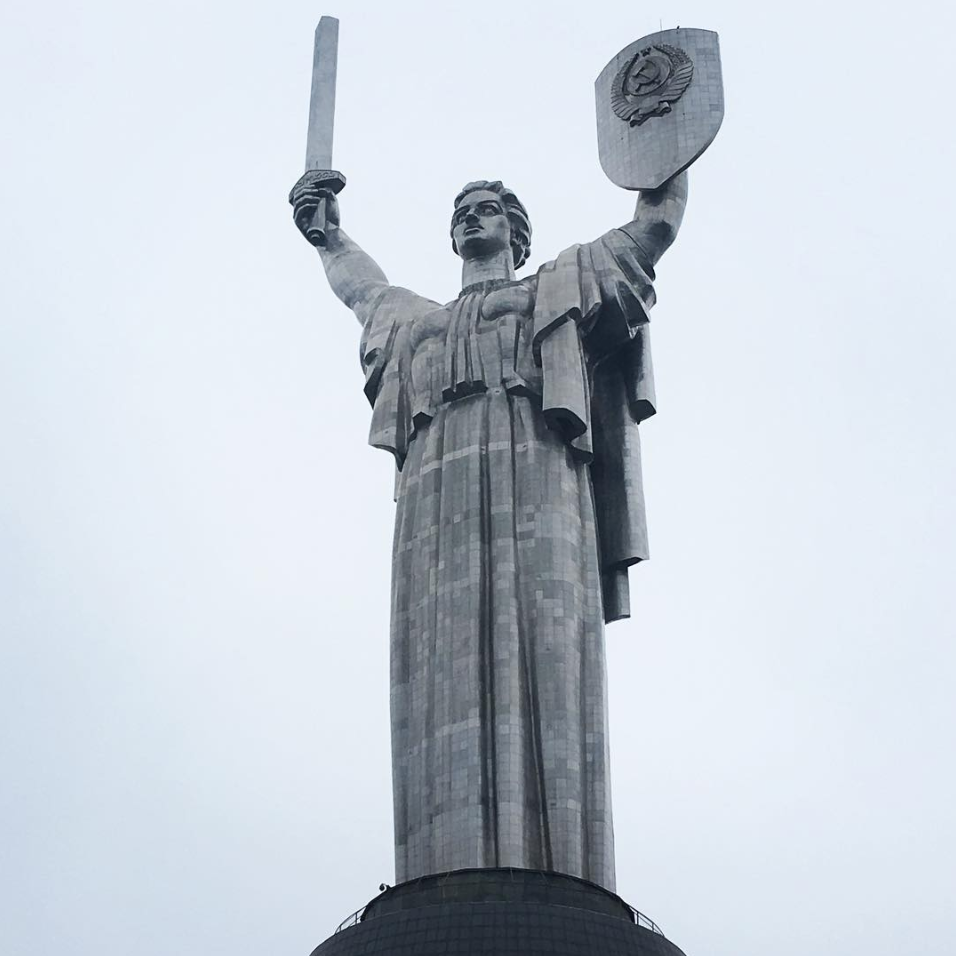 Going to Ukraine and not seeing Big Mama is something you'll regret; she's hard to miss, holds tons of history and is landmark everyone visiting this country should take time to visit.


If you want to live in Eastern Europe, we should be friends. With all the golden domed cathedrals and fabulous food there, it should be on your bucket list. With so much to do in Ukraine and so many cities like Budapest and Prague nearby to vacation in, spending a semester abroad here wouldn't be a bad idea at all.


---
Come spend a semester volunteering in Europe — seriously
Get a glimpse at what volunteering in Ukraine is like

---


Those who spend a semester in Ukraine with ILP love what this country has to offer, and they all say you can't visit Ukraine and not see Big Mama. Kerry H. has volunteered with ILP in Ukraine 3 times (!) and this statue is one of her favorite places to take people when they visit.
What Is Big Mama?
So, technically the statue isn't officially named Big Mama, but the Rodina Mat is affectionately called the Motherland Statue and commemorates some of Ukraine's most pivotal points of history. Hence, "big mama".
The statue itself stands above the main entrance of the Museum of The History Of Ukraine, World War II; from the title of the museum, you can guess what's inside. The entrance is a memorial hall, adorned with the names of thousands of soldiers and works who were honored as heroes.
When Should I Go?
Quinn B. was an ILP volunteer living in Ukraine and recommends "going at the end of the semester after you've fallen in love with Ukraine and her people, because it will mean that much for to you."
Big Mama is in a lush, green area of Kiev near the Dneiper River. You can usually see it on your drive to your school, from the airport, or from the metro around the city, but is worth a day trip. Kerry suggests taking a day trip to see Big Mama and the Kyiv Pechaersk Lavra, a gorgeous Christian Orthodox Monastery in the same afternoon, they are both rather close to each other.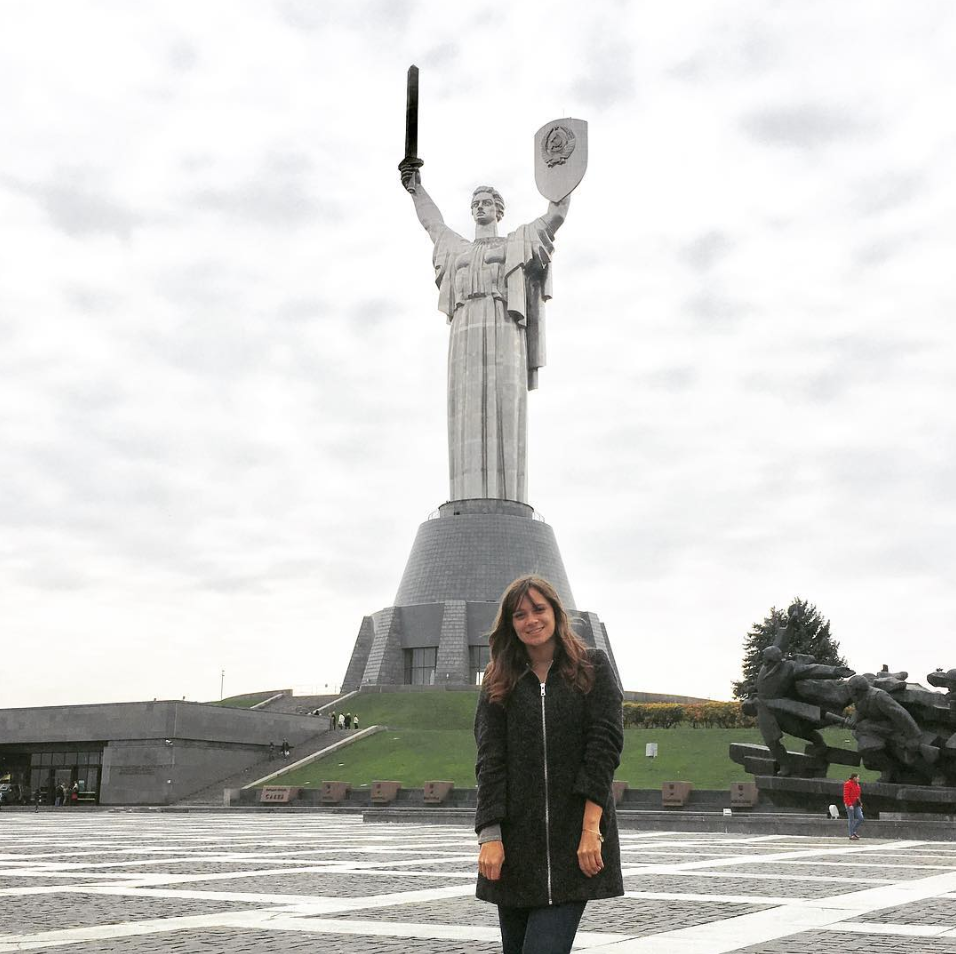 Why Should You Go?
Ukraine's history has been difficult at times; volunteers Quinn and Kerry talk about their own visits to the the museum underneath the statue.
"A well-put together museum for the Great Patriotic War (we know it as World War II) is under Big Mama and is very representative of Ukrainian culture".
Remember, 'Ukraine's experience [in WWII] was not a pleasant one, so keep that in mind but it is definitely one of the best museums I've ever been to!"
The museum is quite a large complex, home to thousands of exhibitions. Throughout the museum, you'll find artillery equipment, WWII tanks, and sculptures commemorating influential strategic events that changed the course of the war.
How Do You Get There?
Kerry gives some pointers on how to best spend your day near the Dneiper River. Head to the Arsenalna Metro stop (which is Kiev's deepest stops!) and grab lunch at one of the food vendors as you exit — get your fill of shawarma and ice cream before walking left until you see a piano full of plants.
The parking lot over to the bridge gives you a gorgeous view of the river and Kiev. Walk from the bridge through a park that holds the Eternal Flame and the Holodomor monument; this reverent monument commemorates a government created famine in the 1930's, so be respectful. You will walk past the Lavra (take the time to go inside the 11th century monastery) and you'll see the Rodina Mat!
Here's the address if you want to punch it into your phone:
Zapecherna St, Kyiv, Ukraine, 02000
Hours + Costs
Hours: 10:00 AM to 6:00 PM, 7:00 PM on the weekends
Costs: Entrance fee is inexpensive, just a couple of dollars. Expect to pay an extra $1ish for photo permission within certain exhibits.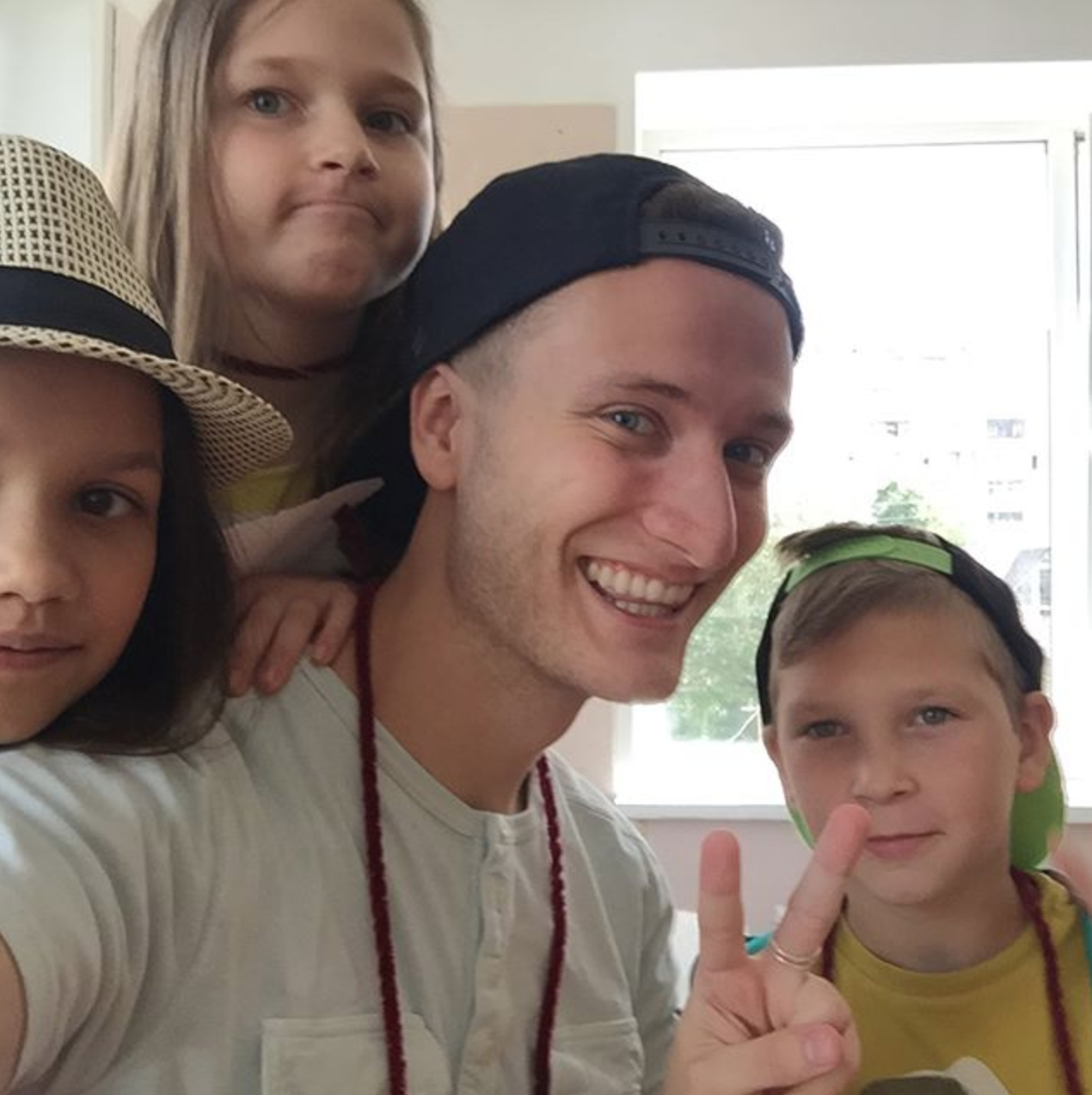 Need more things to do while in Ukraine?
Or curious to know what a day is like when volunteering here with ILP?

International Language Programs sends volunteers to teach English in Kiev part time to countries all over ... including Ukraine! You'll have plenty of time to make a difference, see this country and visit nearby cities (and other countries like France, Greece, Italy, Sweden and more) during your semester abroad. Click the button below to learn more and check out the ILP Instagram and the #ILPUkraine hashtag to see what volunteers are up to.