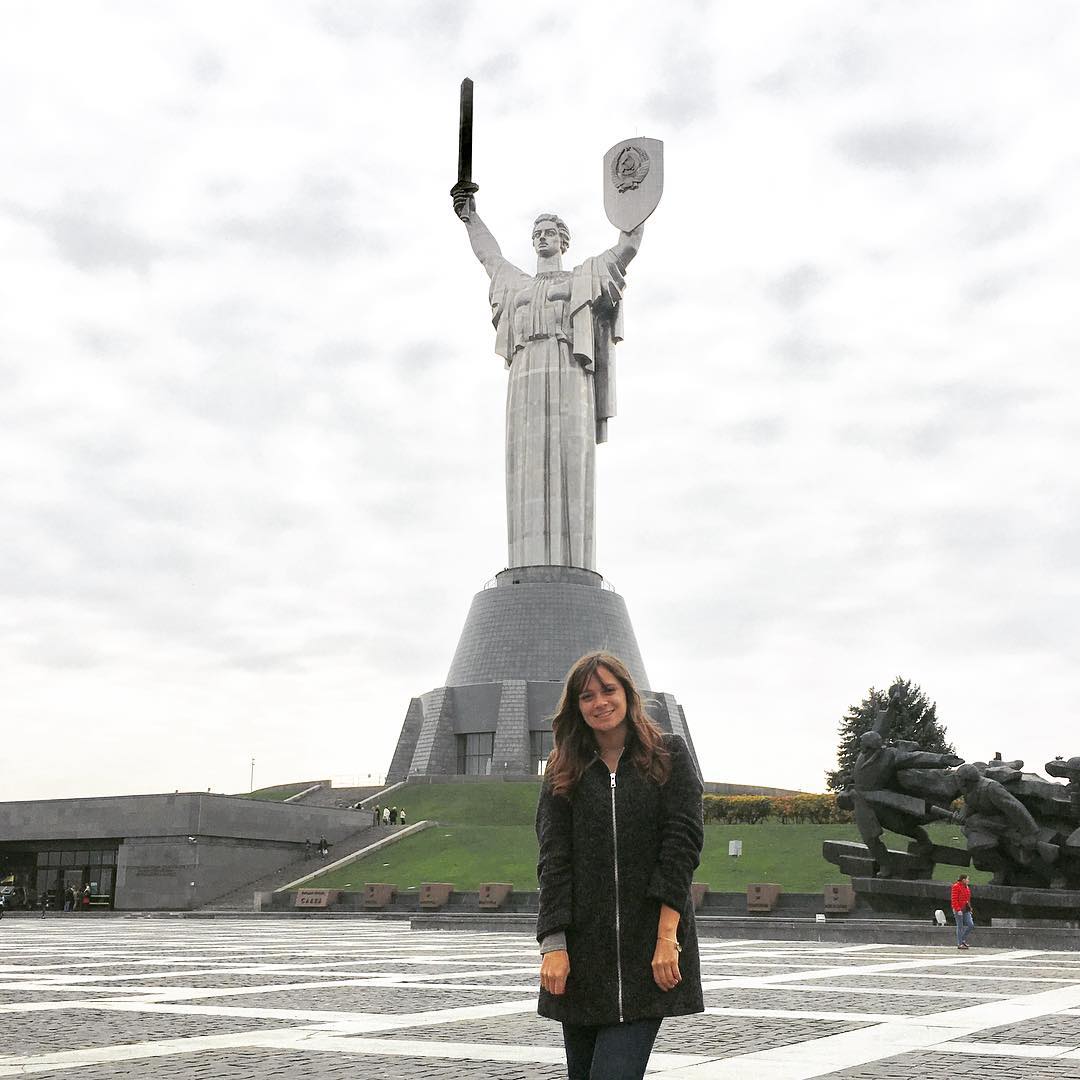 Did you even go to Ukraine if you didn't spend time with Big Mama? She's hard to miss, holds tons of his tory, and is an iconic landmark.
If you want to live in Eastern Europe, we should be friends. With all the golden-domed cathedrals and fabulous food there, it should be on your bucket list. With so much to do in Ukraine and so many cities like Budapest and Prague nearby to vacation in, spending a semester abroad here is one of ILP's most popular program locations!


---
Come spend a semester volunteering in Europe — seriously
Get a glimpse at what volunteering in Ukraine is like

---


Those who spend a semester in Ukraine with ILP (that's us: International Language Programs) love what this country has to offer, and they all say you can't visit Ukraine and not see Big Mama. Kerry H. has volunteered with ILP in Ukraine 3 times (!) and this statue is one of her favorite places to take people when they visit.
What Is Big Mama?
It's a titanium monument standing proudly, high above the city — an iconic landmark in Kiev.
So, technically the statue isn't officially named Big Mama, but the Rodina Mat is affectionately known as the Motherland Statue (Rodina Mat actually means "mother homeland"). She commemorates some of Ukraine's most pivotal points of history. Hence, "Big Mama".
She's hard to miss, standing tall at over 200 feet, elevated on the hills above the city. If you keep your eyes peeled while exploring Kiev, you'll be able to spot Big Mama for miles.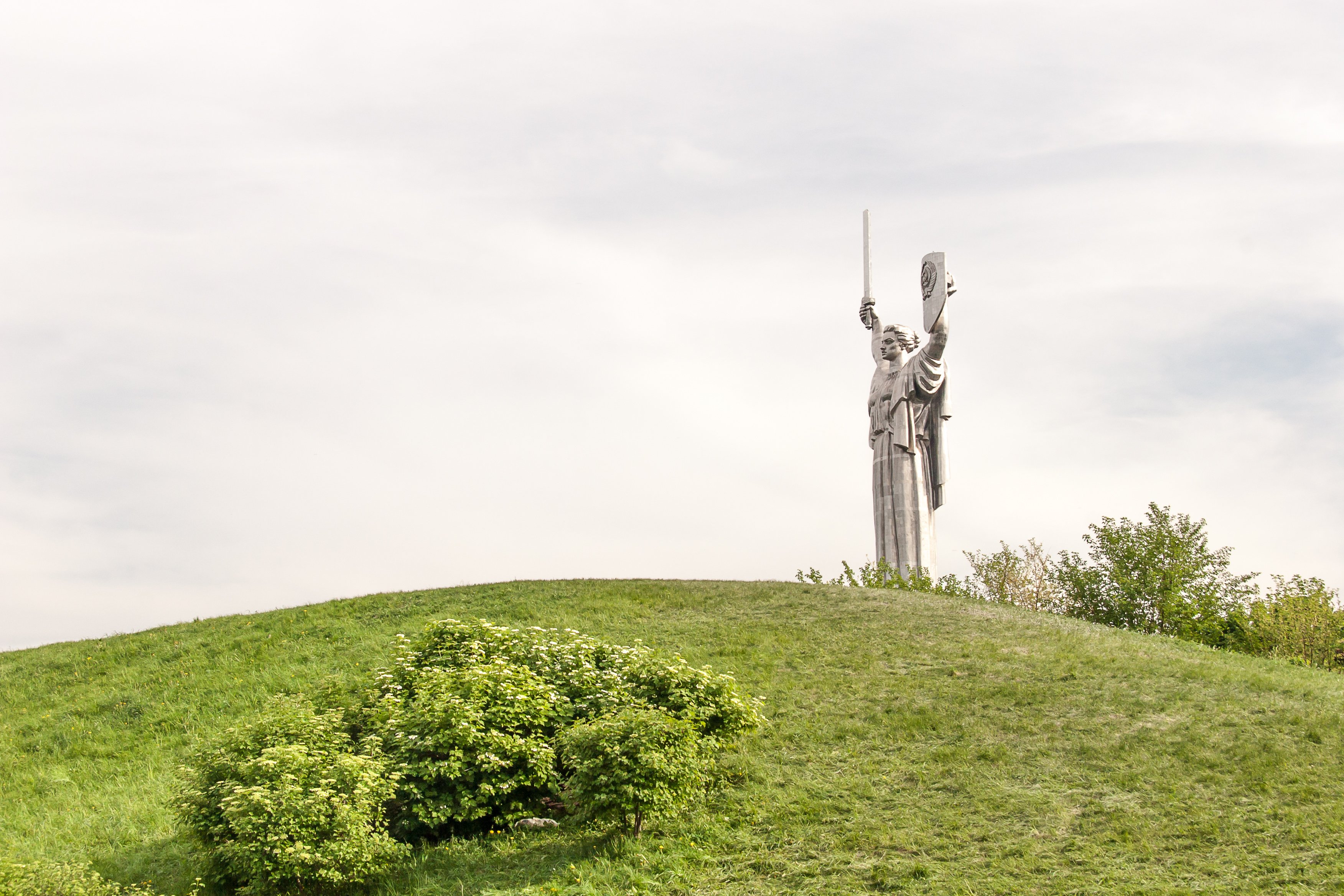 Don't Miss The Museum
This entire site is dedicated to honoring and sharing important parts of Ukraine's history, and the monument itself stands above the main entrance of a museum — The National Museum of the History of Ukraine in the Second World War. Just a head's up, the museum underwent a name change in 2017, so you may hear it referred to as other (past) names online. And while Big Mama certainly steals the show, stopping to wander the rest of the museum is highly recommended.
The entrance is a memorial hall, adorned with the names of thousands of soldiers and works who were honored as heroes. On one floor of the museum, you'll gain insight into the recent (and ongoing) conflict between Russia and Ukraine, starting in 2014. The second floor dives into World War II history and the impact it had on Ukrainians during that time period.
There's also an open-air section where you'll find a collection of tanks, cannons, and even places from the Cold War. Currently, one of the tanks is painted in Ukrainian colors, bright yellow and blue, and makes for a good photo-op!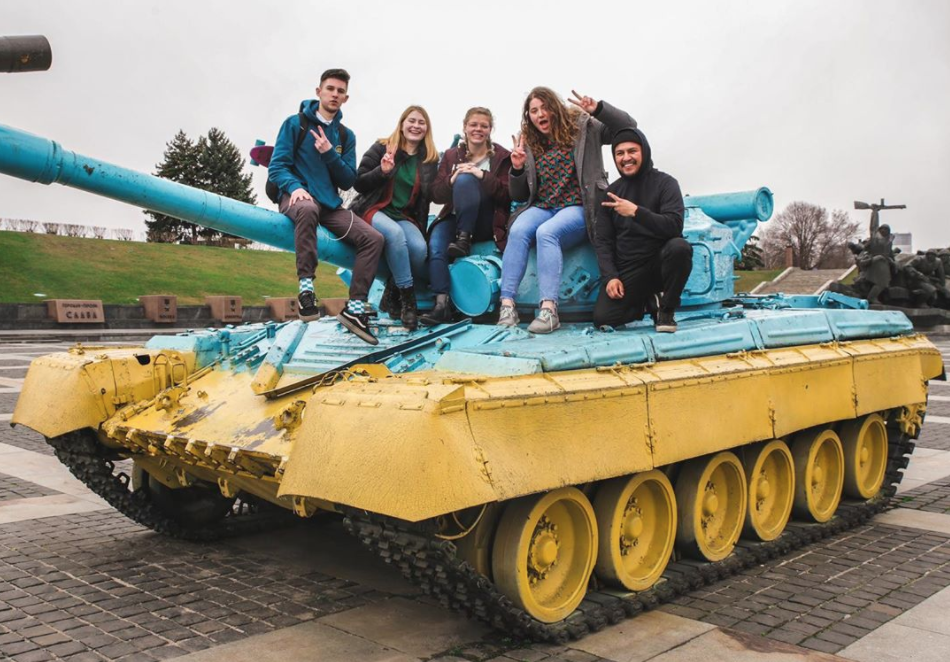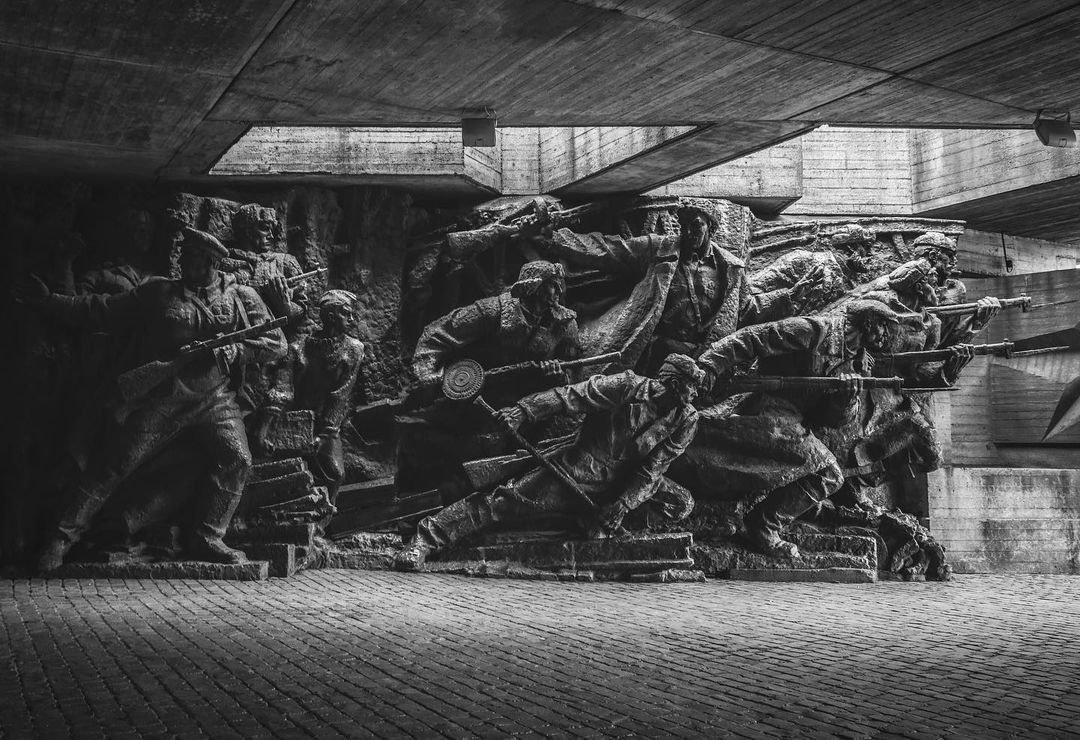 Tips From Past ILP Volunteers
One of the coolest parts about volunteering with ILP is that unless you're pioneering a brand new location, you typically have a network of alumni who have gone before you, and who have lots of advice from what they learned.
That's the case with heading to this site. We talked with a few ILP alumni who had spent their semester living in Kiev and asked what advice we could pass along to you!
Prepare for the history
Ukraine's history has been difficult at times; Kerry H. talked about her thoughts:
"A well-put-together museum for the Great Patriotic War (we know it as World War II) is under Big Mama and is very representative of Ukrainian culture".
Remember, 'Ukraine's experience [in WWII] was not a pleasant one, so keep that in mind but it is definitely one of the best museums I've ever been to!"
Wait until the end of your semester to go
Quinn B. was an ILP volunteer living in Ukraine and recommends "going at the end of the semester after you've fallen in love with Ukraine and her people, because it will mean that much more to you."
Combine it with a trip to the lavra
It's actually close to the Kyiv Pechaersk Lavra, a gorgeous Christian Orthodox Monastery, and considered to be one of Ukraine's top sights (if not #1). Because they're so close, it makes sense to see both sites on the same afternoon! If you're following our directions below you'll actually walk right past the lavra on your way to Big Mama. It's absolutely worth making sure you have enough time to stop and wander the lavra.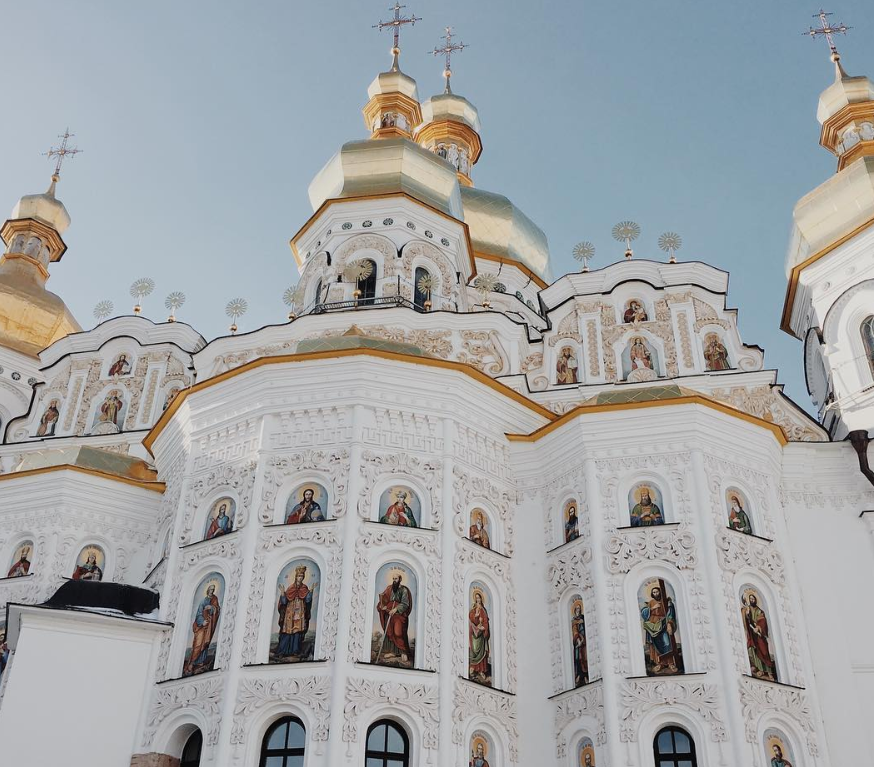 Getting There
Big Mama is in a lush, green area of Kiev overlooking the massive Dneiper River that runs through the city. From the monument, you'll get impressive views of Kiev.
By metro — The easiest way is to jump on the metro. There are two stops that get you closest: Arsenalna (which sits northwest) and Druzhby Narodiv (which is southwest).
ILP Volunteers typically head to the Arsenalna Metro stop (which is Kiev's deepest stops!). If you're hungry, make sure to grab lunch at one of the food vendors as you exit — get your fill of shawarma and ice cream.
From Arsenalna station you can take No. 24 bus or No. 38 trolleybus right to the museum. It's just a 20-minute walk to get to Big Mama though, so if it's a nice day, that would be my choice! The parking lot over to the bridge gives you a gorgeous view of the river and Kiev. From the bridge, you'll come to the Park of Eternal Glory (with its tall needle-like war memorial). Further south through the park you'll eventually reach the Pecherska Lavra (the one we mentioned you'll want to stop and see). From the Lavra you'll be able to see the the silvery Big Mama statue in the distance ... just head that way until you reach the museum.
From Independence Square — You can get here on foot from Independence Square, it's just a bit of a hike, but only a bit further than coming from the Arsenalna station. Start by walking towards the river, then turn right at European Square. Walk past the great gate to the old Dynamo Kiev football stadium and through the park. Then walk around the western side of a modern highrise complex and head further southeast, past the Soviet-era Salyut Hotel and across the footbridge over the road. You'll come to the Park of Eternal Glory (with its tall needle-like war memorial). Further south through the park you'll eventually reach the Pecherska Lavra (the one we mentioned you'll want to stop and see). From the Lavra you'll be able to see the the silvery Big Mama statue in the distance ... just head that way until you reach the museum.
The Address
Here's the address if you want to punch it into your phone and follow the map to make sure you're headed in the right direction:
Zapecherna St, Kyiv, Ukraine, 02000
Hours + Costs
Hours: The indoor museum is open from 10:00 AM to 5:00 PM, closed Mondays. The outdoor portions are open 9:00 AM to 6:00 PM daily.

Costs: The outdoor areas are completely free, but expect to pay an inexpensive entrance fee for the museums (just a couple of dollars USD). There are additional fees as well, $1ish for photo permission within certain exhibits, a fee if you would like an audio guide, and a fee if you'd like to see Big Mama a bit closer from a viewing platform.
The main museum — 15 UAH (about 50 cents USD)/Students 5 UAH
Expositions — 5 UAH/Students 2 UAH
Photo permission at above sites — 30 UAH (about $1 USD)
Open-air military exhibition — 3 UAH/Student 2 UAH/photo permission 20 UAH
Guided top viewing platform of Big Mama — 200 UAH
Viewing platform at Base of Big Mama, top of pedastal — 50 UAH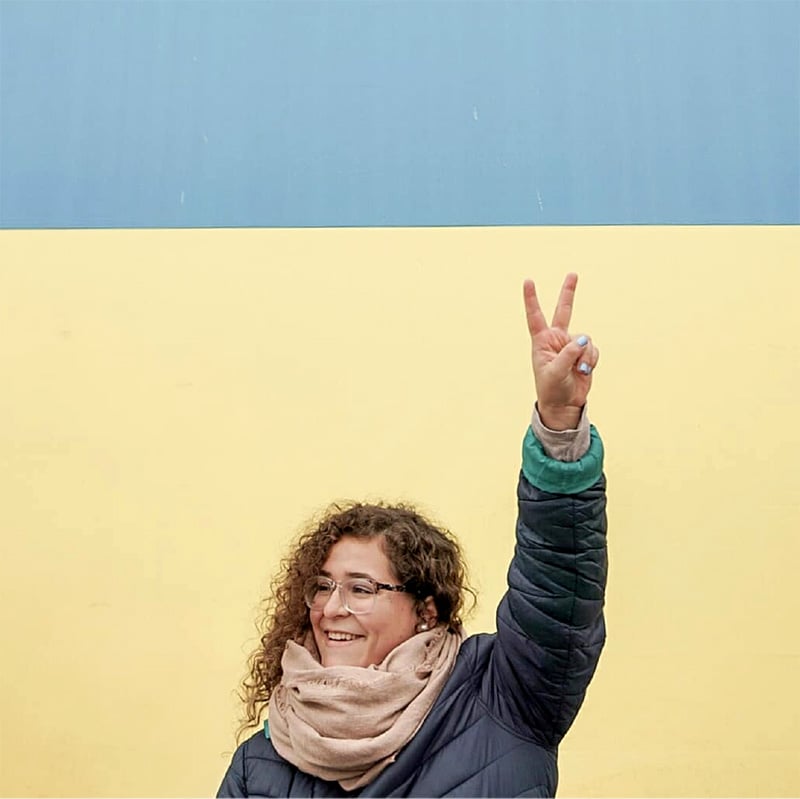 Need more things to do while in Ukraine?
Or curious to know what a day is like when volunteering here with ILP?

International Language Programs sends college-age volunteers to teach English in Kiev part time for a semester/about 3-4 months. You'll have plenty of time to make local friends and immerse yourself in Ukrainian culture, see not only Ukraine, but to also visit nearby destinations (like France, Greece, Italy, Sweden and more) during your semester abroad.
Click the button below to learn more and check out the ILP Instagram and the #ILPUkraine hashtag to see what volunteers are up to.