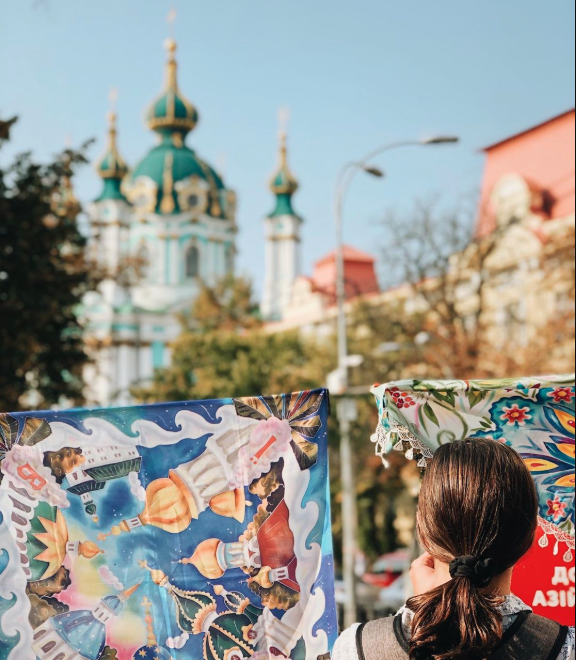 If your ideal Saturday includes wandering around pastel neighborhoods studded with onion-dome cathedrals, you'll love walking around the Podil neighborhood.
Ukraine's a country where you can spend some serious time in. There are adventures here to keep you busy for months, from quick trips to the coast for a dip in the Black Sea to trekking across the hills to find European-style cities … not to mention all the things to do in the capital of Kiev!


---
Come spend a whole semester here
All about volunteering in Ukraine
---
Our Ukraine volunteers are set, with plenty of free time and weekends off to explore all of the nooks and crannies in Kiev. There's more than enough to keep you busy, especially if you start delving into this country's history. You'll find corners of Ukraine's past everywhere but one place I particularly recommend? Visiting the Podil neighborhood! Oh, and wondering what in the world pastel-hunting is? The buildings here are painted in every shade you could imagine ... pale yellows, faded oranges, creamy pinks, swirling rows of blues and greens ... I think you get the picture.
A Smidge Of History
Trust me, you'll appreciate this place more if you know just a tiny bit of background. The Podil neighborhood is almost like a mini district, broken up into a handful of different suburbs. It's all stretched over a couple of miles right by the Dnieper River in Ukraine's capital city, Kiev. It's one of the oldest neighborhoods in this already old country … the Podil district was actually the city center up until the 19th century.
It was the hub of everything the city depended on, a huge center for trading and merchandise. If you know a bit of the language, look out for sections of the neighborhood that hint at this. You'll find districts named "Honchari" (which meant potters) or "Kozhemyaki" (which referred to craftsmen working with leather). Podil itself has been mentioned way back in 9th century, lasting through a Mongol invasion, a huge fire in 1811, was home to a poor Jewish population in WWII, and now is one of the top spots to see in Kiev.

What Will I Find Here?
So many things! It's really a space where you can pull on your comfy walking shoes and meander through the streets, passing pastel-colored apartment buildings only interrupted by parks, and tiny cafes. Look up and see a few spires and domes, letting you know there are more than a few churches to go explore. Just walking around is 100% recommended, but you can also hunt for a few of the Podil neighborhood's most iconic sites:
The Church Of The Nativity
One of the prettiest cathedrals in Ukraine if you're asking me, the Church of The Nativity (or the Nativity of Christ Church) is a golden yellow color, something you don't see that often. It's one of the smaller churches in Kiev, like many of the others you see in this city, it was rebuilt after being destroyed in the 1930's. Inside it's a gorgeous, quite a break from the business of the city and something you can appreciate along with the careful restoration of the church's 19th century, Neo Classic design.
Right behind the church is a big open square (Poshtova Square), sprinkled with restaurants, and fountains you can play in during the warmer months.

Address: Поштова площа , 2, Kyiv, Ukraine, 02000
(it's right outside the Poshtova Ploscha metro stop, blue line 2)
Hours: 9:00 AM to 6:00 PM (hours to notice if you'd like to go inside)


Ukrainian National Museum Of Chernobyl
If you have the time, you can make a visit to the site of Chernobyl, but visiting the museum is another layer to this tragic and historic event. The museum is small, and only takes around an hour to skim past the exhibits that help detail the nuclear accident that happened in 1986. When the Chernobyl Nuclear Station explored on that fateful day in April, it would become the most devastating nuclear accident in the world's history. Inside you'll see photos, videos about the tragedy, and a few more touching retellings. If you're not too familiar with the history make sure you get an English audio guide to walk you through (most of the information placards inside are in Ukrainian).
Address: Provulok Khoryva, 1, Kyiv, Ukraine, 02000
(it's close to the Kontrakova Ploscha Metro Station)
Hours: 10:00 AM to 6:00 PM, closed Sundays
Cost: 10 UAH, with a 50 UAH addition for the English Audio Guide
Kontraktova Square
It's called the oldest square in Kiev, and what used to be a huge part of Podil's merchant past is not a big open space lined with towering buildings, historic statues, and a few tram and metro stops. On the weekends, it's pedestrian only, and a popular place for festivals, pop-up markets, musicians, and other events. But anytime you visit, you can admire the architecture here: the cantaloupe-colored church (officially known as the Pyrohoshcha Formation of the Mother of God Church) is one to notice, as is the towering former Greek Monastery which is painted a shade of mint green (and now is home to a national bank).
Find it: It's right by the metro station, Kontraktova Poshcha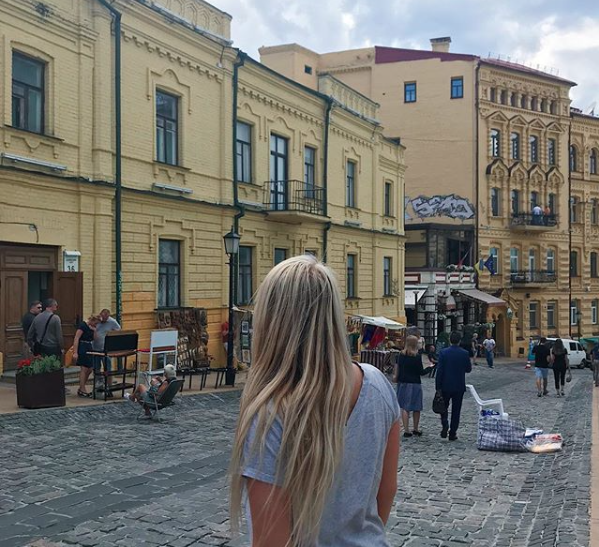 The "Andriyivskyy Street" Connection
One of our most favorite spots in all of Kiev is right next to the Podil neighborhood, Andriyivskyy street. It's a main stop for shopping, cafes, little restaurants, and of course, this iconic mural. Technically you'll be leaving Podil when you hike up Andiyivskyy street, but it's something you should absolutely check out.
What's waiting for you up there? At the top of Andriyivskyy street is what I think is one of the prettiest views of the city. That link there has instructions on how to find the street from a metro stop, but if you're out wandering around and see this blue-faced mural, you know you're in the right spot.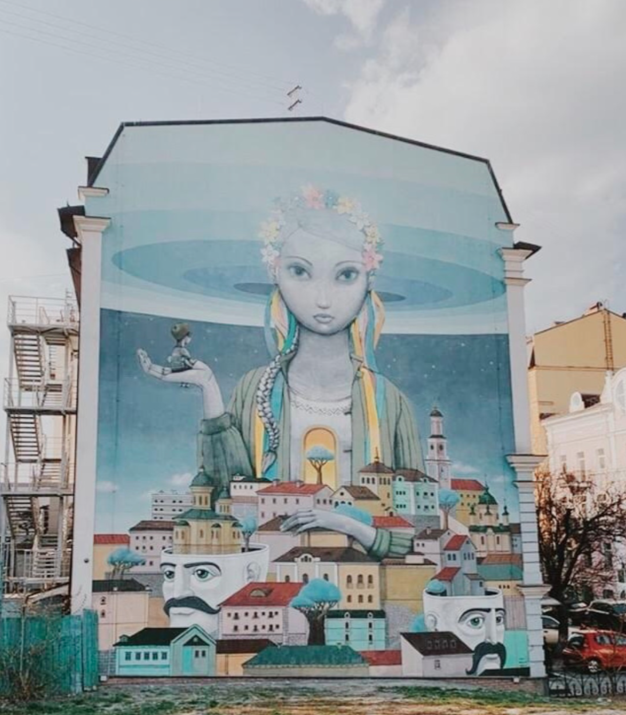 See A Few Pictures
Really the charm of this place is best seen in person, rather than described in a few words. If you'd like a sneak peek at what's waiting for you on some Saturday during your semester abroad, peek at this blog post which a snapshots of the Podil neighborhood.
Add On These Other Adventures
While there is plenty to see in the neighborhood itself, you might notice that a few of the city's best spots are just outside the Podil neighborhood, hugging the edges. Here are a few things to explore while you're in this part of Kiev.
St. Andrew's Church
Technically this church is outside of the Podil neighborhood. It's at the top of Andrew's Street (Andriyivskyy Street, the one we mentioned above) and is an absolute stunner.
It's built in a bright colorful Baroque style with loads of ornamentation that makes sense when you look up the Italian architect, Bartolomeo Rastrelli. We love this place! There are metro directions below, but you'll be able to see the Russian turrets of this cathedral from a few places in Podil (like behind the hills if you're standing in The Poshtova Square, right behind the yellow Church of the Nativity).
Oh, and we absolutely love the streets around this cathedral (and the views you can get from the top).
Nearest Metro Stop: Kontraktova Ploscha (Blue Line)
Address: Andriivs'kyi descent, 23, Kyiv, Ukraine (It's right at the top of this hilly street)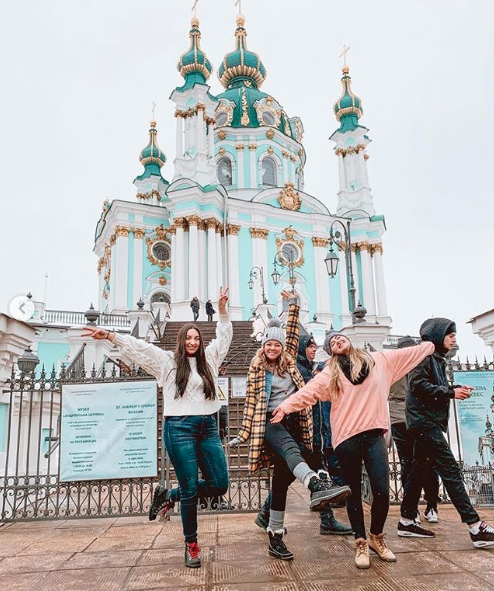 St. Michael's Church
Another stunner of a cathedral, you'll find this gem just a short walk from St. Andrew's church. Inside the bright blue exterior are some intricate wall frescoes, and a towering bell tower, toped with a golden onion-dome spire. You're welcomed to walk here from the Podil neighborhood, or you can hop on the metro and ride here (directions below)
Nearest Metro Stop: Maidan Nezalezhnosti (blue line)
Address: Triokhsviatytelska St, 8, Kyiv, Ukraine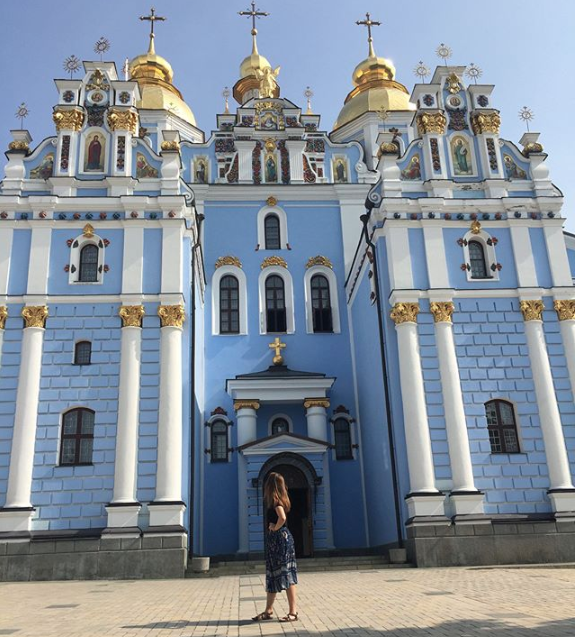 A Map To Help You Out
Just to help you orient everything a bit, there's a screenshot of the area. The Podil neighborhood's official boundaries are outlines in that thin red line, and you can see the green "Ms" that signify the metro stops. Those are also pointed out. And to give you an idea at how close those two churches are from the neighborhood, St. Andrew's and St. Michael's are also pointed out.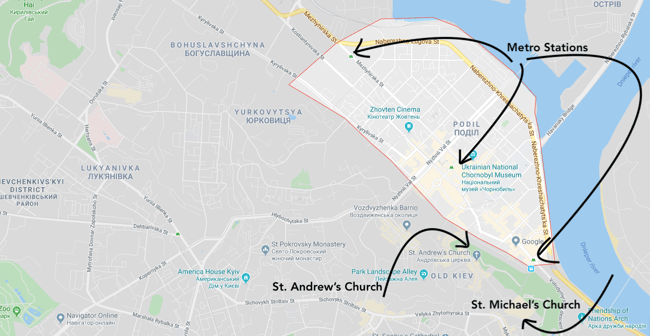 Getting Here
The Kiev metro is here to the rescue. You can read up on how to use the Kiev metro here (that post has tons of handy tips plus as list of the prettiest metro stops), but once you get the hang of the metro this will all make much more sense.
To reach the Podil neighborhood, you have a few choices. It's connected with three stations, all on the Obolonsko-Teremkivska line (that's the blue M2 line). Get off at Tarasa Sehvchenka (that's the first one, at the top on the map below) Kontraktova Poshcha (that'll put you on Contract Square, it's the "middle" metro stop on the map below) or Poshtova Plosha (which is the one right in the bottom corner of the neighborhood on the map below).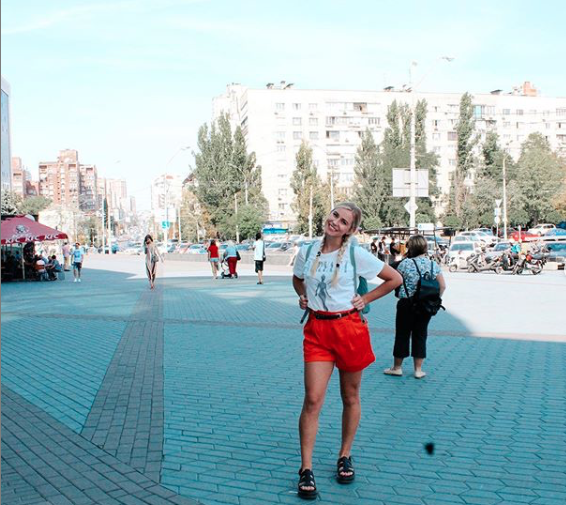 Ukraine's waiting for you!
Think about it — a semester exploring this country, weekends and vacation time to see other spots in Europe, all while you're here as a volunteer. Come teach English with ILP, in Ukraine.