We love the beaches and jungles and ancient ruins of Mexico, but we also love the shopping ... and coming home with souvenirs from our
I love looking into my home and seeing reminders of my trips — I've collected glass bowls from dozens of countries, have a leather backpack I bought and wore while exploring the Middle East, and have a pile of the most colorful decorations purchased while I was in Mexico.

Especially when it comes to this country, you're going to find oh-so-many souvenirs that you'll want to buy and bring home to remind you of the magical cities, cascading waterfalls, jungley cenotes, and the other memories you made in Mexico ... especially if you lived here as an ILP volunteer!


---
You could come for a quick resort vacay, but there's so much more to Mexico
Check out what a semester abroad looks like in Mexico

---
Because I love to get an idea of what's out there before I visit, here are some tips on how to shop, info on where to shop, a few price quotes (to make sure you're getting the best deal), and favorite souvenirs our ILP volunteers have snagged during their semester before coming home:
Souvenirs To Search For
Hammocks
Want to come back home and remember your time hanging out on Isla Mujures or another picture-perfect destination? Take home some of the relaxation you enjoyed while living in Mexico and get a colorful hammock!
You'll want to shop around to find what you're looking for as far as color and material goes — usually, you'll see hammocks made out of cotton, nylon, and a rope-type cord called henequen (it's pretty fiber-y). How tight or how loose the weave is will also impact price.

There are tons of variation in prices for these (some are hand-dyed, and hand crafted which make a beautiful hammock, but can ramp up the price). However, volunteers have found good options in the $400 peso range by bargaining hard (or cheaper options in the $200-400 peso range).
Leather Bags And Shoes
You can get leather goods for cheap in Mexico. Think purses, backpacks, sandals, belts, phone cases, laptop cases and more. Some stands will even custom make your order and stamp out your name, initials or a pretty pattern. Those classic leather sandals you're dreaming about are called huaraches and are a must-have for any ILP volunteer.
Some ILP volunteers remember getting their huaraches for around 300 pesos, or less in Leon if that helps you get a price to bargain towards — this city is nicknamed "the shoe capital of the world" plus you'll be able to get all of your leather goods in one place, making it a popular spot ... but we do have our whole list of our favorite places to shop for authentic leather sandals in Mexico here, if you're interested.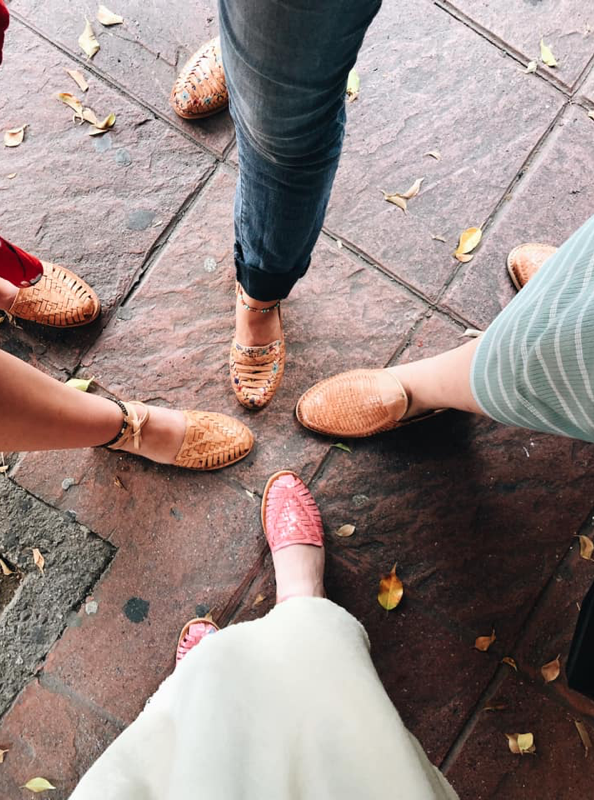 Vanilla
This is something I always get in Mexico ... or ask any friends and family to snag for me if they're visiting before I can make it down there! The vanilla here is so good (I prefer it to the stuff you can buy in the United States for the flavor, but also because it's way less expensive). Plus, you can snag a big bottle that'll last you forever.

My sister made it to Mexico more recently than I and got a big bottle (it's 33 ounces) for 315 pesos and split with me because you're using just a teaspoon or two in most recipes.
If you are a baker or know someone who loves to bake, this makes for an awesome gift.
A Few Clothing Items + Accessories
I love buying clothes in foreign countries because they are so unique from the stuff I can buy at home…and I love telling people where I got my shirt or pair of pants. Mexico is known for textiles, so it only makes sense to grab an embroidered shirt to spruce up your closet, right? We love all the intricate patterns available to add to your wardrobe, especially since patterns and embroidery style can vary from town to town.
Dresses are also a fun souvenir — one ILP group mentions getting embroidered dresses for 200-300 pesos in Puebla, Mexico.
These brightly colored, woven pullovers (Baja Jackets) are sure to remind you about your adventures on your trip, plus those colorful satchels are perfect for holding all of your pesos while volunteering in Mexico. They come in tons of different colors so you should probably bring one or two different kinds home.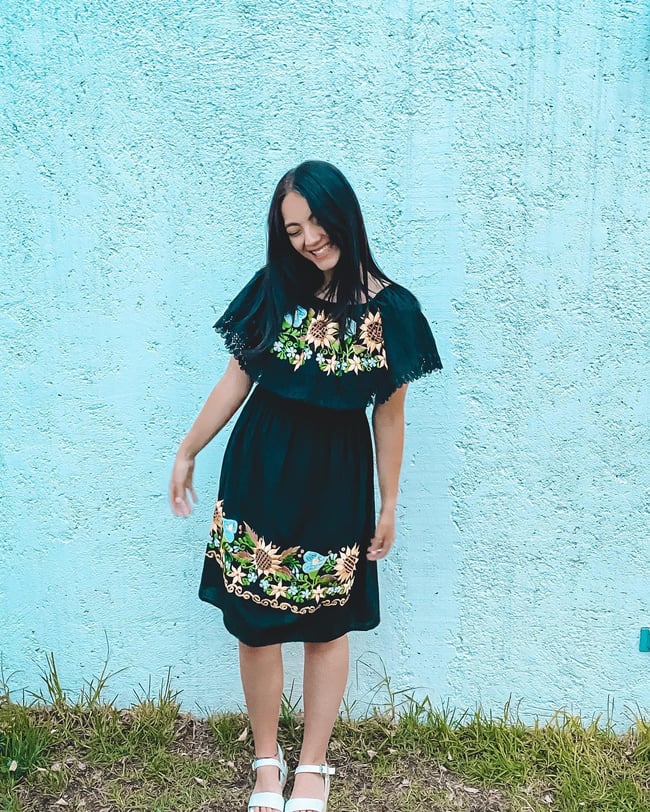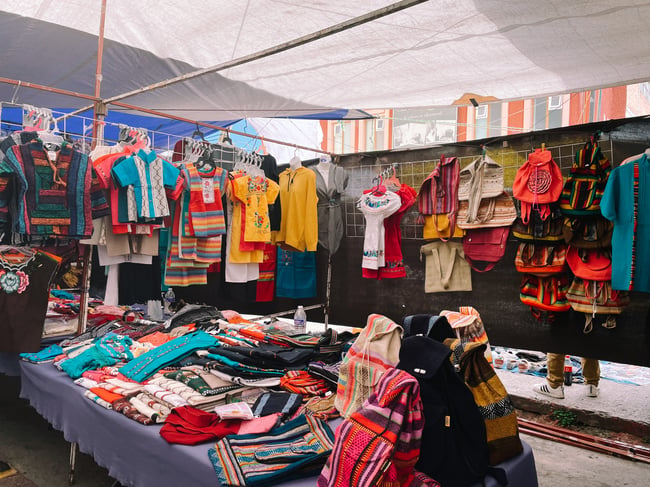 Painted Skulls, Keychains, Bobbleheads, Jaguar Whistles, Etc
Looking for something little? You'll find what you're looking for in many Mexican markets, like brightly painted sugar skulls, keychains from the city you're visiting, Bobbleheads of your favorite iconic figures (see how many Frida Kahlos you can find!).

Past groups mention a few prices to help you bargain towards a good price: "keychains, bobble head animals and sugar skulls are about 15-40 pesos"
Other groups mention that you can get jaguar whistles in Teotihuacan for about 25 pesos if you find the right guy, otherwise 50 is the next best price.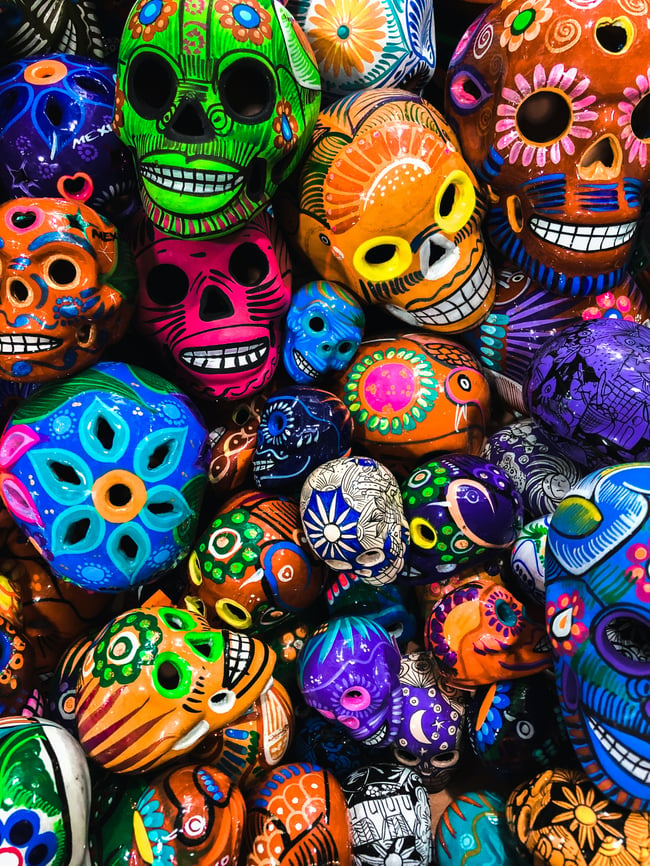 Woven Blankets
The best souvenirs are the ones you can use over and over again. Snag a few of these brightly colored blankets to toss on your bed, over a chair or snuggle up in one on the couch to remind you about those amazing beaches in Mexico.
They're a favorite souvenir item that you can get for 300-500 pesos, or you can spend a lot more (especially depending on your bargaining skills). Here's this story from one ILP volunteer — "I bought a huge, beautiful quilt from a man in Mexico City at the ruins. He said ... he was going to sell it to me for $2,000 pesos. The quilt was definitely worth that much and would have been much more expensive in America, but I tried my bargaining skills and got the price for less."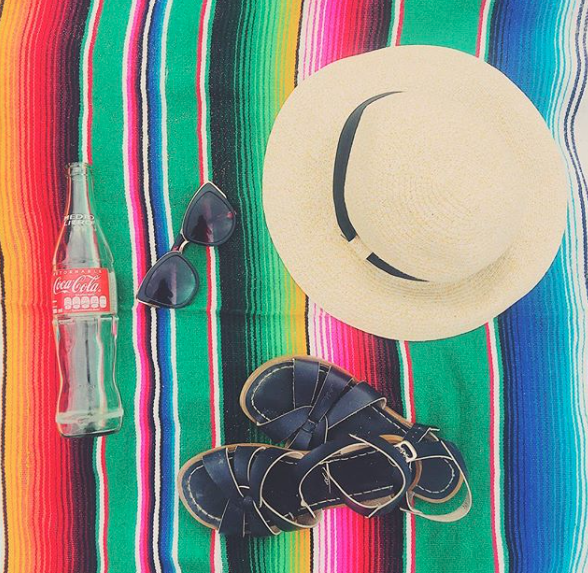 Jewelry
You can get some really beautiful jewelry in Mexico at a great price, especially if you buy more than one. Silver is a popular precious metal mined in Mexico (try saying that ten times!) and makes for a lovely gift. Or, go for the customized thread and bead bracelets; vendors will make one right before your eyes or you can choose one for you and a friend.
Here are some prices past volunteers have mentioned:
Silver Stud Earrings — 20 pesos (about $1 USD)
Silver Rings — 80 pesos (about $4 USD)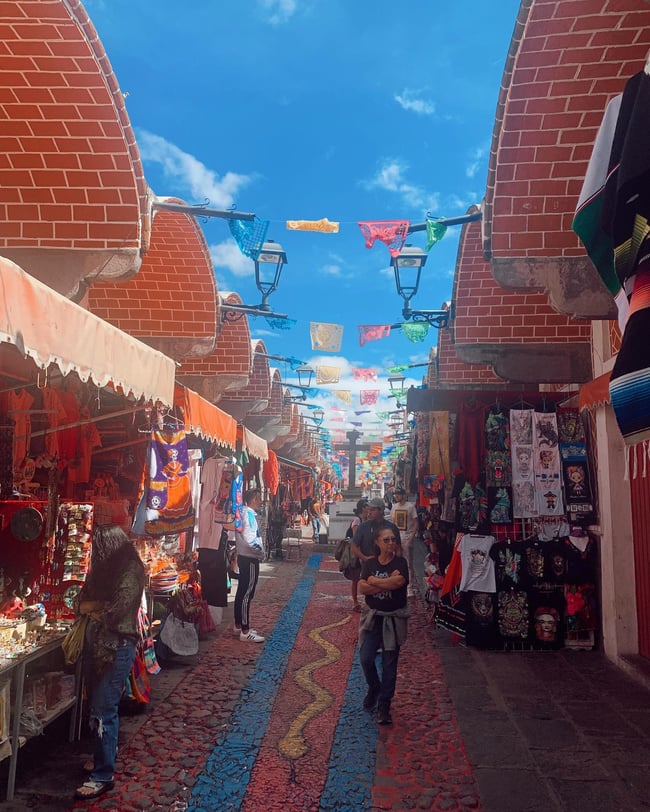 Where To Shop
You'll find places all over with their specialties (peek here for our favorite places to buy leather sandals in Mexico), but we have a few suggestions if you're catering your trips to some major shopping destinations, or find yourself nearby one of these cities and want to do some shopping.
You'll notice that major tourist hotspots (like Mexico City, Cancun, etc) are left off the list — we're fans of finding the places in Mexico that are less touristy for a few reasons (less crowds, lower prices, and a better vacation in our opinion):

Puebla — Find several shopping centers and souvenir stands in the Zocalo, as well as the "Alley of the Frogs", where you can find blankets, mugs, earrings, Frida Kahlo statues, bags, little skulls, and lots of candy). There are also little markets in the maze of streets selling brightly colored shirts and tunics, dresses, traditionally handmade dolls, woven bags, shoes, scarves, and more. One group mentions getting "huge blankets for 200-250 pesos" here.

Cholula — Nearby Puebla, is the city of Cholula which some say has the best shopping in all of Mexico. There's an area behind the pyramid that fills with vendors selling plenty of art and crafts, souvenirs to take home for you (and family and friends), as well as homemade sweets and other snacks.
Cholula Central Market is another spot that's fun to wander. More of a local market with baskets, fruit, soccer balls, piñatas, etc. Mercado Municipal San Pedro Cholula is another one to check out.
Guanajuato — In Guanajuato, shopping means a visit to the Hidalgo Market, a massive indoor market that is full of all the items on your list, including woven baskets, incredible piñatas, purses, clothing galore, painted poetry, and of course, huaraches. Some volunteers preferred the selection and prices you could find for these sandals in Guanajuato rather than somewhere like Leon, if that's good to know.
Leon — You'll find this on our list of where to buy leather sandals, but only because it has one of the most impressive leather districts around. Here you'll find leather dress shoes, boots, belts, purses, backpacks, wallets and more.
San Miguel De Allende — ILP groups mention a few souvenirs to snag while here, like flower crowns for 70 pesos, or paintings for 200 pesos. Souvenirs aside, it is absolutely a place you should add to your itinerary because we cannot get enough of how pretty the city itself is.
San Jose Iturbide — If you're nearby, come visit the bright and bustling market in SJI (it's not really a tourist or vacation destination, but definitely has more than a few things to see if you're in the area).

A Few Tips

Bring Cash (And Start Low)
Here is some advice on how to snag the best deal, straight from one of our ILP volunteers — "I would say to always have cash on hand especially for the little stands set up, they only accept cash. And when bargaining, always start with a pretty low price and try and meet in the middle with the seller, especially in the really touristy places they love to start with really high prices to get the Americans to pay more."
That's echoed by a few more volunteers who suggest having lots of smaller bills so you can negotiate a price you both feel is fair, then pay appropriately ... it doesn't look great to agree on 200 pesos, and pay with 500.
Don't Buy The First Things You See
A word to the wise? "Don't buy the first thing you see you will more than likely find it again and it can also be half the price somewhere else!" That's one major perk of living somewhere for a whole semester — you'll be visiting different cities every weekend if you wanted to, and can definitely wait out the first month to get an idea of what you actually want to buy (and what's actually a good price).
To Get A Little Discount
If you're not just visiting on a short visit as a tourist, you can see if there's a local's discount. It's something that's worked before in the past for our ILP volunteers who are living in Mexico for an entire semester, especially at their city's markets where they're buying from the same vendor.

You can also get a better price by buying in bulk, which is easy to do when your entire ILP group wants a woven blanket, embroidered shirt, or flower crown. Consider working with your ILP group to see which souvenirs you'd all like to buy and purchase together to snag a deal, like 4 for the price of 3, or something for 70 pesos each instead of 100.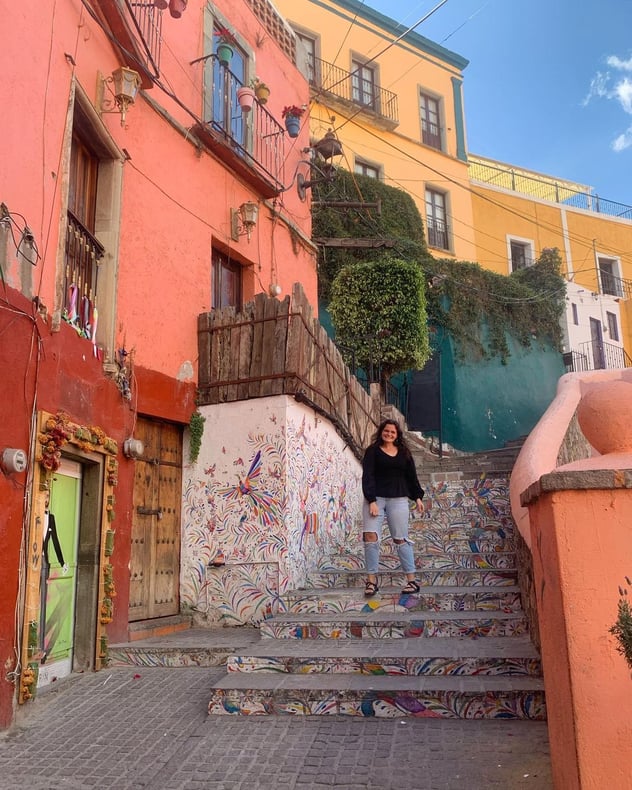 Come join us for a semester abroad in Mexico!
If you'd like to get the local discount by volunteering in Mexico for a semester, consider a service program like ILP — International Language Programs sends volunteers to countries all over the world, including Mexico.
Learn more about where you can live and vacation as a volunteer in this beautiful country by clicking below.