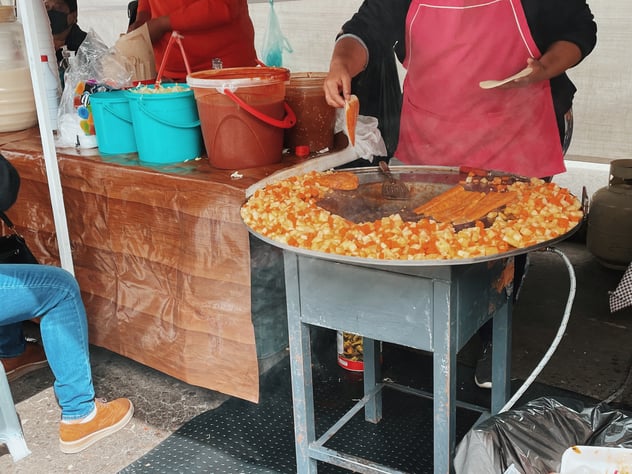 With more things to buy than you would ever need and all the delicious food you could ever want, we love love love this local market in Mexico.
It's hard to pick favorites when it comes to life in Mexico but one of the highlights has to be the markets. These sprawling centers are typically home to souvenirs, piles of fresh fruit, spots to get the best food, and an array of things you think you'd find in a supermarket ... not a street market! It's a favorite way to spend a weekend or weeknight, especially if your local market is the one found in San Jose Iturbide.


---
See more of Mexico than you ever could as a tourist.
All about volunteering in Mexico with ILP!
---

If you find yourself in the colorful city of San Jose Iturbide and want to know the details on how to navigate this market (plus insider tips on the best souvenirs and fruit stand), you're in the right place. We have all the details you need for a trip to the SJI Market:
What Should I Know About The San Jose Iturbide Market?
What Kinds Of Things Can I Find?
Literally everything ... we mean it. One ILP volunteer had this to say — " You can purchase all sorts of things at the market. It's really a great place to go when you are looking for anything you need rather than hopping from store to store because they genuinely have everything. We've found HDMI cords, phone chargers, extension cords, mirrors, flowers, and small cacti in cute pots. There's also jewelry, perfume, hairbrushes, clothes, fruit, and tacos." Other volunteers mention traditional clothing, Tupperware, kitchen items, perfume, makeup, phone cases, kitchen items, school supplies and more.

Like we said, it's a one stop shop for house supplies, groceries, snacks and desserts, souvenirs, plants, and even pets. Since the little town of SJI doesn't really have a big supermarket, this street market kind of fits that role.

Our volunteers typically visit to snag a good deal on something they may have forgotten at home (like an HDMI cord) or something that's not already in their kitchen at the apartment (like a whisk). It's also a top spot to grab a refreshing fruit drink, snack, dessert, breakfast, or lunch item. See why it's a favorite hang out spot?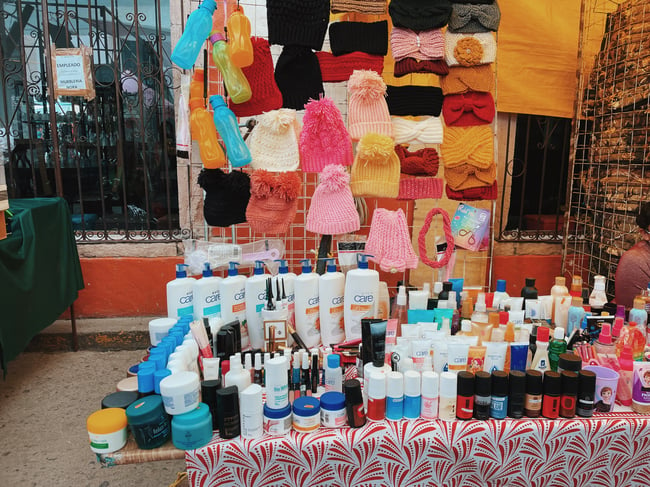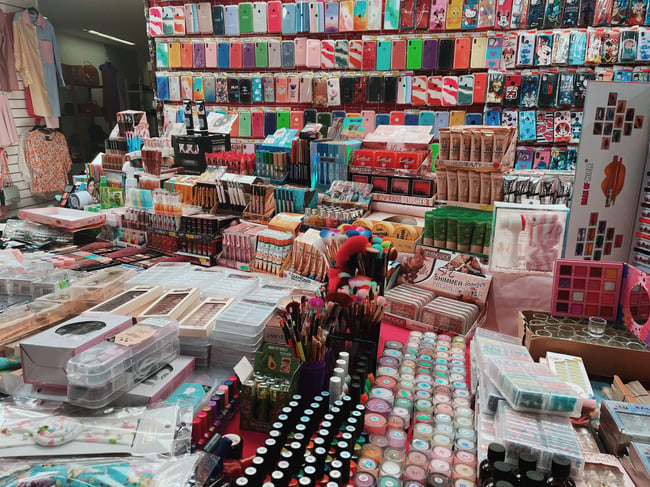 When It Comes To The Food
All of your food dreams will come true at the market (but really). While we still love several of the restaurants around town, the market is a go-to for tacos, fresh fruit, churros, Mexican candies, stuffed pancakes, cheese, ice cream, candied nuts, fresh drinks, horchata, crepes, gorditas, and quesadillas. Just a taste of the delicious things you can get your hands on.
A Few Recommendations
Since there's quite a selection at the market, here are a few suggestions from past volunteers:
Keep an eye out for "walking tacos" which are meat, veggies, and cheese all cooked together and placed instead a bag of Doritos. Oh, and topped with fresh salsa and lettuce, of course. YUM.
"The cheese is amazing! It's homemade and it's Oaxacan Cheese (which is pretty much string cheese). Everywhere, including the cheese guy, lets you test the food which is always fun."
"I'm a big fan of the fruit cups which are $30 pesos or $1.50 USD. I also love to buy Mexican wedding cookies there!!"

"There are lots of fruit stands, but our favorite guy is on the NE corner in front of the church. We like to go to the market for breakfast on Sundays!"
Some Foodie Prices
Tacos — 10 pesos each (0.50 cents)
Fresh Juice — 25 pesos per cup ($1.50)
Soda/Agua fresca/Horchata — 15 pesos (0.75 cents)
Pambazos Fried Sandwich with potatoes, ham, salsa, cheese, lettuce) — 20 pesos each ($1)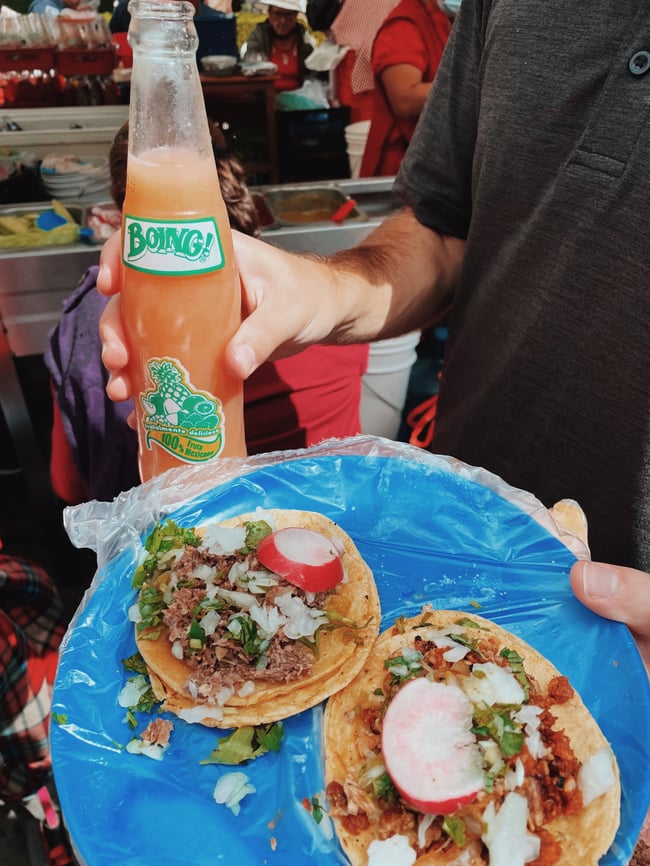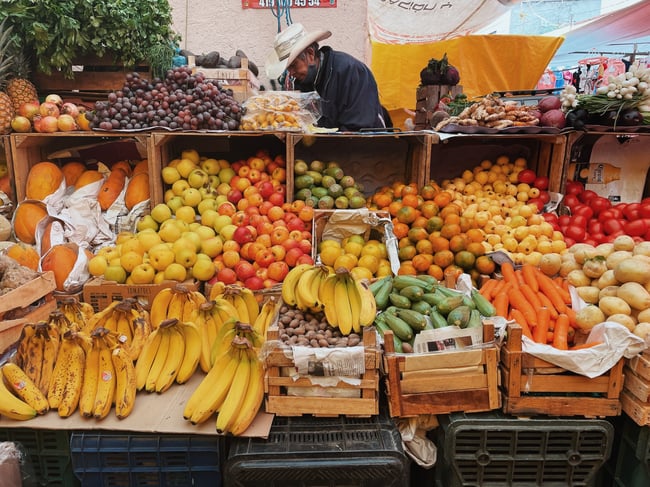 Tips For Pricing
Most street vendors are willing to bargain down the price if you ask and sometimes they'll even cut the price in half. It just takes some time talking to them and making a deal. It's also handy to know the prices on some things to help you gauge what others got for their souvenirs:
Some Prices To Know
Silver Stud Earrings — 20 pesos (about $1 USD)
Silver Rings — 80 pesos (about $4 USD)
Socks (3 pairs) — 50 pesos ($2.50)
A Few Tips
Amy A. who volunteered in Mexico with ILP shared an awesome deal she got from bargaining for a unique blanket.
"I bought a huge, beautiful quilt from a man in Mexico City at the ruins. He said that it took his family 45 days to sew it and he was going to sell it to me for $2,000 pesos ($108 USD). The quilt was definitely worth that much and would have been much more expensive in America, but she tried her bargaining skills and got the price for much less. Nice work.
It can also help to mention that you're living in Mexico as an ILP volunteer (so locals don't assume you're just a tourist and suggest a higher price). Some volunteers have also mentioned it helps to learn a bit of Spanish (numbers and some general phrases) to help negotiate and strike up a fun and friendly conversation.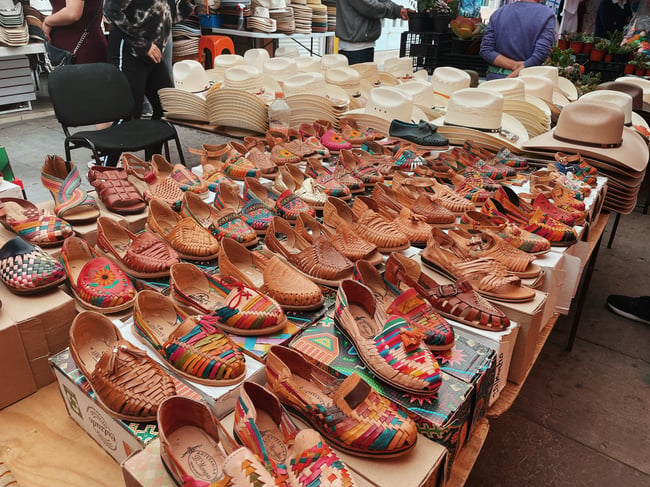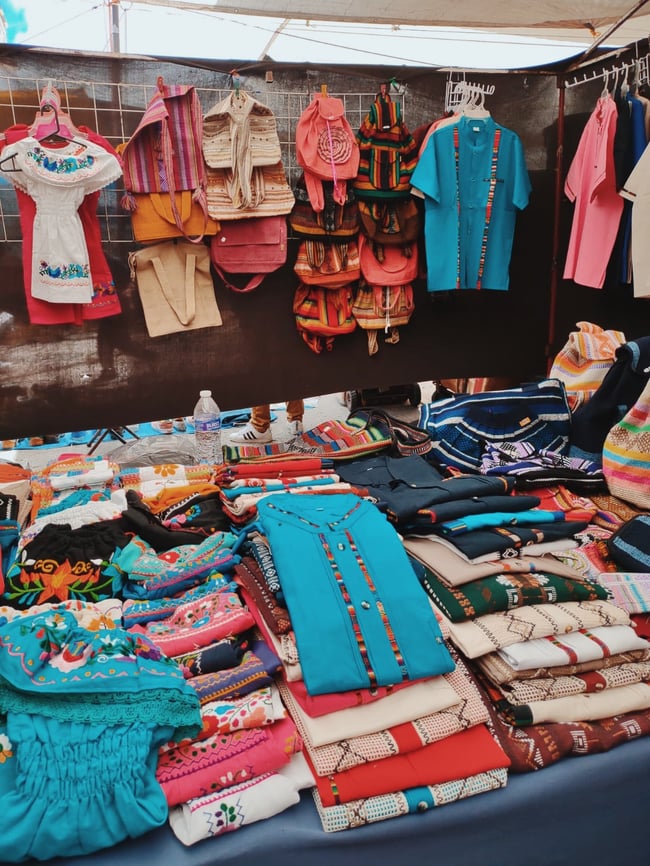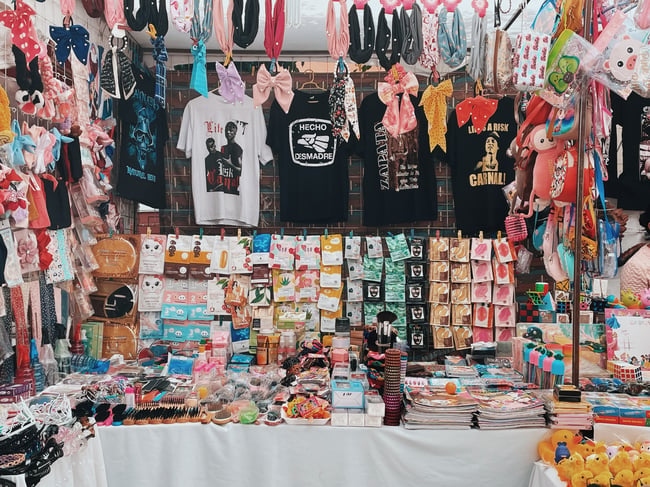 When + Where Is It?
The market is every Sunday and Wednesday from about 10:00 AM - 4:00 PM.

These times are rather approximate, but the market tends to be in full swing by the late morning/afternoon, with some stands hanging around until the evening (past that 4:00 PM time stamp).

As far as "where", the tents are set up in the town center near the Jardin Principal which is right in front of the cathedral, Presidencia Municipal de San José Iturbide.
The address to the cathedral: Pl. Principal 1, Zona Centro, 37980 San José Iturbide, Gto. which will get you near enough to see the market and head on in the maze of tents and stalls.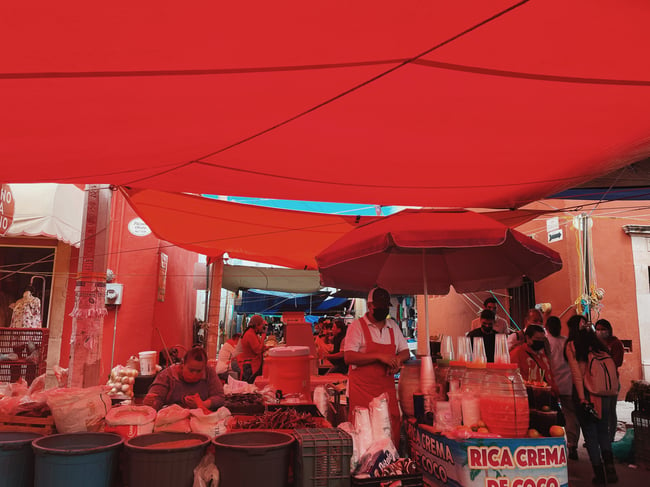 We're accepting applications to come volunteer in Mexico with us!
With amazing things to see, the kindest people around, and the opportunity to make a difference in the lives of kids, you're never going to want to leave. Click below to learn more about Mexico and how you can serve abroad: