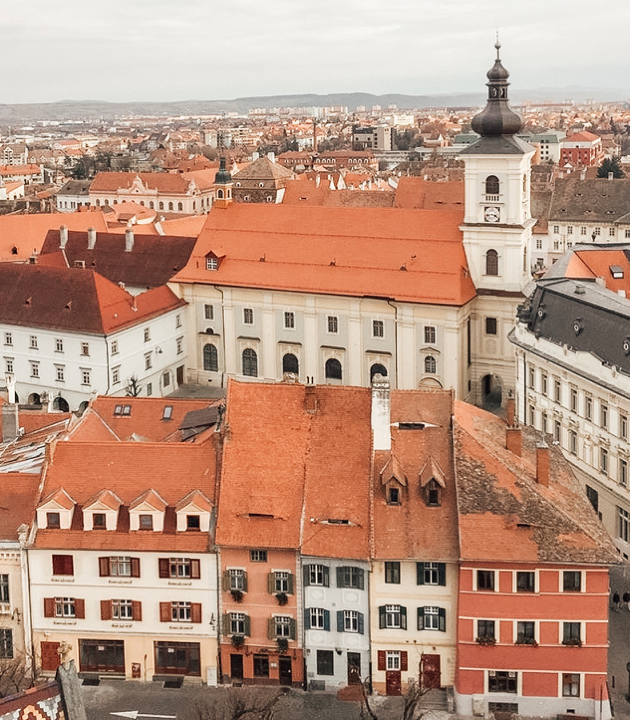 I've been able to see more than a few of Europe's cities, but here's why I fell completely head over heels with Romania.
I'm pretty obsessed with Romania. In my last trip to Europe, I visited some countries I was dying to see — famous touristy spots where I had a dozen friends who had visited before me and told me what to expect. But I also added Romania to the itinerary which ended up being my favorite for more than a few reasons. It caught me off guard and had me wishing I would have spent twice the time there for starters.


---
Want to call this country home for a semester?
Come volunteer in Romania with ILP!
---

So maybe you're thinking that Romania can't possibly be the prettiest country in all of Europe … and maybe it's not, even though the pastel villages stacked up against rolling green hills is pretty hard to beat. The things I absolutely loved was how surprising Romania was. The charm, the history, and all the castles were things I hadn't seen splattered all over Instagram (yet). Sometimes places seem less pretty or enchanting in person because you have a set of expectations.
Even if you haven't been to Paris, you know what a visit there will be like, right? Maybe the thing I loved the most is that my time in Romania didn't feel "done before" by all of my friends. Instead, it was totally new and completely enchanting. Ever since I visited, I find myself saying "Romania" when people ask where I loved traveling .. and honestly, it's not hard to see once you glimpse at how picturesque all these places are!
The Most Instagram-Worthy Spots In Romania
Brasov's Postcard Views
This place could not get more picturesque. Tucked away high up in the green rolling Transylvanian hills, this colorful city looks like a postcard. I can't believe this gem isn't more of a tourist hot spot — how does this scene not lure in all of the crowds?
Brasov has cobbled streets, painted baroque homes, a towering Gothic church and even boasts a "Brasov Hollywood" sign up on the hills. It's number one on this list for a reason. To make this place even better, it's the best jumping off point to see a couple of other spots on this list (Peles Castle and Bran's Castle). It was easily my favorite place I got to see in Romania, hands down. And since one picture isn't enough, here's more about Brasov.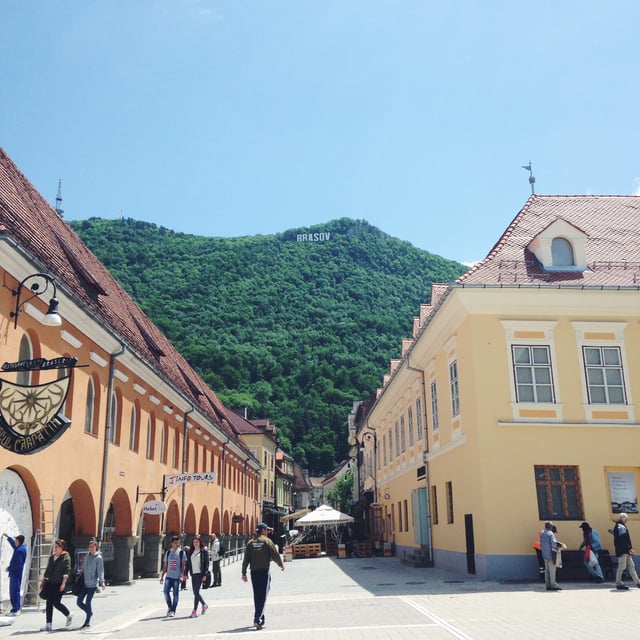 A Few Castles

Peles' Perfectly Pictured Castle + Grounds
Built over a hundred years ago, this Neo-Renaissance castle is utter luxury, perched between sloping alpine mountains.
The outside is incredibly impressive, but inside, you'll see what you'd expect of a royal residence (we're talking lush ornamental rugs, vaulted ceilings with detailed chandeliers, rich wooden doors that are intricately carved …. you know, total luxury).
Found in the nearby city of Sinaia, you can easily take a train from Brasov to see this stunner.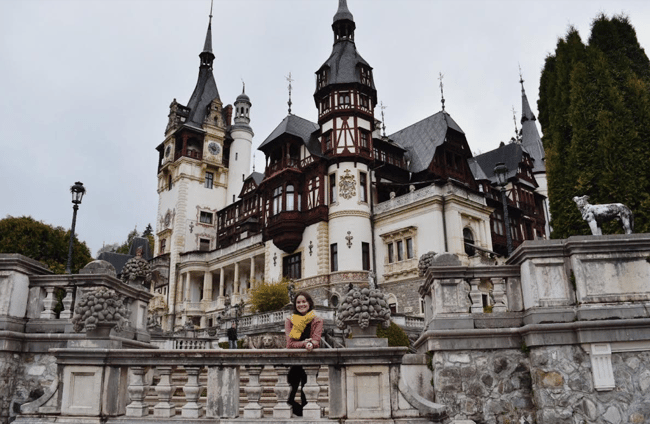 Bran's Imposing Hilltop Castle
Fan of the horror genre? Then you'll need to grab your camera to see the supposed Dracula's castle, and iconic and imposing medieval castle supposedly inspired the legend of Dracula.
Bran Castle is said to be the only one in all of Transylvania to match Bram Stoker's description in the novel, hence the idea that Bran's castle inspired Dracula's home. The picture you have to get of this hilltop fortress is the shot of the tower — head upstairs through the winding spiral stairs and walk under the shingled roofs until you get to an opening that's situated right above the courtyard.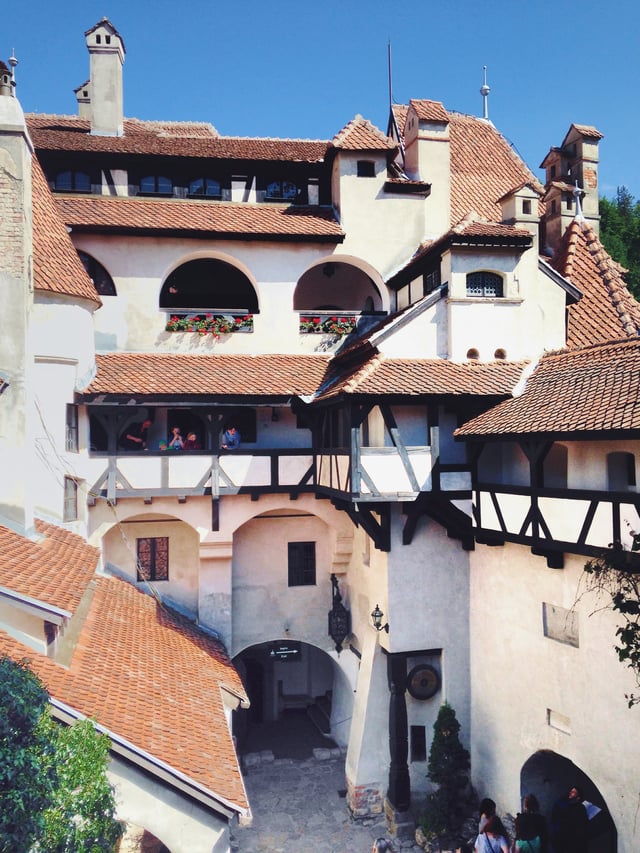 The Ancient Corvin Castle
One of the most popular castles around, this is supposedly where "Vlad the Impaler", the infamous ruler who served as Bram Stoker's inspiration for Dracula, was held prisoner in 1461 by military leader John Hunyadi. It's also sometimes known as Hunyadi's castle, for some obvious reasons.
Built in the 1300's, tourists are welcome to trek through spiral staircases to vaulted ceilings, glass boxes full of costumes from hundreds of years ago, and walkways that open up to massive courtyards.
It's easy to see why it made the list of Romania's top castles.

Fairytale Chalets
Castelul De Lut is an adorable little chalet built from stone and clay, but that's not why it's so magical. Nope it's because this tiny village looks like it belongs to a little fairy or family of gnomes.
The whole complex has buildings built from natural materials like clay, stone, sand, and a bit of magic, you would think. The area was built by famed craftsmen from the nearby region of Maramures, known for these charming churches. It's now owned by Razvan and Gabriela Vasile who have big plans to turn this spot into a little hotel, restaurant, and more. For now, it's a magical collection of buildings you can wander around.
Just peek at a couple of pictures and you'll want to see this place for yourself — all about the Castelul De Lut.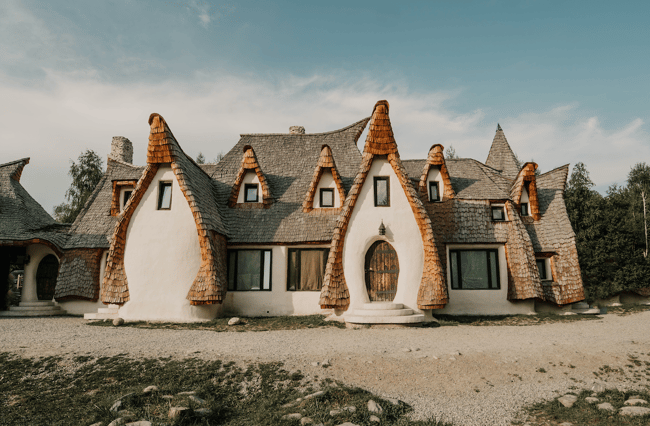 So Many Things About Sibiu
If you want to know what all the fuss is about when it comes to Romania, just take a peek at what's waiting for you in Sibiu. It's a beyond quaint little collection of painted window shutters, sprawling parks, meandering cobblestone streets, and views around every corner ... and Sibiu is just one of the perfect little villages.
In typically European fashion, the city center is a total highlight, filled with lots of shops, places to eat, winding cobblestone pathways, and surrounded by picturesque buildings, it's a place you can spend a couple of hours, that's for sure. Sibiu's Old Town is thought to be one of the most beautiful and well-preserved in all of Transylvania, so don't miss out on admiring the architecture and history. It's a stunner, and honestly just the part of all things you can uncover in Sibiu.

Get a glimpse of what else a visit to Sibiu is all about.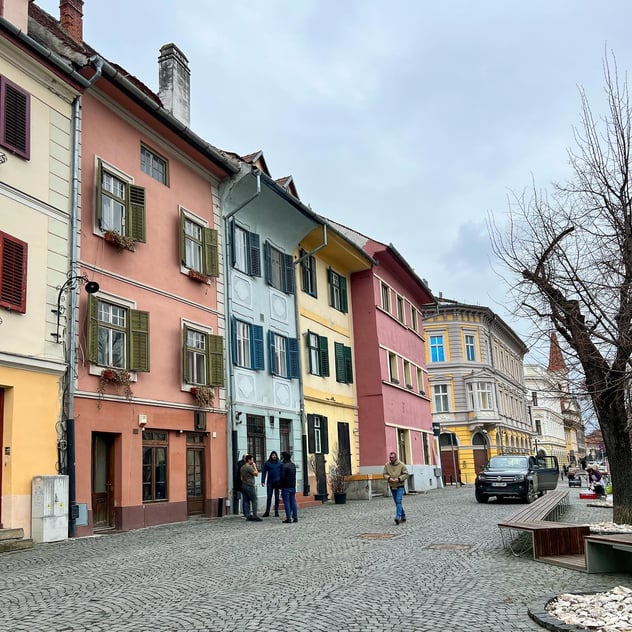 These Painted Monasteries
While you'll find many gorgeous monasteries spread across the whole country of Romania, the ones in Bucovina cannot be beat. These structures themselves date back to the 1400's and 1500's, and the artwork is just as stunning as it was centuries ago, panels of bright blues, reds, and oranges depicting classic stories, people, and lessons from the Bible.

It's an incredible experience peering into the interiors of these detailed churches, only to step back and see half a dozen painted monasteries situated across rolling green hills in the countryside of Romania.

See even more of these monasteries in Bucovina, here.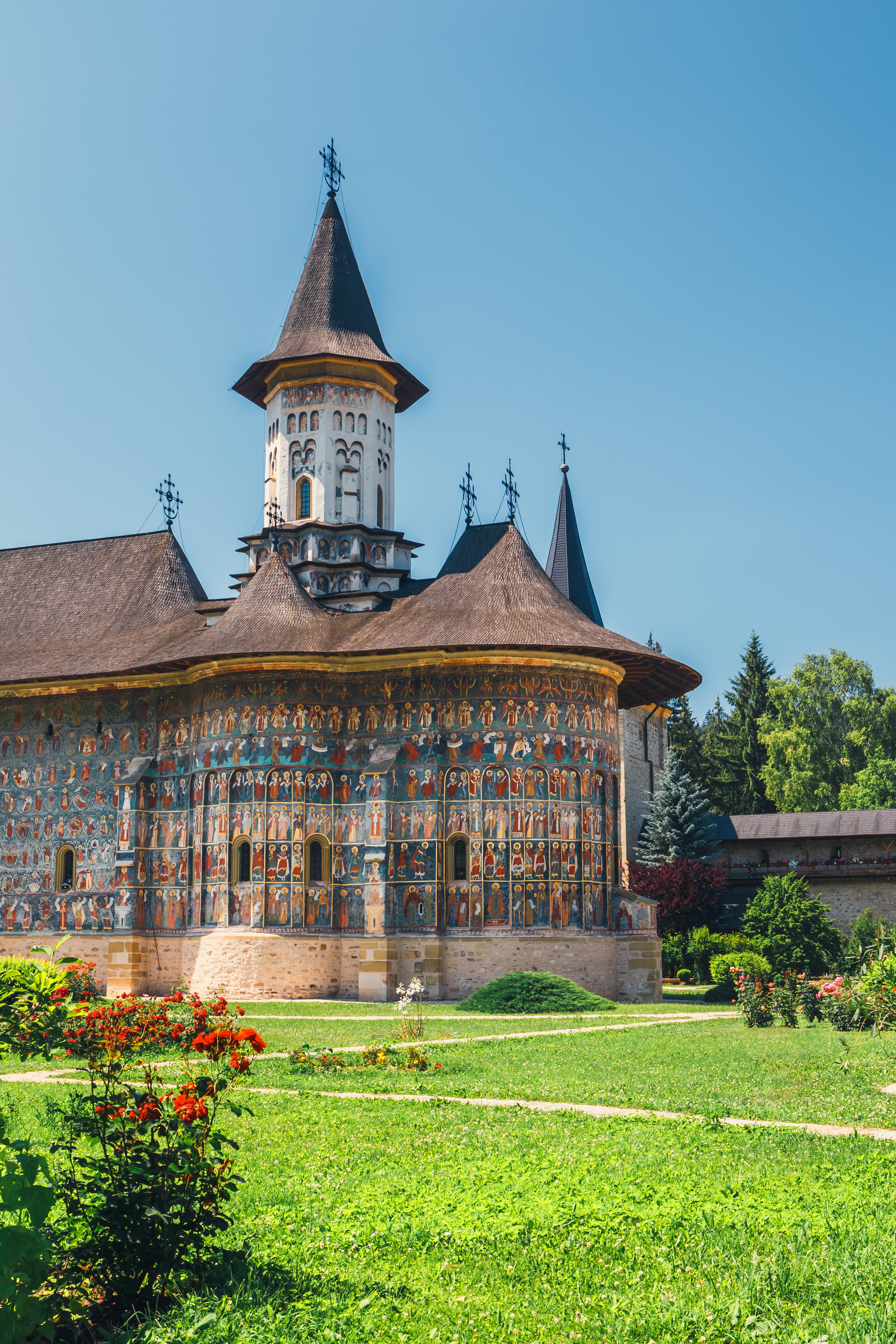 Constanta's Opulent Seaside Casino
You'll need to trek to the coastline of the Black Sea to get to this photogenic spot. We love the coastline in Constanta, with sweeping stoney beaches that boast some rather lovely sunsets, but there's one building in particular we love more.
The opulent Art Nouveau Casino used to be the talk of the town, complete with sweeping staircases, rows of arched windows, and carved capitals. It's been abandoned since the 1990's, but seeing this structured perched right on the seaside makes it worth a few photos.
See more of Constanta here — It's a favorite place to escape to the seaside, take a dip in the Black Sea, and soak up the ocean breeze.

Colorful Timisoara
Ready for another pretty city on this list? Romania is full of them, but this is all about one place in particular: Timisoara. Find alleys topped with a ceiling of colorful umbrellas, towering Art Nouveau buildings in a rainbow of colors, and a cathedral with the most intricate mosaic rooftop, all in this hidden little city.

Here, pedestrian squares are surrounded by colorful baroque buildings, neighborhoods are filled with narrow alleyways that open up to massive synagogues or homes that have a facade of peacocks, owls, swans, and others wrapped up in carved tendrils.
We also love the smattering of museums and cafes you can find in Timisoara: can you see why some people call this place the "little Vienna?" It's a fan favorite for those who are in on the secrete (and we think it'll be a favorite place of yours, too).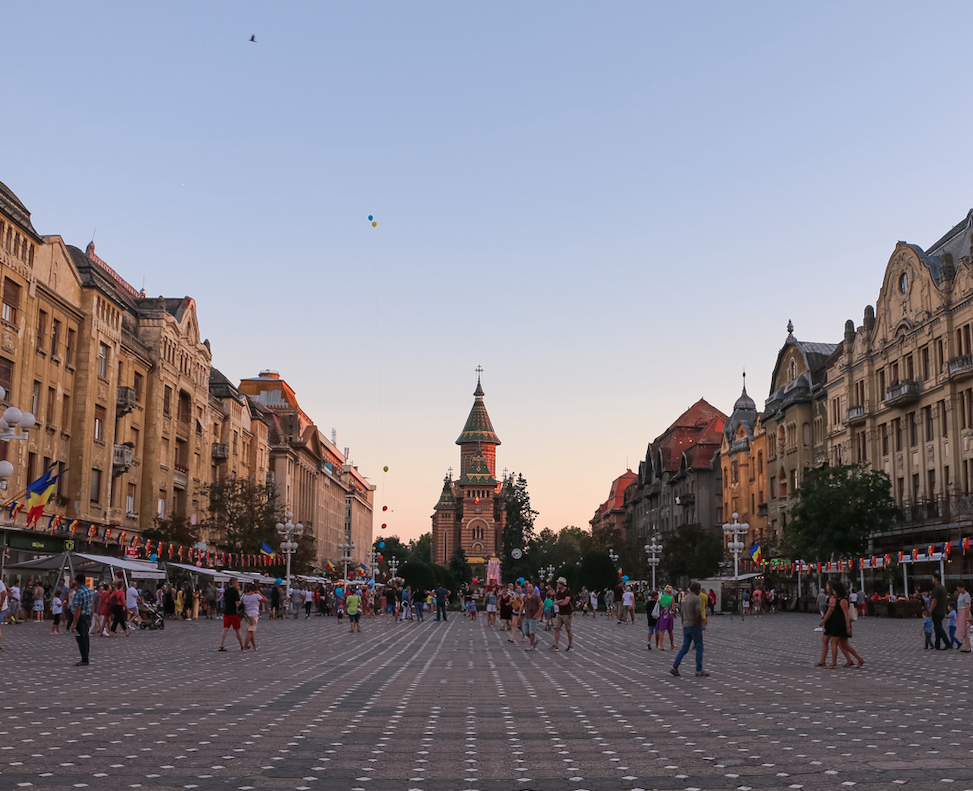 Sights In Sighisoara
It's a bit unfair to only list a couple of Romania's pretty little cities, but there are a few reasons why Sighisoara made this list in particular. The walled-city center is crammed full of medieval fortresses, homes painted with coral windows or splashes of canary yellow, and tiny cobbled streets that are lined with a rainbow of colors.
There's a lot to keep you captivated in the city center, but my favorite part about this city is the pretty alleyways you can spot if you wander around the little neighborhoods — they're ridiculously charming, almost like a box of tropical-colored crayons all stacked together.

See what's waiting for you in Sighisoara.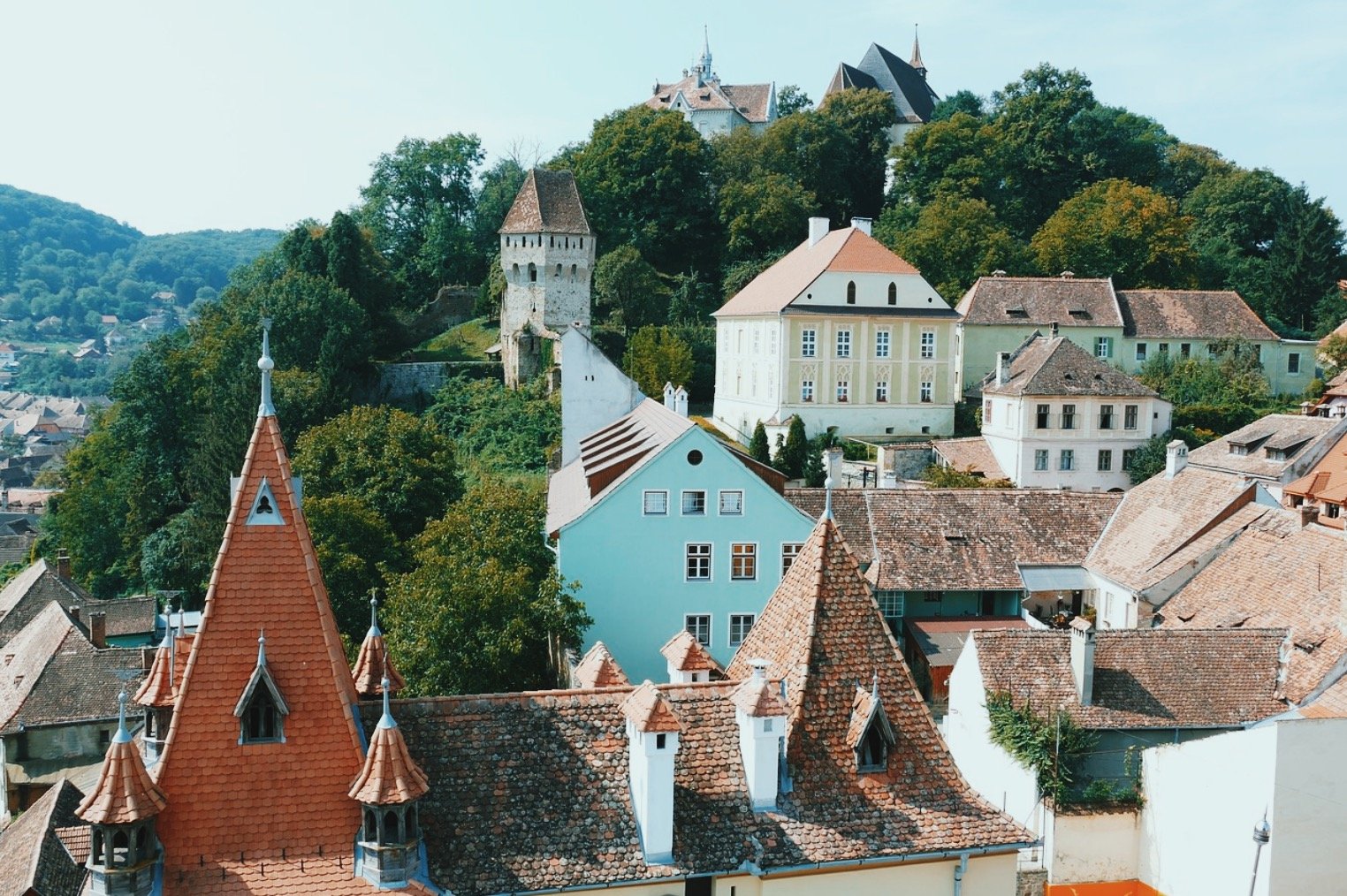 Stay Captivated In Cluj-Nacopa
A little place called Cluj-Napoca is tucked away in the north eastern part of the country and has been luring "off the beaten path" travelers here for years — partly due to how photogenic this whole town is. Around Union Square, you'll find old mansions, spires from ancient churches, and "Parisian-esque" buildings on mirror street, or climb up some 200+ stairs to get a view of the city of Cluj spilling out below you at Cetauia Park. In the mood for some sun and sand? Hang out at the salty lakes (where you float atop the water) and build sandcastles for the afternoon.
Need another reason to visit? Cluj-Nacopa also happens to be a fab jumping off point to some of the country's most impressive villages and castles, and one underground theme park (which is hard not to check out).

Here's your guide to all things Cluj-Napoca (and even more pictures).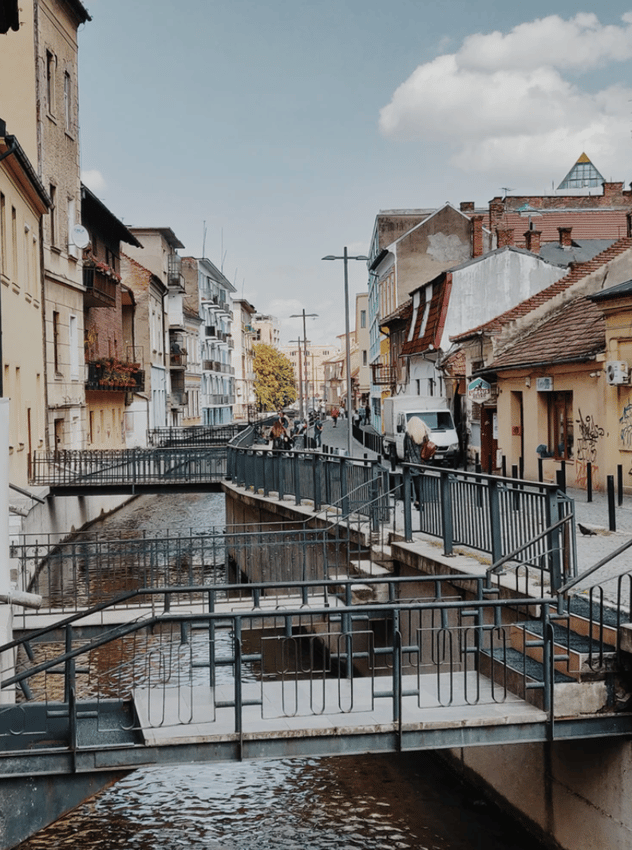 Want a few more charming towns to visit in Romania? We have you covered.
Come to Romania with us! You'll spend part of your time volunteering in an orphanage, and part of your time exploring all of the prettiest spots in Romania (plus some other vacation spots around Europe). Come see what volunteering in Romania is all about: