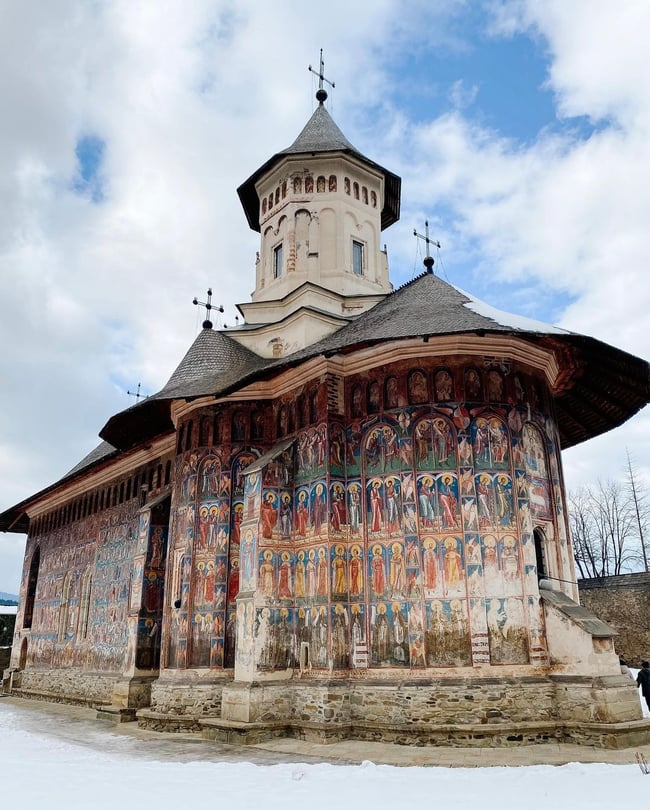 Who knew these monasteries covered in religious murals were hiding in Romania? If you're planning to visit (and you should), here's everything you need to know about the monasteries of Bucovina.
Romania is one of those European countries that might not be on your travel list yet, but if you're anything like us, that will change once you see everything it has to offer. What's exactly on the line? Charming villages, world class hiking, miles of beach along the Black Sea, and a culture that's been shaped by some of history's most captivating chapters. It's a place that boasts all of this and more, but seemingly doesn't get the attention it seemingly deserves, unless you're spending time here, like our ILP volunteers in Romania!

ILP Romania volunteers spend an entire semester here, with every weekend off and vacation days to explore everything in Romania (and Europe). And when you're not traveling, you're spending time volunteering in our orphanage program, giving your love and attention to some of the sweetest children.


---
Want to spend a semester volunteering in this beautiful country?
Learn More About ILP's Orphanage Program
---
Now that you're convinced Romania is right for you, it's all about the weekend trips waiting for you. While there are many functioning monasteries spread across all of Europe, this collection found in the Bucovina region are very distinctive — something you won't find elsewhere in the country (or many places around the world) and really is a photographer's dream. Here's all the info (and more) to help you plan your trip:
All Of The Details You'll Need For Your Trip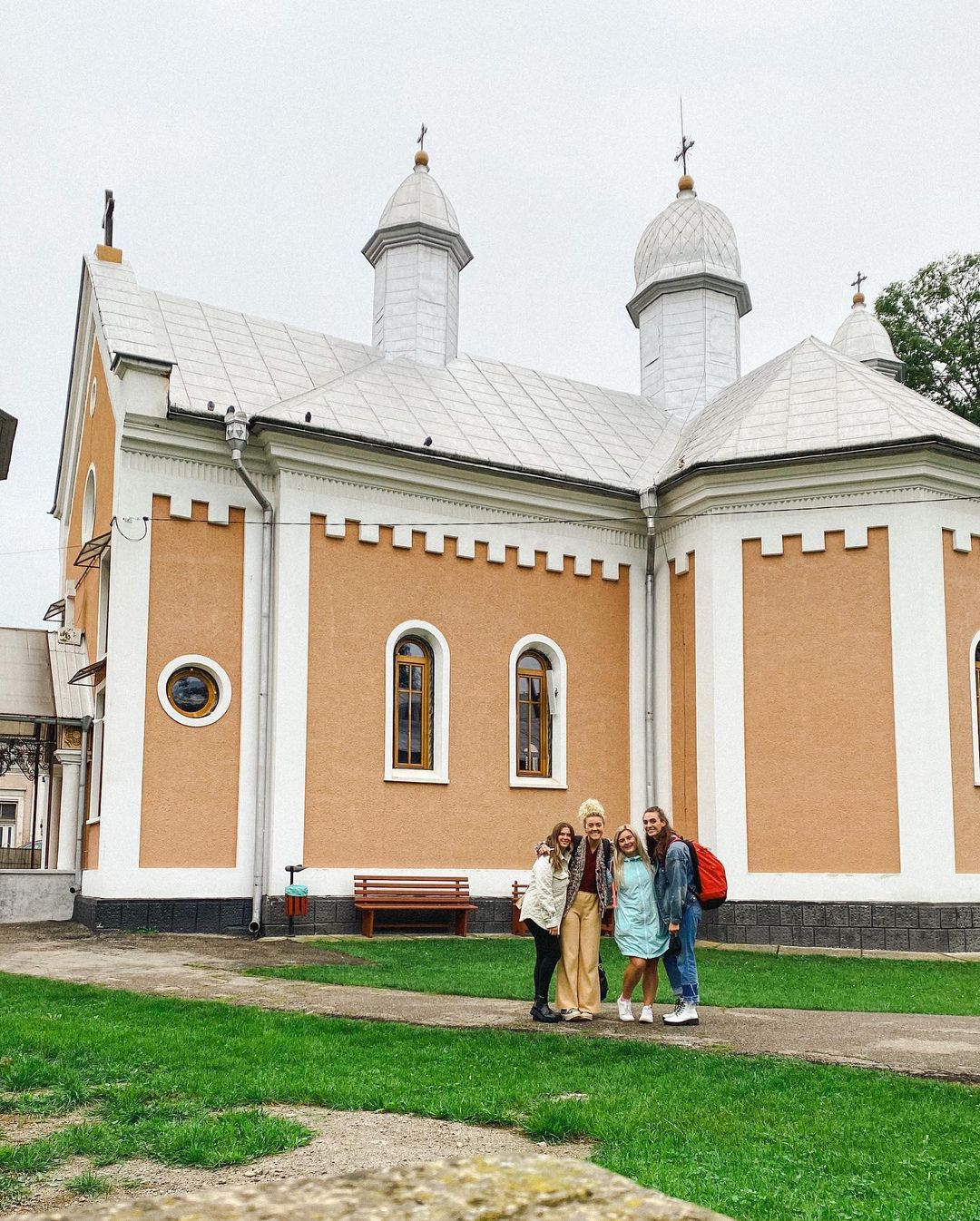 About These Monasteries
The structures themselves date back to the 1400's and 1500's, but are still sturdy and remain well preserved. Their most stunning features are the frescoes painted on both the interior and exterior walls. They depict classic religious scenes from the Bible and tell stories of Christ, well-known priests, and other events through history. This was a great way for the locals who could not read the stories themselves to still be able to familiarize themselves with the Bible and church history.
Some Info About The Frescoes
The frescoes are incredible to see, especially if you have some background. First off, know these scenes are hundreds of years old — painted in the 1400s and 1500s. And the process just adds to what you're about to see. Teams of a few painters plastered the walls of the church for a smooth surface (typically with mortar, then a thin layer of plaster mixed with fibers like straw). Then, things had to be painted before they dried. Supposedly, apprentice painters handled less important details like background colors and flourishes, but the important details (like faces, hands, religious icons, etc) were handled by the experts.
The colors come from a mix of clays, semiprecious stones, and other minerals which made brilliant pigments. Because the colors were added onto wet plaster (instead of painted using a binder — like egg whites) the colors have lasted through the centuries.
Where To Find Them?
And where are they found? The Bucovina monasteries dot the surrounding countryside of the little city of Suceava, a city found in northeastern Romania (near the border of Moldova and Ukraine). Bucovina actually refers to a historical region, stemming back from 1700s, but isn't a city you'll see on a map. From the nearby city of Iasi, the city of Suceava is a 2-3 hour journey, making it an ideal weekend trip if you're in Iasi.
Here's a map with stars marking where each of these monasteries is located, but we have a breakdown of each structure below.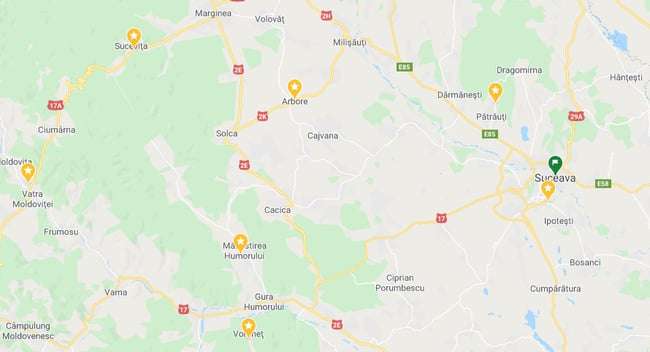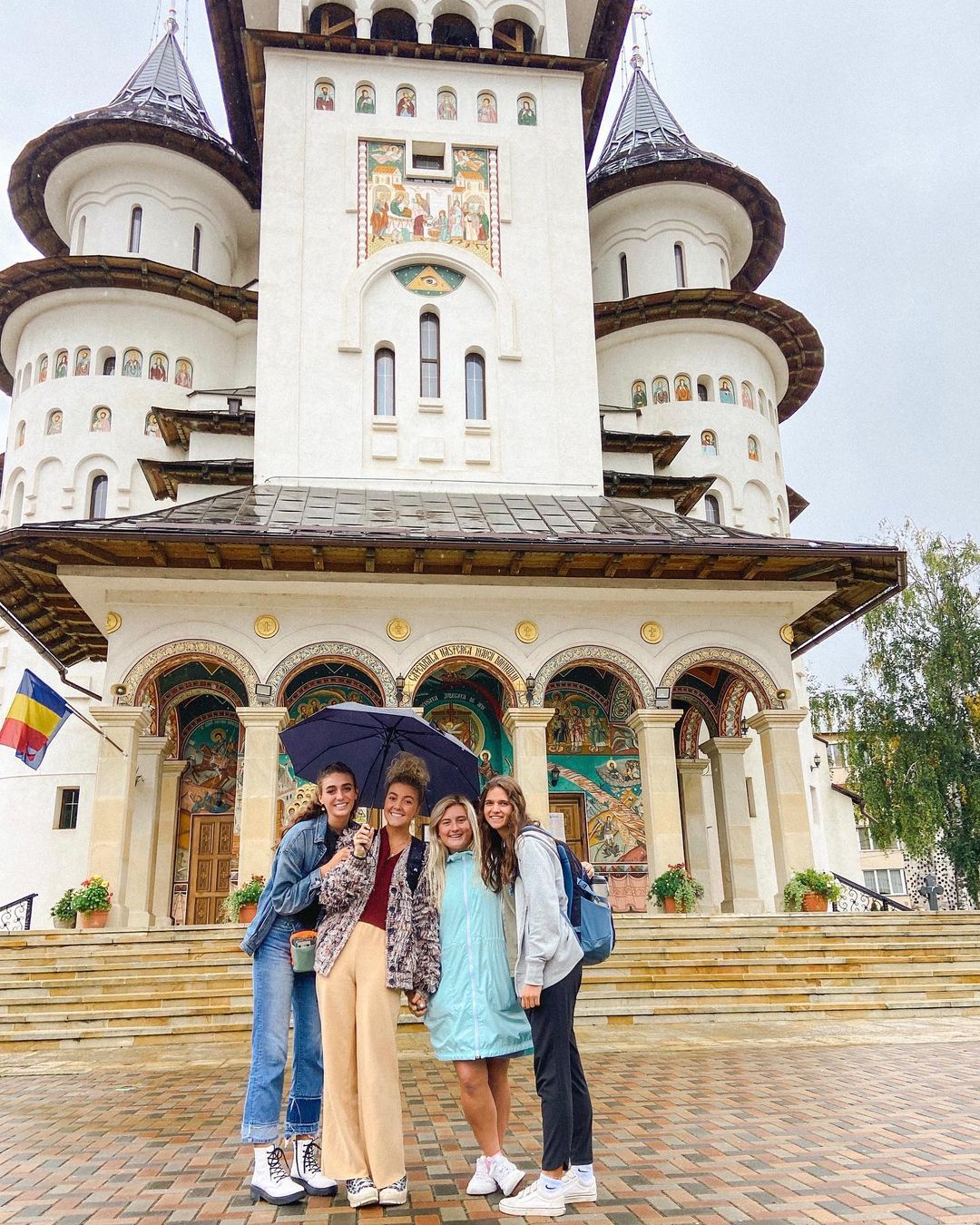 What You'll See Here
As shown on the map above, we're going to highlight several significant monasteries in this area. Starting with the green flag in Suceava and then going clockwise, let's briefly introduce you to each one! This website will also be very helpful when planning your trip, in addition to the info we have here.
Oh, and one little tip? It's important to have cash with you. Some of the monasteries have a small fee (some groups have gotten that fee waived when they mention they're students from America, but not always). Also, sometimes pictures are a small fee (around 5 lei for all the images you want). If you ask us, it's worth it! These monasteries are stunning.
St. George's Church/St. John the New Monastery
Kept here are the remains of St. John the New, a Christian martyr who is believed to be the protector of Suceava. On the exterior of the church, you can still see remains of the faded frescoes featuring the stories of The Prodigal Son and The Hymn of the Dead. You will also love the burgundy mosaics covering the roof and large bell tower.
There are brightly colored (and much newer) murals painted in another portion of this monastery to help you visualize what the frescoes painted on the St. George church may have looked like.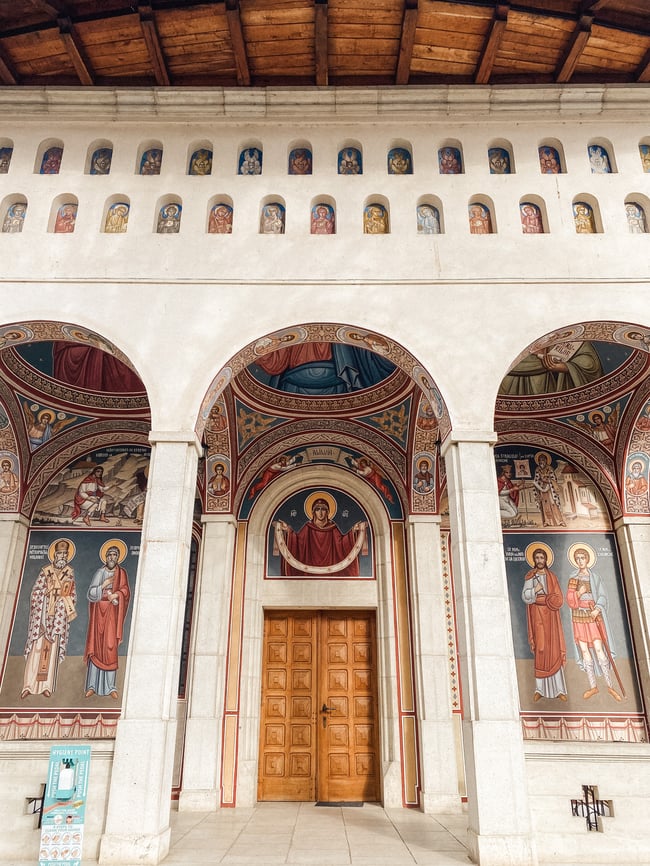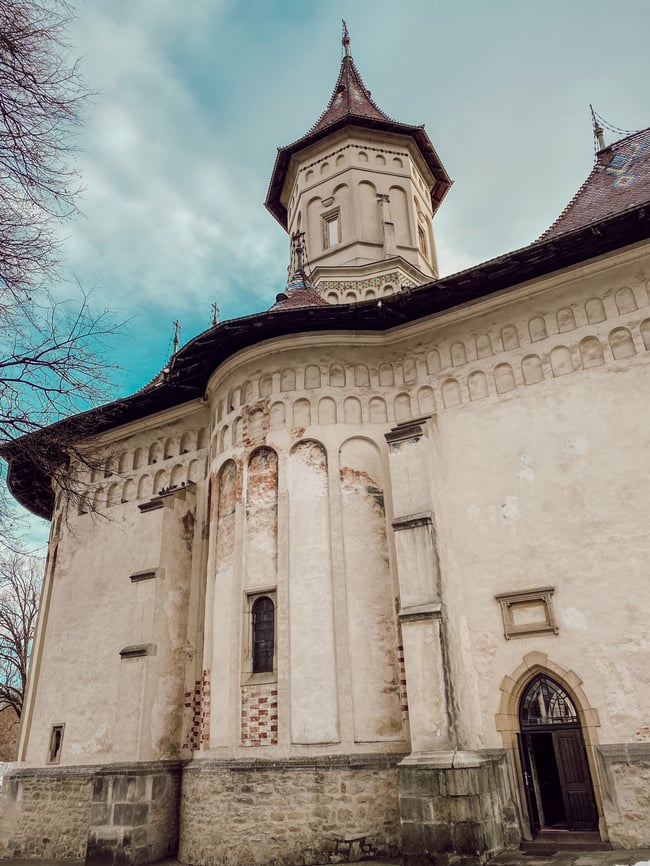 Voronet Monastery
Near the town of Gura Humorului (about 30 miles east of Suceava), you'll find the "Sistine Chapel of the East." This is probably the most famous of the monasteries, and was built to celebrate a victory against the Turks in the late 1400s.
The exterior frescoes are still quite vivid, and illustrate many scenes, including The Last Judgement. You'll see many apostles, angels, demons, martyrs, and even some philosophers on the walls — these long-lasting frescoes help add to the fame of this monastery ... it's hard to believe that the paint on this beautiful church is hundreds of years old and has lasted through hundreds of freezing winters and springtime rainstorms.
To this day, no one knows exactly what the long-lasting bright blue paint is composed of.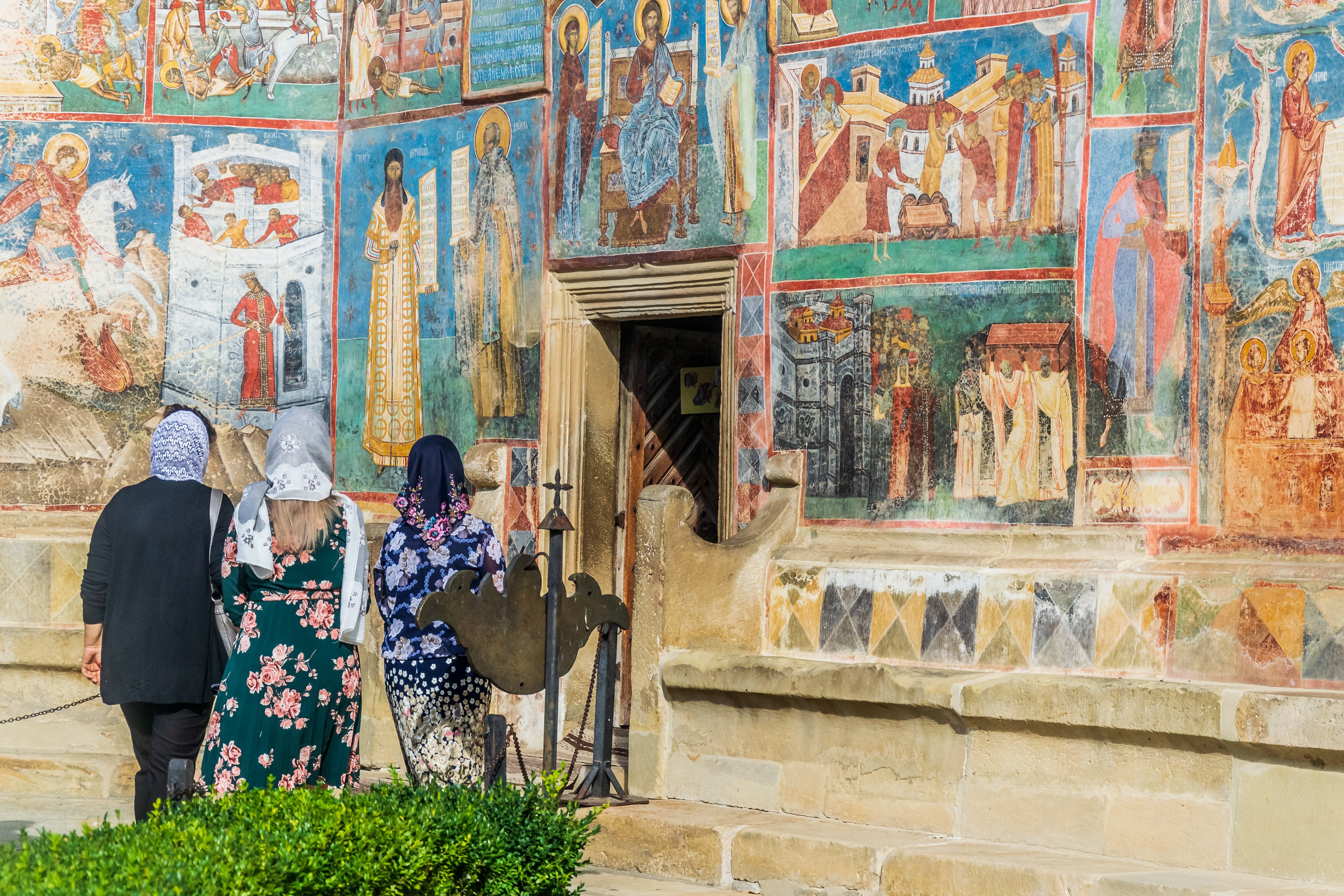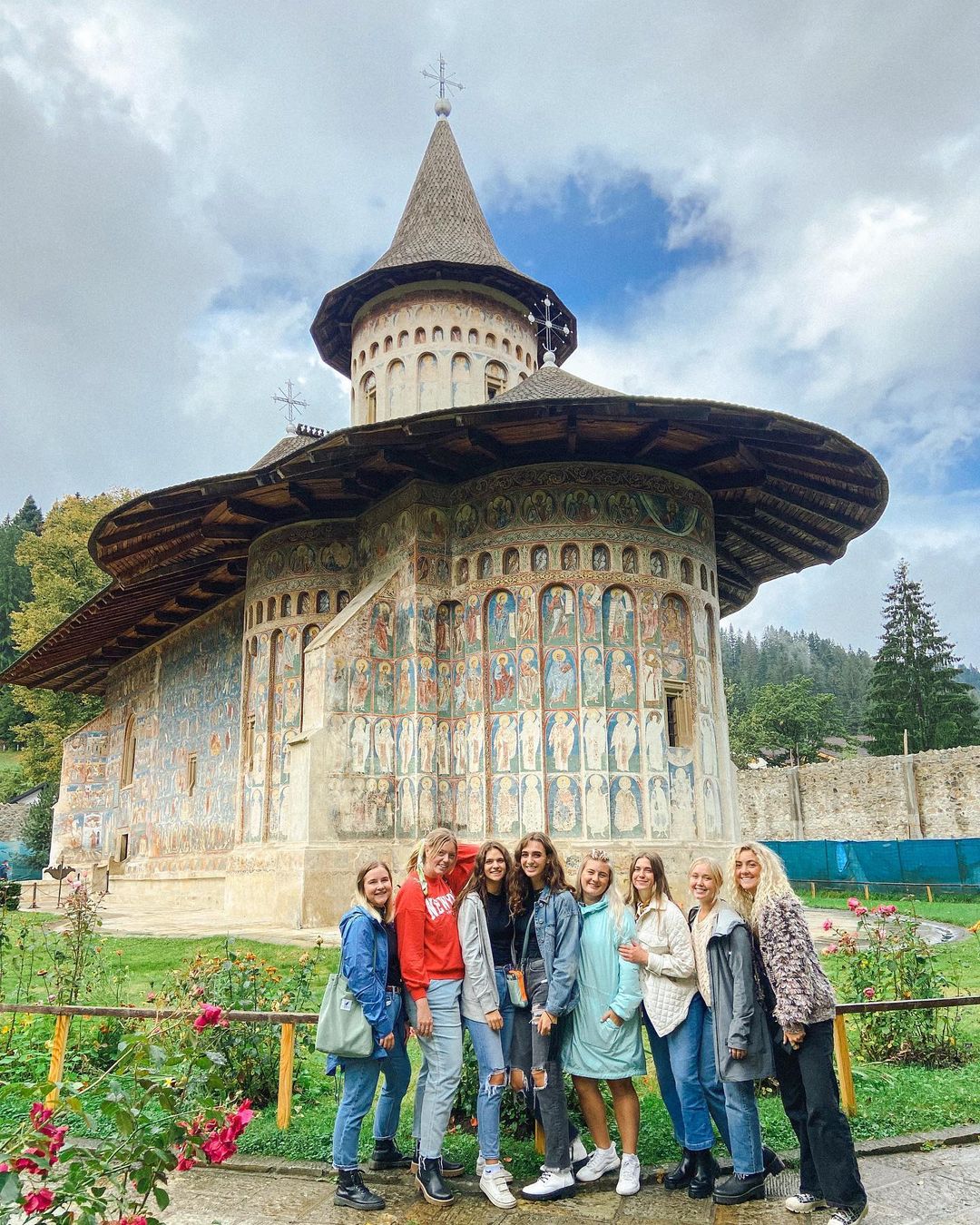 Humor Monastery
This church is rather small compared to the others on this list, but is still a favorite. The reds and browns of the paint depict the first siege of Constantinople, as well as the biblical story of The Prodigal Son, but definitely keep your eye out for the image of Satan disguised as a woman, too. The nearby Humor Monastery Tower is also rather picturesque.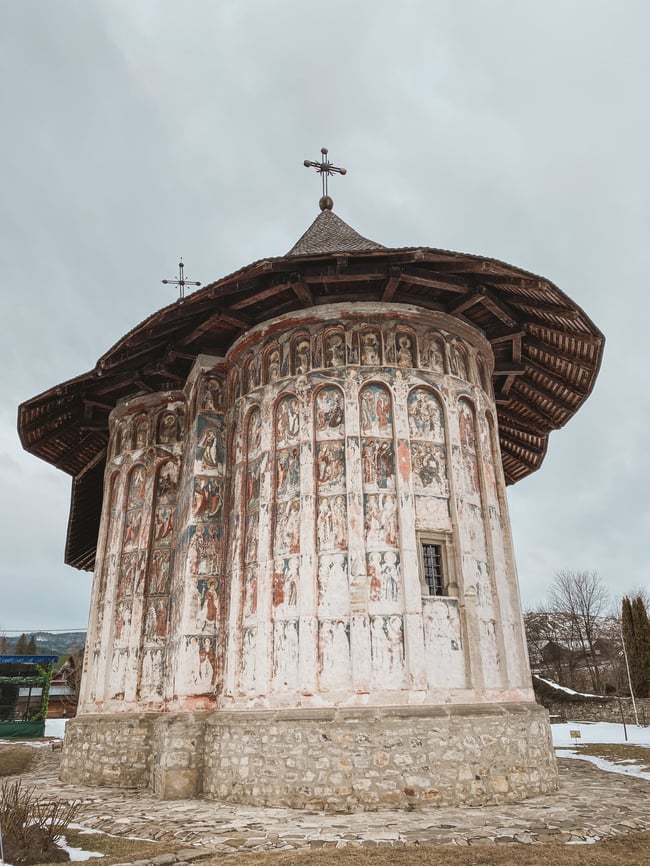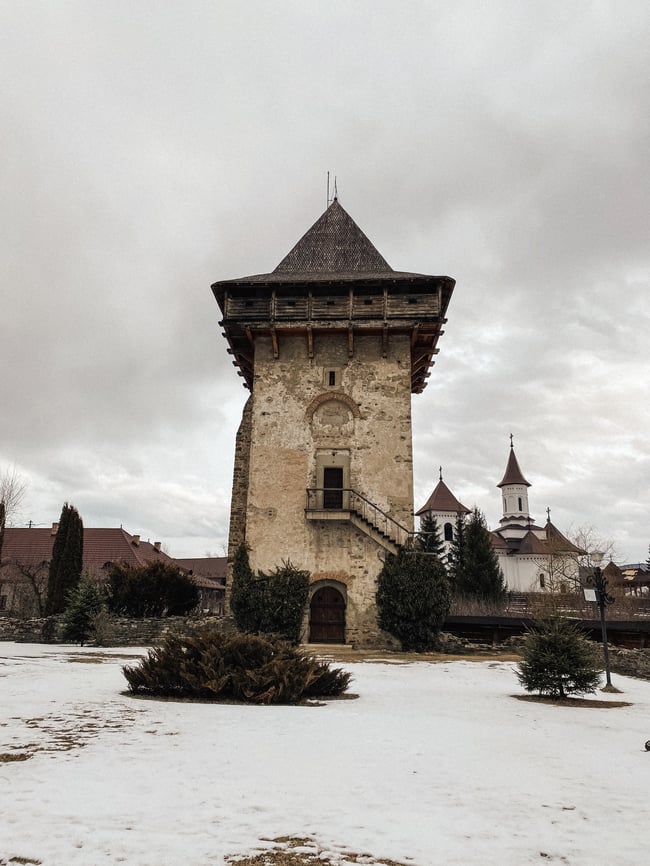 Moldovita Monastery
This stunning monastery also has scenes of the first siege of Constantinople and The Last Judgement, painted in gold and blue. Make sure you don't miss the image of Mary with the young Jesus seated in her lap, and the illustrations of Christ's genealogy, as recorded in the Bible.
Similar to the others on this list, remember that this building (and artwork) is hundreds of years old ... this monastery's murals are from 1537!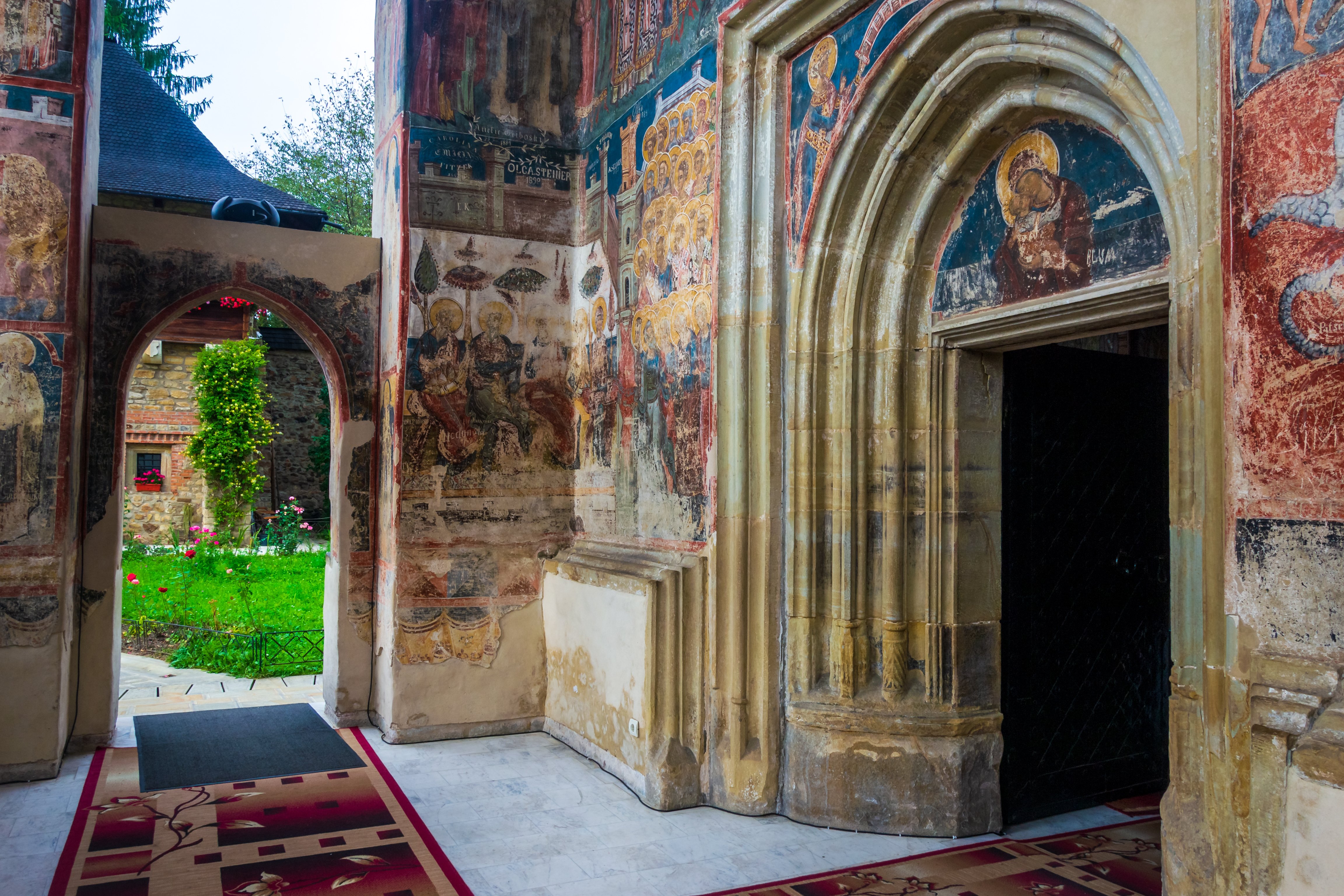 Sucevita Monastery
With its defensive walls and high turrets, the monastery is the one most like a fortress. Our favorite masterpiece found here depicts The Ladder to Paradise, where you can see detailed images of people receiving heavenly crowns from angels as they ascend the ladder, while demons are trying to pull them from it.
You can also visit the museum here that houses many historical objects. See pictures here.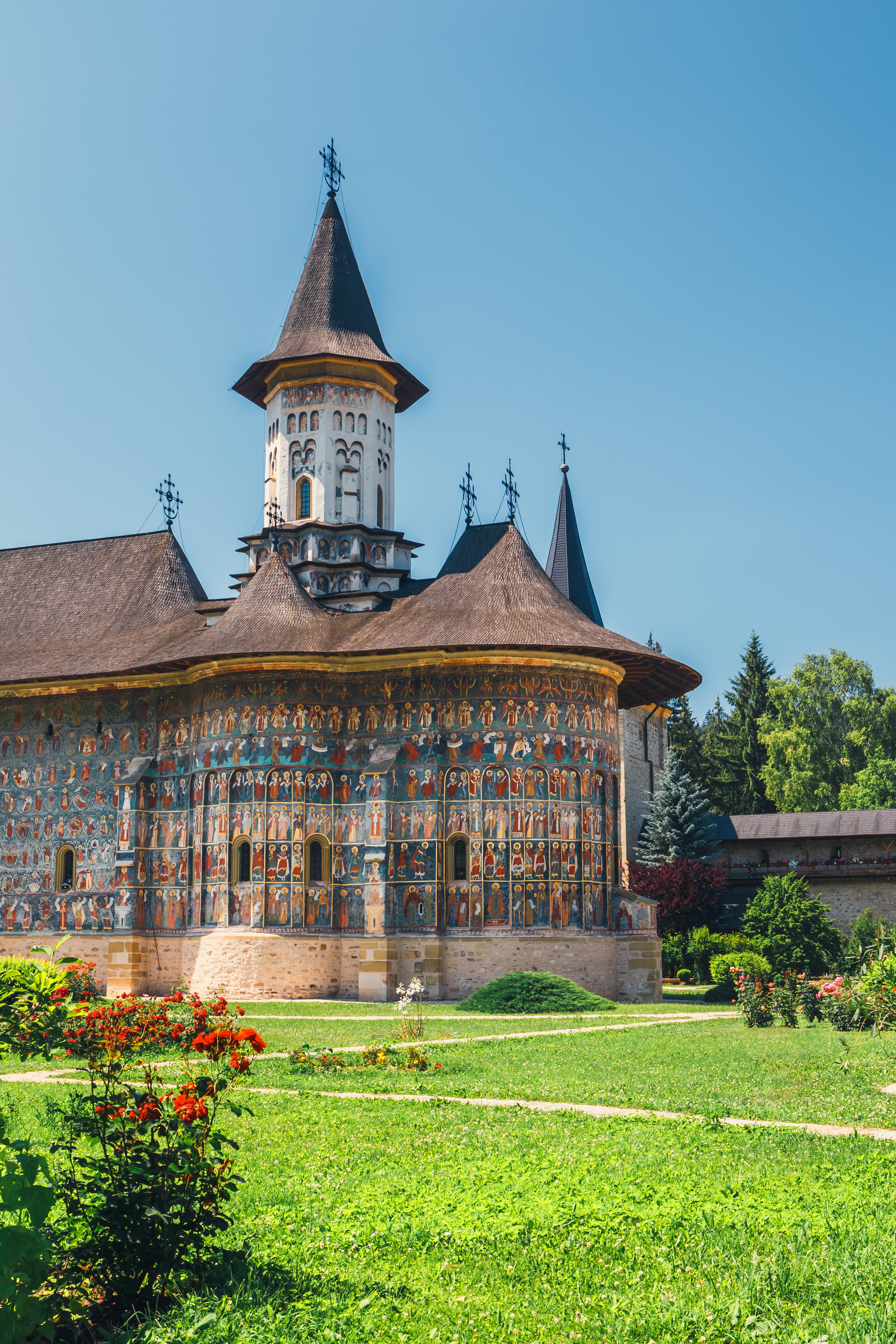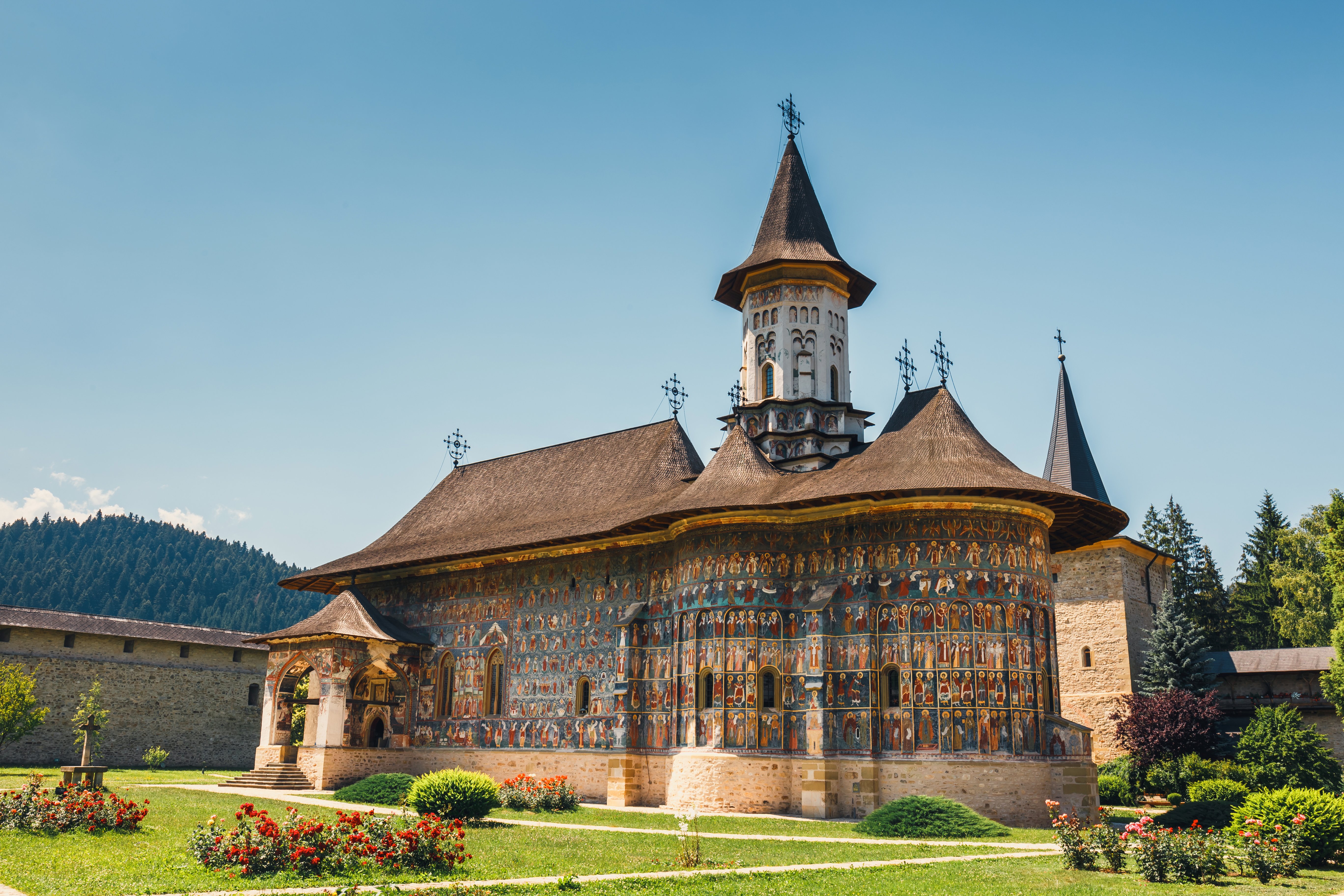 Arbore Monastery
This church is the only monastery in this area without bell towers, but was painted to honor a noble soldier, Luca Arbore, who was beheaded along with his two nephews for suspected treason. The exterior is primarily blue and green, with images of Adam, Eve, and St. Christopher carrying a young Jesus on his shoulders. See pictures here.
Patrauti Church (Exaltation of the Holy Cross Church)
This mostly-white structure once served as the church for a nuns' monastery, but now is the only building that remains of the original complex. The most famous image here shows Micheal the Archangel and Emperor Constantine as they have a conversation in front of several saints. See pictures here.
+ Suceava City Sites
After your tour of the monasteries, don't skip out on what there is to see in Suceava. One ILP group mentions a few highlights:
Cetatea de Scaun a Sucevei is a favorite. This medieval fortress was originally built in the 14th century, destroyed in the 17th century, then rebuilt to give visitors the chance to walk around this impressive citadel, tour the museum, and even catch a glimpse of the medieval festival hosted here every year (if you time your visit right). You can learn more here, and get prices here.
You'll notice a few other things nearby, too. The Bucovina Village Museum is one (learn more here), the Equestrian statue of Ştefan cel Mare, and the Cimitirul Pacea din Suceava cemetery, home to the Biserica Sfântul Gheorghe Pacea church.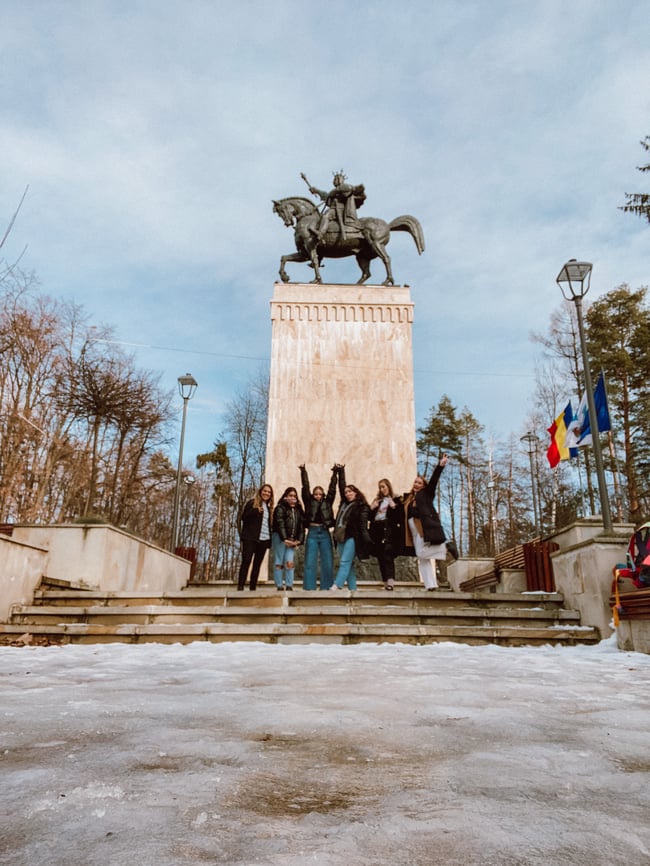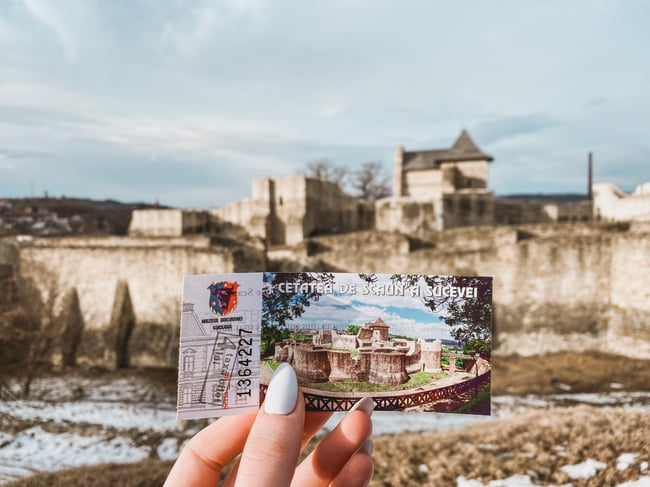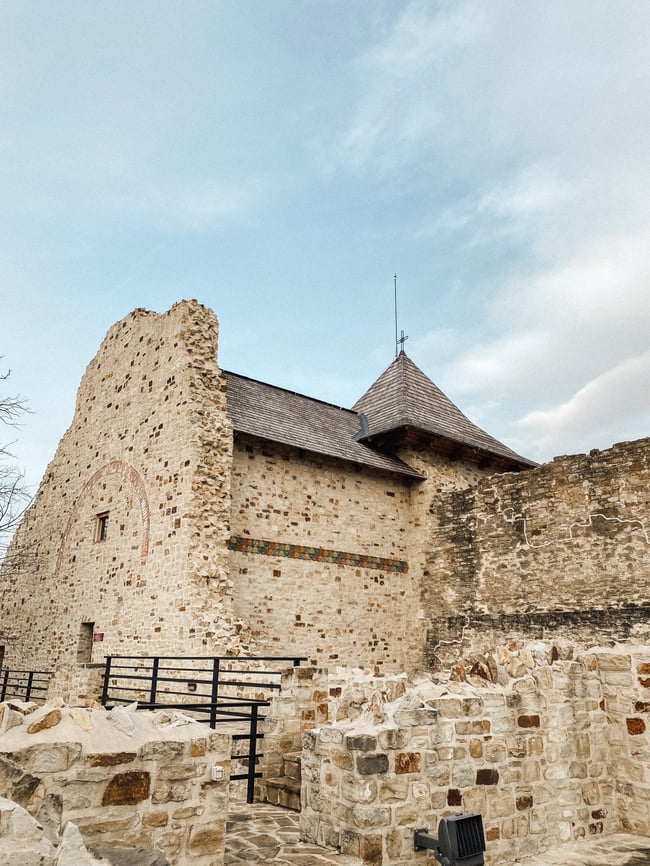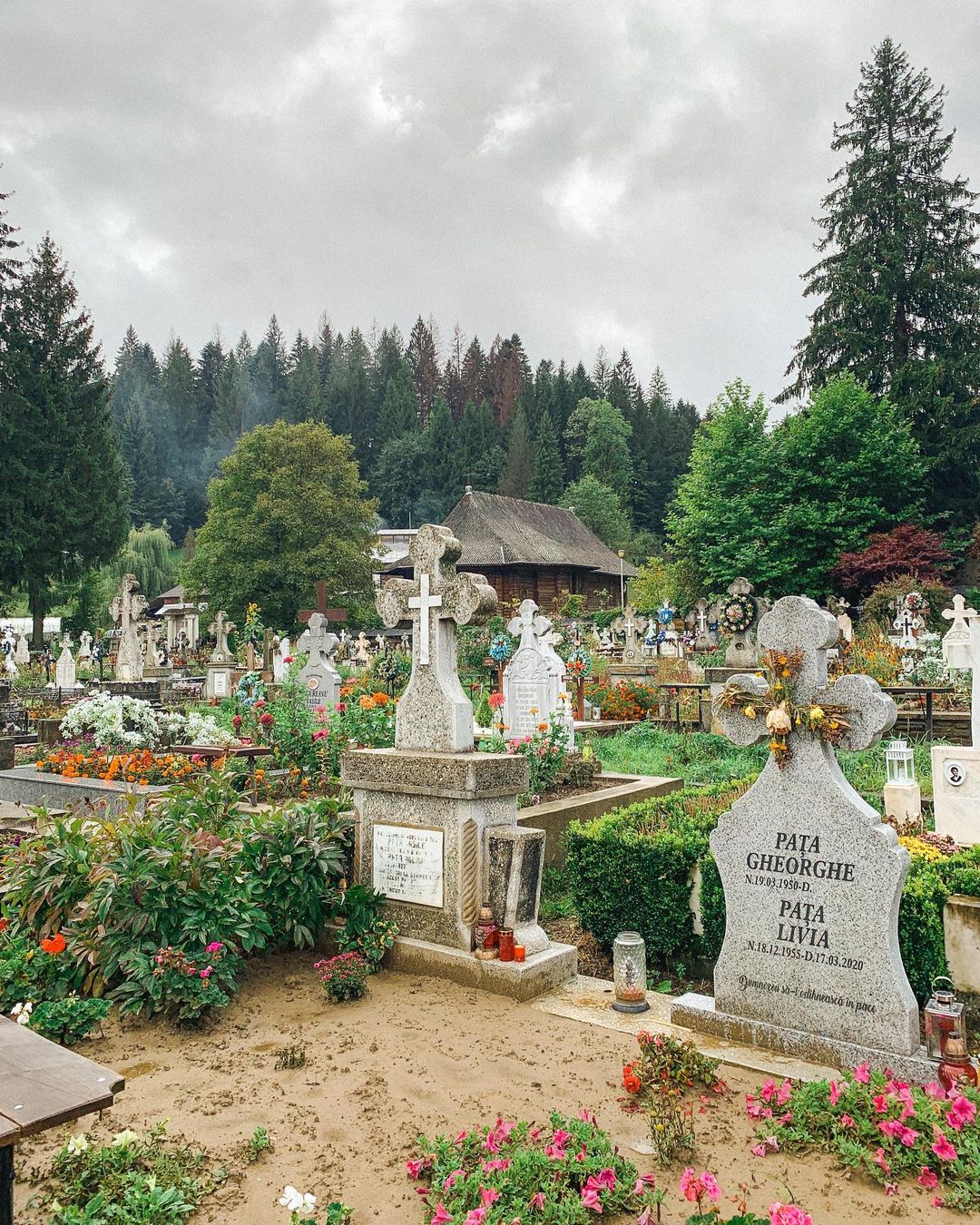 How To Get Here
Get To Suceava
Suceava is the best starting point if you want to see these monasteries in person. It's one of the largest cities in the northeastern corner of Romania, so you'll find routes that come here frequently.
Past ILP groups have traveled here via train. Book here. From Iasi, it's a train ride just shy of 2 hours, and should be about $20 USD roundtrip.
Others have gone by bus, which is more affordable, but does take longer. From Iasi, the bus ride is less than 3 hours and costs around 35 lei (about $8 USD). Check the timetable and book your ticket here!
Then, Snag A Taxi
Once in Suceava, there is only one car/taxi service, called "TinTaxi". Past volunteers say you can download the app to help you request a taxi. It's not super user-friendly, but it's doable. Find the app here for Android and here for iOS.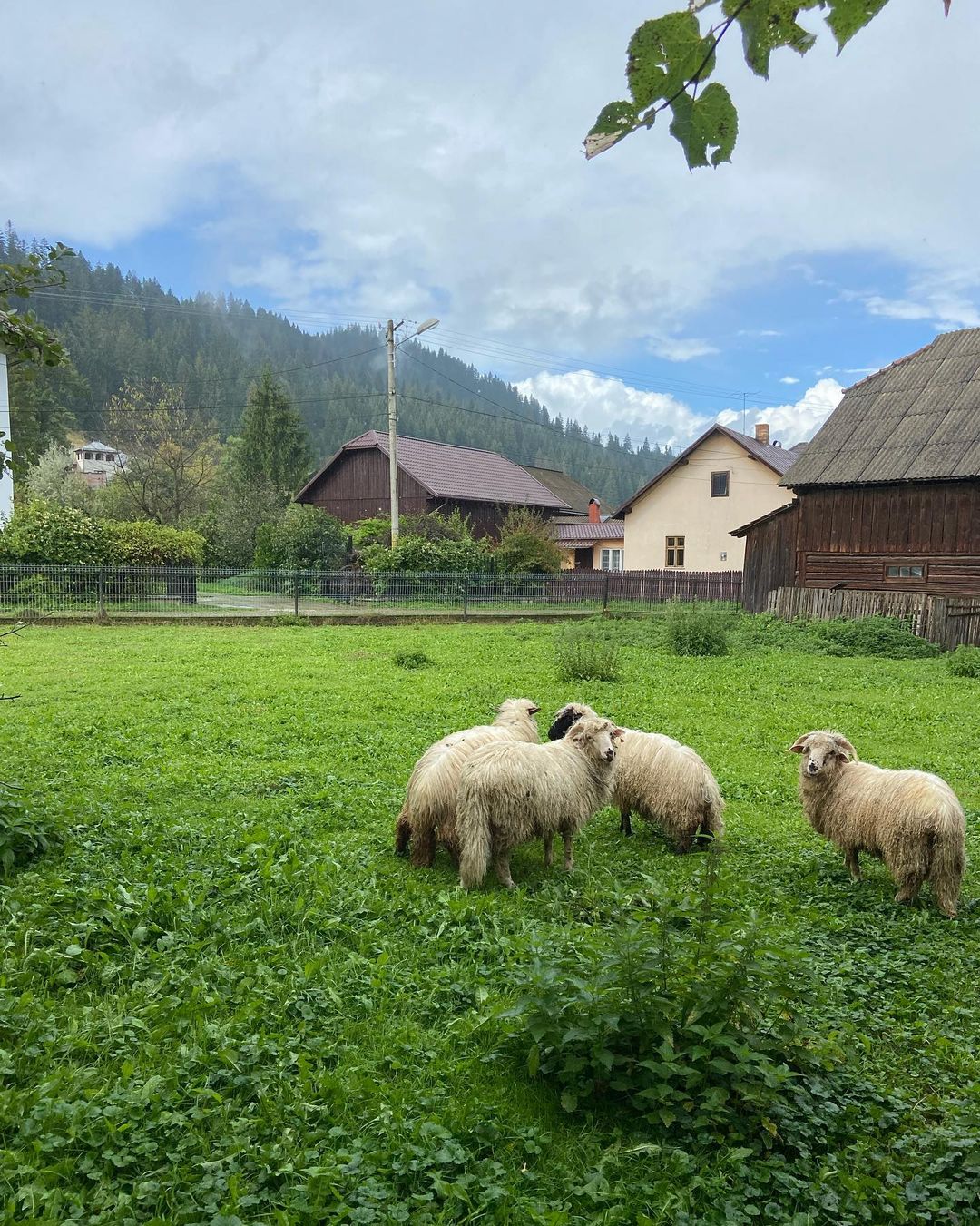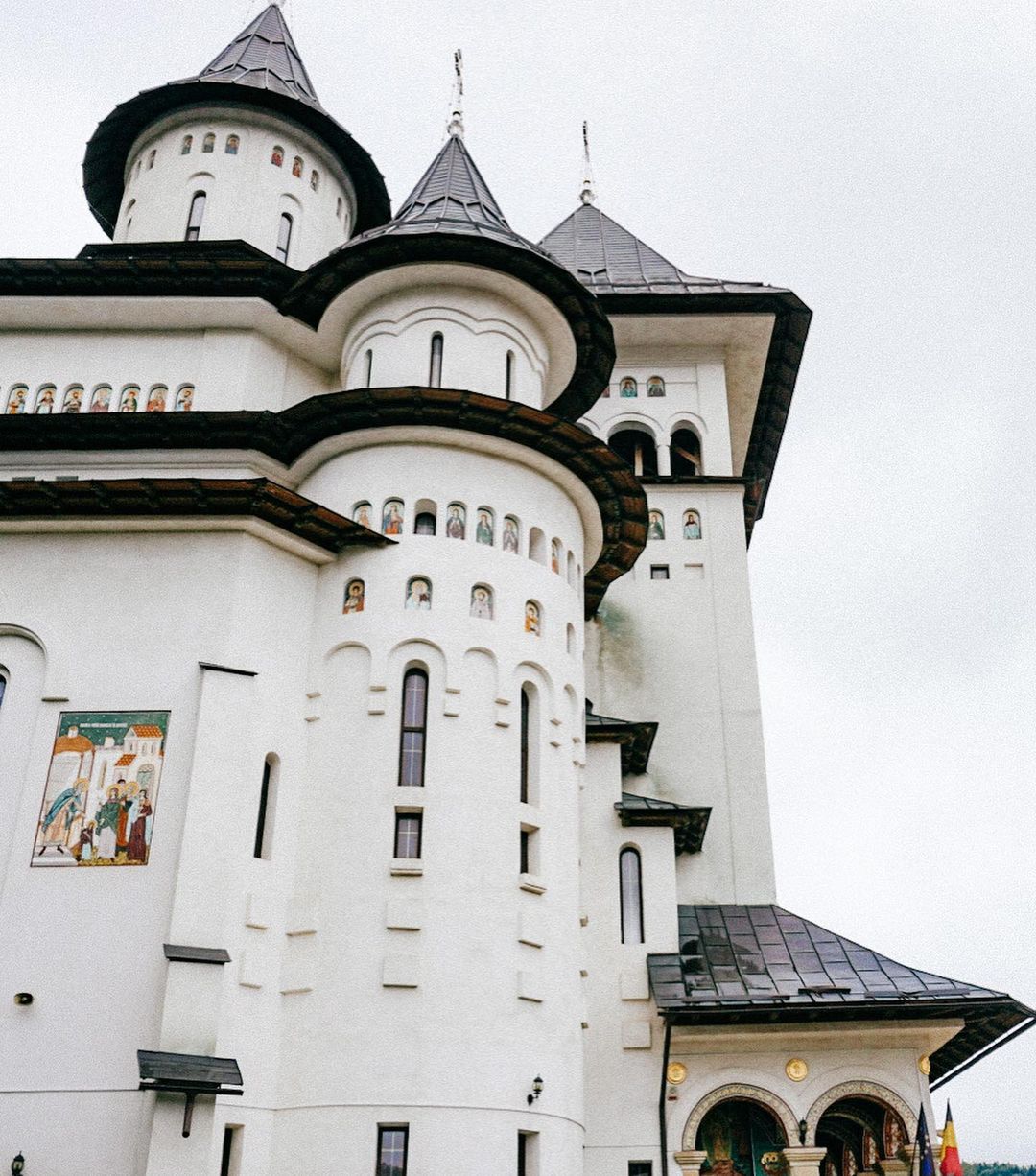 Getting To The Monasteries
Getting to the monasteries can be tricky depending on which ones you'd like to visit. Some of the monasteries have 25 miles between them. The easiest and most convenient option is to take a tour that picks you up in Suceava and will take you around to the most famous monasteries. This of course makes transportation a lot easier but you will have to follow their schedule. Here are three tour companies with good reviews, but you can definitely find more in Suceava (especially if you're staying at a hostel).
This guided tour with Sorin Fodor can be customized to what your group wants to do. For example, if you only have one free day, they'll take you to the four most popular monasteries. If you have two days, they can take you to several other locations. And as a bonus, they can pick you up from any place in Romania, making it so you don't have to figure out the public bus. Just email the company for a price quote.
Past groups highly recommend going with Sorin — "We went on the personal one with Sorin and absolutely loved it. He was so knowledgable and told us so much. He spoke good English, his car was very nice, and he was very flexible. He can pick you up from the train station or the grocery store and drop you off at your Airbnb. We were on the tour from 9:00 AM to 3:00 PM ish. On the tour with Sorin we saw Humor Monestary, Voronet, Moldovita, & Sucevita. In the City of Suceava, we also stopped by Saint John the New Monastery & The Resurrection church" It's a favorite option!

This 8-hour tour starts at 39 euros when you have at least 3 people in your group. The guide will take you to see four of the monasteries, plus a pottery workshop. The price of the tour does not include the entrance fees for the monasteries, which are usually about 5 lei each (about $1.50), so make sure you have cash for that. You can also customize the tour to include places like the International Museum of the Painted Eggs or the Cacica Salt Mine.
This tour is very similar to the one above, also lasting 8 hours with stops at 4 monasteries. It is 40 euros when you have at least 3 people in your group, and doesn't specify whether or not the price covers entrance fees, so we recommend bringing enough lei for that just in case.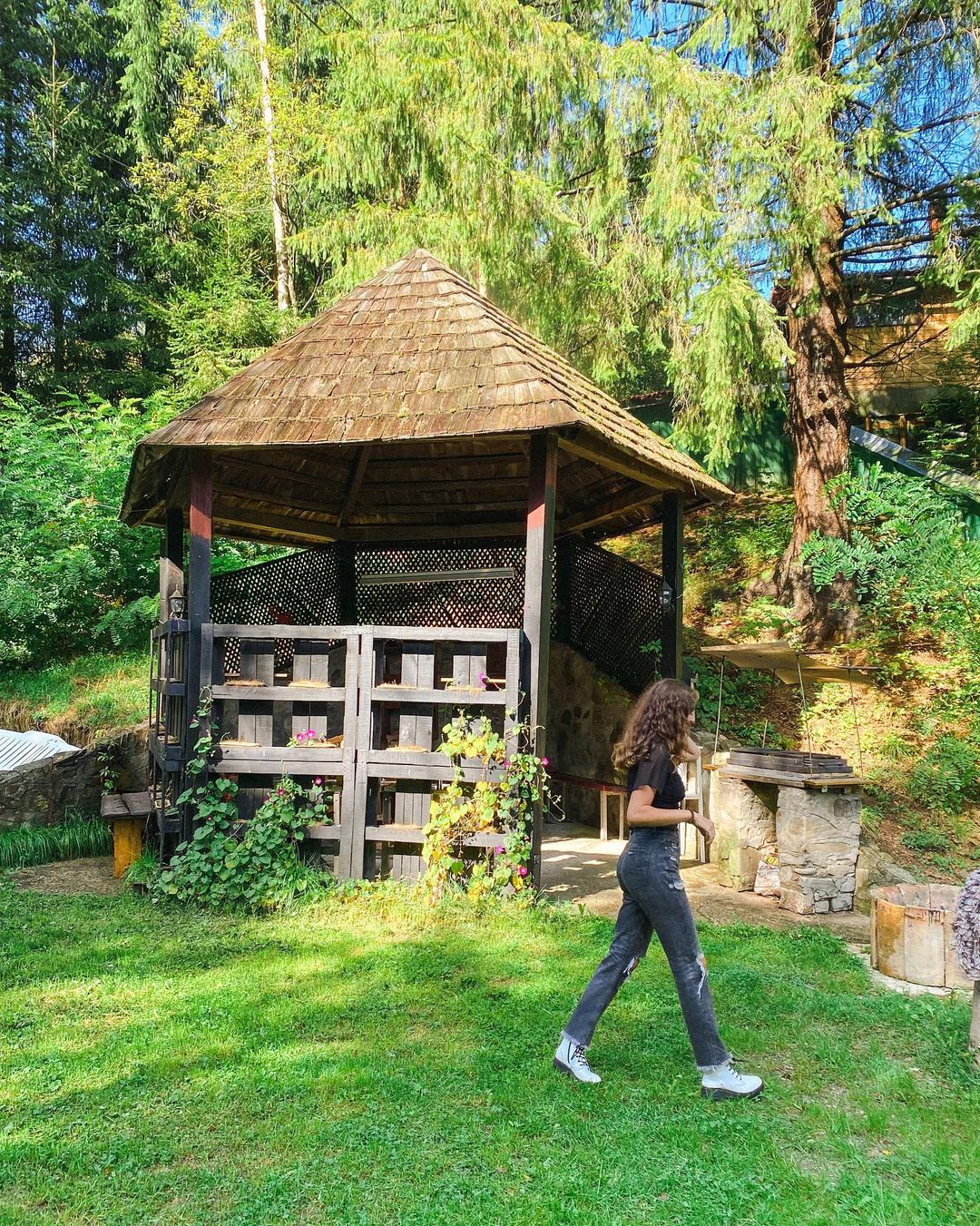 Where To Stay
Since this will probably need to be a weekend trip, you're going to want to spend the night in Suceava. If you're coming from somewhere north like Iasi, even if you're just visiting a few monasteries in an 8-hour tour, you just need more time. When trying to decide whether to stay in an Airbnb or a hostel, here are some differences to consider.
Airbnbs
There are quite a few beautiful Airbnbs spread all along the route to the monasteries near Suceava. Past groups have stayed in this Airbnb which was about a 15-minute walk from Suceava.
They also caution against staying in this Airbnb which is only a 5-minute drive, but is in the middle of no where ... there are other Airbnbs or hostels to choose from when in Suceava (so just skip out on that last option).
Hostel
Although Lary Hostel is the only one listed in Suceava, and is a couple of miles outside of the town center, it is still a great place to stay if you prefer hostels. They can organize a tour for you of the monasteries if you ask, and you can also try traditional Romanian food at their cafe.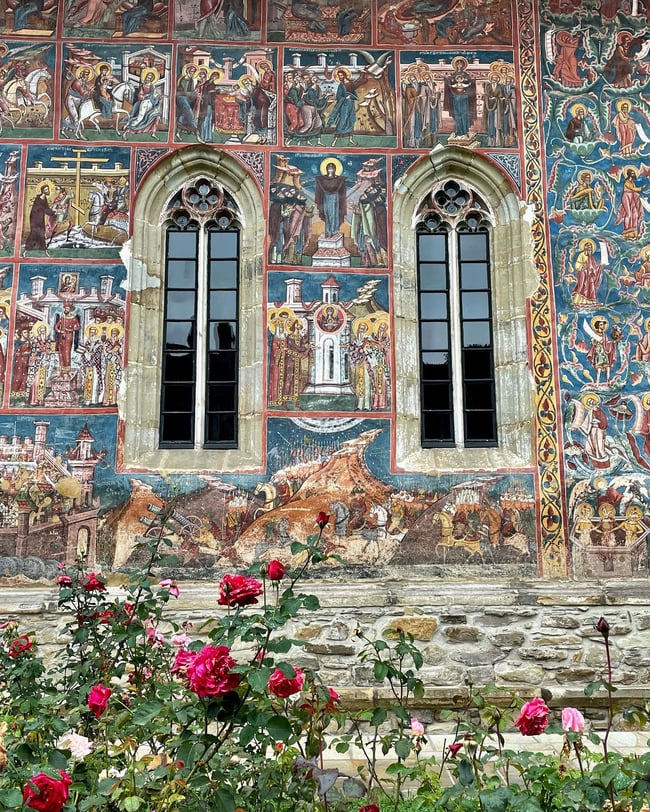 + Info About Some Restaurants
One past group recommended visiting these eateries when you're in town:
Pepenero
This place has "really really good pizza and pasta". One group said this was their favorite restaurant in the area, so don't miss out. If you're here for breakfast, past reviews mention good coffee and pastries, as well as egg sandwiches.
Urban
Come for the good hamburgers and fun dining area, complete with heaters outside if you're visiting in the chillier months. Not in the mood for a burger? The menu has other items like fish n' chips, ribs, pizza, fries, sandwiches, wraps, salads, and more.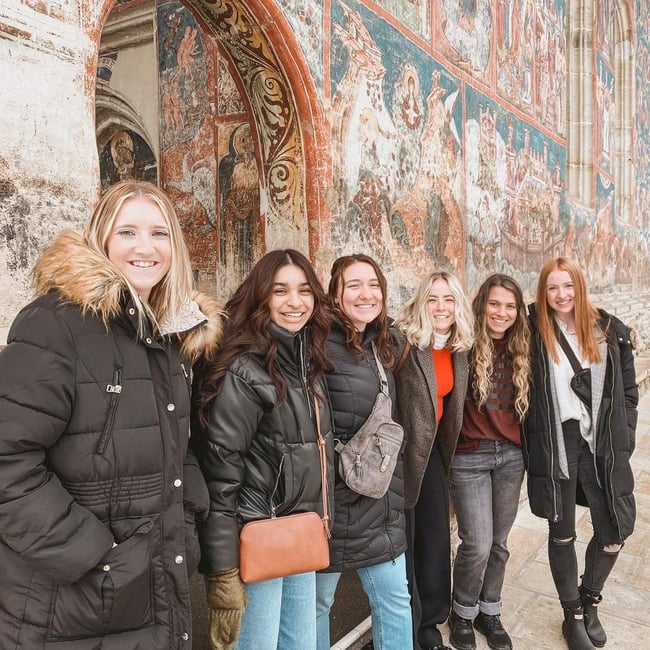 +Nearby Gems
There are so many stunning spots in Romania, and these two are just a short drive away from the painted monasteries. If you're planning a long weekend trip, include one or both of these places in your itinerary!
Neamt
If you like fortresses, and scenic mountain landscapes, and of course monasteries (there's even an ancient library with 18,000 books), then you need to hurry on over to Neamt! It's the perfect day trip for our volunteers. Check out all there is to do in Neamt.
Maramures
If you've seen the painted monasteries, why not go see the equally stunning and unique fairytale churches in Maramures, Romania. Spend some time hanging out in the surrounding villages and see what everyday life is like there. Our volunteers say the elaborate headstones at the Merry Cemetery make this place another highlight of the region.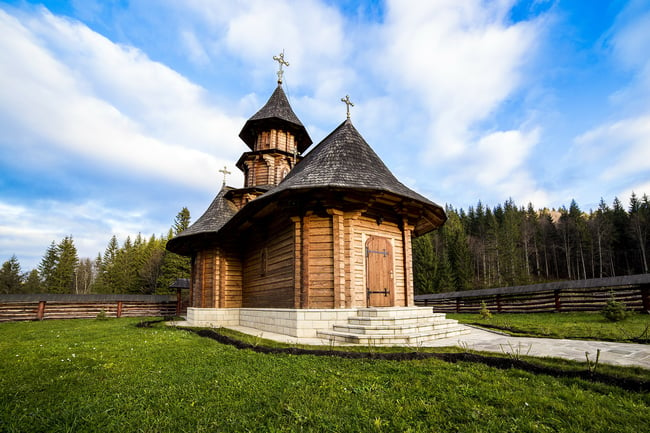 Have some questions about ILP you want answered before you can decide whether or not you want to volunteer in Romania?
If you get to spend a semester in Romania, you will not only make a difference in the lives of the children at the orphanage, but will also have time to explore Romania and other dreamy European destinations! Click the button below to learn more about some of our applicants' most frequently asked questions: