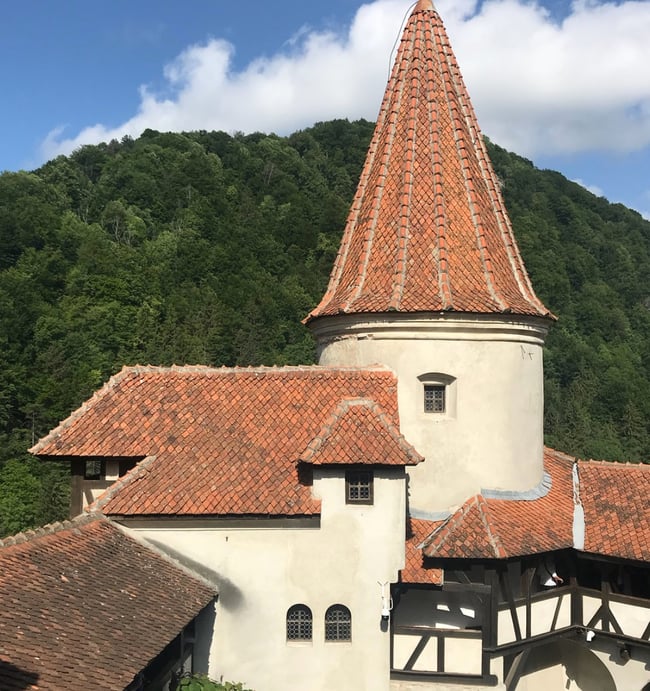 Charming villages tucked between rolling green hills? Your camera roll will not be able to handle how pretty these spots in Romania are.
Countries like Italy and France get all the attention which seems a little unfair when you see what Romania is like. This country is full of some of the prettiest sites to see in Europe. We're talking picturesque towns complete with red-roof tops, green valleys peppered with ancient churches, and impressive castles. Luckily for our volunteers living in Romania, they can experience these sites without ever leaving the country.


---
Get more information about serving in Romania
All about volunteering in an orphanage
---
All ILP volunteers spend part of their time serving, and part of their time exploring: In Romania, that means spending a few hours a week in the orphanage program, singing songs to kids while you flip through a sticker book or braid hair. On the weekends and on vacation days, you're free to explore what Romania (and the rest of Europe!) has to offer. Here are our picks for Romania's cutest little cities:
Brasov
Sighiśoara

Viscri

Sibiu
Bucovina

Maramures

Cluj-Napoca
Constanta

A Map To Help You Out
Brasov's Picture Perfect Views
The main city center is historic and iconic, displaying medieval architecture and baroque buildings painted in pretty pastels, and topped with red-tiled roofs. It's also home to a few of our favorite castles. It's absolutely a favorite vacation destination. Don't miss Brasov!
Here's how to spend a weekend in Brasov, Romania.

The Colorful Town Of Sighiśoara
Tack on a visit to Sighiśoara when you're in Brasov and you'll see cobblestone streets between alleyways painted bright pink, canary yellow, and powder blue. This place also boasts some incredible history: Vlad Dracul II was born here, who's son is known as Vlad The Impaler. And yes, in case you were wondering, historians believe that the sir name "Dracul" formed the name "Dracula" you're so familiar with.

Get our guide to Sighiśoara here.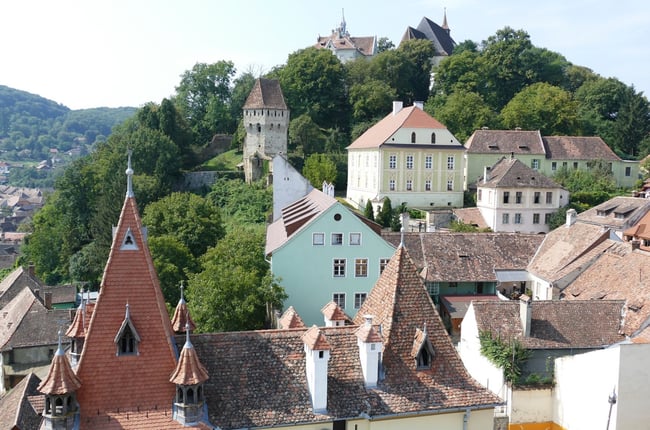 Viscri Is Quiet And Charming
We think you should visit the Saxon village of Viscri if you want to get off the beaten path. Quiet and charming, you can easily spend an hour or two wandering the stone streets (wool socks are popular things to sell here) and touring the white, fortified church that's been around since the 12th century or so.
See what a visit to Viscri is all about.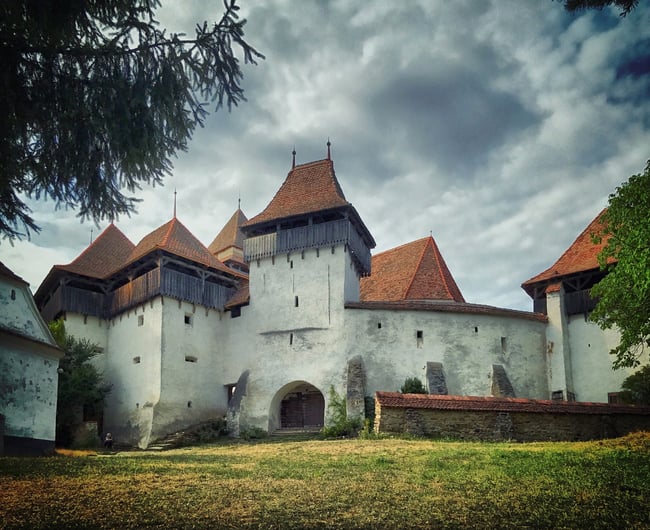 Sibiu Could Not Be Prettier
We are loving everything about this German influenced, colorful city. Head to the Turnul Sfatului clock tour in the city center, or head out on a day long bike tour of surrounding Romanian mountains, villages, and more! It's easily reached by overnight train from Iasi, or it's just a couple of hours away from Brasov.

Bucovina's Painted Monasteries
You'll get your fill of churches when traveling in Europe, but the monasteries you'll see in Bucovina aren't like ones you can see anywhere else. The whole area is rural and packed with history, and dotted with churches completely unique to the region.The Voronet Monastery here has almost watercolor-esque scenes painted on the stone walls ... and the inside? Just gorgeous. It's easily done on a weekend trip from Iasi which makes us love it even more.
Get tips for visiting Bucovina here.

Fairytale Churches In Maramures
This place is magical, and if you don't see it for yourself, it's kind of hard to believe. Maramures is a big region with TONS to do, but it is most famous for the incredible wooden churches that dot the green hillside. The churches are all wooden because stone churches were illegal at one time (funny, right?) Nearby you can tour the colorful Merry Cemetery. Maramures is a favorite vacation spot our volunteers love.

Get your guide to Maramures here.

Cluj-Napoca Is Full Of Adventures
Complete with a charming Old Town and surprising adventures like hiking to a flooded village for a day of swimming or boating, you'll love Cluj-Napoca. Just outside the city are a few adventures to be had too, like hanging out in the underground theme park in Turda. You can also explore Corvin Castle (pictured below) or the delightfully pretty town of Cisnadiora. All are easily reached from Cluj-Napoca.

See more of Cluj-Napoca here.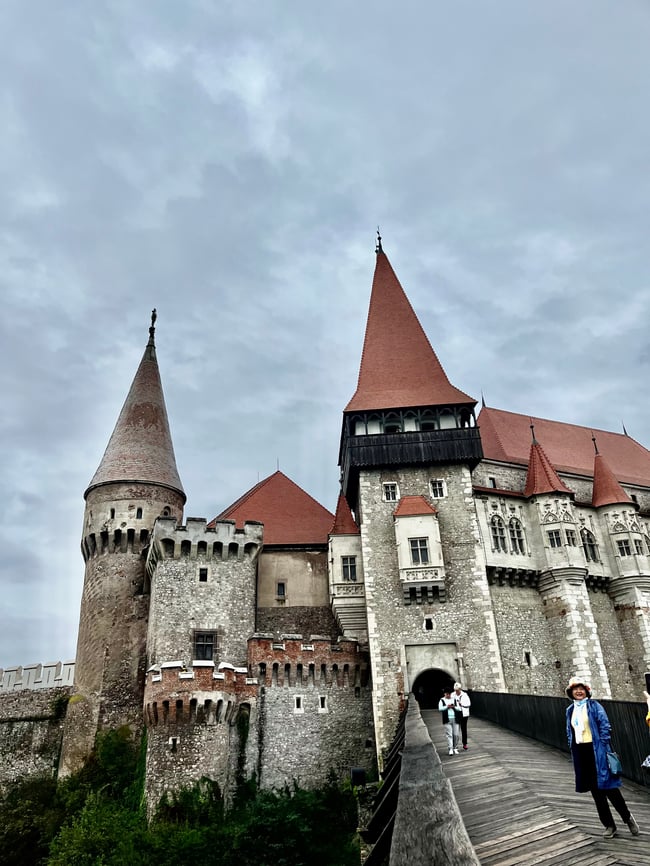 Constanta's Black Sea Beaches

A weekend in Constanta means lounging on the beaches, enjoying the spa, and soaking up a huge Turkish influence. You can also soak in the sites of an old casino built in the Art Nouveau style: basically a trip here is full of surprises.

All of your tips for a trip to Constanta are all in one spot.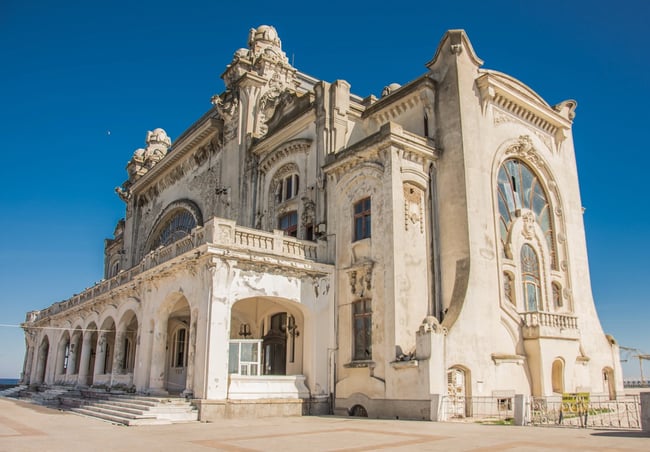 A Map To Help You Out
Now that you want to visit all of these places, you'll want to know where to fit them in during your vacation time. We've mapped out where they are in Romania (so you can see what cities they are close to) and have also locked out how far they are from Iasi (where ILP volunteers live), other cities close by, and from Bucharest (were you'll probably be flying into if you're visiting from another country):
Brasov
An overnight train from Iasi (10ish hours)
4ish hours from Bucharest

Sighisoara
2 hours away from Brasov

Viscri
A quick stopover if you're traveling between Brasov and Sighisoara

Sibiu
It's a 9 hour overnight train from Iasi
5 hours from Bucharest
Also close to Brasov (2-3 hours away) or Cluj-Napoca (3-4 hours)
Cluj-Napoca
10-11 hours away from Iasi
Overnight Train From Bucharest (9 hours) or a 1 hour flight
Maramures
About 10 hours from Iasi
About 11+ hours from Bucharest
— Pst: It's just a 4 Hour Trip From Cluj-Nacopa

Bucovina
2ish hours from Iasi
5-6 hours from Bucharest

Constanta
Overnight train from Iasi (10-11 hours)
2 hours from Bucharest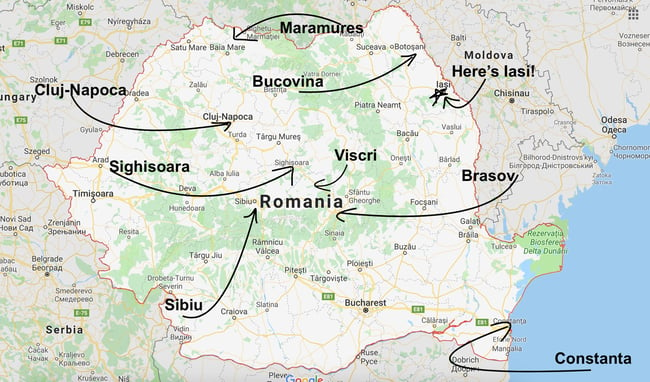 Ready for Romania?
Come see this country by living there for a semester! ILP volunteers can volunteer in the orphanage program in Romania and spend free weekends and vacation days exploring all of these places (and other gems in Europe).