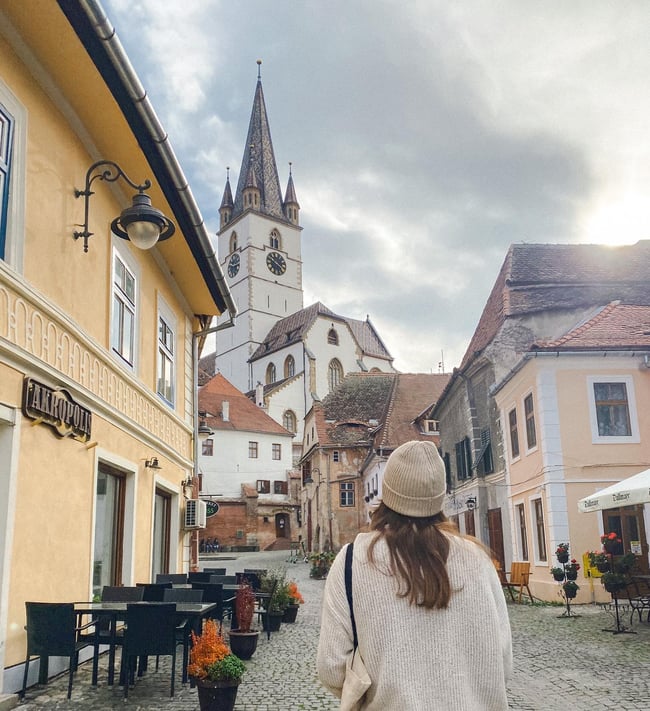 Charming villages tucked between rolling green hills? Your camera roll will not be able to handle how pretty these spots in Romania are.
Countries like Italy and France get all the attention which seems a little unfair when you see what Romania is like. This country is full of some of the prettiest sites to see in Europe. We're talking picturesque towns complete with red-roof tops, green valleys peppered with ancient churches, and impressive castles. Luckily for our volunteers living in Romania, they can experience these sites without ever leaving the country.


---
Get more information about serving in Romania with ILP
All about volunteering in an orphanage
---
All ILP volunteers spend part of their time serving, and part of their time exploring: In Romania, that means spending a few hours a week in the orphanage program, singing songs to kids while you flip through a sticker book or braid hair. On the weekends and on vacation days, you're free to explore what Romania (and the rest of Europe!) has to offer. Here are our picks for Romania's cutest little cities:
Brasov's Picture Perfect Views
The main city center is historic and iconic, displaying medieval architecture and baroque buildings painted in pretty pastels, and topped with red-tiled roofs. It's also home to a few of our favorite castles, "Dracula's Castle".
It's absolutely a favorite vacation destination especially since there's so much to see and do here, and the numerous day trips you can take (like to nearby Sinai, for a very stunning estate). We're not really picking favorites here, but if we absolutely had to choose one spot to see in Romania's countryside, we'd probably vote Brasov!
Here's how to spend a weekend in Brasov, Romania.

The Colorful Town Of Sighiśoara
Tack on a visit to Sighiśoara when you're in Brasov and you'll see cobblestone streets with buildings painted the most beautiful colors. Blush pinks, pale lemon yellows, coral rimmed windows, and vivid greens are just a few of the colors you'll find on homes, stores, and other buildings around this Romanian city. It's almost like everyone in the entire city was assigned a handful of crayon colors to decorate with, so you'll see pockets of pinks, blues, and oranges hiding among the dark, Gothic architecture which also dots the city. Oh, and most buildings are tiled with red tiles which just adds to over all charm. Bring your camera!
This place also boasts some incredible history: Vlad Dracul II was born here, who's son is known as Vlad The Impaler. And yes, in case you were wondering, historians believe that the sir name "Dracul" formed the name "Dracula" you're so familiar with.

Get our guide to Sighiśoara here.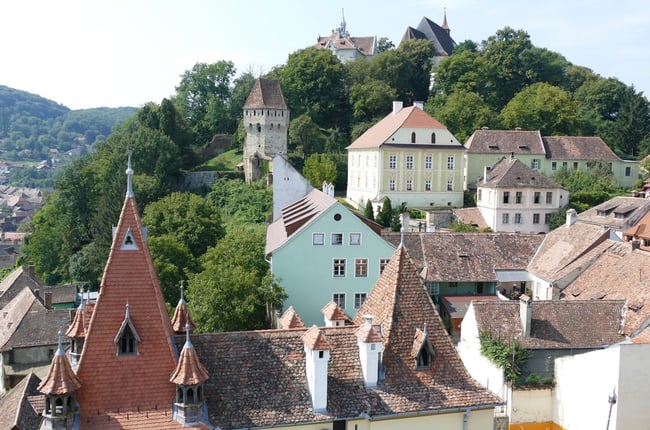 Viscri Is Quiet And Charming
We think you should visit the Saxon village of Viscri if you want to get off the beaten path. Quiet and charming, you can easily spend an hour or two wandering the stone streets (wool socks are popular things to sell here) and touring the white, fortified church that's been around since the 12th century or so.
The White Church in Viscri is supposedly the oldest in Transylvania and is totally stunning. It's more like a castle than a church, with fortified walls and towers that the village would go inside of when the village was attacked.

You can head inside the main chapel which is starkly beautiful (and still in use today, so be mindful of any services) but at the rear of the church you can climb up some stoney steps cut into the stone walls up to the bell tower and get a view of the red-tile roof's the village below you.
See what a visit to Viscri is all about.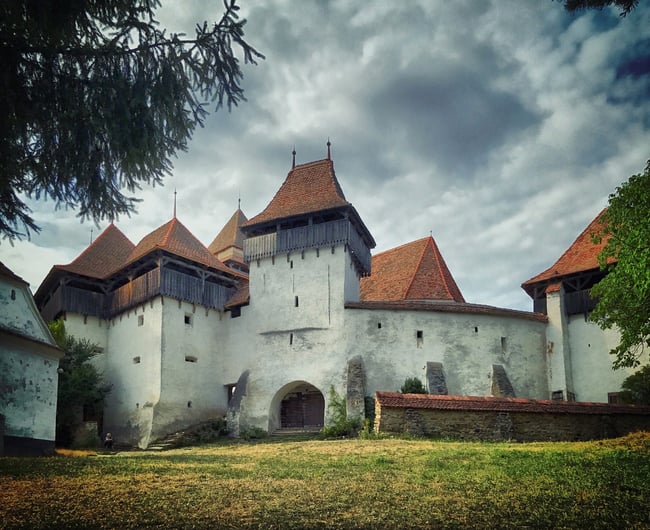 Sibiu Could Not Be Prettier
We are loving everything about this German influenced, colorful city. Head to the Turnul Sfatului clock tour in the city center, or head out on a day long bike tour of surrounding Romanian mountains and villages. In a nutshell, Sibiu is a beyond quaint little collection of painted window shutters, sprawling parks, meandering cobblestone streets, and views around every corner ... it's just one of the perfect little villages you'll want to visit once you dive in and do a bit of research about Romania.
It's easily reached by overnight train from Iasi, or it's just a couple of hours away from Brasov. Get your guide to Sibiu here.

Bucovina's Painted Monasteries
You'll get your fill of churches when traveling in Europe, but the monasteries you'll see in Bucovina aren't like ones you can see anywhere else. The whole area is rural and packed with history, and dotted with churches completely unique to the region. The Voronet Monastery here has almost watercolor-esque scenes painted on the stone walls ... and the frescoes inside? Just gorgeous.
The frescoes are incredible to see, especially if you have some background. First off, know these scenes are hundreds of years old — painted in the 1400s and 1500s. And the process just adds to what you're about to see. Teams of a few painters plastered the walls of the church for a smooth surface (typically with mortar, then a thin layer of plaster mixed with fibers like straw). Then, things had to be painted before they dried. Supposedly, apprentice painters handled less important details like background colors and flourishes, but the important details (like faces, hands, religious icons, etc) were handled by the experts.
The colors come from a mix of clays, semiprecious stones, and other minerals which made brilliant pigments. Because the colors were added onto wet plaster (instead of painted using a binder — like egg whites) the colors have lasted through the centuries.
A trip here is just something you can't really see and do anywhere else. It's easily done on a weekend trip from Iasi which makes us love it even more. Get tips for visiting Bucovina here.

Fairytale Churches In Maramures
This place is magical, and if you don't see it for yourself, it's kind of hard to believe. Maramures is a big region with TONS to do, but it is most famous for the incredible wooden churches that dot the green hillside. The churches are all wooden because stone churches were illegal at one time (funny, right?). Around Maramures, there are over 100 Orthodox churches but the most famous ones are Sudesti, Deseti, Rogoz and Sapanta (that last one is the tallest wooden church in the world!).
Nearby you can tour the colorful Merry Cemetery, a resting place for members of town that have the most colorful and detailed headstones. Get your guide to Maramures here.

Cluj-Napoca Is Full Of Adventures
Complete with a charming Old Town and surprising adventures like hiking to a flooded village for a day of swimming or boating, you'll love Cluj-Napoca. We also love seeing this city by bike. There are lots of spots where you can rent a bike for the day and see more than you could by walking. Downton Cluj is pretty flat but the whole city is in a valley, so be prepared to bike uphill if you want to explore the apartments!
Just outside the city are a few adventures to be had too, like hanging out in the underground theme park in Turda. You can also explore Corvin Castle (pictured below) or the delightfully pretty town of Cisnadiora. All are easily reached from Cluj-Napoca. See more of Cluj-Napoca here.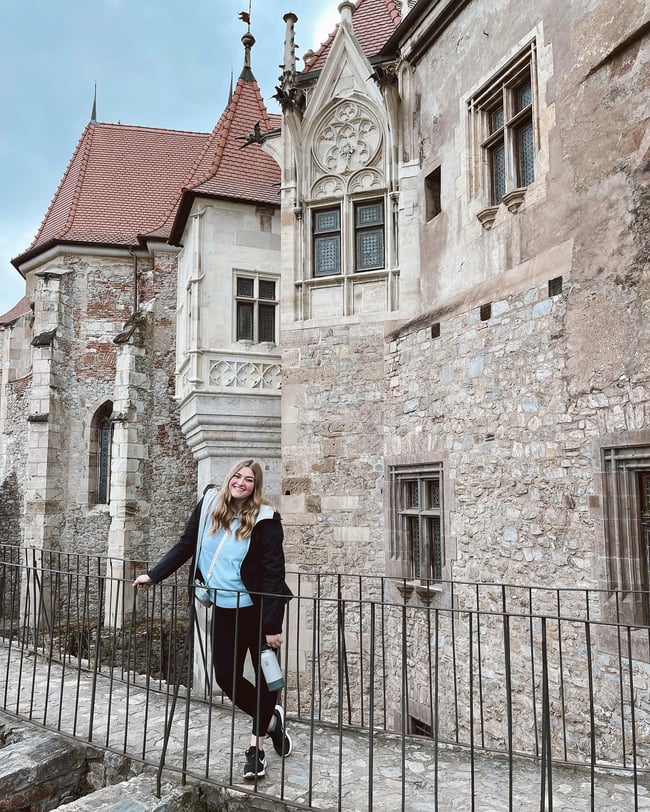 Constanta's Black Sea Beaches

A weekend in Constanta means lounging on the beaches, enjoying the spa, and soaking up a huge Turkish influence. Most come to get some beach time and Constanta has a few to choose from. Mamaia is about three miles away from the city and is the area's most popular beach-side resort. You'll find dozens of hotels right on the water and places where you can grab lunch, rent an umbrella and lounge for the day. Easily reach here in a taxi from Constanta, it's very well known.
Another popular but less known option is Plaja Tuzla. It's about 13 miles from Constanta (get here by taxi). It's more difficult to locate but the pay off is worth it. It's a semi-white sand beach sporting seashells and a gorgeous turquoise color when it comes to the ocean. Bring your own lunch and pick up your trash before leaving — this beach is the definition of remote. If you're wanting to get off the beaten track, Tuzla is a better option than Mamaia.
You can also soak in the sites of an old casino built in the Art Nouveau style (don't miss this incredible building, it's one to really take time to admire): basically a trip here is full of surprises.

All of your tips for a trip to Constanta are all in one spot.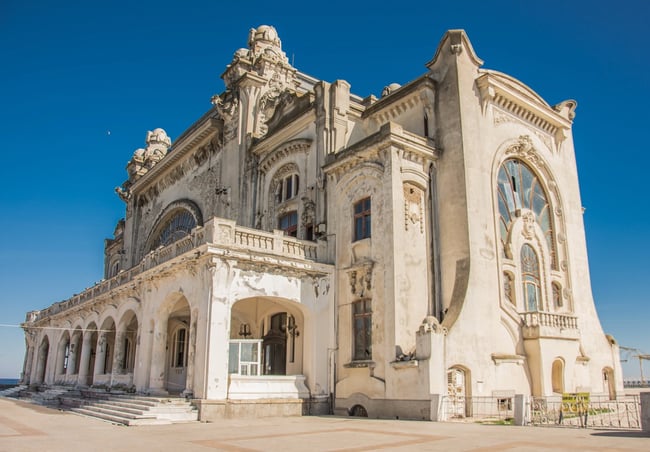 Piatra Neamt
Piatra Neamt is located in the Moldavia region (sounds like a Hallmark movie, right?) in northeastern Romania, not far from our volunteers. It's a gorgeous area, peppered with little towns, sprawling fields, a few mountains boasting gorgeous views, and areas that feel like a slice of authentic Romanian culture and history.
Come explore the towering citadel first. It's located on a peak, it can only be accessed by a giant bridge supported by rectangular stone pillars. It provides incredible views of the surrounding valleys and will make you feel like you're stepping back in time.
Then explore some monasteries. There are dozens in the area, but the Neamt Monastery is one of the most famous. It's sometimes called "The Jerusalem of the Roman Orthodoxy." Built in the 1300s, it is home to the oldest library of religious texts: 18,000 books! Inside the church there is also a religious icon of St. Mary Mother of Jesus that dates to 665 and was given to Romania in the 1400s by Constantinople. It's the oldest icon in all of Romania, and the people who travel here to pray before her believe that she will bring miracles into their lives.
Then, get the best view of the colorful city below by taking a hike or the gondola ride. We love it here, can't you tell? Get more about your trip to Neamt here.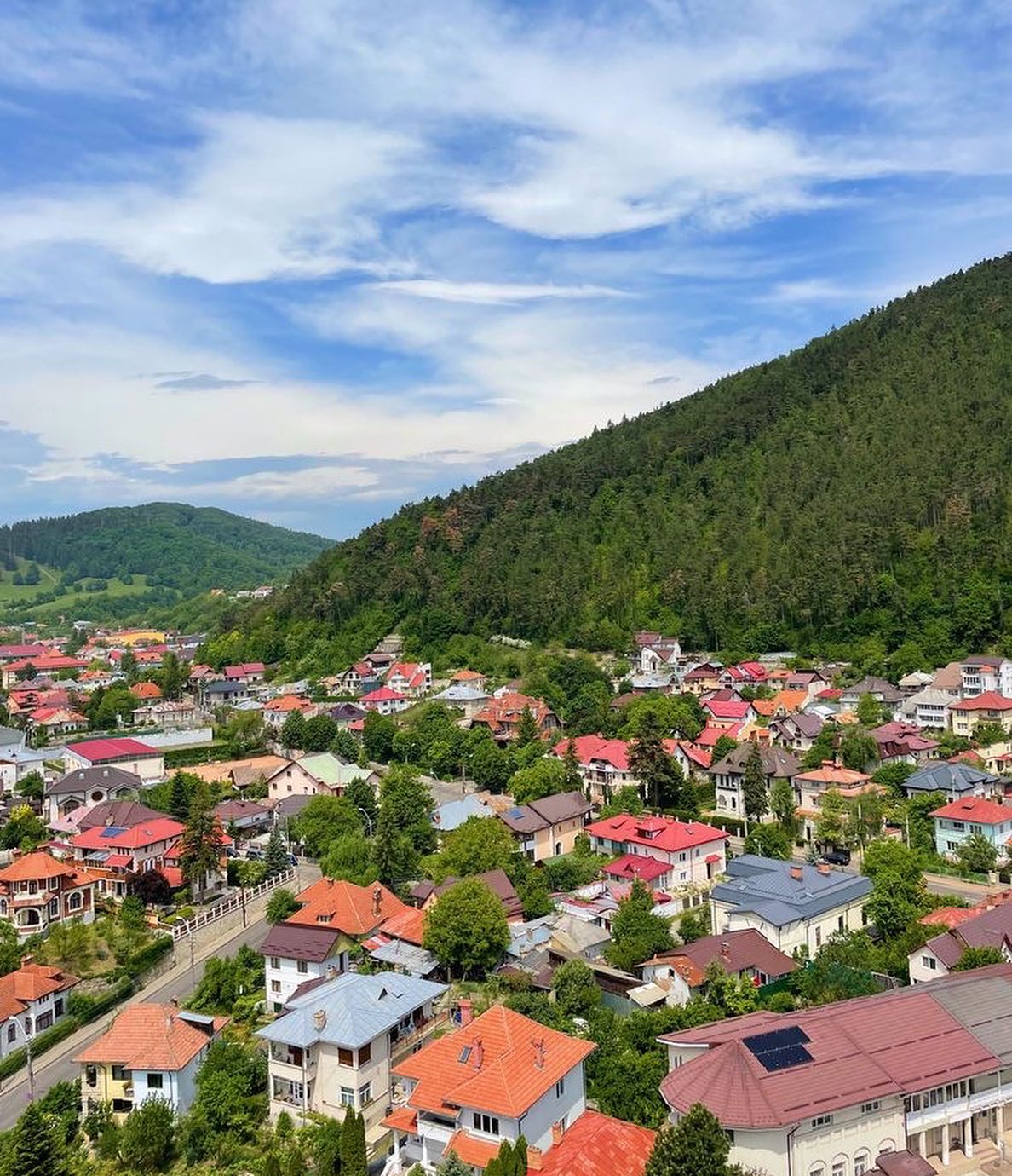 A Map To Help You Out
Now that you want to visit all of these places, you'll want to know where to fit them in during your vacation time. We've mapped out where they are in Romania (so you can see what cities they are close to) and have also locked out how far they are from Iasi (where ILP volunteers live), other cities close by, and from Bucharest (were you'll probably be flying into if you're visiting from another country):
Brasov
An overnight train from Iasi (10ish hours)
4ish hours from Bucharest

Sighisoara
2 hours away from Brasov

Viscri
A quick stopover if you're traveling between Brasov and Sighisoara

Sibiu
It's a 9 hour overnight train from Iasi
5 hours from Bucharest
Also close to Brasov (2-3 hours away) or Cluj-Napoca (3-4 hours)
Cluj-Napoca
10-11 hours away from Iasi
Overnight Train From Bucharest (9 hours) or a 1 hour flight
Maramures
About 10 hours from Iasi
About 11+ hours from Bucharest
— Pst: It's just a 4 Hour Trip From Cluj-Nacopa

Bucovina
2ish hours from Iasi
5-6 hours from Bucharest

Constanta
Overnight train from Iasi (10-11 hours)
2 hours from Bucharest
Neamt
2.5 hours by bus or train from Iasi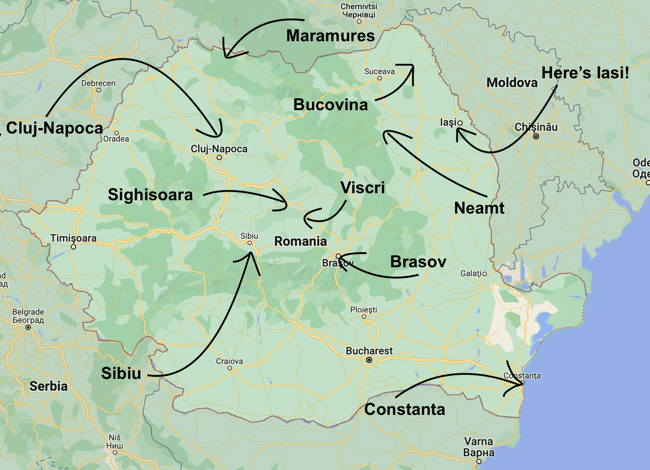 Ready for Romania?
Come see this country by living there for a semester! ILP volunteers can volunteer in the orphanage program in Romania and spend free weekends and vacation days exploring all of these places (and other gems in Europe).