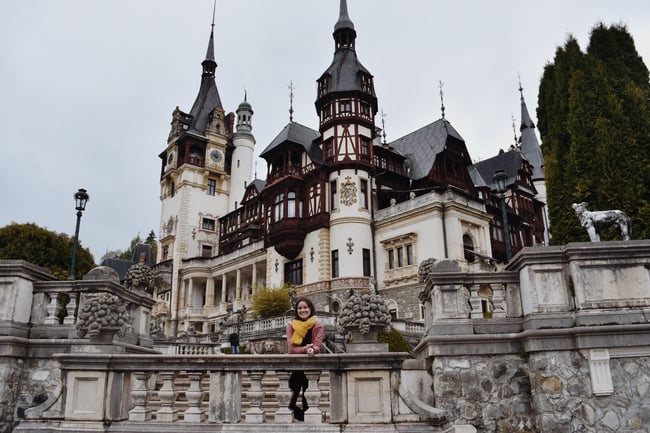 Of all the wonderful things we love about Romania, castles and fortresses might just be at the top of the list. After all, this country is the home of Dracula's castle.
Think Romania may not have much worth visiting? Think again! There are so many unique things in this charming country, like the Merry Cemetery, or the Festival of Light, or the Painted Monasteries, or this stunning casino on the coast, just to name a few. Since it's not totally overrun by tourists, like many other popular European countries are, you'll probably end up loving Romania even more than you thought you would!


---
Instead of visiting Romania, how about volunteering here for a whole semester?
Why Your Help Is Needed At This Orphanage
---
As you'll hopefully get to learn for yourself, one of the best things about Romania is the castles. Yeah, there are amazing castles and palaces spread all over Europe, like Neuschwanstein in Germany, Versailles in France, Trakai in Lithuania, Wawel in Poland, and Kamianets in Ukraine, but Romania is just covered in them! And so many of them have been kept/restored to provide the perfect walk into the past as you stroll their courtyards, and even tour their halls.
Since we want you to know about the best ones, we've narrowed the very extensive list of Romania castles down to a handful of favorites. And the best part is that all of these actually look pretty different from each other. Here's everything you need to know about visiting these stunning historical landmarks!
Our Favorite Castles In Romania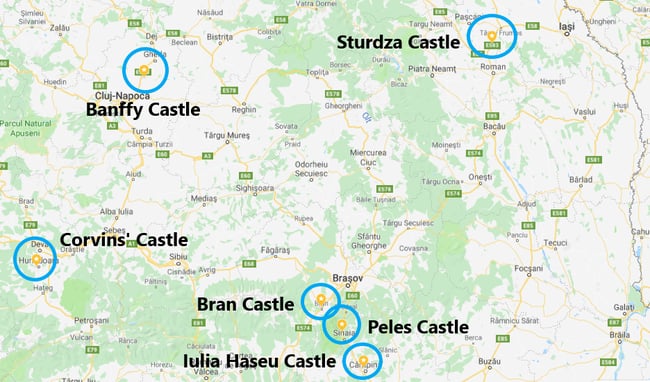 Sturdza Castle
This castle is stunning from the outside and is well worth the visit for anyone who loves Gothic architecture. Consider going with a free guided tour onsite, since you'll learn more details about the extensive history that way. This structure was originally the home of an aristocratic family, but was then taken over by Russian troops during WW II, and then used as an orphanage for disabled children during the reign of communism up until 2001. A guide will also point out awesome things you might otherwise miss, like the Sturdza's family crest (inspired by Saint George) and the family motto ("beauty shines everywhere") that can be seen engraved on the walls. But even without the guide, the Sturdza castle is very pretty to look at. Think about packing a picnic and having lunch on the grounds.
This castle is located in Miclăuşeni which is only about an hour away from Iasi, where our volunteers in Romania get to live for a semester. Here's 10 free things to do there. It's also only about one hour from Neamt, another popular destination for our volunteers.
Getting There
Visiting Sturdza is the perfect day trip, but keep in mind that it is only open on weekends, and even then it has pretty limited hours. Unfortunately there aren't any good buses we've been able to find that regularly make the trip. Your best option may be to take an Uber. This will probably cost about $50 per car each way, which isn't too much when you divide it up among 4 people. Since the entrance fees themselves are only about $3, we definitely think it's worth the trip!
Hours: Saturday and Sunday from 12 pm to 6 pm.
Address: Ortsanfang, Miclauseni 707066, Romania
Banffy Castle
Once nicknamed "The Versailles of Transylvania", this old castle is the largest in the area and actually belonged to a noble family up until 1944. During WW II it was used by the Nazis as a military hospital, but then they robbed, burned, and destroyed it as they retreated. Restoration didn't begin until 2000, but it's now open to visitors even while the entire estate is still in the process of being restored to its original glory! But be aware....rumors say it's haunted. Entrance fees are only about $1.
Getting There
Getting here from Iasi can actually take up to 9 hours on a bus. The closest main city to the castle is Cluj-Napoca, which is kind of the unofficial capital of Transylvania. The castle is about one hour outside Cluj, but you can easily take a train to Bontida and then there is about a 30-minute walk from the station to the castle. Taking a taxi or Uber from Cluj would be another good option. Since Cluj would be a great place to explore anyways, this would make an awesome weekend trip!
Hours: Every day from 10 am to 6 pm.
Address: DJ161, Bonțida 407105, Romania
Corvins' Castle
Don't miss this one!! It's well worth spending an afternoon walking around this fortress, which is actually another Romanian castle believed to be haunted. Built in the 1300s, this is supposedly where "Vlad the Impaler", the infamous ruler who served as Bram Stoker's inspiration for Dracula, was held prisoner in 1461 by military leader John Hunyadi. It's also one of Europe's largest castles, so plan on spending a bit of time here if you want to see it all. The entrance fee is only about $6.
Getting There
This castle is located in Hunedoara, in the western part of Romania. It takes about 12 hours total to get here by bus from Iasi, although that does include one transfer in Deva. You can get to Hunedoara by bus or train from a lot of different locations, including Budapest, so when planning your trip itinerary, just keep that in mind and play around with different options before purchasing tickets.
Consider making a day trip from Sibiu, since that is another favorite destination for our volunteers! Here's our guide to that cute city! You'll need to take a 3-hour bus ride to Deva, and then catch another bus right outside the train station that will get you to Hunedoara in another 45 minutes. Finally, you'll need to catch a taxi or Uber to get to the castle itself. A bit of a hassle, but totally worth it!
Another option? Head here from the delightful city of Timisoara, another hidden gem in Romania. You can hire a taxi to take you for the day (around a 2-hour drive), or take a train (which is faster than a bus). The train ride is 3 hours to Deva — you can check tickets here — where you can have a taxi take you the rest of the way to the castle, around a 25-minute ride.
Hours: Tuesday-Sunday from 9 am to 8:30 pm. Mondays from 12 pm to 8:30 pm.
Address: Strada Castelului 1-3, Hunedoara 331141, Romania

Bran
Not only is this fortress gorgeous with its unique multilevel/stacked towers, but it also has a fascinating history. The first fortress in Bran was actually constructed clear back in the early 1200s. That's like 200 years before Columbus. Vlad the Impaler (remember, the Dracula guy?) came into the picture about 1452 when he passed through Bran on his way to Brasov with all of his armies. Vlad was a notorious ruler, who did in fact impale his enemies and murdered hundreds of Saxons in the areas around Brasov. His history is pretty grisly and it's easy to see how his actions and fame could have been the inspiration for Bram Stoker's famous vampire novel.
Ownership of the castle was passed around quite a bit over the following centuries, until 1920 when it was offered to Queen Marie of Romania. It became one of her favorite places, and she did much to restore it to a proper and majestic residence of the royal family. Princess Ileana later built a hospital inside the fortress that served soldiers and civilians through WW II, until she was forced to evacuate to the US after the rise of communism. It was then turned into a museum, but fell into disrepair. Restoration wasn't completed until 1993. Like we said, quite the history! And as you'll notice, the main part that gets highlighted there is its very small connection to the mythical Dracula. The entrance fee is only about $9.50.
Getting Here
If you're an ILP volunteer living in Iasi, this castle is perfect to combine with a weekend trip to Brasov since it's only about 45 minutes away from Bran and you'll pretty much have to go through it either way. From bus terminal #2 Brasov, you can catch one of the regular buses that goes back and forth to Bran multiple times a day. Your ticket will only cost about $2.
PS: Brasov really is an absolute must!! Here's our guide to visiting this very charming and memorable city.
Hours: Always open daily from 12 pm to 4 pm, but opens earlier and closes later depending on the season. Check the schedule here!
Address: Strada General Traian Moșoiu 24, Bran 507025, Romania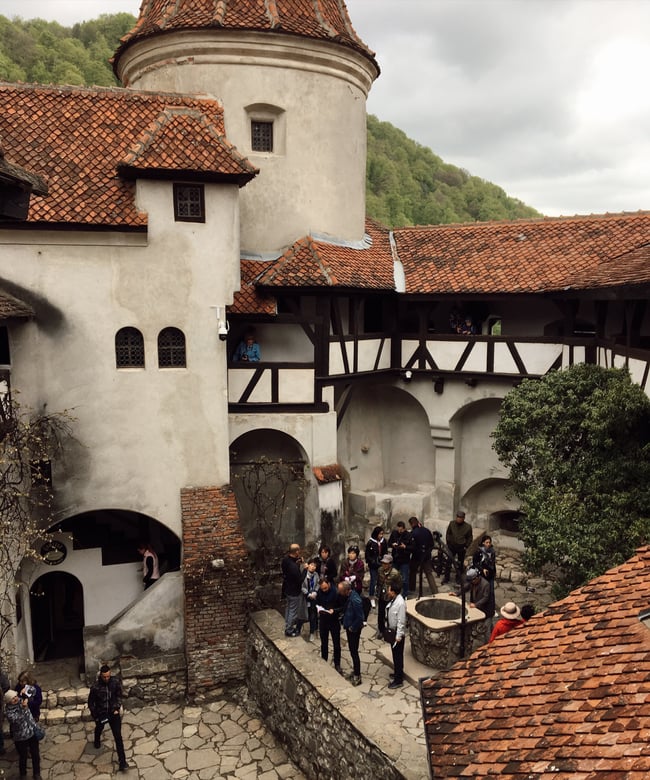 Peles Castle
This castle (it's really more like a palace) may be the very best one in all of Romania. . .but you get to be the judge of that! Plan on spending about half a day here if you want to get a sense of how intricate, detailed, and ginormous this place is. The whole interior is breathtaking, and you'll probably notice that many of the rooms are modeled after the styles of different countries: Music Room (India), the Council Room (Switzerland), the Turkish Salon, the Great Salon (Italy), and so much more. It definitely belongs in a fairy tale with all of the green mountain views around it too.
Entrance fees are about $7 for the basic tour which only covers the main floor and lasts about 45 minutes. To go upstairs (where all the bedrooms are), it costs an additional $7, and that tour takes 1 hour and 15 minutes. If you're short on time, the main floor will give you enough of an idea of the grandeur of this palace. Taking photos costs another $7. Bring cash!
PS: Consider checking out the nearby Pelisor Castle, "the Small Peles", that makes you feel like you're in Austria! Might be worth the additional $5.
Getting There
This castle is located in Sinaia, which is not far from Brasov or Bucharest. If you're coming from Brasov in the north, the bus/train ride will only take about 1 hour. From Bucharest in the south, the bus/train ride only takes about 1 1/2 hours. Your ticket will cost about $10 and they can be purchased from a kiosk at the station. From the train station you can get a taxi to take you to the castle for about $5. You can hike up a mountain to get there, but it will take 30-45 minutes. If you're determined to make the trek, we recommend doing it on the way back down.
Hours: There are 2 different schedules depending on the time of year. See them here! Usually closed on Mondays and Tuesdays. Open Wednesdays 11 am to 4:15 pm. Open Thursdays-Sundays 9:15 am to 4:15 pm.
Address: Aleea Peleșului 2, Sinaia 106100, Romania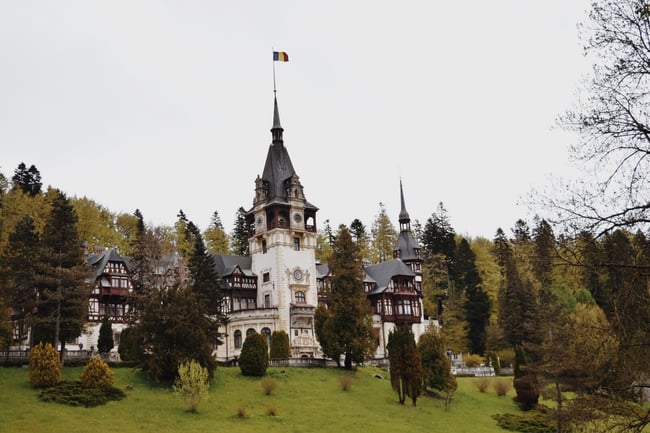 Iulia Hasdeu Castle
Okay, technically this isn't a castle, but it is a home modeled after the plans of a castle and it's totally worth visiting! Built by writer, historian, and politician, Bogdan Petriceicu Hasdeu, it was constructed in commemoration of his daughter, Iulia, who died of tuberculosis at 19. The stories behind it are fascinating, and a bit spooky, since legend says the plans for the house design were given to Hasdeu by his deceased daughter during seance sessions. So yes, another haunted Romanian castle. It was converted into a museum in 1994. Read more about the history here!
Getting There
It's located in Câmpina, which is halfway between Brasov and Bucharest. The train ride takes about 1 hour from Bucharest, and the ticket will cost less than $8. Look up the train schedule here!
PS: Since we've already talked up Brasov, we also need to make a plug for Bucharest! You guys. It's another beautiful Romanian city that you need to visit since you'll be so close to it anyways! And lucky for you, we've already written a complete weekend guide—read it here!
Hours: Open Tuesday-Sunday 9 am to 4 pm. Closed Mondays.
Address: Bulevardul Carol I 199, Câmpina 105600, Romania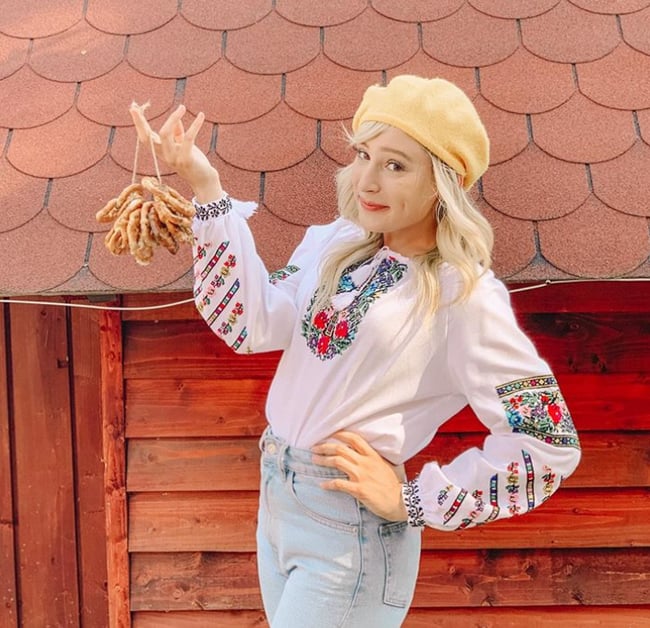 Have more questions about what to expect during a semester in Romania?
We LOVE this amazing country, and you will too! Click the button below to learn some of the basics: