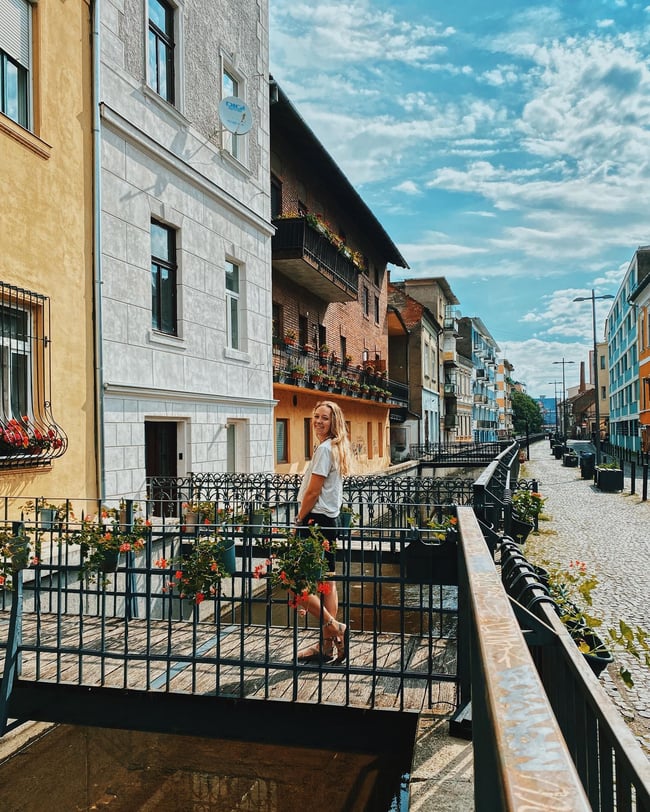 Never heard of Cluj-Napoca? After a little research, you'll want to head here ASAP to hang out in the picturesque city and jump off to some of Romania's coolest day trips.
---
Want to see more of Romania?
Volunteer here! Get your questions answered here.
---

If you don't have Romania in your European travel plans, it's time to change all of that. This country is hiding endless castles to explore, gorgeous hilltop views, and some of the most charming cities I've ever experienced. After my trip here, the pictures people saw of Romania on my Instagram was totally surprising ... "where in the world is that?". Yep, Romania is one of the under-the-radar countries you should know about.

A little place called Cluj-Napoca is tucked away in the north eastern part of the country and has been luring "off the beaten path" travelers here for years. It also happens to be a fab jumping off point to some of the country's most impressive villages and castles, and one underground theme park (which is hard not to check out). Here's your guide to all things Cluj-Napoca.
Our Favorite Things To Do
Bike The Quaint City + See These Sites
Wanna see the most of this red-roof topped city? Go by bike. There are lots of spots where you can rent a bike for the day and see more than you could by walking. Downton Cluj is pretty flat but the whole city is in a valley, so be prepared to bike uphill if you want to explore the apartments. What you'll mostly want to see is centered around Union Square, but the outskirts of the city do house some block-style apartments that visualize Romania's Soviet past.
Don't forget to stop by to see Matthias Corvinus' statue (pictured below): it's right by the old St. Michael's Church in the Union Square. This former Duke of Austria and later King of Hungary + Croatia was born in Cluj, so he's a pretty big deal here. The church itself is an impressive piece of Gothic architecture in Transylvania, with murals from the 15th century. Around Union Square, you'll find old mansions, spires from ancient churches, and "Parisian-esque" buildings on mirror street. Union Street is the main square of the city and where you'll probably spend most of your time.
Get your bikes at the Raiffeisen Bank agencies; you'll find vendors like I'Velo (here's their Facebook page) or Cluj bike who can help you with a bike rental.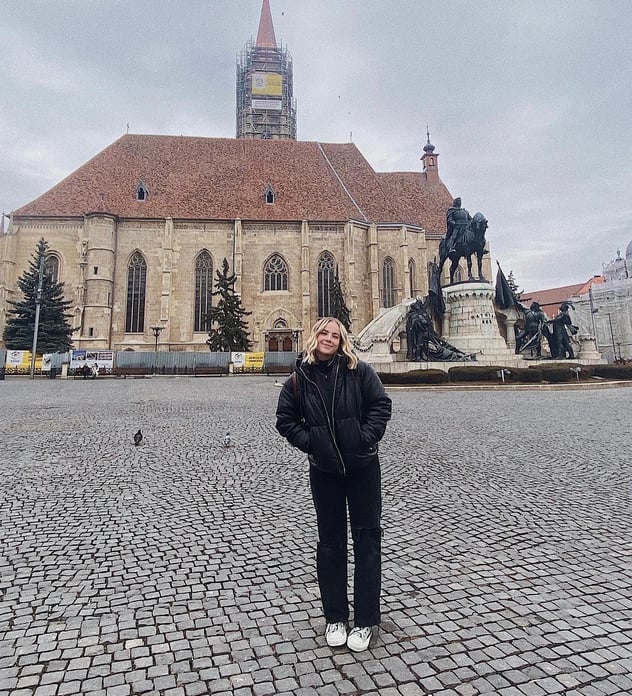 See The Most Haunted Forest
Hoia Baciu is supposedly the most haunted forest in Europe, with eerie, skeletal-like trees that twist through the morning mist. It has the nickname "the Bermuda Triangle of Romania" due to a handful of spooky legends. One legend talks about a girl who disappeared in the forest only to reappear five years later with no idea where she had been for all of those years. Another tale is about a shepherd who completely disappeared without a trace. More recently, it's also the site of a UFO sighting, and has some paranormal mysteries — some visitors report an odd blanket of silence, or unexplained giggling, and faces that only appear in photographs, while others report their visit as peaceful and calm, like any other forest. You'll have to visit for yourself.

The forest is about a 20 minute taxi ride from the city center, and is full of hiking and biking trails. Or, you can really delve into the forest's mysteries and go on a nighttime tour of Hoia Baciu.
A Few Gardens and Parks
Known as Cetauia Park, climb up some 200+ stairs to get a view of the city of Cluj spilling out below you. It's one of the best things to do in the city, so don't miss it. Start your walk at Piata Mihai Viteazul: you'll cross the Somes River bridge, head on up the stairs for the view and even stop off at the panoramic restaurant at the top if you're feeling hungry.
Address: Strada Emil Racoviță 60a, Cluj-Napoca 400124, Romania
Hours: Open 24/7, but best views are at sunset.
Cluj has its own Botanic garden and it can't be beat. Known as the Alexandru Borza garden, its a peaceful break from the city life. The park itself is a huge expanse peppered with green houses and separate gardens like a Japanese garden, a flower garden, and a few small waterfalls, along with lakes spread with gigantic lilypads. It's one of the most popular things to do in the city with around 15,000 people visiting per year ... it's that good!
Address: Strada Republicii 42, Cluj-Napoca 400015, Romania
Hours: 8:00 AM to 8:00 PM
Entry fee is 10 lei.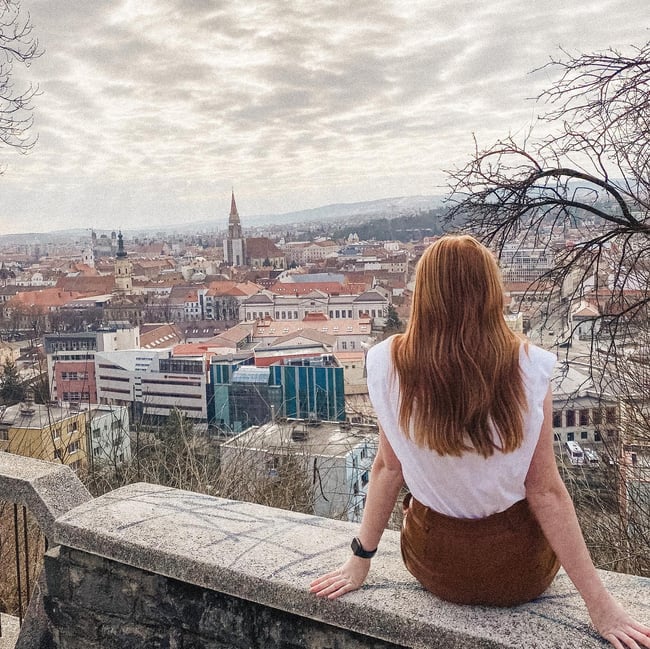 Take A Walking Tour
Like most cities in Europe, there are free walking tours you can check out that will take you to the top sites of the city. The link above is a walking tour that has a couple of English tours a day (their Facebook page gives you all the details you need).
Even if you don't want to go with an official tour, take the time to explore Cluj — it's a stunner. Here's what one ILP volunteer said about walking around the city (and the picture below): " That was actually just a random little pretty cobblestone street/wall right by our hostel. There's lots of little streets like that all around Old town Cluj, and lots of cute picture spots if you keep your eyes out—I definitely recommend just walking around and exploring."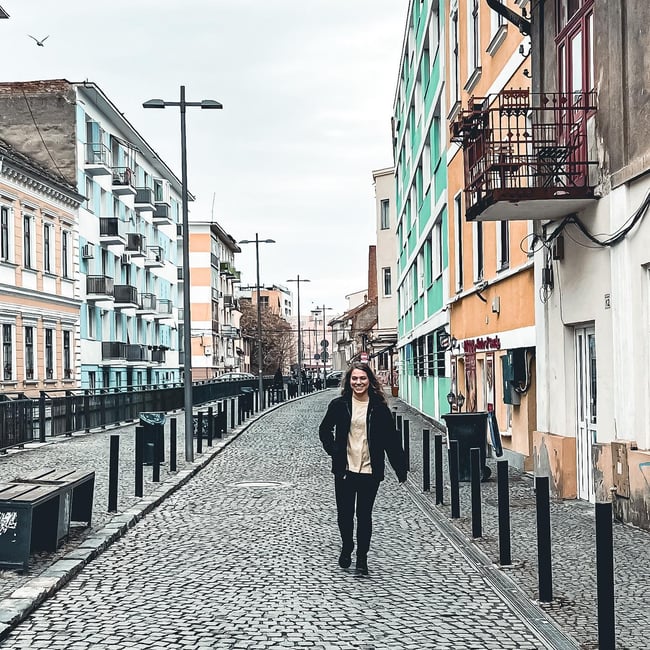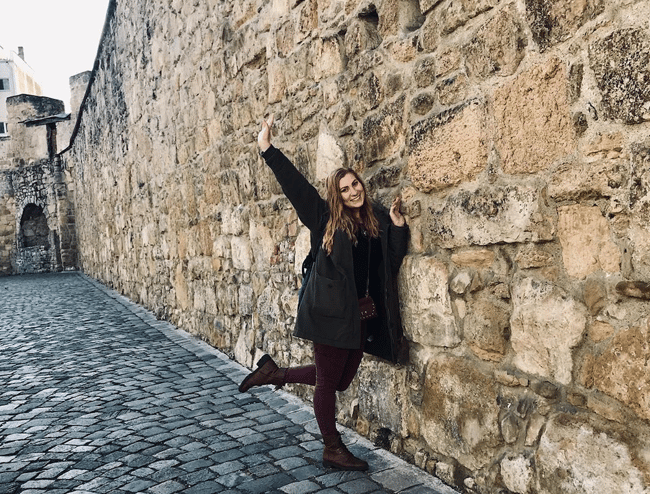 Float In Salty Lakes
After a day in the city, head outside of Cluj to explore some gorgeous sites, like the Cojocna Baths. Found in the summer resort town of Cojocna, find two lakes here (the Cojocna Salt Lakes) that are salty enough that you just float on the surface of the water, instead of sinking when you jump in. Plan on hanging out on the sandy beaches to play volleyball, badminton or to build a sandcastle or two after your soak. Here's some info on the baths along with some pictures.
Cojocna is 25 kilometers away from Cluj-Napoca and is easy to reach via bus (tickets are less than 2 Euro) and depart every day, usually in the morning, afternoon and evening. Just head to the city's bus station and get tickets for Cojocna, or hire a taxi to take you up there.
Entry tickets to the baths are 10 RON, without a no student discount (so if you have a student ID, you may be able to save a little RON). They are open from 7:00 AM to 7:00 PM.
Hike To A Flooded Village
Another site to see is Tarnita Lake, just about 20-30 minutes away from downtown Cluj-Napoca. The whole area is gorgeous, made up of four dams that were meant to produce electricity for the nearby city during communist times. But now, you can visit for some boat rides, a swim in the water or the chance to even see the flooded village: On the bottom of Lake Belish, there used to be a village there, that is now completely submerged. Rumors have it that you can see the top of the church's steeple during summers where the lake's water levels are low.
The best thing to do is get a bus to nearby Gilau (here's a bus schedule) then get a taxi up to the specific lake. There are a few lakes in this area for you to explore.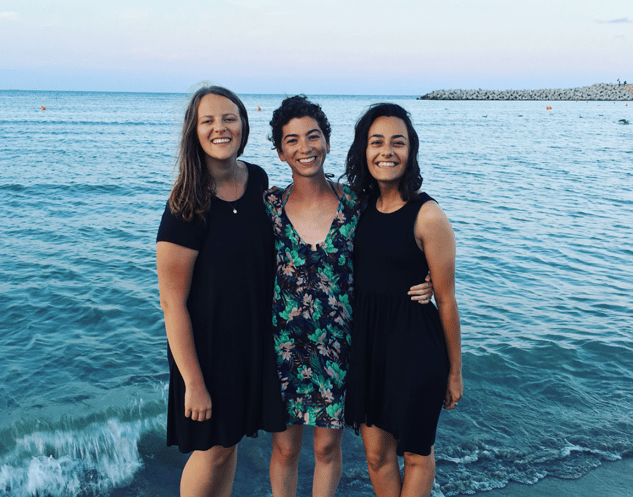 Our Go To Day Trips
Visit Turda's Underground Theme Park
There's lot a to do in Turda but the biggest draw is the underground theme park — yep! Come see a ferris wheel and other attractions deep in an ancient salt mine. You'll descend deep into the depths of the mine for the chance to rent paddle boats for the full-on lake hiding hundreds and hundreds of feet below the surface. The mine is also home to a ferris wheel, a mini golf course, and a few other surprises. Get more info your trip to Turda.
There are buses that go from Cluj to Turda every hour or so, which makes a visit very easy. Head to the bus station in Cluj-Nacopa and book a ticked to Turda. You'll want a direct route which is about a 40 minute ride. Prices are low, about 1-2 euros for a one-way route. You can also Uber there if you'd like.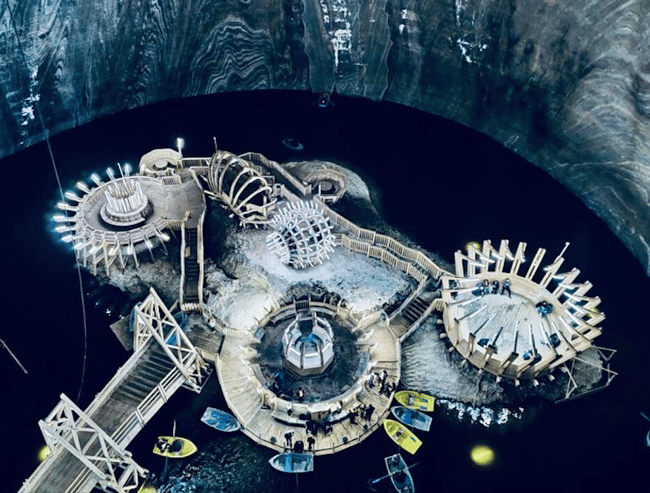 The Charming City Of Sibiu
With a strong German influence, come to Sibiu for red rooftop views, narrow streets painted a rainbow of colors, and and a beyond picturesque experience. It's not a huge city, but volunteers who have visited were glad they made time to spend a day and a half (or even two full days) in this pretty city. There's a smattering of churches to explore, an Old Town (in classic European style) and a clock tower you can climb up to get the best picture of your whole trip. Get your Sibiu guide here.
It's about a 3-4 hour bus ride from Cluj-Napoca to Sibiu. Book the most direct route (ones with stopovers are more like 8 hours). There are frequent routes with the bus company Dacos, who have tickets for under 8 euros.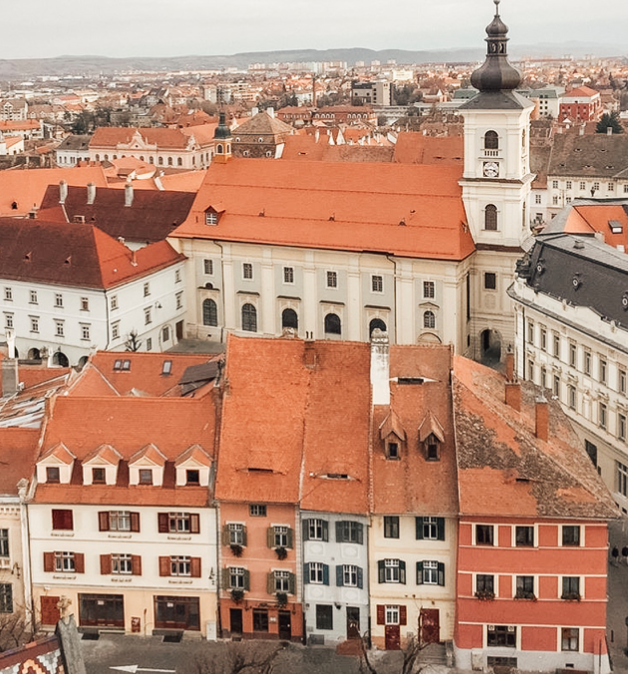 The Dracula-Inspiring Corvin Castle
It's well worth spending an afternoon walking around this castle, which is not only visually pretty stunning, this Romanian fortress is believed to be haunted. Built in the 1300s, this is supposedly where "Vlad the Impaler", the infamous ruler who served as Bram Stoker's inspiration for Dracula, was held prisoner in 1461 by military leader John Hunyadi. It's also one of Europe's largest castles, so plan on spending a bit of time here if you want to see it all. It's sometimes known as Hunyadi Castle or Hunedoara Castle, you'll find this stunner in the city of Hunedoara.

From Cluj-Nacopa, you'll need to take a train and a bus to get to Hunedoara. First, book a train ticket to the city of Simeria. It's about a 3.5 hour train ride with tickets for about $6-9. Get tickets here.
Once you arrive in Simeria, you'll need to get to Hunedoara. It's a short bus ride (about 20 minutes). This city is off the beaten path, so you can call +40254712320 for information about buses leaving Simeria to Hunedoara rather than booking them online or ahead of time. The bus station is close to the train station but there are infrequent departures, so you'll want to make sure your train arrives in time to catch the bus transfer.

You can also hire an Uber or Taxi to take you from Simeria to the castle itself. It's only a 25 minute ride, and should set you back about $12 USD for a one-way drive.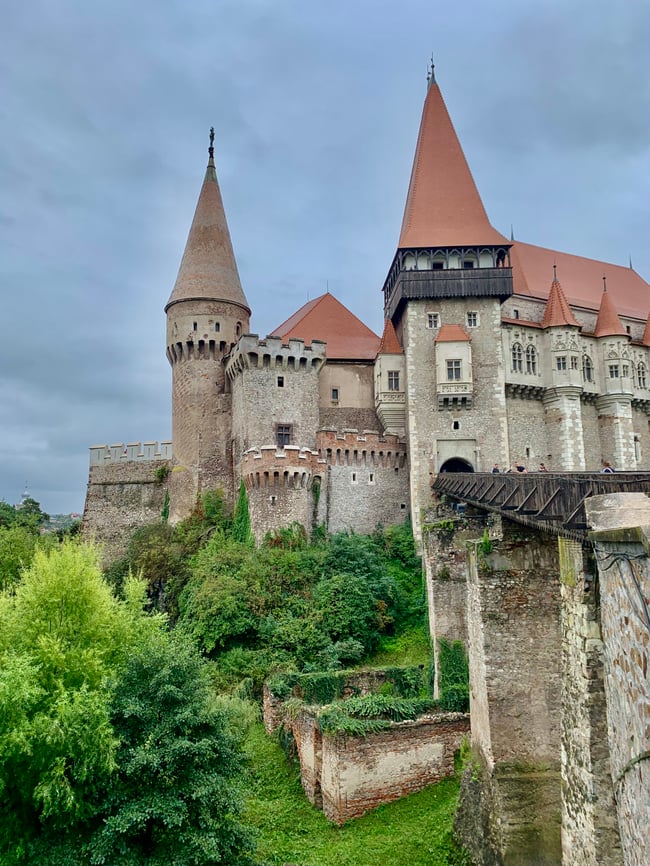 Where To Stay
You have a couple of options but one ILP group recommends Retro Youth Hostel. Here's what Madi, and ILP Romania volunteer has to say "It's in a great spot right in Old Town. The people in charge were very kind, helpful, and flexible when we ended up staying longer than planned ... free breakfast, and great quality for the price. They also had a sauna although we didn't take time to try it. Make sure you bring your own towels if you plan to shower, though!"
Another group stayed at this AirBnb if you want to go that route. It's in a renovated apartment (from the 19th century) and found right in the middle of Old Town.
+ Where To Eat
One ILP group had tons to say about a place called Eggcetera Cluj for breakfast. The french toast is particularly pretty and very very yummy.

Address: Strada Napoca 13, Cluj-Napoca 400000, Romania
Hours: 9:00 AM to 4:00 PM
Another breakfast / coffee shop that is pretty well loved is Ted's Coffee. When it comes to their coffee, they have a mix of different milks available (like almond), as well as flavor shots like coconut, hazelnut, caramel, and more. You can also find bakery items (like muffins) on the menu. Yum.

Address: Strada George Barițiu 14, Cluj-Napoca 400027, Romania
Hours: 7:30 AM to 8:00 PM on weekdays, opened slightly later on weekends (and closes at 7:00 PM on Sundays).
How To Get To Cluj-Nacopa
From Bucharest
You're looking at an overnight train ride or a short flight. For your train rides, trains leave Gare Du Nord a couple of times a day. Best to book an evening option so you can just fall asleep and wake up in Cluj. It's about a 9.5 hour ride, with 1-way tickets from about 105 lei. Look up specific train dates and times here.
If you're a fan of flying, a direct flight is just under an hour. Look at airlines like Blue Air and TAROM. Prices can range from $70 to $100, give or take $25 or so. We love booking tickets and checking prices on Skyscanner.
From Iasi
Iasi is rather well-connected as a transportation hub, which means you can take a flight, a train or bus to get here. Flying is typically around $60-$100+ for a oneway ticket (look at prices and tickets on Skyscanner). Look at Jetcost and TAROM.

Train is a more affordable option, with tickets about 70 lei. It's about a 9 hour ride. Book tickets here.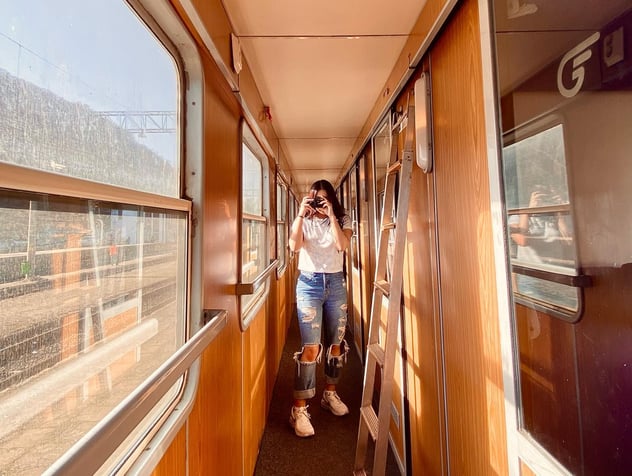 Now that you've mapped out your Cluj-Napoca itinerary...
It's time to plan out your semester living in Romania, right? When you're not on vacation, you'll be helping out in a local orphanage — all as a volunteer with International Language Programs.
Get the details to get you excited about your semester here by clicking that button: