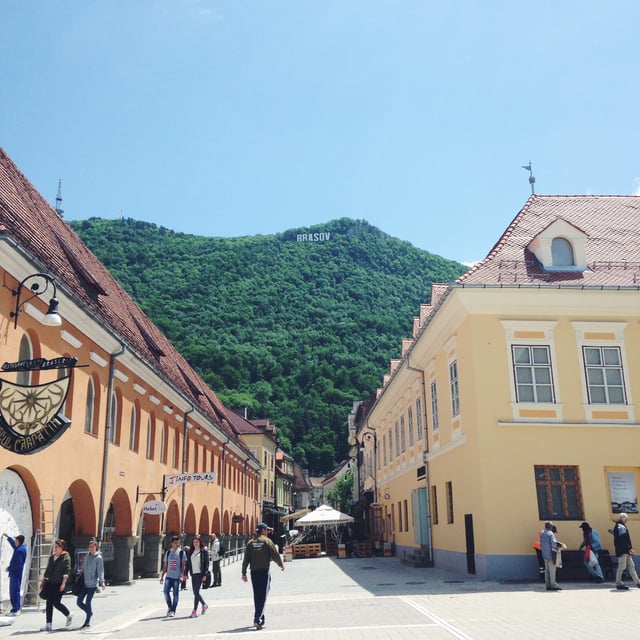 Looking for a super dreamy, cute as a button, mountainous green getaway city that almost no one knows about? If you only can choose one place to visit in Romania, choose Brasov!
This Romanian city will steal your heart. It's a huge bucket list spot because it is near Brasov the castle which inspired the legend of Dracula .... plus this city is as cute as can be.
Complete with its own "Hollywood sign" and streets full of charming buildings that are pale yellow, creamy pink, and faded orange, it's easy to fall in love with. ILP Volunteers who are living in Romania for a semester cannot get enough of this gem.


---
Interested in life in Europe?
We have guide all about volunteering in an orphanage, right here.
---
Oh and to make it even easier for you to visit, we have your whole itinerary planned out:
Things You Can't Miss In Brasov
The city itself isn't that huge, so the things in Brasov are easily done in between activities that are outside of the city:
Old Town
Little shops and restaurants line the main city square creating a darling Old Town. You'll find quite a bit of souvenirs here; things like Romanian rugs and more expensive gifts in the stores.
You'll find cheaper souvenirs in other places (like around Bran's Castle or a different city like Bucharest) but it's fun to window shop. If you have time, you might want to do a walking tour of the area; you can do a quick search online "Brasov Free Walking Tour" and go with a guide if available or find a self-guided one, (like this one), or just wander around.
Tip: Go inside the Muzeul Judetean de Istorie to admire some relics of Romania's involvement in WWII and it's Soviet past, but the real gem is the view you get right when you exit (peep that pretty picture below).
Address: Piața Sfatului 30, Brașov 500025, Romania
Hours: 10:00 AM to 6:00 PM daily, Closed Mondays.
Cost: 7 lei, 1.5 lei for students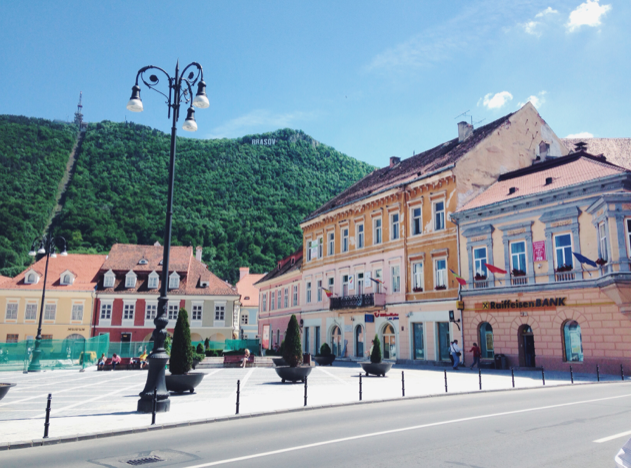 The Black Cathedral
Found in Old Town, this towering cathedral was originally built in the 1300's (wow). It was partially destroyed by a fire in the 1600's but it's been restored so you can soak in the sites of the largest Gothic church in all of Eastern Europe — 5,000 people can fit inside!
It's gorgeous and impressive to see from the outside, but past volunteers highly recommend visiting when the church is open.
Address: Curtea Johannes Honterus 2, Brașov 500025, Romania

Cost: 9 lei for adults, 6 for students

Hours:
From April - September: 10:00 AM - 7:00 PM, Sunday 12:00 PM - 7:00 PM . Closed Monday.
From October - March: 10:00 AM - 3:00 PM, Sunday 12:00 PM - 3:00 PM . Closed Monday.
If you're visiting between June and September, you can pay an extra 10 lei to attend an impressive 400-pipe organ concert every Tuesday at 6:00 PM.
Rope Street
Another favorite spot around Old Town, this is a short ctivity but it so fun. Brasov has an incredibly narrow street called "Rope Street" (Strada Sforii) that makes for a cool photo op … it's one of the narrowest streets in all of Europe.
Rope Street runs perpendicular to Strada Poarta Schei; it should pop up in Google Maps and get you to the right area. Past volunteers mention needing to hunt around a bit once you "arrive" according to Google Maps, but it's in the area, so just keep looking.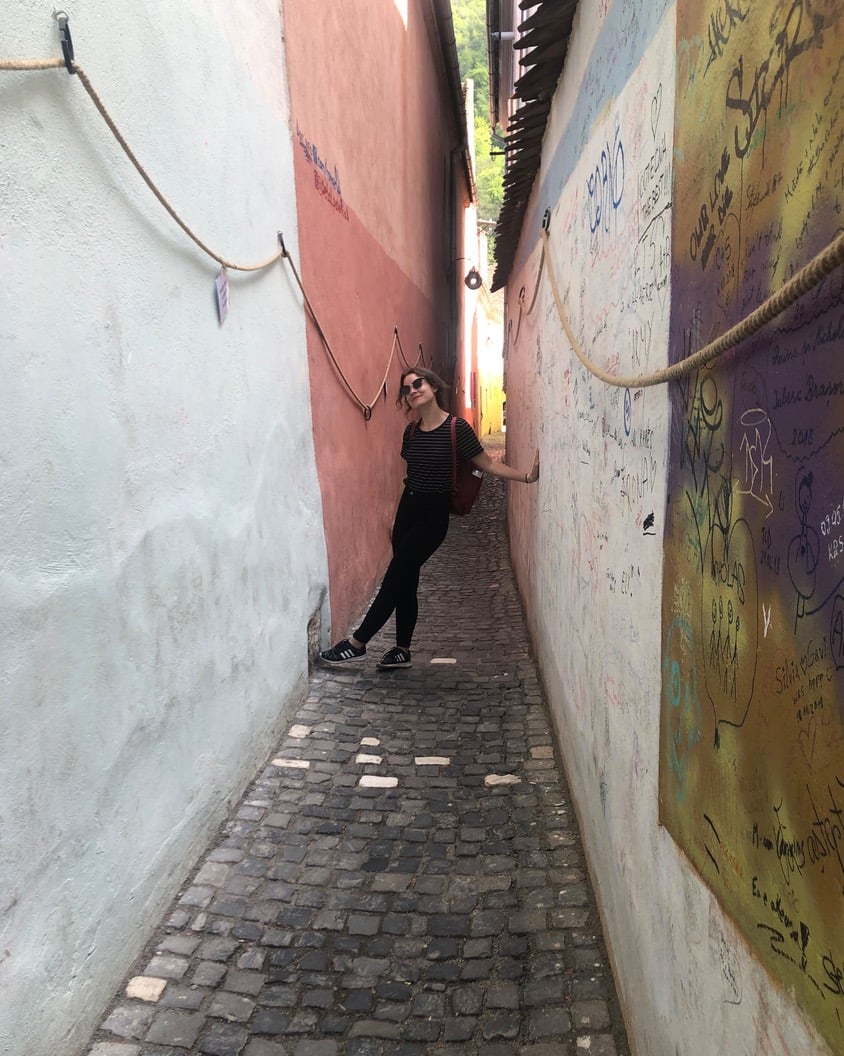 Visit the Brasov Hollywood Sign
Situated above Old Town on the slopes of the green alpine hills, you'll see the city's named spelled out, ala-Hollywood style. The hike up is gorgeous (switchbacks on a dirt trail up through the green hills) or you can ride the gondola up.
Personally, I loved hiking up (it's about 2.5k) and then riding down — you'll want to search for the "Serpentinelor Trail" (it pops up in Google Maps) but just know that the trail gets muddy if you're visiting when it's rainy. We hiked on a sunny day but the ground was still pretty muddy (but the views were awesome).
Tampa Cable Car info:

Hours: 9:30 AM - 4:00 PM, closed Mondays
Cost: 18 lei for a roundtrip ticket, 10 lei for a one-way
Address: Aleea Tiberiu Brediceanu, Brașov, Romania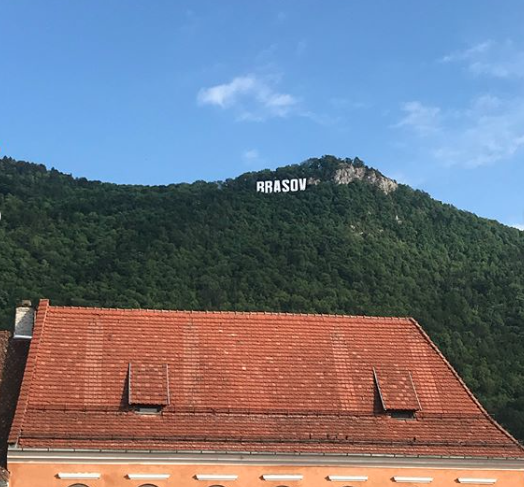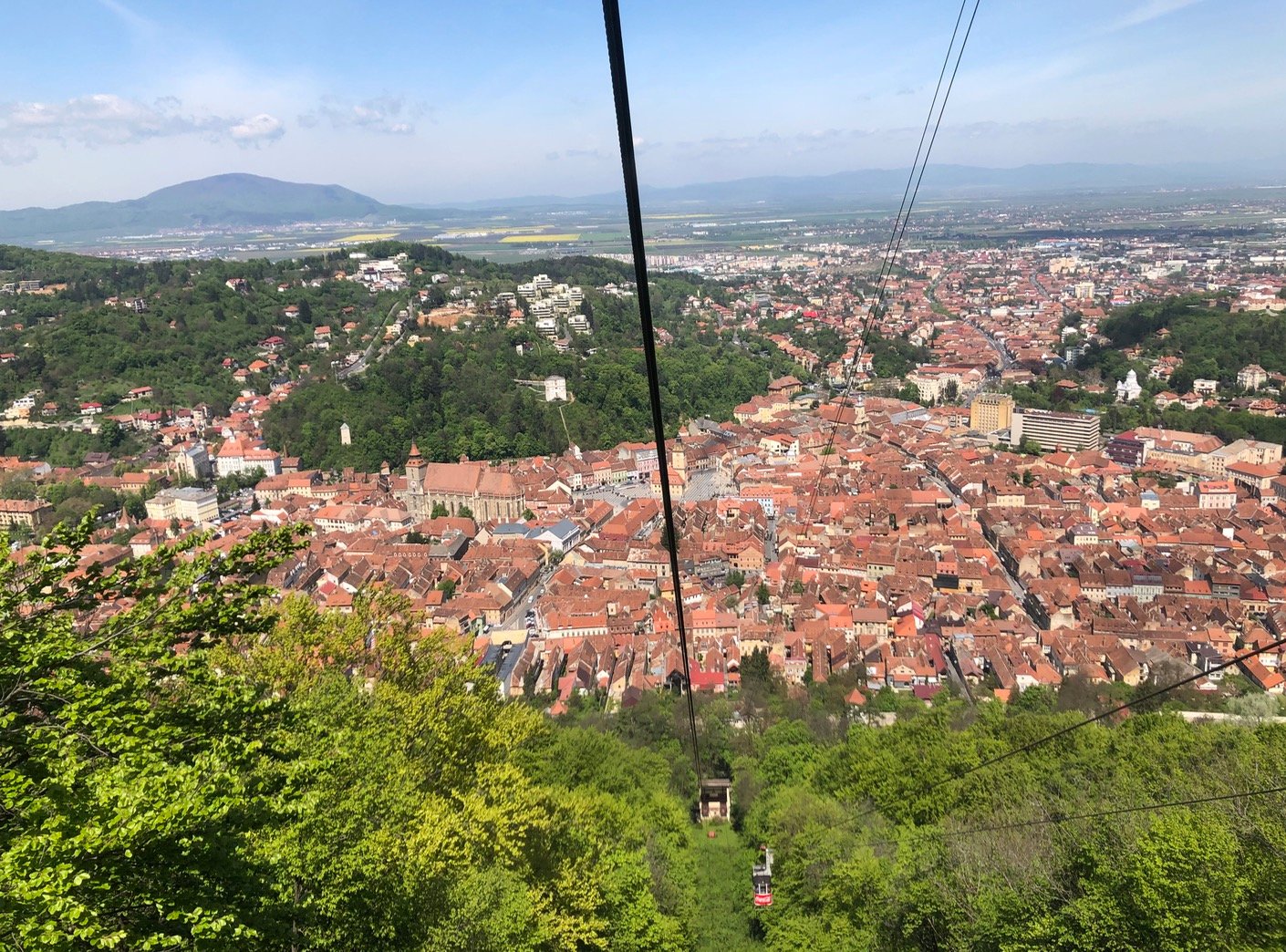 Hike The White Tower
Just outside of the old walls that rim the Old Town there's a straight up staircase that leads you to the White Tower (also known as Turnul Alb), an impressive watchtower that's been around since the 15th century. After you climb up some 200 steps, you'll be rewarded with what may be my favorite view in all of Brasov.

Pst: You also can go inside the tower when it's open (9:00 AM - 5:00 PM Closed Mondays) if you pay 7 lei. Inside it's a museum, but the view itself is worth climb.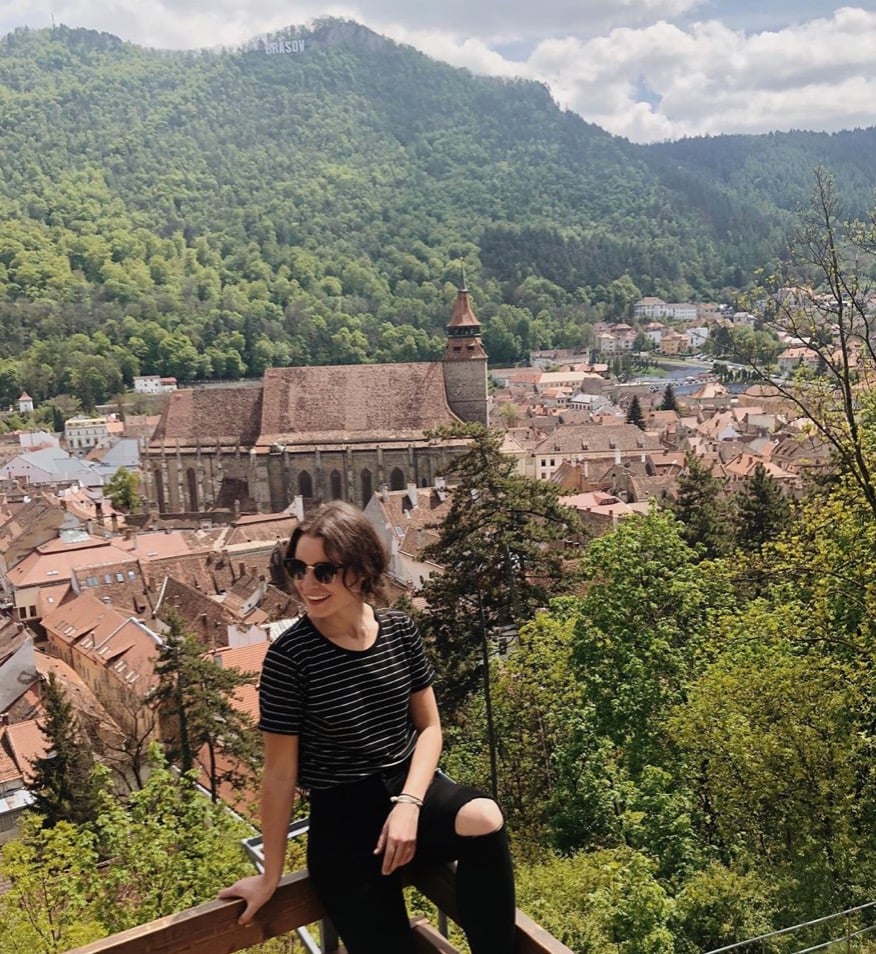 Nearby Adventures
Rasov, Bran's Castle and Peles are all highly recommended, are are just outside of the city of Brasov, so be sure to visit!
Rasnov Fortress
Just about 10 miles outside of Brasov this fortress is perched high above the city, and has been for about 700 years.
You can either hike up or take a cable car up to the entrance (we vote Cable Car), before you can tour the maze of streets hidden inside the fortress. The views from up here are stunning. Inside, there's a highpoint with a Romanian flag mountain on top … be sure to snap a picture before making your way down and back to Brasov.
Getting Here: Head to bus terminal 2, and get a ticket to Rasnov (the #16 bus gets you to the bus terminal if you're leaving from Brasov). Tickets cost 4 lei; buses run every 30 minutes daily, or every 60 minutes on the weekends. You can also take a short taxi ride (it shouldn't cost more than 45 lei or so, so not bad if you split the cost).
Once you arrive, ask where you can catch the funicular up to the fortress's entrance, or just meander to through the city to find it (it's a small town and easy to find).

Hours: 9:00 AM to 7:00 PM, daily
Cost: 12 lei for the funicular and 12 lei for a ticket into Rasnov (6 if you're a student).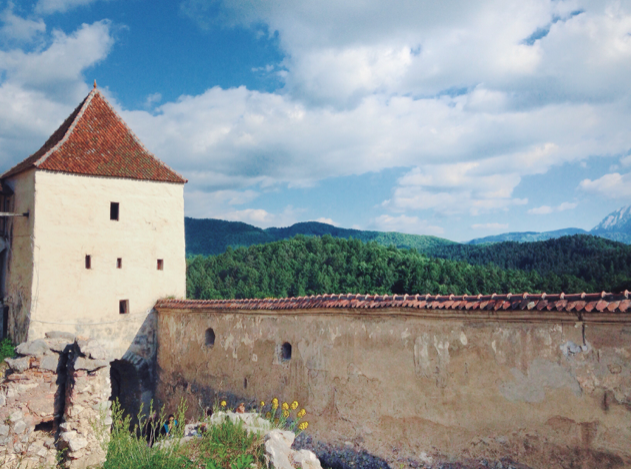 Bran's Castle
Found in the nearby city of Bran, you might know this better as "Dracula's Castle". Iconic and imposing, this hilltop castle inspired the legend of Dracula and is one of the main reasons why you visit this region of Romania. There's a reason this castle made the top of our list of the top five castles in Romania!
The castle is said to be the only one in all of Transylvania to match Bram Stoker's description in the novel, hence the idea that Bran's castle inspired Dracula's home. It's very touristy in the best way; you'll see posters and advertisements about Dracula all over the place, but once you go inside, it's like a museum. Read up about the castle's real history here.
Head's up — Fall volunteers, be sure to check online about any Halloween events that happen in Brasov; there are usually some cool festivals happening in October.

Outside of the castle, you can get a few Transylvanian-inspired souvenirs; things stamped with Dracula's picture and name, and other Gothic-inspired knickknacks, like pottery etched with traditional patterns (or ghouls).
Getting Here: Buses leave for Bran every half and hour from Bus Terminal 2 (tickets cost around 8 lei). It's about a 35 minute bus ride away. Pull up Bran Castle on Google Maps to help you know when you're getting close, but you'll see a small village with lots of Dracula related restaurants and shops to help you know.

Tickets To The Castle: 40 lei, 25 lei for students (Visit the official website for more information).
Hours:
April - September: Monday 12:00 PM - 6:00 PM
Tuesday - Sunday: 9:00 AM - 6:00 PM
October - March: Monday 12:00 PM - 4:00 PM
Tuesday - Sunday: 9:00 AM - 4:00 PM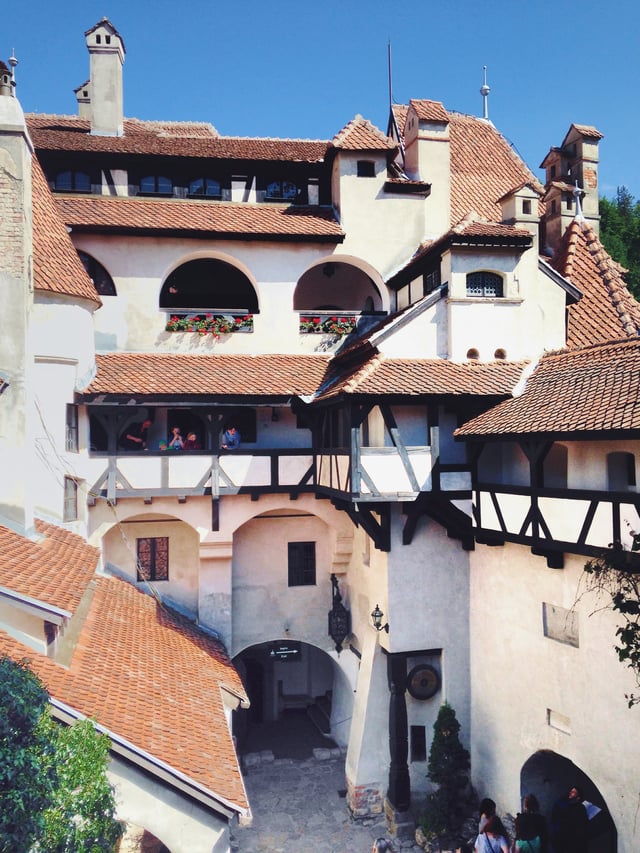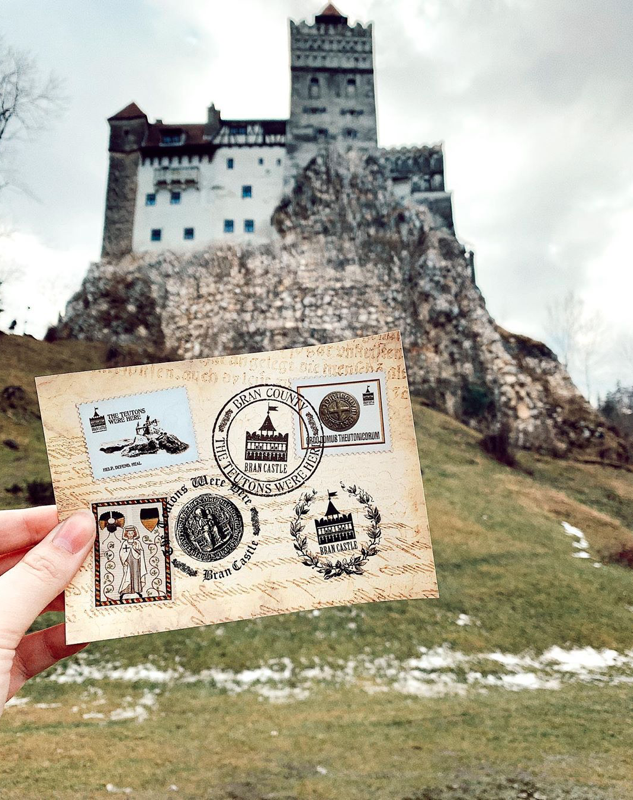 Peles Castle
This is HUGLY recommended don't miss this one! One ILP Romania volunteer said that Peles is "what you think about when you think of a castle". This place looks like something out of a movie. Peles is perched between sloping alpine mountains, found in Sinaia which is outside of Brasov technically, but it's so stunning it would be shame to miss Peles when you're visiting Brasov.
The outside is incredibly impressive, but inside, you'll see what you'd expect of a royal residence (we're talking lush ornamental rugs, vaulted ceilings with detailed chandeliers, rich wooden doors that are intricately carved …. you know, total luxury).
Getting Here: You have options. Past volunteers say it's worth it to hail a taxi and split that with your group instead. It's about an hour drive. However, I was in Brasov for 3 days and loved taking the train to Sinai (Get tickets at the Brasov Train station) Trains leave every hour, and cost 18 lei. The train ride to Sinai is absolutely gorgeous and a highlight of my trip.
Tickets to the castle: Depends on what floors you'd like to see. First floor tickets are 20 lei (7.5 if you have student ID card that's accepted), second floor tickets are 50 lei. If you have the budget, pop for both floors because this place is spectacular ... I visited on a Tuesday in May and only the 1st floor was open and it was beyond worth it to go inside.
Hours:
May 15 to September 16
Tuesday: 9:15 AM - 4:15 PM
Wednesday 11:00 AM - 4:15 PM
Thursday - Sunday: 9:15 AM - 4:15
Closed Monday
17 September - 15 May
Wednesday 11:00 AM - 4:15 PM
Thursday - Sunday 9:15 PM - 4:15 PM
Closed Monday and Tuesday
Visit the official website for more information.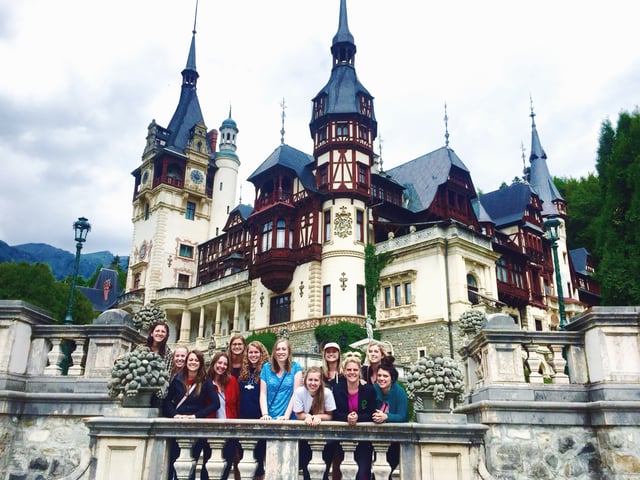 Hike Seven Ladders Canyon
The entire country of Romania is blanketed with an impressive number of national parks, and people from all over flock to see some of Romania's untouched landscapes. The nearby Canionul Sapte Scari (Seven Ladders Canyon) is a good option for hikers staying in Brasov. Like the name might suggest, you'll climb seven ladders in a deep canyon, over waterfalls and through rolling forests. It's gorgeous.
The ladders can be steep and are situated in the canyon, so it might not be ideal for someone afraid of heights. You will want to be wearing solid hiking shoes. The waterfalls can make things slippery so go slowly to keep your balance.
DIY
Walk south of the Timisu de Jos Village, from the point called "Dimbul Morii". Start hiking on yellow stripe track, which takes you through the Seven Ladders Canyon. You'll trek through the hillsides before reaching the canyon which is where you'll encounter the ladders (there's a small fee to hike through this section). Once you exit the canyon, you'll reach Piatra Mare Hut where you can get snacks and drinks. Then, you'll make a loop through the forest to get you back where you started. It should take 6-8 hours total.
The Tourism booth in Brasnov is very helpful when it comes to planning your trek here.
Getting here: Taxi to the village Timisul de Jos, where the trailhead is. Your taxi driver should know it (it should be about a 15 minute ride from Brasov). It might be helpful to talk to your hostel staff or the tourism booth to see if you can go via a guide to help you navigate the hike.
Getting back: There is a little snack shed at the trailhead; the lady inside speaks English and can help you figure out the bus back to Brasov, or call a cab. (There is no cell service around the hike)
Go With A Tour
If you'd rather not figure things out, you can go with a tour. Most will pick you up from your accommodation which is a nice perk. Past groups found a tour option which was $55 a person which included everything except the 10 lei entrance fee to enter the trailhead.
Here's what that group said: "We definitely liked having a tour guide because it made it so we didn't have to stress at all! I'd also recommend getting an earlier start because it gets super busy! It's about an hour hike to where you pay to get into the canyon, and that doesn't open till 10:00 AM. So we started at 9:00 AM so we could get there right at 10:00 AM and have the canyon to ourselves!
Some Other Details
Open: March to November if the weather is good. The trailhead to the actual canyon doesn't open until 10:00 AM.
Cost: About 10 lei to enter the trailhead (5 for students) plus more to climb the ladders.
Getting back: There is a little snack shed at the trailhead; the lady inside speaks English and can help you figure out the bus back to Brasov, or call a cab. (There is no cell service around the hike). Or, if you've gone with a tour (talk to your hostel or a nearby hostel in Brasov) they will probably include transportation.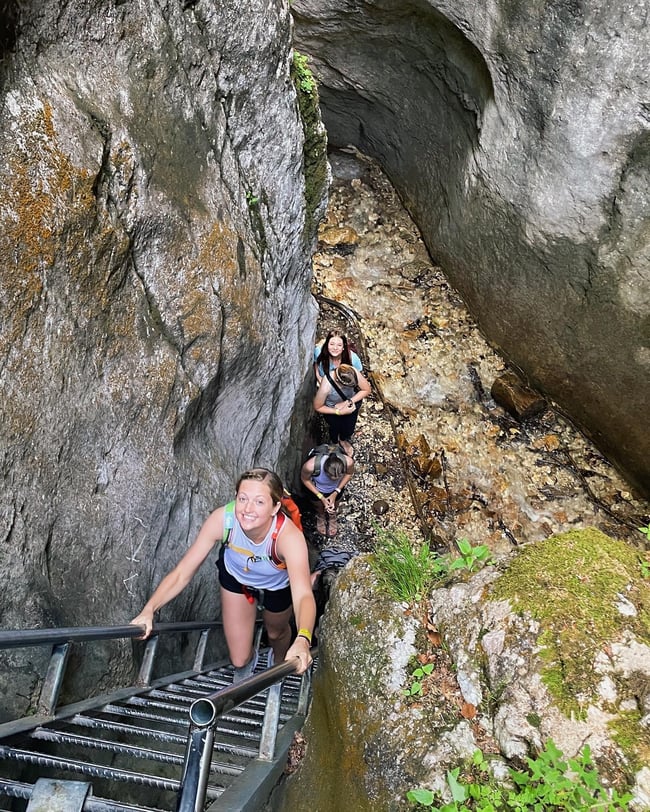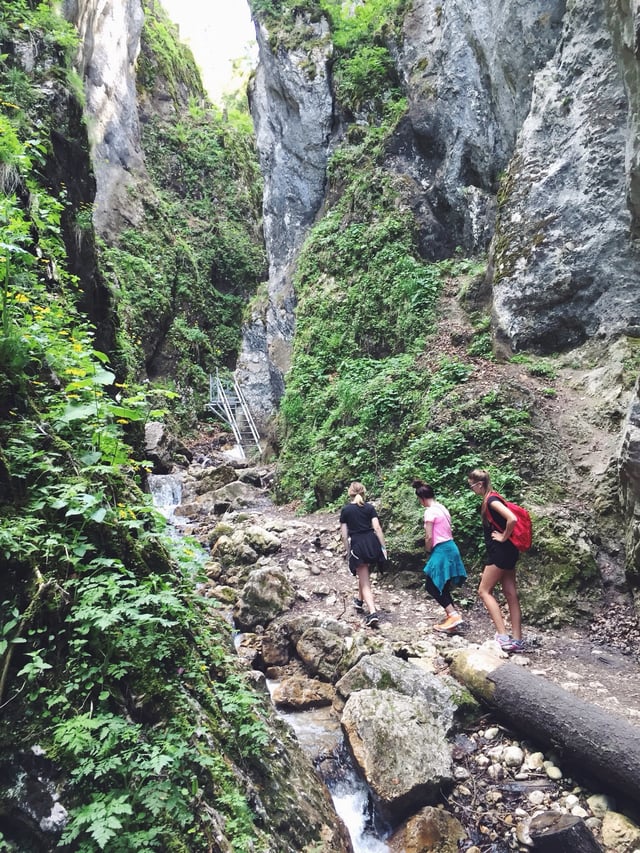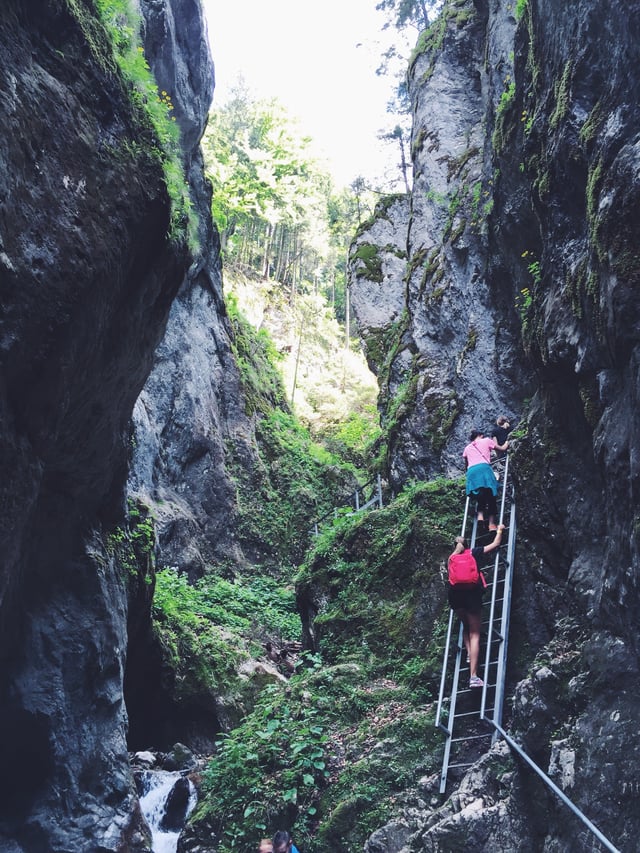 + Day Trips
So many darling cities in Romania are just outside of Brasov, so if you have more room in your itinerary come visit for a day or two:
Viscri
White-washed castles with coral-colored tiles on all the rooftops, and home to a Prince's summer home — How could you not love this place? Learn more about visiting Viscri here.
Targu Mures
More like a 3-ish hour visit (and worth an overnight) is the charming city of Targu Mures. It's an underrated gem in this part of Romania, complete with Hungarian history, dotted with towering palaces, overflowing with flower gardens, and an overall charm that's a bit hard to define, we know you'll be dying to visit. Get more about Targu Mures here.
Sighisoara
Blush pinks, pale lemon yellows, coral rimmed windows, and vivid greens are just a few of the colors you'll find on homes, stores, and other buildings around this Romanian city. Come for pockets of pinks, blues, and oranges hiding among the dark, Gothic architecture which also dots the city when you visit Sighisoara.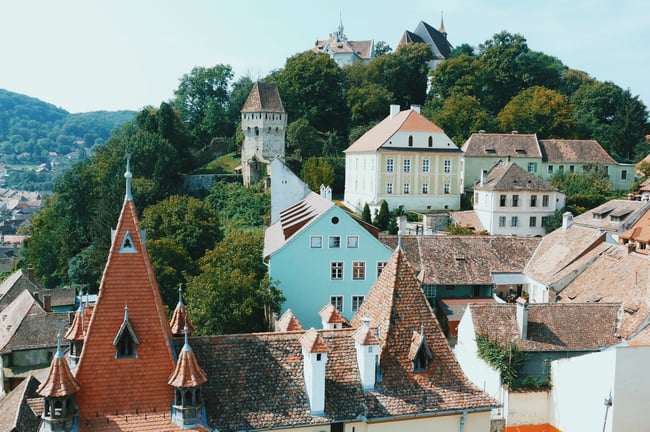 Places To Stay
There are a few places to stay in this city, but ILP Romania volunteers have had good luck and fun at a couple places, which are below.
AirBnBs
While we have had most groups stay in hostels (listed below), there are a few AirBnBs groups have loved staying at. Like this one, which has a stunning terrace view and a great location.
Rolling Stone Hostel
This hostel has great staff that can help you set up tours all in and around Brasov which is really handy. The Rolling Stone Hostel also is pretty easy to get to. There are also free lockers handy where you can lock up your things while you're out adventuring.
Dorm beds are around $11-14 per night.
Something keep in mind: AirBnb is also a good option for Brasov. Just know that there are several little skiing villages and resorts in the mountains around Brasov with cutie AirBnb's but that mean you'll need to take a 30 minute bus or taxi ride into the city. The views are stunning there, but we recommend booking a place as close to or in Old Town since that's where most of the activities are, or where you can catch a bus to visit Bran, Rasnov, or Sinaia.
Kismet Dao Hostel
ILP volunteers loved this hostel for a helpful staff that can help you book tours to all the things you want to see and do around the city, plus they have a pretty central location. Kismet Dao Hostel also offers a free breakfast (with free coffee and tea all day long), plus a cool yard and terrace area to hang out in ... If you're staying in the "flower room" this is the view outside of your window. Talk about dreamy.
Dorm beds are around $13-16 per night.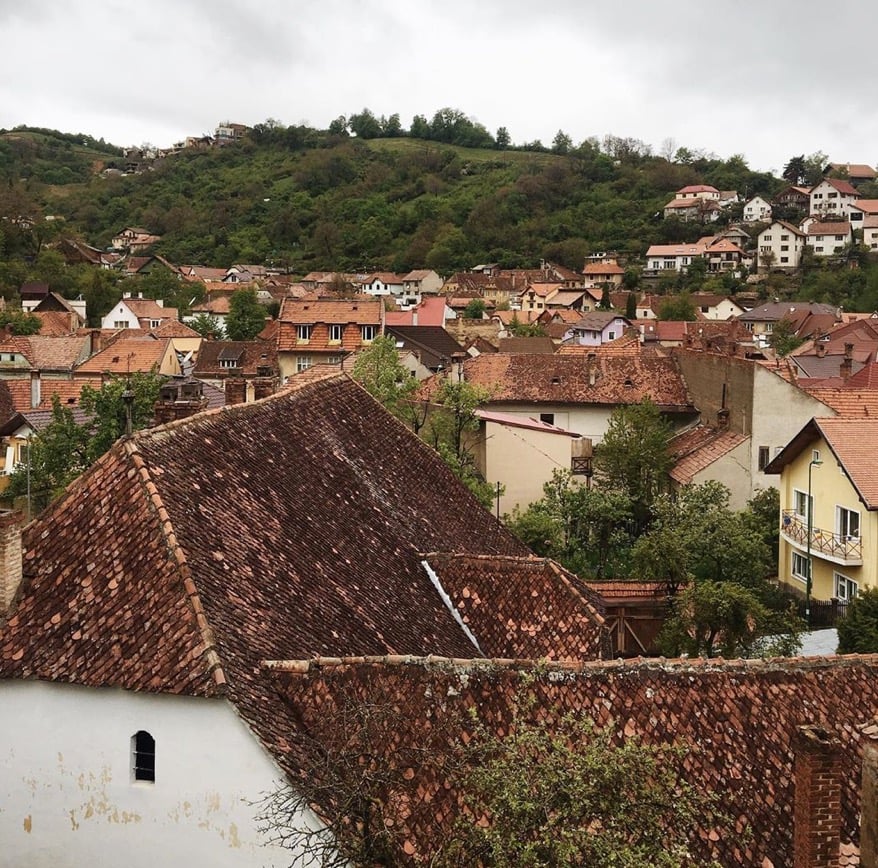 Places To Eat
Emma La Dolce Gelato
This place is amazing (and so affordable .... get three scoops for 17 lei!). Try flavors like pistachio + passion fruit, apricot + walnut, brownie batter and more. I went twice and don't regret it, even when there was a line!
Address: Strada Republicii 10, Brașov 500030, Romania
Hours: 11:00 AM to 9:00 PM (10:00 PM on weekends).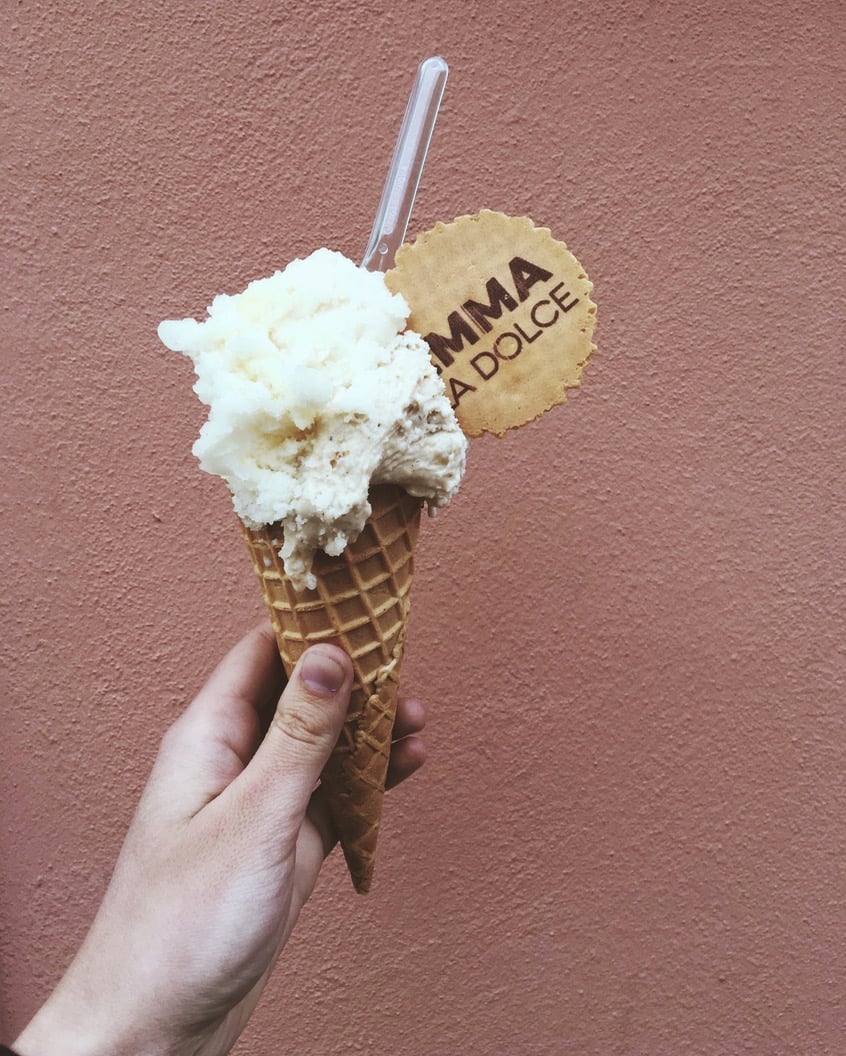 Chimney Cakes
Another huge favorite in this city are the Chimney Cakes: Roasted cylinders of bread rolled in all sorts of things: spicy cinnamon, crunchy caramel, toasted coconut ... they are divine. I'd recommend splitting one from Kürtös kolács - It's a food vendor you can find right in the heart of Old Town. One costs 15 lei and are easily shareable.

Or, get a filled option from Good Food Chimney: It's a little restaurant where you and get a chimney cake lined with chocolate or Nutella and filled with all sorts of things: Berries and Cream, Ice Cream and Oreos .... so messy, but so delicious.

Address: Strada Apollonia Hirscher 2, Brașov 500025
Hours: 12:00 PM to 10:00 PM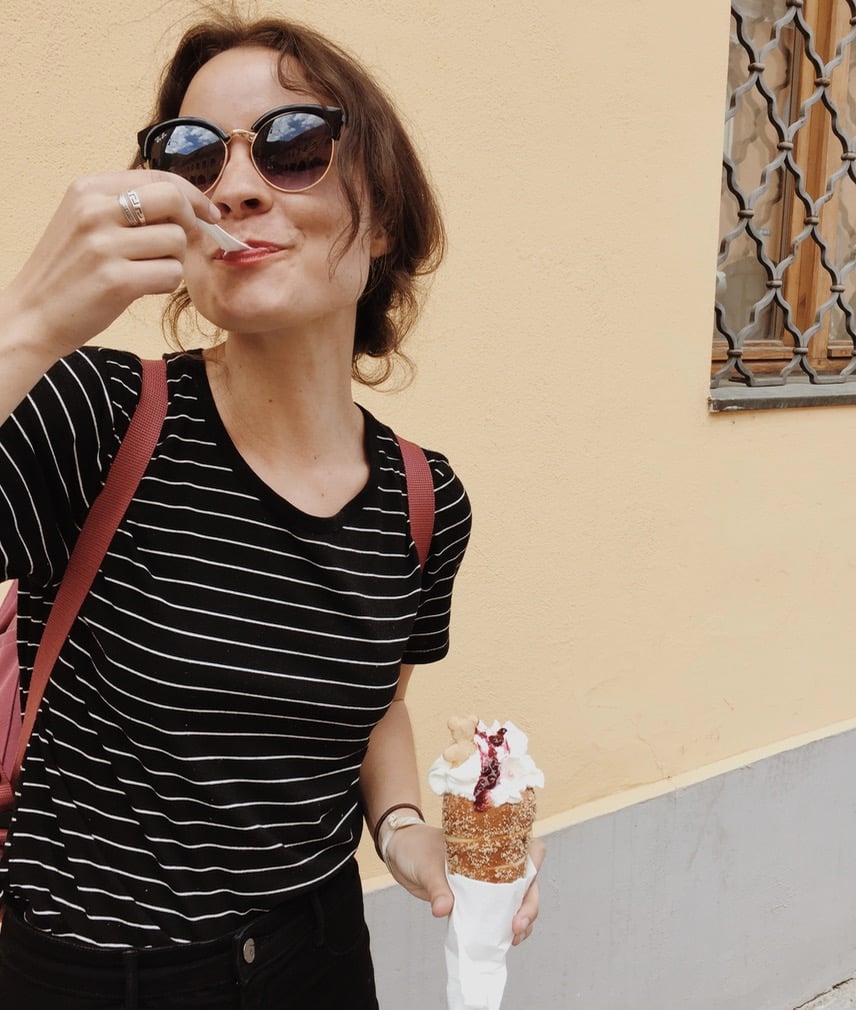 Opus 9
They have tasty dishes like chicken kabobs and potatoes, yummy smoothies, and the overall vibe of the restaurant is so fun. It's a place you'd want to hang out for a while, which is nice on a rainy afternoon.
Address: Piața George Enescu 9, Brașov 500031, Romania
Hours: 9:00 AM to 11:00 PM (Open until 1:00 AM Friday + Saturday)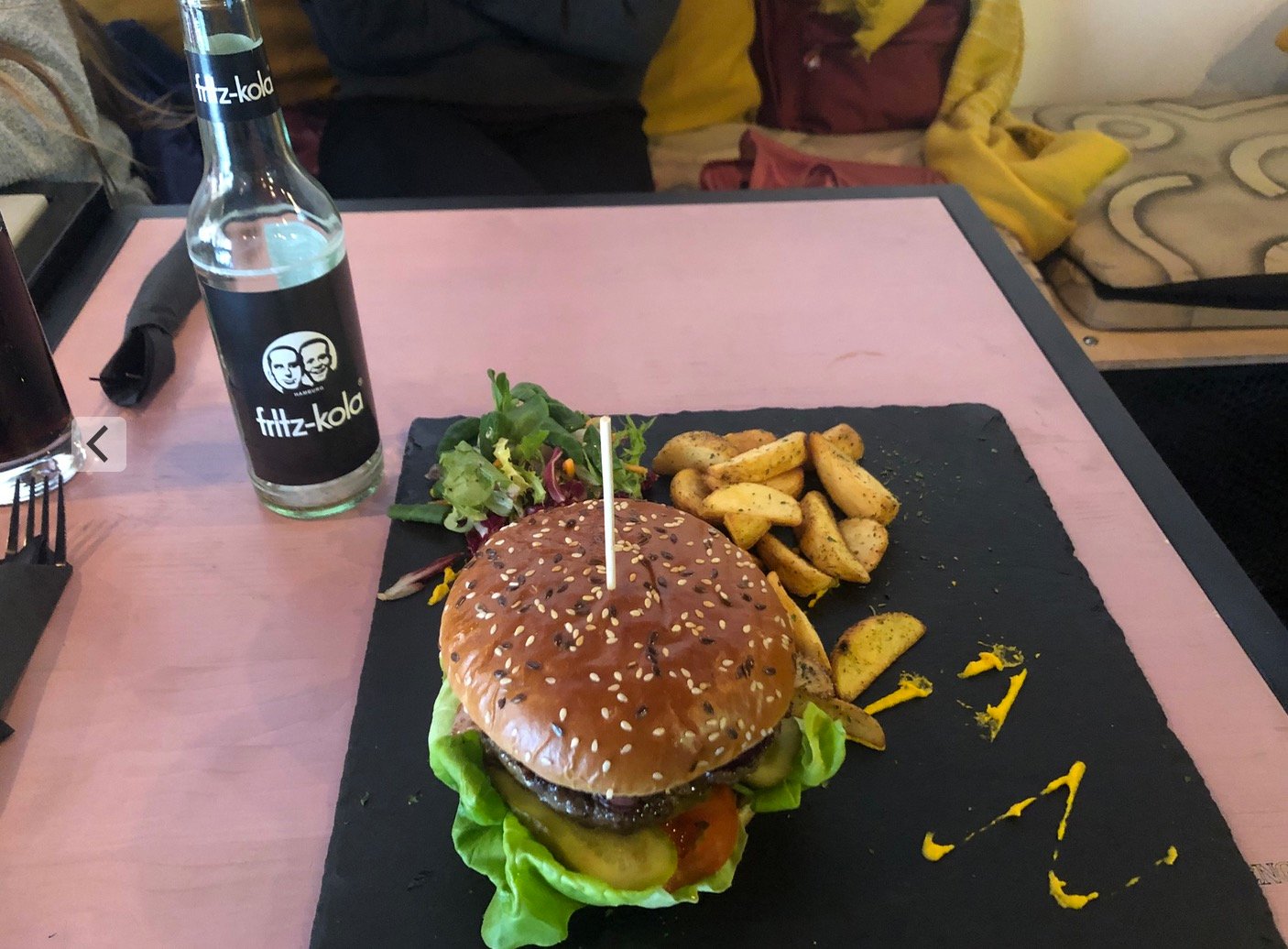 La Ceuan
One of my favorite spots in Romania; their menu is delicious with dishes like rich stews, chicken pot pie topping with mashed potatoes, and warm Transylvanian potato bread. If you want delicious local food, come here!

Address: Strada Michael Weiss 27, Brașov 500031, Romania
Hours: 12:00 PM to 10:00 PM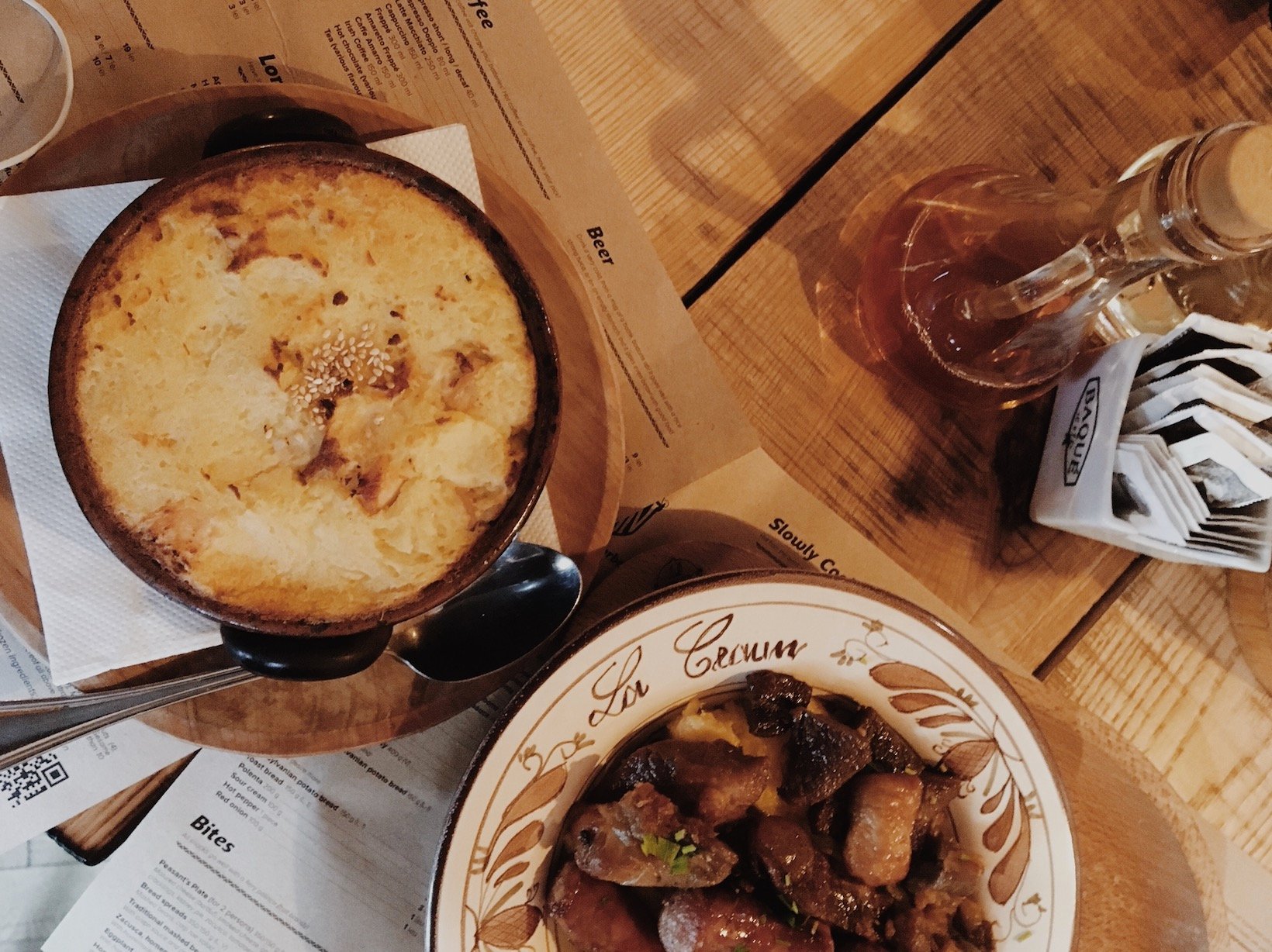 Where Is Brasov?
Found basically right in the middle of Romania, Brasov is in the Transylvanian region of the country. The main city center is historic and iconic, displaying medieval architecture and baroque buildings painted in pretty pastels, and topped with red-tiled roofs. We told you this place was cute.



How Do I Get There?
Our pick is traveling by train. Not only is it an adventure (at one point, be sure to stare out the windows to see the gorgeously green, mountainous countryside dotted with quaint villages speeding past you), but it's also a good option for volunteers who call the city of Iasi their home. You can also take a long distance bus to Brasov from Iasi.
Getting Here From Iasi

It's about a 10-12 hour train or bus ride, which makes it a good pick for an overnight option. You can leave Iasi in the evening, and arrive in Brasnov in the morning. Perfect. Plus, tickets are only about 13-18 Euros which we also love.
Head's up: there are two train stations in Iasi, so be sure you know which once you are booking tickets for. Virail is a good site that can give you the bookings and listings for several train/bus companies, letting you choose the time and price that works best for you. You can also use this option to see what the train schedule looks like from a lot of other cities in Romania. There are 18 daily trains that leave Bucherest to Brasov, so you should be able to find a route that works for you.
Getting Around Brasov
Once you arrive in Brasov, it's fairly easy to get around. You'll mostly be hanging around Old Town but a public bus system and taxis make getting around Brasov + nearby towns fairly easy.
Google Maps will come in handy to help you get around; it'll pull up the local bus system and give you pretty accurate bus/walking directions.
How Long Should I Visit?
This is an absolute don't miss city in Romania, so even if you can only visit on a weekend (ILP Volunteers get Saturday and Sunday off), do it. Groups have also visited on a 3-day or 4-day weekend and "haven't regretted it" according to one ILP Romania volunteer. A weekend trip will be a bit busy, but past groups have said to just find a time to visit, whenever works — just don't skip out on Brasov.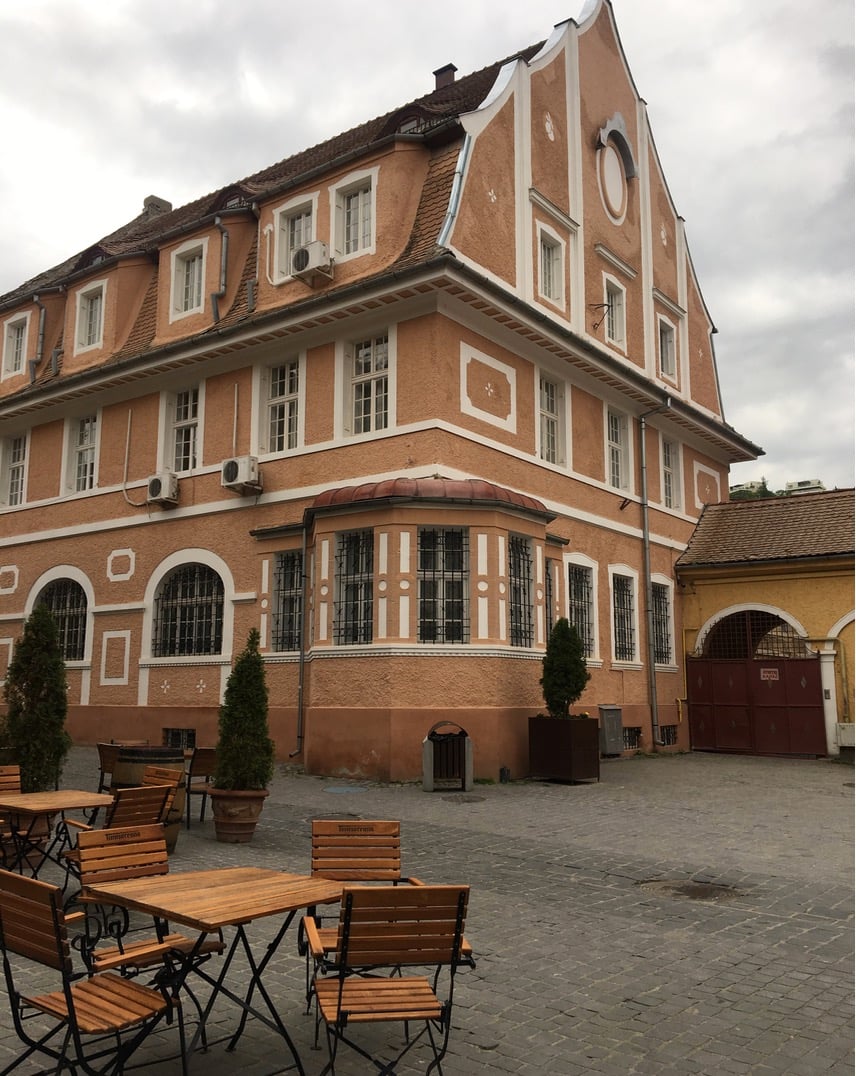 Want more? How about living in Romania for a semester?
International Language Programs has a volunteer program where you can serve in an orphanage — it's actually the only ILP program where you won't be teaching ... but you'll still be able to make a huge difference by loving and caring for these sweet kids.