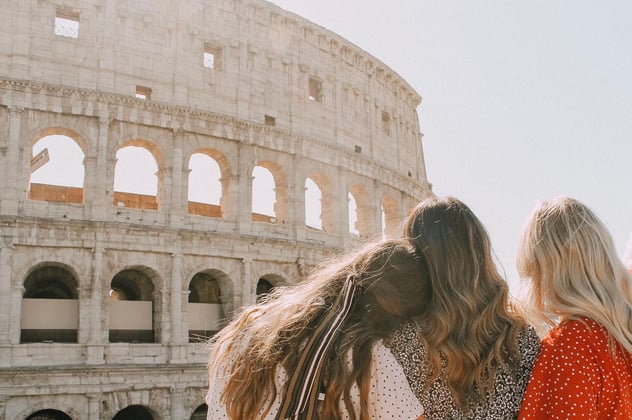 You could probably spend about a month in Italy, and never even get close to seeing all of the highlights. However, if you're like me (and short on time), you'll want this guide to help you pick the perfect city for your visit!
I love Italy. I could easily spend a year here just living in a single city, peeking into art museums, taking trains to hidden gems, and soaking up the cafe culture and architecture. However, while I was living in Europe for an entire semester, I was only lucky enough to visit Italy once, with a few days to just hit the highlights.


---
Curious about what a semester abroad in Europe looks like?
Follow us on Instagram to get a glimpse!

---

There are many cities to visit and each one offers something unique — but don't stress out too much because every city you'll explore in Italy means delicious gelato, amazing food, gorgeous sites, quaint market squares ... you get the picture. It can be such a hard choice to pick just one, but especially if you just have two days, you won't want to waste time on a bus, train, or plane just to see another city for a few hours.

And while there are about a dozen cities in Italy I've been dreaming of visiting, these top picks should help narrow down your choices.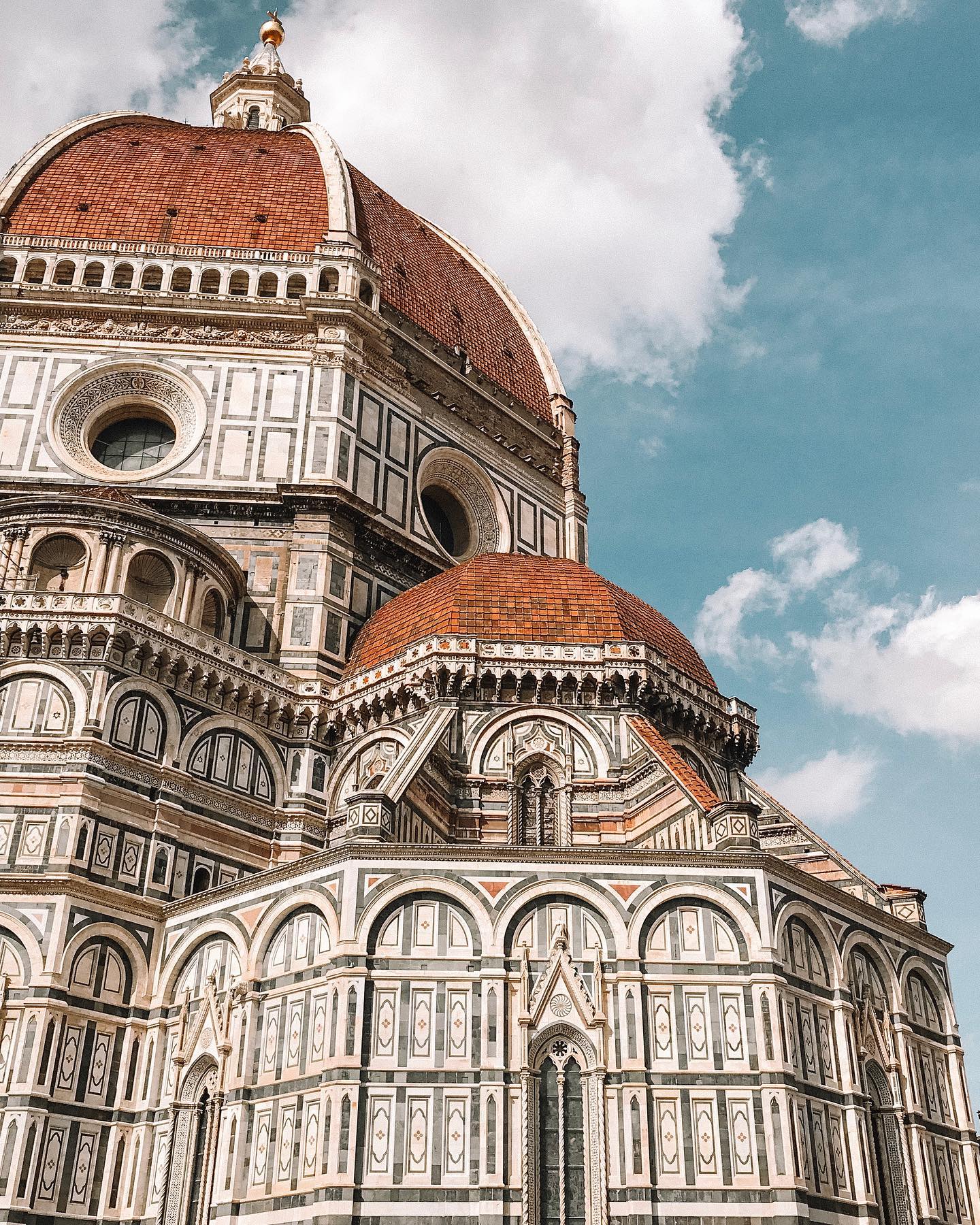 Florence
Now, you might expect to see the country's capital on this list, but I'm putting Florence here first for a number of reasons. The city of Florence is home to some impressive pieces of art and is home to what could be the prettiest building in all of Italy — the Duomo. If you're a little bit familiar with art, you'll be hooked on the idea of visiting the city where the Renaissance started! Time here means admiring hundreds and hundreds of world-famous paintings by famed artists like Raphael, Michelangelo, da Vinci, Botticelli, Giotto and Titian, just to name a few.
Another perk? This city is smaller, more contained, and focused than Rome, meaning you'll be able to quickly walk to the highlights and spend most of your time sightseeing instead of getting from point A to point B. To top it off, I have a friend of mine who spent a few months in Italy, and declared that Florence had the best food: think pasta, gelato, sandwiches, cured meats, cheeses, and more.
In a nutshell, if you're looking for a captivating Italian city that boasts the best art, classic Italian culture, architecture, and what some say is the best food in the country, Florence is the epicenter of all of this.
Here are a few tantalizing highlights to get you ready to visit this picture-perfect city:
See Michelangelo's David
Maybe one of the most recognizable pieces of art (ever), you'll need to head to Florence to see this masterpiece yourself. But don't stop there; this city, in particular, is one full of museums, so art fans — this may be your top pick if you're looking for an Italy city that will make your art history textbooks come alive.
Admire The Duomo
Italy is a country of architecture and the towering Duomo is certainly one of the most impressive and breathtaking. The massive Renaissance dome towers over the red-tiled roofs of the city, making it hard to miss. You'll want to spend enough time gazing over all the intricate details and sculptures on the outside, but don't neglect the interior; impossibly high domed ceilings are supported by magnificent marble columns and details mosaic flooring.
If you're planning a trip to Florence, we've got a post where we've shared some of our tips!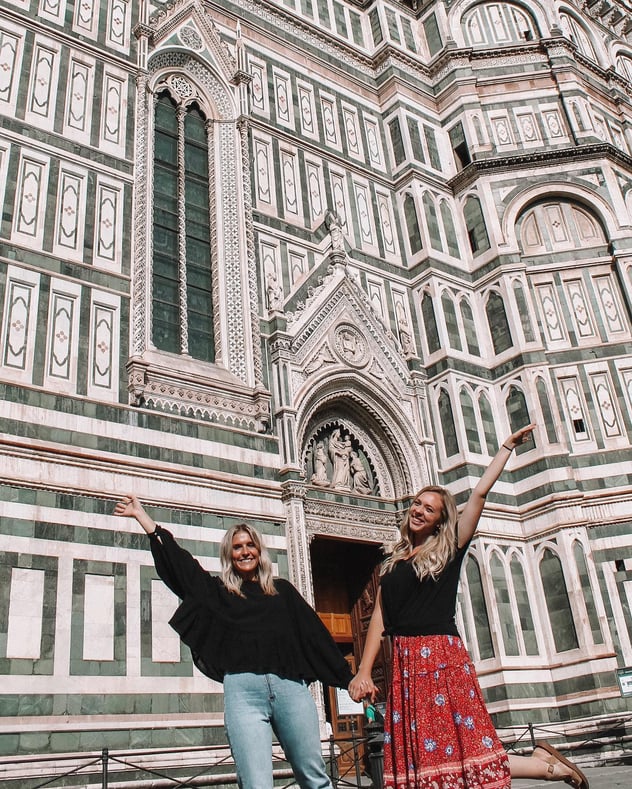 Rome
Rome is quintessentially Italian; if you want the most iconic photo in all of Italy, you'll probably head to Rome and take a picture in front of the Coliseum. While you'll find a few other iconic Italian experiences (like the Leaning Tower of Pisa or the canals of Venice), Rome offers so much more to do and see and explore (and eat), which makes it one of our top picks.

While you'll find some of the perks of Florence in Rome (like incredible food, stunning architecture, and more), Rome is more centered on its ancient history, meaning you have the chance to wander through ancient ruins, walking where Caesar Augustus walked. It's also the epicenter of religion, with the small country of the Vatican nestled between the ancient and modern streets.
If you are looking for a couple of jam-packed days where you are walking all over the city and seeing buildings you recognize from history books (not to mention the fact that you can cross off a few items on your bucket list) I would say that Rome is going to be your best bet. Rome is an excellent choice for the traveler looking to experience Italian history, visit one of the most popular cities in the world, and have some once-in-a-lifetime experiences like visiting Trevi Fountain or seeing the ceilings of the Sistine Chapel.
Another perk? Rome is one of the main travel hubs of the country, meaning lots of flights, trains, and buses here (and wherever you're going next).
Come For History + Beyond Famous Buildings
Wander where Julius Caesar was stabbed, have a romantic moment in front of the Spanish Steps, gaze up at the Parthenon and think about standing in one of the oldest Roman temples, view where Gladiator fought each other in the Coliseum ... Rome is a city strewn with some of the country's most famous sites.

Plus, who can resist tossing a coin in Trevi Fountain?
Visit Two Countries At Once
Rome is home to the world's smallest country, the Vatican City! It's itty bitty complete with its own flag, currency (though Euros work just fine), and coat of arms. Visit some of the buildings you've heard about in person, like the painted ceilings of the Sistine Chapel, and St. Peter's Basilica.
Get a bigger glimpse into all there is to see and do in this city with our Guide To Rome.
Venice
With cute windy streets to explore, colorful shops, unique water canals, mouthwatering gelato and ancient buildings, there are more than a few reasons to love Venice. In a quick recap, Venice is one of the most popular cities to visit in Italy, for good reasons. The canals connecting the islands of this part of Italy are incredibly picturesque, plus there's stunning architecture and basilicas to enjoy while you stroll the historic streets. There are also quintessential experiences you're looking for in Venice you can't get anywhere else in Italy, like the gondola rides and bridge pictures.

However, it's important to note that this area is small, so easily seen in a couple of days, but you will be battling crowds. Of course, there will be swarms of tourists in Rome or Florence, but the narrow streets and limited walkways in Venice seem to concentrate the crowds if you're visiting during the busy season. In my opinion, it's also a place with a smaller cultural impact when compared to the art, history, and culture found in Florence (or Rome).

However, there is something so alluring about the canal-riddled streets, spread between picturesque shops and cafes. If it's your dream, I think it's worth it — just make sure to catch this city in the early hours when it's quiet, idyllic, and pretty picture-perfect. And even more worth it if you budget time to also visit the nearby city of Burano. Here are a few reasons why Venice is oh-so-popular:
Canals

Venice is famous for its canals, but knowing the details of this fact makes the city way more intriguing — Venice is spread across 118 islands and the canals are what connects that. No roads are used (what!?). Just seeing that alone will blow your mind. Make sure you spend time walking around the canals and if you want the true Italian experience, take a little gondola ride.
The Grand Canal is one of the most popular destinations and is over 2 miles long. Lined with shops and cafes you will want to add this to your "must visit" list. Venice is really the only spot you'll get canals like this.
St. Mark's Basilica + Square
St. Mark's Basilica is famous around the world and a place you need to visit if you're in Venice. This Catholic Cathedral will leave you in awe as you stroll around and soak in the beauty. There are many churches scattered throughout Venice and most of them will be very intricately decorated. Check them out as you walk by — St. Mark's gives you an idea of the gorgeously ornate architecture in Italy.
St. Mark's Square is often referred to as "The Heart of Venice". On the square you can find St. Mark's Basilica as well as Doge's Palace. Many restaurants line the square, creating a relaxing place to take a break and people watch.
This Unique Bookstore
"The Most Beautiful Bookshop In The World" is a self proclaimed bookstore that is wonderfully unique. As you might expect, this store has tons of books ... but here's where it differs: even the stairs are made out of them! Whether you're looking for old or new, they've got you covered.
Get more info on this Italian city here: Your complete guide to Venice.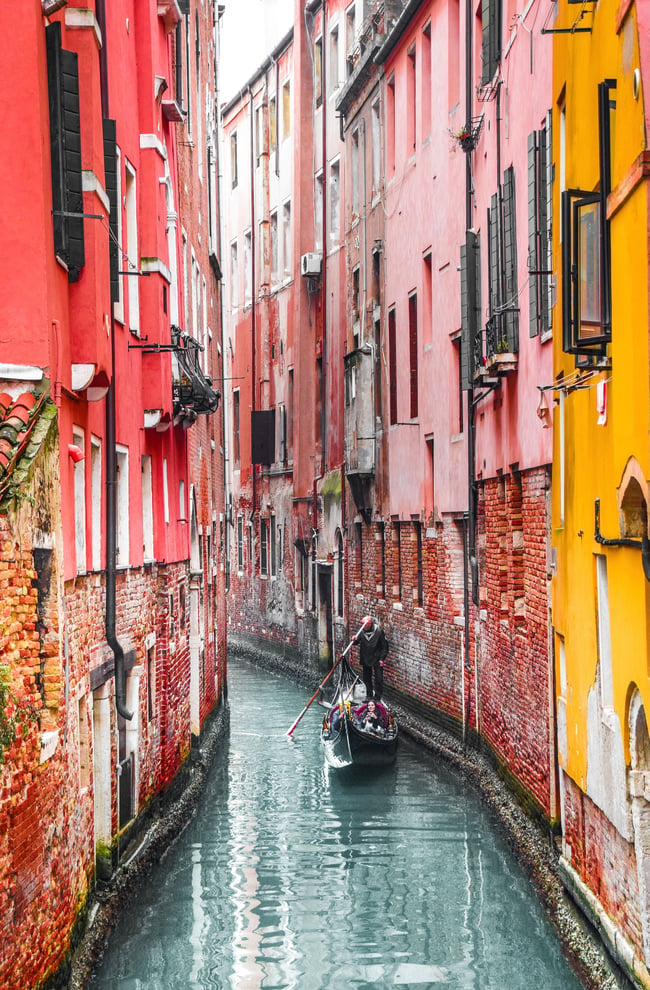 Cinque Terre
Similar to Venice, the ever-so-popular region of Cinque Terre is more of a vacation-y type city to experience Italy. You'll get killer views, seaside restaurants, the fishing village vibe that makes up all of Italy's coastline, and a taste of the high life as you walk along the piers and see a few yachts docked there. It's gorgeous, luxurious, relaxing, and really couldn't be prettier ... but really isn't the spot for someone looking to experience the art, architecture, and Italian culture found in other cities on this list.
What used to be a set of quiet fishing villages is now Cinque Terre — a beyond dreamy collection of five towns stacked on the hillside, framed by orchards and different beaches. You'll find a smattering of little restaurants and places to stay, along with the "postcard" picture if you take a swim in the Ligurian sea.
This is another location in Italy known for all of this, plus more than its fair share of crowds. There are talks of limiting the number of tourists to help preserve the countryside feel, but if you visit before that happens, plan on seeing this in the low season, or battling thousands for the perfect sunset spot. Pst — you can do your part to avoid some crowds by visiting the nearby (and very similar) city of Porto Venere which gives you the same vibes, but is more under the radar.

To me, Cinque Terre is a place to experience if you've already visited the other cities on this list, or are here to soak up a seaside vacation. Here are a few stand-alone highlights that pull so many people to this very pretty portion of Italy.
The Beaches
Italy has a few spots we love for coastlines, but Cinque Terre is definitely one. You can charter out boats for the day to take you to different beaches, plus you really can't beat the idea of jumping off the rocky outcrops into the glittering Ligurian Sea.
For our foodies out there, famous Italy basil is grown in this area of Italy, plus you'll get some of the best seafood of your life.
The Stacked Villages
You'll find a few colorfully painted villages stacked high on the mountains in this area of Italy. Cinque Terre actually means five lands, so the idea of hopping over to experience these little suburbs has got to be on your itinerary. If you love the idea of wandering along quiet neighborhoods strung up with laundry and covered in bloom bougainvillea, this spot is for you.
You can take a train between the villages, or even hike them if you'd rather trek them. You can see all five cities in a day, so you get to see a lot.
Get more info on Cinque Terre here.
+ A Few More Mentions
This subsection is for the travelers who may find themselves snagging a cheap flight in and out of cities not on this list, but need to decide if it's a city worth seeing, or one to use as a jumping off point to another area of the country. We're also mentioning other very popular areas in Italy, in case you find yourself nearby:

Milan
Milan is a city our volunteers mention as a good option to see for a couple of hours, but only if you happen to find yourself here — it's not really famed as a destination city. While Milan boasts an impressive shopping plaza, the title of the fashion capital of the world, and a handful of very pretty churches, however, we're fans of this city just because it's a jumping off point to see dreamy destination locations.

Some of the main highlights of "outside of Milan" include Lake Como or Lake La Garda. Both are swoon-worthy destinations that can give you a taste of the high life ... a handful of celebrities have vacation homes around the shores of these glittering lakes.
The Amalfi Coast
This is another buzzword destination in Italy and for good reason. This specific part of the country is a collection of gorgeous coastline, islands, cliffs, and coves that hold some real hidden gems. If you do some research you'll find that it might be best and easiest to target a specific town (like Positano) or island (like Capri) each day.

Similar to Cinque Terre, it's a popular coastline experience that has more "vacation vibes" than Italian culture/experience vibes. It can also get crowded, so best to avoid the months of July and August, or know going in advance that it's going to be busy ... but the allure of visiting the teeny islands of Capri to have lunch or take a swim, or admiring the buildings stacked up high in Sorrento.
Here's our guide to the Amalfi Coast for more info.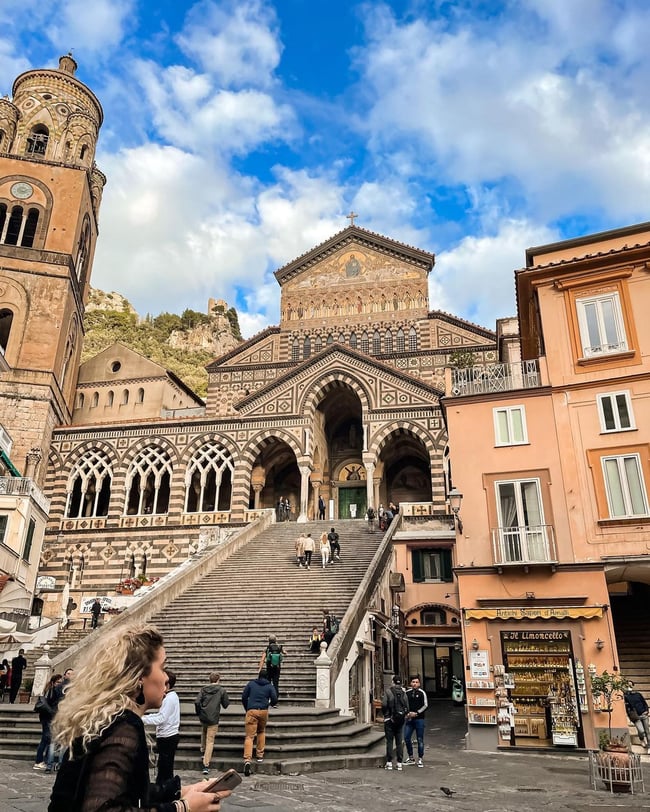 Did you get all of that?
Maybe your best approach is to spend a semester living in Europe, and plan to spend a couple of vacation days (or more) exploring Italy. Click the button below to learn what it's like to take a semester abroad in Europe (or other parts of the world)!