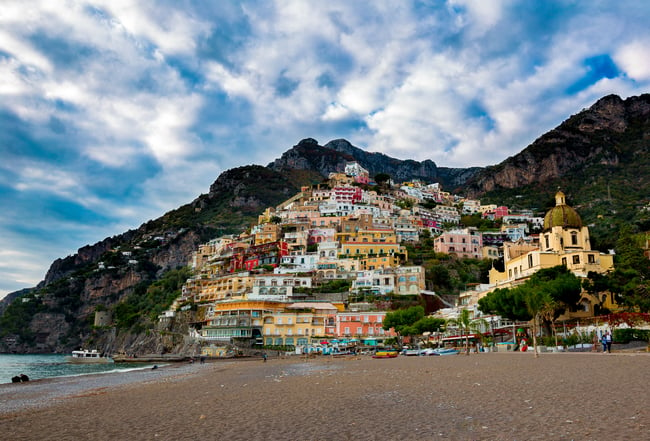 If you've ever thought about traveling around Europe, then you know how irresistible Italy is! And the Amalfi Coast is everything our dreams are made of. Here's all you need to know about visiting Italy's popular coastline.
If you're headed to Italy, we know you're probably planning to spend time in Rome, Florence, and/or Venice, right?! Yes. Yes. And yes. They're all on our list of Italian cities you have to visit! But don't forget about the coastlines that provide stunning views, sparkling water, colorful houses, and some of the best food in the whole world! Ever heard of Cinque Terre? It's one of our favorite spots. If you agree, then you'll love the Amalfi Coast just as much!


---
Want to see where volunteers with International Language Programs are spending their vacations every semester?
Follow @ilpadventure on Instagram
---

Now, as a volunteer with ILP you'll get about 9 total weekdays of vacation time, plus every weekend to explore the incredible places around you! If you want to spend some of that time in Italy, you're going to have to plan your trip wisely. Trust us—there's a lot to see, do, eat, and fall in love with in Italy!
This specific part of the country is a collection of gorgeous coastline, islands, cliffs, and coves that hold some real hidden gems. If you do some research you'll find that it might be best and easiest to target a specific town (like Positano) or island (like Capri) each day. Whatever you decide to do, here's some info that will be helpful in planning your trip!
What You Should Know About Traveling Along The Amalfi Coast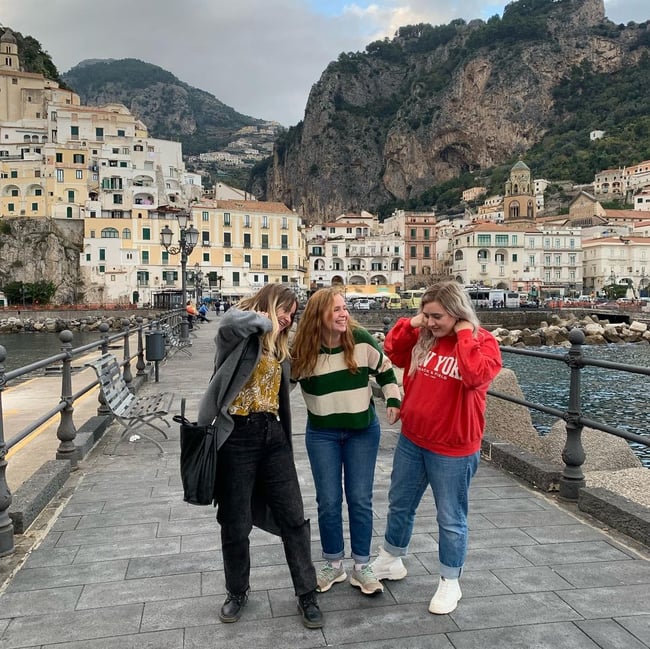 The Towns You Can't Miss
Amalfi
This is one of the busiest towns on the Amalfi Coast, but also very significant to the history of the entire area. It is definitely not the place to go if you're wanting a quiet vacation, but is ideal if you're into incredible architecture, beautiful art, and significant history. Here you'll also find the beach, Marina Grande, which is one of the most famous (and touristy) pebble beaches, but for good reason. Make sure you also visit the Amalfi Cathedral, which dates back to the 9th century!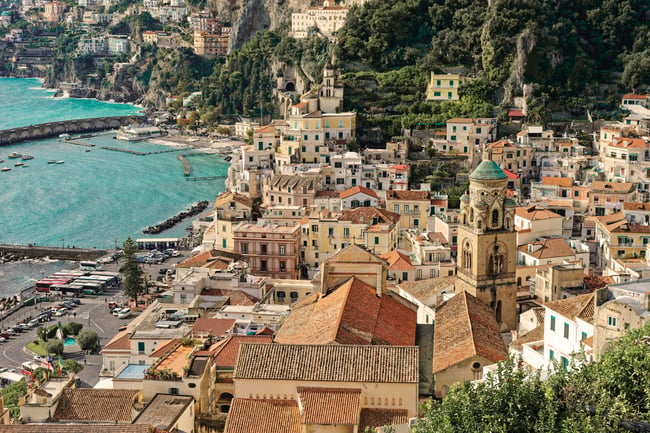 Positano
This colorful town is built up along the edges of the cliffs, and it is stunning! Here you'll find a dramatic collage of steep and skinny roads, old fortress walls, and stalwart watch towers. It has been loved for centuries by artists, celebrities, and travelers from all over the world, and the best way to enjoy it is to just explore. Visit the beach "Spiaggia Grande" if you're looking for a popular tourist spot, or take the coastal path from this beach to its quieter sister, "Fornillo Beach". Other popular beaches are Laurito and Arienzo. You'll love all of the postcard-worthy umbrellas!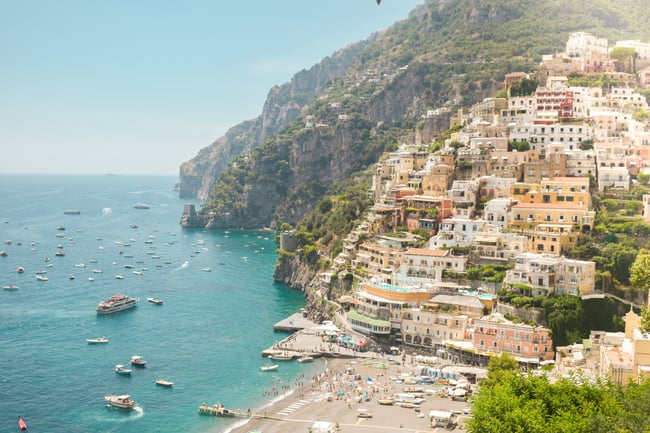 Sorrento
This seaside city technically isn't part of the Amalfi Coast, but it does act as its gateway if you're coming south from any of the more northern cities like Pompeii, Naples, and even Rome. A day spent in Sorrento might be one of your favorites ever!
Did you know it's actually named for mythological sirens who were said to swim along the Sorrento coastline? These mermaids used their bewitching songs to lure sailors to their deaths below the waves and are most famous for their role in Homer's Odyssey. Sorrento was also a target for pirates during the Middle Ages, and the locals had to keep building taller, stronger walls to defend themselves, the ruins of which you can still see today. While the views are stunning, it is also a city seeping with fascinating history, so make sure you check out some of the archaeological sites, monasteries, and churches that are an important part of the local culture.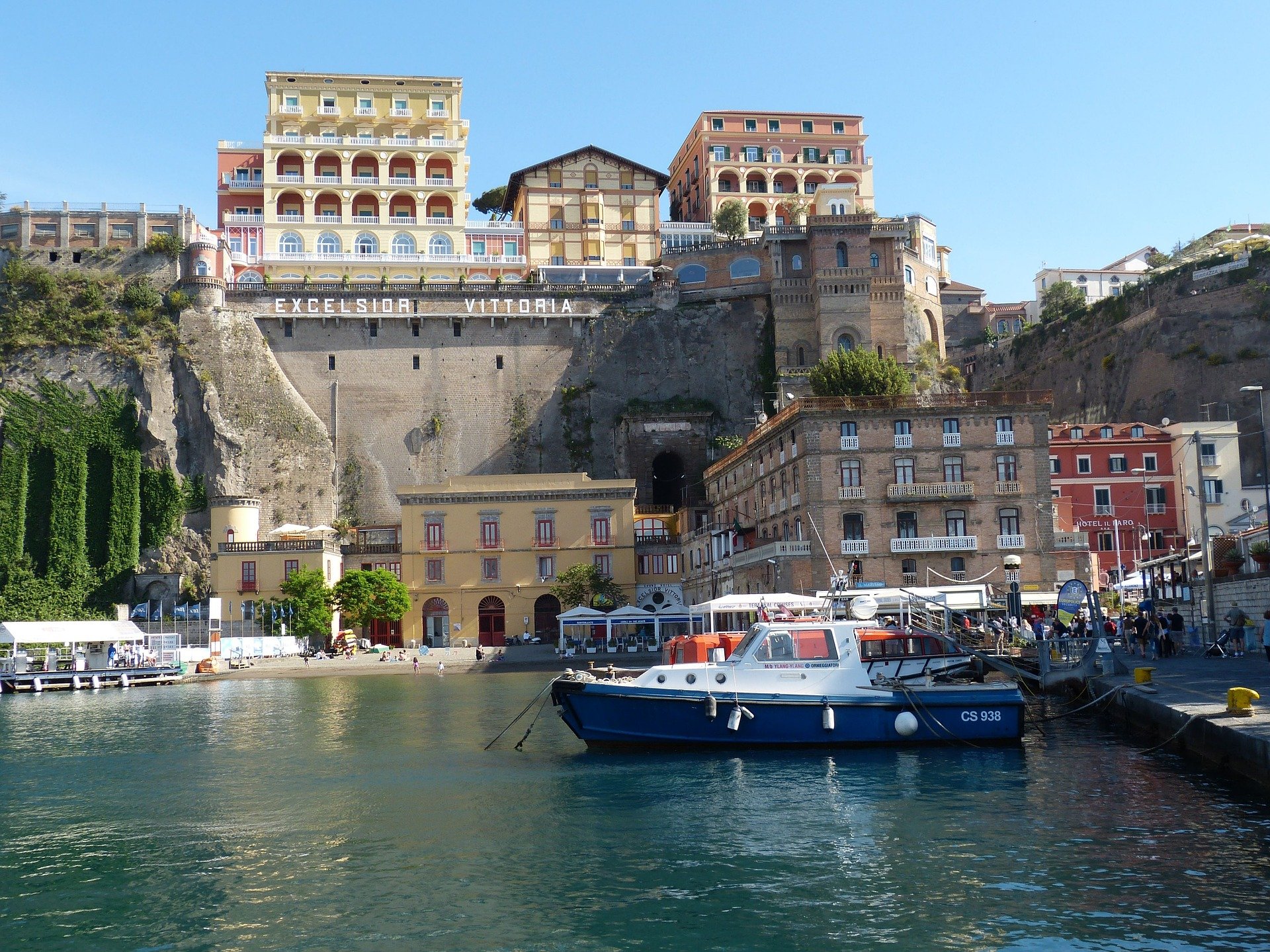 Capri
This island is the most expensive destination on the Amalfi Coast and can only be reached from the ferries that leave year round from Naples and Sorrento or during the summer months from Positano, Salerno, and Ischia. But it is well worth the visit and makes for the perfect day trip! Here is the ferry info you'll need. On the boat ride over, make sure you sit on the left side of the ferry to fully enjoy the coastal views!
Visiting the Blue Grotto is also a must! Book a boat tour through a company like this for 19 euros per person. Although it is forbidden to swim in the electric blue water, you can enjoy the mysterious colors from the inside of a small boat.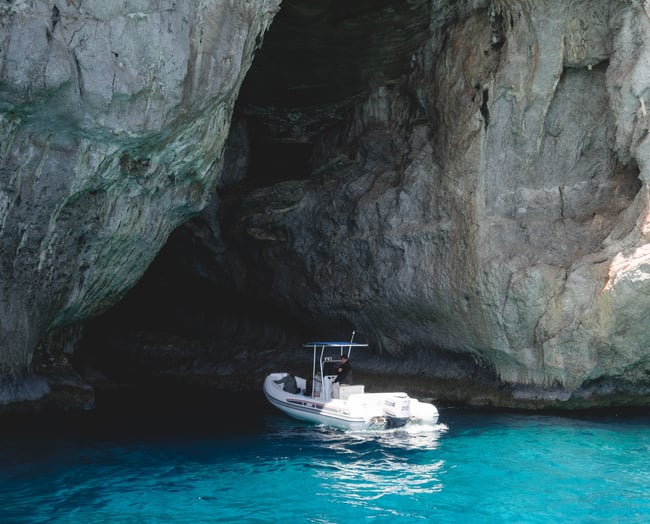 Foods You Need To Try
Cuppetiello di Pesce
Literally a paper cone of fried calamari, anchovies, and white Mediterranean fish. This is some of the most classic street food on the Amalfi Coast, and the fresher you can get it, the better. Spritzed with a bit of lemon juice, it makes the perfect afternoon snack!
Insalata Caprese
Who doesn't love a colorful, delicious caprese salad, complete with basil leaves, thick slices of fresh mozzarella, and tomatoes. It's actually named for Capri, so this is the best place in the world to get it!
Torta Caprese
This traditional cake is the ideal combination of lemon, almond, and chocolate. The thin shell is dusted in powdered sugar and the interior is perfectly moist. It might become your new favorite dessert!
Gnocchi alla Sorrentin
True to it's name, the best place to try this typical Italian dish is in Sorrento. The combination of potato gnocchi, tomato sauce, mozzarella, and a few basil leaves is completely mouthwatering.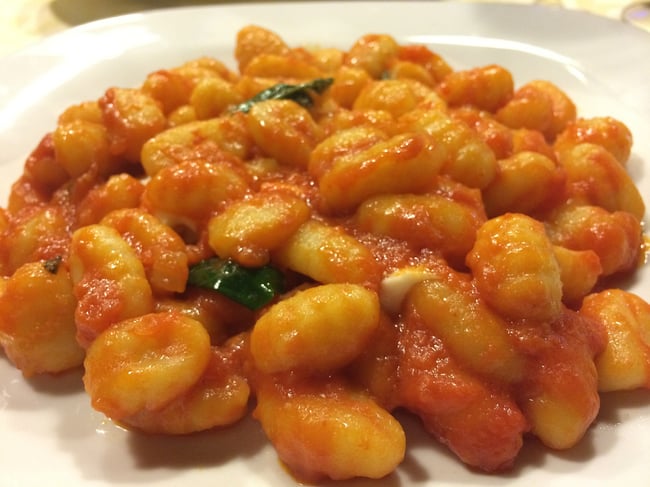 Getting From Place To Place
If you want to visit the Amalfi Coast and are coming from any major Italian city (Rome, Milan, Florence, or Venice), you can easily take the high-speed train to Sorrento. The price of tickets varies greatly, and we recommend booking them online.
Since ILP volunteers are not allowed to rent vehicles during their semester abroad, the best option for traveling between towns along the Amalfi Coast is by public transportation. Buses operated by SITA run every day and are pretty easy to catch. In the summer months, the buses are usually quite crowded, so be prepared to ride standing up.
Tickets cannot be purchased on board, but you can get them at the majority of the local bars and tobacconists on the Amalfi Coast. Purchase it before boarding, then once on the bus, make sure you validate your ticket. It costs about 10 euros for a 24-hour ticket that gives you access to any of the SITA buses in the area.
Since traffic along this coastal route can be pretty unpredictable, the buses are not always exactly on schedule. It should take about one hour to get from Sorrento to Positano and less than that to get from there to Amalfi. Here is the timetable, and make sure you scroll down a bit to see the key for what the letters mean because otherwise it won't make much sense. And fair warning, the road is called "nastro azzuro", or "blue ribbon", because of all the twists and turns, so be prepared for a little nausea.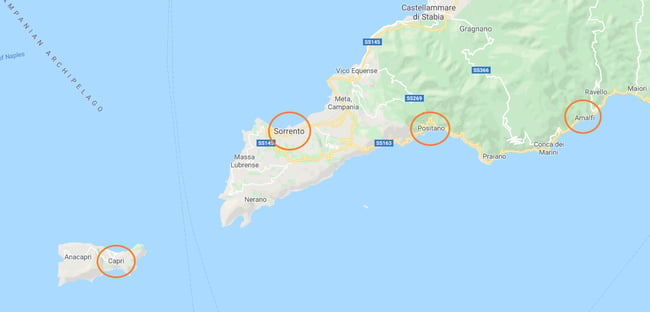 Other Tips
Avoid High-Tourist Season
July-August is by far the most expensive and busiest time to visit the Amalfi Coast. To avoid some of the crowds and save money, while still enjoying the best of sunny days, the ideal time to plan your trip is in May-June or September-October.
Start Your Days Early
To avoid the hoards of tourists, especially during the summer months, plan on catching an early bus. Every day of the week (including holidays), a bus leaves from Sorrento at 8:30 am. Just make sure you're in line 15 minutes before departure.
Bring Water and Hiking Shoes
If you like scenic hikes with stunning views, then make sure you bring some good walking shoes in addition to beach sandals. Forgot your sandals? The Amalfi Coast is known for their leather sandals. What a perfect, useful souvenir!
Rent The Umbrella In The Summer
Full disclosure—this isn't cheap. Plan on spending about 20 euros per umbrella. But it will prevent painful sunburns and does usually include access to facilities, like the bathroom and beach showers, which as you'll learn are never free in Europe anyways.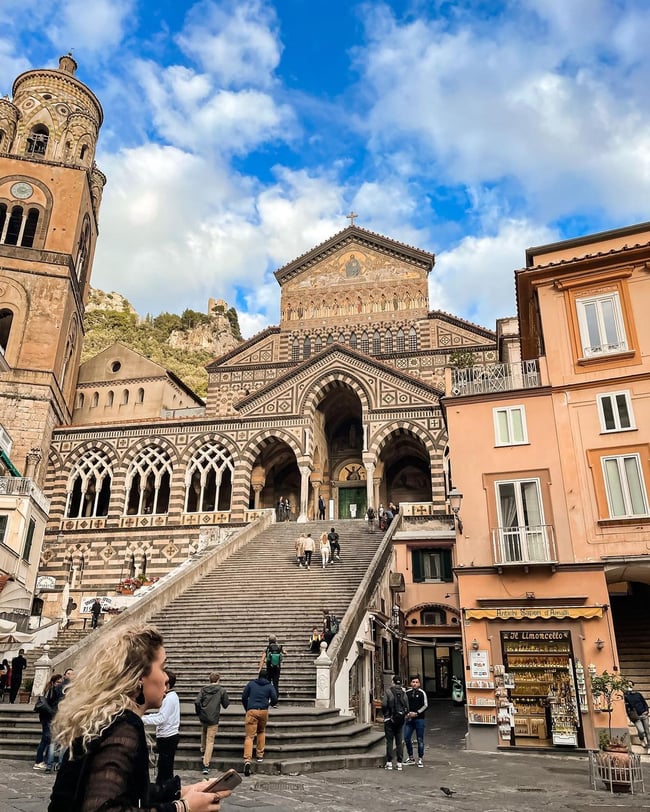 Ready to spend a semester volunteering in Europe?
If those pictures didn't convince you that a semester in Europe needs to be part of your life plan, come check out all of the countries you can volunteer in with ILP! Do a few stand out to you? We'd love to help you through the application process and answer any questions you have. Start you application by clicking the button below!