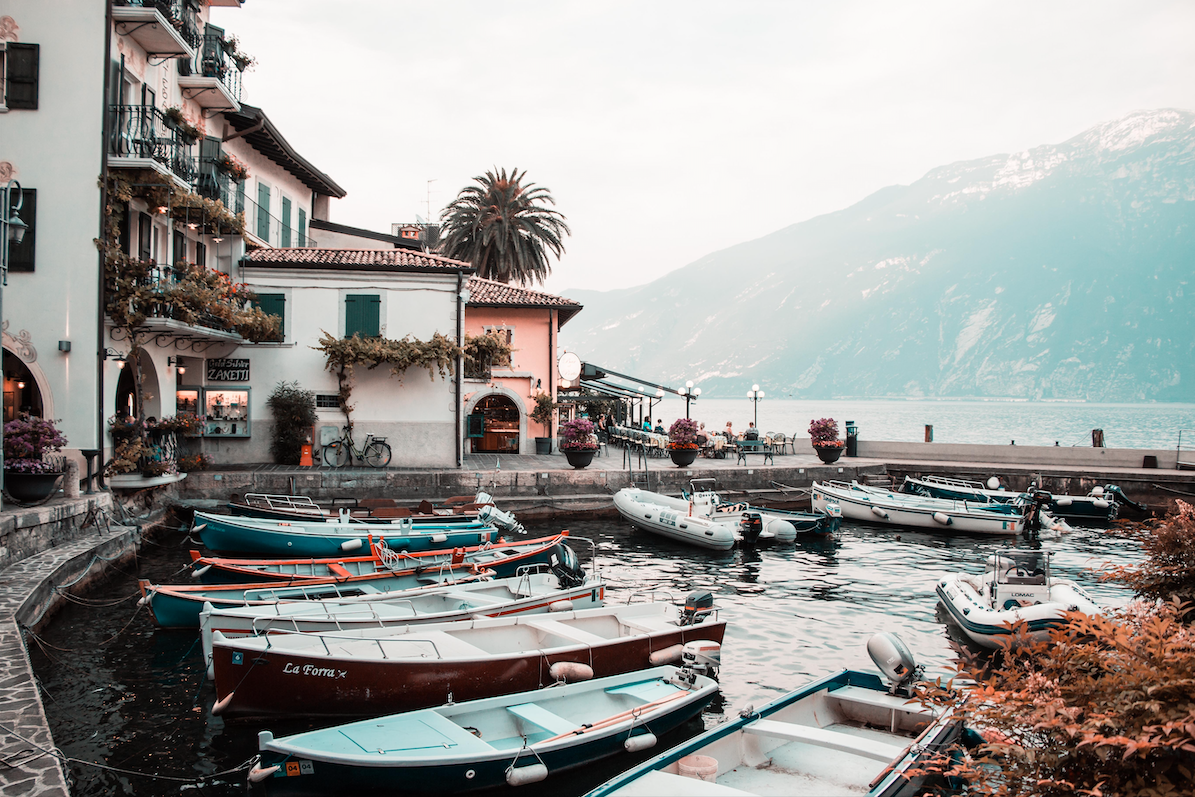 Add a beachy side trip after your visit to Venice or Milan with a visit to the crystal blue waters of Lake La Garda.
La Garda is Italy's largest lake, surrounded by dozens of darling little cities situated on the shores of the crystal clear water. It's the beachside destination that fits perfectly into your plans, especially since you can make a visit here happen from some of our favorite cities in Italy — Venice and Milan — which just happen to be top vacation spots for our volunteers living in Europe for a semester!


---
I spent a whole semester living and traveling all over Europe with ILP (Yep, it was as dreamy as it sounds). See what an ILP semester is like!
---

Because the lake is utterly massive, and you'll probably be spending a couple of days here (or up to a week or more ... there is so much to do!) we've pulled together a little mini-guide about the lake to help you orient yourself and get excited about visiting. Then, we have sections of the lake to soak up depending on where you are coming from — that way, you can choose the highlights that work best for you, no matter where you are in Italy? Let's dive right in:
A Mini Intro For La Garda
La Garda is one of the most popular destinations for a holiday in Italy, home to some of the best things this country has to offer: think Roman ruins, spas filled with thermal springs, sunny beaches, colorful cities stuffed with gelato shops and patisseries, and more. The lake is surrounded by dozens of little lakeside towns, making it easy to hop from town to town every few days, for a week or two if you have the time.
The lake is massive, a ladle-shaped body of water that spreads north-to-south and covers three regions: Trentino-Alto, Veneto, and Lombardy — you can find a handful of little towns in each of the regions. Depending on which town you visit, you can experience all sorts of things: sections that are catered towards families, with giant theme parks found near the shores of the lake, towns focused on relaxation with thermal spas, or beautiful little cities full of cobbled streets and colorful town centers.
+ Choosing Which Ones To Visit
To help you narrow down how to get a taste of the lake in just a few days, we've noted the most popular towns to see, and a little guide on which ones fit into your itinerary depending on where you are traveling from.

That way, if you're spending a few days in Milan, you can easily hop over and see the best of La Garda that's closest to where you are in Milan. We've done that for Venice and Bologna too, and provided a few more tips to help you plan your trip.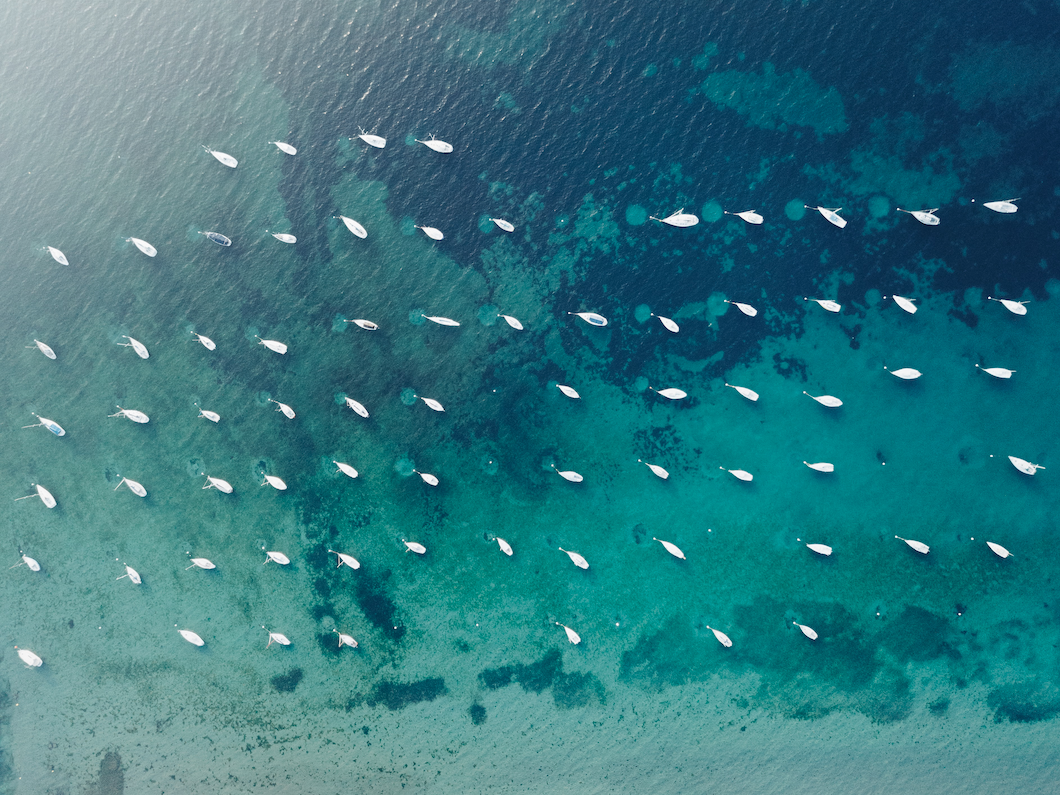 Coastal Cities To Highlight
Remember how the lake is broken up into three districts? (Trentino-Alto, Veneto, and Lombardy, if you need a little bit of a reminder.) Each of these districts houses its own collection of cities — to help group things together, we are going to give you a quick snapshot of the most noteworthy ones (according to some) by district, so you can choose which city would be the best for what you're looking for:
Those In Veneto
Malescine
The views surrounding this port town just adds to the charm (but so do the cobbled streets and colorful buildings topped with red tile roofs — it's amazingly picturesque). Plan your visit to hit the weekend, and you can stroll around the Saturday market in the morning for food and beautiful things to take home as a souvenir.
Some think Malescine is one of the prettiest towns you can find on La Garda, which leads to quite the throng of tourists who want to take a cable car up the mountain for the most spectacular views of the surrounding mountains and glittering lake below. Or, climb the Castello Scaligero tower for an equally impressive picture spot.
Lazise
Lazise is home to a beautiful thermal spa and is rather close to two amusement parks if you're looking for that kind of fun (Canevaworld and Gardaland). Or, soak up sweeping views of the Alps, wander around the ruins of Scaliger Castle, take a stroll around the lakefront, or other towers from its Roman past. On Wednesdays, there's a weekly market where you can pick up pottery, olive oil, treats around the region, and other goodies.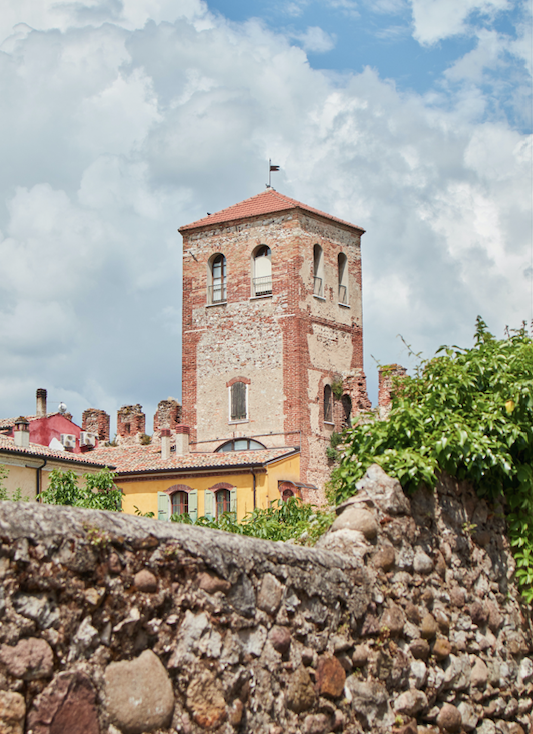 Bardolino
Bardolino is most known as an impressive wine region, but a stroll around the streets to admire towering churches and villas, and stumbling into the lakeside markets sounds like an idyllic afternoon. Find shops selling ceramics, purses, shoes, cheeses, olive oil, other yummy snacks, and more, especially when you visit on Thursday (which is when the weekly market happens).
Garda
Yep, there's the lake Garda and the town called Garda. Confusing? Yep, but still worth a visit. This area of the lake has a more Mediterranean climate and is home to shops where you can taste and purchase classics like olives, olive oil, lemon products grown and made in the area, honey, etc. Visit the market on Monday mornings. There's also a charming church, and the beach/park found at Punta San Vigilio.
Peschiera del Garda
This is quite the gateway town, where you can visit for a day then hop on a bus that will take you to two or three other beautiful cities to visit along the eastern coast. Plus, Peschiera is rather close to an impressive amusement park (Gardaland) if you're looking for a little fun.
Since it's a transportation hub, it can feel a little less charming than others on this list, but Peschiera del Garda is home to beautiful beaches (like Vecchio Mulino Beach), a famous medieval fortress, a collection of fabulous restaurants, and other sites.
Those In Trentino
Riva del Garda
This town is one of the gateways to the northern part of the lake and acts as a jumping-off point to a handful of looping trails to hike (GardaTrek) or mountain bike, or take a swim into the large lake (or see La Garda by boat). or the Riva del Garda has a spread of beaches for sunny weather, has quite a few catamaran boat tours, and is a hot spot for kitesurfers. Grab some snacks to eat at the markets, hosted on the 2nd and 4th weeks of the month on Wednesday.
Torbole
Come to Torbole for an adventure-filled holiday, with scenic hikes where you can see the lake sprawling below you when you trek into the mountains. Torbole. Try the "Sentiero Busatte-Tempesta" hike or the picturesque hike "Valletta Santa Lucia" which draws you into the valley. After hiking, enjoy the picturesque town center.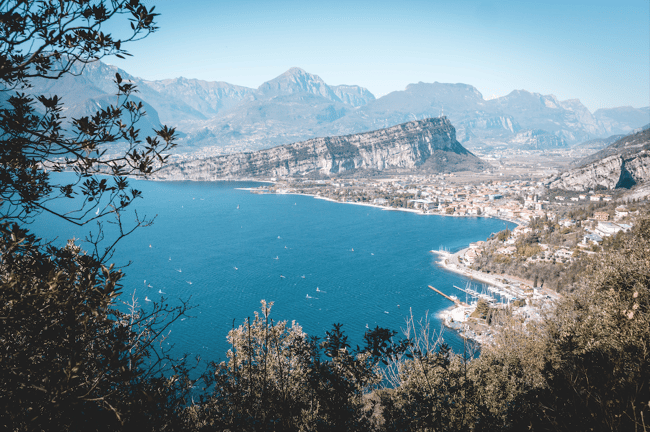 Those In Lombardy
Limone
Looking for a lakeside town that looks like a real-life postcard? Find red-tiled buildings painted shades of pastel yellow, brick-red, canteloupe orange, and surprises like aqua. Situated right on the water and home to cozy shops, cafes, and restaurants, it's kind of the stuff European dreams are made of. It's one of the most popular and pretty La Garda towns to visit.
See if you can time your visit with the weekly market, hosted on Tuesdays (April through October only). Plan on visiting in the morning before the shops close in the afternoon.
Sirmione
Some call Sirmione the prettiest of the lake towns (and the only one you should visit if you only have time for one spot!) It's another charming little city that's home to a thermal spring where you can soak away an afternoon, an impressive castle, pretty beaches (like so-called "Jamaica beach"), and an intoxicating Mediterranean atmosphere. It's found on the tip of a peninsula that juts out from the mainland into the lake, creating a bit of an island feel that just adds to the charm. It's also recommended to take a boat ride around the peninsula for the best views!
It does get crowded, so some advise you to visit in the shoulder seasons (spring or fall, or even the winter) or spend your time here in the morning of the summer months before other tourists arrive.
Another tip? There's a Colombare market on Monday mornings and a Lugana market on Friday mornings.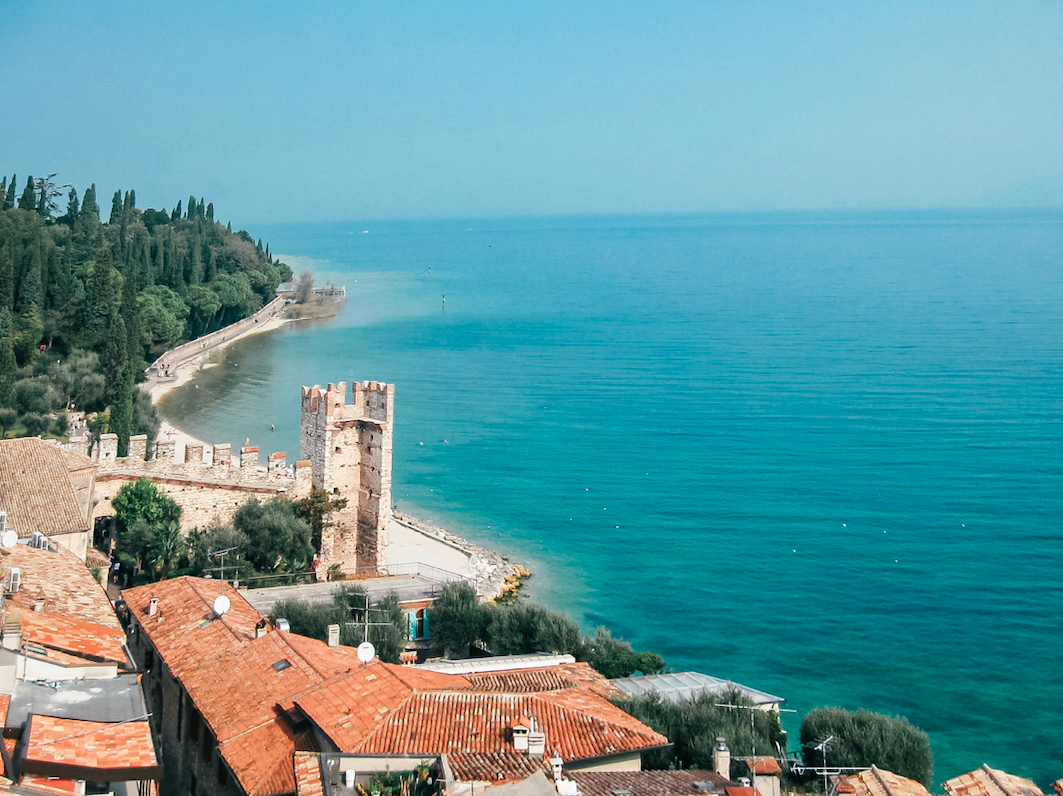 Spots To See Coming From Milan
Milan is found west of the lake La Garda, about 1-2 hours to get to the lake, depending on where you are visiting (we've pulled some of the most accessible below, with instructions). So, after you're finished seeing the highlights in Milan, you can easily hop on a train or bus to take you to some of the more accessible cities to see on La Garda:
Sirmione
Peschiera del Garda
Desenzano del Garda

Get To Sirmione + Peschiera del Garda
From the Milan Railway Station, hop on a train to Peschiera Del Garda (routes through the railway company, Trenitalia. Look up times/prices here). It's about an hour's ride. If this is your final stop, congrats! You've arrived!
If you'd like to continue onto Sirmione, take a 5-6 minute walk to the Peschiera Bivio Stazione Fs, where you'll ride a bus until you arrive at the Sirmione stop (about a 20-minute ride, check routes/times here).

All in all, the travel time is around 2 hours.
Get To Desenzano del Garda
From the Milano Porta Garibaldi, get tickets for a train that'll take you straight to Desenzano del Garda Sirmione. (Routes through the railway company, Trenitalia. Look up times/prices here).

The ride is just under an hour.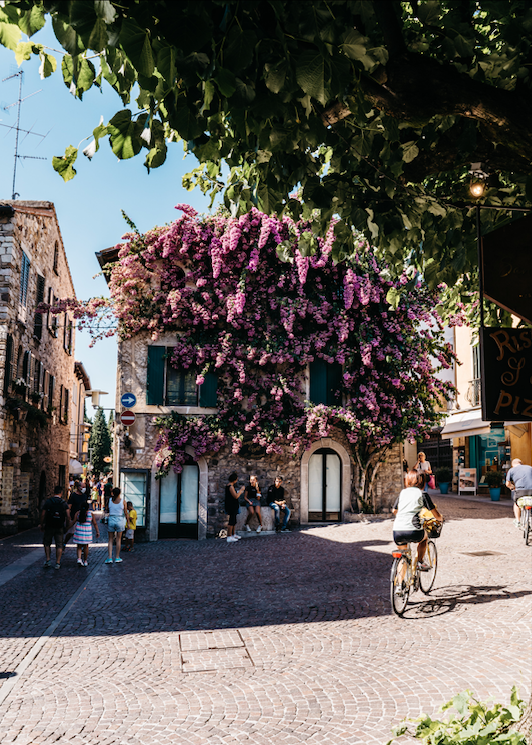 Spots To See Coming From Venice
The picturesque canal city of Venice is found east of lake La Garda, and has a list of cities on the eastern/southern/northern shores of the lake that are simple stopovers after you're finished exploring all there is to see in Venice. Here are some of the more accessible lake towns to see, with directions on how to get there if your starting point is Venice:
Peschiera del Garda
Lazise
Bardalino
Garda
Malcesine
Get To Peschiera del Garda — Then Onto Lazise, Bardolino, Garda, and Malcesine
Peschiera del Garda is a big hub for a lot of the cities around the lake in the Veneto region. You'll want to know how to get here to explore this city, but also so you can hop on a different train or catch a bus to see cities along the northern coast like Lazise, Bardolino, Garda, and Malcesine. Here are the instructions on how to get to Peschiera Del Garda, first:
Start at the Stazione di Venezia Santa Lucia and board a train to Peschiera Del Garda. Routes are run through Italo (check times and routes here), and plan on a 1.5-hour ride. This town is a delight to explore, but you can also continue on to Lazise Bardolino.
To get to Lazise, walk from the train station to the bus stop, Peschiera Fs (it's a 1-minute walk from the station). Bus 164 will take you to Lazise, around a 17-minute ride (transportation run by this company).
To get to Bardolino, take that same bus and ride it for 25 minutes until you arrive in Bardolino.
To get to Garda, take that same bus (164) and ride it to Garda, about a 33-minute ride.
To get to Malescine, hop onto bus 164, and ride it to Garda. Then, take a 41-minute bus ride (bus 484) to Malescine.
Get To Desenzano del Garda
Starting from the Stazione di Venezia Santa Lucia, hop on a train to Verona Porta Nuova (Routes through the railway company, Trenitalia. Look up times/prices here). Plan on a 1.5-hour ride. You'll then make a transfer to a bus, which will take you to Desenzano del Garda Sirmione. You'll ride this bus for 23 minutes (the bus company is Trenorde, check routes and itineraries here). Total travel time is about 2 hours.
Get To Limone
It's a bit longer of a journey, but worth it. Start in Venezia S. Lucia, then take a 2 or 2.5-hour ride to Rovereto (look up times/routes here). You'll then walk to the nearby bus station (Rovereto-Staz. Fs), and hop on a bus to Riva Del G. Autostaz (look up routes and times here — it's about a 45-minute ride). You'll then need to transfer at the Riva del Garda - Autostazione station before hopping on another bus for a 13-minute ride to Limone (look up times and routes/here).

Total time? It's about 5 hours,
Or you can just train to Verona Porta Nuova, then take another train to Avio (times/routes here for both train rides). Once in Avio, take a 45-minute taxi to Limone.

Total travel time is just shy of 4-hours, so a bit shorter but more expensive because of the taxi.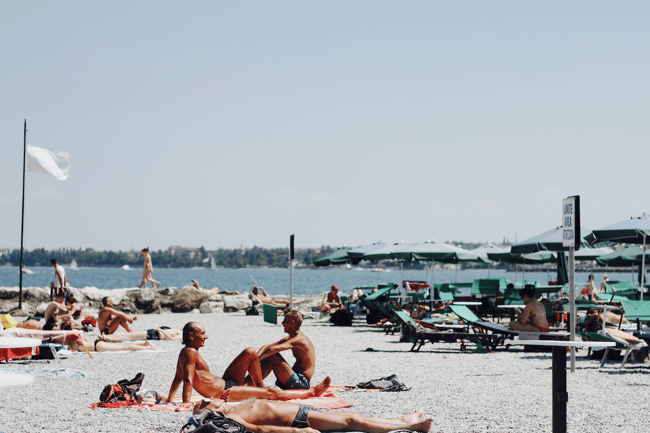 Spots To See Coming From Bologna
Bologna is a big transportation hub, which means you can sometimes snag really cheap flights to Bologna from all over Italy + Europe. Here's a few more tips for your visit in Bologna and a breakdown of the most accessible spots to see from this city:
Peschiera del Garda
Torbole
Sirmione
Getting To Peschiera del Garda
From Bologna Centrale, you can ride a train all the way to Verona Porta Nuova (less than an hour — check routes/times here). Once you arrive in Verona, it's a short walk to the bus station, Verona Porta Nuova. Catch a bus and ride that to Peschiera del Garda (about 15-minutes, check routes/times here).

Total travel time is just over an hour.
Getting To Torbole
If you snag the early morning bus from Bologna Terminal Bus 200 MT Da St, it'll be a much shorter itinerary (almost 4-hours, rather than 10). *Note: This itinerary only appears to be available on Tuesdays.

Catch a Marino Bus Bolanzo all the way to Piazzale Orsi Stazione Fs. Then, walk to the bus stop for B301 Bologano (check times/routes here) until you reach Torbole Bivio.

Total travel time is just under 4-hours.
Getting To Sirmione

To get to Sirmione, the itinerary is similar to the one to get to Torbole (available on Tuesdays, for a much shorter itinerary), then combined with the itinerary on how to get to Peshiera Del Garda ... here's what it looks like, all put together.
You'll want to catch the very early morning Marino Bus Bolanzo, but this time ride it to Verona. Walk to Verona Porta Nuova and catch your bus to Peschiera Del Garda (buses run by Trenord). Once you arrive, walk to Peschiera Bivio Stazione Fs where you'll catch your final bus to Sirimione (operated by this company).
Total travel time is just over 3-hours.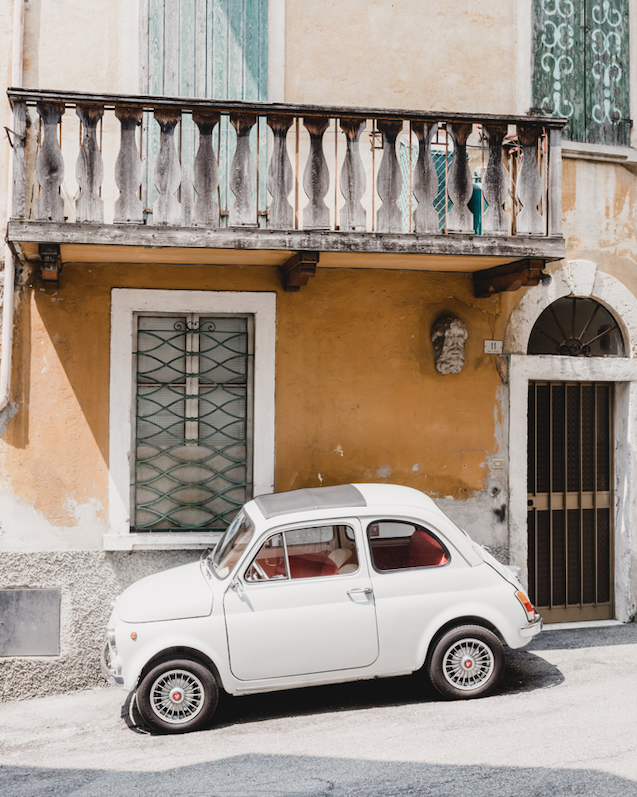 + A Few Other Handy Things To Know
How Long To Stay?
Like we've mentioned, this is a popular place for hopping around to different lakeside towns. Many people spend 1-2 weeks in the region, but you can also condense your trip if you don't have that much time. Instead, pick 1-2 cities you can visit easily from Venice or Milan and spend a couple of days before jetting off.
If you're wanting to really experience the area, I'd recommend spending a full 1-2 days in each town. So, plan on spending longer in La Garda if you want to see more than one town. Quite a few visitors mention that cramming a lot of locations into a short amount of time leads to more time seeing the lake through a bus window rather than experiencing the scenery.
A Few Itinerary Tips
If you just want to see La Garda for the day, start in Milan. There are a handful of locations you can see from Milan by taking a 1-2 hour train/bus ride (the travel times are longer if you're starting in Venice).
However, if you're interested in seeing quite a few cities in a shorter time frame, I'd suggest leaving from Venice and starting in Peschiera Del Garda. Then you can bus onto Lazise, Bardolino, Garda, and Malcesine if you have the time.
The most recommended cities tend to be Sirmione, Limone, and Malcesine if you want to move those to the top of your list.
See The Markets Here
The weekly markets here are a big deal — find Italian pottery, handbags, flowers, shoes, scarves, and more. Feeling hungry? Walk past wheels of cheeses, piles of lemons, bottles of olive oil, bins of fresh olives, stacks of local produce, and freshly baked bread.
We've added when the markets are in the little blurb for each little town, but here's a list in case you're here on a certain day of the week and want to hit a market:
Monday — Peschiera del Garda, Colombare di Sirmione

Tuesday — Limone, Torbole

Wednesday — Riva Del Garda, Lasize

Thursday — Bardolino

Friday — Garda, Lugana di Sirmione

Saturday — Malcesine
When To Visit
Summer months are the most popular, with weather warm enough for a swim in the massive lake and some sunbathing on the beaches. However, summertime does bring the most crowds to the more popular towns (July/August). If you're visiting La Garda in the summer, plan on battling some crowds and site-seeing in the early mornings before the afternoon throngs of tourists arrive.
You can also visit in the shoulder seasons (May/June or September/October), or plan a trip in the winter months — it's lovely! Visit in January/February and plan on mild temperatures, perfect weather for hiking, cablecar rides, strolling around colorful promenades, and more.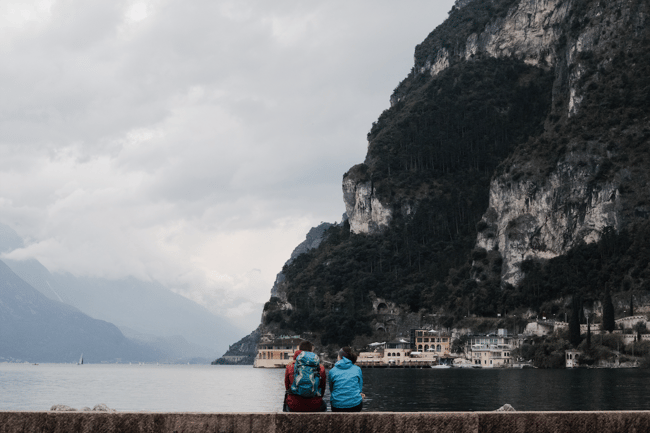 Spend a semester traveling, while you volunteer as an English teacher or help in an orphanage!
ILP (that's us — International Langauge Programs) sends college-aged volunteers for a semester abroad in several locations around Europe. Volunteers can spend their time helping in an orphanage in Romania, or teaching English in several locations around this part of the world. You're always set up with a group of volunteers to teach, travel, and explore with — with meals, airfare, visa, and housing included in your Program Fee.

Come see if an ILP adventure is right for you!