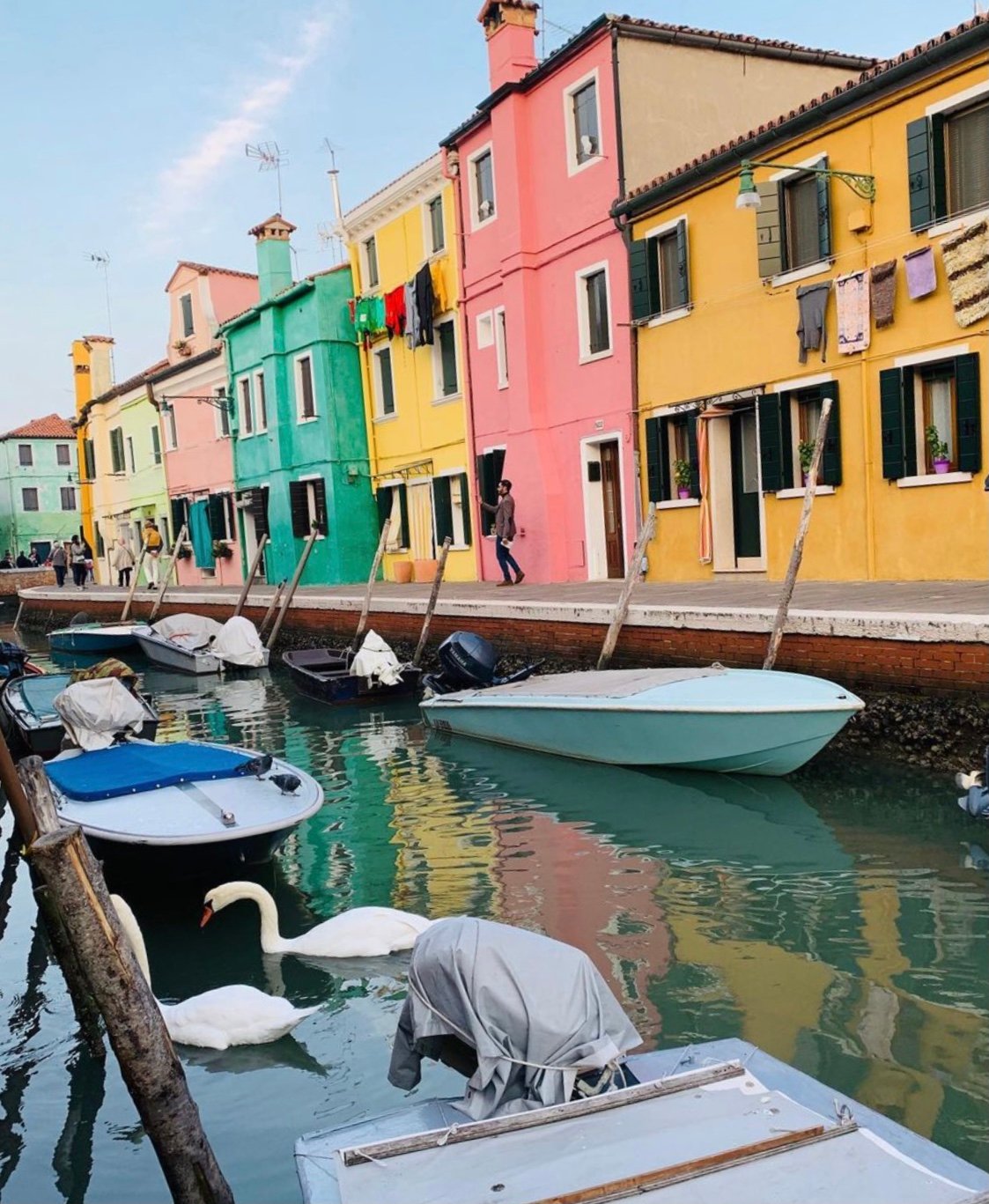 Who doesn't love rows of houses that are all different shades of rainbow sherbet? Or in this case, fruity gelato, because this tiny island is in Italy!!
Italy. Need we say more?! With pizza, pasta, street performers, museums, bridges, famous art pieces, cannolis, gelato, and so much more, this is bound to be one of your favorite European countries. And then they have to throw in an island with rows of rainbow houses and it's just about more than we can handle. You won't need an entire day on this island, Burano, but it is the perfect little trip from one of our other top places, Venice!


---
Is living abroad one of your dreams?
Start your application to be an ILP Volunteer!
---
Burano is a dream and a half. The entire island is less than one square mile, so you can easily explore all of the streets in one day or less. It is still an operating fishermen's village, so you will see plenty of locals out and about in their boats. It does tend to flood a lot in the winter, so if you're able to, we recommend visiting April-October.
The real reason you need to add this to your Venetian weekend itinerary is the technicolor houses, but keep reading for a few other things we love about this magical island.
What To Do
What To Eat
How To Get There
What To Do
Walk, walk, walk, snap some pics. Walk, walk, walk, snap some pics. In all reality, that's what your hours in Burano will consist of, and for good reason! The whole town is a living, breathing, colorful masterpiece! Here are some fascinating things we recommend including during your stroll of the island.
Lace Shops
Burano is known for their beautiful Venetian lace, and although most of the lace in the shops is no longer handmade, it is still so worth seeing. Lace-making become a popular occupation in the 16th century, when the women of the island began creating it for Europe's elite. One piece alone can take months to complete!
If you want to see some of the authentic, delicate, handmade lace the island is famous for, then head over to La Perla Gallery. This museum is owned by the Bon family, and here you can see many old masterpieces, and even watch lace being made by hand.
Hours: Daily from 9 am to 6 pm.
Address: Via Galuppi, 287 - 376, Burano (Venice)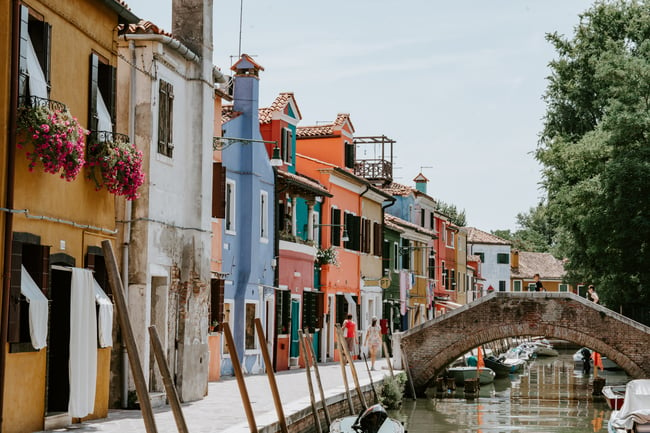 Leaning Tower
And you thought the leaning tower of Pisa was the only one of its kind. Heads up, there are 9 total leaning towers in Italy, Burano's being one of them. So if you can't make it to Pisa, glide over to the church of San Martino and see this old bell tower! It was completed in the early 1700s and is topped with an iron cross.
Address: Piazza Baldassarre Galuppi, 20, 30142 Venezia VE, Italy
New Arte Fuga
While in Venice, you may have seen some of the stunning colored glass that this area is also known for. Although most of it is made on Murano, a nearby island, you can visit this little museum/factory on Burano where glass is still being crafted into unique and authentic pieces, and can even watch the process!
Hours: Daily from 9:30 am to 7 pm.
Address: Via Giudecca, 132, Burano (Venice)

What To Eat
Your trip to Burano will most likely include a self-induced food coma. Don't be afraid to eat at any of the local restaurants, and if you're up for it, there are really only 2 things you NEED to try while in Burano.
Bussolà
This traditional S-shaped, butter cookie is the thing to get in Burano, since this is the only place it's even made.
Seafood
Since the fish is caught here daily, this is the place to get some excellent, fresh seafood.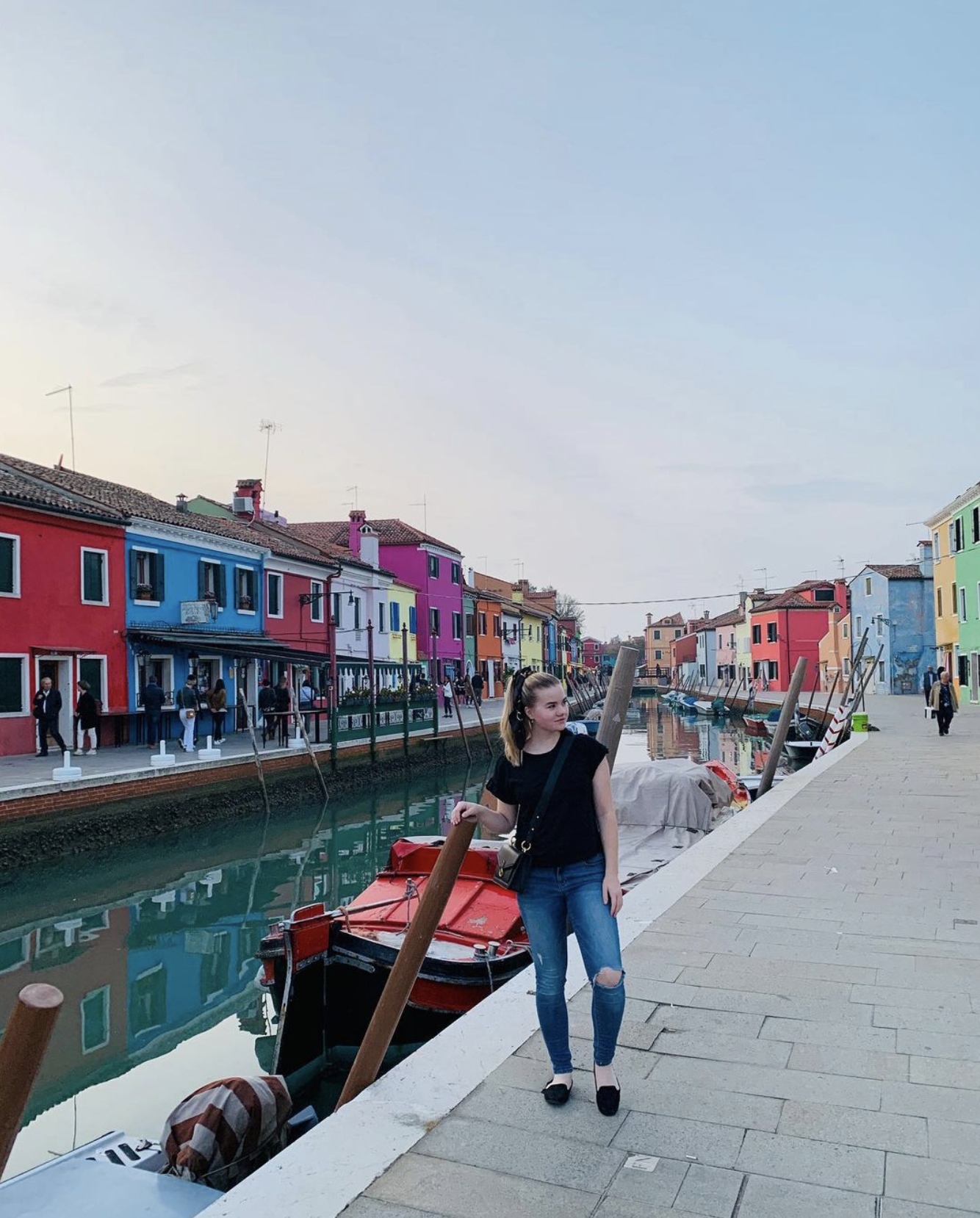 How To Get There
This is a quick and easy trip if you're already in Venice.
The best way to get to Burano is by water bus (vaperetto) on line 12. The ride from Venice to Burano only takes about 45 minutes and each way will cost about $8. However, if you're wanting to visit Murano (which we highly recommend) or other surrounding islands, then we encourage getting a day pass. It will cost you 20 euros total, but is totally worth it! You can purchase these from the ACTV ticket windows, or the self-serve kiosks at the major water bus stops.

Want to spend a semester abroad as a volunteer but have questions
about how it all works?
This could be one of the most memorable, impactful semesters of your life, but obviously you want to know what it would include. Click the button below to learn about some of the basics!