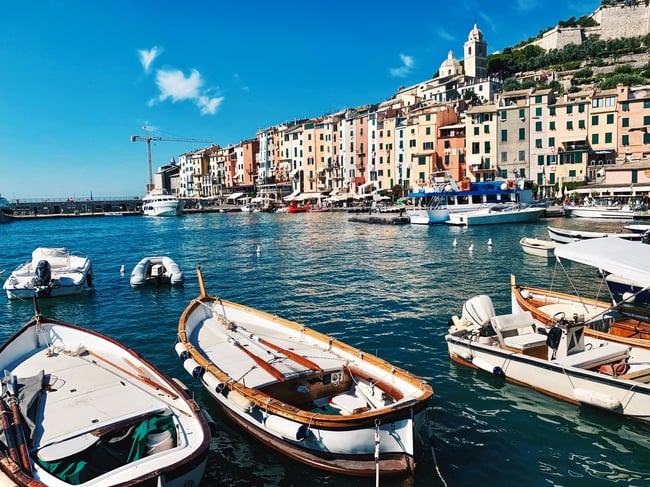 This coastal city is just as colorful and picturesque as the more famous set of five known as Cinque Terre but isn't nearly as crowded ... making it a perfect alternative.
I am all about seeing the highlights of a country. I mean, there's a reason you don't skip the Colosseum in Rome or the Eiffel Tower in France. But there's something to be said about seeing something just as stunning without being smothered by the crowds. The quieter fishing village of Porto Venere is just that — a "just as dazzling and picturesque" spot as the famed Cinque Terre, but a bit more off the beaten track. If that sounds like your kind of getaway, we have you covered.


---
Don't want to miss insider tips like this?
Our Adventure Updates are full of things you won't want to miss.
---
We have a teaser about this particular "see this, not that" location in our post about the much too popular cities in Europe (with alternative options), but this post is a much more in-depth guide to what's waiting for you in Porto Venere. It's all you need to plan the perfect trip:
About Porto Venere (VS Cinque Terre)
First, we need some background on Cinque Terre. Found on the northwestern coast of Italy, Cinque Terre is the name of these five famed fishing villages, situated right on the Italian Riviera. Once quiet places to make a living, they are now one of the most visited areas of Italy, and for good reason. The colorful houses stacked against the rocky coast make for an incredibly picturesque view, plus each of the five towns is excessively charming. Monterosso, Vernazza, Corniglia, Manarola, and Riomaggiore make up "Cinque Terre".
Thanks to Instagram and travel blogs, Cinque Terre has become a very popular tourist destination in the past decade. During the summer, the tourists come in droves, making these tiny towns very crowded ... which is why we are a fan of visiting Cinque Terre in the shoulder seasons or skipping it altogether to instead visit Porto Venere.
About Porto Venere
Porto Venere is sometimes nicknamed the "sixth" town for a few reasons. It's found right around the corner from this collection of five, meaning it boasts the same colorful city, same charm, same coastal views ... but without the same level of popularity.
Also known as Portovenere, one of the reasons this "sixth town" avoids some of the tourist overflow is how you get there. We have more details below, but you can't arrive by train (unlike the Cinque Terre cities). You have to arrive by car or bus from La Spezia or make a scenic arrival via boat. But the effort is worth it. Imagine a more tranquil experience of spooning gelato into your mouth while you overlook the glittering Italian Riveria (and trying to pick which shade of pastel house is your favorite) without being swarmed by other tourists.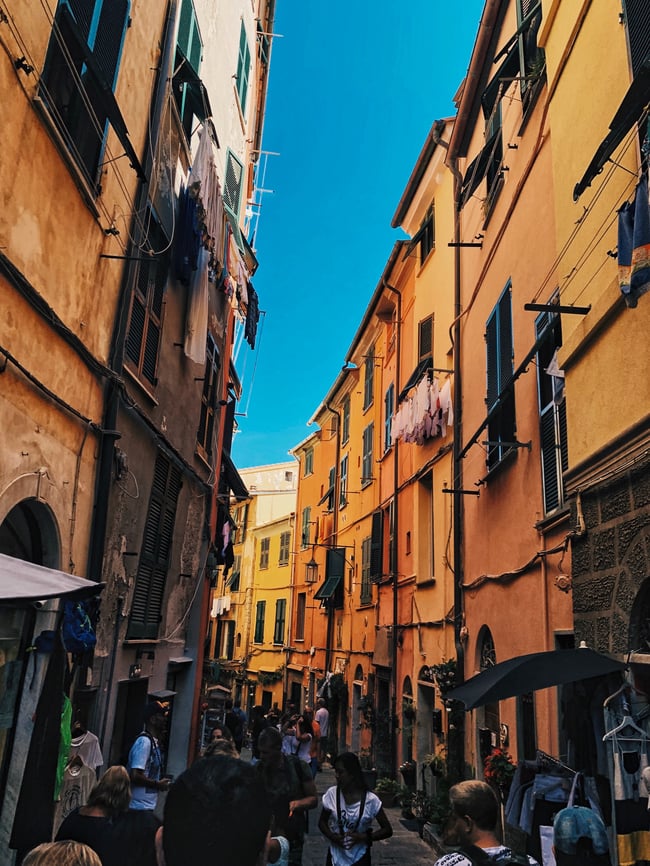 A Few Things You Can't Miss
Besides soaking up the charm of this coastal city, there are a few noteworthy landmarks found in Porto Venere, found below.
Even though it didn't get its own paragraph, plan on spending quite a bit of your time just wandering around and peeking into the various shops and stores found in Porto Venere. The overall feel of this place is just delightful and deserves quite a bit of your time. Pay particular attention to the boutiques, eateries, and markets found on the main street, Via Giovanni Capellini.
Doria Castle
Castles are also found in a couple of other Cinque Terre cities, but there are a few reasons why we like Doria Castle in Porto Venere best. Built in 1161 by the Genoese on the remains of an earlier castle, this striking castle stands on a rocky plateau and serves up stunning views of the coast and the city. The large structure is actually split into two sections, positioned at different levels if you'd like to pay the fee to enter and explore the interior. There isn't much to see inside, but you will get more sweeping, panoramic views of the Poet's Bay (more on that below), and other notable sites. Plus, it's fun to explore the empty rooms and see what's waiting for you at the top of the staircases.
Finding the castle shouldn't be too difficult (it's a notable landmark in the city), but if you need help, find it by the Porta del Borgo (Gate of the Village) and Piazza Bastreri, which is the main square of Portovenere. It's a bit of a hike to get there, as an FYI.
Hours: 10:00 AM to 6:00 PM

Cost: 5 Euros if you'd like to enter, but the surrounding views are lovely if you don't want to pay.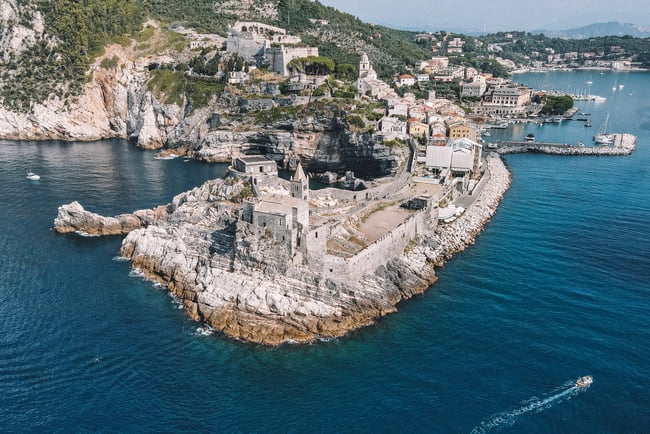 Lord Byron's Favorite Swimming Spot
Also called the Poet's Bay, this beautiful place to take a swim and do some sunbathing was also a favorite place of the city for the famed writer, Lord Byron. Supposedly, he was an avid and accomplished swimmer, making the swim across the gulf from Porto Venere to San Terenzo to visit his friend, Percy Bysshe Shelley. Every summer, there's a mimic of his swim where accomplished swimmers try to accomplish the 7.5 kilometer paddle.
With a peek at the waters waiting for you in this bay, you'll see why it's a place to visit. To find this place, you'll want to walk to the end of the main street (Via Capellini) or down from the San Pietro church. When you reach the end of the street, there's a lookout in the stone wall to admire before taking the rocky steps that lead you down to the bay. There's a rocky grotto nicknamed Byron's Grotto that's rather close to where the stairs drop you off — it's one of the many rocky ocean caves in the bay.
The Sites At St. Peter's Church
Another can't miss spot in the town is St. Peter's church, situated on the rocky outcrop, overlooking the Poet's Bay. The church you see now was initially t over the remnants of an ancient pagan church. Consecrated way back in 1198, the church went through a few upgrades in the 1200s (like the black bands being added by the Genoese), lost the parochial title in the 1300s, was used as a battlement protection of the Gulf of La Spezia in the Napoleonic Era, and until 1798, was then officiated by the secular clergy. Did you get all that?
Fascinating history aside, St. Peter's Church is a stunning piece to admire, especially with the striking black and white stripes found in the interior. The views from the church are also worth seeing.
Find the Chruch of San Pietro near the main square of Porto Venere (Piazza Bastreri), about an 8-minute walk along the Calata Doria quay.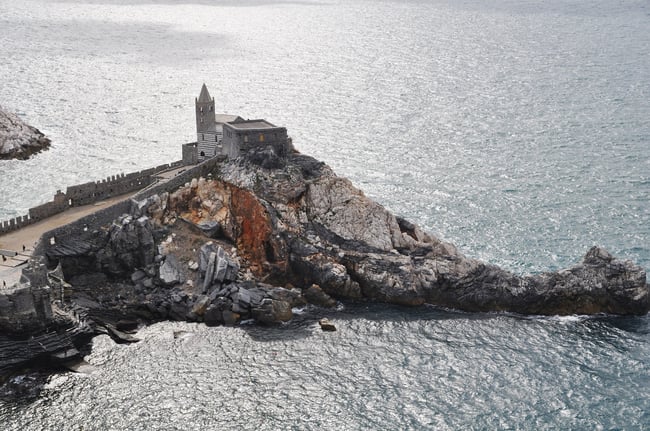 For The Best Beaches
On the mainland in Porto Venere, and the islands we talk about below, you'll find a smattering of free beaches as well as paid options. In general, free beaches (spiaggia libera) typically have people with towels laid out on the pebbles, or with chairs they brought themselves. If you see chairs to rent or umbrellas, you'll most likely need a fee to enter and access the amenities. Another tip? The beaches are rocky so shoes to swim in are recommended by some.
We've outlined some of the most recommended options here:
On Palmaria Island: Spiaggia di Palmaria is the most popular beach on the island where you can swim and sunbathe for free, or pay a charge to access one of the beaches in front of the many beach clubs. Spiaggia di Palmaria and Località Carlo Alberto are other options, as is Cala della Fornace (which is only accessible by boat).
On Porto Venere: There are a handful of options to choose from, but some of the most popular options include Spiaggia di Arenella, the swimming by Lord Byron's Grotto, and Spiaggia dell'Olivo.
Do Some Island-Hopping
If you're gazing across the blue-green water and have the urge to leave the mainland, hop on a ferry ride to the set of islands found just offshore. Palmaria, Tino, and Tinetto are all found near the city and each has its reasons for a quick visit:
The first island, Palmaria, is the largest and most popular. Additionally, it's a place to do some celebrity spotting if you are lucky: there's a very famous restaurant called Locando Lorena that's popular with the rich and elite. There are also beautiful walking paths and hiking trails that give you some incredible views if that's also a pull to visit Palmaria, same with the beaches which were outlined above.
Tino has interesting historical ruins and a church found in a military zone (access is only allowed to the public one day in the year, September 13th, for the festivals celebrating the Sant Venerio). You'll also find ruins of ancient abbeys and chapels on the island.
Tinetto is a little islet, barely home to any plants, but is the location of a few stone ruins of particular interest. Historians have explored the remnants of the churches there as evidence of early religious practice on the island.
There are boat tours or catamarans that leave the dock in the town to take you to the various islands if that's how you'd like to spend a day. Look for signs around the dock for "Giro delle isole". More info here.
Tips For Your Visit
Best Time To Visit
The busiest times are going to be the summer months (July and August), like most cities in Italy. Plan on a few more crowds in Old Town, with a quieter feel in the evenings. You will see tourists here, but not the amount you'll see in Cinque Terre. June or even September and October are less crowded, but with lovely weather. If you want to practically have this place to yourself, visiting in October, or April to May is what you should aim for. Things will for the most part be open, but other tourists will be few and far between.
Bring Cash
There aren't many ATMs in the town, so some visitors preferred to have cash on hand for the places that didn't take a card (if that's helpful to know).
How Long Should I Stay?
The area is rather small, so budgeting 1.5-2+ days here seems to be the sweet spot for a relaxing visit to Porto Venere. Some visitors take a day trip here (via boat) from one of the Cinque Terre towns, but I'd recommend spending more time here if you can. Especially if you plan to visit Palmaria or have a full day at the beaches or grottos, you'll want more than just one day.
Getting To Porto Venere
Get To La Spezia
There isn't a train to Porto Venere, so you'll want to get to La Spezia first. From there, you can bus, boat, or taxi over to Porto Venere. We'd recommend spending some time in La Spezia as well, because it's a stunner, with some gorgeous beaches.
Bus: You'll want to ride the 11/P bus line. The ride takes about 35 minutes and you can catch your bus from the Mercato Nord bus station (found about 10 minutes by foot from the La Spezia train station). Tickets are 3 euros if you buy them at a nearby kiosk or tobacco shop, but apparently will be double if you get tickets directly from the driver. Buses run frequently, around every 20-30 minutes on weekdays (after 8:00 PM, buses run every hour or so until midnight).
Boat: Boats depart from La Spezia at the end of March and end the first weekend of November. When the schedule for the season is posted, you can check times here. Note: Some bus routes are canceled due to rough weather. Catch the boat in La Spezia from the promenade along the waterfront, on the western edge. There's a suspension bridge that will take you over to the ferry docks. The ride is around 30 minutes and typically costs between $11 and $14.
Taxi: Taxi is also an option, but will cost around $24-29 USD. It's around a 20-minute ride.
From Cinque Terre
If you find yourself in Cinque Terre and want to add Porto Venere to your itinerary, you can make a transfer by ferry boat. This site lists prices from the boat docks in Cinque Terre over to Porto Venere. Just note that the ferry season begins at the end of March and ends the first weekend of November. You can also make your way to La Spezia via train, and follow one of the routes outlined above to get to Port Venere.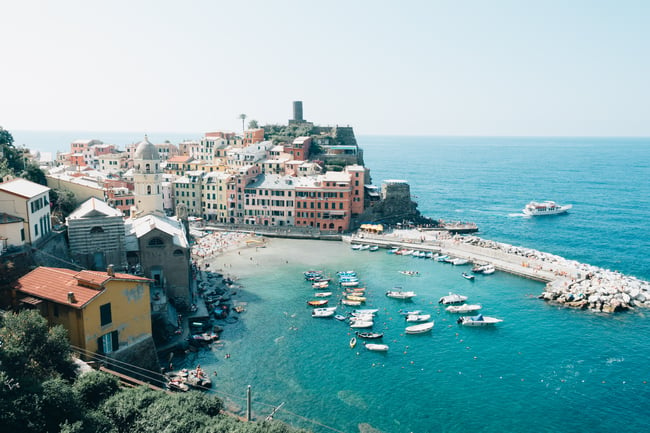 Ready to take the adventure of your lifetime and volunteer abroad?
Come spend a semester living in Europe as an ILP volunteer! You'll be teaching English (no experience necessary) or volunteering in an orphanage part time — that means you get free time every day to explore your city, and always have weekends off to see even more. You'll also get vacation time to see places like Porto Venere (plus the other cities on your bucket list). If you're wanting the chance to make a difference do a lot of traveling, all with a group of college-aged volunteers, this might be the program for you.