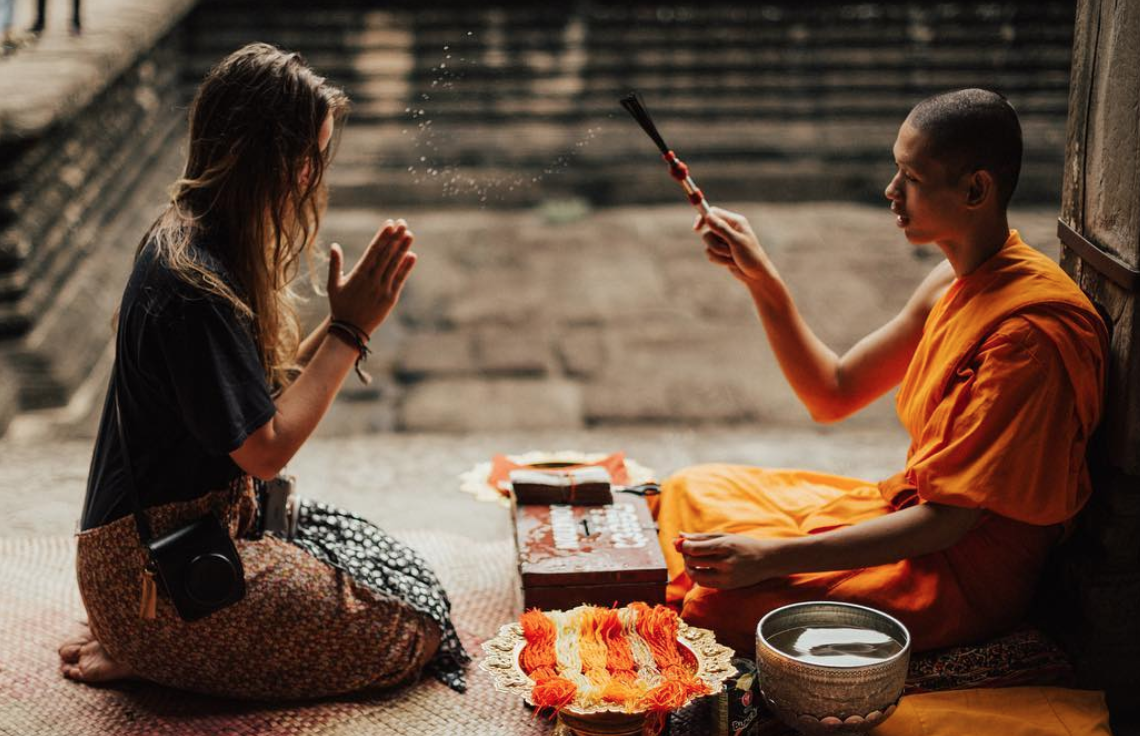 Planning to spend a good chunk of time in Thailand? Then you have to visit some of the amazing surrounding countries as well. Here are some tips for finding well-priced airplane tickets from Thailand.
Hammocks on the beach, fresh mango smoothies, and beautiful temples...it's all waiting for you. But what's the best way to experience all of this? We might be a bit biased, but spending an entire semester living in Thailand as an English-teaching volunteer through International Language Programs is a pretty solid way to get an authentic and enjoyable experience in Thailand!


---
Want to know more about this opportunity?
Learn About Volunteering In Thailand
---

One of the greatest benefits of volunteering for a semester with ILP is that you'll have plenty of vacation time to travel all over Thailand.
While world travel is great and all, we know you're probably also a college student who really had to save up for this semester abroad, right? And even if that doesn't describe you, it's guaranteed that you'd rather spend your funds on trying the yummiest Thai treats and visiting stunning islands rather than on expensive flights, right? Here are some great tips for finding the best deals on flights from Thailand!
Heads Up: We have a Thailand Destination Guide crammed full of info you might need for your trip!
Our Favorite Destinations
It's pretty hard to choose when there are just so many incredible places both in and outside of Thailand! If you have just a few days, then exploring the islands of southern Thailand is ideal! Cambodia and Singapore are also dreamy locations for shorter vacations. In fact, Singapore is even a great place to spend a long layover!
Bangkok to Krabi (your gateway to the Thai islands) — direct flights are about 1.5 hours and you can often find really affordable roundtrip prices, typically $40-80 USD (if you're traveling in the high season like in December and January prices usually creep up around $100+).
Bangkok to Siem Reap, Cambodia (where the World Wonder Angkor Wat is!) — a direct flight is only about an hour, and you can often find roundtrip flights for a little over $100 USD.
If you have 4+ days for your vacation, then visiting places like Vietnam, Bali, Hong Kong, and Australia is perfect. These are all places that our volunteers have loved! Not only are these destinations full of so many incredible experiences you won't want to miss out on, but the flights to these locations are usually more expensive, so you'll want enough time to really enjoy your vacation there.
Bangkok to Bali, Indonesia — a direct flight is 4 hours and you can often find roundtrip flights for under $200 USD.
Bangkok to Hanoi, Vietnam — a direct flight is a little under 2 hours and you can often find roundtrip flights for a little over $100 USD.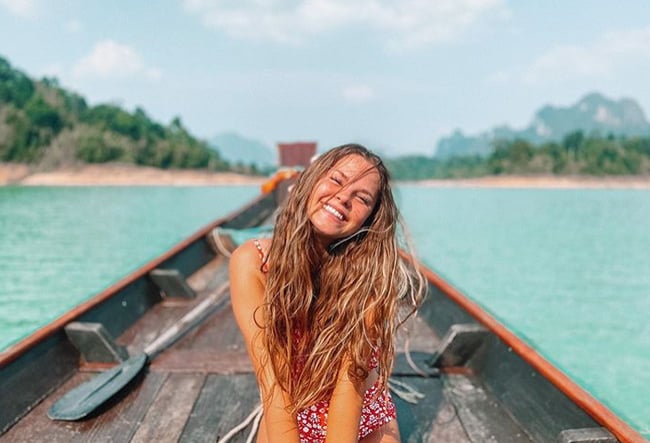 Tips For Finding Flights
Use Apps
We are big fans of using travel apps to help with finding the best dates/deals. My personal favorite is Skyscanner, and not just because it's totally free. I love that you can set the departure airport, and then select "everywhere" as the destination to see what the best/cheapest options are. You can also set specific dates for your trip, or if you're flexible on timing, you can have the app scan an entire month to see when the best deals are.
Kiwi.com provides similar settings, but there is a service fee if you end up purchasing your flights through them. They do offer a Kiwi.com guarantee if your flight is canceled or delayed, which happens more than you'd think.
Discount Airlines
In Asia there are several different airlines that offer cheaper tickets. If you're okay to fly without the added benefits of more expensive flights (less luggage fees, snacks, entertainment screens, etc.) then this is the way to go. AirAsia and Jetstar Asia are the two most popular ones. Check out their websites and see what their regular flights are from Bangkok to the countries you're wanting to visit.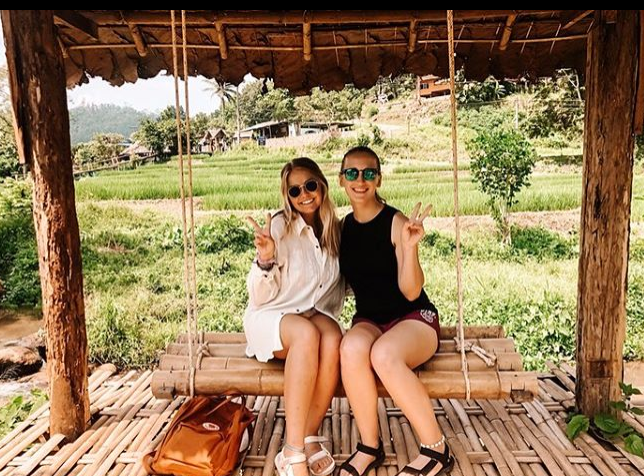 Things To Keep In Mind
Visa Requirements
Depending on which Asian country you are planning to visit, you might need to get a visa or pay an additional fee to enter as a tourist. The majority of Asian countries will allow tourists to stay for up to 30 days without a visa, but always check that ahead of time. Here are the instructions for getting a visa for Vietnam. Visas for Cambodia are available upon arrival for $30, or you can get this e-visa online beforehand. But just know that those posts were up to date when they were written, because visa rules can change you'll always want to double check before you go.
Double Check The Airport
There are two international airports in Bangkok: Don Mueang International Airport and the Suvarnabhumi Airport. Make sure you know which one your tickets are for, since they are a 45-minute taxi ride away from each other. You definitely don't want to end up at the wrong one!
Transport To The Airport
If you're an ILP volunteer, then you'll likely be living around 4+ hours away from the airports in Bangkok. You'll need to take the train or hire a van (talk to your local coordinator about that) to get both to and from the airport. For the train tickets, you can plan on spending anywhere between $12-25. If you hire a van, the more people you have going, the cheaper it will be for each of you. It might even end up being about the same price as the train and is much less hassle.
Luggage Fees
The luggage restrictions for discount flights are always very strict. If you're planning to visit Bali for a week, or Singapore for several days, you'll need to be prepared to pay luggage fees if you're bringing more than just a backpack. We definitely recommend trying to fit everything you need into just a backpack though.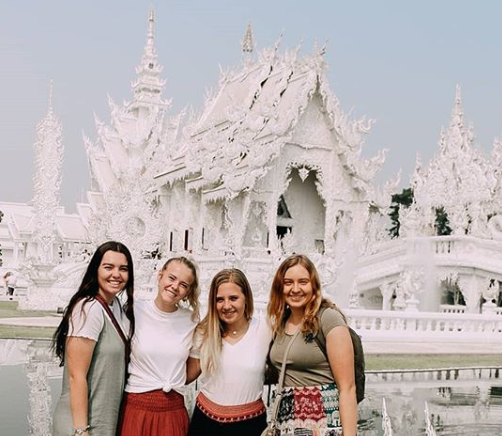 Wanting to volunteer abroad but have some questions about our program?
Totally understandable! We had loads of questions before we volunteered with ILP ourselves. Click the button below to read through the answers to our applicants' most frequently asked questions.