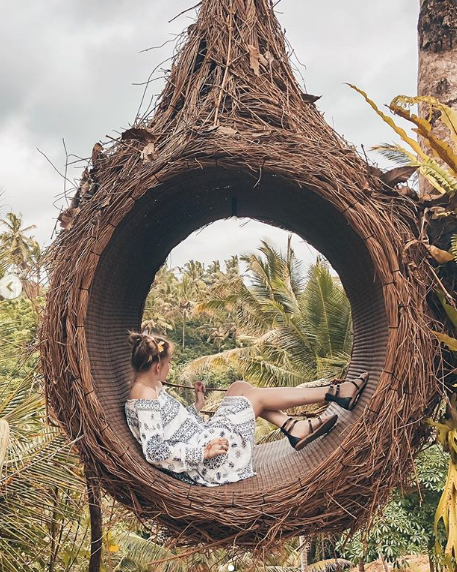 Vacationing in Bali? It should honestly be on everyone's list. And here are all of the details you need to enjoy our very favorite town on this magical island: Ubud.
Ubud is the heart of Bali. It's the spiritual center. It's the rice terraces. It's the temples. It's the yoga. It's cafes with fresh, colorful, organic food. It's the monkeys. Ever read or watched Eat, Pray, Love? The final location where the author falls in love takes place in Ubud! But we'll give you plenty of other reasons to add this island to your travel itinerary.


---
Always wanted to travel but not sure how to make it happen? Read this:
How To Pay Less For A Semester Abroad
---

The Balinese are some of the kindest, warmest, happiest, most genuine people you'll ever meet. They sincerely believe that a person needs to have 4 virtues to be happy in life: intelligence, friendship, strength, and poetry. So beautiful, right? They look out for each other, and they'll look out for you. Just soak in every cultural aspect of your trip to Ubud that you can.
Even though you'll hear plenty about the beaches in Bali from tourists, we absolutely recommend spending the majority of your Balinese vacation in Ubud, and here's why!
Everything You Need To Know About Ubud
What To Do
Where To Eat
Where To Stay
How To Get There
What To Do
Visit The Monkeys
Go check out Monkey Forest! These monkeys are a bit terrifying if you get in between them and their food, but also very cool to see. You don't have to worry about whether or not you'll spot a monkey—there are over 700! They are EVERYWHERE. Tourists used to be allowed to feed them, but not anymore. Probably a safety hazard. But you can watch their caregivers feed them and it is just crazy to see how fast those herds of monkeys come running—swinging.
The ruins themselves are also pretty amazing! Just pay 80,000 IDR (equal to less than $5.63) to enjoy an hour or two here. Totally worth it!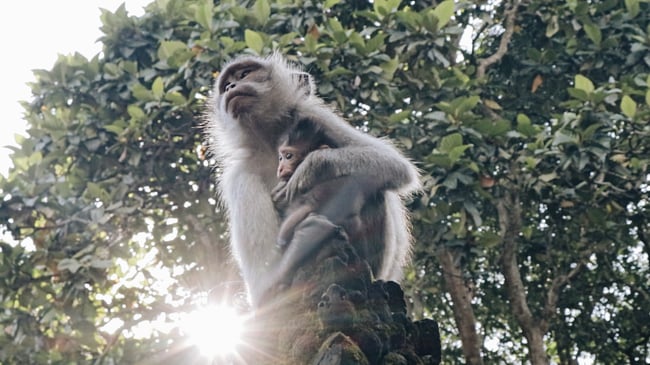 Get Pampered At A Spa
One of the many things Ubud is known for is its spas and wellness centers. If you love a good pampering, this is the place to get a 5-star experience for a tiny fraction of what you would pay in the US. You could honestly have an unforgettable and relaxing experience no matter which spa you visit, so we really can't recommend just one. Pick one that is close to where you're staying and has great reviews, and you'll be all set! Here are some recommendations from Trip Advisor to get you started. And remember to book in advance if you can!
Go River Rafting
If you have even the tiniest bit of love for adventures (and we're guessing you do if you want to volunteer in another country for a semester), then rafting down the Ayung River is something you can't miss! There are so many places around Ubud to do it, so you can just wait til you get there to book with a local tour. It's actually cheaper to do it this way as well, rather than booking it online first. This will be a half-day activity that is absolutely worth it. Plan on spending about $35 per person.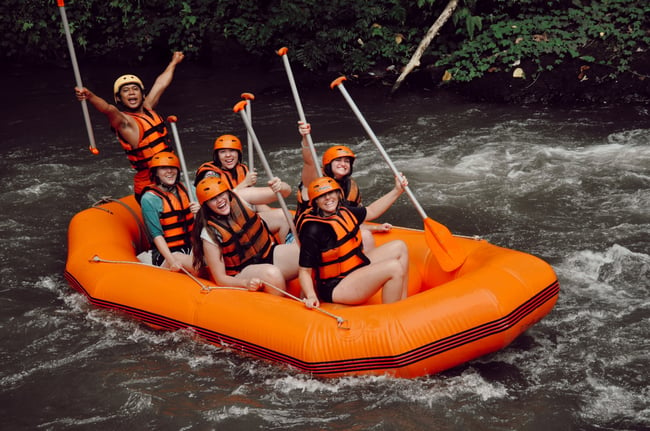 Wash In Holy Water
In Tampak Siring, not far from Ubud, is the Tirta Empul temple. Here, you can find many Balinese natives and tourists praying, meditating, and giving offerings. It would be incredibly serene if it wasn't for the hoards of people, but that's just what comes with popular destinations unfortunately.
Holy water flows through several stone fountains. Traditionally they believe that if you wash in this water, your sins will be swept away. It's a pretty interesting experience if you're up for it, and definitely a good way to sample the culture firsthand.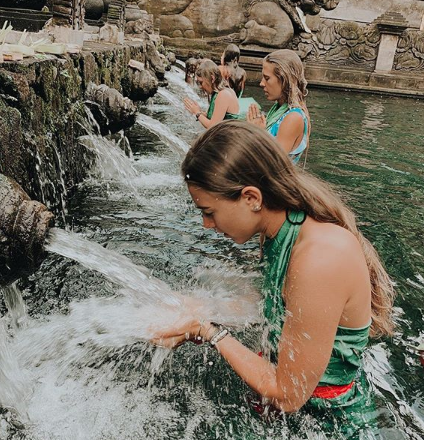 Hike Up A Volcano
It's not every morning you can hike to a volcano and watch a sunrise, so why not do it in Ubud? Even if you can't make the early-morning wake up, or don't like hiking in the dark, this is still epic because Mount Batur is the most active volcano in Bali! The entire hike will take about 5 hours.
The best and easiest way to make sure you get the full experience with no hassle is to book a tour that includes transportation. This one even includes breakfast, and has such good reviews! If you plan to organize the entire trip yourself, you'll need to plan on about $50 with the taxi. The drive from Ubud takes about 1 1/2 hours.
Practice Yoga
Bali might as well be nicknamed the yoga capital of the world, due to how popular it is there. You'll be stretching and meditating right alongside travelers from all over the world. One of the best places to participate in a yoga session in Ubud is at the Yoga Barn. You can stop by for any number of classes or even spend the night there!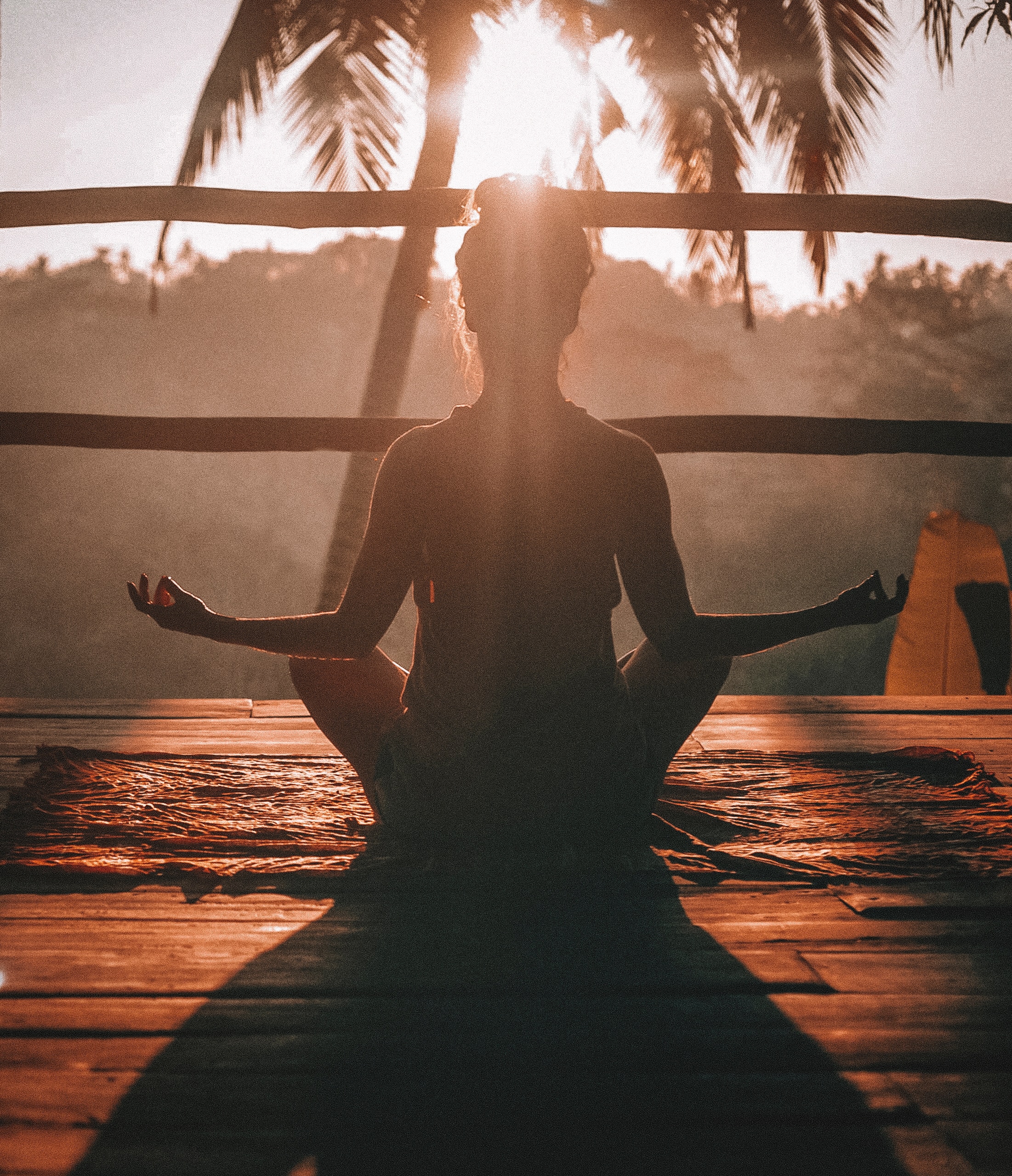 Trek Through the Rice Terraces
A trip to Ubud would be incomplete without a stop at the rice terraces. There are a few different locations around Ubud, but our favorite are the Tegallalang Rice Terraces. They feature the traditional Balinese irrigation system and you can easily find a taxi to take you to and from these rice paddies for about $12. Just make sure you agree on the price before you get in the car!
You may be asked to make a donation at the entrance, though there is no set entry fee, but just make sure you have some change with you. Visit early in the day or later in the evening for prime photos and climate. Keep in mind that the exact shades of green and brown of the terraces will depend on what point the rice is at in the growing cycle.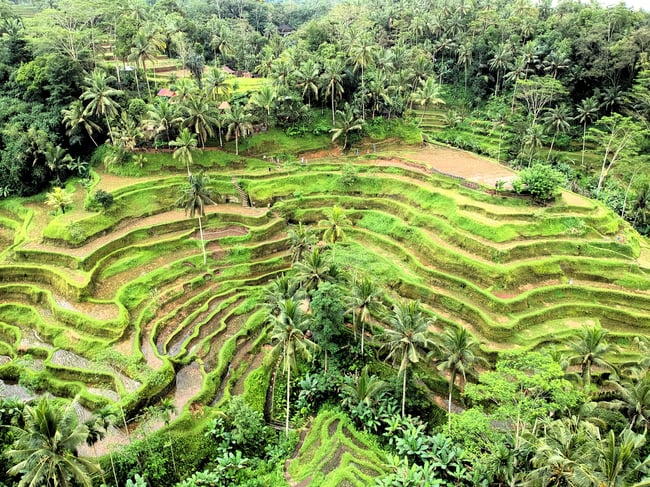 Take The Instagram Tour
Does this sound ridiculous? Well, even if you aren't really into using social media, we cannot recommend this tour enough! The guides are so awesome and speak great English. They'll take you to all of the highlights of the area that just about everyone wants to see (temples, rice terraces, waterfalls, and the Bali swing), and make sure you have great pictures to remember all of your favorite spots. It's a full-day excursion, and read our post to learn more!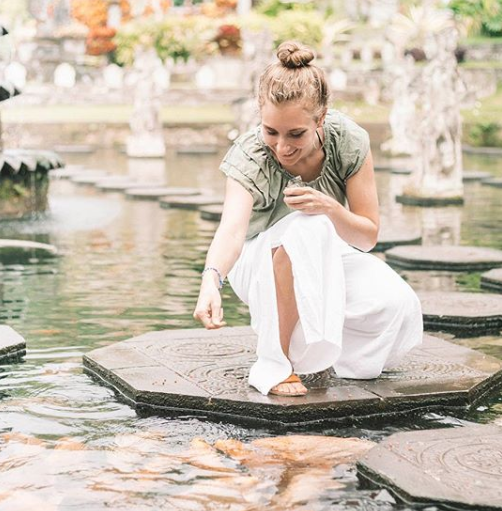 Shop For Souvenirs
Downtown Ubud is where you'll find the handicraft market. This is really where you want to buy your souvenirs from Bali! There are lots of different touristy trinkets, homemade goods, and even spices. To get a good deal, you're going to want to bargain down the prices just like you will anywhere else in Asia.
Just across the street from the market, you'll find this stunning temple! Sometimes they hold cultural shows here that are absolutely worth seeing.

Ride On The Bali Swing
Of all the things to do in Bali, this is probably one of the most famous, and even though it only lasts for a few minutes, we totally recommend it! You can do it as part of the Instagram tour we mentioned above, or you can arrange it yourself. Either way, you'll feel all the Tarzan vibes! Here's every detail you could possibly need for planning your own trip.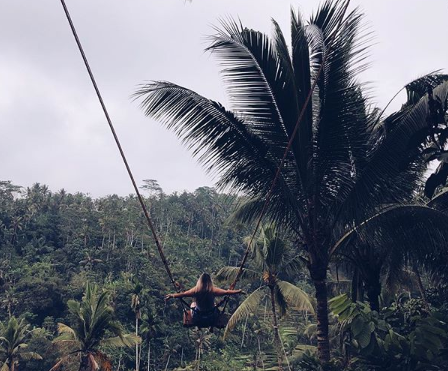 Where To Eat
Just a little fyi pro tip — Ubud is all about the food. Okay, not entirely, but you'd better plan on eating some of the best food of your life while you're there! They have tasty meals for every diet and food preference. Everything is fresh, flavorful, and so delicious. You could probably eat anywhere and be really happy with your meal. In fact, every group of our volunteers that has spent time in Ubud has eaten at different places, and loved them all! You just can't go wrong. Here are a few recommendations to get you started!
Suka Espresso
This is more Australian food than Indonesian, but think bright, healthy, and clean. Bali is actually a very popular spot for Australian vacationers, so it's not uncommon to see things that cater to them. Every plate is totally picture worthy, and you can plan on only spending about $5 per meal. They have incredible breakfasts, smoothies, smoothie bowls, ice cream shakes, wraps, tacos, coffee, juice, and so much more!
Browse their menu here!
Hours: Daily from 8 am to 10 pm.
Address: Jl. Raya Pengosekan Ubud No.108, Ubud, Kabupaten, Gianyar Badung, Bali 80571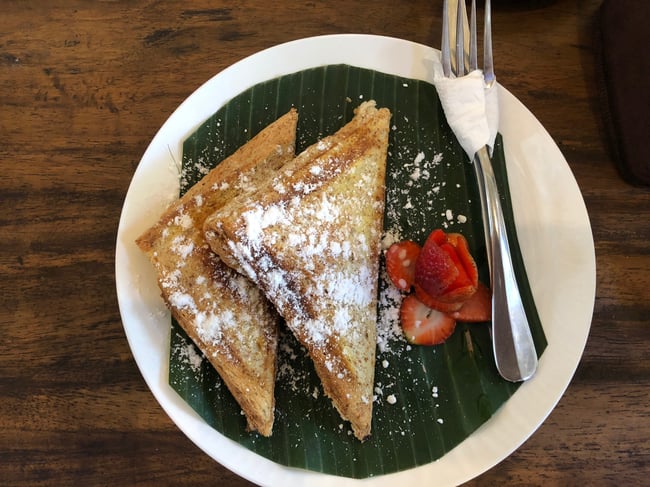 Sugriwa's Warung
If you want something a bit more traditional for lunch or dinner, this gem is the place to go. It has a very quiet and relaxed atmosphere, with plenty of Asian dishes to choose from. You'll have your choices of rice plates, noodles, meats, fruits, and all the local flavors!
Hours: Daily from 12 pm to 9 pm.
Address: Jl. Sugriwa's No. 7 Padang Tegal Kaja, Ubud 80571 Indonesia
The Elephant
If you're looking for vegetarian food, and a spot for a bit of a nicer dinner with your group, we cannot recommend this place enough! Food and prices are both great, although it is on the more expensive end for Ubud. The handmade potato gnocchi with pesto is divine, and for a treat, try any of their chocolate desserts. Ahhmazing!
Browse their menu here!
Hours: Daily from 8 am to 9:30 pm.
Address: jalan Raya Sanggingan, Hotel Taman Indrakila, Sayan, Ubud, Sayan, Kecamatan Ubud, Kabupaten Gianyar, Bali 80571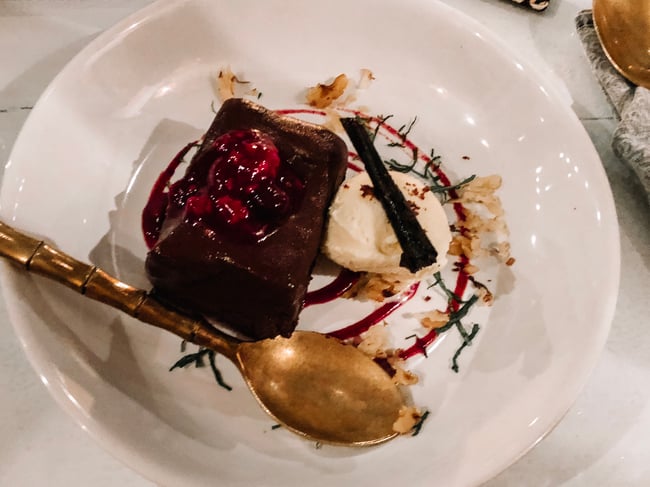 Where To Stay
Book a private paradise
A lot of people use Ubud as a day trip, but we definitely recommend staying for at least 2 nights...or even 4. There are tons of incredible places to stay in Ubud, no matter what your budget is. The only thing is that many soul-searching yogis and international travelers have figured out how magical this place is, so book your accommodations as early as you can.
Airbnbs are the way to go in Ubud because you can find amazing, unique stays for great prices! Check out this insane bird's nest! Or if you want to stay in a bigger place with a private pool and stunning views, a house like this is perfect! Your options really are endless. Plan on doing a lot of walking, and remember that it's quite humid with lots of bugs.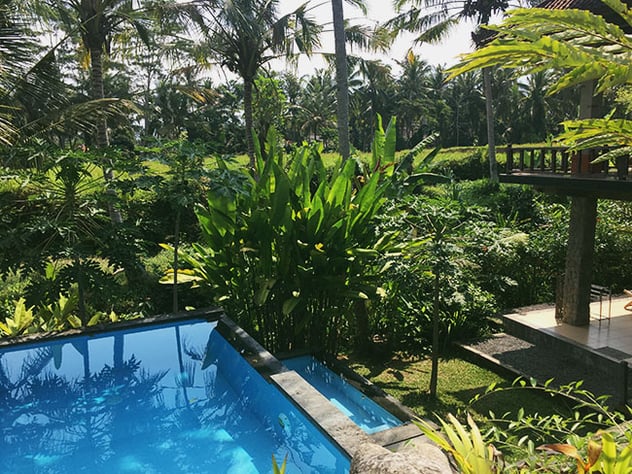 How To Get There
The trip to Ubud is just a 45-60 minute (and inexpensive) taxi ride away from the airport in Depensar. If you have booked an Airbnb for your stay in Ubud, then check with your host to see if they offer an airport shuttle service, and if not, then ask if they have any recommendations of companies that do. Otherwise just get a taxi from the airport.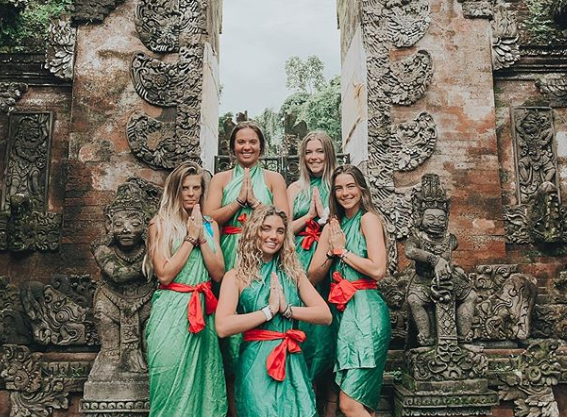 Ready to spend some time on one of the most beautiful islands in the world?
You can do this and so much more during your semester abroad as a volunteer with International Language Programs! You probably have a lot of questions about what an opportunity like this would include.
Click the button below to learn some of the basics!