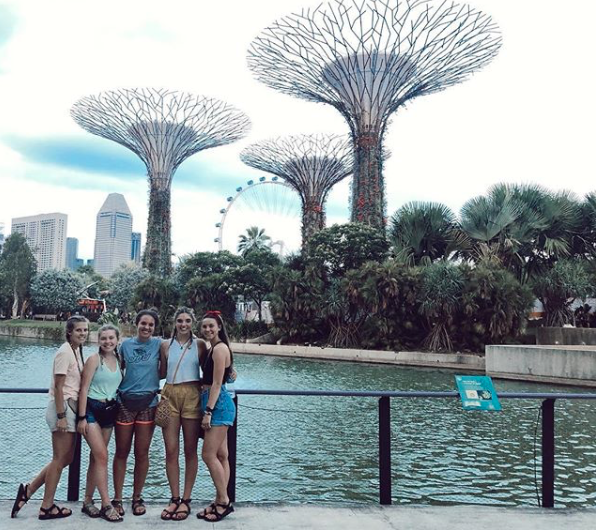 Hey Thailand volunteers! We know you love visiting Cambodia and the southern Thai islands but have you ever thought about traveling to Singapore?
It's pretty rad to think that while volunteering with ILP you'll be able to decide to ride elephants this weekend or see Ankor Wat next month when you start planning out your vacation time. It's going to be a tricky decision because there's so much to see in and around Thailand but don't rule out the tiny island of Singapore just yet!


---
Wondering how to make a semester in Thailand a reality?
Come fill out an application
---
Haven't heard much about Singapore? You're not alone ... this little island packs a punch. Plus, you can get a cheap flight there from Bangkok — score! Here's what you gotta do and see when you come visit:
Things To Do And See
What Foods Do I Have To Try?
How Much Time Should I Spend Here?
Tips For Getting Around
Things To Do And See
The Supergrove Trees + The Gardens By The Bay
If you only have time to do one thing in Singapore, I'd suggest visiting the Gardens By The Bay to see the Supergrove Trees.
Apparently Singapore needed some electric trees to go along with all the lush forests you see when walking down the street. Basically this whole island country can be described as a shopping center filled with really cool neighborhoods and parks - one park even has trees like this.
The Supergrove Trees are towering structures, twirled with live greenery that will eventually reach the purple "branches" at the top. They are gorgeous in the daytime but light up at night which is even more impressive.

The real highlight is the free concert and light show that happens under these electric trees. Twice a night, everyone finds a spot and lies down on the pavement below for the most magical concert I've ever been to.
Get Here
The trees are found in the Gardens By The Bay which is a huge park full of some impressive highlights. It's easily reached via public transport: Exit at Bayfront MRT, take Exit B and cross the Dragonfly Bridge or the Meadow Bridge to get to the trees.
If you're walking, find the Helix Bridge (also a recommended spot to admire) towards the Art Science Museum and follow the footpath that leads under the East Coast Parkway (ECP). You'll be taking directly to the Bay South Garden. Get more directions here.

Supergrove Trees Concert Show Times
7:45 PM and 8:45 PM, nightly — Arrive early for the show to get a good seat — it gets crowded. You can pay a small fee ($8) to walk the walkway suspended between a few of the trees for a better view from above — open from 9:00 AM to 9:00 PM

Visit The Cloud

Forest

Found in the same Garden as the Supergrove Trees, the Cloud Forest is an indoor rainforest, complete with a vertical garden and a towering waterfall that swirls the greenery and orchids with mist.

Be sure to go during one of the Misting Hours: 10 AM, 12 PM, 2 PM, 4 PM, 6 PM and 8 PM. The forest is open from 9:00 AM to 9:00 PM.

Tickets are around $12 and are well-worth it. Look for the white, curved, skeletal building across from the Supergrove Trees.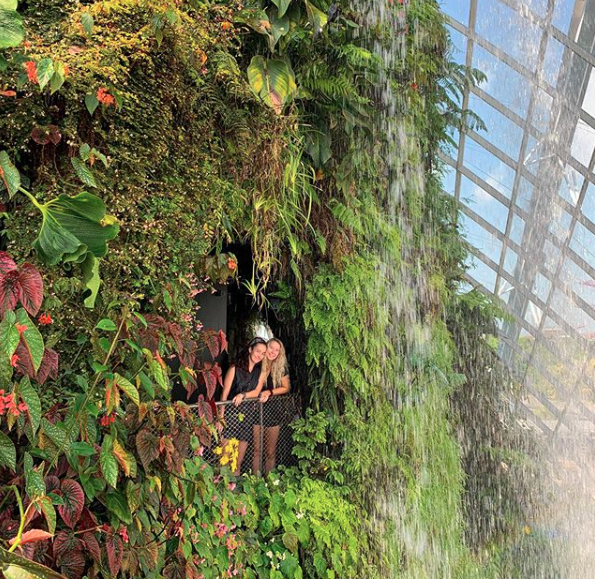 Wandering The Rad Neighborhoods
This island has pockets of every culture which means you can spend an afternoon feeling like you just visited 5 different countries. Here are a few of my favorite areas in Singapore:
Little India
I definitely recommend going to Little India and getting really good Indian food for lunch before visiting the Sri Veeramakaliam temple. There are also colorful buildings like the one below if you're in the mood for a mini photoshoot. Tekka Centre is the place to grab a quick lunch (it's a hawker center crammed full of tasty local and Indian dishes). You can also get floral garlands and whole coconuts to sip as you walk to the massive shopping center Mustafas, which sells anything and everything.

Get Here: MRT stop Little India or Farrar Park.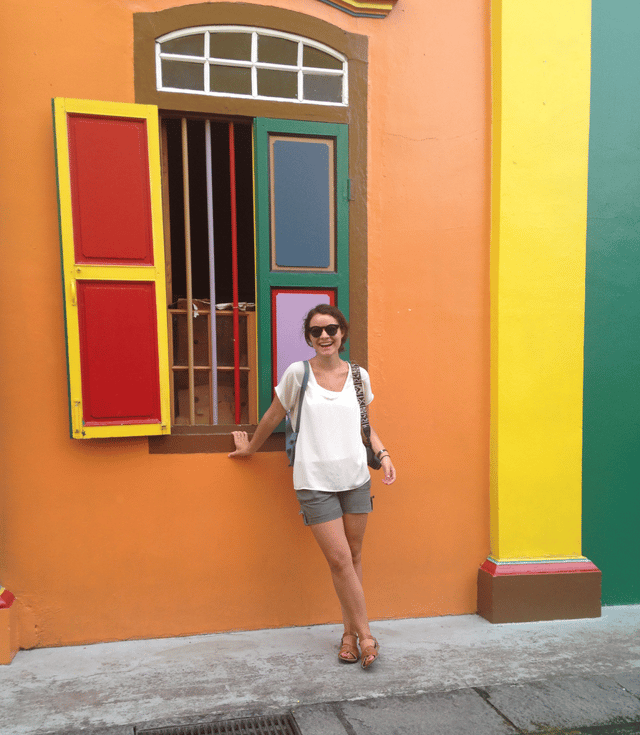 Arab Street + Haji Lane
A hotspot for fashion, stylish cafes and bistros and other eateries plus picturesque alleys carefully painted with beautiful and provoking murals is what you will find along Haji Lane; it parallels Arab Street with is like a peek into the Middle East, where tapestries and rugs plus some of the best Falafel can be found. Don't miss listening to the Call To Prayer blaring from the nearby Sultan Mosque.
Get Here: Find Arab Street by getting off at the MRT stop Bugis, and going to Exit B. Turn right towards Raffles Hospital. Pass the hospital and keep walking until you see the mosque.
Orchard Road
It's not a neighborhood but if you're into shopping or window-shopping at glitzy malls and pricey outlets like Louis Vuitton and Gucci, Orchard Road is the place for you. The impressive malls there will keep shoppers busy for hours and hours.

Get Here: MRT stop Orchard Road will put you right underneath the huge mall ION.
Tiong Bahru
Trendy cafes, artsy bookstores, gelato stands with unique flavors and hip street art is what you'll find in this neighborhood. I recommend grabbing a tradition Sing breakfast (Kaya toast, a hot Milo and coddled eggs) in the Tiong Bahru Food Centre before explore my favorite bookstore, Books Actually. It's also the place to get brunch if you're still hungry.
First, head to the Tiong Bahru Food Centre for that traditional breakfast (and the chance to wander the wet-market on the first floor; you'll find everything from produce to fish to fresh flowers). It's found on 19 Lim Liak St.

Then, head to Books Actually: 9 Yong Siak St. It's open 10 AM to 6 PM Monday & Sunday, or 11 AM to 9 PM Tuesday - Friday, and 10 AM to 9 PM on Saturday. If you're feeling adventurous, try out the book vending machine out front; books are wrapped in white paper, so your selection is a total surprise.

Get Here: MRT Stop Tiong Bahru, take Exit A to get you in the right area. Then you can use specific addresses to get you where you want to go.
Chinatown
Visit the huge Buddha Tooth Relic Museum, or just peruse the countless shops selling some goodies I just can't get enough of. The trinkets here are overpriced, but if you'll be in town around Chinese New Year (January), you'll see the area exploding full of fruit (given as gifts) and red-lidded tubs of New Years Cookies, like a tasty shortbread topped with a center of Pineapple Jam. Yum.

— Get Here: MRT stop Chinatown.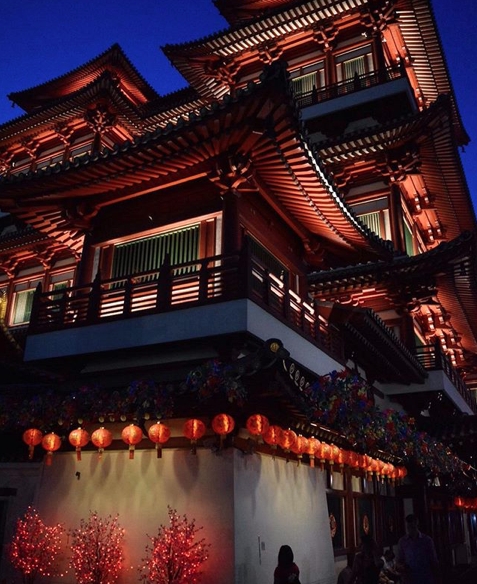 See A Mermaid-Lion
Probably the most famous landmark in Singapore is the Merlion- "mer", meaning the sea and "lion" meaning…you guessed it, lion. Singapore gets its name from Sang Nila Utama who founded the island and named it "Singapura" after thinking he saw a Malaysian tiger here (Singapura roughly translates to Lion City in Malay).
Though tigers are not native to Singapore the name stuck and the country is commonly known as "The Lion City". You can also see one of the most famous hotels in the world right behind me in the pictures — the Marina Bay Sands.
You can actually walk from the Merlion Statue to the Gardens By The Bay to see the Supergrove Trees and the Cloud Forest; Walk across the Helix Bridge which is to the left of the Marina Bay Sands Hotels and follow the walking instructions from the above section.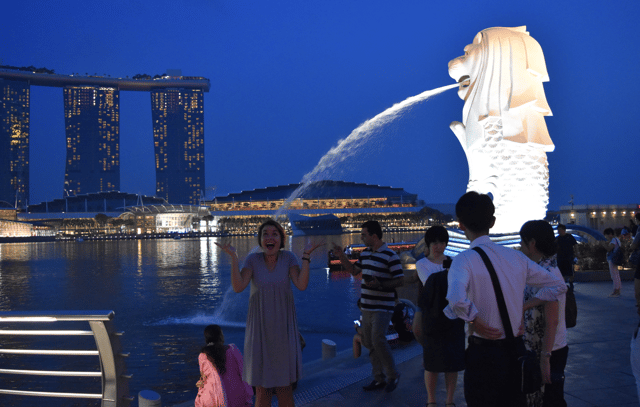 What Foods Do I Have To Try
Singapore really is a foodie city. It seems like you can find a hawker center (basically a huge food court filled with food stalls) at every metro and/or bus stop. My absolute favorite Hawker center is Maxwell's, in China Town.
Depending on the neighborhood, you may have more Chinese options or Indian dishes, but these are the Singapore classics I recommend:
Carrot Cake (not cake but a delicious omelette)

Chicken & Rice (Tian Tian's stall at the Maxwell Hawker Center is the best)

Hokkien Mee (A yummy noodle dish).

Kaya Toast and Soft Boiled Eggs

Laksa (Sort of like a curry soup - it's delicious)

Ramen (My favorite place is Tsuta, by Orchard Road:

9 Scotts Road, #01-01, Pacific Plaza)

Avocado shakes - I'm addicted

Milo Drinks

All the juices: sugarcane, the lime juice here and the soursop or lycée.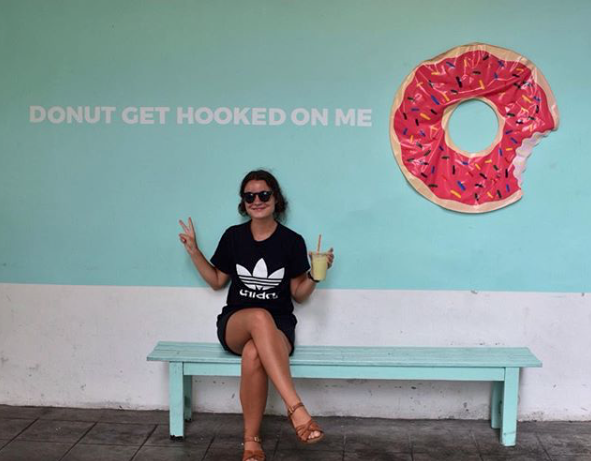 How Much Time Should I Spend Here?
Singapore is a classic lay-over city; it's very tiny and very easy to get around, so you don't need tons and tons of time here. Even if you have 6-10 hours to spend in the city, you could see the highlight reel. Maybe think about booking a long layover before your vacation to Bali and seeing the city?
At most, I'd recommend 2-3 days tops; longer time would let you take a day trip to the MacRitchie Nature Research, a preserved rainforest hiding in the busy metropolis, complete with a suspension bridge.
Totally my opinion, but the Island of Sentosa is not worth it; the beaches are man-made and don't hold candle to the beaches in Thailand or Indonesia which are just a cheap flight away. I would skip it entirely and spend more in the neighborhoods.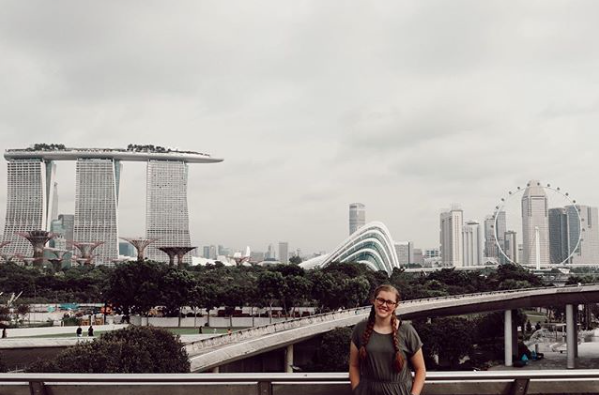 Tips For Getting Around
The MRT (metro) is the easiest way to get around. Download the Metroman App for a subway guide that lets you type in your metro stop and the one you're trying to get to for the cost of your ride, how long it will take, and which transfers are involved.

Free on IOS here
Free on Android here
Download the app and select the country "Singapore" — the app also has maps for a few others for countries like Japan, Korea, London, Moscow and others.
Hiring cars are also very easy to do in Singapore. Both Uber and Grab are very popular.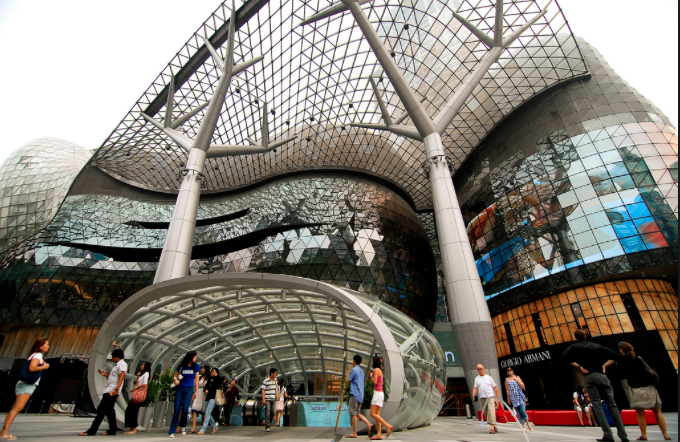 Vacations in Singapore and Bali and
Cambodia all while living in Thailand?
If that sounds like something you'd love to do, come check out ILP's volunteer program.