Jetting off for a little vacation?
While ILP volunteers are living around the world for their semester abroad, they've got vacation time where they're backpacking. You're going to basically live out of your backpack for a week+. After a few trips like this, I've picked up some tips that help me minimize my life so that I can fit everything I need.


---
Not an ILP volunteer, yet?
Come fill out an application and start thinking where you want to go.
---

When it comes to those vacations, hauling around your rolling suitcase from train to train or from the bus to your hostel is never that fun — backpacks are so much more convenient while traveling.
While backpacks are the best option when it comes to traveling light, how in the world do you fit more than a week's worth of stuff in to that little bag? Here are more than a few how-to tips to help you out:
Pick The Right Bag

When It Comes To Your Clothes

Packing Tips

+Handy Extras and Things To Leave Behind
Pick The Right Bag
What To Look For
You'll want something sturdy and big enough. I tend to pack pretty light, so something in the 18 - 20 L range is good if I'm traveling where it's very warm, but I need something bigger (35 L) if I need to pack up heavier layers (but that's just me). If you're not used to packing real minimalistic, 35 L is a pretty good size for a 10 day trip for most people.

Make sure it's well-supported — while you may be able to fit everything into a school backpack, the straps may dig into your shoulders and hurt your back. Anything "hiker" or "traveler" designed will have sternum straps and other supports to help the weight distribution. Comfort really is a huge factor when backpacking, so don't skimp on this.

Extra perks. I tend to love backpacks that have easy-access pockets on the outside for my water bottle, umbrella and even my phone. Just something to keep in mind. I also love the bags that have compartments so I don't have to empty out my entire backpack just to get the sandals I packed at the very bottom. More on that below.
A Few Suggestions
Every traveler has their favorites, but I'm partial to the Cotopaxi Allpa. It's 35 liters and is like a Mary Poppins bag .... I can fit an amazing amount into that seemingly smallish bag. It's been a champ on two week trips around Europe, week-long getaways where I need to pack a heavy coat and boots, and every other type of trip. Plus, the straps tuck into the bag so it can convert it to be a duffel bag when you need it to be. I'm a huge fan.

But really, that's just me. Here are a few more favorite backpacks from ILP volunteers.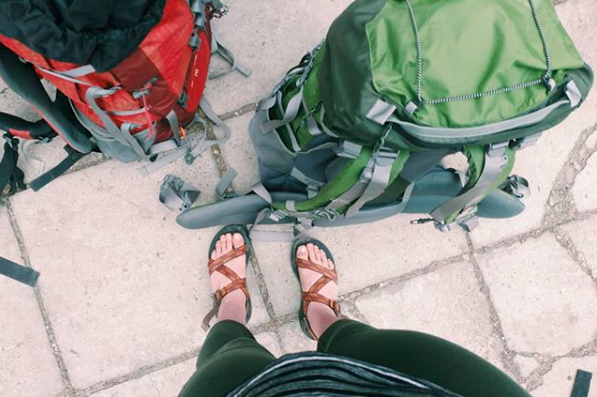 When It Comes To Your Clothes
Pack Like A Minimalist
Maybe the hardest part about traveling with just a backpack is fitting everything inside, so you'll really need to only pack the essentials. As a general rule, wear one pair of shorts/pants, and pack another pair (or two ... max). Toss in a dress/skirt if you'd like, socks, something to sleep in, and other essentials. Wear your pullover (or heaviest layer), and pack 5-8 shirts — and that's it. The less clothing you bring, the better.

Most hostels have a laundry service so if you're staying in the same place for a couple days, you can have some things washed so you can wear them again.
Pack The Basics
... and wear your heaviest layers.
With such limited amount of clothing, you will need to make as many options as you possibly can. Bringing shirts that are just black, white or gray will mean you can wear any of your tops with any of the skirts/shorts/or pants that you packed.

If you are going to be in cold weather, you will want to wear your heaviest layers so they don't take up that much room in your backpack. Bring your coat, but wear it instead of packing it. Same goes with your heaviest pair of shoes. Wearing them will mean more room in your bag for another shirt or more socks.
Don't Over Do It On Shoes
Shoes are not the most space-friendly thing you could be packing. As a general rule, it's best to pack two pairs of shoes at most — comfortable tennis shoes (and/or boots) and a pair of sandals work for most trips. You'll be wearing at least one of the pairs you are packing which will help you on space.

Here are our favorite shoes to travel with: choose two from this list and be done.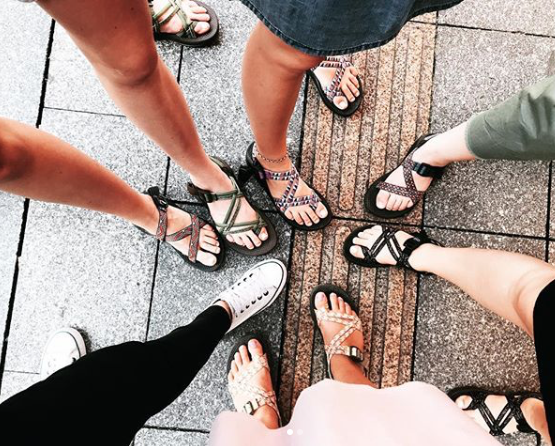 Packing Tips
Roll Your Clothes
I'm a big fan of the rolling method when it comes to packing. I tend to roll my heaviest layers (my long sleeved tee shirt and jeans) and put those at the bottom, then roll up my tee shirts. Usually, my bag is about half way full, and I can find find little pockets where you can stuff things like socks or your toiletries. The other half is filled up with things like boots, more toiletries, snacks, adapters, etc.
Bring Packing Cubes
A personal choice, but packing cubes can help you keep things organized, which is really helpful especially if the design of your bag is like one huge pocket. Not sure about you, but I'm not the biggest fan of emptying out my whole back just to get the t-shirt at the bottom.
Some volunteers even say it helps you fit more into each suitcase or backpack, which is never a bad thing. You can easily find packing cubes in a variety of sizes, styles, and prices on Amazon.
Pack Travel Sized Toiletries
Don't bulk up your bag with huge shampoo bottles, or even a full tube of toothpaste. Go buy travel sized bottles of whatever you need, but see how much you can minimize on top of that. I usually pack a few empty contact solution cases where I can squirt a tiny amount of foundation or face lotion instead of packing up a whole 3 oz bottle.

You can also see if your hostel includes shampoo and conditioner (some do, some don't), but it can be a big space-saver if you can just plan on using what your accommodation supplies, if any. I've even planned on sharing with my travel-buddies. I'll bring the shampoo if you bring the conditioner, deal?

Here are a few tips for fitting enough liquids into your carry on.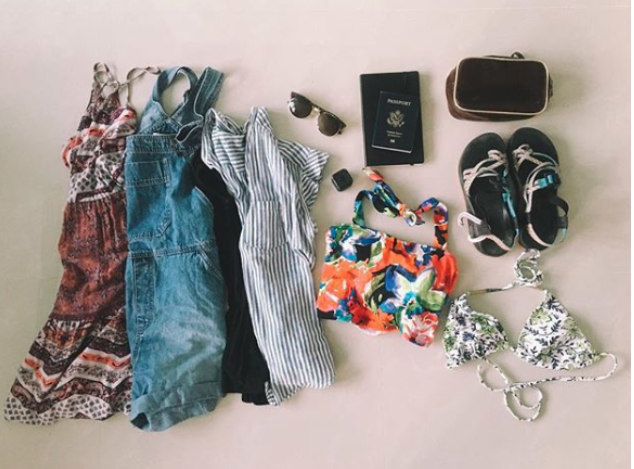 +Handy Extras and Things To Leave Behind
Bring A Combination Lock
If you are staying in a hostel, they sometimes have a locker for you to keep your bag in, but they do not provide locks. Make sure you take the time to throw a lock in your bag just to keep your items safe.
Do Not Bring Your Laptop
Laptops are heavy and a non-necessity for vacation. If you don't have a smart phone or tablet, you're only gone 10 days — go off the grid for a minute. If you really need a computer, some hostels have computer access or you can find an internet cafe in many cities. Most volunteers are just fine with their smart phone.
Make Room For Your Converter/Adapter
If you are bringing your phone or tablet, you will need your converter/adapter. They won't take up much room, but make sure you include them.
Don't Forget Tissues/Toilet Paper/Hand Sanitizer
When you're on those long train rides, plane rides to Paris or using public bathrooms in foreign countries, you are going to wish you had some. Get the little travel packets of tissues. They really come in handy.
Bring A Small Purse
Once you get to your hostel/hotel, you are not going to want to bring your big backpack with you everywhere. We suggest packing up a small day bag. I love the Fjallraven Kanken because it fits my water bottle, camera gear and has room for things like my phone, umbrella, passport, snacks, and other essentials. It also folds up to be the size of a tee shirt, so it's easy to pack.

Some choose to pack up a small purse, just big enough to carry a phone, wallet, keys, and other essentials. Either way, you'll want to pack another bag or purse so you're not stuck carrying around your whole 35L backpack around if your pockets can't fit your everyday items.
Want to spend a semester volunteering in Europe?
Or serve abroad in Thailand? International Language Programs (ILP) has schools in Europe and Thailand (and a few other countries). Click the button below to speak with an International Language Programs (ILP) Representative and get all your questions answered!