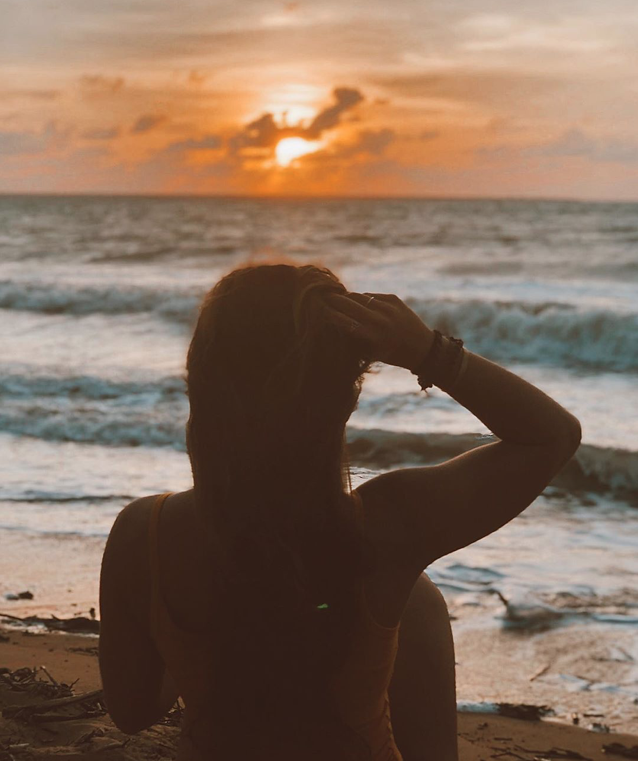 Haven't heard of it? Most people haven't, but that's exactly why it's a favorite. Koh Yao Noi is an easy day trip from the busier spots you're already visiting, so come skip the crowds and some have a secluded beach all to yourself.
There's a lot to say about the islands and beaches tucked away in southern Thailand. In a word, they're just dreamy — tall palm trees, framing soft sandy beaches of the bluest water. I mean, get a quick look at what these islands are like and you'll get it why everyone wants to take a vacation here.


---
You can be more than just a tourist here.
Come live in Thailand for a semester with ILP
---

This part of Thailand is freckled with lots of islands, secret coves, busy beaches, and popular coastlines … so which part of the country do you end up visiting? If you're in the know, you'll know which beaches to avoid and which ones are worth seeing (and keeping secret).
I mean, that's why ILP volunteers always start their vacation in Krabi, instead of the way-more-popular Phuket. And if you're looking for an even more of an "off the radar" island getaway, I'm only too happy to introduce you to Koh Yao Noi. It's found between Krabi and Phuket yet still is one of those untouched Thai islands you dream about.
Tell Me A Bit More About This Island
It's a small island with a few places to stay, a smattering of cute cafes, and not much else when it comes to tourist infrastructure. It's a peek into what the rest of Thailand used to look like before being slammed by tons of tourists. Unlike some of the other vacation destinations in Thailand, you won't find party beaches with thumping bass that keeps you up all night long. Instead, you'll fall asleep to the sound of crashing waves and crickets (ah, the best way to fall asleep).
Not sure about you, but I come to warm tropical vacation spots to sit on the beach, not to be wrapped up in crazy parties on the beach. There's a large Muslim population here which puts a limit on alcohol served (and tends to convince party people to stay somewhere else).
So if you're into relaxing, finding empty beaches, spending time in a stress-free and quiet island destination that's Koh Yao Noi. The island isn't sick of tourists, only seeing a fraction of the ones who flood to nearby Phuket and Koh Phi Phi, so you're closer to a more authentic, Thai island experience.
Things To Do In Koh Yao Noi
Rent Kayaks
You're welcome to just paddle around, but if you'd like a destination in mind, don't miss visiting Koh Nok. It's a nearby island that's full of empty beaches and quite the hike to get to an impressive viewpoint. Some boat tours stop here as a part of a day trip excursion, but once the crowds leave, you will have coves and beaches all to yourself. They typically stop around lunchtime so plan on visiting before or after. The beaches are full of golden sand and are to-die-for-beautiful.
Make sure you bring your shoes on your kayak trip if you want to do some hiking on the Koh Nok island. You'll have to climb up the limestone cliffs on a pretty rocky path and climb up some hanging ropes, but the views are stunning.
Find this Koh Nok just east of the southern tip of Koh Yao Noi. You can find a whole host of kayak rentals around the island, or by talking to the local bungalows and resorts. It's about a mile away (and around an hour of paddling) so make sure you're up for the trek over.
Really Relax With Yoga
I've mentioned how relaxing this place is? The whole island of Koh Yao Noi seems to be centered on disconnecting, creating a stress-free vacation especially if you add in some yoga. There's a beautiful yoga resort with retreat options, but Island Yoga also has drop-in classes you can take advantage of. They're daily, from 10:00 AM to 11:15 and supply all the mats, water (bring your own bottle), and a towel. Classes are 300 baht, learn more here.
Island Hop To Koh Yao Yai
Just south of Koh Yah Noi is the island of Koh Yao Yai, which is worth a visit if you want a change of pace. Koh Yao Yai is quieter, with less tourist infrastructure. While you'll find a few resorts, restaurants, and even some boutiques on Koh Yao Noi, things are just quieter on Koh Yao Yai which is mostly just a thick jungle and a few beaches
Speaking of beaches, the massive sandbar at Lam Haed beach is kind of the stuff dreams are made of. It's a sweeping half-moon of pure white sand, with gentle waves of blue water on either side of you. It's paradise. White Sand Beach is also quite lovely.
If you happen to be here around lunchtime, you have to eat at Ban Rim Nam Restaurant. Found right on the coastline, this restaurant pulls in fresh seafood and has some fantastic green and yellow curry. Some people said they stayed an extra day just to have lunch at this place again — it's really that good. You'll find lots of seafood places on the island, but Ban Rim Nam is easily one of the best.
Restaurant Address: Right by the Khlong Hia Pier

Restaurant Hours: 11:00 AM to 8:30 PM
Getting To Koh Yao Yai
It's a 10-minute boat ride, just head to Manoh Pier on the Koh Yao Noi side. It'll cost about 20 baht just to get to the island, or you can negotiate different itineraries like a 150-baht one-way ticket to Chong Lard Pier, or a roundtrip to Laem Had Beach for 400- 500 baht.
Just be sure to talk to someone about departure times … they are pretty infrequent and you won't want to get stuck on Koh Yao Yai overnight if you weren't planning on it.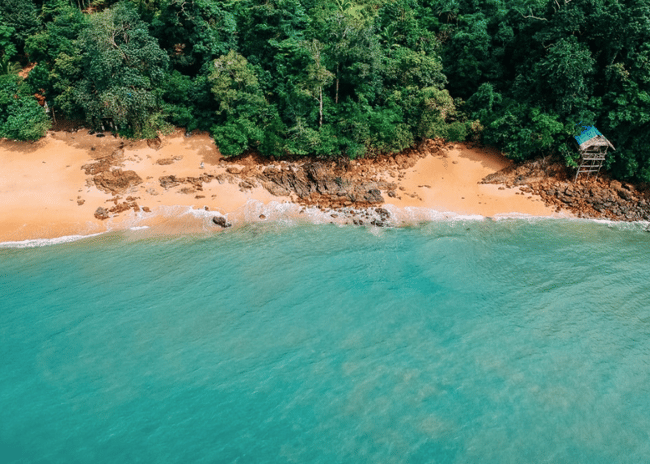 A Few Spots For Lunch
This island is an ideal day trip from nearby spots (more on that below) which means you'll be here for lunch. There are a few places to recommend dotted around the island, but here are the top picks.
Kaya Restaurant
Get all of your fav Thai dishes here like mango sticky rice, pad Thai, fried bananas (these are soooo yummy), cashew chicken, a rainbow of options when it comes to curries, and fried rice. It's a favorite place to get lunch (or breakfast, or dinner, or just dessert).
Address: Ko Yao Noi, Ko Yao District, Phang-nga 82160, Thailand

Hours: 9:00 AM to 9:00 PM
Chaba Cafe & Gallery
This place has a whole page on their menu dedicated just to shakes and smoothies. They have loads of healthy options, veggie options, and some vegan ones too if you're looking for that. People rave about the shakes, coffee, cakes, and the smoothies.
Address: 54 Ko Yao Noi, Ko Yao District, Phang-nga 82160, Thailand

Hours: 10:00 AM to 4:00 PM
Sea Gypsy
You have to look around for this place, but it's worth the hunt. Settle into bowls of rice noodles, creamy green curries, and the best coconut banana shakes. Portions are a good size with a price to match, making it an easy favorite.
Address: 4 2, Ko Yao Noi, Ko Yao District, Phang-nga 82160, Thailand

Hours: 8:00 AM to 10:00 PM
Pizzeria La Lune
While I'm a fan of all the Thai food you can eat while in Thailand, sometimes you're in the mood for pizza. Dish up thin-crust pizza, bowls of pasta, and need the night with a little coconut ice cream. The vibe here is also worth mentioning, with outside seating strung with bistro lights.
Address: Ko Yao Noi, Ko Yao District, Phang-nga 82160, Thailand

Hours: 2:00 PM to 10:00 PM
Get Roti Here
You can find some food stalls around the coastline which is another place to grab a snack. I love the bowls of yellow noodles or roti if I want something sweet. I dream about the roti in Thailand — It's like a thin crepe cooked on a blacktop grill, and drizzled with lots of sweetened condensed milk. My favorites are the ones that'll mix egg and banana into the mix, and top it with chocolate syrup, too. So. Good. You can find roti stalls around the Pasai restaurant. Find both in the middle of the Pasai Beach which is on the east side of the island.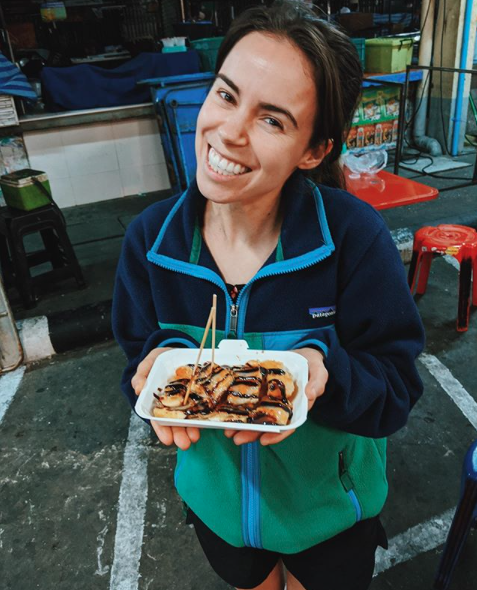 All About Getting Here
From Krabi
We cannot stop talking about how much we love Krabi (but that blog post gives you a pretty good idea), and just love it even more because it's the best jumping-off point to Koh Yao Noi.
This dreamy island is just a 20-45 minute boat ride from Krabi's Tha Lane Pier. There's a local bus that can take you to the pier, where you can hire out a boat to take you to Koh Yao Noi. Boats leave around every hour, from about 9:00 AM to 5:50 PM or so. Here's a schedule for exact times of one particular ferry company to help you ballpark times. You'll get dropped off at the Tha Koah Pier on the Koh Yao Noi.
Speedboats are around 200 baht and take just 20 minutes

Long Tail Boats are about 150 baht and take closer to 45 minutes
From Phuket
Most tourists flock to Phuket, but as mentioned, we're bigger fans of Krabi (you read more about the differences between Phuket and Krabi here) but if getting to Koh Yao Noi from Phuket works better, that's an option. Boats leave every 20-50 minutes or so from 7:50 AM to 5:40 PM. Here's a schedule for exact times, according to just one ferry operator (mostly here to help you figure out times). Boats depart the Bang Rong Pier on Phuket and take you to the Ma Noh Pier on Koh Yao Noi.
Speedboats are around 400 Baht and you'll arrive in 30 minutes

Long Tail Boats cost around 200 Baht and take around an hour
Koh Lanta
Another gem we cannot get enough of is Koh Lanta (some ILP volunteers say it's their most favorite island, ever). You can take a ferry directly from Koh Lanta to Koh Yao Noi if you're visiting at the right time of the year. Between November and April, there's a boat that goes directly between the two, twice a day at 8:00 AM to 1:00 PM. The boat ride is around four hours and will cost between 1,200 and 1,500 Baht.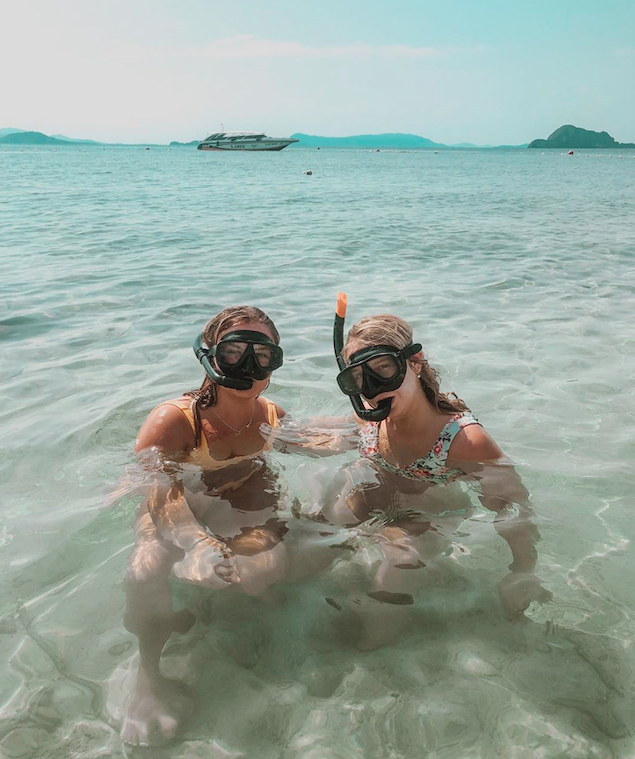 Come to Thailand with us!
ILP sends college-aged volunteers for a semester abroad all over the world, but can you see why Thailand is one of the most popular locations? We're a non-profit based in Utah, USA with years of experience and know how to set up a semester of travel and the chance to make a difference.