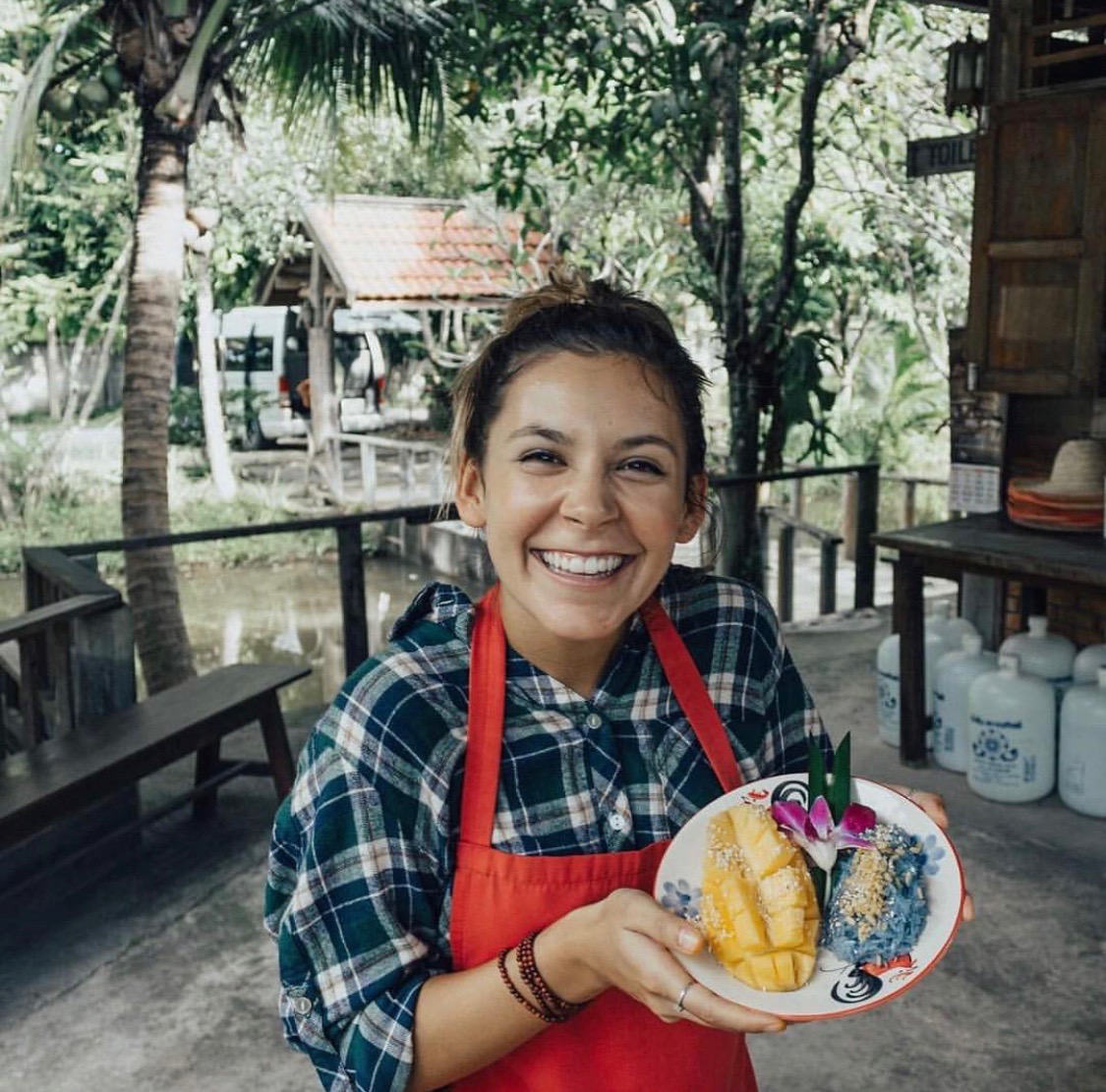 If you've ever had authentic Thai food, you know how good it is ... but if you can believe it, there is one thing better than Thai food ... Thai desserts and treats!

Thailand has so many different dishes and desserts you HAVE to try. If we're being honest, the food is one of the major perks about volunteering in Thailand for a semester. You have plenty of time to try all the famous dishes and the local's favorites you don't even know about. It's something you really just can't miss out on.


---
Find out more about how you can live in Thailand for semester here
---

Many Thai treats are known for having sweet syrups, fresh fruit, coconut cream and sweet rice. If you know where to look, you can also find other unusual treats you didn't know you needed in your life ... until now. Luckily for you, food in one of the cheapest things to buy in Thailand.
Check out these yummy treats that need to be on your Thai food bucket list!


Mango Sticky Rice
Mango sticky rice is an obvious dessert you have to get if you visit Thailand. It's the most famous one and for good reason. It consists of sweet sticky rice, fresh mango and sweet coconut sauce on top! If you go certain places (or make it yourself at a Thai cooking class), you can get the sticky rice in all different colors. We love how pretty this blue version is.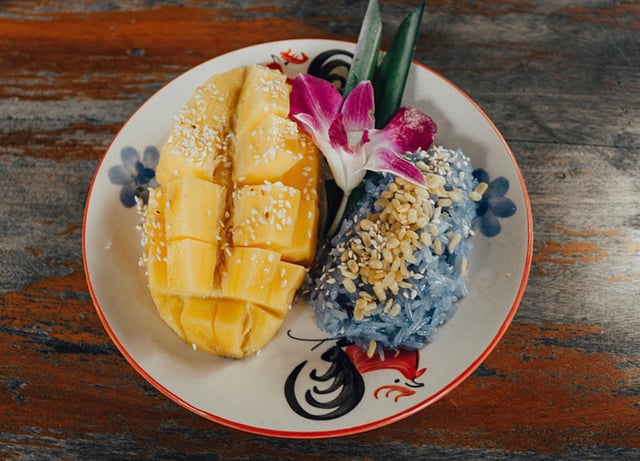 Roti
Roti is a favorite among ILP Thailand volunteers. You can get it in any small town or even on the beaches in Southern Thailand. Roti is a fried pancake topped with sweetened condensed milk, chocolate, sugar and any other toppings you want (peanut butter, Nutella, fruit, etc). Roti is made right in front of you and addicting. Guaranteed getting roti is a weekly outing for your ILP group.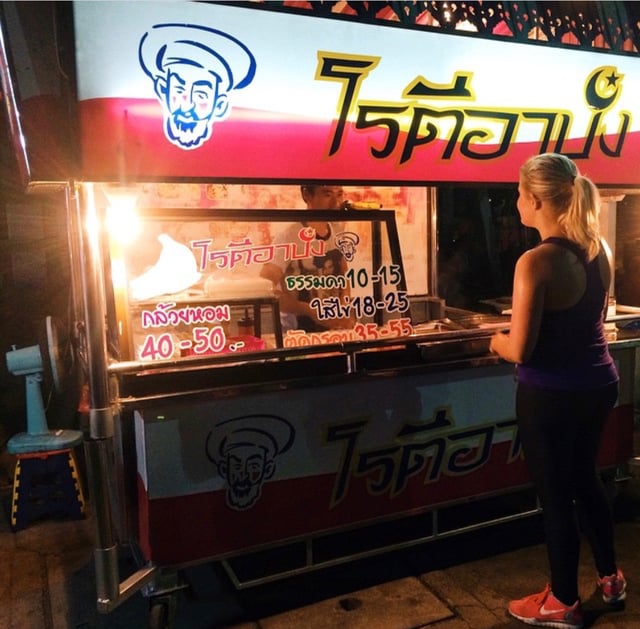 Banana Leaf Sticky Rice
Banana leaf sticky rice is made from coconut milk, sugar and sweet black beans. It's candied in a banana leaf until you're ready to eat.
Word of caution... don't eat the leaf, just the yummy dessert inside. Also, I know this one doesn't sound as good as the others, but you're just gonna have to trust me on this. It's delicious
Fresh Coconut Ice Cream
If you like coconut, this is your ice cream. The make the ice cream with fresh coconut chunks and coconut milk. To top it off, you can get it served in a coconut shell that you can scrape some coconut meat off if you'd like. You can also get it served in a cone if that's more your style.
Some smoothie stands also have coconut ice cream, so if they ever ask if you want to top off your smoothie with a scoop, say yes!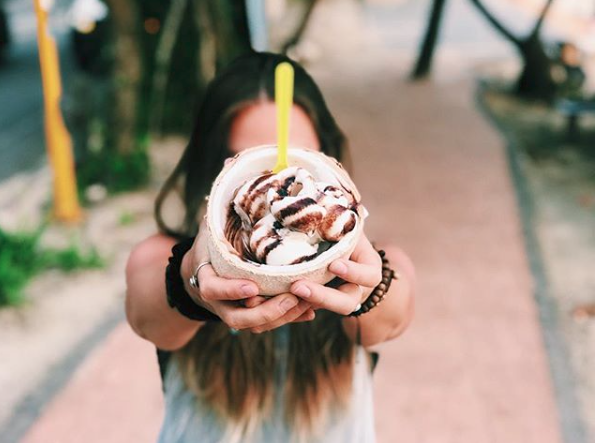 Fried Banana with Roasted Rice
You're probably at least a little familiar with fried bananas, but fry them with roasted rice and they're on a whole new level. They are made with a super rip banana (so super sweet) wrapped it in roasted rice and coconut and then deep fry it. Cue the mouth watering.
Fresh Fruit Smoothies
Thailand makes smoothies like no one else does. They are fresher than fresh and so good, so so cheap. Plan on paying $1-2 per smoothie (seriously). You can chose what fruit you want (you can do one single fruit or combine them...my personal favorite is pineapple/apple) and they blend it up right in front of you.
Get some more of our favorite flavor combinations — It's a good thing you'll have a full semester in Thailand to get your fill of these things.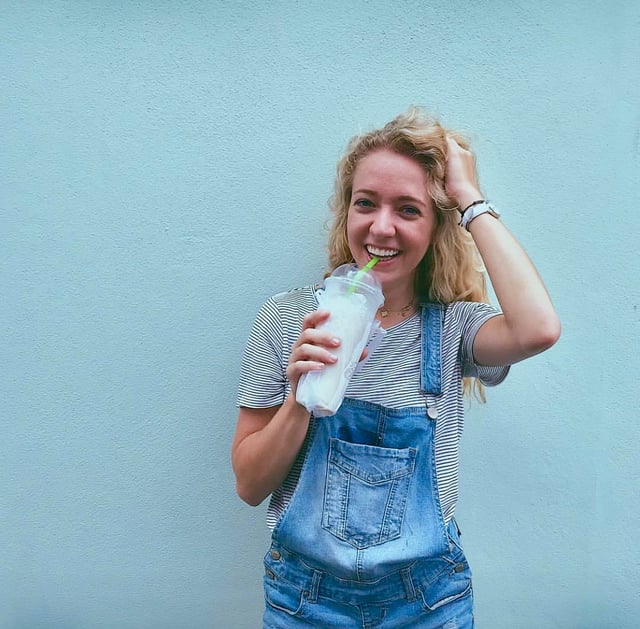 Glass Noodles Desserts
Most people probably wouldn't think of noodles as desserts, but they should. These long and thin rice noodles are soaked in sweetened coconut milk until you're ready to eat them. Like mango sticky rice, you can find different colors of glass noodles if you'd like.
Bamboo Sticky Rice
Bamboo sticky rice is sweetened with black beans and coconut syrup and slow roasted in a bamboo stick. Once it's done roasting, you will have to cut open the bamboo stick (they will most likely do this for you) and scrape out the sticky rice. Yum.
Iced Cocoa Drinks
The iced cocoa drinks in Thailand are so refreshing. If you're not super into fruit smoothies or just needs something different, go for the iced cocoa. They are ah-mazing and somehow taste better when served in a big bag.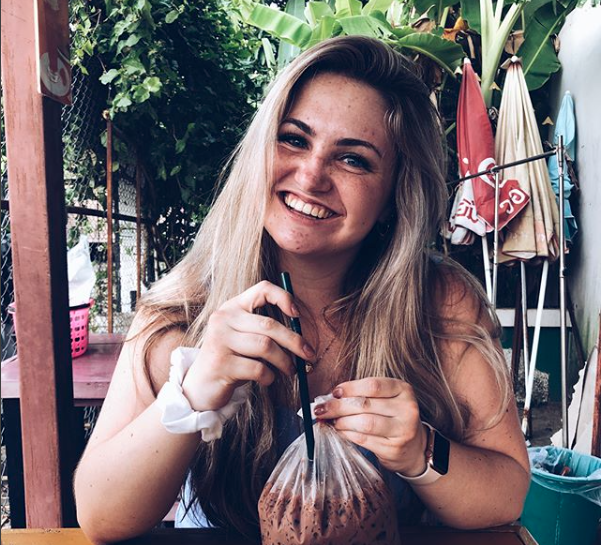 Chocolate bread
Chocolate bread can be found in a lot of drink shops — It's a piece of toasted bread with sugar and drizzled with chocolate syrup. Simple, but so good. You can also request other toppings as well!
Thai desserts are not like any other and are extremely addicting. Make sure you bring some stretchy pants because once you start eating these treats, it's hard to stop!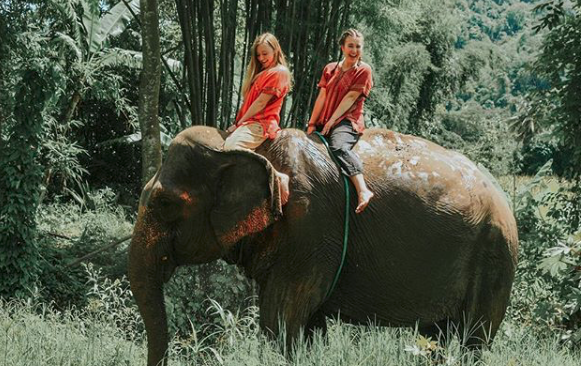 Dreaming about seeing Thailand for yourself?


Every semester volunteers with International Language Programs head out to spend about 4 months living in Thailand! You get to teach local kids English but there's also plenty of time to travel around Asia (check out spots like Angkor Wat and Bali on vacation!).
We're accepting applications now. Get started by clicking that button and filling out a quick online form.