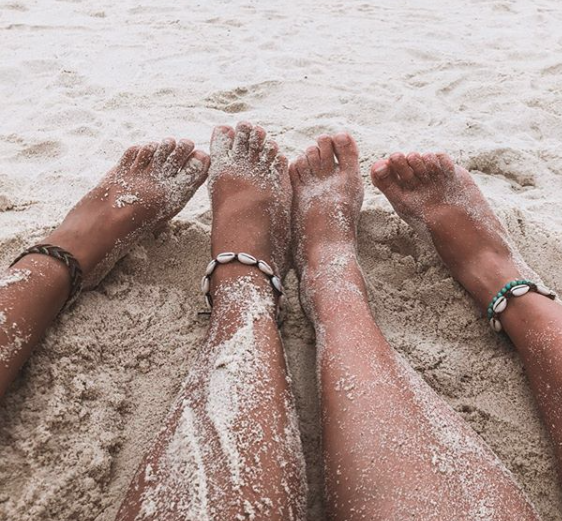 Costa Rica is hiding about a zillion adventures, and if you're near San Jose, you're in the best spot to experience all the volcanoes, jungles, and coastlines galore. This capital city is so close to our most favorite adventures, meaning you're set up for tons of day trips or weekend getaways.
A semester in this Central American country will keep you busy, that's for sure. Though Costa Rica is small, it certainly packs a punch for anyone looking for an adventure. You'll find miles of coastlines which we love, but we're really all about the jungles when it comes to our top things to do … and all of the national parks … and all of the volcanoes … and all the zip lines, white water rafting, and sloths you can imagine. You could keep going, but you get the idea.
If you'll be in or around San Jose, you're in luck, because so many of the best things to see and do in this country are just a couple of hours away.


---
Are you looking for an adventure?
Come see what volunteering in Costa Rica is all about
---

ILP volunteers in Costa Rica are teaching English part-time during their humanitarian semester abroad, with free time, weekends off, and vacation days on top of all of that so you can imagine how much you can see and do before coming home!
With so much to do in this country, make sure you'll be spending time in and around San Jose. Not only is there a lot to see and do in this capital city, it's also one of the best jumping off points to more than a handful of day trips and weekend getaway spots:
White Water Rafting On Rio Pacuare
This world-class rafting spot is only about two hours away from San Jose, making it an ideal day trip. Seriously, people come from all over the world to go rafting on this specific river, and it's close enough for you to do on any Saturday or Sunday if you're an ILP volunteer already near San Jose! It's a huge huge huge perk.
In this part of Costa Rica, the water sports some class III and class IV rapids (out of a scale of six) and cuts through a lush jungle. On the calmer parts of the river, you'll run into fun things like small waterfalls off the rocky walls that you can ride under ... it's so refreshing! There's also areas calm enough where you can jump out and swim.
Getting Here: There are loads of companies that will pick you up in San Jose and bus you to the mouth of the river. It's about a 2-3 hour drive from San Jose, so easily a day trip thing. Look for companies who include breakfast (and lunch), a guide who'll give you a safety run down, and provide all of your equipment (helmet, life jacket, etc). Rios Tropicales is one that comes highly recommended, with 1-day tours for about $125, but there are a couple of other options if you want longer excursions. You'll also find other tour vendors, but Rios Tropicales is one of the most reputable.
You can read more about white water rafting in Central America to get some more info about Rio Pacuare, and a few other favorite spots you can check out on vacation. We have details about who to book with and more for planning your rafting adventures.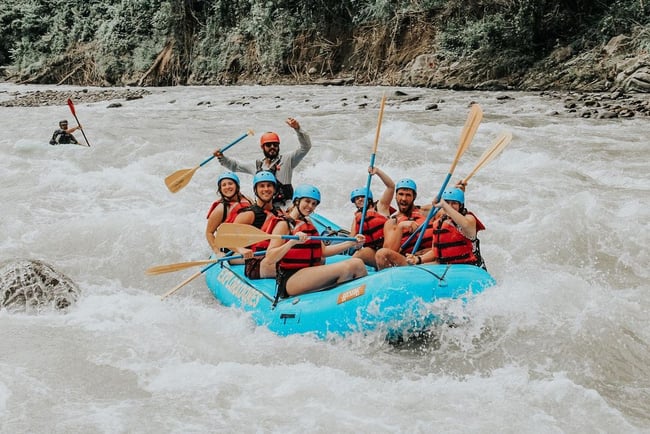 The Hand Hike
Are you into very photogenic tropical hikes? This is the trek for you! The Hacienda la Chimba Mantra trail hike is calling your name if you're wanting to snag that classic Instagram picture. Found just about 30 minutes outside of the busy city of San Jose, this scenic spot is found on a busy coffee plantation, filled with coffee tours and high-adrenaline adventures like zip lining and a rope course. We're all about the hiking trail, though — the stunning views are only second to the "La Mano de Mantra" hand sculpture which is the main attraction of the plantation.
To reach the spot, there are two hiking trail options: a 3ish mile hike and a 5.5ish mile hike (it's just an extended trail from the shorter trail). Bring proper shoes — the trails have some uneven dirt paths and elevation gain.
They offer 2 hiking options: a 5 kilometer trail (3.11 miles) and a 9 kilometer trail (5.59 miles) which is an extension of the 5 km trail. The most popular one is the 5 kilometer trail.
Hours: 8:00 AM to 5:00 PM (The hike trail is only open until 2:00 PM)
Cost: It's about $13 at the hike's entrance
Getting Here: Find it here (it's best reached by taxi or Uber).
More info: Message on Whatsapp to book activities like zip lining, coffee plantation tours, etc: +506 84523838.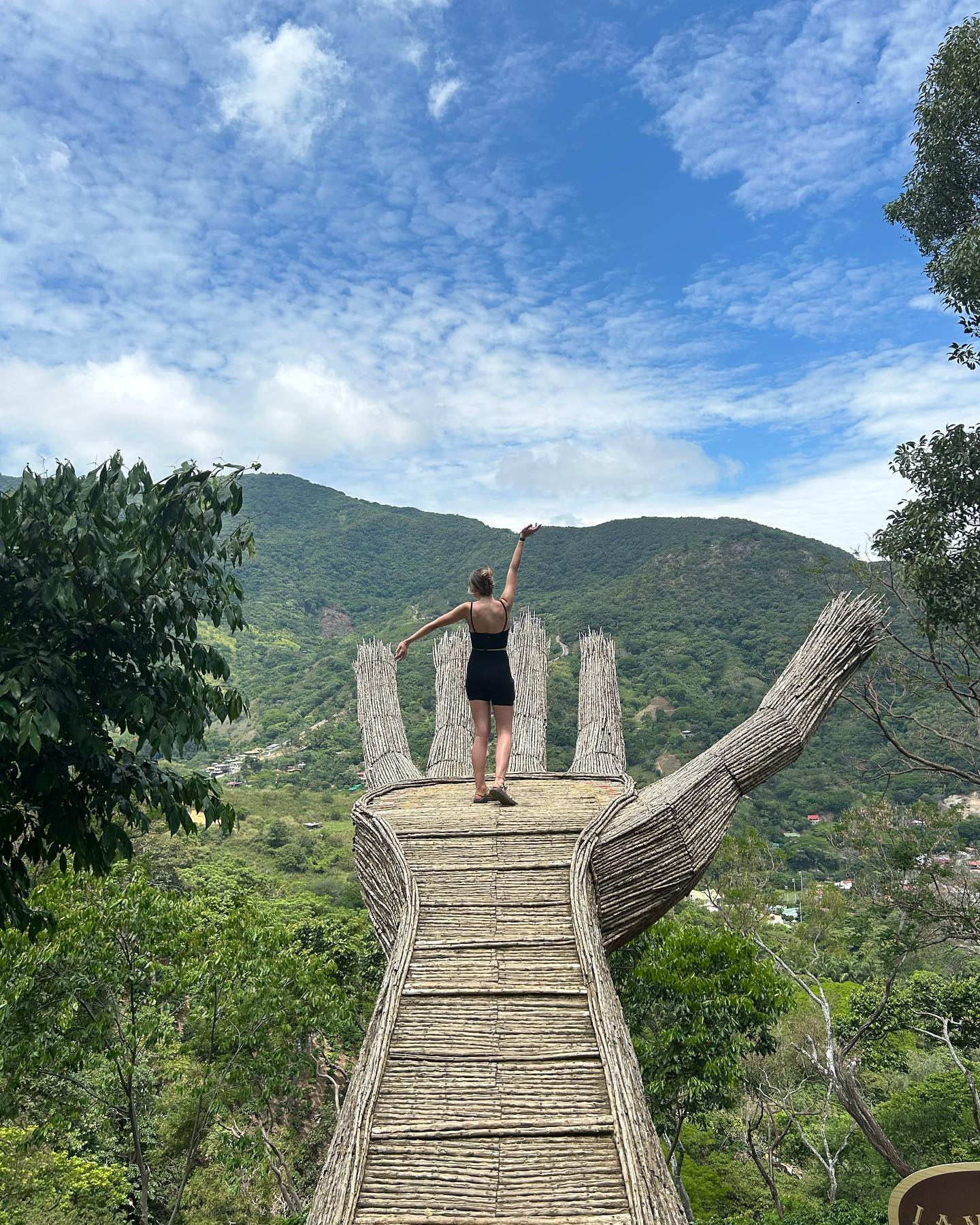 Lounge On Tortuga Island
Need a day at the beach? Tortuga is the best beach that's just a couple of hours away from San Jose, and it's a stunner. Blue waters and sandy shores, plus swaying palm trees. Yes, please. The island is a number one pick for calm waves perfect for swimming or kayaking, and is clear enough for an afternoon of snorkeling.
There's also a hiking trail that winds its way through the thick forest behind the sandy beach of the island. The island is found on the western side of the country, almost directly west of San Jose and like we mentioned, the best part is that it's just a couple hours away.
Check out this post that dives a bit deeper into planning the trip, covering things like potential tours to pick from and what to bring.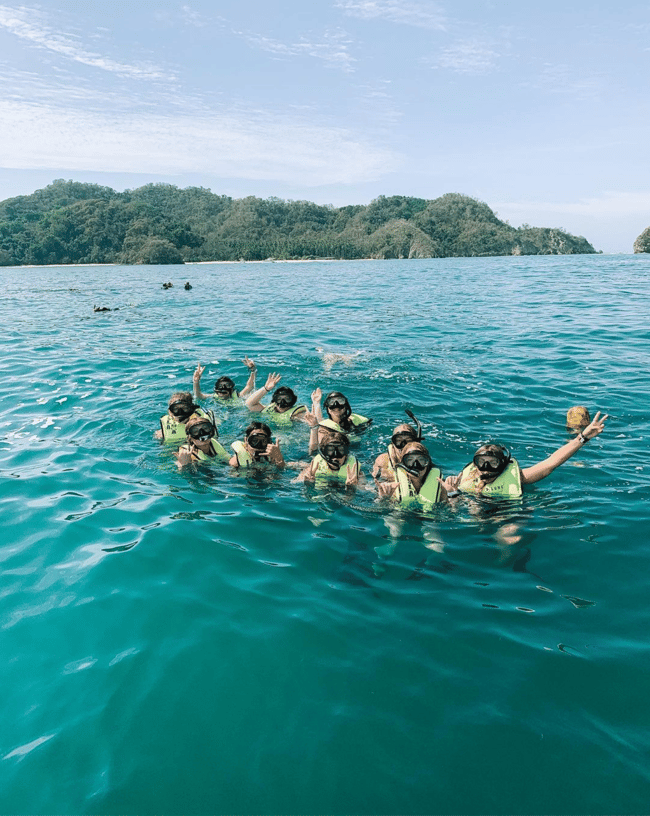 Hiking Poas Volcano
One of the most famous volcanoes in the country is the Poas volcano, where on a clear day, you can peer over the side of the volcano's carter and spot the bright, turquoise pool that sits in the center. The rocky perimeter all around the mouth of the volcano, that stunningly blue pool in the middle makes this volcano very famous.
The crater itself is almost a full mile across, and is the largest active crater in the world currently. There have been some recent activity which has resulted in a handful of closed hiking trails and the closure of the whole part itself for a time, so you'll want to double check this Facebook page for official updates to make sure it's not closed when you want to visit!
Once you enter the park, you have 40 minutes to hike around to the observation platform and back (and you'll get a helmet too, just as a safety precaution). Only a certain number of visitors are allowed each day, so you may want to book tickets online here. You'll need to create an account and log in. Make sure you get your passes beforehand: if you show up to the park without a pre-booked ticket/reservation, you'll be turned away. Entrance to the Poas National Park is $10.
Getting Here: There's a public bus that leaves from Avenida2, Calles 12/14 in San José that will take you there. Last reports said it left around 8:30 AM and you can catch the same bus back to San Jose — the same bus leaves the National Park at 2:30 PM, and is the last return bus, so don't miss it. It's a two hour bus ride, so something you can definitely do in a day. Buses are from the Tuasa company, and cost around $3 USD each way. Phone 2233-7477 with questions: as always, double check bus routes and times yourself (things like this tend to shift around quite a bit in Costa Rica).
You can also book a tour that will take you from San Jose to the volcano and back, typically handling your park's tickets, transportation, and lunch. They range in price (about $40 - $140), with the more expensive ones tacking on another adventure like a nearby waterfall of zip lining course.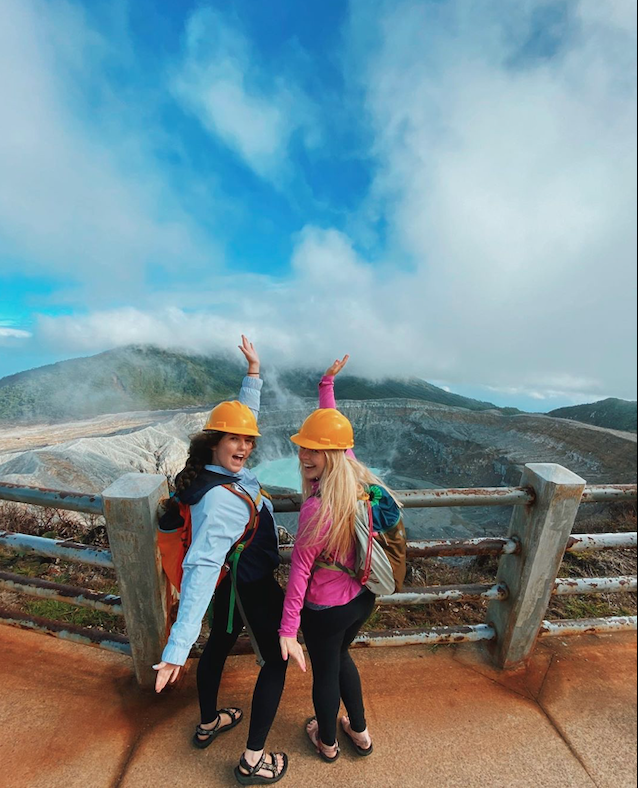 Seeing Some Sloths
Big fan of these slow and sleepy animals? You'll absolutely love a trip to this rescue center! While you may be spotting some sloths as you run around the national parks in Costa Rica, you have a 100% guarantee of seeing sloths up close at a sloth reserve or rescue center. There are a handful around Costa Rica, with the intent on rehabilitating hurt animals back to the wild while others focus on getting animals a safe and healthy life if they are unable to return back to the wild.
One of our very favorite centers for sloths is the Toucan Rescue Ranch, found in nearby Heredia. The Ranch focuses on caring for sick, injured, confiscated, and displaced wildlife, specializing in toucans, sloths, and owls, though if you visit you will also run into weasels, jungle cats, parrots, and others. You can read more about their mission and staff here.
The rescue center has a few sloth-centered experiences where you can get close to these animals, and even come over for breakfast. They have a "slothies and coffee" program where your donation goes towards conservation efforts and you can have some breakfast near the sloths. Get more information about your visit (and prices about your tour options) here.
Getting Here: It's just 20 minutes outside of San Jose, best reached by an Uber, and an easy half-day trip. The center is located off of Route 112 near downtown San Josecito, Heredia, San Josecito, Costa Rica.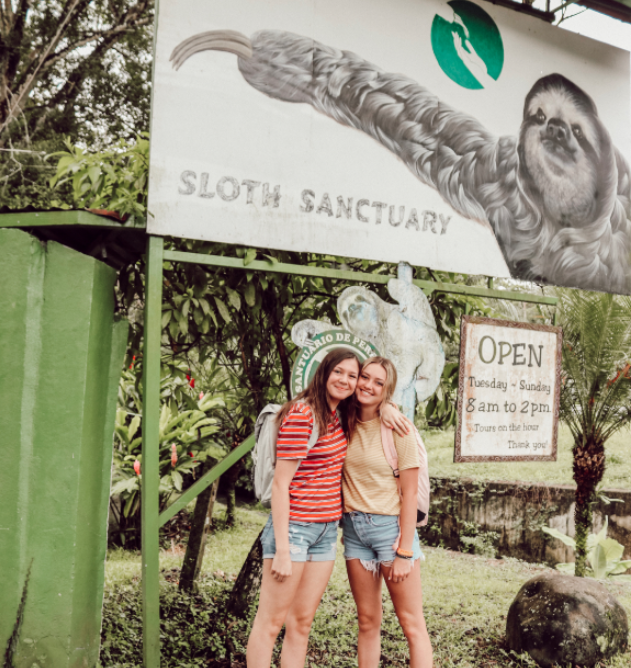 Visit La Paz's Waterfalls
If you're going to Costa Rica, you absolutely can't miss the waterfalls. The wet and humid weather in this country leads to tumbling falls that cut through dense green jungles. La Paz is one of the best places to visit from San Jose if you want to hike through the rainforest and see some waterfalls, along with some of your favorite jungle animals.
La Paz is a nature reserve that boasts some of the best hiking, prettiest waterfalls, and all the animals you're looking for — we're talking huge, vibrantly blue butterflies, vividly green tree frogs, rainbow painted toucans, hummingbird feedings, and more.
The park has five thundering waterfalls, a cloud forest, hiking trails, and separate sections focused on animal habitats. There's an aviary, insect gardens, a butterfly observatory, a hummingbird garden, and a few other exhibits. This place is incredible!
We have all the info about a trip to La Paz here.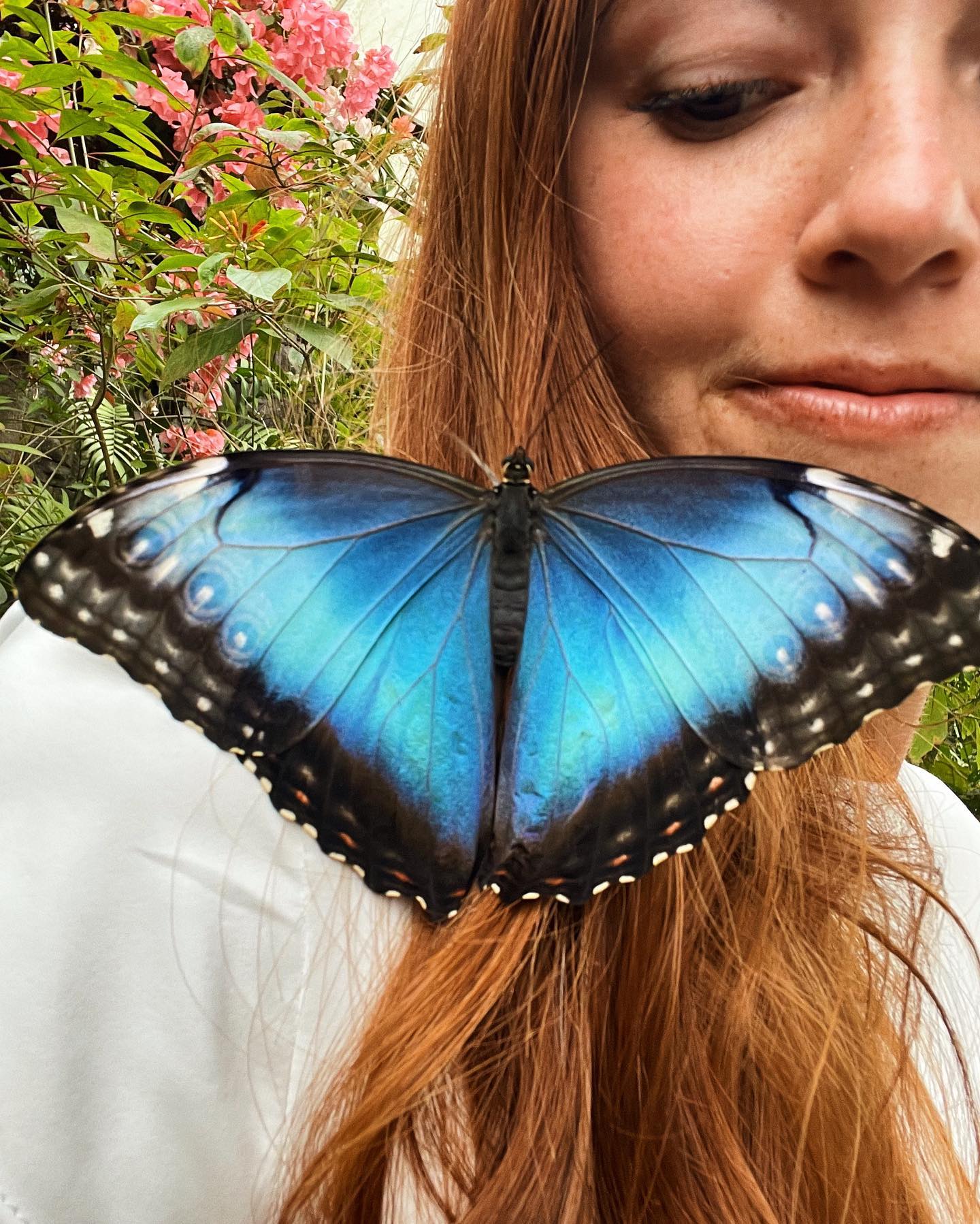 Experience Arenal

Volcano
One of the biggest (and prettiest) reasons people come to La Fortuna is to hike around what may be Costa Rica's most famous volcano. Still active, Arenal is in a "resting phase" but used to have some 40+ eruptions a day. From the Arenal 1968 park, there are a couple of trails you can take that wind through black lava fields and lush greenery.
The volcano was long thought to be dormant, but had an impressive eruption in 1968 when three giant creators burst on the western slopes. Since then, the volcano is relatively calm, though you can sometimes see some smoke snaking out of the lava flows on the west side. Don't worry, the region is safe to hike and heavily monitored to make sure no tourists or guides are harmed when trekking around. Another good thing to know? You have your choice of two parks with hiking trails: The Arenal 1968 Reserve and the Arenal Volcano National Park.
You'll want to read up on all the things to see and do around Arenal Volcano here.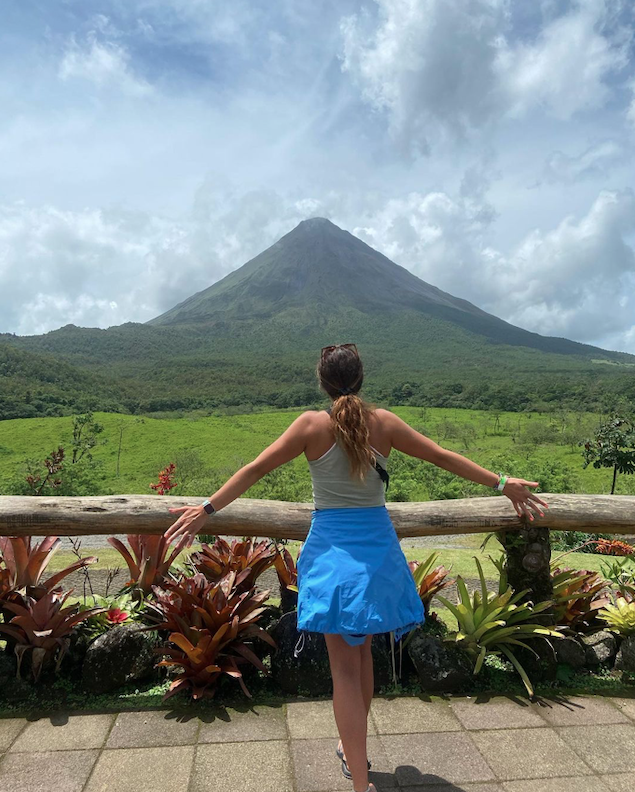 Swim In Blue Waterfalls
We love all the waterfalls in Costa Rica, but particularly like the ones you can swim in ... especially when they are colored such a vibrant shade of blue!

Blue Falls are a set of seven waterfalls found around 2 hours outside of San Jose, all with that iconic blue tint. That stunning blue color is all thanks to a special mix of minerals found where the water originates, which is nearby a handful of volcanos. If you're familiar with the famous Rio Celeste waterfall in La Fortuna, it's the same cause for a very similar coloration.
Want to know one of the best parts about all of this? You can swim in the pools found at the base of these aquamarine waterfalls, pools, and rivers. It makes for some very magical photos!
Get all you need to know about visiting Blue Falls, here.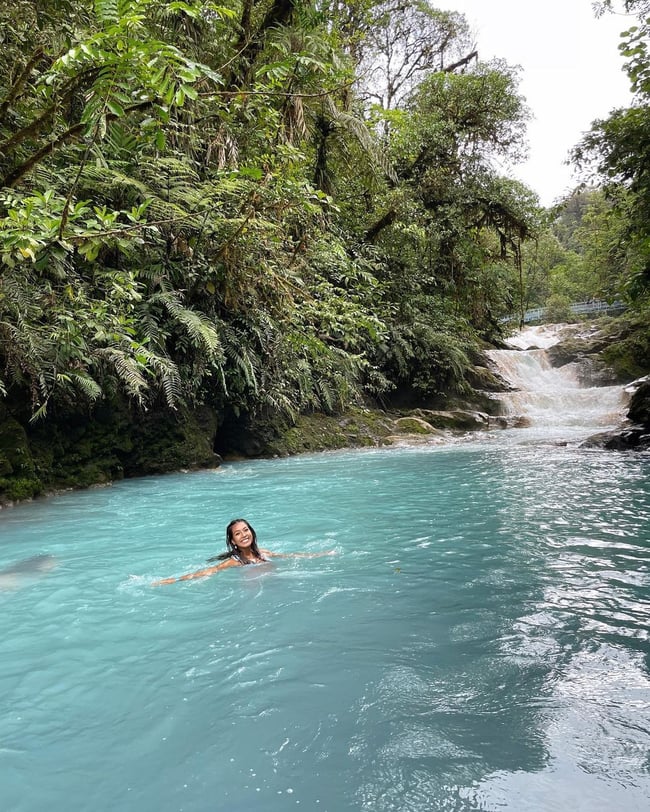 Hike To Tesoro Escondido Waterfall
This lesser-known swimming spot and thundering waterfall is just a taxi or bus ride away from San Jose and La Fortuna ... for those in the know. It's a 2ish mile, out-and-back trail to a beautiful waterfall and definitely a great option for a weekend trip if you're living in San Jose during your semester abroad.
Get more info on how to plan your trip here.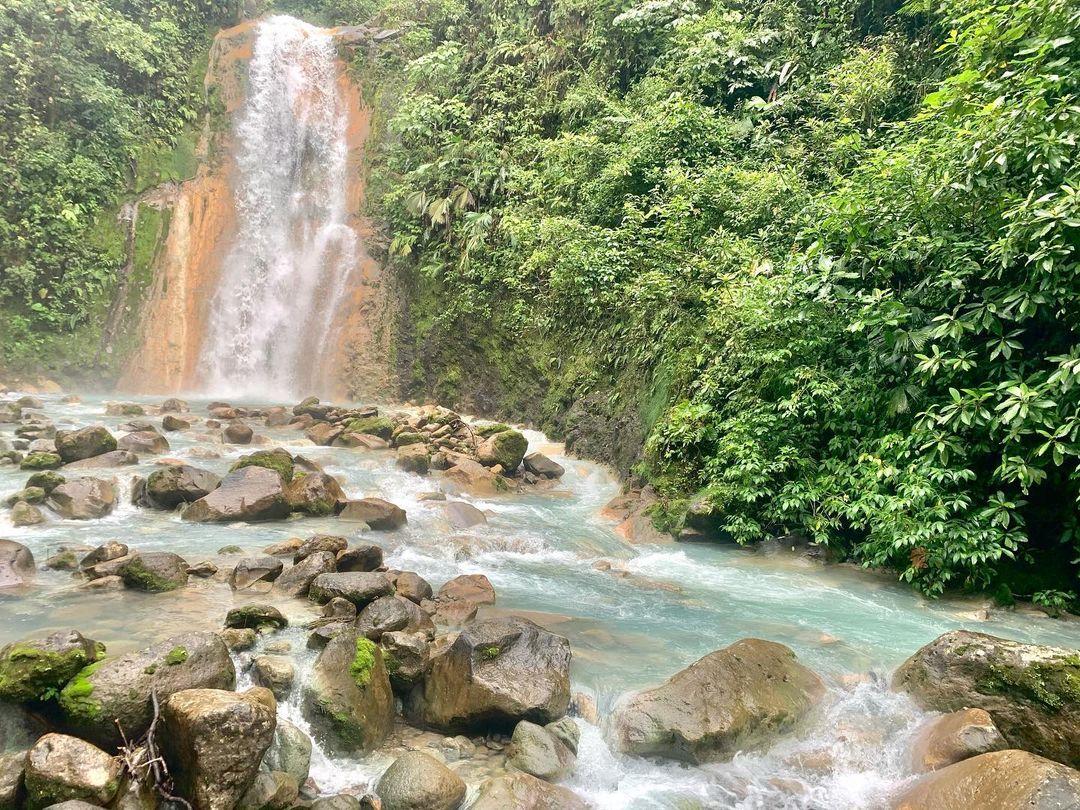 Go On A Chocolate Or Coffee Tasting
For Chocolate Lovers
Along with the stunning waterfalls, picturesque national parks, and buckets of adventure in this country, Costa Rica is known for chocolate. That rich volcanic soil and humid weather makes for some of the best cocoa beans in the world, and going on a chocolate tasting tour is something easily done on a day trip from San Jose.
There are multiple tour companies and locations where you can make this happen, but Sibu chocolate is just a few minutes away from downtown San Jose. Sibu Chocolate has a tour option that walks you through the whole process, letting you taste the cacao fruit (found inside these colorful pods!), the roasted beans, and of course, the European-style chocolate. Tours are about 1.5 hours and are $28.
Getting Here: Best to taxi or Uber to the Sibu where their store is located. That link above has the contact info you need to give your driver.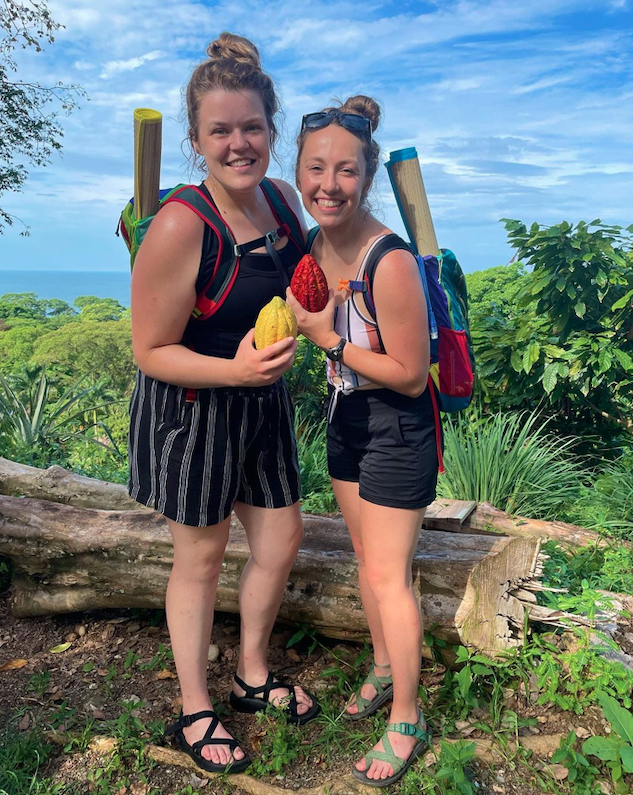 For Coffee Lovers
Coffee plantation tours are also very very popular, with lots of options to choose from. Typically, you'll be able to trek out into the actual coffee plantation, hear how the growing and harvesting process works, and then get to taste some more-than-authentic coffee. Around San Jose, you have a few options, but these three are quite popular: Britt Coffee, Doka Coffee, and Starbucks (Yep! There's an actual Starbucks coffee tour here in Costa Rica).

The tours are a little different: Britt Coffee has a few different options, that are mostly half day but don't take you through the plantation itself, but they do have package options that include animals and waterfalls as a neat bonus not offered by the others.
The Doka Estate Tour does take you out to the coffee plantation so you get a more hands on view of the growing and harvesting process. It's also a small, local business and we love supporting that kind of thing.
The Starbucks Hacienda Farm is the place for major Starbucks fans — you can go for a tour of the plantation and process, but you have to make sure to visit the actual coffeehouse there, it has the most gorgeous view (and menu items not on your typical Starbucks back at home).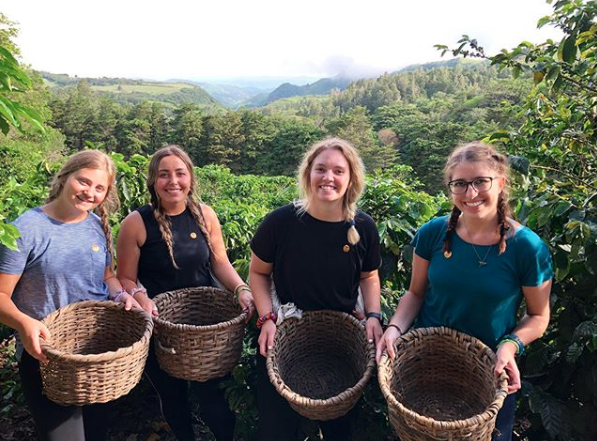 Zip Line + Explore Braulio Carrillo National Park
Easily escape the city of San Jose by spending time in Rainforest Adventures Park near Braulio Carrillo National Park or spend time in the national park itself.
The Adventure Park has a couple of locations in Costa Rica (and around the world) but here, they're known for sitting right next to a thick rainforest perched on rolling mountains, creating some of the best places to go zip lining. There's a canopy tour that has multiple platforms and multiple lines, sitting high above the green jungles swirled with mist. You can zip through the forest, past waterfalls and over the treetops. Or, opt to ride the aerial tram that passes through the rainforest and gets you the same gorgeous views without the huge adrenaline rush of zip lining.
Since the Rainforest Adventure Park is just right outside Braulio Carrillo National Park, you're also set up for some animal interactions. There are rainforest hikes where you may stumble across colorful toucans and tapirs. The forest really comes alive at night, so the park offers a nighttime trek along the Boracaraca Trail where you have high chances of spotting dozens and dozens of brightly colored tree frogs.
There are zip line tours that start from $54, and hiking treks that go up to around $99+. Explore all their package options here. The park has an overnight lodge if you want to spend more than a day here, though you can easily visit on a day trip from San Jose.
If you'd rather save some money, you can choose to hike through Braulio Carrillo National Park. Rainforest Adventures shares a 10km border with the national park, so you'll get a similar rainforest experience, just without the same touristic infrastructure (and price tag). Inside, you'll find treks up to the Barva Volcano and the dramatic cascade of the San Fernando Waterfall. This blog post has a couple of popular hiking routes for you to check out during your visit The park entrance is $12.
Getting Here: There are a few buses that pass by the national park on their way to Limon, but it's best to catch these buses from nearby Heredia, rather than San Jose itself. Just know this about the buses: you'll need to let your driver know you're headed to the ranger station in Baulio Carillo National Park, and there isn't a bus that leaves the national park back to San Jose or Heredia directly, so you'd have to flag down a return bus on the way home which is not reliable.
Taxi or Uber is also an option since the route isn't direct by bus. It should set you back about $30-$60 each way from San Jose (it's less than an hour drive), split between the people in your car. Ubers are typically less expensive than a taxi. If you're just going hiking in the national park, the money for the entrance fee and the taxi doesn't make for that expensive of a day trip.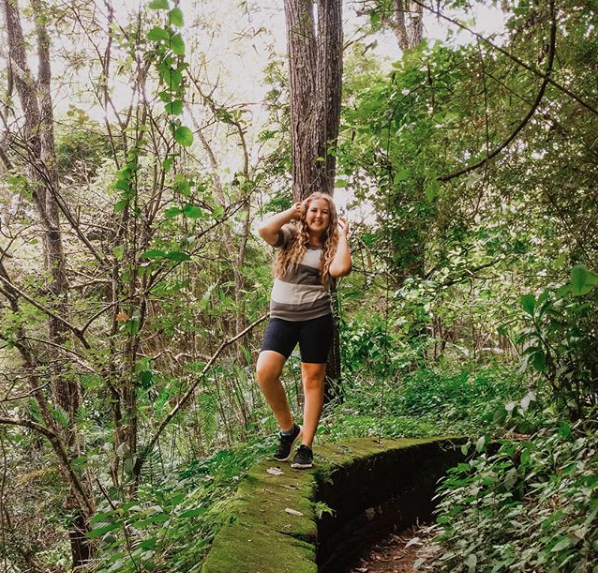 Hang Out In Manuel Antonio
Manuel Antonio is a gorgeous national park in the south of Costa Rica, outside of the city of Quepos (read more about that favorite spot in just a minute). This dense, adventure-packed rainforest hugs the Pacific Coast, so you've got green jungles plus turquoise beaches. Perfect.
Come here for a few days filled with zip line tours, waterfall hikes, rappelling, sloths, monkeys, snorkeling, mangrove tours, snorkeling and more — there is so much to do here. The Manuel Antonio National Park is one of the most famous parks in Costa Rica, boasting so many adventures that you came to this country for.
This Manuel Antonio Guide has all the recommendations you need to plan a weekend (or longer!) here, like costs of the park, tour costs and recommendations, and other info.
Getting Here: By bus, plan on 3.5 hours that will cost around $8. From the San José Tracopa Terminal, buses leave for Manuel Antonio (Quepos) from San Jose at 6:00 AM, 9:00 AM, 10:30 AM, 12:00 PM, 1:15 PM Monday - Sunday. The bus goes from the San Jose Tracopa Terminal to the main station in Quepos; then you can easily get a connecting bus to the National Park itself. That Manuel Antonio-Quepos connecting bus costs about $0.60 and runs all day long.

Weekend Trips To Quepos
Swaying palm trees, a dozen beaches, and right next door to one of the country's most famous national parks, and that's just the start of what you'll find in Quepos. It's a smaller city on the western coast of the country and is home to some of our favorite beaches plus it's the best place to visit before heading to Manuel Antonio, one of the absolute best national rainforests Costa Rica has to offer (which I'm sure you read all about, just above).
We love the beaches you'll find in Quepos, but you'll also find a cute little farmers market, the nearby Nayuca waterfall, and some white water rafting opportunities.
Get your guide to Quepos here.

Getting Here: It's a 3.5 hour bus ride and costs around $8 to get to Quepos from San Jose from the San José Tracopa Terminal: Buses leave for Quepos from San Jose at 6:00 AM, 9:00 AM, 10:30 AM, 12:00 PM, 1:15 PM Monday - Sunday.
Since it's a bit longer of a trip and there's so much to do, we suggest visiting on a weekend (or longer).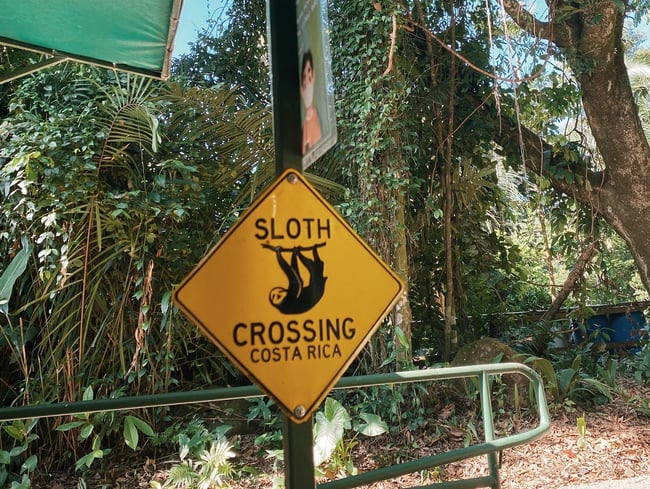 Beach Hopping + Adventures In Sardinal
Looking for a weekend trip that has pretty much everything you're looking for? Taking this particular getaway in Sardinal, Costa Rica means zip lining, soaking in hot springs, taking a trek on horseback, tubbing down a river, and getting the chance to relax with a natural mud bath (as well as the nearby beaches).
Sardinal is a little district in the Guanacaste province, found near Liberia up in the northwestern side of the country. The district itself is very small, made up of a few restaurants, grocery stores, a couple of parks, and tour companies.
Staying here means a quiet and relaxing trip, with days filled with the nearby tour options and beaches that are just a short taxi ride away (more on that later). If you find yourself near Liberia or even San Jose, it would make for a quick weekend getaway filled with all the Costa Rica things on your list: high adventure and beaches.
Get all the details on a weekend in Sardinal, here.
Getting Here: San Jose is a great jumping-off point to Sardinal, just a 4.5-hour bus ride away. The bus actually connects to Coco Beach (there's a small town there) before heading to Sardinal, so you may want to think about getting set up for a beach day first, then bussing to Sardinal for the night, doing your tour day two, and then heading home (or having another beach day).

Get bus info here for the bus from San Jose to Playas del Coco, then the bus from Playas del Coco to Sardinal is with Transportes Meyba (buses come every 30-minutes, look for Ruta 528).
Are you ready for Costa Rica?
Come live here for a semester! ILP is accepting applications for college-aged volunteers who are ready to come teach English (no experience necessary) and are ready for adventure. You'll be set up with a group of fellow volunteers to experience it all with.