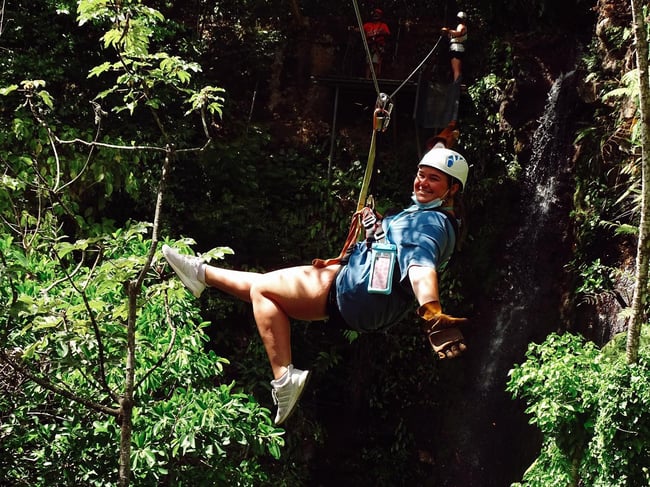 If you're wondering how to pack in a weekend full of beaches, river rides, zip lining, and more, then we have 2-3 days totally planned out for you.
Looking for a weekend trip that has pretty much everything you're looking for? Taking this particular getaway in Sardinal, Costa Rica means zip lining, soaking in hot springs, taking a trek on horseback, tubbing down a river, and getting the chance to relax with a natural mud bath (as well as the nearby beaches).

Sounds pretty much like a dream, doesn't it? Luckily for our ILP volunteers living in Costa Rica for a semester, it's an easy thing to add to their long (long!) list of weekend trips to take. If you still need a little convincing, just know that Sardinal made the list of "one of the best" weekend trips one ILP group took in their semester.


---
Come see and do way more in Costa Rica while living here!
You can spend a semester living in Costa Rica as an ILP volunteer.
---

Our volunteers spent a weekend in Sardinal and were posting pictures we couldn't keep from sharing — plus, we have all the info on how they made this trip happen so planning things for you is a cinch. Here are all the details on a weekend of beach hopping and adventures in Sardinal:
First, A Little Map Info
Okay, Sardinal isn't one of the main tourist spots you'll see when you're first looking into Costa Rica, which is why we're doing a bit of explanation. Sardinal is a little district in the Guanacaste province, found near Liberia up in the northwestern side of the country. The district itself is very small, made up of a few restaurants, grocery stores, a couple of parks, and tour companies.
Staying here means a quiet and relaxing trip, with days filled with the nearby tour options and beaches that are just a short taxi ride away (more on that later). If you find yourself near Liberia or even San Jose, it would make for a quick weekend getaway filled with all the Costa Rica things on your list: high adventure and beaches.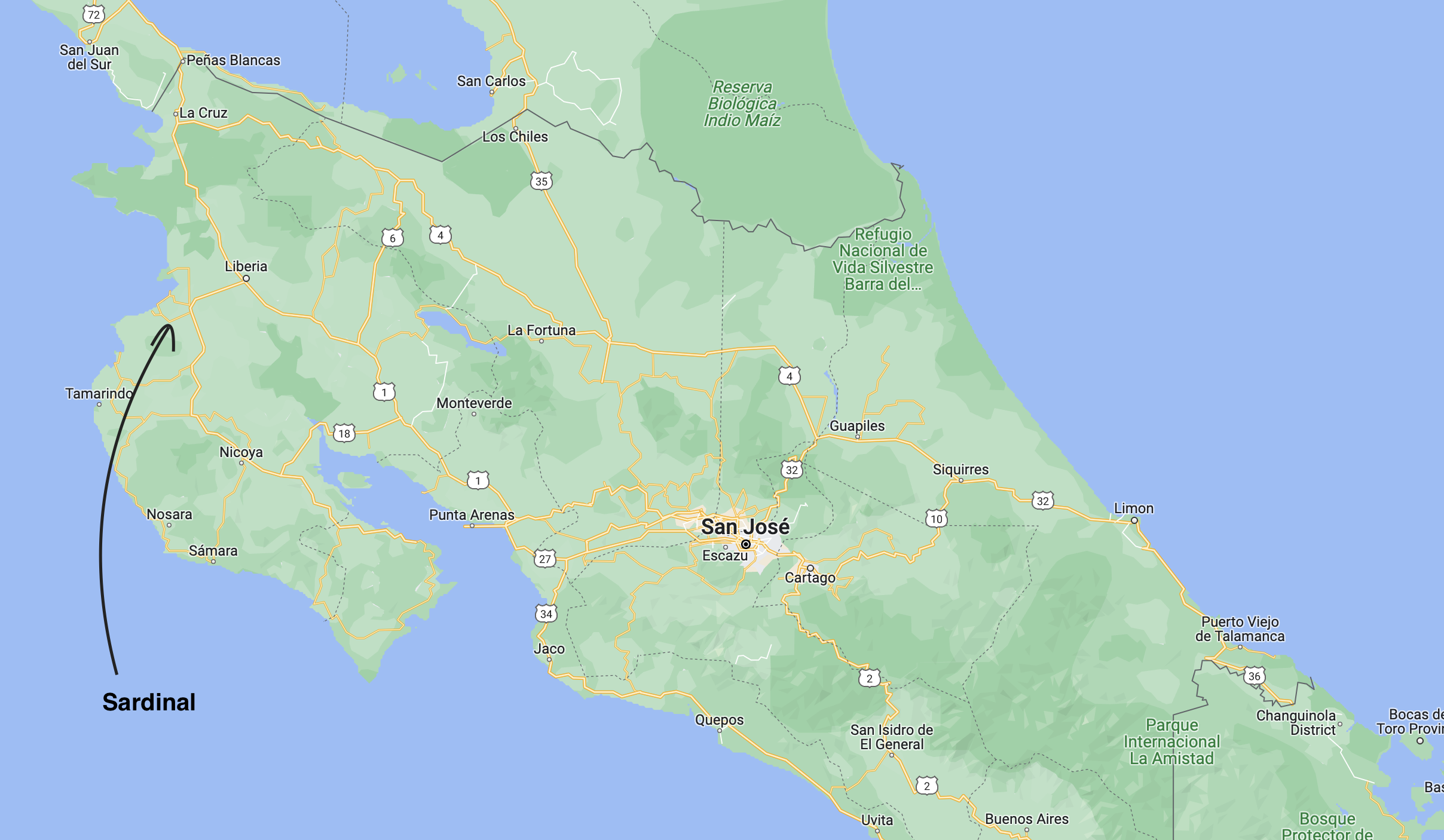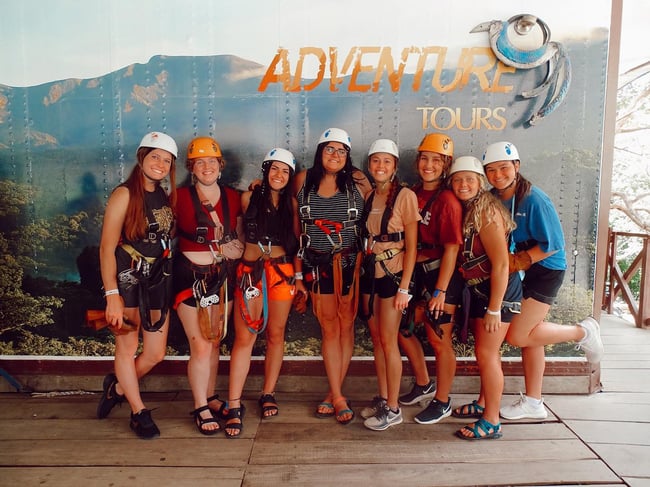 Things To Do In Sardinal
This Tour Option
As we mentioned, you'll see a few different tour operators out of Sardinal, but one of our ILP groups found this one and just added to all of the other glowing reviews. Below, we're going to highlight what this tour included so you know what's available, but know there are many other options if you'd like to do your own research.
Zip Lining + Horseback Riding
After being picked up, you'll head to the Rincon de la Vieja Volcano to start off with zip lining. All of your gear is provided (and you'll get a tutorial from the guides) before zipping off on a course that takes you through the lush canopy and over a canyon — plan on a bit of rappelling, hanging bridges, and the famous "Tarzan Swing' to end off your 18-platform adventure!
You'll then get set up for a horseback ride through the forest.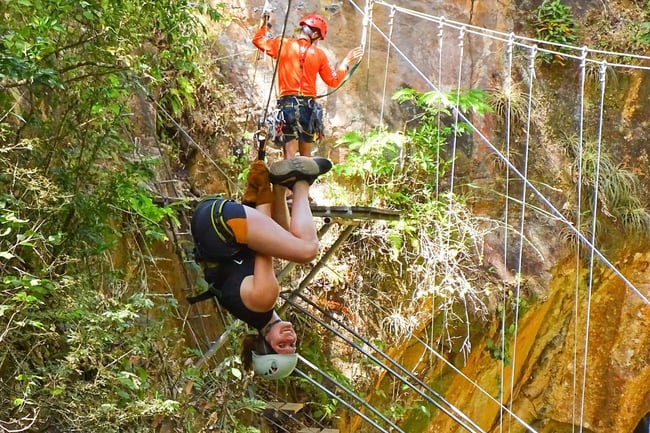 T
ube Time!
Next up is the tubbing adventure down Rio Negro's water (the pictures of this are enough to make me want to sign up), before lunch. The day's not over yet, though — you still have a driver to get to the Rio Negro Hot Springs.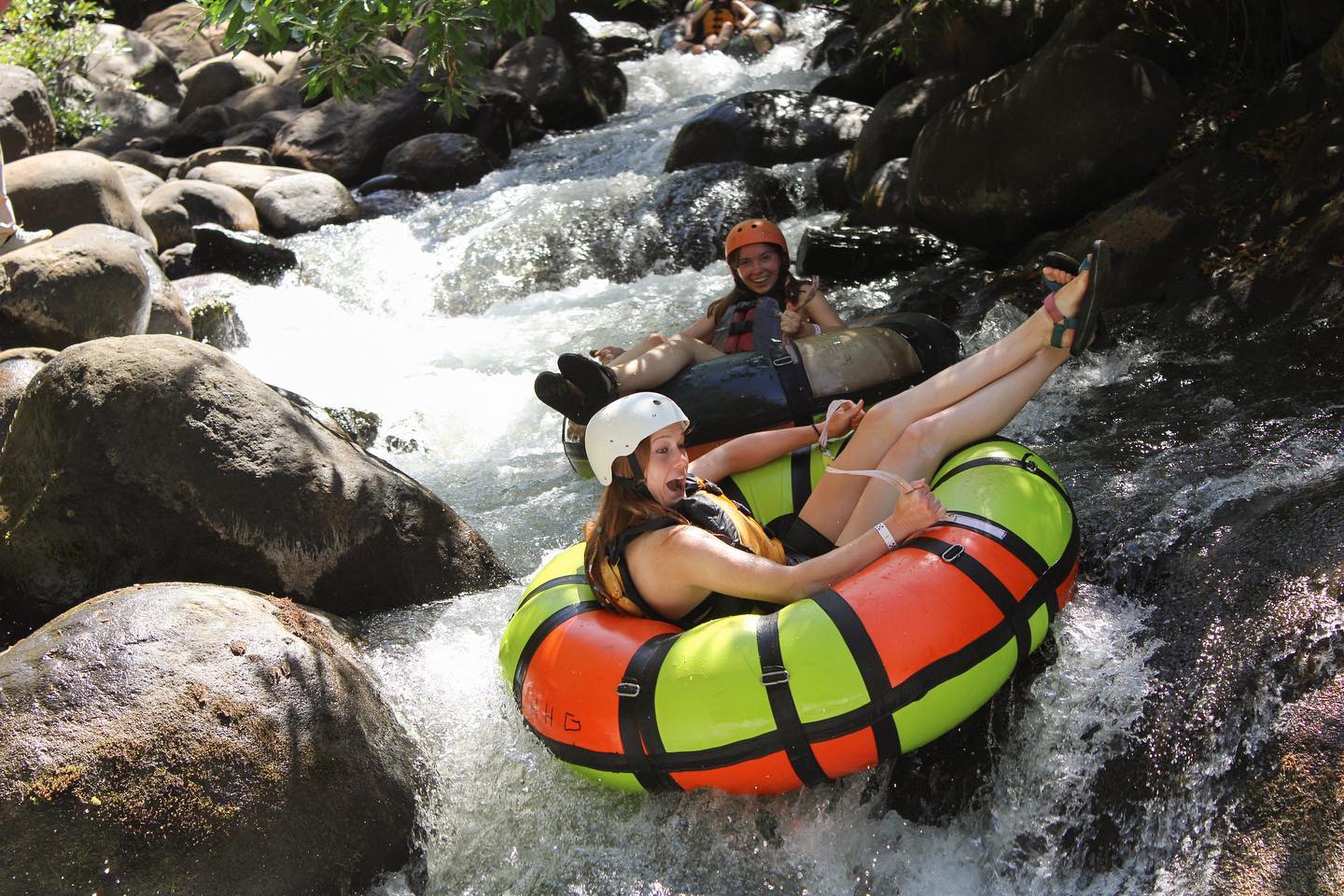 Tube Time! Hot Springs + Mud Masks
Choose between 10 relaxing pools that are all heated naturally, thanks to the volcano. Here's where the mudbath comes into play: the mud here is supposedly extremely therapeutic for your skin, thanks to the minerals found in mud. Rub on, wait until it dries, then wash it off in the cool river (a welcomed break after the hot springs). After all of this fun, you'll be dropped back off at your pick-up spot.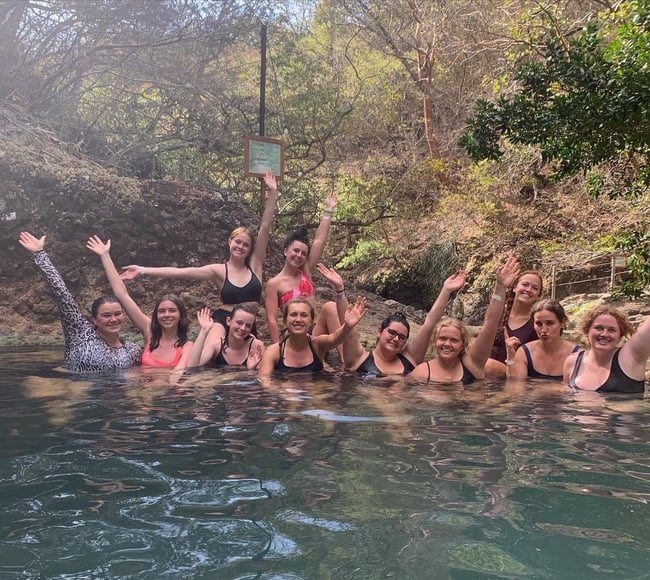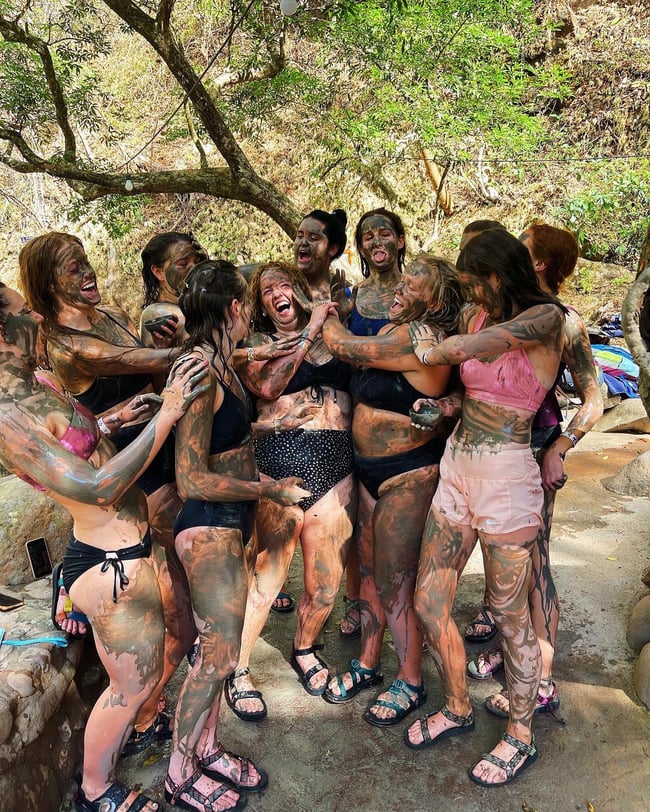 The Beaches
Since the tour option is a full-day kind of commitment, the coastline is how this ILP group spent the rest of their weekend in Sardinal. You'll find that the beaches are just a 10-15 minute taxi ride away, and you have quite the choice ahead of you. Below, we have some beaches to consider for your afternoon in the sun and sand:
This group spent most of their time at Coco Beach, a pretty bay that curves in a "C" shape. You can walk from one end to the other in about 30 minutes, just make note that the sand here is on the darker side which makes for a hot walk on the dry sand, thanks to the sunshine here.
There is a little town near the beach with a string of restaurants, making it an easy place to spend a whole day (and grab breakfast, lunch, and dinner if you'd like to stay for the sunset here — they're stunning).
Ocotal Beach is another one that comes recommended, found just south of Coco Beach. The water on this dark sand beach is a bit bluer and clearer, making it a popular option as well. You can find a stretch of rocky lava rocks that sometimes attracts fish and other ocean friends if you want to check that out and see what you can find.
Head north, and you'll run into Playa Hermosa (see what we said about beach hopping here?). It's another relaxed beach, with slightly lighter sand than the others on this list — it's a popular place for locals and visitors in the area. Playa Hermosa has reports of animals like howler monkeys and toucans in the treetops, as well as palm trees spaced out almost perfectly for some hammocks.
Those are the main beaches in the "area" but you'll find a whole list of ones that you can feasibly hit in a day or two if you're wanting to check multiple out. Playa Panama and Matapalo Beach are a couple more to look into if you're interested.
A Few Tips
Where To Stay
Again, you're welcome to do your own research but sometimes it's helpful to know where past ILP groups have stayed — like this Airbnb. It's a basic house, with three bedrooms that can sleep up to 10. We're big fans of the A/C, the close locations to the beach (10 minutes), and the free WiFi.

If you'd rather, there are a couple of resorts centered around the beaches if you'd like to stay right on the water.
Getting Around
Volunteers mention that it's nice to have DiDi on your phone, a rideshare service that can help you get from your Airbnb to where you'd like to go for the day. Taxis are available, but it's nice to be able to call a car when you're done for the day instead of waiting for an available cab to pass by.
Getting Here
From San Jose
San Jose is a great jumping-off point to Sardinal, just a 4.5-hour bus ride away. The bus actually connects to Coco Beach (there's a small town there) before heading to Sardinal, so you may want to think about getting set up for a beach day first, then bussing to Sardinal for the night, doing your tour day two, and then heading home (or having another beach day).

Get bus info here for the bus from San Jose to Playas del Coco, then the bus from Playas del Coco to Sardinal is with Transportes Meyba (buses come every 30-minutes, look for Ruta 528).
From Liberia
It's a very short bus ride to get to Sardinal if you find yourself in Liberia. A bus will get you there in about an hour for a few dollars (Transportes La Pampa and Flor de Polanco bus companies have regular routes), or you can split the $35ish dollar taxi ride and arrive in about 30-minutes.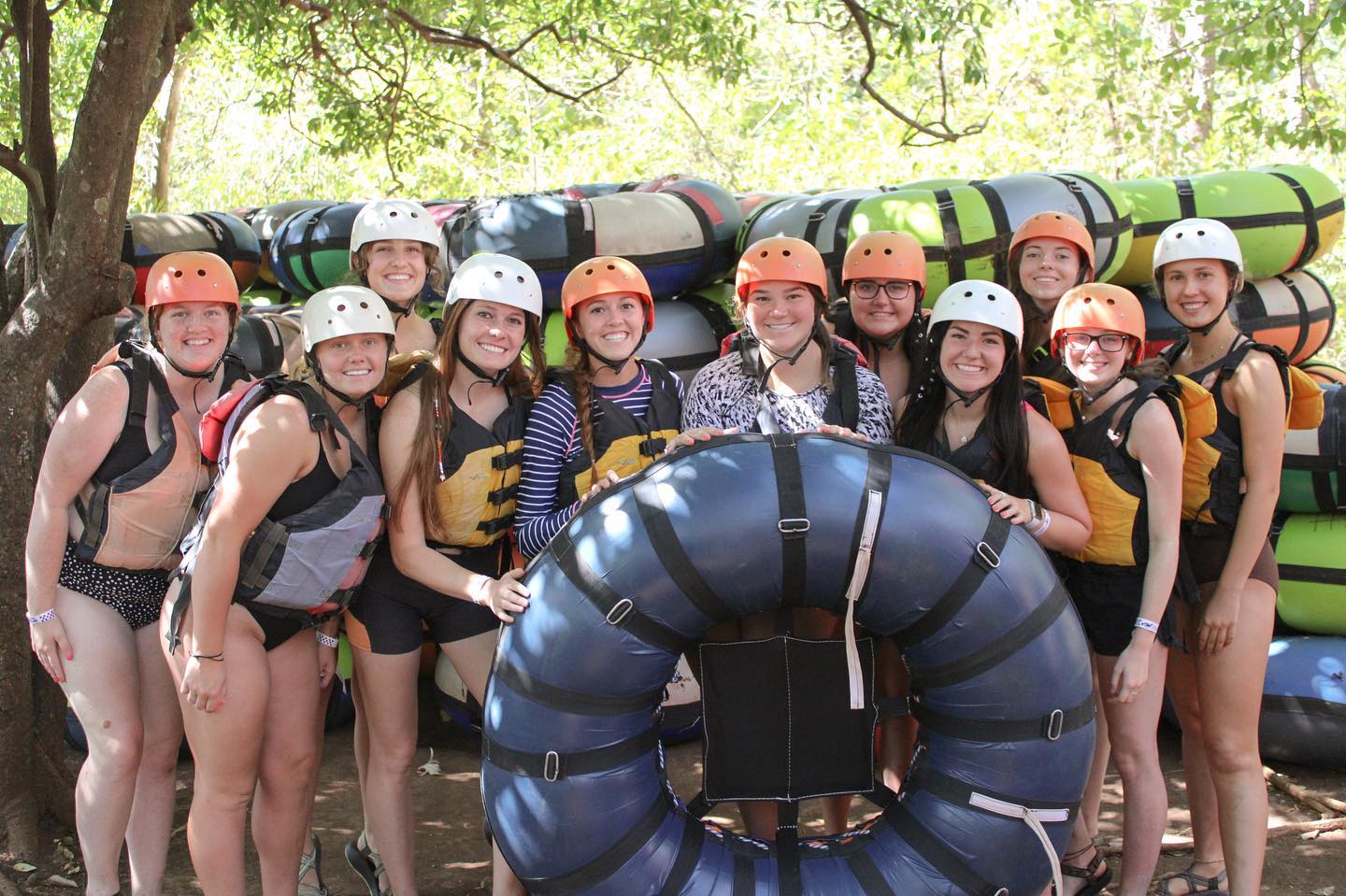 Ready to see this place for yourself?
Come spend a semester living in Central America as an ILP volunteer! You'll be teaching English (no experience necessary) or volunteering in an orphanage part-time — that means you get free time every day to explore your city, and always have weekends off to see even more. You'll also get vacation time to see places like this (plus the other cities on your bucket list).
If you're wanting the chance to make a difference and do a lot of traveling, all with a group of college-aged volunteers, this might be the program for you.