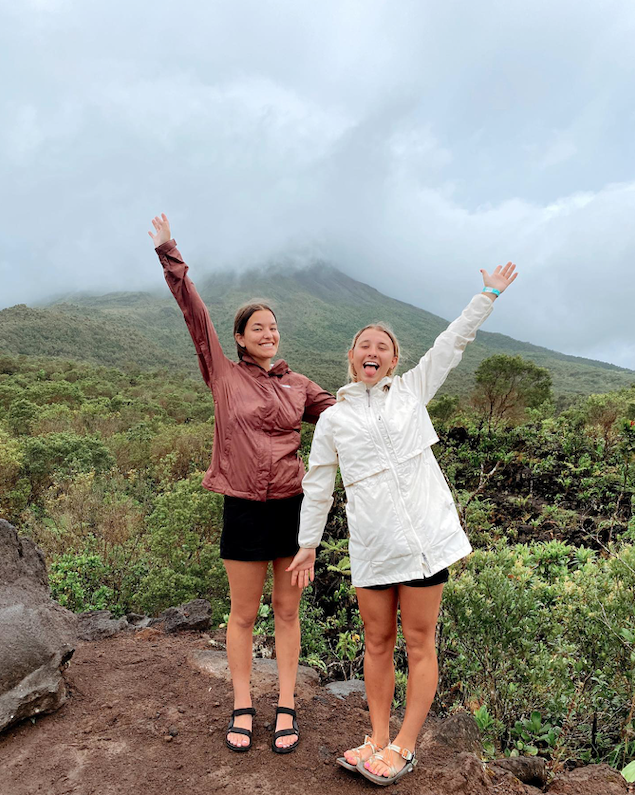 This volcano is the country's local celebrity, and one of the most famous things to see in all of Costa Rica.
If you're heading to Costa Rica, you should be ready for adventure. This country may be small, but it's absolutely crammed full of waterfalls, jungle hikes, and treks around still-active volcanoes. While we have a few favorite volcanoes in Costa Rica, one of the best volcanoes to hike is Arenal.


---
See way more of Costa Rica than you could as a tourist!
All about volunteering in Costa Rica with ILP
---


Still active, Arenal is in a "resting phase" but used to have some 40+ eruptions a day. From the Arenal National Park, there are a couple of trails you can take that wind through black lava fields and lush greenery to reveal a viewpoint where you can admire the volcano. If you're looking for that classic, tropical volcano hike, this is definitely the one to visit. Here are all the details:
About The Volcano
There are a few reasons why this volcano — out of all the other pretty impressive volcanoes in Costa Rica — is number one. First of all, it towers over the lush jungle at nearly 5,700 feet. Plus, it has a few surprises to share. The volcano was long thought to be dormant, but had an impressive eruption in 1968 when three giant creators burst on the western slopes. Since then, the volcano is relatively calm, though you can sometimes see some smoke snaking out of the lava flows on the west side. Don't worry, the region is safe to hike and heavily monitored to make sure no tourists or guides are harmed when trekking around.
Just know that it's illegal to hike to the top (so don't be tricked by anyone advertising that). The official trails lead you to some pretty stunning views of the volcano from a distance.
Another good thing to know? You have your choice of two parks with hiking trails: The Arenal 1968 Reserve and the Arenal Volcano National Park. We'll go through both below if you keep reading.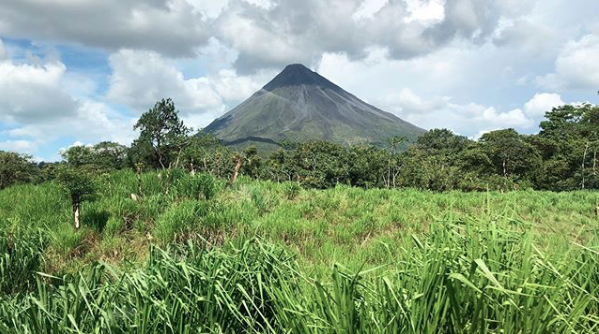 Which Parks (And Hikes) To Choose
You have two options if you want to get closer and hike around the base of the volcano. Tourists either visit The Arenal 1968 Reserve or the Arenal Volcano National Park. There are some pros and cons to both parks, but in general, the Arenal 1986 Reserve seems to edge out just a bit.
The Arenal 1986 Reserve
Remember that eruption that happened in 1968? That's where this park gets its name. It's a protected area on the western slopes of the volcano where you can trek through the jungle that was covered with boiling lava. Now, trails lead you through lava fields and lava rocks, creating quite the contrast to the tropical forest that still peeks through the mottled black rocks.
There are two hiking trails in the reserve. Neither are that difficult, and both can be done in the same day. The Lava flow 1968 Trail and the Trail Forest 1968 are your options. The Lava Flow hike is the most popular (and shortest), leading you through the twisting lava fields, and up to a viewpoint of the Arenal Lake and the Arenal volcano. This blogger has excellent pictures of the trek if you're interested.
The Trail Forest is a bit more difficult, winding through the dense jungle. If you only have time for one hike, do the Lava Flow Trail.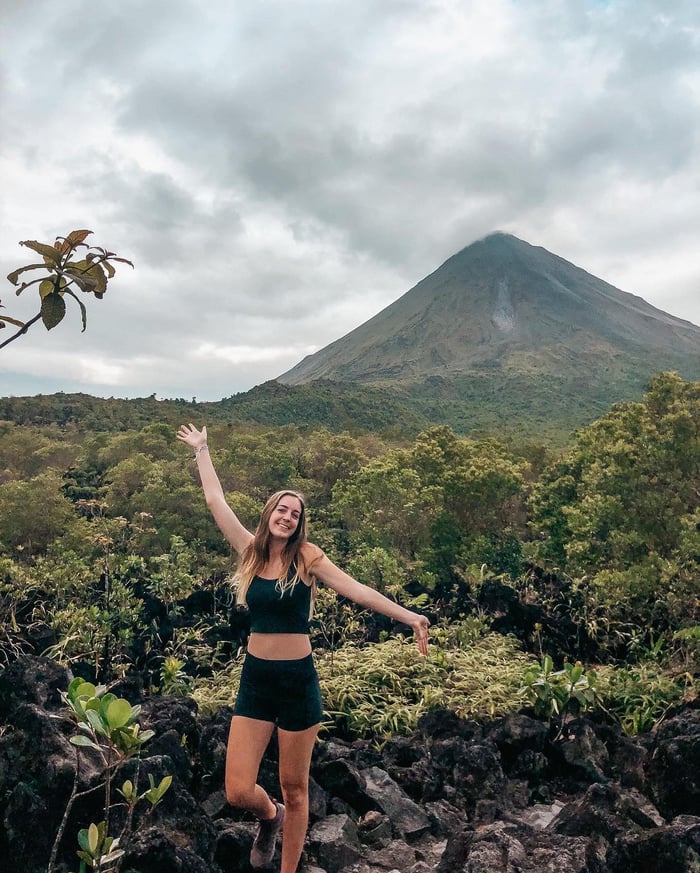 Arenal Volcano National Park
You also have a couple of trail options if you visit this National Park. There's the Sender Colada 1968 trail and the Tucanes Trail. Both are between 1-2 miles and go through the forest and some lava fields to form a loop.
The trails, Sendero Colada 1968 and Tucanes are relatively short (about 2 miles for the Sendero pathway, and half that for the Tucanes). Both lead you through the forest and the rocky lava fields, with gorgeous views of the volcano. From a bed of lava rocks on the Sendero Colada Lava Flow trail, you can get a good view of the volcano looming ahead of you. On this trail, you'll see an intersection of the La Ceiba trail which leads you to a huge tree (it's very cool to see). You can loop back to the Colada trail after.
If you only have time for one hike, do this one (though you can easily do both in a day).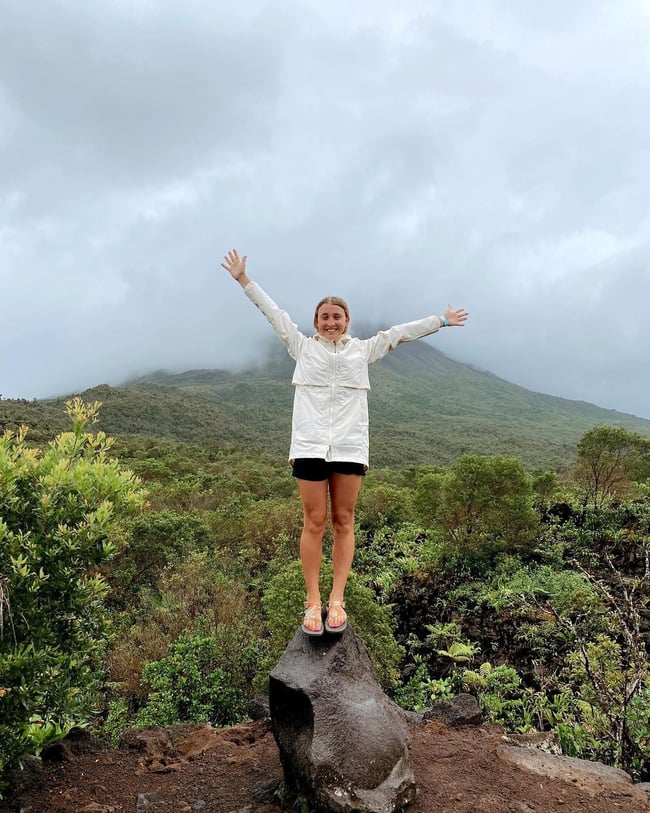 Entrance Fees + Hours (Etc.)
The Arenal 1986 Reserve
Hours: 8:00 AM to 6:00 PM. Open daily.

Cost: $15 USD
Going with a guide: You can hike around yourself, but many suggest going with a guide who can point out a bit more about the history and what you're seeing. Plus, many tour options will combine hiking around Arenal with nearby adventures, like horseback riding, waterfalls, or hot springs. Transportation from La Fortuna is typically included. Get more info on tours and other details about the reserve here.
Arenal Volcano National Park
Hours: 8:00 AM to 4:00 PM, last admission at 2:30 PM. Open daily.


Cost: $15 USD
Going with a guide: It's recommended you go with a guide if you want to know more about the types of plants and details about the eruption, but you can also go self-guided. If you're looking at a group tour, plan on paying around $70 (max of 12 people), or $130 per person if you want a private tour. Tours are typically 3 hours, from 8:00 AM to 11:00 AM and typically include transportation from La Fortuna.
A Few Things To Expect
Know About The Clouds
Lots of times, the top of Arenal is shrouded in clouds. You can help avoid this (and get a clear view of the peak) by avoiding Costa Rica's rainy season (which starts in May and lasts until November). Sometimes, you'll still see really misty conditions in the dry season (November to April). Sometimes if you wait 20-30 minutes the clouds will clear and you can get a semi-clear view … though some say there are only 60 days out of the year that will give you a completely unobstructed view.
Things To Pack
It's going to be hot, so be prepared for that. Most recommend hiking in loose, longer pants to help protect your legs against the jungle grass but that's up to you. Bring plenty of water, a hat and sunscreen, and some snacks for your trek.
Another tip that's just handy for hiking in Costa Rica? Bring a poncho or rain jacket because you'll most likely see rain at some point in your vacation here.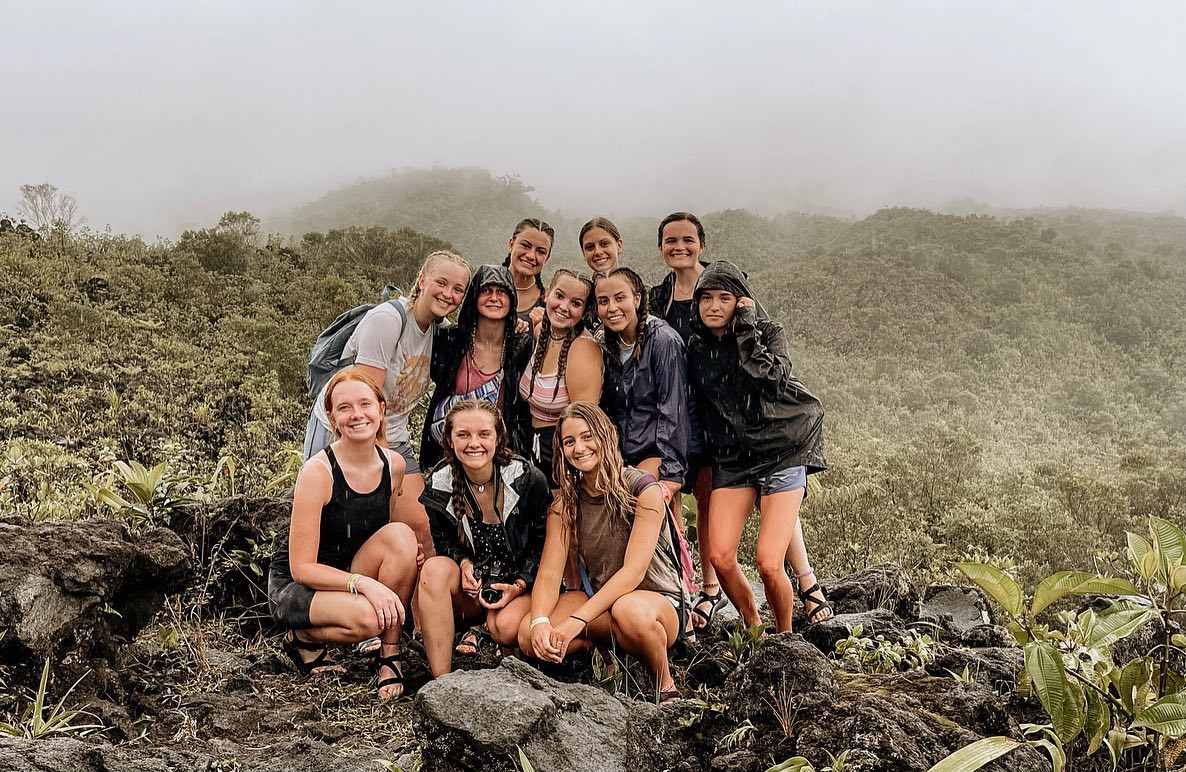 Getting To Arenal
First, Get To La Fortuna
The nearest city is a favorite vacation spot, La Fortuna. From there, the volcano is just 11 miles away, so hanging out in La Fortuna and taking a day to hike Arenal is definitely the way to go. And there's plenty to see in La Fortuna. That link has all the logistics, but as a teaser, there are hot springs to enjoy, waterfalls to admire, and one famously aqua blue river, the Rio Celeste. Plan on spending a few days to really experience this part of Costa Rica — La Fortuna is easily one of the vacation spots our ILP volunteers can't get enough of.
Then, Go To Arenal With A Guide Or DIY
Once you're in La Fortuna, talk to your hostel or around town to book a tour (or book online) to go to Arenal. Your tour will include transportation, so no need to worry about that. You can find guides and tours to Arenal at pretty much every hostel or hotel in La Fortuna, and prices vary: You'll find just the hike for around $60-$70 (which includes a guide, water, transportation, etc) but lots include packages like the hot springs and the hike, or the hike and kayaking around Arenal Lake, etc. Some are all-day things up to $200 depending on the other excursions included.
For everyone who isn't going with a guide, you'll need to taxi to the park entrances (from La Fortuna, there isn't a direct bus that can take you to the volcano if you're doing it yourself). It's going to be about $20 USD each way, but it may be helpful to pay your driver to wait for you to hike so you don't have to worry about finding a taxi to drive you back to La Fortuna.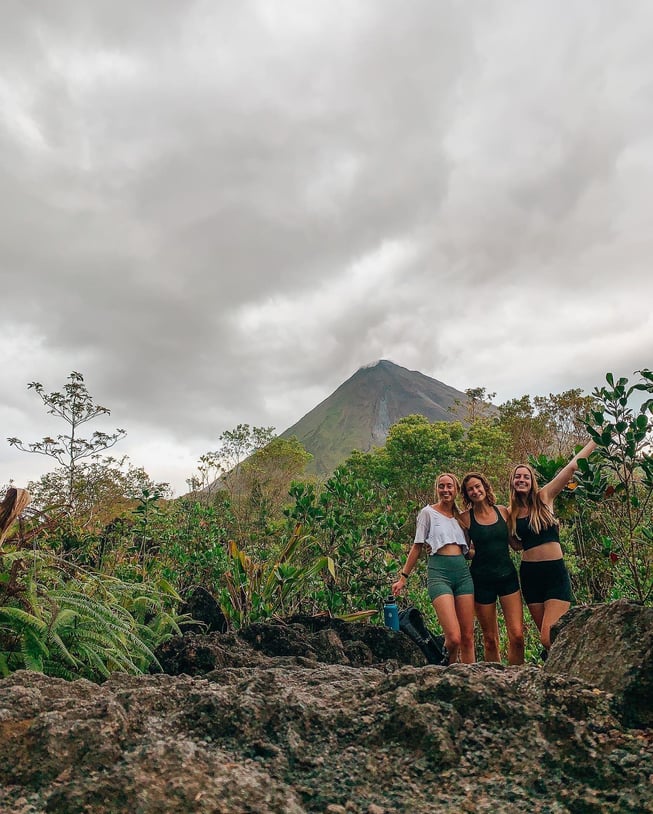 See what we're up to now!
ILP's a non-profit organization who sends college-aged volunteers abroad to teach English. We have programs all over the world, but love all the adventures in Costa Rica! See what our volunteers are doing in and out of the classroom by taking a peek at our Instagram account. You'll see pictures of what volunteering is like, favorite vacation spots, weekend adventures, info about how to get discounts, and more.