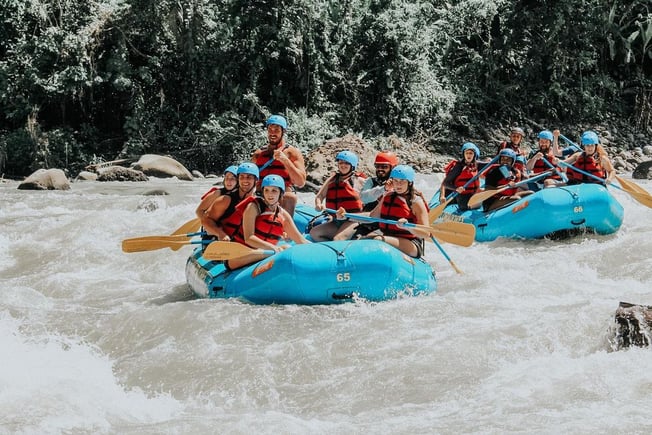 Headed to Central America and looking for an adrenaline-filled afternoon?
These are the best white-water rafting spots around, a must-do adventure when you're in Nicaragua, Costa Rica or Panama. The lush jungles found in Central America are cut with a spiderweb of rapid waves and frothy curves which create some of the best white water rafting in the whole world.


---
Don't want to miss other expert advice?
Stay in the loop with Adventure Updates
---


Since ILP volunteers will be living in Nicaragua or Costa Rica (and most likely vacationing in the other), you'll want to know the best of the best spots to hop in a raft, pull on a life jacket, and paddle you way over the rapids.
Rafting In Nicaragua
Tuma River
Hop in a raft and spend a few hours navigating the grand Tuma River — it's the most famous in the country, carving its way through the thick and lush jungles of Nicaragua before turning into the Rio Grande de Matagalpa and draining in the Caribbean sea. There are a handful of tour companies who'll take you out for a 5-8 hour adventure on this river, where you'll paddle through calmer sections (keep an eye out for monkeys in the dense jungles on either side of you), and hold on tight while you navigate through rocky sections where the river transforms into 2, 3, and even 4 level grades.
Matagalpa Tours is the most well known company in the area. Their websites details their tour, but in a nutshell it's an 8 hour stretch of rafting, starting from Matagalpa city (which is about 3 hours north of Granada). Their trip includes transportation to and from Matagalpa, a bilingual guide, rafting gear and supplies, and a lunch/snack for the day. Price depends on how many people are booking and where you'll be picked up, but starts as low as $55 for the whole trip if you have 8-11 in your group — it's rafting at a fraction of the price than what you'll pay in somewhere like Costa Rica.
We have way more info on things to see and do in Matagalpa here: it's one of those off-the-beaten-path places we love about Nicaragua.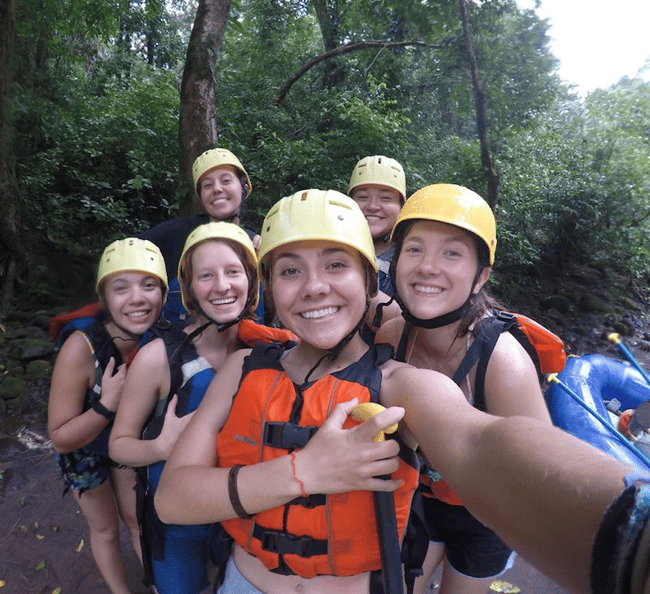 Rafting In Costa Rica
Rio Pacuare
Pacuare is one of the most famous rivers to raft in the entire world. Sections of the river are wide, green, and calm, giving you the chance to peek at the surrounding jungles and relax …. a welcomed break before splashing over tumultuous rocky sections. The river runs alongside the Talamanca Mountain Range which gives you a gorgeous, scenic experience during your entire rafting trip. You'll run into class 3 and 4 rapids on this river, found on the eastern side of Costa Rica, about 2.5 hours from San Jose. On the calmer parts of the river, you'll run into fun things like small waterfalls off the rocky walls that you can ride under ... it's so refreshing! There's also areas calm enough where you can jump out and swim.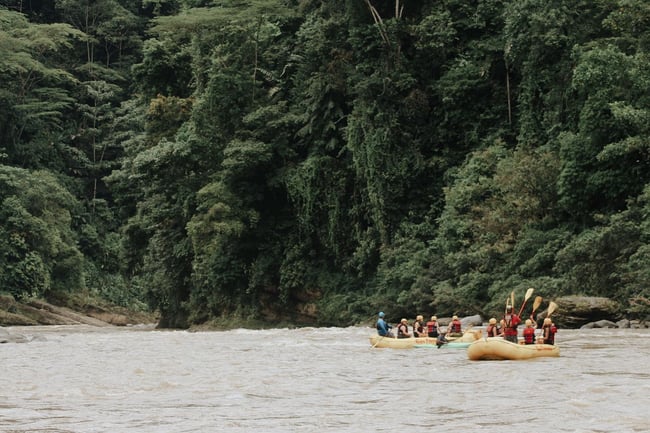 There are tons and tons of tour operators to book through (which makes sense because this place is incredibly popular). There are single day and multi-day tour packages available, which have a wide range of prices. Make sure you do your research which company is right for you, but we have listed a couple of the more popular and reputable companies just to give you an idea of what's out there.
Rios Tropicals is a highly rated rafting company that will arrange your transport from San Jose, includes breakfast and lunch, provide showers and changing rooms after you rafting trips, and a couple of perks for the pretty price of $129 for the day. It's the oldest and most reputable rafting company around. Exploradores is another very popular company with a similar itinerary: pick up in San Jose, breakfast and lunch included, with guides who will take you down the river. Check out what's included on the link above, but prices are $99 for a day of rafting.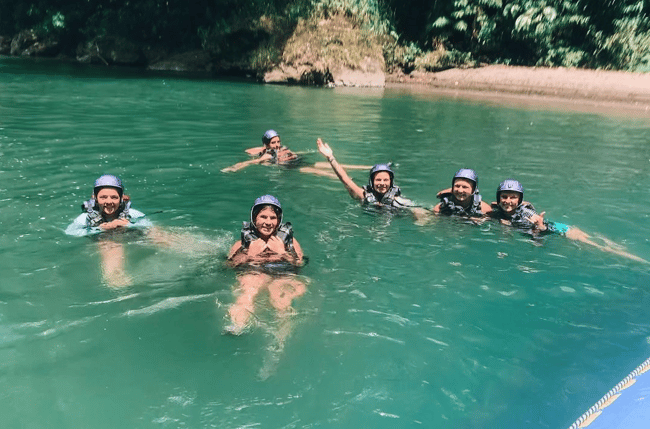 Reventazón River
One of the major perks of this river is that's a good route to raft even in Costa Rica's dry season in Costa Rica. Reventazón River is one of the earliest rivers ever to be used for white water rafting trips, floating groups of tourists down the class 2 and 3 rapids. Rios Tropicals comes in again as one of the best companies to book through: they'll include transportation from San Jose, lunch, and a few other amenities (like showers and changing rooms) for $96 per person.
Narnanjo + Saverge River
Head to a favorite vacation spot in Quepos and make sure you leave a full day in your itinerary solely for navigating the wild rivers in this part of Costa Rica. Amigos Del Rio is a favorite rafting company ILP volunteers have booked with in the past. They have two rafting options — one on the Narnanjo river is longer, and hitting class 2 and 3 rapids, letting you paddle through the lush forests and over ridges and little waterfalls in a 6 hour tour for $105 per person. On the Saverge River, you'll have a slightly shorter, 4.5 hour tour that has you tumbling over high class rapids (4's and 5's on this route). This route is $70 per person and is only available May through December. According to one volunteer, "it was one of our favorite things we have done" in Costa Rica.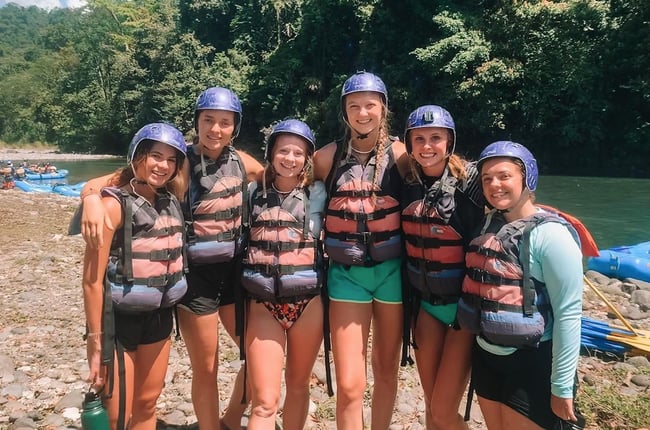 Rafting In Panama

Chiriqui River
Our ILP volunteers love taking a vacation to Panama. While most head down to the gorgeous beaches and islands around Boca Del Toro, if you're near Boquete (in the northern portion of the country, just south of Costa Rica), you have some killer rafting options. This stretch of winding river is a world class rafting destination, cutting through thick jungles, and over churning waterfalls, creating a class 2 and class 3 stretch of rafting. It's one of the most popular rivers to white water raft in Panama.
Boquete Outdoor Adventures is a popular company to book with who offer full day rafting trips for $65. They have multiple tour packages and river options, but most include some level of transportation, a guide, the gear you need, lunch after your rafting trip, etc.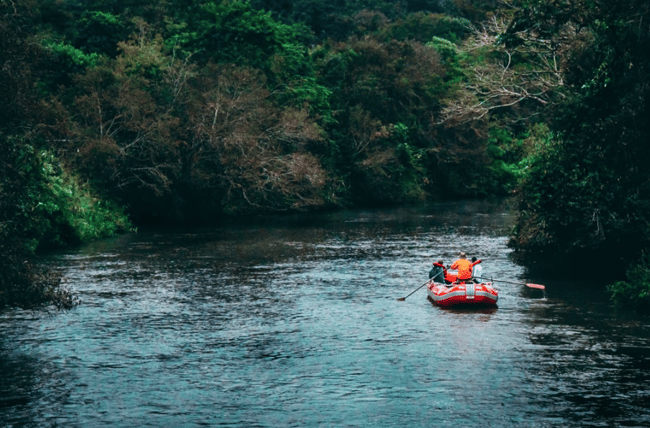 Tips For Your White Water Rafting Trip
Check What To Bring
Some companies provide a list of things you should bring for the day, but in general, plan on wearing a swimming suit, quick drying clothes to wear over your suit and protect from the sun, having a dry bag with you that contains sunscreen and chapstick (especially if there aren't lockers available to rent) and waterproof shoes that strap on (no flip flops!).
Some tours ask you to bring toxin-free sunscreen, since so many sunscreen-wearing tourists are contributing to higher toxin levels in the oceans: many of these rivers drain right into the Caribbean. You'll notice that Central America is all about conservation and often ask that visitors respect the environment they're visiting by reducing waste and opting for eco-friendly sunscreen.
Know The River Grades
White water rafting is broken up into six levels which determine the level of risk and difficulty. When picking tours, they'll usually list (or you can ask) about the grades of the rapids. To give you an idea of what they are like, five is the highest grade of rapids that you can raft commercially, so you won't run into any "six" rapids on your tour, but even then, the 5's are something to be reckoned with.
1 rapids are calm, flat water while 2-3's are full of splashes and bounces. Moving up to 4's and 5's, and you're looking at barreling over waterfalls and more than likely tip-overs. Most of the routes you'll find in Central America are in the 2-4 range.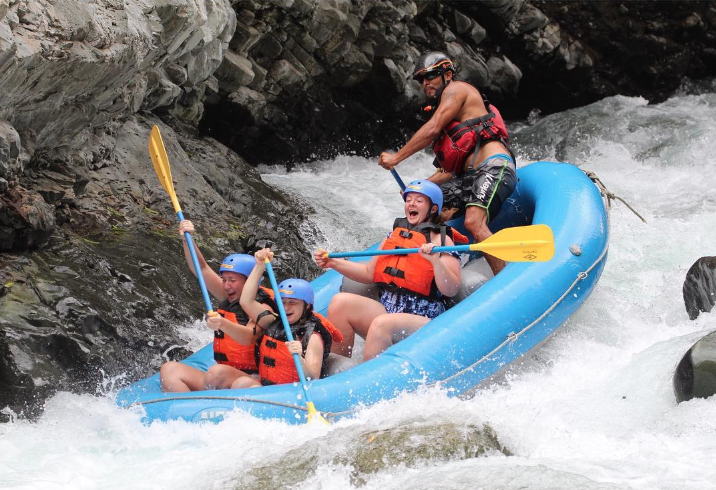 Come to Central America with us!
ILP is now accepting applications for volunteers who want to come to Costa Rica or Nicaragua — you'll be a teaching English as a part of your humanitarian semester, with weekends off and vacation days to hop all over Central America.