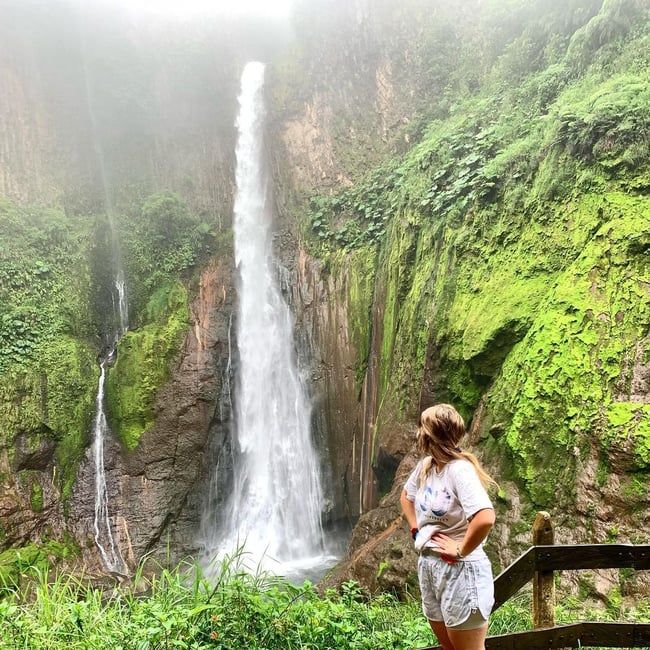 Find yourself near San Jose? Or La Fortuna? This swimming spot and thundering waterfall is just a taxi or bus ride away for those in the know. We're adding another waterfall to your Costa-Rican-Must-See list! While other falls seem to get all the attention (we are looking at you, Rio Celeste), rest assured that the country is hiding waterfalls that are just as stunning, but way more of a hidden gem. The thundering Tesoro Escondido waterfall is what your dreams are made of — an enormous cascade of tumbling water that pools below to create a swimming spot you'll want to jump right into. We're all about these kinds of adventures in Costa Rica!
And the best part about this little find? You can easily take a visit to the Tesoro Escondido Waterfall if you find yourself nearby the capital city of San Jose, which I'm guessing you will find yourself at one point. It's an easy jumping-off point to tourists and the central hub of the country for the ILP volunteers who call this country home for an entire semester. It's also accessible from La Fortuna, a favorite destination that should be on any itinerary.


---
READ NEXT: All The Day Trips And Weekend Spots From San Jose, Costa Rica
---

This blog post maps out all the details you need to know for your own visit here, so you can snag some of the same dreamy pictures found on this post.
About Cascade Tesoro (+ What To Expect)
After seeing a few pictures of this place, you'd guess it would be one of the main destinations for tourists just visiting for a week or two ... but that's not the case. Cascade Tesoro isn't as well-known as you would think among foreigners, instead, it's more of an in-the-know kind of spot for locals in the area and tourists who really do their research. I mean, the name translates to "hidden treasure" if that gives you an idea of how much of a secret this place used to be!
The land around the waterfall (and the falls themselves) are privately owned by a local family, who are kind enough to let visitors make the hike to see the falls and admire that amazing cascade. The water is sourced from the slopes of the Poas volcano, which lends some handy minerals that turn the water such a characteristic shade of blue.
About The Hike
The waterfall is found just outside of the small town, Bajos del Toro. The hiking entrance is on the left side of the main road before you reach the town — you'll first need to head to the reception building (south of the parking lot there) and pay the entrance fee (7,000 colonnes). There's a big red and green sign welcoming you to the falls, so it's hard to miss.
It's a 2ish mile, out-and-back trail with a few elements to know about: you'll first pass through a wooden gate found right on a sloping hill. You'll then pass over a hanging bridge (keep an eye out for your first glimpse of the blue river), and then will enter into the forest, where the trail gets a bit steeper. There will be some river crossing points and getting wet is rather unavoidable: make sure you're in shoes that can handle a rockier terrain, some elevation, and the water. Oh, and the mud if you're visiting after some rain.
The train then splits into a grazing plateau — head left if you want to visit the viewpoint (it's a nice, wooden structure that frames the lookout), or keep right if you want to make your way to the falls directly. Here there are some more river crossings, rocky terrain (navigate around some boulders!), and a steeper climb.
The trail is monitored but does flood frequently which can lead to a muddy hike, and sections where you'll need to hold onto a rope to cross the river before reaching the falls. Some visitors mention some guides along the way to help you navigate the more difficult areas of the hike, or point you in the right direction. You can learn more about the hike here.
Then, you've made it! Feel free to take a dip in the blue pools of Tesoro Escondido Waterfall (they can be chilly!) or some of the other falls around the area — there are a few that the guides may be able to tell you about.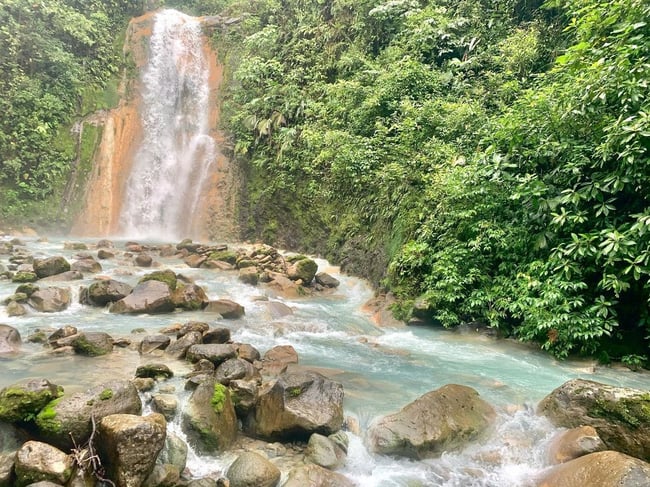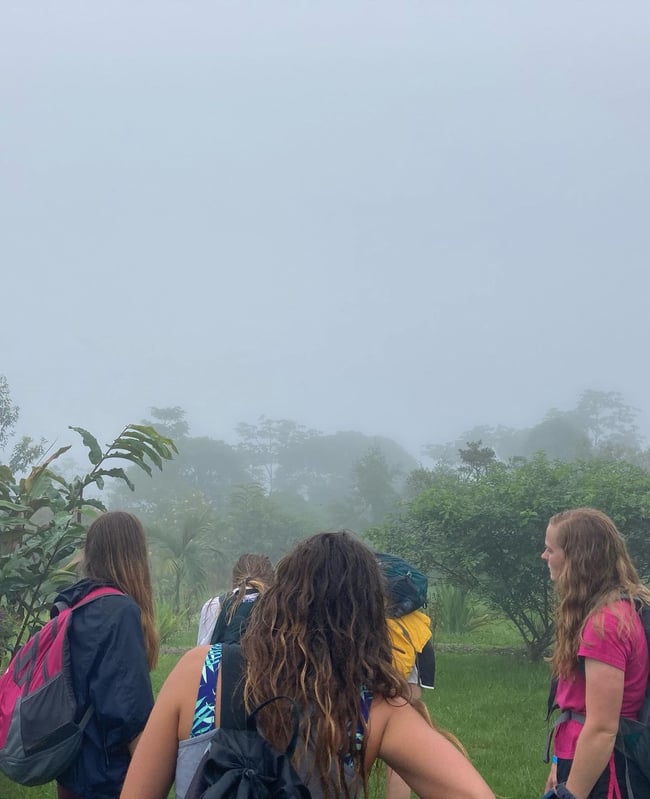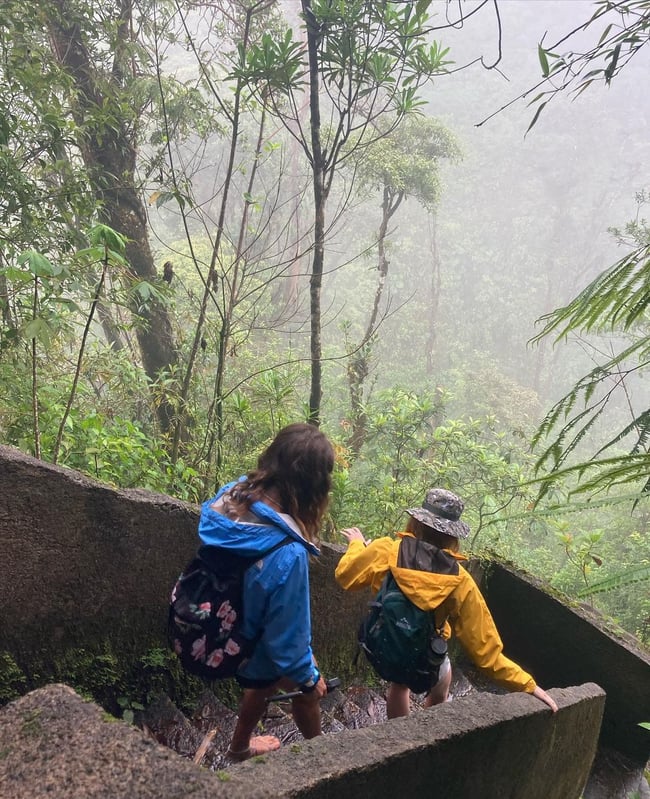 A Few Things To Know About
Changing Rooms + Restrooms
Both are available at that reception area where you pay the entrance fee (but nothing is up by the falls, so plan accordingly). Some suggest hiking in your swimming suit and plan on changing before you make the drive back.
Pack Your Snacks + A Couple Of Other Things
There is a restaurant at the reception area that serves up some local favorites and drinks, but it's only open on the weekends. If you're visiting during the week or want to avoid paying for your lunch, best to pack your own sandwiches and snacks. It's quite nice to have a picnic by the waterfall if you go this route! There aren't any trashcans by the falls, so make sure to pack out what you packed in.
Like any hike in Costa Rica, make sure you're dressed properly and have the right things in your backpack. Things like a poncho or raincoat, sunscreen, waterproof shoes with good tread that can handle the river crossings and some mud, as well as bug spray.
Cost, Hours, Info

Cost: 7,000 colones

Hours: Reception is open from 9:00 AM to 5:00 PM, daily.
Contact: Reach out to their Facebook page for more information about current weather conditions. Remember, the rivers tend to flood which can make the hiking muddy and treacherous in some areas depending on the water levels.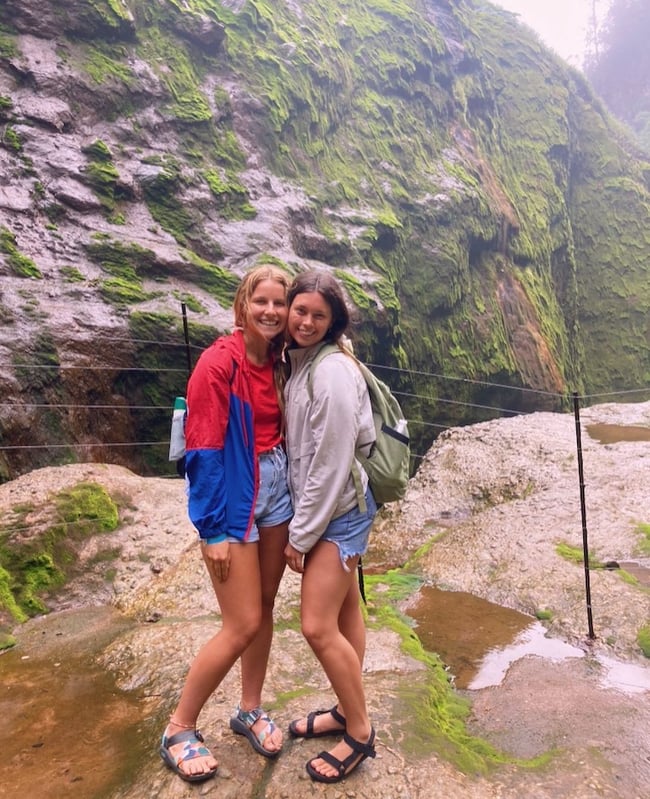 Visit This Nearby Spot On Your Trip
While you're in the area, it'd be a shame to not visit Blue Falls, another series of waterfalls and swimming spots that are colored such a beautiful blue color. Blue Falls has more pooling areas where you can do a bit more swimming than what's available at Tesoro Escondido waterfall.
Blue Falls is about 15 minutes away from Bajos Del Toro, making it an easy addition to your trip to the Tesoro Escondido Waterfall.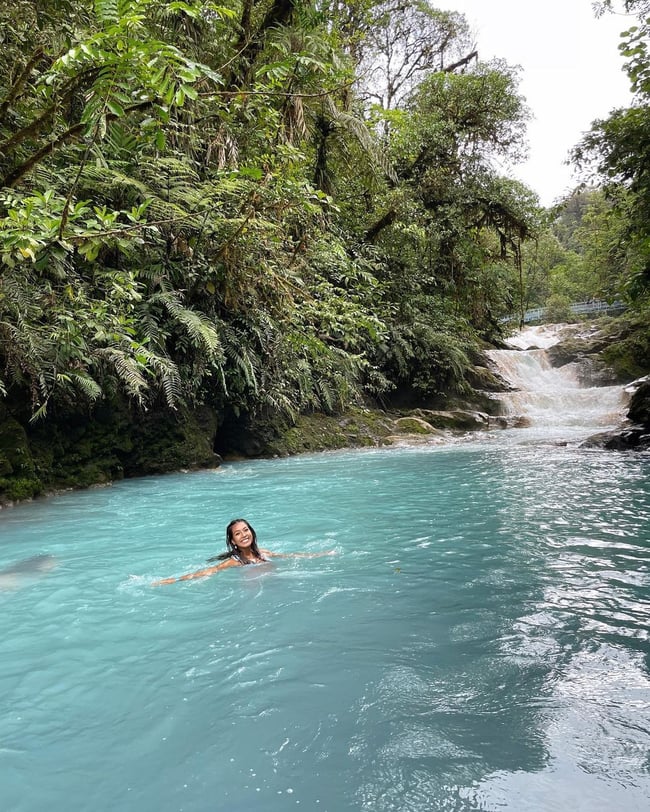 Getting Here
Alright, onto the details. We're going to give you some info on how to get here depending on two locations: San Jose — the country's capital, and transportation hub, and La Fortuna — a popular vacation spot you shouldn't miss out on.
Remember, the jumping-off point to this hike is around the small town of Bajos del Toro, so regardless of where you are coming from, that's the spot to get to.
From San Jose
ILP groups in the past who have found themselves in San Jose have opted to take a taxi to the waterfall. It's about a 90-minute drive, and lets you get right to the entrance of where you buy your tickets and start your hike. Prices can range but are in the $70 - $90 range — not terrible if you're splitting that with 3 or 4 people for a fun, Saturday adventure.
Bus is also an option, but you can't get there directly, so a taxi is needed for the second portion of the journey. Buses either go to Zarcero (bus 1508, routes here) or Grecia (routes here), then a taxi can take you the rest of the way. This option sits more in the $20 to $30 range ($4 for the bus, and the rest for the taxi), but takes typically 2.5 hours (so a bit better for a budget if you have the time).
La Fortuna
It's kind of the same deal if you're headed from La Fortuna. Taxi is the most direct, but the most expensive. Plan on paying around $85 - $100+ for the ride there — it's a 90-minute drive.
If you go by bus, you'll need to take a taxi the rest of the way. Buses take you to either Zarcero (you'll need to bus to Ciudad Quesada, then transfer to a bus to Zarcero), or just bus to Ciudad Quesada and taxi the rest of the way. Like the route to San Jose, buses are affordable ($3-4ish dollars) and taxis are more like $20 to $40.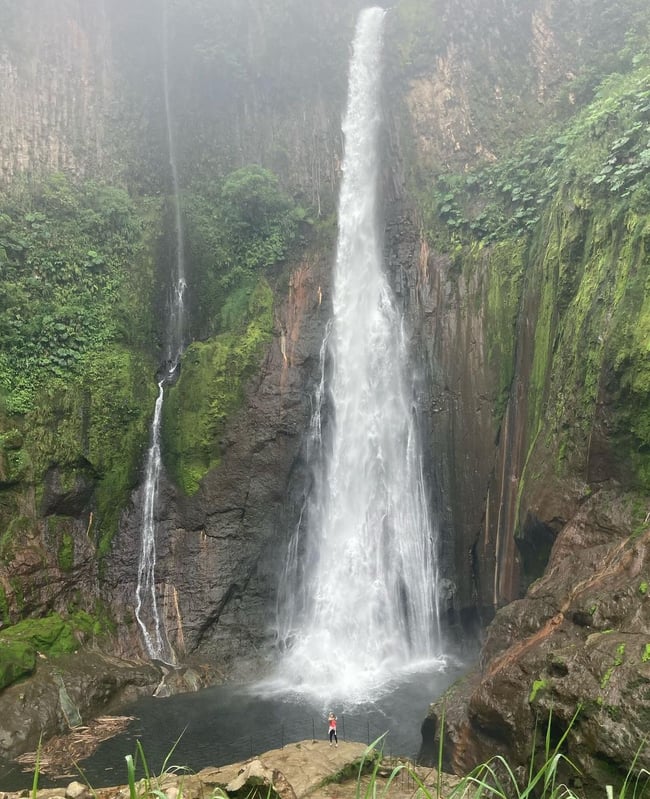 See Costa Rica on a semester abroad!
ILP handles your flight, housing, meals, and sets you up with a group of college-aged volunteers to teach with, with weekends off from teaching part-time to explore everything Costa Rica has to offer.
https://therafire.com/2021/11/26/hidden-gems-of-costa-rica-rio-celeste-and-tesoro-escondido-waterfall/
http://www.elementonatural.com/tours/tesoro-escondido-waterfall/
https://www.amchepayn.com/2018/08/23/a-hidden-treasure-tesoro-escondido/