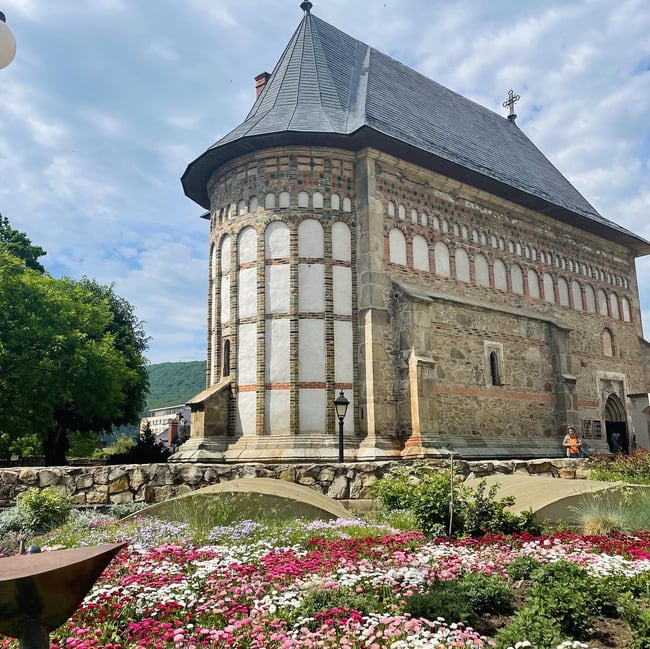 Are you one of those travelers who loves to discover new places that aren't overrun by tourists yet? Then Neamt County in Romania is just the place for you! Here's everything you need to know about this perfect day trip.
Romania has yet to become a travel destination for hordes of tourists, and that's only because they don't know about it yet. But we do! Romania has some of the cutest, most authentic towns in all of Europe, like the ones you'll find in Piatra Neamt, and we know you'll end up loving it just as much as we do.


---
Want to be a volunteer in Romania for an entire semester? Get all the info:
Volunteer in the Romanian Orphanage Program

---
As a volunteer with International Language Programs, you can work with the local orphanage program and then take awesome day trips like this one on the weekends. Piatra Neamt is located in the Moldavia region (sounds like a Hallmark movie, right?) in northeastern Romania, not far from our volunteers. It's a gorgeous area, peppered with little towns, sprawling fields, a few mountains boasting gorgeous views, and areas that feel like a slice of authentic Romanian culture and history.
We know there are tons of charming towns in Romania to choose from, but we really think Neamt should make your list. It's unlike any place you can find elsewhere in the world and has some rave reviews from past groups who have fit it into their semester.
We've put together this little guide for you to make sure you hit all the best spots — it's a combo of volunteer recommendations and some insider info we got from our friends living in Romania:
Top Things To See
Explore The Citadel
Don't miss this! This medieval fortress built in the 1300s is one of the most important tourist locations in the area. Located on a peak, it can only be accessed by a giant bridge supported by rectangular stone pillars. It provides incredible views of the surrounding valleys and will make you feel like you're stepping back in time.
Once you make the 15-20 minute climb up from the base of the hill, you can admire the citadel and the incredible views — it's particularly lovely at sunset. Plan on spending a couple of hours here if you'd like to soak up all the chapters of history. There are several rooms to wander in and out of, including the kitchen and cellar area, dormitories, and other living quarters, as well as a small chapel. There are several relics dating back hundreds of years to look at as well, including a suit of armor, manuscripts and seals, and some cannon balls.
The admission price is just over $1, but heads up you do have to pay to take pictures inside the citadel. Pro tip: Split the cost between all of you and have the person with the best camera take the pictures for everyone. Make sure you bring your own water and snacks (there isn't a shop at the top where you can buy something).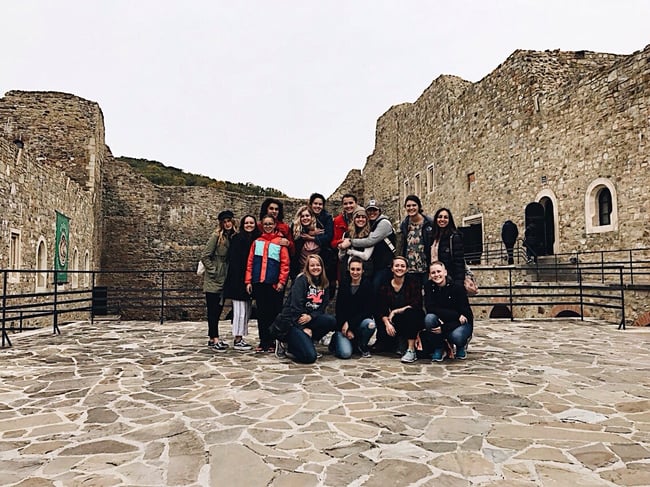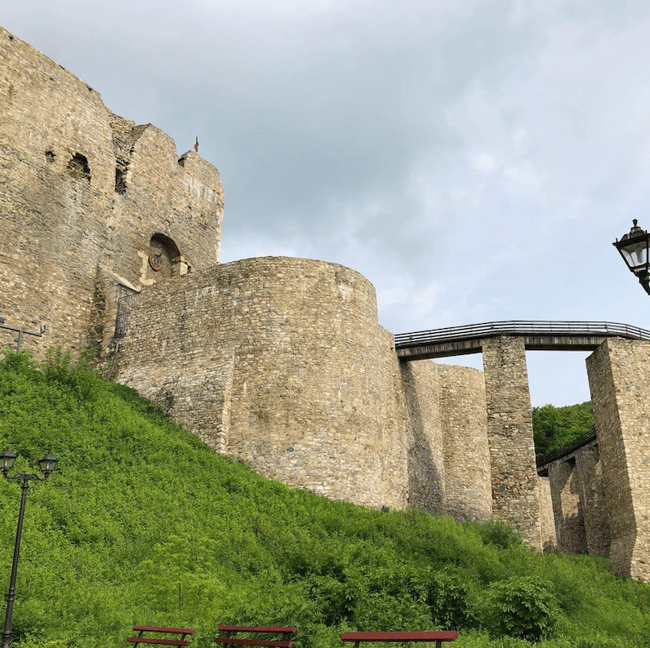 Admire A Few Monasteries
One of the coolest things about Neamt is that it has the most monasteries per square kilometer in the world. A lot of these monasteries are still functioning today. Here are a few of our favorites.
Neamt Monastery: This historical monastery is called "The Jerusalem of the Roman Orthodoxy." Built in the 1300s, it is home to the oldest library of religious texts: 18,000 books! Inside the church there is also a religious icon of St. Mary Mother of Jesus that dates to 665 and was given to Romania in the 1400s by Constantinople. It's the oldest icon in all of Romania, and the people who travel here to pray before her believe that she will bring miracles into their lives.
This monastery has a lot to explore, so plan on spending a bit of time here. There's a collection of buildings, an onsite museum, the monastery itself (which is covered in floor-to-ceiling paintings), a storehouse with a huge dome on top, as well as gardens in the springtime.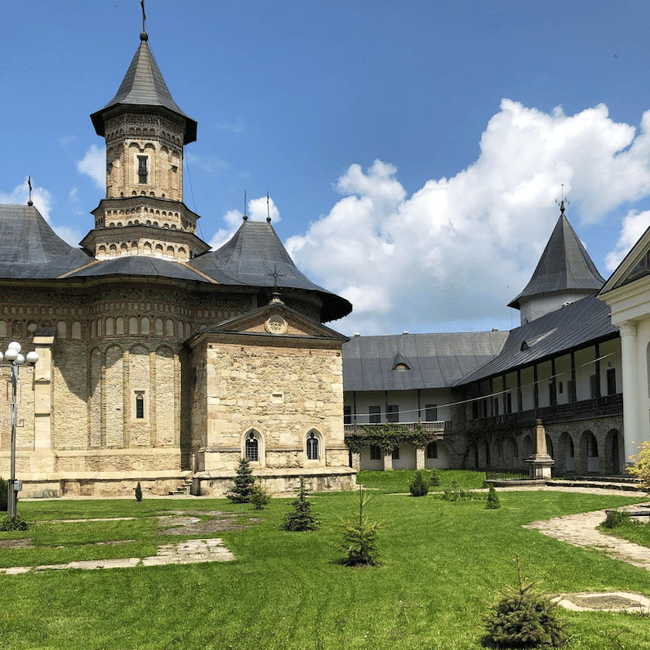 Sihastria Monastery: Built in the 1600s, this monastery is located at the northern end of Neamt County. It's one of the most photogenic, with three spires that top the pitched roof of the building, adorned with golden portraits of important saints. There are a few other buildings to admire, and sites of spiritual importance, like the tombs of some of the most well-known historical figures of Romania. This is the final resting place for Father Cleopa and Father Paisie, among others.
The quiet grounds also include a beautiful cemetery, making it a very peaceful sanctuary.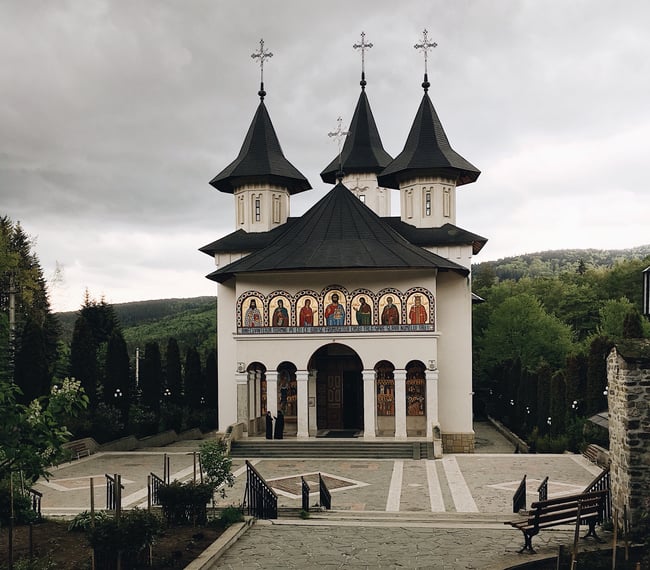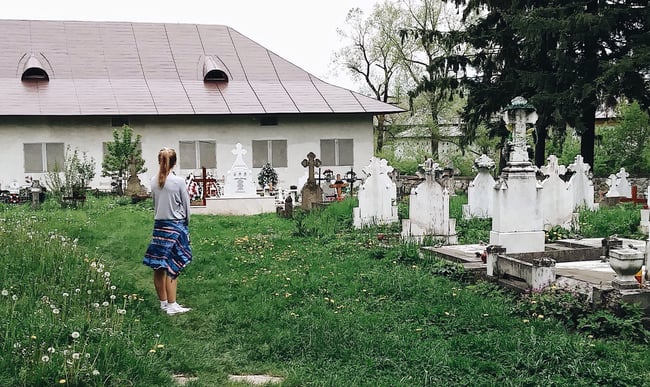 Agapia Monastery: Surrounded by fur trees and hidden in the mountains, this is more of a convent village and its name means "Christian Love." It is home to the largest group of nuns (300–400) in Romania and includes an impressive museum of medieval art and religious texts. The inside is stunning (filled with golden chandeliers), but visiting in the warmer months means you can admire the stunning gardens in the courtyard.
In the summer, the flower boxes are full of gem-like red geraniums, making this one of the most charming spots in Neamt. You'll also see stripes of white blooms, patches of purple, and borders of yellow flowers.
Secu Monastery: Also built at the beginning of the 1600s, this monastery looks a lot like a medieval castle due to its thick walls and turrets. It is built in the shape of a clover, with a large tower, and the inside was painted in the 1800s to match the Baroque style.
The interior houses a courtyard complete with sculpted shrubbery, a wooden gazebo, and grounds that give you pretty spectacular views of the towering castle-like structures of this monastery. There's a lot to see here!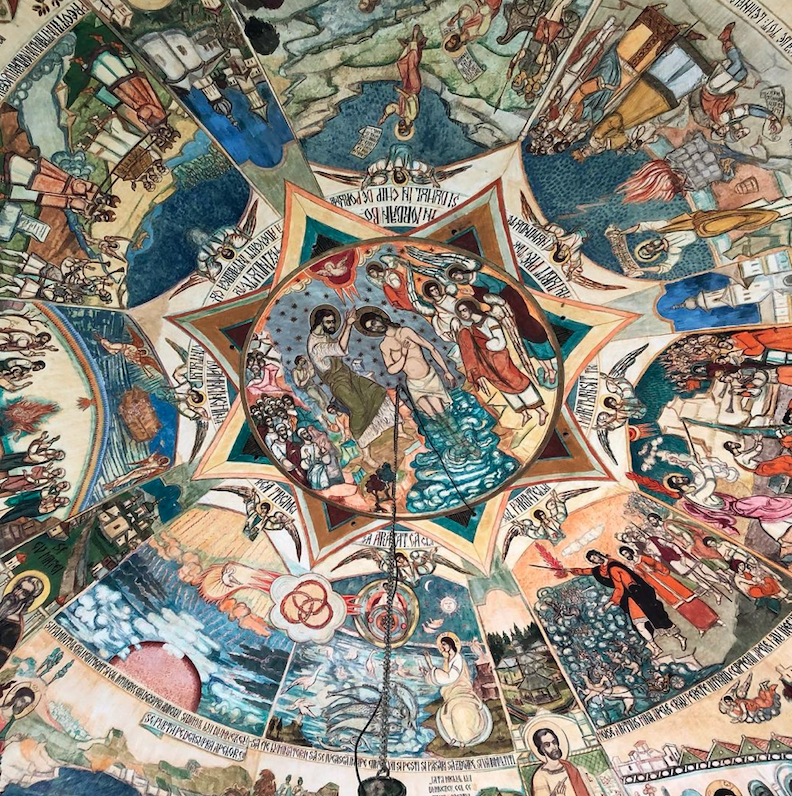 Nicolae "POPA" Museum
They call this the "peasant museum," and honestly, it's fascinating. Without any professional training, Nicolae Popa, a veteran of World War II, decided he wanted to help preserve Romanian folklore. He created hundreds of traditional masks, costumes, and sculptures, then opened this museum in his home during the 1970s. It has been preserved by his family and really is a hidden gem.
Ion Creanga Memorial Museum
This is the childhood home of Romania's favorite storyteller, and it is a great place to learn a lot about the culture and history of Romania. It has been rebuilt to look the way it did decades ago, with a lot of household items and agricultural equipment to show a little of what life would have been like. The entrance fee is just over $1 and is a favorite stop for many travelers.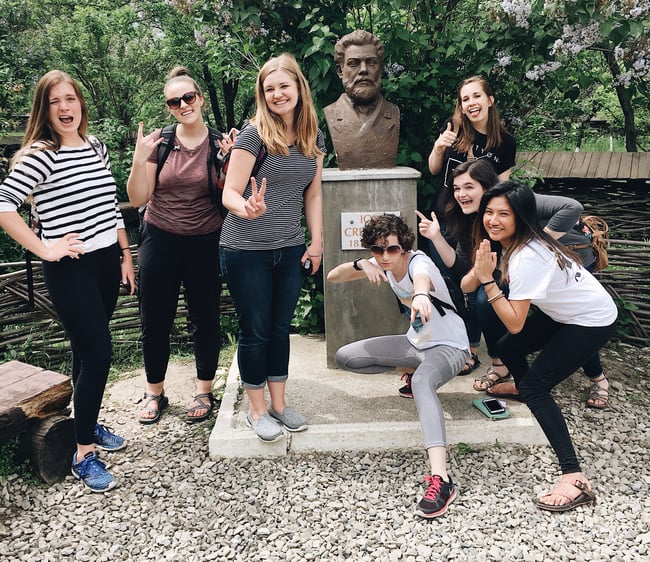 Views From The Telegondola
If you're looking for some of the best views of the city, this gondola ride answers all of your questions. The ride takes you over the colored rooftops up onto the mountainside for a picture-perfect view from the top (but honestly, the views from the way up and down are even better in my opinion!). You can either ride up and hike down, and vice versa, or just sit back and relax while you enjoy the view on the way up and down.
Address: Find it here.
Cost: 30 lei for a roundtrip ticket, 20 for a one-way.
More info here. (They have operating hours for each day of the week.)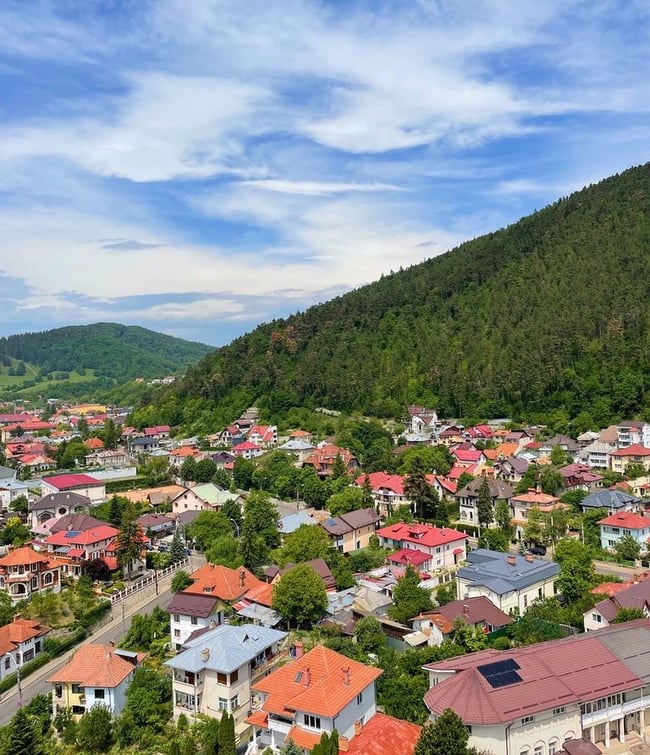 Places To Stay The Night + A Few Tips
Neamt could fit in as a day trip, but you'd want to catch an early bus/train there, and take the last one home to make sure you have plenty of time to soak up the citadel, cathedrals, monasteries, and other things to see and do in Piatra Neamt. The region is pretty spread out, so you'll want to plan for travel time between sites, as well as the time it takes to actually get here.
ILP groups in the past have done Neamt on a quick weekend getaway, and have stayed at Cochet Accommodation for a night or two. It's a pretty basic place but has everything you need. Book here.
Getting To Neamt
By Bus (Or Train)
There are several operators that crisscross the country to bring travelers to places like Neamt.
For example, from the nearby city of Iasi, Romania, you can get to Piatra Neamt in around 2.5 hours (look at routes here and here and here).
If you're headed here from Brasov, plan on a 5-6 hour journey by bus (check routes here) or train (check routes here). Brasov is one of our absolute favorite places in all of Romania.
Getting Around
If you've mapped the area, you'll notice that some of the monasteries are too far to walk between ... some are a 30+ minute drive away from each other. ILP groups in the past have worked with their Local Coordinator (a big perk if you're volunteering in Romania with ILP) to help arrange a local driver for the day, which makes it easy to get around. You can also visit the tourist center to see if you can get info on any buses or minibusses that are heading out to some of the monasteries on your itinerary.
For other things to see and do in the city, Neamt overall is very walkable.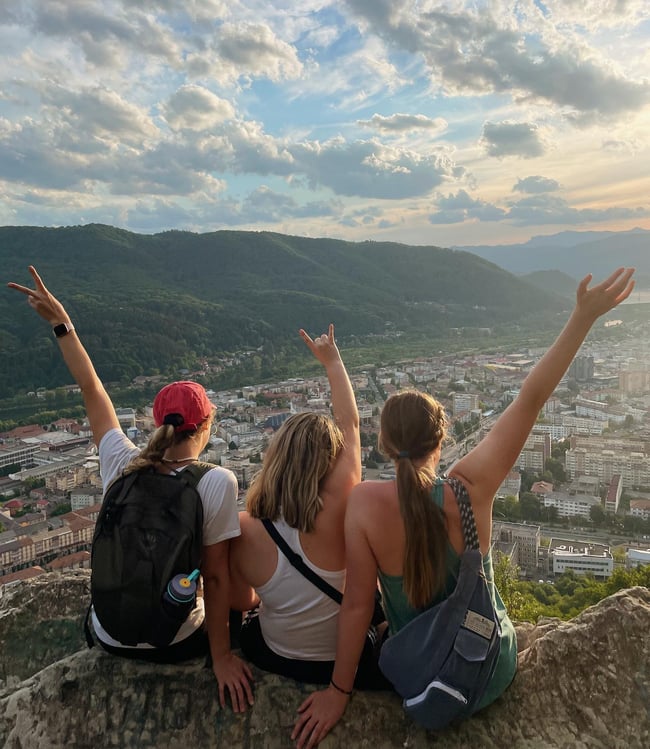 Want to talk to someone who has volunteered in Romania?

Click the button below to talk to one of the representatives in our office who has spent an entire semester in Romania and would love to answer any questions you have!