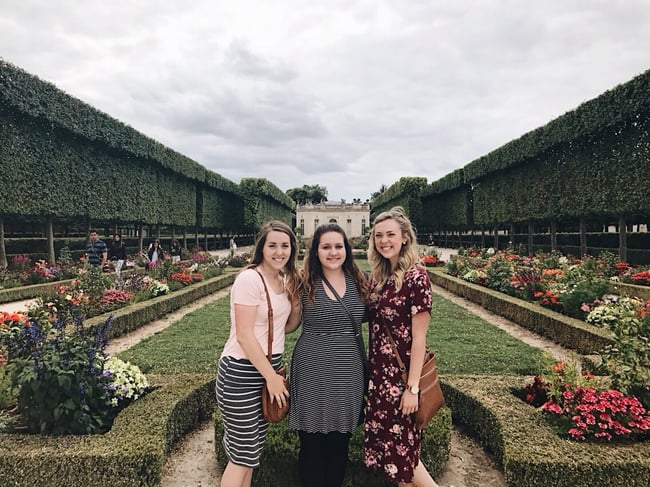 Ready to spend a day at one of the most magical places on the planet? Every single one of your childhood fairytale dreams is about to come true, complete with a huge palace. Here's everything you need to know about visiting Versailles!
So you have a few days in Paris and are trying to pick and choose which places you cannot miss? Well, this palace and estate better be at the top of your list, that's for sure! Located about twelve miles away from the center of Paris, it's a great way to break up your trip and we promise it will be unforgettable.


---
Interested in traveling but not sure how to make it happen?
Talk to an ILP rep who can answer questions about discounts and other ways to make a semester abroad possible.
---
We could talk for hours about how incredible the Palace of Versailles is. But honestly, you need to see it for yourself to be able to understand why this is one of the most popular tourist attractions in Europe. And you'll have to dedicate almost an entire day to this estate to really get the full experience.
Pst: If you have a few days in Paris, we've already written the perfect itinerary for you, complete with a day at Versailles!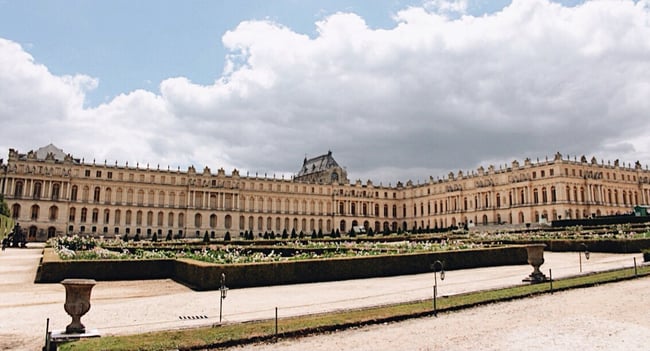 Everything You Need Know About Visiting the Palace of Versailles
What It Is
How To Prepare
How To Get There
What To Do There
What Is The Palace of Versailles?
Originally, Versailles was only a hunting lodge, built in the early 1600s by Louis XIII. It was his son, Louis the XIV, the Sun King, who took a particular liking to the estate, and made himself the master architect for the numerous projects that changed Versailles into a luxurious palace. He also made it the central hub of the French court and government. Go here to see what a day in the life of Louis XVI was like. The expansion of many more rooms and gardens continued through the reign of Louis XV, even though the court moved to Paris for a while.
Louis XVI and his wife, Marie Antoinette lived almost exclusively on the estate. However, when they shared the crown, Versailles and its occupants had started to become very unpopular with the citizens of France due to the lavish and expensive habits of French royalty. Although Louis XVI was involved and helpful in America's Revolutionary War against England, he was not able to change the social and economical decline in his own country, which led to his downfall. However, it was because of his aid in America's fight for independence that John D. Rockefeller was inspired to donate large sums of money to the restoration of the palace in the 20th century. Today it is maintained as a museum showcasing one of the brightest periods in French history.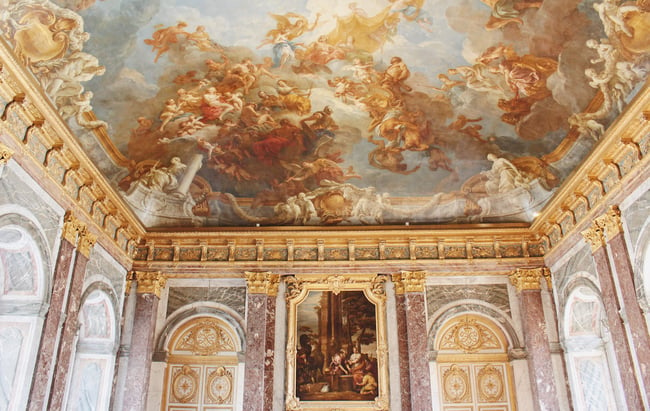 How to Prepare?
When To Visit
Obviously you're limited by your vacation dates, but no surprise, weekdays are less crowded than weekends. Anytime during July and August, there are going to be so many people. Winter is much less busy, but the water fountains don't run then. All of the music and light shows will take place during various days and times from April to September.
On the day of, plan on getting there EARLY! You will want to start with the palace since that is what gets craziest as the day goes on. Be there when it opens at 9 AM. Then if you bought your tickets online (as most people do) make sure you are in the security check line, and not in the ticket line.
Booking Tickets
Buy your tickets online beforehand. The best deal is to get the passport ticket (about $23) which gives you access to the entire estate (palace, Trianon, gardens and park, temporary exhibitions, coach house, and the fountain shows).
What To Bring
There are a few places to buy food in and around the palace, like Angelina's (you have to try their hot chocolate while you're in Paris)! But, we recommend bringing stuff for a picnic lunch! You will need to check it with your bag at the front of the palace, but when you are going into the garden area, you'll get it back. What could be better than watching fountains and eating a baguette with cheese?
Also make sure you bring plenty of water because it will be a long day of walking around.
How Do I Get There?
The cheapest way to get to Versailles is by train. The public transport system in Paris may seem complicated at first, but it is actually one of the most straightforward in Europe once you get used to it! The metro lines (indicated by numbers) are for inside the city, and the RER lines (indicated by letters) are for both inside the city and the suburbs. Since Versailles is in a suburb, you'll need to catch the RER C line. The ride will be over an hour, but it takes you to the station that's a ten-minute walk from the palace. On maps, it's the yellow line that runs along the Seine. Some of the views from this ride are actually pretty amazing, and you might even catch your first glimpse of the Eiffel Tower.
Your round trip ticket will cost 7,1€ and is good for any combination of RER and metro lines that make up the quickest route to get you there. To get your ticket, just go to the nearest station and use either one of the machines, or line up to talk to a person behind one of the desks. Just make sure you purchase a ticket to the "Versailles Château Rive Gauche" station since Versailles has three. They will give you two tickets, and you'll save one of them for coming back to Paris.
If you have any more questions or get lost, just take a peek at these very detailed instructions for how to get to Versailles from Paris.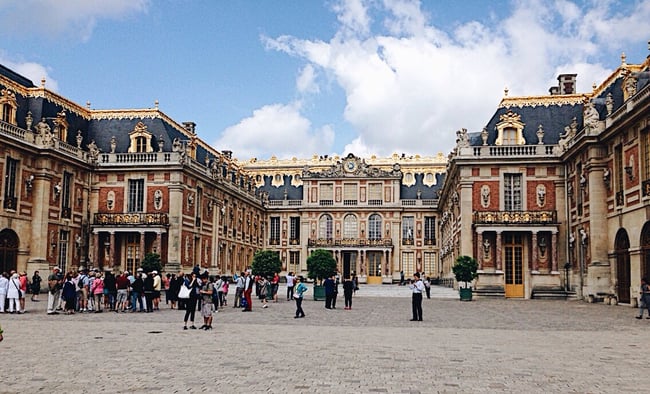 What To Do There?
Chateau de Versailles
This is the palace, and once you step inside, you'll understand why people come from all over the world to see it! Every single ceiling is a masterpiece. Crystal. Gold. Rows and rows of white marble statues of all the Greek gods and goddesses. Huge windows that look over the gardens and make everything sparkle in the prettiest natural light. Bedrooms and meeting rooms and sitting rooms and ballrooms and dining rooms. You get the point. But it is breathtaking and we're pretty sure there is nothing else like it.
You won't get lost inside, because there are security guards who make sure you keep moving with the flow of tourists. The walk itself will take over an hour, and make sure you get pictures of everything!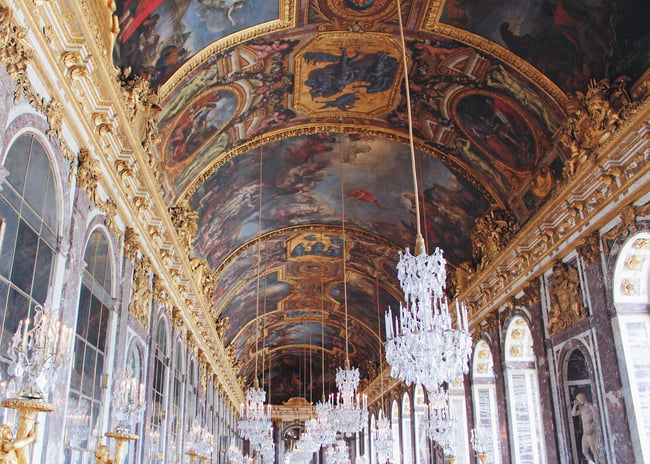 The Gardens and Grand Canal
Do not underestimate how HUGE this area is. There are a couple of different ways to see this. Most of our volunteers just walk it, but you can also rent a bike for about $8.50 an hour. You will probably walk more than ten miles if you are wanting to see everything, but it is worth it.
Every bush is trimmed to perfection. More rows of white marble statues. Fountains. Gravel pathways. Secret gardens where lovers of the past used to meet. All of it is enchanting and magical! Each little garden is different than any of the others, so just walk the big loop and try to see all of them.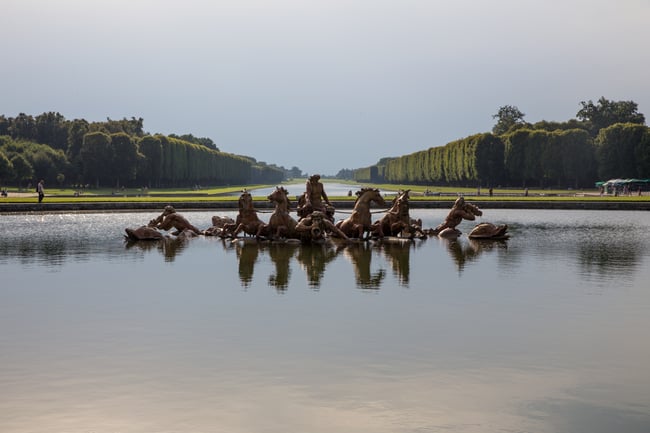 The Grand Trianon and Petite Trianon
This area was built as a place to entertain and house guests in a less formal environment than the strict etiquette that was required at the main palace. Marie Antoinette herself used the Petite Trianon and its gardens as refuge from suffocating court life. Obviously their definition of "simplified" is a little different than ours, since the pink marble pillars and many of the furnishings are no less magnificent than those found at the palace.
Visit the Queen's Hamlet by crossing the gardens of the Petite Trianon. Constructed at the request of Marie Antoinette, this little farm looks a lot like any of the ones you see in Disney movies. It was a major annoyance to the lower class of France who felt that she was mocking their lifestyle. The inside is only accessible through a guided tour, but you can still enjoy the grounds and charming farm structures built to match the English style of the time. Not able to fit this country cottage into your schedule? Go here for a virtual tour.
The nice thing about the Trianon area, is that most tourists load back onto the buses after seeing the palace and the gardens, so it can actually be very peaceful. No matter how much of this estate you are able to squeeze into your day, it will be worth the sore feet and so memorable!
Ready to start your own semester as a volunteer?
Come with ILP! Our programs are more affordable, longer, and more inclusive than any study abroad, plus you get to have a meaningful service experience that will open up future opportunities and change your life! Click below to start your application: