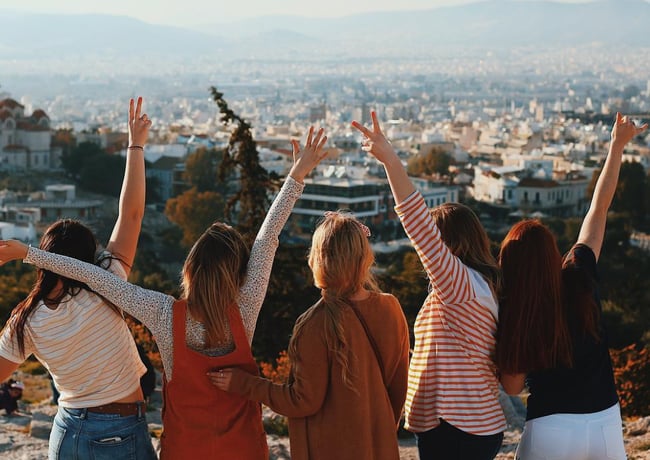 Traveling around Europe? Whether you're into Instagram or not, these spots are the best not-so-touristy places to see in real life. And make sure you snap those ideal photos while you're at it!
Every country in Europe has pretty spots that are not only surreal to visit, but absolutely stunning in pictures as well! When volunteering with International Language Programs, you'll have plenty of vacation days to travel around and visit some of them. Since it can be hard to choose where to spend your time and money, here's a little sneak peak of some of our lesser-known favorites that tourists often forget about. The best part of these spots that aren't as popular is that they're often easier on your budget too!


---
Is traveling the world one of your dreams but you're not sure how to afford it?
How To Pay Less For A Semester Abroad

---
Since so many of our volunteers love using Instagram as a way to share and save their favorite photos, we've also created a complete guide to growing your travel Instagram account! And here's a few tips that will help to get your pics featured on ILP's Instagram feed. Plus, don't forget these apps that are extra helpful when trying to perfect your Insta game.
We've organized this list of our favorite lesser-known spots in Europe by region so it's easier for you to keep track of everywhere you want to visit. And many of these places you can pile together into a 4-day weekend, or even a shorter trip! Traveling around to a lot of these locations is actually fairly cheap once you get to Europe, so grab your passport and let's go!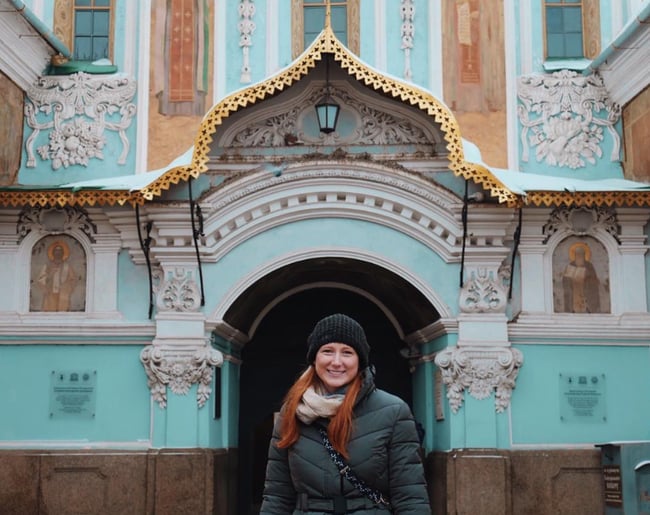 Best Instagrammable Spots By Region
Balkans
Eastern Europe
Scandinavia
Central Europe
Balkans
Bosnia and Herzegovina
Stari Most: Found in the historic town of Mostar, this bridge is stunning to say the least. The small town around it is a mix of many different types of architecture, including some Turkish and Ottoman vibes, and the history is fascinating. Here's our guide for this perfect day trip!
Kravica Waterfalls: Known as the "mini Niagara Falls", you'll quickly see why this natural wonder made our favorites cut! It is so easy to catch a tour from Mostar, so make sure these falls are on your list. Here's all the info you need to make this experience happen!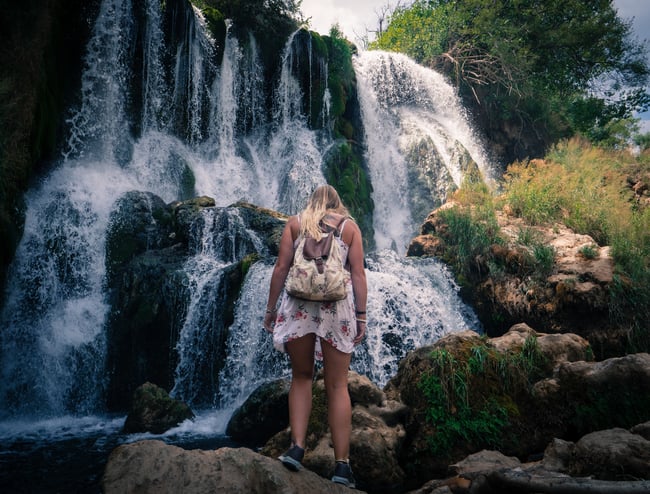 Bulgaria
Varna: This is one of the best resort cities in all of Europe, and since it's very popular among Europeans, you know it's good! They've got museums, cathedrals, gardens, an amusement park, and of course several great beaches. Here are some of the best things to do in this port city!
Rila Monastery: One of the most unique monasteries in all of Europe, and doesn't this picture alone make you want to spend a day there? The inside is even more colorful, and there are plenty of hiking trails in the surrounding forested areas. This site has a lot of info!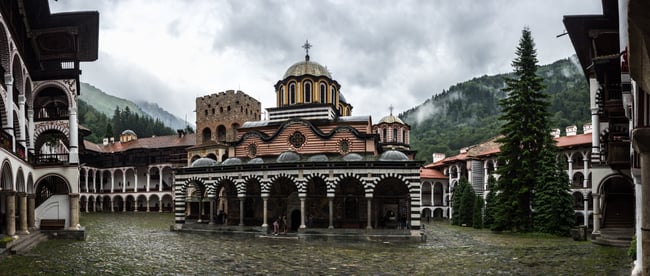 Croatia
Dubrovnik: These views! Orange-tiled roofs, a city wall that you can walk all the way around, the ocean waves, and some of the best seafood you'll ever had. Winner winner seafood dinner! Here's our complete guide for everything you need to know before visiting this charming city.
Plitvice Lakes National Park: Are you a fellow nature lover? Then stop by this park when traveling around Croatia! It has lakes, forested areas, and grasslands. There are many hiking trails and routes you can take to explore the area. Visit this site for all the info you'll need!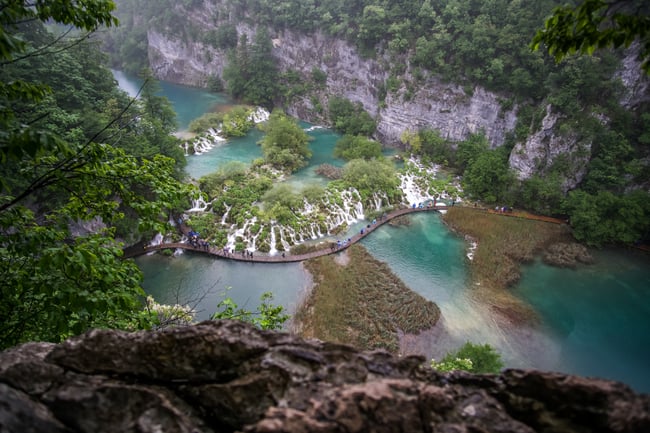 Cyprus
Paphos: Located on an island in the Mediterranean that is 10,000 years old, this coastal city is full of ruins and also happens to be the mythical birthplace of the Greek goddess, Aphrodite. Snap a pic at Aphrodite's Rock that juts from clear, turquoise water, and then tie a piece of fabric on the wishing tree. Here are 17 of the top things to do in this area!
North Macedonia
Ohrid: One of the highlights of this seaside city is all of the ancient churches! In fact, there used to be 365—one for every day of the year. You can take a boat ride, visit an ancient fortress, take pics of all the Byzantine architecture, and do so much more in this place that has been nicknamed "the Jerusalem of the Balkans." Here is a link with a ton of great info!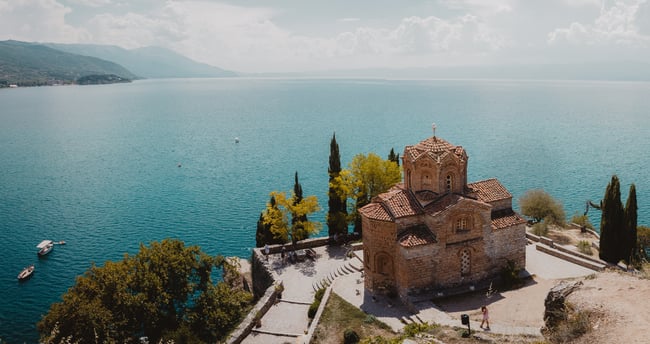 Romania
Constanta: No joke, but the most beautiful building here is an old casino, and it's massive! Plus this is one of the warmest cities in Romania because it is right on the coast. Talk about an ideal vacay. Here's our guide for the perfect weekend getaway!
Painted Monasteries: We know...more churches. But these ones are so unique and the intricate paintings are just breathtaking. Plus the surrounding areas are very rural and quiet if you need a break from the city. Read this guide for everything you need to know about visiting these monasteries in Bucovina!
Peles Castle: This is just one of the highlights to see in the charming town of Brasov. There are also hikes, other castles, cutie buildings, and so much more! If you're in Romania, this absolutely has to be on your list of must-dos! Here is our guide for everything you need to know about Brasov!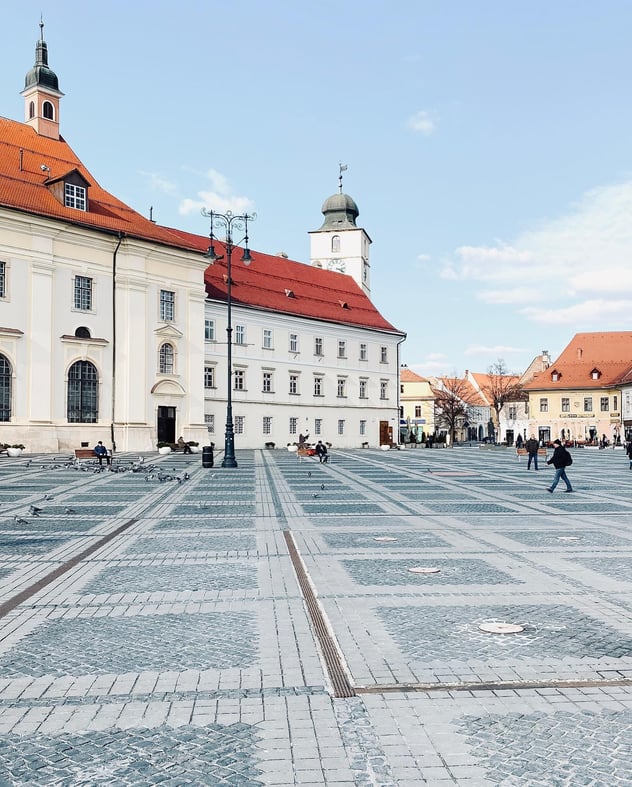 Montenegro
Durmitor National Park: This is the place to go if you're up for rafting, mountain views, ziplining, and so much more. Plus some killer pictures, of course!
Ostrog Monastary: This beautiful, white building is one of the most well-known spots in the country, and for obvious reasons. Not many places you can go where a place of this size is built right into the face of a cliff.
Bay of Kotor: There's this bay in Montenegro that is jam packed full of incredible spots and your camera roll will likely get completely full trying to snap it all. Make sure you stop by "Our Lady of the Rocks", a man-made island that is home to a quaint, little church and has a legend attached to it. Even the roads and alleys are Insta-worthy!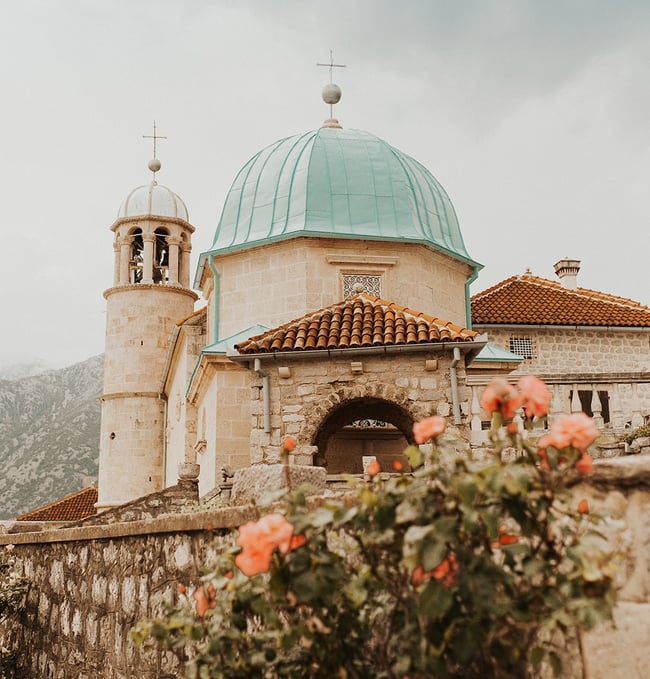 Eastern Europe
Lithuania
Trakai Castle: A big orange castle on an island in the middle of a lake? That sounds like our kind of day trip, no matter the weather! Check out this post for all the details.
Cafes: What would a good travel Insta account be without a few pics of awesome food? Lithuania is home to some of our favorite cafes, and you will probably be surprised by the variety (Cat Cafe, anyone?). Here is our list of the ones you can't miss in Vilnius!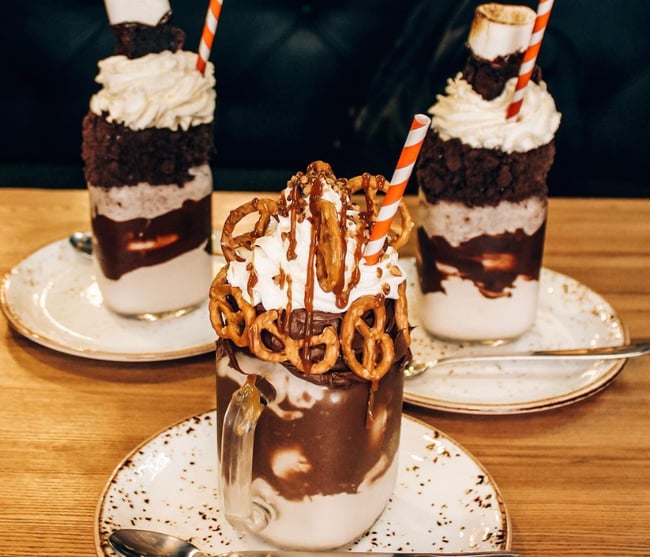 Ukraine
Tunnel of Love: This totally beautiful, leafy tunnel overhanging old train tracks looks like it's straight out of a storybook. It's a bit out of the way, but not hard to get to and worth it if you are anywhere in Ukraine! Read this for all the info you'll need.
Kiev: The capital of Ukraine is honestly where it's at! Here you'll find the Lavra, the Alice in Wonderland park, amazing cathedrals, and so many more colorful places. This city is one of our favorites in Europe, so of course we have a complete guide that will help you plan your stay there. Plus here is our ultimate bucket list for all of Ukraine!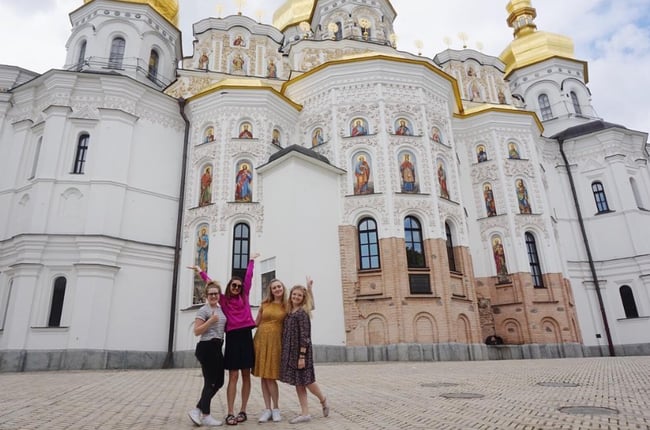 Latvia
Riga: All of the architecture in this underrated city is stunning! And most tourists haven't discovered it yet, so you'll get a pretty authentic experience here. European charm at its finest! Here's our guide for planning your weekend trip.
Estonia
Tallinn: This is where you'll find the popular "Times We Had" wall which is pretty iconic for any traveler's Insta account. But don't forget about the cathedrals, seaside biking, marzipan sculpting, and other wall art! Check out this guide when planning your visit.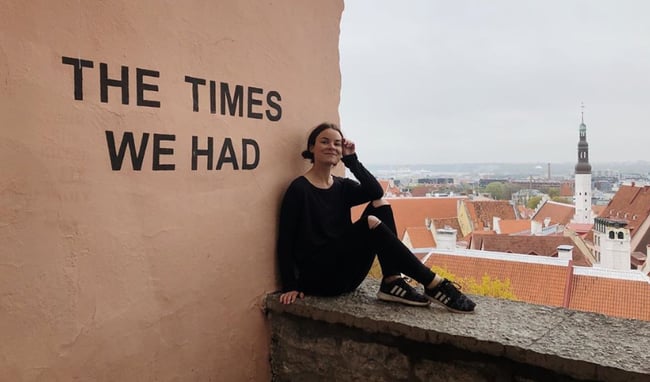 Scandinavia
Denmark
Copenhagen: The list of things we love about Copenhagen just keeps growing every semester! Make sure you get a picture with the Little Mermaid statue, and absolutely swing round to Nyhavn Pier for these rows and rows of bright storefronts and resting boats. If you have time, Kastellat's beautiful windmill is worth the stop (and the photos). All of the details for exploring this city are included in this guide!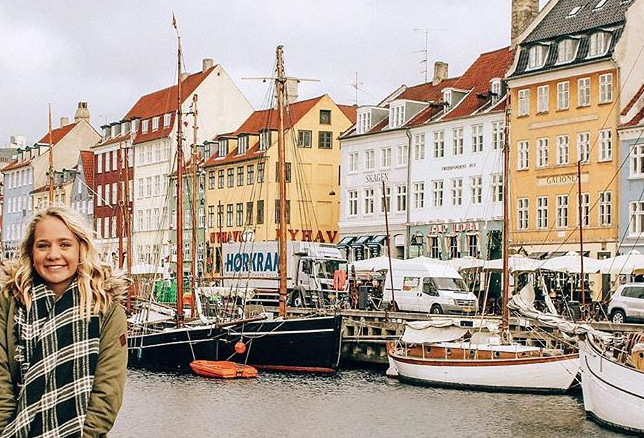 Sweden
Stockholm: Here's the cool thing about Stockholm—it's one city that actually stretches across 14 different islands! While there aren't many spots we could list off as just prime photo ops, the entire city is full of candy-colored buildings, and picturesque views of the water that will be perfect for any camera lover. And heads up: some of the best art of Stockholm is actually found underground—in the metro stations. Read about this unique art here!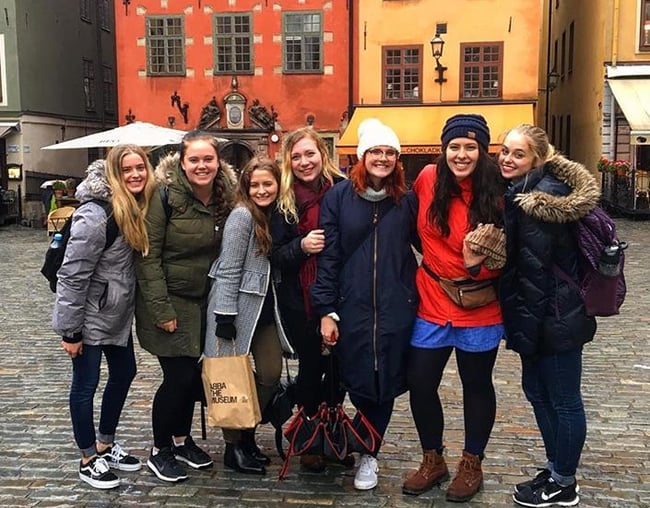 Central Europe
Austria
Vienna: There is so many stunning places in this city that are just the perfect photo ops. Karlskirche, the Austrian National Library, Belvedere Palace, and of course the Hundertwasser House that looks more like it belongs in Barcelona! Check out these top tips for a great weekend getaway.
Salzburg: A highlight is definitely the "Sound of Music" Tour, but the Mirabell Palace is also a real winner. This is our complete guide!
Hallstatt: You've seen pictures of this fairy tale town nestled between a mountain and a lake, but it's time to make your own memories in this dreamy place. Here's our guide for a day tip!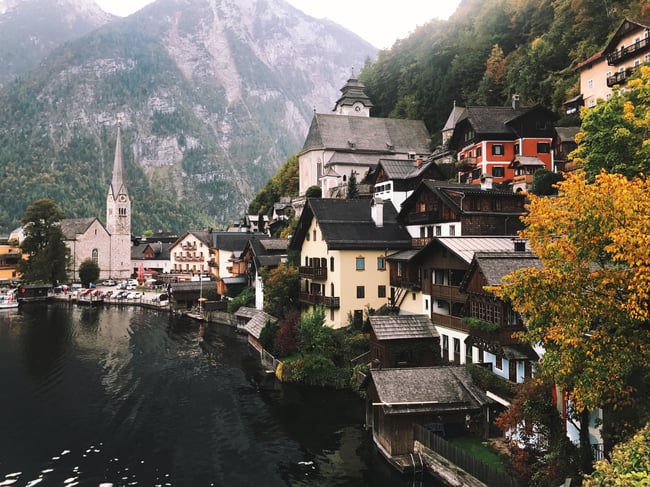 Czech Republic
Prague: Okay yes, we know you've heard of this incredibly famous city ... but is it high on your bucketlist yet? If not, it should be. This city is just full of the best photo spots, especially since there is a big river (with swans swimming around) and a huge castle built on the top of a hill. The views overlooking the city are inspiring (to say the least) and make for some pretty great picturesque pictures. Plus it's home to some of the most delicious European sweets for all of our foodies! Here's our guide to this amazing city.
Cesky Krumlov: Perhaps even prettier than Prague, in our opinion anyways. And the best part is that not as many tourists know about this little gem or take the time to get here (even though it's only a couple hours from Prague). We highly recommend checking out this cutie little town and know you'll fall in love as fast as we did. Check out our guide to visiting Cesky Krumlov.
Germany
Rothenburg: We know we've already referred to several places as fairy tale towns, but this one really is straight out of Cinderella. Since it's so small, you can experience it all in a day, but make sure you take pictures of everything! Check out this blog post for the must-dos and a sneak peek at all of the cutest buildings.
Neuschwanstein Castle: As you know, there are countless castles in Europe. But, this one is the most famous, and even served as the model for Sleeping Beauty's castle at Disneyland. With an interesting history and the most stunning architecture, the opportunity to see it is something you can't pass up! Read this guide and make it happen.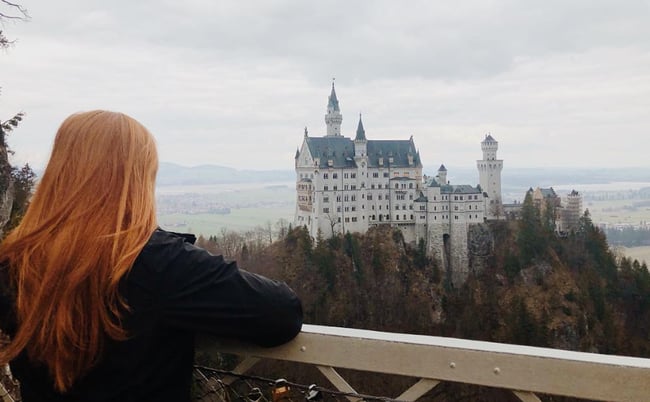 Hungary
Budapest: The best viewpoint of this city is from any of the seven towers of the stunning Fisherman's Bastion! And let's not forget about the ultimate relaxing experience you can have at the iconic thermal baths. Those memories will make for some pretty great snapshots! Here's our guide for everything you need to know before planning your trip to Budapest.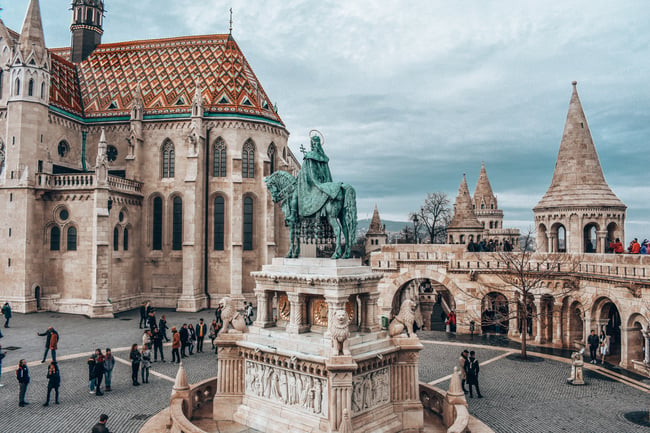 Poland
Lake Morskie Oko: Nestled in the mountains of Zakopane, the views of this lake are totally worth the hike it takes to get there. The path is paved all the way up, and the landscape looks like something out of Lord of the Rings. Here's our guide for this perfect day trip.
Old Town Krakow: There are many magical old towns in Europe, but this has to be one of our favorites! And there are more fun and unique things to do here than just about anywhere else. Take pictures in front of Wawel Castle, and the walls covered in street art, in the cathedrals, and everywhere else! Follow this guide for the ideal weekend.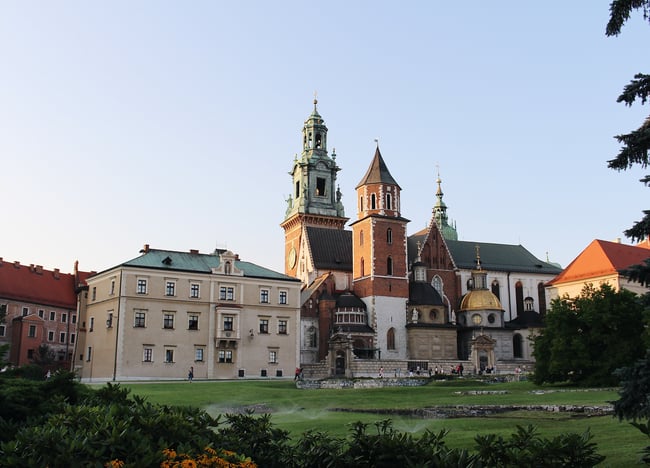 Ready to see many of these spots while spending a semester in Europe?
Sounds like a dream, right? But it can totally happen when you volunteer abroad with ILP. Click the button below to find out a bit about what to expect from this life-changing opportunity!