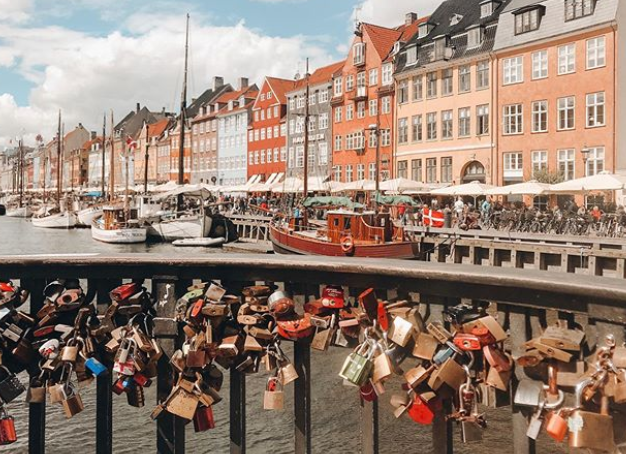 The amusement park that was Disney's inspiration? International food stalls? Colorful buildings and a world-famous harbor? Full of all types of vibrant Scandinavian charm, Copenhagen is the perfect stop for any bucketlist traveler.
Nestled on the coast of Denmark, Copenhagen is full of stoic history and quirky landmarks. We guarantee this trendy city will be one of your favorite stops. With piles of flaky pastries and such a fun culture, how could it not be? As an English teaching volunteer with International Language Programs in Europe, we absolutely recommend that you add this charming place to your vacation itinerary.


---
Want to live in Europe as a volunteer? Learn about this affordable option:
How To Pay Less For A Semester

---

Yep, when you're not teaching English to cutie kids or volunteering in an orphanage, you'll get to plan lots of vacations to dreamy cities. To help you start planning the perfect weekend in Copenhagen, we've answered the most important questions!
Your Complete Guide To Copenhagen, Denmark:
How To Get There
How To Get Around Copenhagen
What To Do There
Where To Stay
What To Eat
How Do We Get There?
Located above Germany, Copenhagen isn't too far out of the way for the volunteers teaching in any of our European countries. Since it's across the water, the easiest way to get there is by flying. We recommend using Skyscanner or even Google Flights to find the greatest deals.
The best airport to fly into is the Copenhagen Airport (CPH), sometimes called the Kastrup airport, since that's the small town where it's located. Traveling from the airport to the city center only takes 20 minutes if you're going by train or metro (find them at terminal 3) and costs about $4 per person since you will need a ticket for 3 zones.
How Do We Get Around Copenhagen?

The public transportation system in this city is one of the most organized in the world! And trust us, you'll appreciate that after visiting cities that seem like they're still trying to figure it out.
The easiest and quickest way to get around is by metro, although they also have buses and trains. Everything can be accessed with the same ticket as long as you know how many zones you will cross. Check out this transport travel guide for some extra tips.
For all ticketing info, visit this site! For unlimited transport on the buses, trains, and metro in zones 1-4, you might want to purchase the CityPass since it's less than $13 for an entire 24 hours. Buy yours here! PSA: You are responsible for always having the correct ticket whenever you board, and the ticket control officers will penalize you if you do not.
What Do We Do There?
Tivoli Gardens
If you're in the mood for beautiful gardens, architecture, and historic rides, this quaint amusement park is the place for you! Said to be Walt's inspiration for Disneyland, no trip to Copenhagen is complete without it. Admission with the unlimited ride ticket is about $35 USD, so totally worth it! Check out all of these rides it covers!
And make sure you get a turn on the Rutschebanen Rollercoaster! This wooden masterpiece is over 100 years old and still requires a brakeman to operate it! If you happen to be in town around a major holiday (Halloween, Christmas or New Years) come check out the decorations.
Address: Vesterbrogade 3, 1630 København V
Hours: Opens daily at 11 am and closes at 11 pm Sunday - Thursday and 12 am Friday - Saturday.
Papirøen (Paper Island)
If you're a foodie (who isn't in Europe?), you have to stop by this area! There are food stalls from all over the world, so it's the perfect place to grab something to eat and take a quick break from walking all over the city.
Zoo
As one of the oldest zoos in Europe, this is a pretty cool spot. Cost of admission is about $28 and if you buy your tickets online, you just have to use them within 6 months of purchase. The zoo is open every single day of the year, but hours of operation depend on the day and season.
Address: Roskildevej 32, 2000 Frederiksberg
Hours: Generally opens at either 9 or 10 am and closes anywhere from 4 to 8 pm.
The Little Mermaid Sculpture
The Little Mermaid sculpture is located at Langelinje Pier. It was inspired by the Hans Christian Andersen story (check it out if you've never heard of it). Carl Jacobsen commissioned the sculpture (his wife was the model for it) and gifted it to Copenhagen.
Fun fact, the mermaid statue has been the victim of vandalism numerous times (paint, beheading…twice, and an arm sawed off) but she always is restored to maintain her place in the harbor! Be sure to snag a picture. We recommend going at sunset!
Address: Langelinie, 2100 København Ø
The National Gallery of Denmark
Calling all lovers of art! For about $10 a ticket (for those under 30), you can see an amazing assortment of gorgeous paintings, sculptures, and other priceless pieces located only in Copenhagen. Buy tickets online before you go to avoid the lines.
Address: Sølvgade 48-50, 1307 København K
Hours: Tuesday, Thursday - Sunday 11:00 – 5:00 pm, and Wednesday 11:00 – 8:00 pm. Closed Mondays.
Nyhavn Pier
The best pictures of Copenhagen are taken at this iconic harbor. Here you'll find the bright colored buildings that this city is known for! There are also cutie shops and restaurants. This is by far the liveliest part of the city, complete with Jazz music, so be sure to spend at least one afternoon strolling along the "New Harbor".
Psst: This is also where Hans Christian Anderson lived, so if you're wanting to see his houses, stop by numbers 18, 20, and 67.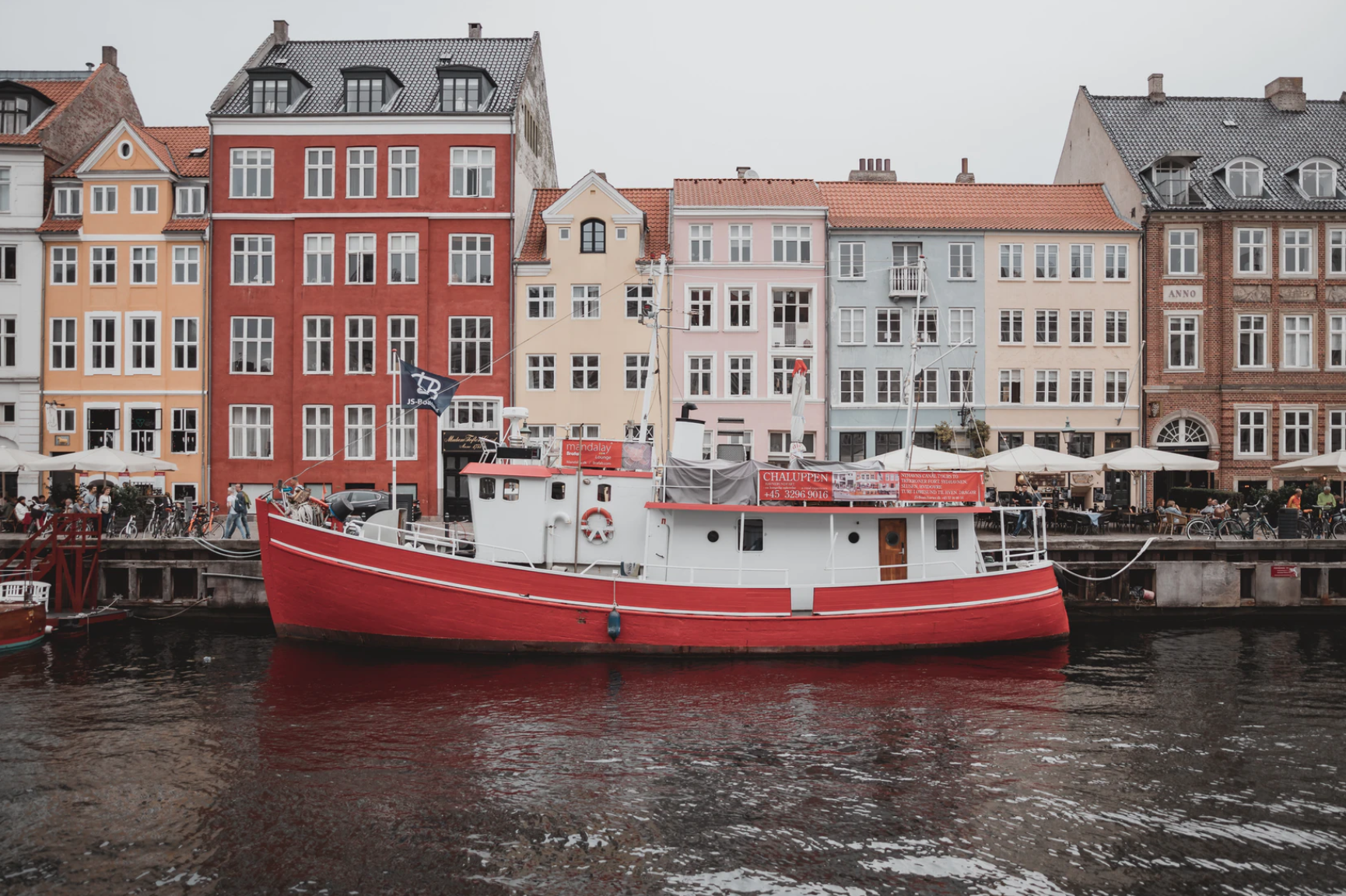 LDS Temple
If you're trying to see every temple in Europe, obviously you have to stop here. Originally a church, it was used as a bomb shelter during WW II before being converted into a temple and dedicated in 2004. Located about 30 minutes out of the center of Copenhagen, it's worth the stop.
Address: Priorvej 12, 2000 Frederiksberg
The Christus
Chances are you've probably seen replicas of this famous marble statue. Constructed by Bertel Thorvaldsen's, the original Christus is standing in The Church of Our Lady and is said to be the most perfect statue of Christ in the world. The statues of the twelve apostles (with Paul replacing Judas) are pretty amazing too.
Address: Nørregade 8 1165 København K
Hours: Monday-Sunday from 8 am to 5 pm.
Kastellat
Built in the 17th century, this citadel is one of the best-kept fortresses in Europe. It's layout is in the shape of a star, it's surrounded by a moat, and it includes the most beautiful windmill! This is the perfect place for a relaxing stroll.
Address: Gl. Hovedvagt, Kastellet 1, 2100 København
Hours: Monday-Sunday 6 am to 10 pm.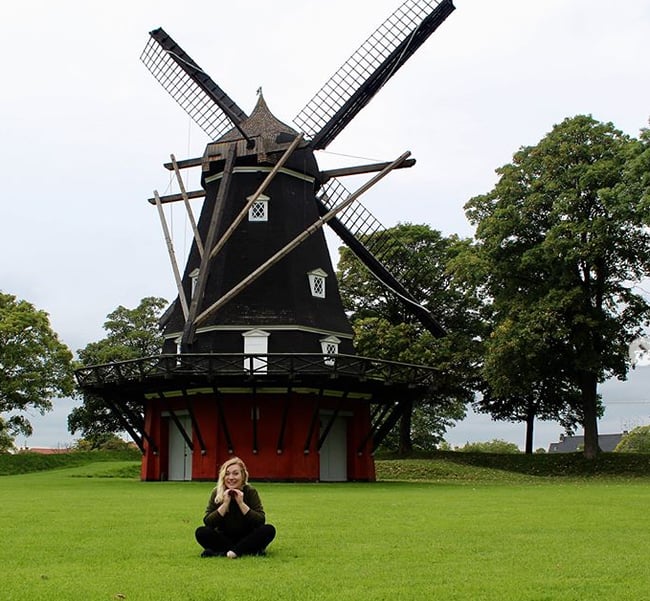 Castles
There are tons of amazing palaces and castles around Copenhagen! The majority were built in the 17th century and are similar in a lot of ways, so you definitely don't need to see all of them. Here are a couple to consider packing into your itinerary:
Frederiksborg Palace: The Baroque gardens here are gorgeous! This castle has the biggest collection of painted portraits in Denmark and is also home to the Museum of National History. The architecture is unbelievable too, so make sure to give yourself plenty of time. Adult tickets are about $12, but if you have a student ID, you should be able to get it for $10. Visit this site to see everything it includes.
Address: Frederiksborg Slot Møntportvejen 3400 Hillerød
Hours: Monday - Sunday 11 am to 3 pm. Sometimes later depending on the time of year.

Kronborg Castle: About 40 minutes north of Copenhagen, this is a beautiful Renaissance castle, known worldwide because of Shakespeare's famous play, Hamlet. If you visit in the summer you can see Hamlet performed on an open air stage in the courtyard, which makes for one awesome bucketlist item for your semester abroad! Make sure you bring your student ID card because you should be able to get a ticket for about $12.
Address: Kronborg 2 C, 3000 Helsingør
Hours: Depends on the time of year, but usually Tuesday - Sunday 11 am to 4 pm.

Rosenborg Castle. Built in the early 17th century, this castle in the heart of Copenhagen is home to many royal art treasures and regalia, including the coronation thrones. Plus the crown jewels of Denmark that consist of a ruby set, diamond set, pearl set, and emerald set!! Check out everything else that is included in your visit. This is another castle to make sure you bring your student ID card to because you should be able to get a ticket for about $11.
Address: Øster Voldgade 4A 1350 København K
Hours: Monday - Sunday 10 am to 3 pm.
Christiansborg Palace: Towers, stables, and a museum — oh my! Located on the tiny island of Slotsholmen, many kings and queens lived here, but then moved to the Amalienborg palace in the 1800s and never returned (leaving it perfect for a tourist photo-op). The ticket that offers access to everything is about $23.
Address: Prins Jørgens Gård 1468 København K
Hours: Tuesday - Sunday 10 am to 5 pm.
Where Should We Stay There?
Cabinn City Hotel
Located in the center of Copenhagen, this is the ideal spot. The prices start at about $75 for a shared room, so a bit more than European hostels, but worth it if you're ready for something a little nicer. There are private showers in every room, plus they provide free wifi! Perfect for posting all of those new pics on Instagram at the end of the day. You can check in at 3 pm and check out at 11 am. Go here to book your stay!
Address: Mitchellsgade 14, 1568 København
DanHostel
There are three locations of this hostel around the city so you can just choose which one would be best for your group. For a room that sleeps 4 people with a toilet and shower, the price can be as low as $33 per person. They have wifi, a luggage room for you to leave your bags while you're walking around the city, and they offer free walking tours. Go here to book the one in the heart of Copenhagen.
Address: H.C. Andersens Boulevard 50, 1553 København V
What Should We Eat There?
Heads up: Denmark is not as cheap as many other places you can visit. The food is especially expensive in Copenhagen, and just an average meal would cost more than $15. Shopping at the grocery store can be cheaper, but still expensive.
Danish pastry
Rumor has it the thing to try is snegl, which means "snail" in Danish. It's a spiral shaped pastry full of cinnamon and sugar and sometimes topped with icing. Maybe an ancestor of our favorite cinnamon rolls? Who knows, but you definitely can't miss out! The best place to grab one is from the award winning bakery, Lagkagehuset. Lucky for you, they have about a dozen locations right where you'll be!
Danish Hot-dog
Americans aren't the only ones who love their hot-dogs. And Europeans know how to make 'em. To get the full experience, make sure you layer on the onions and pickles.
Smorrebrod
This traditional Danish open-faced sandwich is not for the faint of heart (or the faint of taste buds). It's really just rye bread topped with all combinations of savory ingredients. The possibilities are endless and you really can't go wrong!
Stroopwafel
This sweet treat is two thin slices of dough baked to look like a waffle and then filled with delicious caramel syrup. You can find them in several cities in Europe, and we understand if you just have to eat one every chance you get.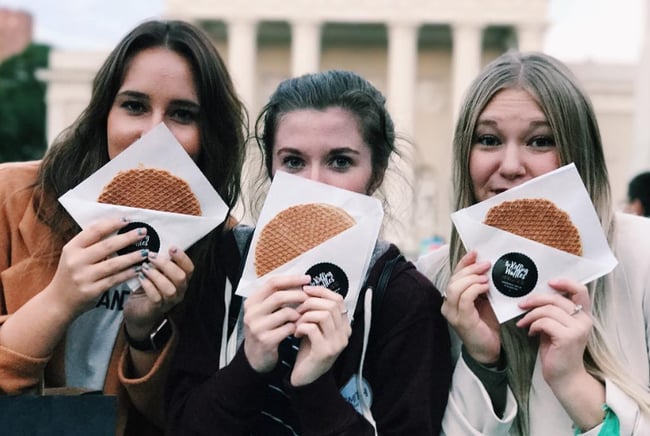 Ready to start your own semester volunteering and traveling in Europe?
Copenhagen is just one of the many cities you can visit during your weekends and vacation days. Interested in learning more about how you can be a part of this program? Click the button below to ask your questions: