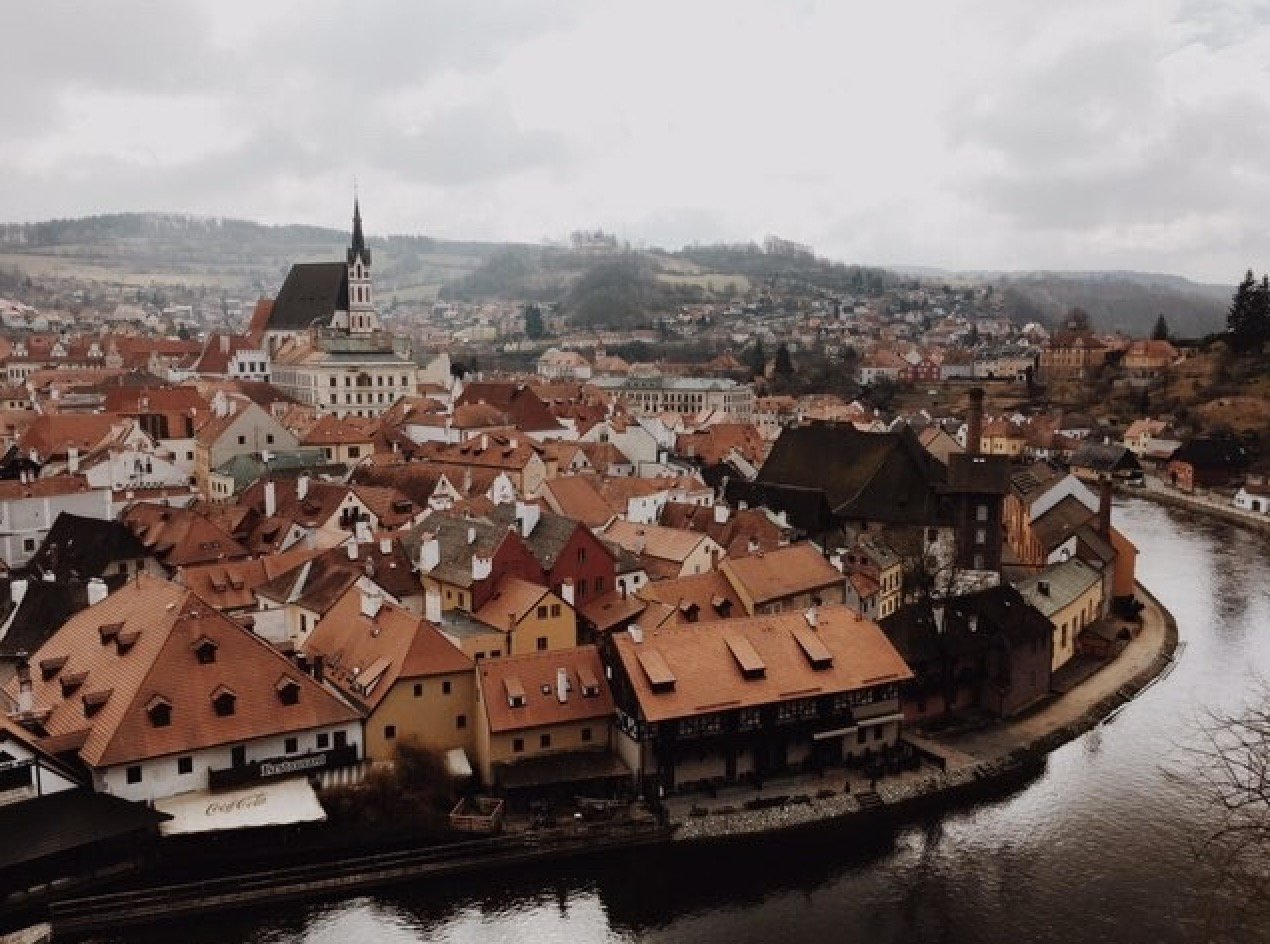 Is that even possible? Come see if for yourself if this fairytale city is better than Prague.
Pretty much everyone plans to visit the Czech Republic to hang out in world famous Prague, but if you just stay there, you'll miss out on Cesky Krumlov: a city that is so charming, dare I say prettier? Oh, and great news for you because both are easy enough to visit so you can see for yourself how lovely both Prague and Cesky Krumlov are in the same trip.
---
See what other cities you've never heard of
Our European Destination Guide has our favorite gems all in one spot
---
It's not that tourists haven't discovered Cesky Krumlov, it's just that it hasn't been over-popularized like Prague is. We love Prague (we even have a city guide to Prague you can check out), but the crowds? Not so much.
So while you're wandering castle grounds and colored buildings between cobblestoned roads in Cesky Krumlov, you won't have huge swarms of people crowding all of your pictures — and you'll want to take tons, once you see how cute this city is.
Don't Leave Without

A Few Tips For Visiting

Places To Stay

Getting Here From Prague
Don't Leave Without …
Touring Cesky Krumlov Castle
Easily a highlight of anyone's trip is touring the Cesky Krumlov Castle. It has an impressive history, dating back since the 13th century (it's also a UNESCO site). The castle sits in one of the most picturesque parts of the city: from the tower, you can see the painted matchbox houses and stores, complete with red tile roofs and the spire of the St. Vitus' church, plus the curvy Vltava River.
The view is stunning, and there is lots to explore. The castle is one of the largest in all of Europe, so you'll want to block out some time to head up to the spire, explore a few rooms (if you're interested) and spend time out in the gardens that have everything from Rococco summerhouses and fountains to Baroque theaters.
Cost + Hours
November to March: 9:00 AM to 4:00 PM, closed Mondays
April to May: 9:00 AM to 5:00 PM
June to August 9:00 AM to 6:00 PM
FYI: Tours in April through October do not operate on Mondays, but the castle is still open.
Cost depends on what you'd like to see. The Castle offers several tours + guides that you can purchase if you want to know more about the history and hear some neat little tidbits. However you can also go through different sections of the castle without a guide.
It's 150 czk to get to just the Castle Museum + Castle Tower without a guide (130 for ISIC holders) but you can pay as much as 380 czk if you'd like a guided tour of more of the castle. It just depends on what you'd like to see and how much time you have (but at least pay to get to the Castle Tower and spend some time in the free gardens).
Here's more information on pricing.
Oh, and here's the address: Zámek 59, 381 01 Český Krumlov, Czechia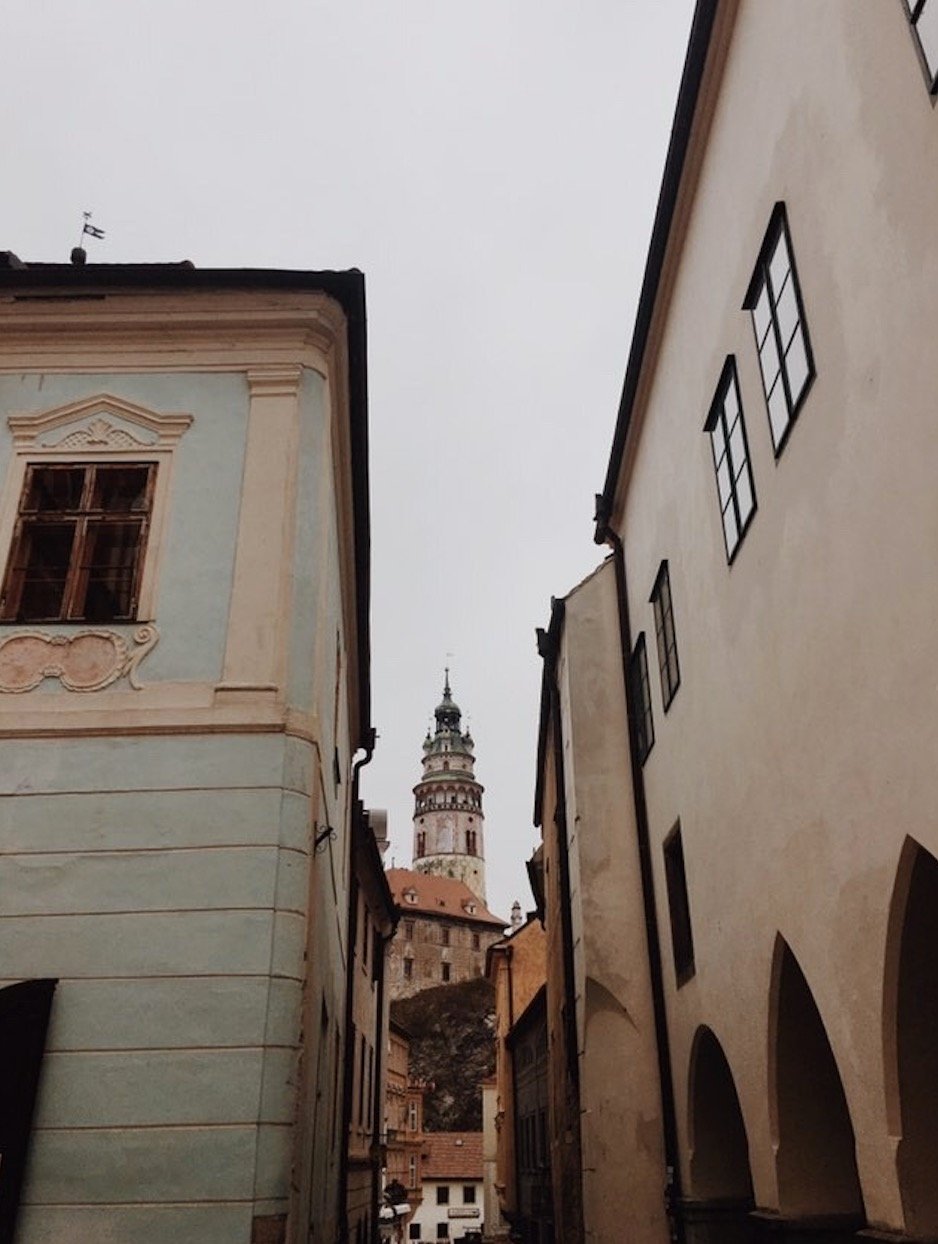 Kayaking The Vltava River
Visiting in the summer? Join in on one of the most popular activities in the area: hanging out on the Vltava River, which winds its way through Cesky Krumlov. You'll find loads of rentals on the shore, with your pick of canoes, kayaks and even tubes.
There are also trips that fit whatever time you have: 30 minute spins on a kayak and up to 4-day adventures in a canoe. You'll see lots of different vendors and companies willing to rent from, but we are big fans of booking through Malecek. This company has 30 minute trips, half day ones, and full day trips starting at $15.
Visiting Vitus' Church
It's an icon of this city's skyline, so if you snap it in a few pictures, you should probably go inside and see what this church is all about. You'll find Baroque and Neo-Classic styles, a nod to this church's history which has been around for 500+ years. It's still an active church so you can catch mass if you're interested, or while you're out wandering the streets of Cesky Krumlov, listen for the ringing bells.
Free to enter
Address: Kostelní, 381 01 Český Krumlov, Czechia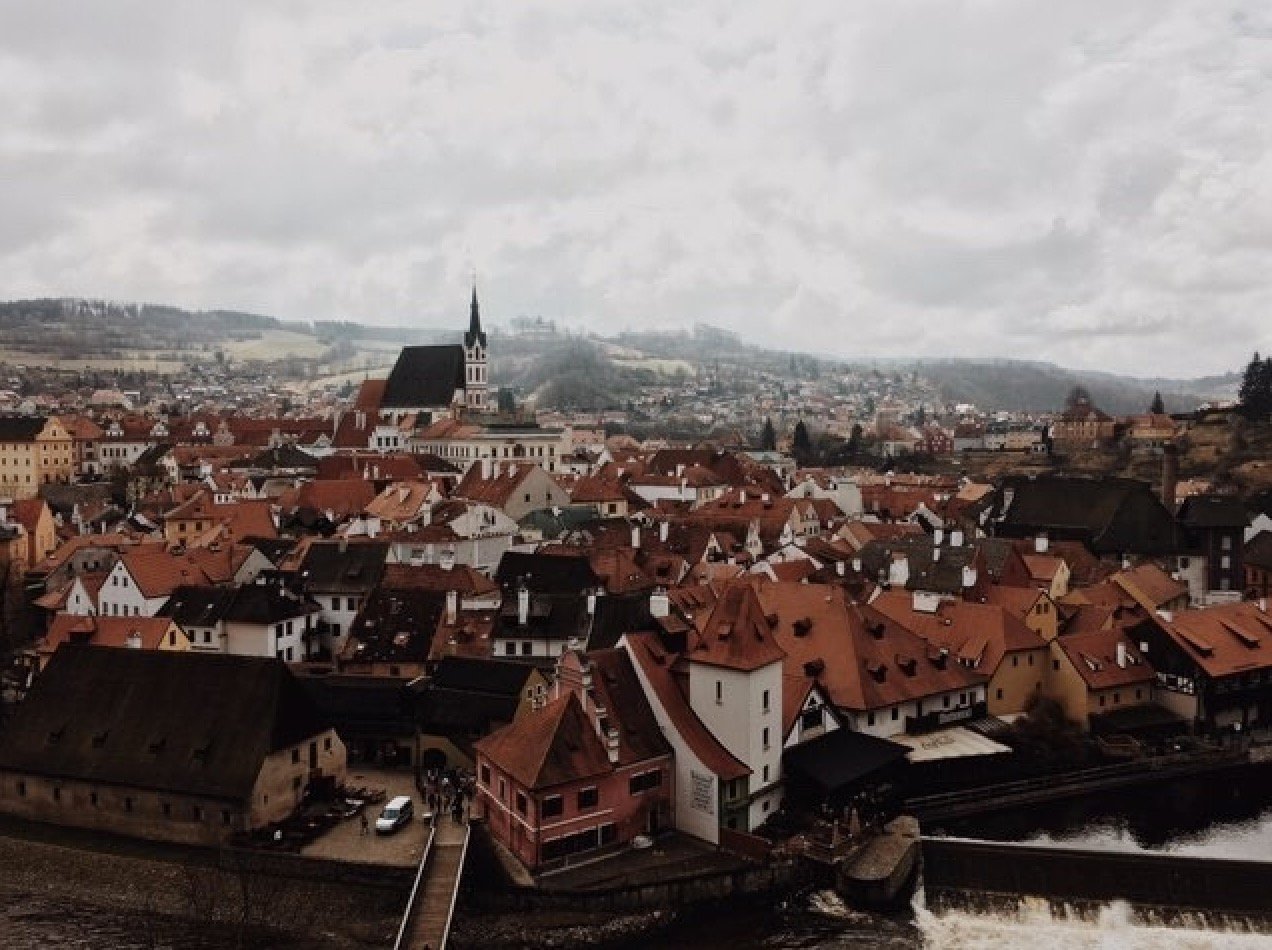 Soaking Up The Best Views
So much of enjoying Cesky Krumlov is about exploring how pretty this place is. Like any good Old Town in Europe, you'll see colorful buildings, red tile rooftops and cobbled streets. It's picturesque, that's for sure. We love what you can see from just walking around the Old Town, but for a view from above, check out these spots.
Seminární Zahrada
Visit this quiet courtyard and find a low brick wall where you can perfectly perch for the ideal photo spot, with those famous red rooftops. Here's the address: 381 01 Český Krumlov, Czechia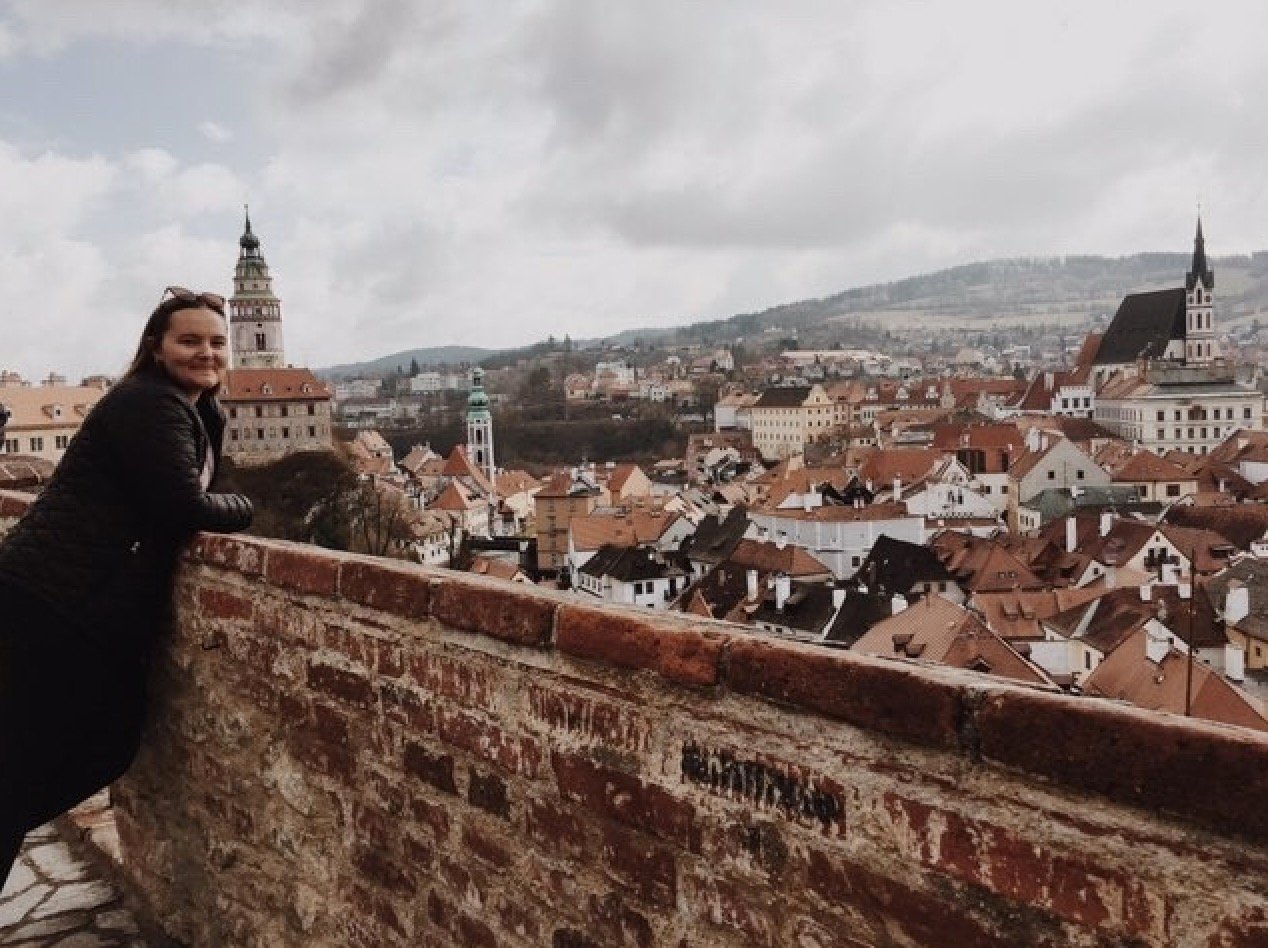 Vyhlídka
A bit outside of the city, but well worth the views. There's a hill that's on an offshoot of Kaplika road that sports some spectacular views. If you search "Vyhlídka, Cesky Krumlov" it will pop up on your GPS.
Cesky Krumlov Castle
We already talked about that gem, scroll to the top if you missed the part about the Castle's Tower which gives you one of the best — and highest — views of the city).
Here's the address: Zámek 59, 381 01 Český Krumlov, Czechia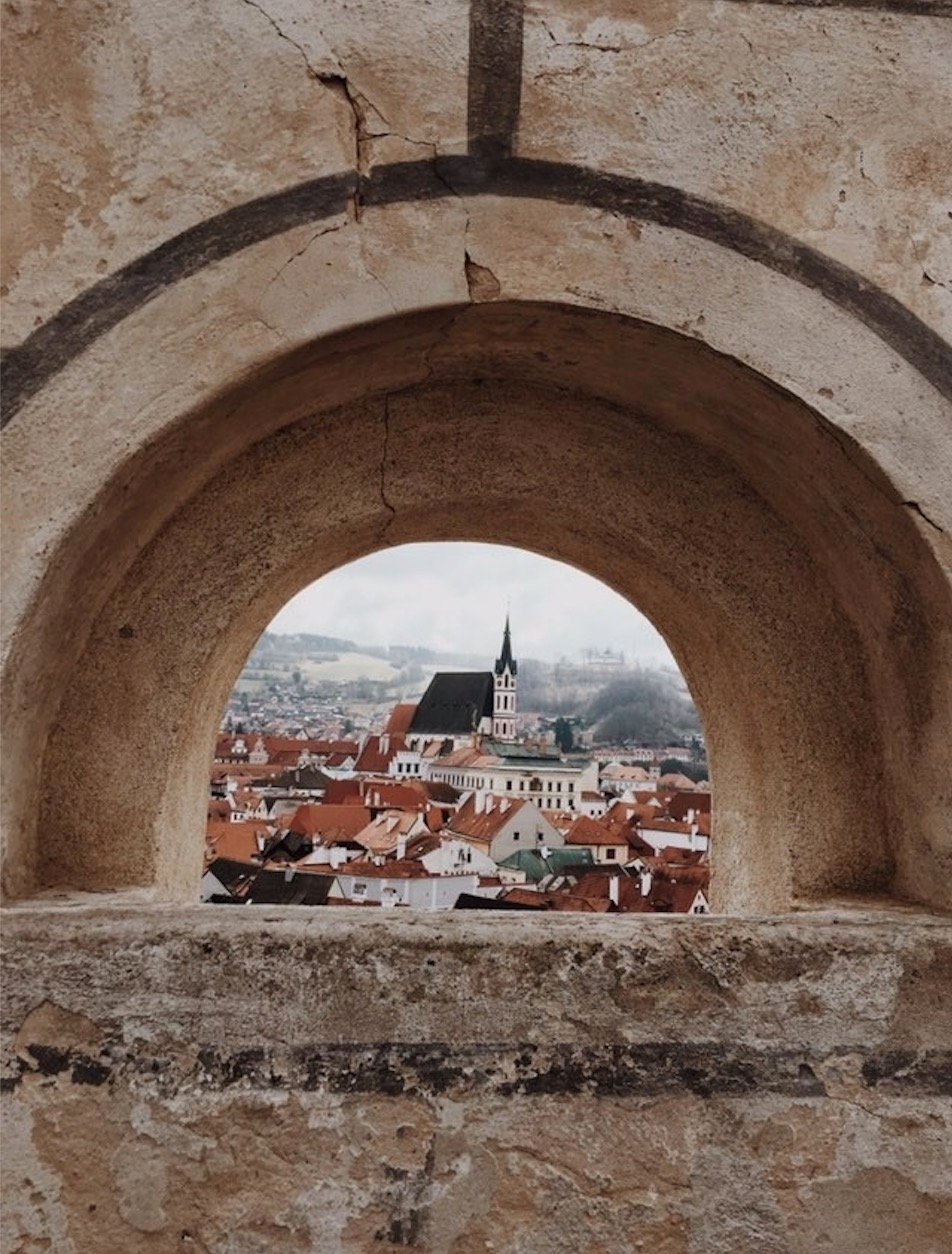 A Few Tips For Visiting
If You Want To See A Lot
Get the Cesky Card: it's a discount card that you purchase so you can save money on the entrance tickets to five of the city's museums: Castle Museum + Tower, Regional Museum, Seidel Photography Museum, the Egon Schiele Art Centrum, and the Cesky Krumlov Monastery. The card is 300 CZK, which is about $13 USD, can save you up to 50% on admissions to some attractions, and you have an entire year to use it.
Buy it at these locations:
Castle Český Krumlov: Castle Museum and Castle Tower

Regional Museum
Museum Fotoatelier Seidel
Egon Schiele Art Centrum
Tourist Information Centre Český Krumlov
Get more info about the card here.

Avoid A Few Crowds
Cesky Krumlov isn't as undiscovered as we'd like it to be, so you'll still find some tourists especially in the summer months between 11:00 AM and 4:00 PM. It's actually a popular spot on cruise ships that wind their way down through the rivers of Eastern Europe, so if you happen to be visiting on a port day, you'll notice bigger swells of people.
You can avoid the big crowds by heading out for the day early (before 11:00 AM) or doing your visiting after 4:00 PM if you're visiting in the peak season of summer, or avoid those crowds entirely by visiting in the spring, fall, or even winter. It's cold, but gorgeous in the winter. Shout out to @ktsumsion (an ILP Alumna!) for these stunning pictures — she visited in April and saw quiet streets in Cesky Krumlov.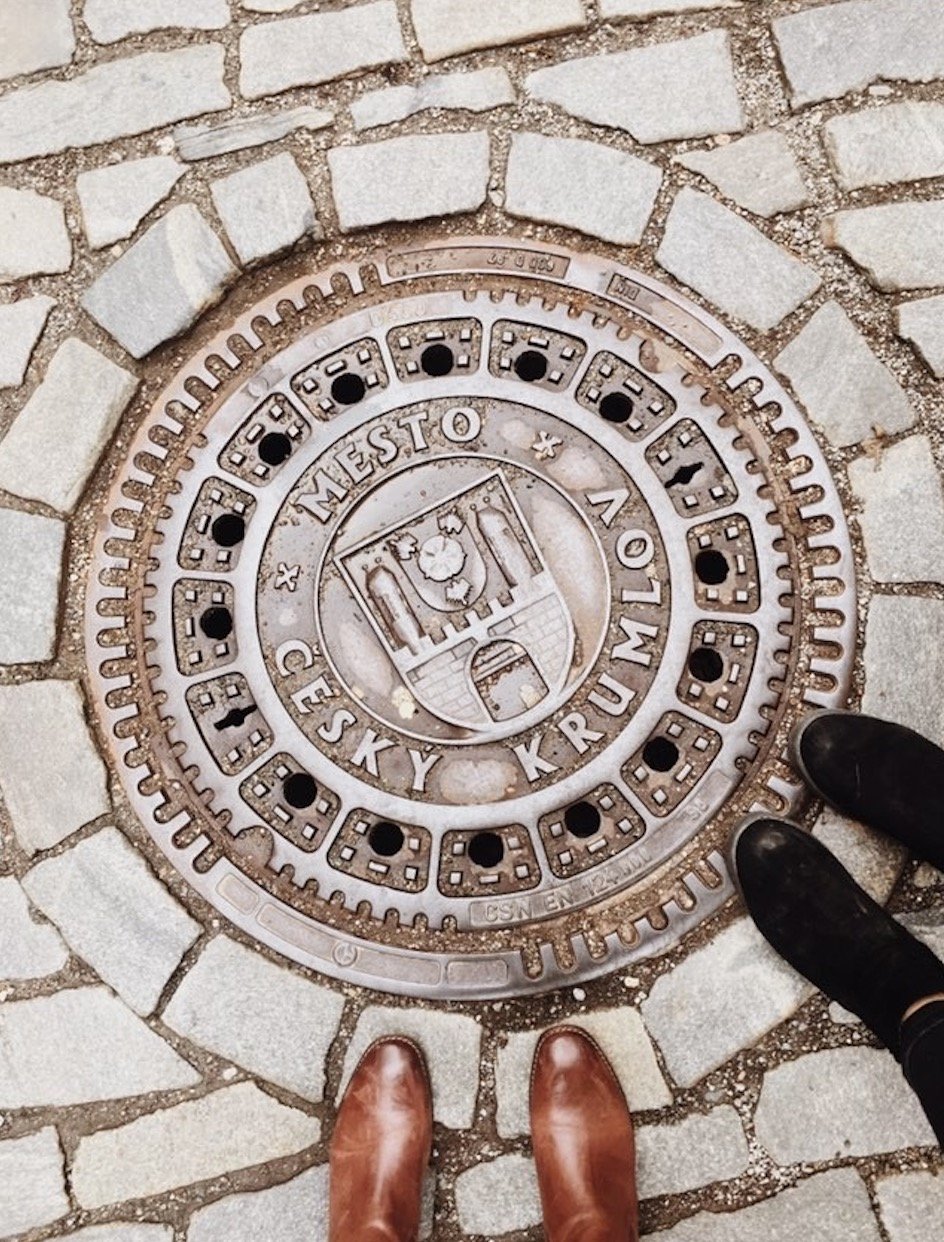 Getting Here From Prague
Since we are guessing that you'll probably want to visit both cities (Prague is still an absolute dream), it would be easiest to reach Cesky Krumlov from Prague, and just take a bus or a train. It's about a 2 hour journey (or closer to three if you take a train) and costs about $10. Not too bad to escape to this magically pretty city for a day or two.

We love booking tickets on Omio.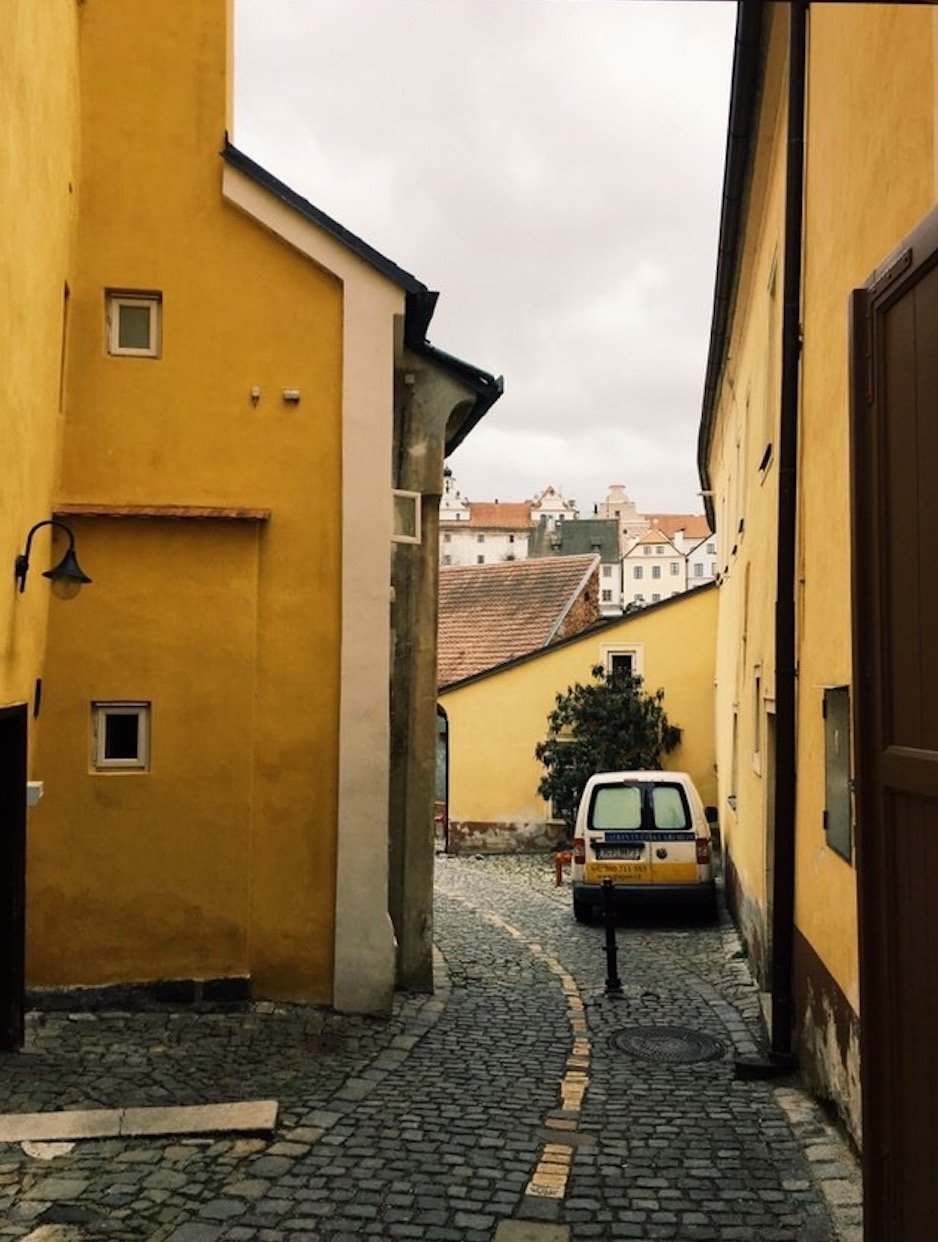 Come live in Europe for a semester
Visiting places like Cesky Krumlov and Prague (plus others on your bucket list) are easy when you're already living in Europe! ILP volunteers send part of their time volunteering in an orphanage or teaching English, and have vacation time and weekends to do some traveling. Come get your questions answered: