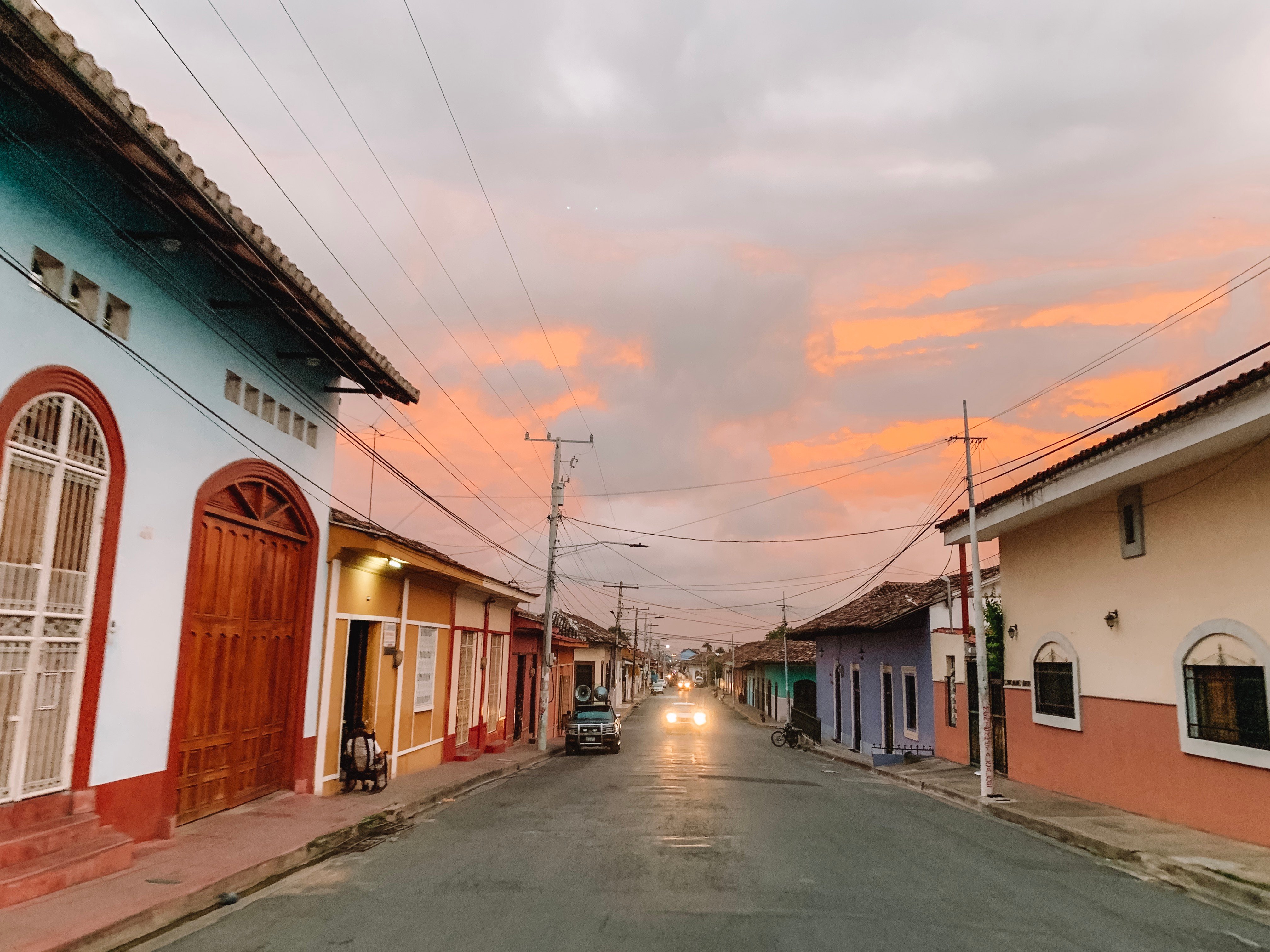 Tropical, warm, colorful, and a low-key vibe is just a bit about what's waiting for you in Granada, Nicaragua ... plus some adventures like staying the night on a private island, seeing the prettiest view in the city, and cafe hopping to find your favorite.
If you didn't know already, Nicaragua is an absolute gem … and one of the best kept secrets in Central America depending on who you ask. Full of jungle adventures, towering volcanoes to hike, hidden swimming holes and waterfalls, plus vibrant cities, it's easy to see why a semester in Nicaragua might not even be enough time to see it all.


---
Come see what life here is really like
Volunteering in Nicaragua
---

But here's where ILP volunteers luck out: They are living in the city of Granada, which is one of the most popular destinations to visit for its iconic yellow cathedral and relaxing vibe. Here's your guide to exploring the city you'll call home: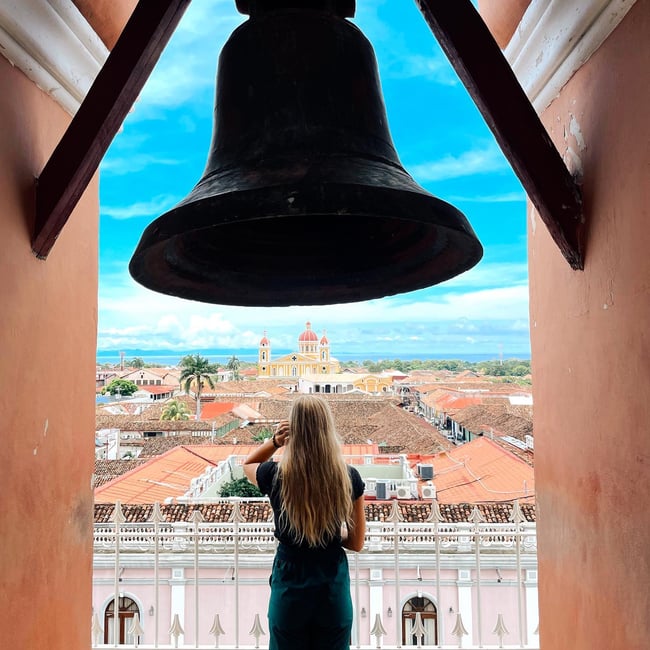 How To Really Experience Granada
It's not really a thing to do, but you have to understand that Granada's essence is just captivating. It's a warm and colorful city with colonial roots stretching back from 1524 that can be described as "chill", "low-key", and "relaxing", so head to other places for a high-adventure weekend. The climate is warm, so between the colorfully painted streets you'll find swaying palm trees and big open squares and walking streets to explore.
Like we mentioned before, enjoying the vibe isn't really something you can cross off a bucket list but it's an essential part of experiencing Granada — so, go out, walk around the neighborhoods, feed the pigeons, people watch, and just explore to uncover all the gems hiding in this part of Nicaragua.
Here are a few other recommendations to make sure you soak up all the insider tips the locals have to offer: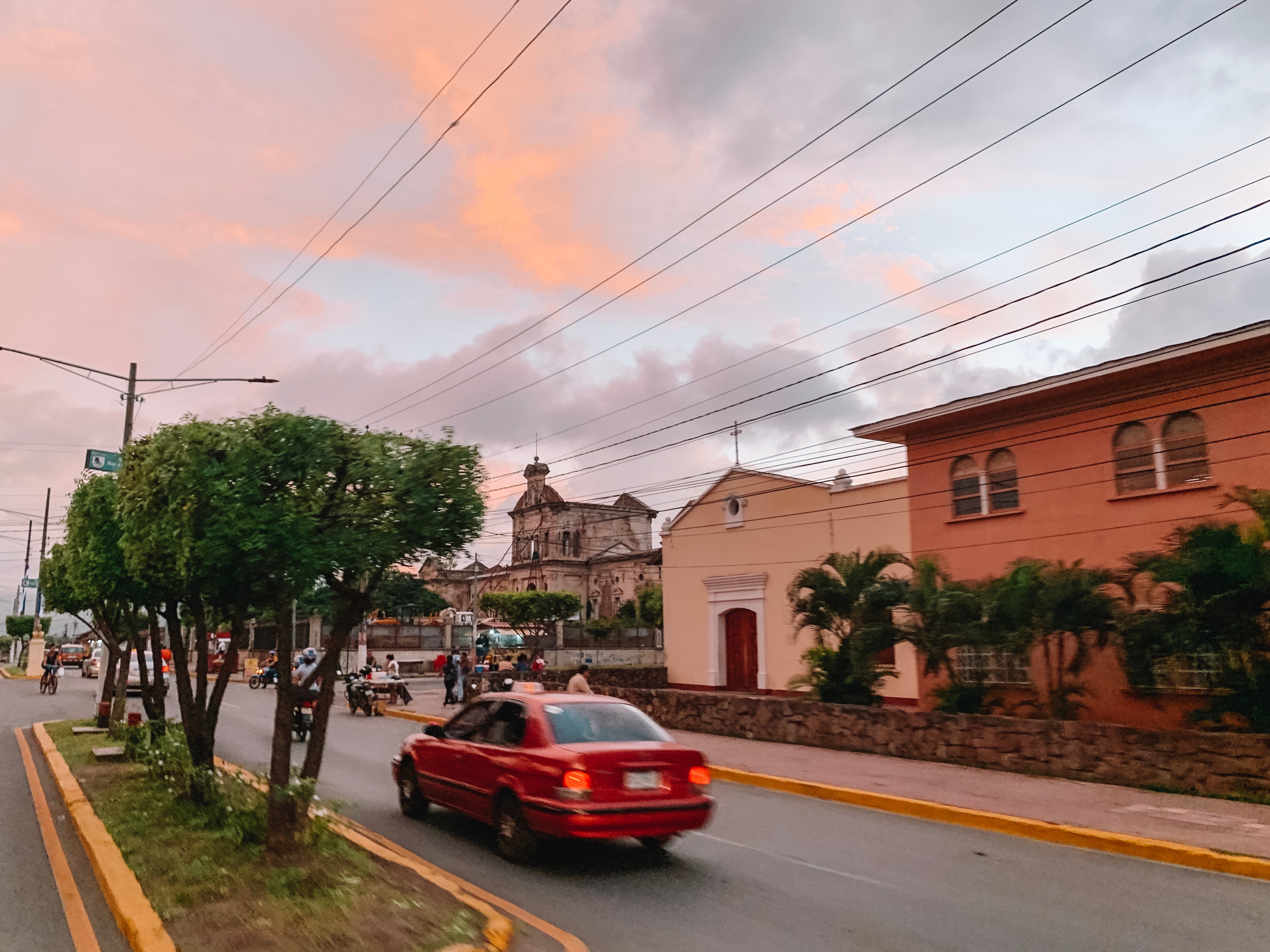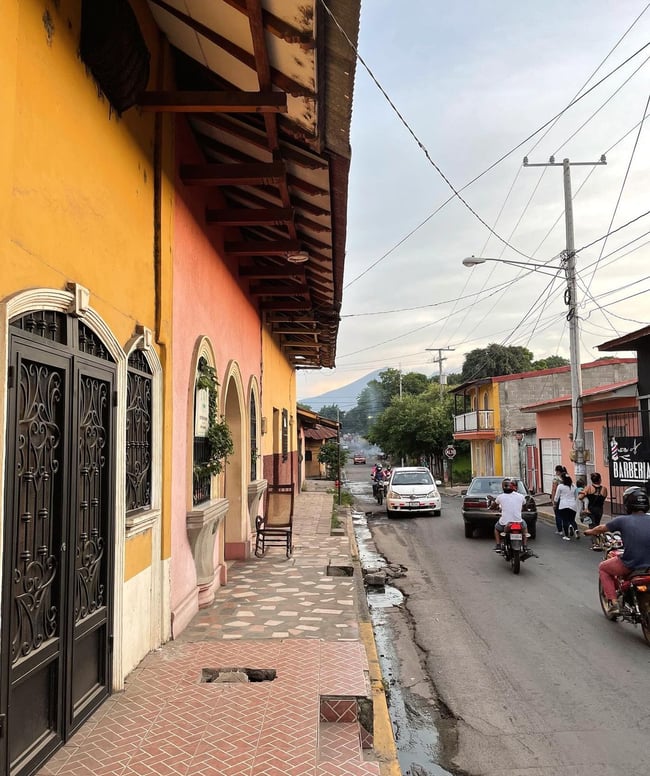 Top Things To Do
Soaking Up Sunshine On Lake Nicaragua
Lake Nicaragua may be a lake, but it's more like an ocean! This lake is massive, complete with waves, and over 300 little islets for you to explore.. Some of these islands are home to elaborate mansions, others are totally inhabited by hoards of spider monkeys and white-faced monkeys.
It's very popular to take a boat tour out on the islands (or do some kayaking between them). You'll find multiple tours to take you out for about three hours. It's the perfect thing to do after teaching or on a Saturday. Usually tours are around $3 or so, with multiple time slots to choose from during the day.
We also love love love the idea of spending the night on this massive lake. There are a set of ecolodges perched on these islands that you can rent for a night ... and I'm not sure about you, but I cannot resist the pictures of these ecolodges. Here are all the details about spending time on Lake Nicaragua.
The Best Spots To See The Sunset
There are some stunning cathedrals found in your city. You'll probably notice the Cathedral of Granada right off the bat — towering and painted yellow, it's pretty hard to miss. However, we also think the Iglesia La Merced is worth visiting, especially if you climb up the stairs to explore the bell tower at sunset. It's the best spot to see the sunset in the city, and take a few pretty photos — You can also get a few pictures like this one below at the Iglesia La Merced cathedral.
You can also try other chapels for a sunset view. Essentially, every chapel in the area will let you up on the roof for $1: just know they all pretty much close around 6:00 PM when the sun is setting, so arrive early to get a good spot (and so you don't miss the big show).
Another insider tip? You can get an amazing view of the sunset at the top of the cemetery cathedral (the mausoleums at the front are also super beautiful to look at, just make sure to stay at the front, don't go wandering towards the back at all).
Iglesia La Merced Address: It's on Calle Real Xalteva
Cost: 30 Cordobas (about $1) to go up the tight spiral staircase.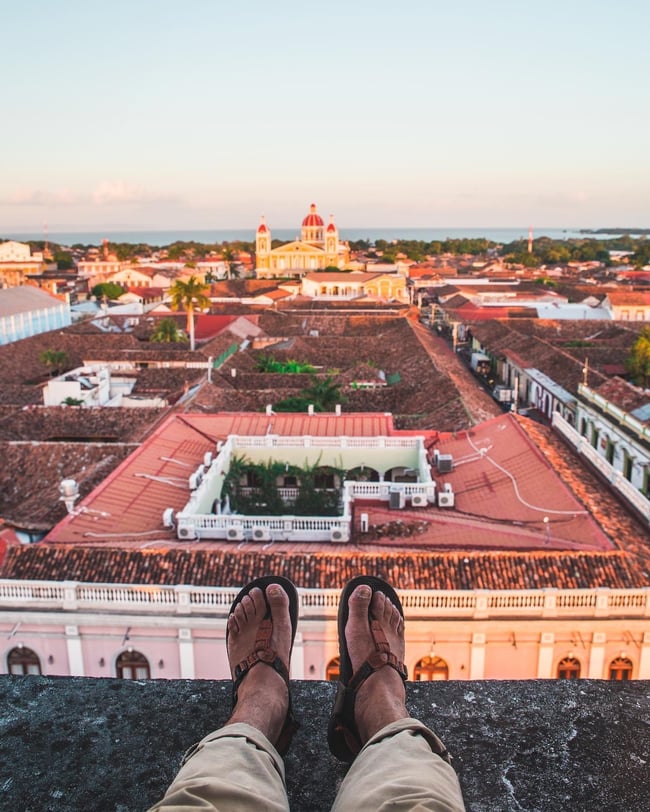 Concerts at Parque Central (Or Just Hanging Out)
Previous ILP volunteers suggest just hanging out at Park Central for a few reasons: "The environment is fun and sometimes there would be concerts on the streets or live music in cafes you can always check out." The Parque Central is easy to find, it's right by the yellow cathedral, with a big open plaza with trees and benches to sit on while you people watch. There are also vendors there selling strawberries and cream, plantain chips, and tickets to go take a boat around the mangroves.
You can also find one corner of souvenirs if you're in the mood to do some shopping. Find colorful woven coin purses, bracelets, shirts, embroidered dresses, painted mugs, little paintings, and more.
This area is the center of the city and is also the best starting off point for wandering (just pick a colorful alleyway and start exploring). Or, you can see the city by horse and carriage: it's about $20 to take a trip around town for about an hour or so.
Just head towards the yellow Granada Cathedral and you'll run into the Parque Central.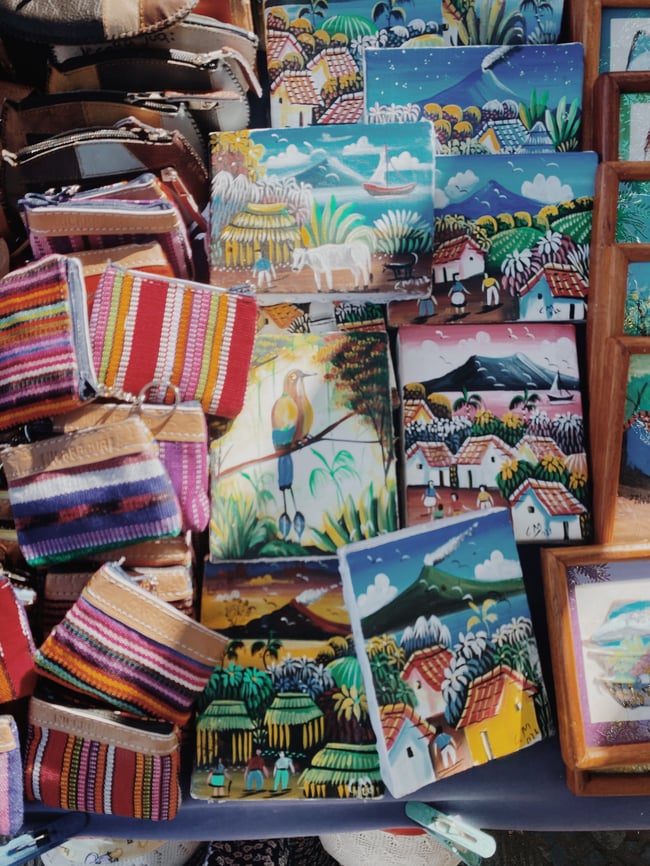 See A Few Favorite Buildings
We love the architecture in this city, can't you tell? From the colorful streets to the towering bell towers, we're all about snagging your camera and walking around to find a few buildings that make for the ideal photo. Here are few to visit:
Iglesia San Francisco
Find it: W2JX+Q5P, Granada, Nicaragua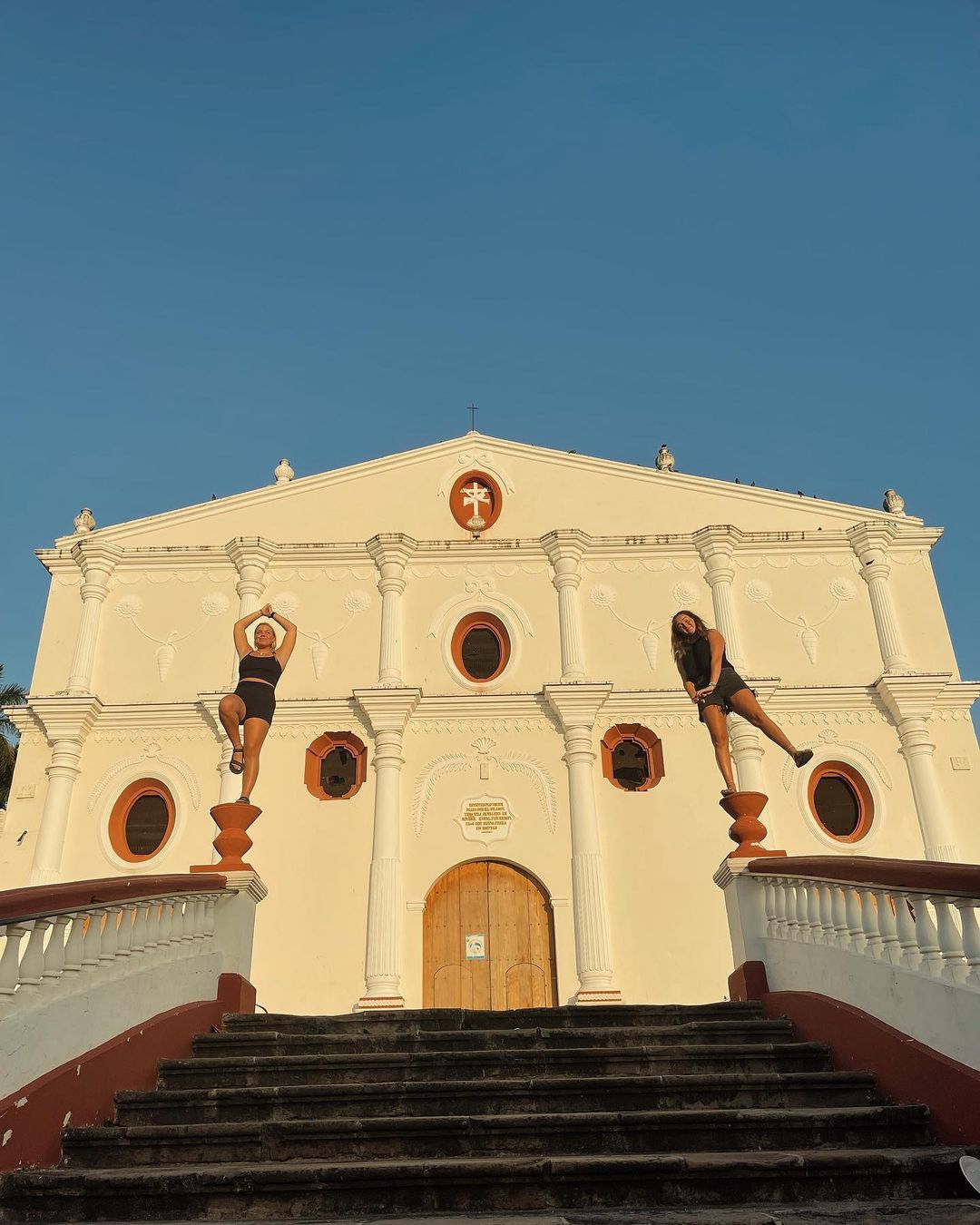 The Chapel Maria Auxiladora
Find it: C. Real Xalteva, Granada, Nicaragua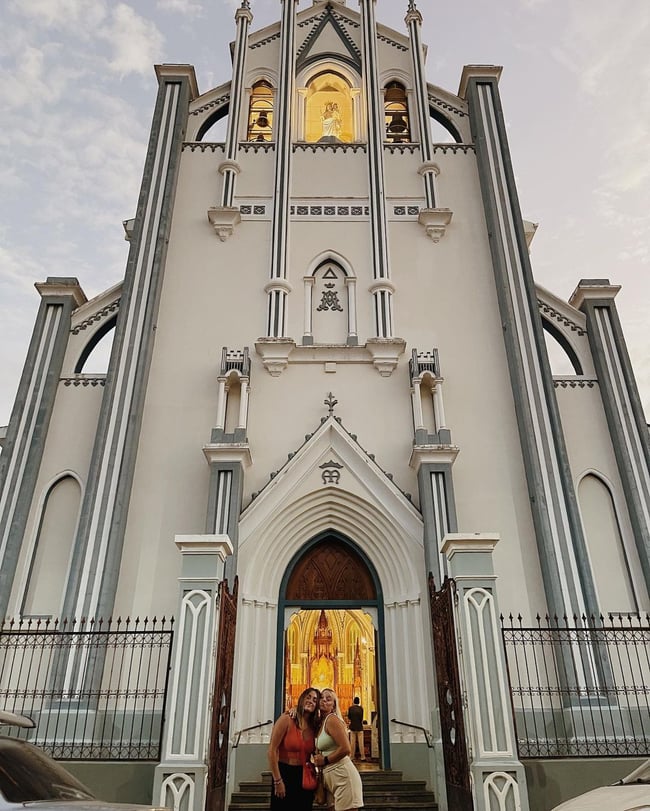 Get A Chocolate Massage
Take the time to relax with a chocolate massage. At the Mansion de Chocolate, you can spend an hour or so being massaged with rich chocolate, which is supposedly very good for your skin and a total luxurious deal. Get more details about a chocolate massage here.
Bike Around The City + Malecon
Overall, the city of Granada is a bit spread out so maximum your time by renting bikes one afternoon to see if you can spot some pastel streets that aren't on your normal route to the city.
Another fun weekend option is to snag bikes for a day of biking along the Malecon, right on the shoreline of Lake Nicaragua. It's lovely first thing in the morning just at sunrise when the water is calm and it hasn't heated up for the day. Then, bike back to the city for a colorful cathedral tour before snagging a late breakfast.
You can find bike rentals in the main square (Parque Central) and should be able to haggle down the prices for about $5 for a half-day which is plenty of time for you to ride around and find some more photo-ops. Maximus Rentals is a company used in the past, who has really affordable rentals (a couple of dollars per hour, with the chance to lower the rate if you borrow for the day.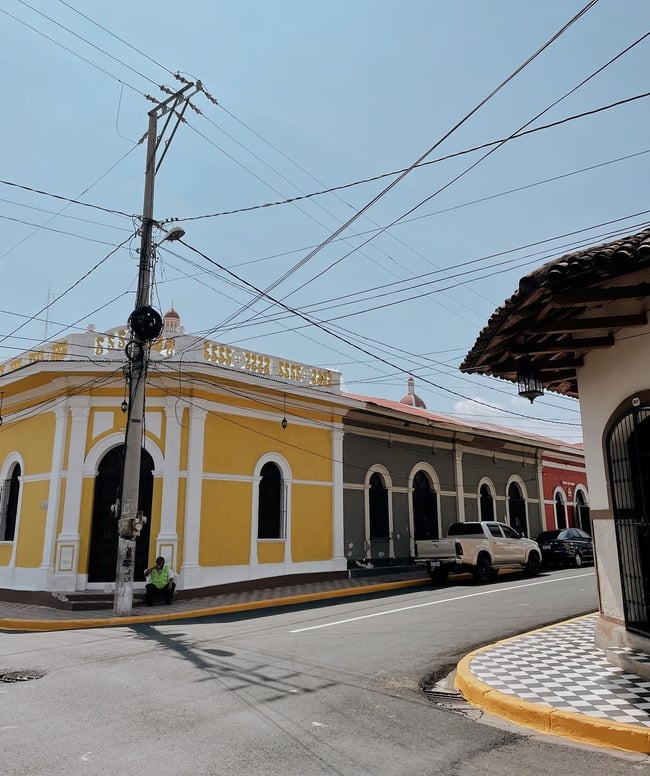 Shop At The Central Markets
As an ILP volunteer, all of your meals at home will be covered, but that doesn't mean you shouldn't check out the local markets. Particularly we recommend the Central Markets where you'll find narrow alleyways stuffed with everything from handcrafted shoes, fish stored on ice, accessories for your hair, fabric, sacks of dried beans (and rice of course!) etc.
In the mood for a snack? Find piles of oranges, bunches of bananas, towers of melons and pineapple, and more. You'll also spot some food vendors selling local dishes. My opinion? Try vigoron — marinated pork topped with a pile of cabbage, drizzled in vinegar. Yum.
Opens around 7:00 AM or 8:00 AM until the afternoon. It's best to visit as early as you can.
Calle Atravesada, Granada, Nicaragua
Have A Pool Day
Volunteers hanging out in Granada have loved the chance to cool off with a swim in one of the many pools in the city. Many hostels and hotels have a pool that's open to guests (and you, if you just want to pay a fee to use the pool for the day). One favorite spot is the Townhouse Hostel Swimming Pool (and costs about $1 to use for the day). Prices vary across the different hotels and hostels so it may be fun to splurge a bit and swim somewhere like the Hotel Granada.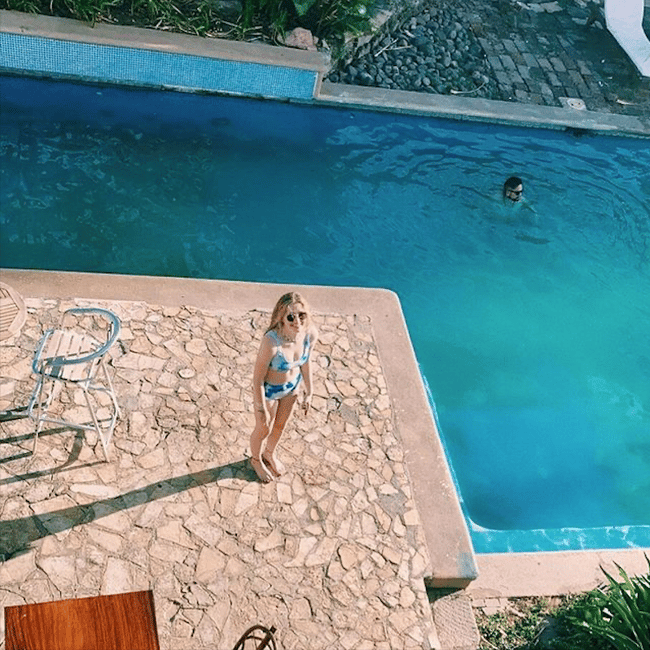 Restaurants We Just Love
ILP volunteers have three meals a day provided through their Program Fee, but love to eat out sometimes for fun! There are quite a few favorite restaurants in Granada, but here are the top ones, plus a tip: learn a little Spanish and ask the waiter what their favorite dish is. Volunteers have found so many surprisingly yummy meals and desserts this way.
Kathy's Waffle House - For Breakfast
Some volunteers call this "the best breakfast spot in town", with waffles and pancakes we love. One volunteer said she'd "never say no to breakfast at Kathy's Waffle House! One chocolate, banana pancake please!"
You can also get a whole menu of juices, and so many breakfast dishes like eggs with rice and beans (a country classic), bagels and cream cheese, omelets, and pancakes. They're lunch menu is also pretty yummy, but volunteers really recommend the breakfast.
Hours: 7:00 AM to 2:00 PM
Find it: Here are some loose directions found on Google (but know it's a block away from the Garden Cafe), En frente del Convento San Francisco, Calle El Arsenal, Granada, Nicaragua
Pita Pita - For Lunch/Dinner
Pita Pita is a top spot Middle Eastern place to grab pizza, yummy desserts, and dishes like falafel, hummus, Baba Ganoush, kebabs, shawarma and other favorites.
Find it: Calle Cervantes, Granada, Nicaragua
Hours: 12:00 PM to 10:00 PM Thursday to Saturday
11:00 AM to 10:00 PM to Sunday
12:00 PM to 9:00 PM Monday to Wednesday
El Burrito Loco - For Lunch/Dinner
Come here for really yummy and really cheap tacos, according to our ILP groups. You can order up other dishes (like sandwiches and salads) but the tacos are where it's at.
Find it: Calle La Libertad, Granada, Nicaragua
Hours: 11:00 AM to 9:00 PM
Don al Pizza - For Lunch/Dinner
"It's our favorite restaurant in town" if you ask some ILP groups. There are some chairs and tables outside which is a fun place to sit and people watch while you share a pizza or two.

Heads up: some groups also recommend Monna Lisa Pizza ... sounds like you need to visit both to find your favorite.
Find it: (Don Al Pizza) Calle La Calzada, Granada, Nicaragua
Hours: 10:00 AM to 12:00 AM
Maria Elena Patisserie - For Dessert
There are more than a few bakeries in the city, but this spot comes highly recommended by a few volunteers. The coffees and baked goods the go to menu items, especially since all the bakery items are on display in a glass display case (it makes it really hard to choose).

Find it: Calle El Hormiguero, Granada, Nicaragua
Hours: 7:00 AM to 6:00 PM, closed Sunday
For Ice Cream
Eskimo ice cream is a very popular brand, based out of nearby Managua — volunteers mention getting Eskimo pretty much every day to help cool off, but apparently the best ice cream is at the Gelateria (which also has crepes!). So if you're looking to just cool off, keep an eye out for vendors and stores selling Eskimo, but head to the Gelateria for "the best".
Find it (The Gelateria): It's on Calle Cervantes
Hours: 7:00 AM to 10:00 PM
The Garden Cafe - For Everything
This quote from a Nicaragua volunteer pretty much says it all when it comes to restaurants: "Our favorite restaurant is the Garden Cafe—primarily because of the variety of food options that are more similar to home, and some stellar dessert."
Find things like fresh salads, fish tacos, pesto sandwiches, hummus plates, avocado, fresh pressed juices and smoothies, pressed sandwiches, wraps, yummy soups, and more. It's also a top pick for breakfast, if you can't wait until lunch or dinner to come here. It's soooooo good.
Find it: From Parque Central 1 block East, Calle La Libertad, Granada, Nicaragua
Hours: 7:00 AM to 9:00 PM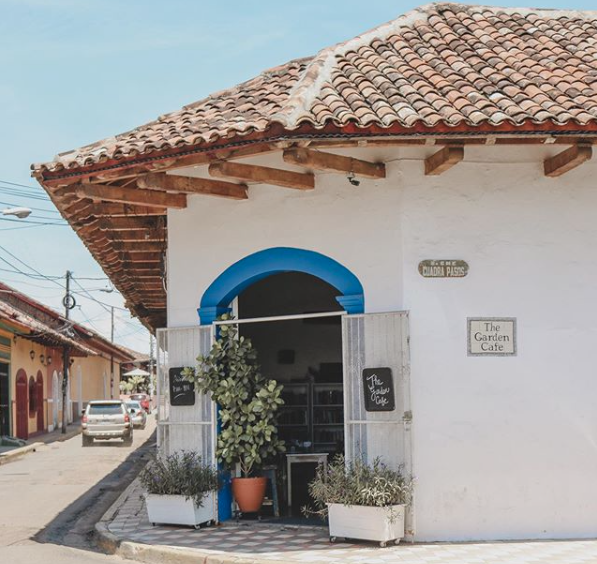 Places To Stay
If you're just visiting on the weekend or on vacation, these hostels come recommended for those traveling on a budget.
Selina Hostel — We've had ILP volunteers visiting from Costa Rica who adore this hostel. It's found right in the colorful city center and even has a pool. We're fans. Book here.
Hostel Oasis Granada — Another selection with a pool, plus a free breakfast, and a great location. Book here.
Boca a Boca Hostel — Found next to gorgeous La Merced Church, this hostel has a free breakfast and a fun rooftop hang out space, complete with hammocks. Book here.

Our Favorite Day Trips + Weekend Adventures
Ometepe
This is an absolute must-happen on your semester. Ometepe is an island found in the huge Lake Nicaragua. And on that island are two volcanoes to hike, plus a beautiful oasis you can swim in. The island is also home to some volcanic pools a handful of beaches, and lush jungles to explore. Volunteers tend to visit on a weekend or come a couple of different Saturdays to check everything out.
We have specific info on how to get to Ometepe and other details to help you out.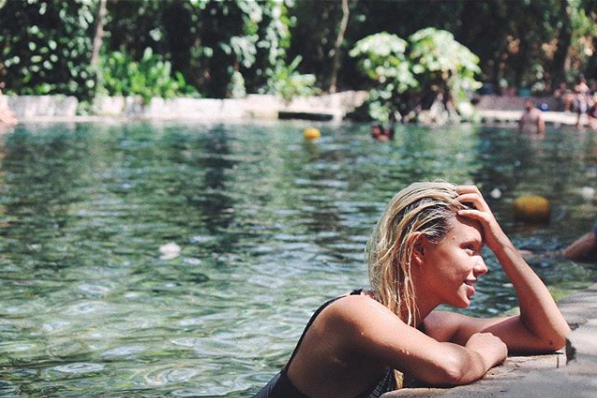 Apoyo Lagoon
Found near Masaya, you can swim in a volcanic pool (which just sounds awesome). Sections of the shore are owned by hotels while others are totally public access and free. Grab a swimming suit and a towel and relax on the shore or jump in for a refreshing dip. Plan on taking a one-hour bus to get there from Masaya (So, about 2-3 hours to get there from Granada) but it's well worth it.

Get information about the Apoyo Lagoon here.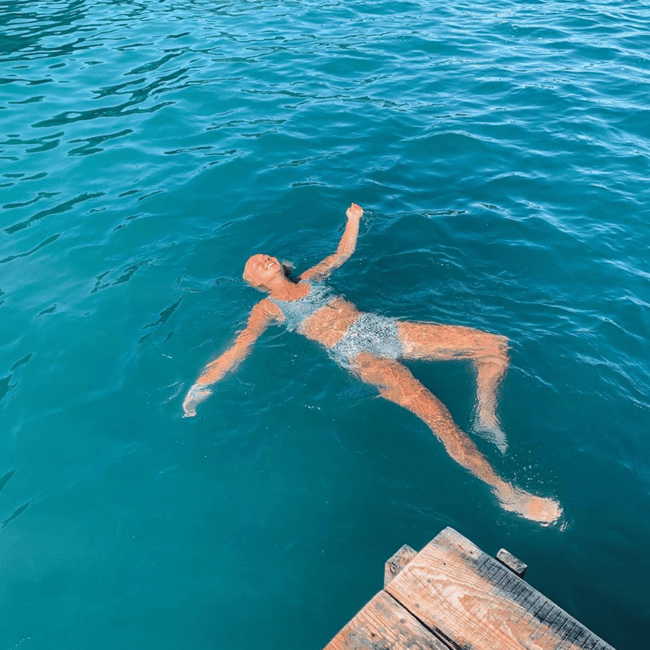 Masaya
Found just an hour or two away from Granada is the city of Mayasa which has a few things to keep you busy. Just a couple suggestions include hiking Masaya volcano to peer into a glowing lake of lava, or the chance to shop at a local market for things like colorful hammocks or painted jewelry.

Here's more about visiting Masaya, Nicaragua.
This Volcanic River
If you still need another place to cool off that's close to home, get to know Aguas Agrias. It's a winding river that pools into wide banks that provide the ideal spot to jump in for a quick swim. This spot really isn't on the typical tourist's to-do list, meaning you'll get a snapshot of the locals who flock here on the weekends.
This secret spot is made for swimming. First, the water is clear and tinted a pretty blue-green color, especially on a sunny day. There are several ideal swimming areas where the river has widened out and gotten deeper (around 4.5 feet). Other areas are more shallow. Some spots have a little "side bank" with stone walls and a dirt bank where you can sit and just let your feet cool off. The river here is fed by a spring that flows from right under the nearby Mombacho Volcano — some believe the waters here have magical healing properties, thanks to its volcanic source.
Here's your guide to swimming at Aguas Agrias.
Mombucho Volcano
Dive deep in the the dense jungles of Nicaragua to climb Mombacho volcano, and see the whole city of Granada spill out below you if you can make it to the top. It's one of the most picturesque hikes you can take in the country and easily done in a weekend for our volunteers living in Granada. Oh, and did we mention the zip lining?
This guide to Mombacho volcano has all the info.

Pst — There are more thick lush jungles hiding around Granada, full of waterfalls, zip lining, rainforest treks, etc.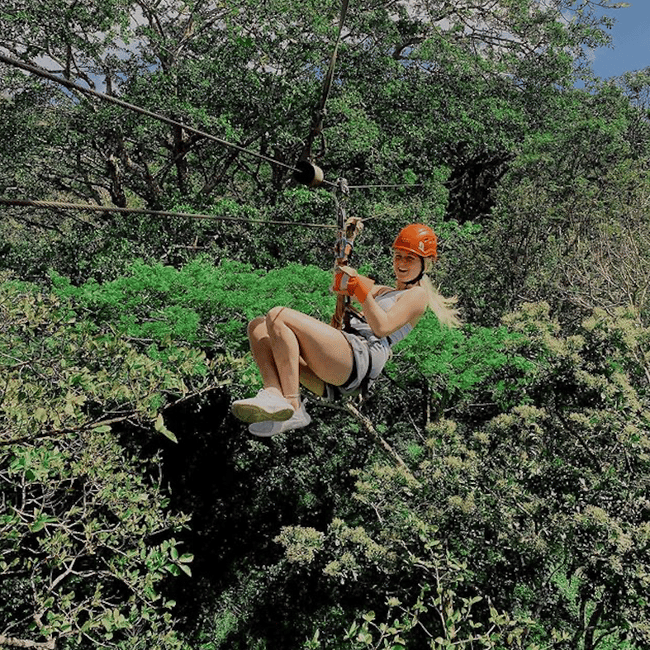 San Juan Del Sur
A definite weekend trip, head to San Juan Del Sur for a couple of days of beach-and-surf-filled adventures. It's a cheap (but 4-hour) bus ride, or you can pay more for a shuttle directly there. Either way, a weekend in San Juan Del Sur gives you the chance to lounge on three or four of the best beaches, take a yoga class, and eat some bomb tacos.

Get our weekend guide to San Juan Del Sur right here.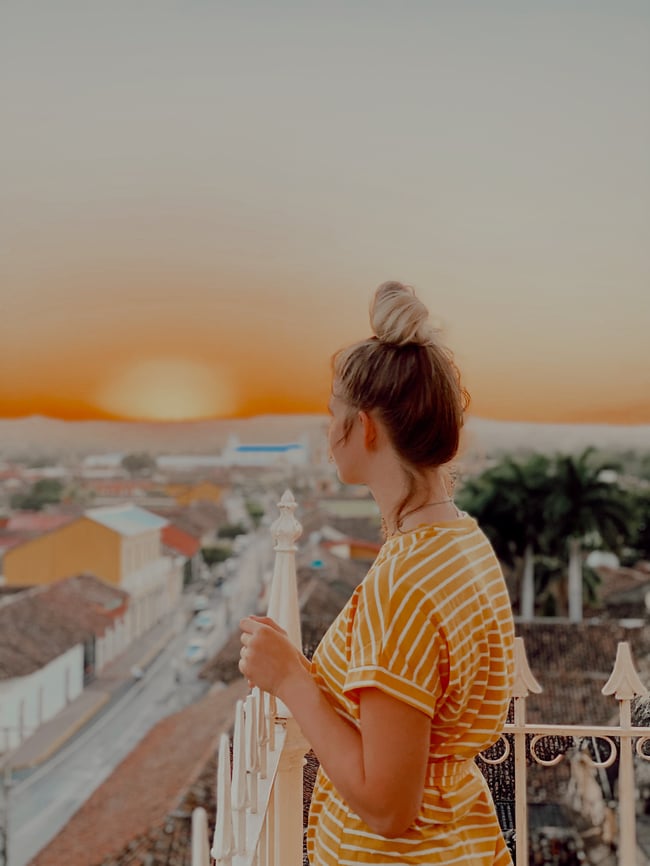 Call Nicaragua your home for a semester
Each semester, ILP sends college-aged volunteers to spend a semester in Nicaragua teaching English part time and exploring part time. If that sounds like your kind of adventure, let's get some questions answered: