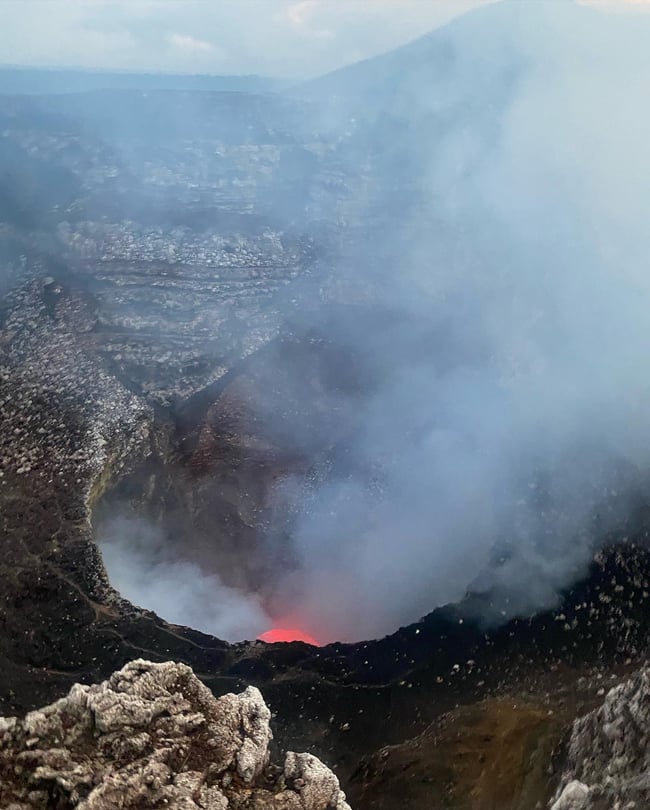 It's hard to pick just one thing to do while in Masaya, Nicaragua — but this night time lava tour might be one of the coolest things to do during your semester volunteering abroad here.
If you don't know much about Nicaragua, you are in for an absolute treat. This country is bursting full of adventures, gorgeous beaches (like Nicaragua's Corn Islands), volcanoes to kayak around, hike and explore … one of which is nestled in the colorfully vibrant city of Masaya (it's a place you cannot miss). Good thing that city is just a day trip away if you'll be volunteering in Central America with ILP.


---
Ready to check out this amazing country for yourself?
Here are all the details about volunteering there!
---


While you're teaching English in Nicaragua, you'll be living in the rad city of Granada (which we also love), which means you're close enough to head to nearby Masaya for a day trip or short weekend getaway. Pretty prefect, right? Here are the details you need for the ideal trip:
The Things You Can't Miss
Do A Masaya Volcano Tour
Nicaragua is known for its volcanoes ... and this is one of the tops!
Picture yourself peering over the rim of a bubbling lake of lava, with the red embers glowing eerily in the dark … be sure to take a listen too; the lava pops and crackles like a massive bowl of Rice Krispie treats. You might also spot bats if you're up there at night. This impressive (and very active) volcano is in the Masaya National Park.
There's a couple ways to do it ...
On your own —
If you want to do-it-yourself, you can just pay the park fee to enter. It's $4 during the day and $10 at night ... but we definitely recommend paying that extra fee because night is when you'll really see the glory of this particular volcano.
If you're coming from Granada, just jump on a bus to Masaya and ask to get off at the "Volcan Masaya". You'll get dropped off on the road where you can head to the park entrance. From here you'll pay your entrance fee and then you'll find people offering shuttle rides up to the crater. If you're coming from somewhere closer, it's pretty convenient to grab a taxi, but make sure you ask for them to take you to the rim (you can even negotiate for them to wait and bring you back if you want a return trip as well).
With a tour —
Going with a guide will be more expensive, but it can also be very convenient because they'll take care of all those details of getting to and from the rim for you and the price usually includes the entrance fee plus the shuttle service. One of our ILP groups signed up with Leo Tours and said it was "well worth it and one of the cheapest options". Looks like he's also got good reviews on TripAdvisor which is always a good sign. You'll find them at the beginning of Calle Calzada, or you can try his email (although a couple days response time is typical): leotoursgranada@gmail.com
There's several other tour operators you can give a try as well.
Getting Back To Granada After Your Tour
—
After you see the volcano, if you're heading back to Granada just flag down a bus heading toward Granada on the highway outside the Volcan Masaya National Park. If you ride a chicken bus, you'll get dropped off at the bus terminal on highway 4 (which is northwest of Granada; a 5 minute taxi ride can get you back into the city, or it's a 20 minute walk).

If you flag down a microbus, you'll get dropped off at Parque Central. Tickets for either option will be less than $1 USD.
Good to know
—
Park hours are 9:00 AM - 4:30, closed for 1 hour, and reopens from 5:30-7:30 PM.
For an evening tour, aim to be there around 5:00 PM. This is a more popular time, so a line typically starts to form and that'll help you get in with one of the earliest groups.

Swim In Apoyo Lagoon
If you need a little cooling off after your volcanic adventure, don't worry; just head over to swim in the lagoon created by a volcano! This extinct volcano has created the perfect swimming hole. Apoyo Lagoon sits between the cities of Masaya and Granada and is ideal for anyone who wants a dark-sand swim, a bit of kayaking, and a little hiking.

Some of the shore is owned by resorts (so they'll charge you $6 USD to use the beach, hammocks and chairs in front of their spot) but there are also public access beaches if you're willing to hunt from them. Here's a whole post with more details on a perfect day at the lagoon.
Getting From Masaya To The Lagoon
From Masaya, it's easy to get to the Lagoon — several buses leave the city and take you on the 1 hour trek over. Buses depart at 6:30 AM, 2:30 PM and around 4:00 (but usually won't leave until they are full, so times fluctuate) and cost around $0.51 USD or 16 cordobas, one-way. Not bad!

You can also take a taxi and it should cost around $12-16, which is a decent price if you'll be splitting the fare with your ILP group.
Visit The Markets
When in Masaya, the volcano might be the most impressive thing to see, but these markets absolutely can't be missed. Sprawling stands are piled high with local produce — like bunches of red and orange peppers and fresh passion fruit and pineapple. Also, if you're looking to do a little souvenir shopping, you'll be in heaven.
There are few markets throughout Masaya and the most famous is Mercado de Artesanías which brings quite a bit of travelers in. But our top pick? Do your shopping at Mercado Municipal! Also known as the "main market" and "Mercado Municipal Ernesto Fernandez", but that's where the locals recommend and we love that. The other markets may have lots of awesome souvenirs, but tend to be pretty pricy and overcrowded.

Plan a couple of hours to explore the huge market that is overflowing to artisan products — we're talking jewelry, paintings, colorful woven bags and purses, and the classic Masayan hammock; don't be afraid to barter and snag a great price!
Oh and please order up lunch while you're shopping. This part of the country is known for a local dish called "vigoron"; soft boiled yucca (sorta like a potato) and tangy cabbage, topped with crispy and salty pork. Yummmm.
Good to know: There are lots of people who will offer tours of the market (it really is that big!). Because tour guides have deals with particular shops, you'll end up paying higher prices (to cover the payout that the tour guide gets for bringing you to that shop) than if you had gone on your own. We definitely recommend shopping on your own if you're on a budget, just make sure to download a Google map before you go so that you don't get lost.
Address: XWF7+5C Masaya, Nicaragua
If you're coming on the bus from Granada, get off at the last stop (at the terminal). Leave through the front of the gate and go left. Then make your first left, so that you're going around the bus terminal. After walking about a block, you see a shoe stand, kind of tucked in, that's creating almost a tunnel. Go in. and head straight. You've found the market!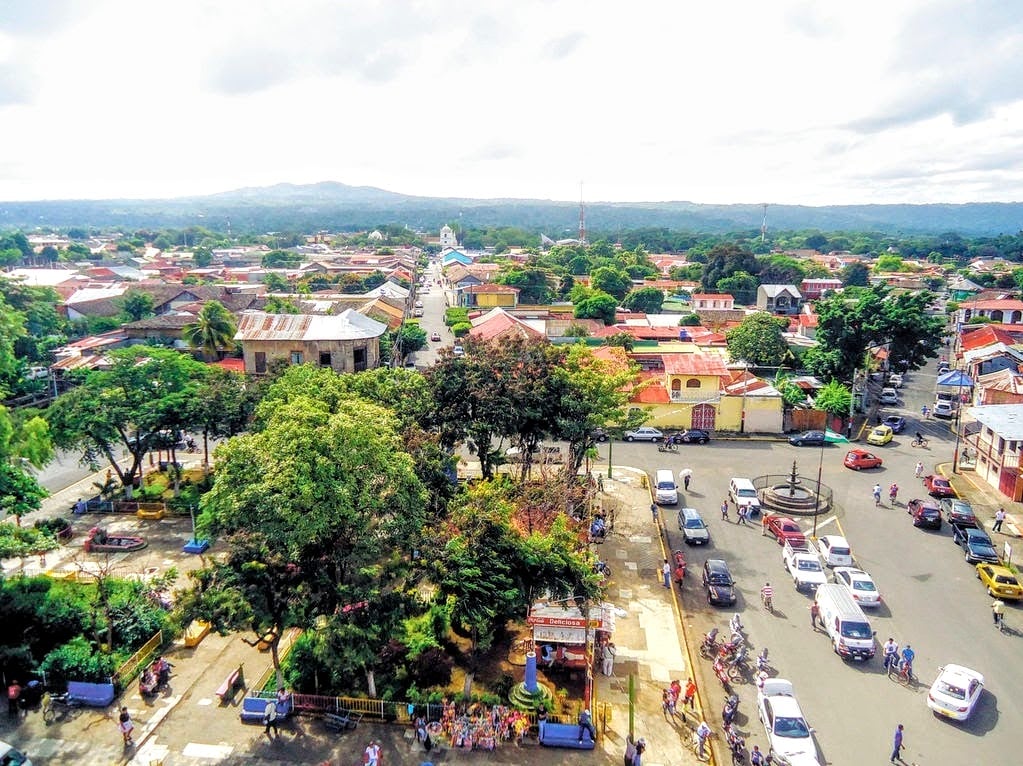 Masaya Folklore Museum
This little museum will teach you all about Masaya's culture including its rich history of dance and and many local myths.
Admission $2
Address: A concrete address is hard to find so ask local to point you towards Museo del Folclore
Fabricas de Hamacas
Go here to see the traditional Masayan hammocks made by local families. It's amazing to watch them carefully make this hammocks and it's generally cheaper to buy them from here rather than the markets in town.
Address: Parque San Juan, 2½c O
Staying For The Weekend?
If you're spending your time in Granada, Masaya is quick one-day adventure especially if you come just to do one activity (like seeing the volcano — best done in the evening) or heading to the markets to do some shopping. However, we've had groups want to spread out their time in Masaya which makes for a delightful weekend adventure.

You'll find several places to stay the night but we've had past groups stay at the Hostal Libertad if that's helpful.
How To Get To Masaya
By Bus From Granada
It's easy to snag a bus from Granada to Masaya and will cost less than a dollar (don't you love the prices in Nicaragua?).
Chicken buses leave often from the bust terminal one (it's a block west of the Pali Supermarket). You'll get dropped off next to the Masaya Mercado Municipal.
Get more info on taking the bus in Nicaragua, right here.
By Taxi / Private Car From Granada
Or you can take a shuttle or taxi from Granada, which will cost around $10 (remember: you can split this with your group!). Past groups have also had luck talking to their Local Coordinator to arrange a driver to take them around + arrange the transportation to and from Masaya ... just another perk of coming here as an ILP volunteer!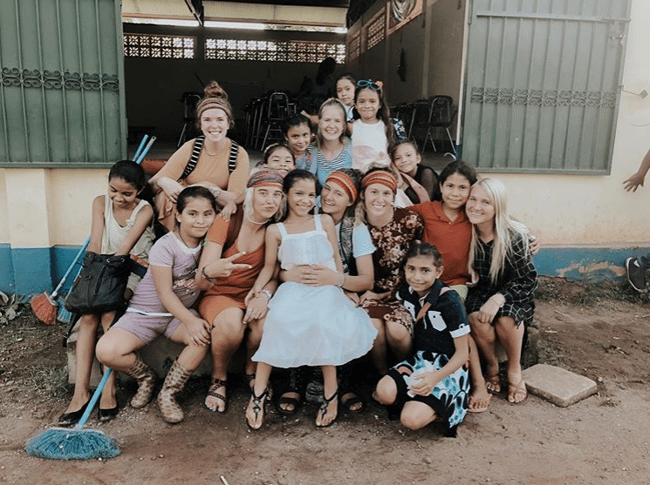 Come explore Nicaragua with us!
Come volunteer to be a part of one of ILP's humanitarian programs in Nicaragua. You'll stay busy teaching English during the day and exploring Granada, then can head out to Masaya on the weekends, and over to places like Costa Rica, Mexico or Panama on your ILP vacations.
Have a couple of questions? Not a problem! Come talk to an ILP representative about that and learn more about Nicaragua, right here: