If you ever find yourself planning a trip to the Czech Republic, don't lock yourself into only visiting Prague. Yes I know it's their most famous city and there's plenty to see and do there, but trust me when I say that there's a lot more that the Czech Republic has to offer. One of them being the adorable town named Český Krumlov.
There are countless reasons to visit Prague. Perhaps you're a history buff and love the idea of exploring the cobbled streets of a city lined with old cathedrals, statues of King Wenceslus, museums, and a famous castle and bridge to top it off. Or maybe you want to come because you saw a photo of those yummy pastries everyone gets (no judgement here). Prague can offer you all of that! In fact, we have an entire page dedicated to Prague that you can check out here. So why go anywhere else? Why Český Krumlov?
---
See what other cities Europe has to offer you
Check out our European Destination Guide
---
Speaking from personal experience, I really loved Prague. I loved exploring the maze of cobbled streets, crossing Charles Bridge, being amazed by the granduer of Prague's castle Hradčany, and stumbling across the world famous astronomical clock. They were all incredible experiences, but I'll admit that the crowds, the endless supply of vendors lined across Charles Bridge, and the overpriced restaurants did wear me down. The hustle and bustle was a bit much for my introverted self which was why Český Krumlov was such a welcome outing.
What To Do In Český Krumlov
The Big Ole Castle
You really can't miss the castle in Český Krumlov. Like you literally won't be able to not see it since it sits in the middle of the town. One unique feature about Český Krumlov's castle that makes it stand out from all the other castles the Czech Republic has to offer is that it still has a moat ... with bears in it. No, I'm really not joking about this. The bears are just there, chilling as the tourists cross over the bridge into the castle.
Another cool fact about the castle complex is that it's one of the biggest in Eastern Europe. There are open courtyards with paintings along the wall, an old bridge, a baroque theater, gardens, and a tall tower overlooking the red-roofed village. The inside of the castle is definitely worth a visit as well!
Costs + Hours
Now you are completely free to wander the courtyards, climb the tower, and see the bears at no admission cost, but if you want to go inside, you need to get a guided tour.
The times the tours are available are:
September to October: 9:00 AM to 5:00 PM, closed Mondays
April to May: 9:00 AM to 5:00 PM
June to August 9:00 AM to 6:00 PM
A pro tip about castles in the Czech Republic is that most of them are closed on Mondays; Český Krumlov Castle is no different. Castles (the interior) are closed during the winter months as well; again Český Krumlov Castle isn't an exception.
Now when it comes to pricing, it really depends on what you want to see. The tours can range from an unguided look at the castle to tickets that include tours of several different museums and areas. The prices range from 400czk (about $19 USD) to 270czk (about $12.50 USD) all depending on what exactly you want to see. For more information check out their prices here.
I will say that while I enjoyed seeing all the old furniture and tapestries in the castle's interior, the outside of the castle was the biggest highlight for me. A lot of castle interiors will start to run together, and when you're closely watching your budget, it's best to choose which castles you'll tour inside of and which you won't. If you've already seen Prague Castle's interior, I don't think touring the inside of Český Krumlov is necessary.
The castle's address is Zámek 59, 381 01 Český Krumlov, Czechia!
Vitus' Church
As is a staple in every European town, there's a church in the center of Český Krumlov, Vitus, that is well worth the visit. Just a pop inside will reveal old pews, baroque and neo-classical art styles, and showcase art from many years past (I mean Český Krumlov was built in the 13th century so it's bound to reflect a ton of history). You can walk inside and tour the grounds free of charge, and, since it's still an active church, you can catch mass if you visit on a Sunday.
The address is Kostelní, 381 01 Český Krumlov, Czechia.
Kayaking the Vltava River
Now we've come to one of my favorite parts about Český Krumlov: the big river, Vltava River, that circles around the town. I honestly feel like this river is what helps Český Krumlov really feel like a fairy tale town since it naturally adds bridges and brings more color and life to the area. Not to mention, you can go rafting and kayaking and I absolutely recommend this! This was personally my favorite part about our trip down to Český Krumlov.
You'll start the trip further up the river before heading down the winding river, passing by a bunch of trees and old European houses tucked further away from town. The journey itself is really calm with almost no rapids. Since it's going down stream, you don't have to do too much paddling which means more time to enjoy the relaxing scenery. Finally, the trip ends with you snaking around the town of Český Krumlov and going along the castle's large exterior. It's a huge dose of nature and architecture enjoyment.
If you're interested in taking a kayaking tour, you can easily find vendors willing to offer you their services, but it's probably best to book it in advance to avoid the higher fees that tourists tend to receive.
You might want to check out Maleček to get everything arranged. They've got several options depending on what you're looking for — you could go for a trip as short as 30 minutes, or if you have time you could opt for trips that last even up to a half or full day. The half hour ones are obviously the cheapest at about $16 USD while the full day ones are about $40.
Stroll the town
This entire town feels like you've just walked into a fairy tale! There are colorful buildings that surround the town square with plenty of outdoor restaurants. They offer a lot of the same goodies that you can get in Prague like trdelniks (rolled dough that's been cooked with cinnamon — so good!), souvenirs, and good Czech food.
Check out the museums
There are also a lot of options for museums if you're looking for somewhere to drop into while you're wandering the town.
The Egon Schiele Art Centrum —
This is an art gallery that features classical and contemporary art from various artists. Great place for all art lovers! If you're interested the address is Široká 71, 381 01 Ceský Krumlov. Find more info about admission and hours on their website here.
The Minorite Monastery —
This monastery is very old (built in the 14th century) and still active. They hold religious concerts and even have workshops where you can learn skills like glassmaking, blacksmithing, shoemaking, and tailoring. If you want to have a simple, free tour of the monastery (the architecture alone is worth a visit) the address is Latrán 50, 381 01, Ceský Krumlov. You can find more about the prices if you're interested in attending the workshops and getting a tour here.
A Few Pro Tips For Your Trip
See a lot on a budget
I'd recommend getting a Česky Card. This'll give you tours of these locations: Castle Museum + Tower, Regional Museum, Seidel Photography Museum, the Egon Schiele Art Centrum, and the Cesky Krumlov Monastery. It costs about 400czk or about $19 USD. If you're wanting to see those places, this does give you access to a lot of areas for cheaper than if you were to buy everything separately.
You can buy the card at any of the areas the card covers as well as the Tourist Information Centre Český Krumlov.
About those tourists...
Now I said that one of the reasons I liked Český Krumlov was because it was less crowded than Prague. While that's true, so much of this town can still be a bit of a tourist trap. A lot of people know about this fun little town and equally enjoy visiting it, so just know that this isn't one of those hidden gem type of cities.
Like the rest of Europe, the summer months are when the tourists flock into the small town the most. If you're here during the spring of fall, you'll be able to avoid a lot of those crowds (winter is fine too but a lot of things are closed), but if you are visiting in the summer, I'd recommend getting an early start on your tour of Český Krumlov and to try to knock out as many things before 11:00 AM (this is when the crowds start to really come in). Besides, you know that old cliche: the early bird catches the worm. The same thing in Český Krumlov.
Make it a day trip from Prague
Luckily Český Krumlov isn't far from Prague making it easy to plan a trip to the Czech Republic that includes both these locations. Depending on the amount of time you have, I'd say you only need a day or two in Český Krumlov to get your fill of the town, and likewise with Prague (especially if you're short on time).
And like I mentioned, Prague really is worth the visit (even with the crowds) — here's a post that'll help you plan your trip to Prague.
Getting Here From Prague
Getting to Český Krumlov from Prague is pretty straightforward — we love using Omio for finding routes online.
Depending on the day of your trip, you can usually find both bus and train routes. And if I'm being super biased, I'd say take the train because of how cool that experience is!
The journey is around 2-3ish hours and tickets are usually really affordable — around $10-15 USD each way, even during the peak summer months.
Nearby Adventures
Český Krumlov sits in the southern tip of the country, so if you've already tackled Prague you might opt to move on to another city that's on your bucketlist ... and per usual the tickets are crazy affordable (we're talking under $20 to some spots)!
Český Krumlov → Brno, Czech Republic = about 4 hours by bus or train
Český Krumlov → Vienna, Austria = about 4-5 hours by train (and this puts you just an hour from Bratislava, Slovakia!)
Český Krumlov → Salzburg, Austria = about 3.5-5 hours by train
Český Krumlov → Munich, Germany = about 6 hours by bus or train, usually with 1 transfer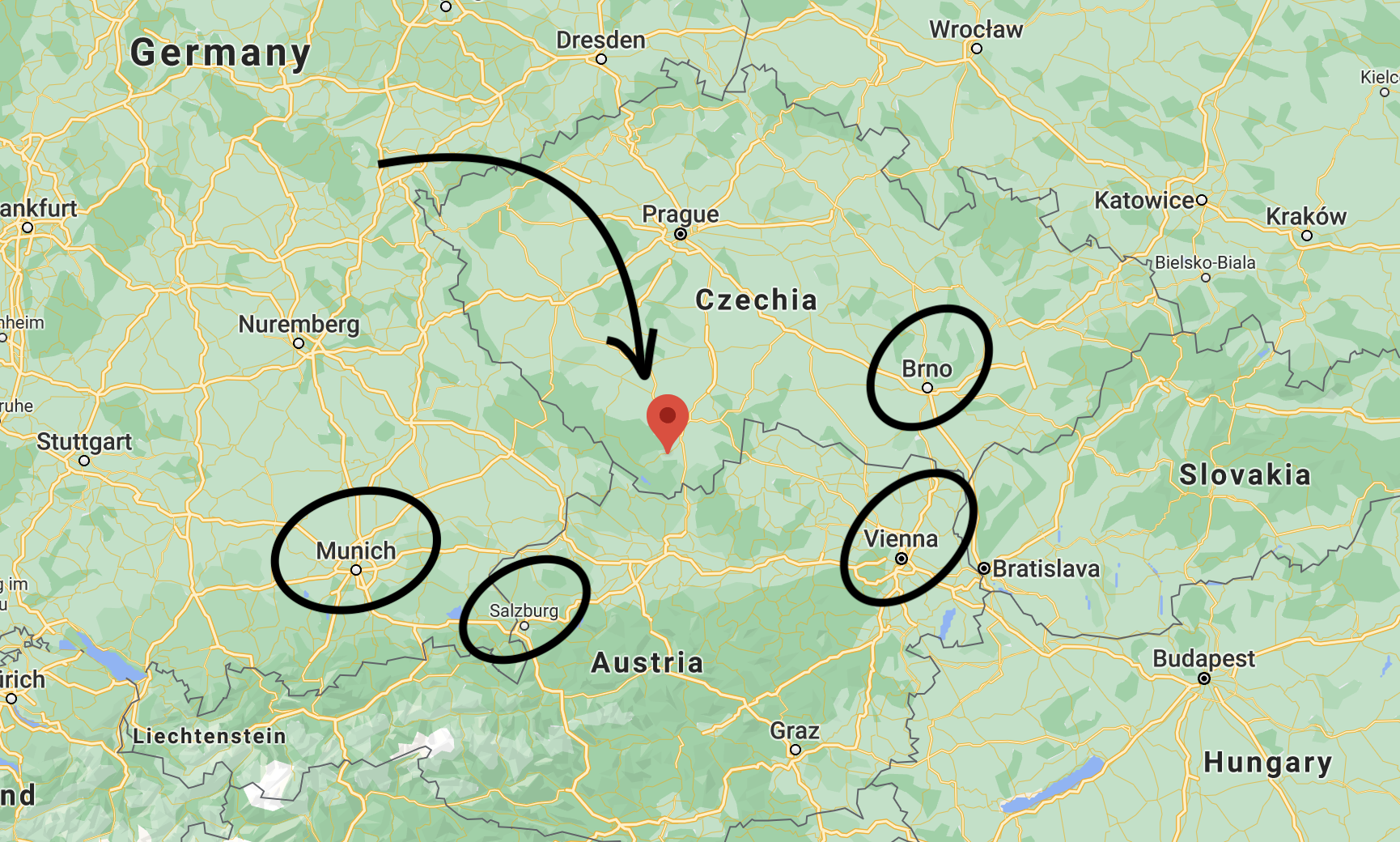 Live in Europe for a semester!

The easiest way to travel Europe is to live there to begin with! ILP offers several programs in Europe, such as Romania and Lithuania, where students volunteer and serve for about four months with trips during the Spring, Summer, and Fall. We make sure there's still a lot of time to explore Europe so you can tour those incredible cities you've always dreamed of (like Prague and now Český Krumlov). Check out our programs here!