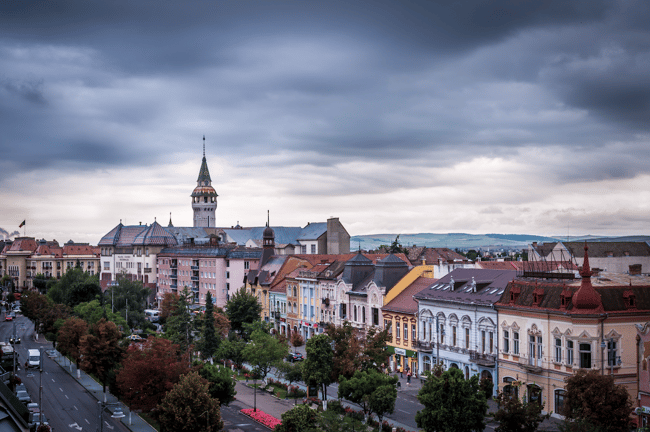 We're not quite sure why a place nicknamed "the city of roses" is such an underrated spot in Transylvania.
I visited a handful of Romanian cities when I was living in Europe as an ILP volunteer, but since coming home, I realized I just saw a teeny-tiny portion of what there is to see in this country. Romania is bursting with so many charming towns, delightful town centers, stunning hikes, and hidden villages that get added to my "must visit" list the minute I see pictures of these places. Out of all the countries I saw while traveling around Europe, Romania is the country that I am itching to go back to, maybe just to see a place as charming as Targu Mures.

---
Learn more about how I got to live in Europe for an entire semester here:
All About Volunteering With ILP
---

With a city split with Hungarian history, dotted with towering palaces, overflowing with flower gardens, and an overall charm that's a bit hard to define, we know you'll be dying to visit. Here's what you need to hit the highlights of Targu Mures
A Bit About The City
One unique element of the city is the blend of two countries, languages, and histories found here: Romania and Hungary. About half of the population is Hungarian, and both languages are heard around town. Even the city's name nods to this connection: Targu Mures is the Romanian name of the city, which is the equivalent of the Hungarian name, Marosvásárhely. Both mean "market" on the Mures (Maros) river".
There's the first mention of this city way back in the 1300s where it was a notable market and trading post — and still quite the mix of cultures. The city soon became a cultural and educational center in the late 1400s, and that reputation has lasted through the centuries. Targus Mures, among other things, is an education hub for the country, and surrounding ones. The city's reputation grew with the 17th-century construction of the town fortress (thanks to a talented guild of craftsmen). The city was pulled into modernity with the construction of the railway line here in the 19th century.
Now it's a charming city known for beautiful architecture (get more info on that below), boxed gardens dotting the city, towering churches, Baroque churches, a smattering of museums, plus the resident medieval fortress and citadel.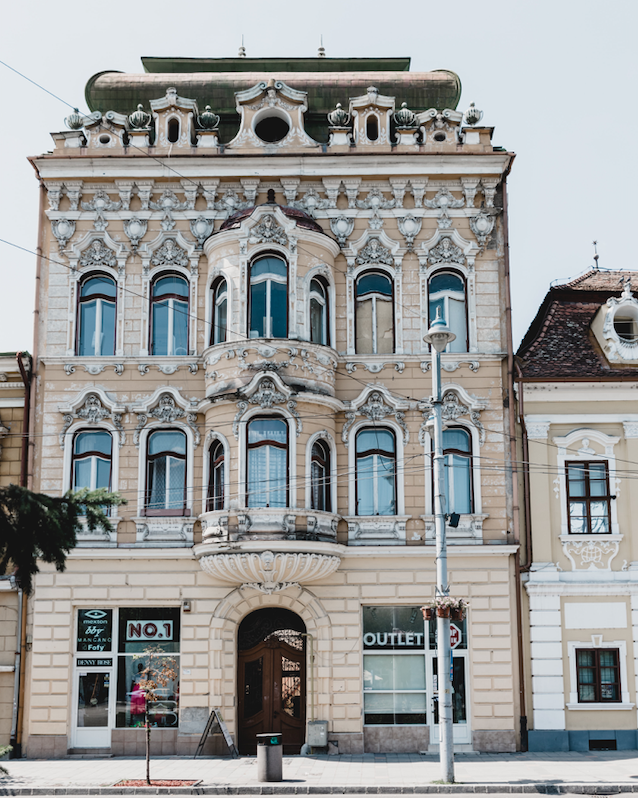 Top Things To See
As a heads up, one of the best things to do in Targu Mures is to admire the city's architecture. It's part of a group of Romanian cities that have maintained their medieval charm (with a heavy Art Nouveau and Baroque influence), making the entire city square very picturesque. To help guide your wanderings, keep an eye out for these must-see spots:
The Cultural Palace
This is the most famous building in the city, and it's a stunner. Built between 1911 and 1913, the Cultural Palace is an emblem of the culture found in this part of Transylvania. If you know your architecture, you'll notice hints of Viennese Secessionist style combined with some local folk art. The tiled roof is a nod to the architecture found in nearby Hungary and also sports some intricately detailed stained-glass windows.
While we love admiring the outside, but taking a step indoors means admiring gold embossed Venetian mirrors (in the Hall of Mirrors), insanely intricate paintings on the ceilings, a 4,463 pipe organ, and beautiful woodwork (and a closer look at the stained-glass windows). It's also home to the Mureș County Library, the Mureș County Museum, and the State Philharmonic of Târgu Mure.
Address: Strada George Enescu, Târgu Mureș, Romania

Hours: 9:00 AM to 4:00 PM (2:30 PM on weekends, closed Monday).

Cost: 10 RON for adults (4 RON for students)
The Medieval Fortress
Built in the late 15th century, there are a few remaining elements of this impressive castle and fortress. You can see stretches of the wall on the western and southern wing (which connects to the tower and the tanners' bastion). A few additional bastions were added in the 17th century (which housed everything from the locksmith's guild to the goldsmith's guild headquarters) — peek the firing holes for cannons and areas for holding weapons.
The square construction of the castle and fortress is also home to a church (the oldest in Targu Mures), arched alcoves, barracks, the Archaeological and Historical Museum, and is the spot in town for a handful of folk dances, poetry readings, and various festivals. Plus, there's a grassy park nearby. It's a picturesque part of the city to spend an afternoon.
Address: Bulevardul Cetății, Târgu Mureș, Romania

Hours: 9:30 AM to 9:00 PM (closed Mondays)

Cost: Free, except for a small fee for the museum

Learn more on their

website

.
Ascension Orthodox Cathedral
Although it's called a cathedral, this impressively massive building is technically a church, built just last century, and stands as an absolute icon of the city. The towering domes atop the building and the arched alcoves are just the exterior to the most detailed walls and ceilings on the interior. If you're familiar with Orthodox churches, you know glittering chandeliers and colorfully painted murals are waiting for you, all lit by glowing candles and sunlight streaming through the narrow glass windows.
Find it: Piața Trandafirilor 1, Târgu Mureș, Romania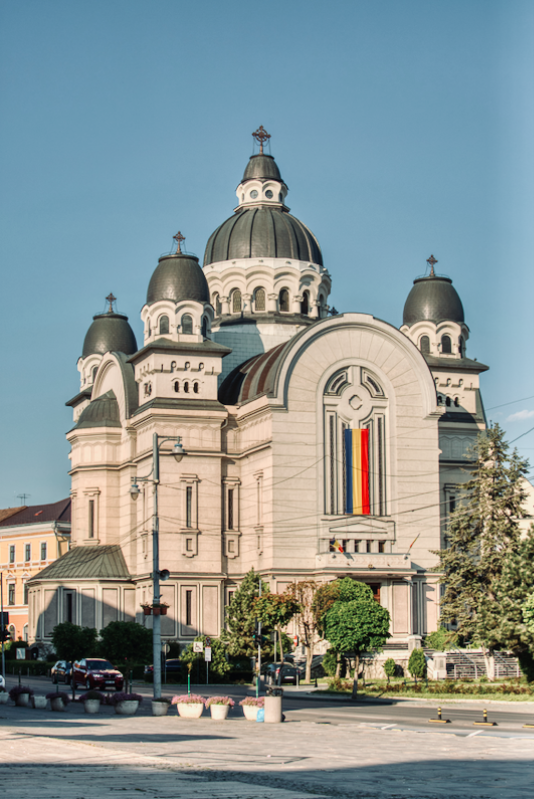 Teleki Library
Romania's home to another library I'd highly recommend (find it in Bucharest) but if you're not in the capital and still want to be utterly enchanted by rows and rows of books, head to Teleki Library. The library was founded by Samuel Teleki in the 18th century (chancellor of the Transylvania region), who pledged to make this 40,000 book collection available to the public. It's now home to several other collections, amassing over 250,000 items (which include first editions, piles of mathematical works, and original manuscripts). It's an amazing collection.
See more online — the pictures are gorgeous.
Address: Strada Bolyai 17, Târgu Mureș 540067, Romania

Hours: 10:00 AM to 5:30 PM (closed weekends and Mondays)
Tips For Your Visit
For When You Get Hungry
Romania's up there with the best of best of cafe and restaurant culture, with a few notable places to grab breakfast, lunch, or dinner:
Piaf Cafe has several pretty notable dessert options, though breakfast also gets rave reviews.
Taverna Diavolului is a highly rated restaurant with local dishes, soups, as well as burgers, pizza, and pasta options.
Căsuța Bunicii has a menu full of traditional dishes plus a restaurant that's sometimes home to live music to enjoy while you munch.
112 Coffeehouse is a top spot for (you guessed it), coffee. Apart from brewed drinks, this shop has some stunning cakes, other beverages, and a stellar location for soaking up the architecture and vibe of the city.
Understand The City's Nickname
Sometimes called the "city of roses", Targu Mures got this nickname thanks to all the floral gardens sprinkled across the garden. You can admire one of the most famous floral spots at the Piata Trandafirilor (Square of the Roses) — find it in the center of the city, across the square from the Palace of Culture ... and the eccentrically colorful Administrative Palace.
Get A Good View
See the city by visiting the cemetery. There's a beautiful Reformed Protestant cemetery perched atop a hill that's full of rows and rows of headstones and dome crypts. It's a peaceful part of the city that's a quiet place to take a walk and admire some beautiful memorials.
Find it: Strada Crizantemelor 4, Târgu Mureș 540073, Romania. Open from 8:00 AM to 8:00 PM.
So Many Nearby Spots
One of the biggest draws to Targu Mures is the location — it's easily reached by so many of our top spots in Romania, making it an irresistible detour to your Transylvanian itinerary. Here are a few of the nearby cities (and some transportation details to make planning even easier):
Brasov
Brasov's one of our favorite favorite favorite cities to explore in Romania, complete with Dracula's castle, one of the most dramatic churches I've ever stepped foot in, and more. Get from Brasov to Targu Mures by bus in about 3 hours. Check routes here and here.
Sibiu
We love the idea of exploring the charming German-influenced town, spying the views from the clocktower, and taking a bike tour through the colorful streets of Sibiu before taking a ride over to Targu Mures! Hop on a bus from Sibiu and get to Targu Mures in about 3-3.5 hours (you can check out different bus route options here and here and here) depending on what company you'd like to travel with.
Cluj-Napoca
Don't sleep on this Romanian city, it's a quaint location that's also near a haunted forest, a flooded village, salty lakes to float in, and a good jumping-off point to the most impressive salt mine I've ever seen pictures of (in nearby Turda). We love all the things to do in Cluj-Nacopa and also love that you can ride a 2-hour bus and get to Targu Mures (check routes here and here).
+ A Few Others That Are A Bit Further Away
You can get routes from Bucharest, Iasi, Sighisoara, Timisoara, and a few other notable cities no problem, the itineraries are more like 6-7+ hours. They could work great as an overnight option if you'd like to spend a weekend here visiting Targu Mures, and another spot. Double check the links above for bus routes from these locations to see if there is night-bus availability.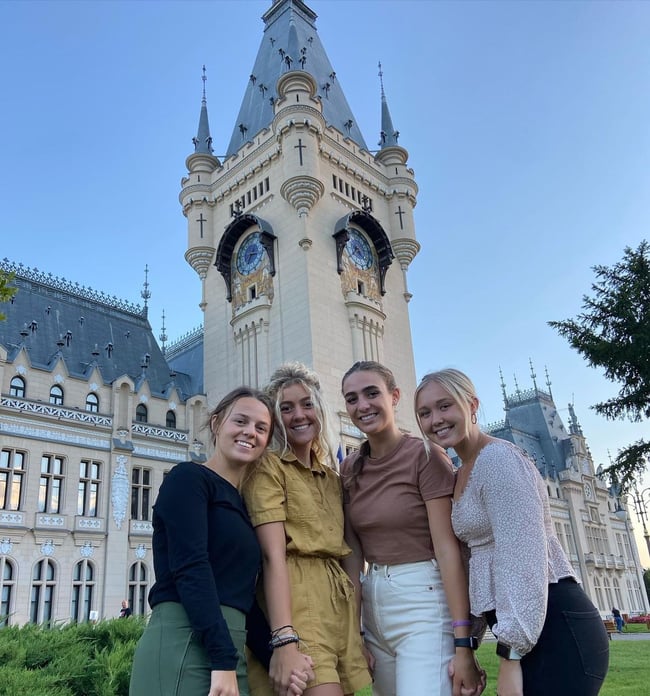 Come to Romania with us!
Hi, we're International Language Programs — every year, we send groups of college-aged volunteers to countries all over the world, including Romania. This particular location is extra special because volunteers here are helping in an orphanage, with a part-time schedule that leaves plenty of time for exploring on the weekends and scheduled vacation days to see even more. If you're interested in serving, traveling, and experiencing life abroad with a group of travel buddies, this may be the right program for you! Learn more here: