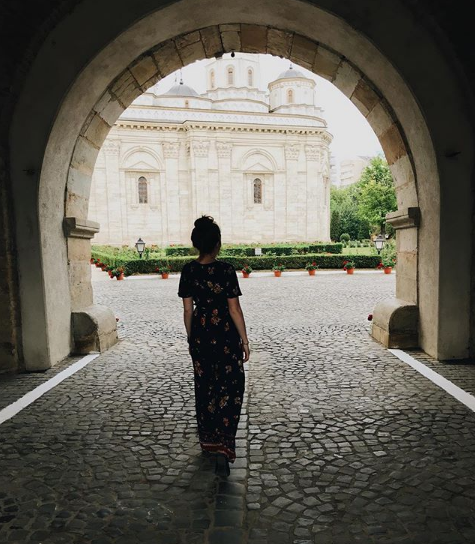 This underrated city in Romania is home to thousands and thousands of painted ceilings, stained glass windows, and towering steeples, all surrounded by sprawling gardens. What more could you want from a European city?
One of the main reasons you take a trip to Europe is to obsess over all the buildings. You're spending your time touring castles and palaces, peeking into churches and monasteries, climbing up clocktowers, strolling between narrow alleyways in the Old Town's neighborhoods, or admiring massive parliament buildings that sit on the river (and have for a few hundred years). And if you're on the hunt for a European city that seemingly comes out of nowhere, I can't wait for you to get to know the cute city of Iasi, Romania.

I was recently traveling around Europe (on my ILP semester) and added Romania to the itinerary last minute … and it knocked me completely over, easily becoming the coolest place we visited out of seven other countries. I think you better just spend a whole semester volunteering there to know what I mean.


---
ILP volunteers spend a semester the orphanage program here
All about volunteering in Romania
---

For volunteers who will be living in Romania, you absolutely have time to check out everything this country is about, including all the picture-perfect churches and monasteries. And if you want to see the best churches and monasteries in Romania, come to Iasi. There's a saying that in Iasi, you can't throw a rock without breaking a church window — there are just that many. Here's just the short list of what you'll have to see while in Iasi.
Our Favorite Churches In Iasi
Metropolitan Cathedral
If you're one for facts, you'll want to know that this is the largest Orthodox church in Romania … but if you're just into pretty buildings, you'll love the detailed Baroque style and domed towers. This church was built way back in the 19th century, which makes some of the church's details even more impressive. While you'll find stained windows from Munich, the real stunner of this building is the half-moon mosaic right at the entrance. A beautifully colorful depiction of the Presentation of Christ, all made up of impossibly tiny tiles.

Oh, and that's just the exterior. Inside, find huge vaulted ceilings hung with ornate golden chandeliers. This is easily one of our favorites in all of Europe!

Address: Bulevardul Ștefan cel Mare și Sfânt 16, Iași
As a heads up, this place gets very busy during Orthodox holidays.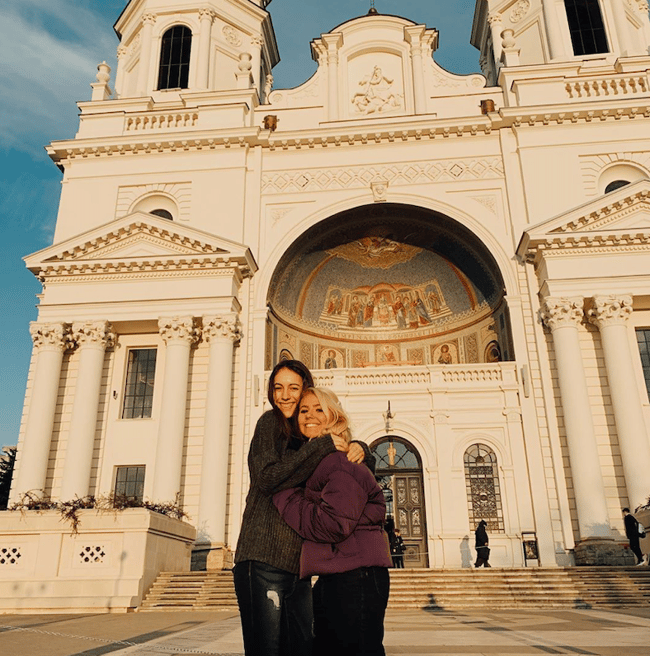 Saint Sabbas Church
This place has quite the story to tell. Way back in the 1500s, there used to be a monastery where this church now stands. The monastery then burned down and was partially rebuilt, with other rulers adding sections of the church and bell towers above and around the original monastery. Over the next couple of hundred of years, an impressive library and printing press made its home here, was home to a school for girls in the 1800's, then in the 1900's the entire structure became a parish.
Visiting means touring the unique Byzantine structures and painted ceilings inside — just one example of the huge mix of cultures and historical influences found in this little city.
Address: Strada Costache Negri 44, Iași
St. Nicholas Church
Find this church hiding in the sprawling Copou Park, a small orthodox church painted with the most colorful and mesmerizing murals on the outside, only to find an ornate gold interior if you get the chance to peek inside. Unlike other favorite churches, St. Nicholas is rather modern, built in the 1940s. It's built in a classic Moldovian style with a few modern elements. Find mural painted, mosaic frescos, and elements of Romanian fairytales.
Address: Find this gem in Copou Park (Aleea Grigore Ghica Vodă nr. 76, Iași)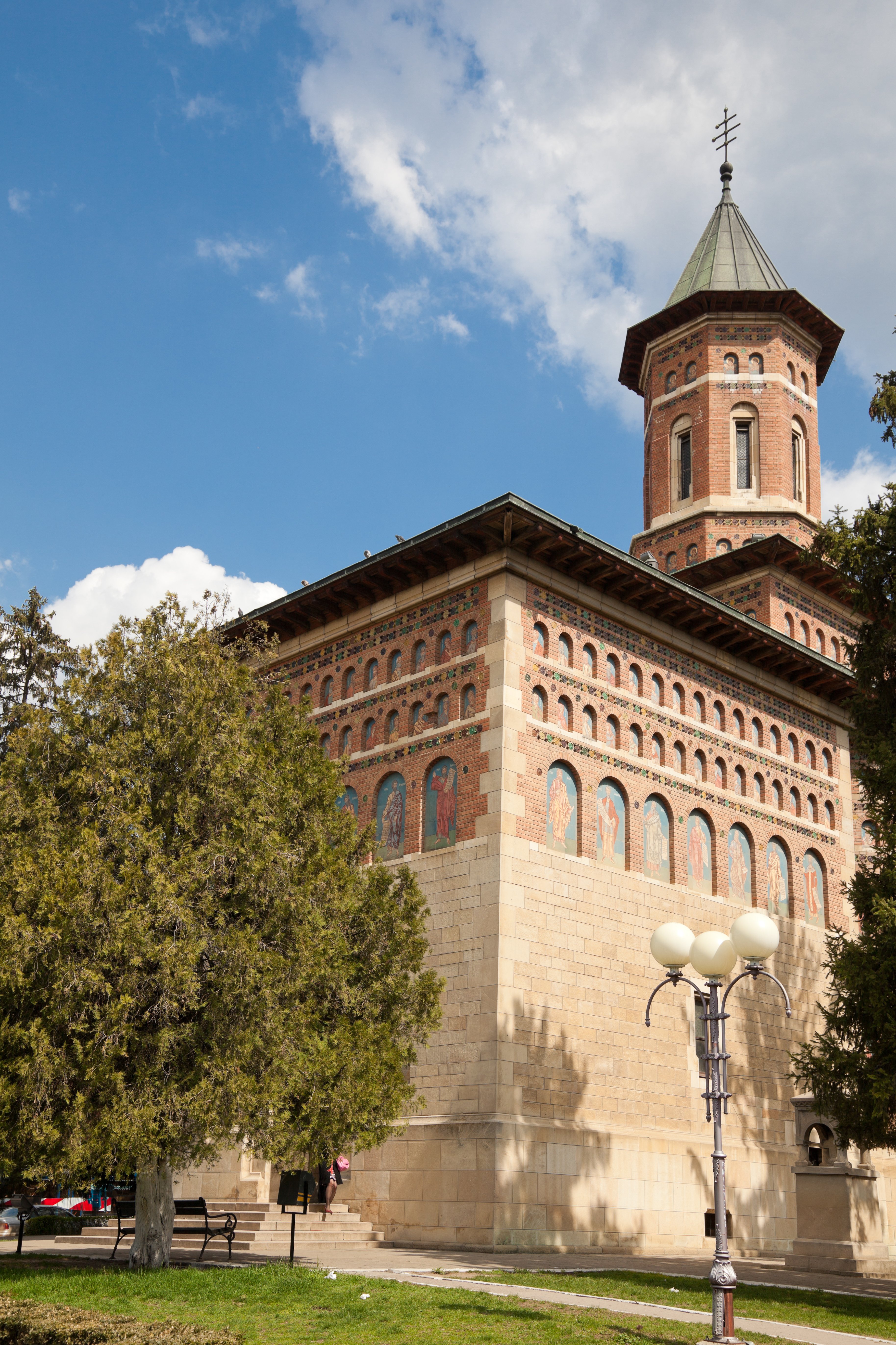 Bărboi Church
Sometimes known as Saint Peter and Paul church, this spot opened up in 1843 and was built in the shape of a Greek cross. The series of Doric columns that hold up the entrance is one of the most impressive features, but I'm also a fan of the roses which bloom around the tree-studded grounds and the clock tower. It's a quiet, local church to squeeze into your itinerary.
Address: Stradela Bărboi nr. 12, Iași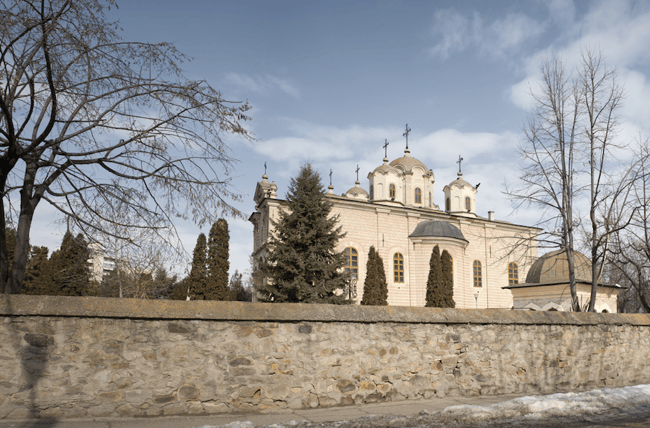 Our Favorite Monasteries In Iasi
Three Holy Hierarchs Monastery
If you just pick one church or monastery to visit, I vote this one, if just for the pictures you can take here. How do you not love this place? It's got all the things you want from a 1600's monastery, with intricately carved walls that look almost Armenian or Ottoman inspired. These carvings cover the walls of the monastery, all the way up to the top towers. Golden fresco ceilings blanket the interior, but the exterior is really the thing to see when visiting the Three Holy Hierarchies Monastery.
Open from 6:30 AM to 7:30 PM if you plan on entering.
Address: Bulevardul Ștefan cel Mare și Sfânt nr. 28, Iași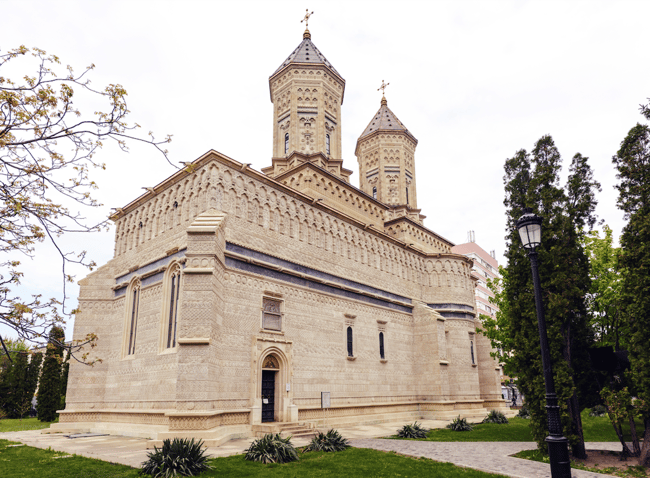 Cetatuia Monastery
This may be a monastery but it was primarily constructed as a fortification to protect where the prince of Moldova would be living during the 17th century. The main building itself is a stunner, with creamy white walls and black onion domes, all surrounded by pretty expansive grounds, walled watchtowers, and what some scholars believe to be the remnants of a Turkish bath (which would be the only example preserved in a monastic structure). Before leaving, head up the bell tower to see a panorama of the city spilling out below you.
Address: Strada Cetățuia, Iași
If you're wanting to walk about this part of Iasi, there's another pretty impressive monastery just about a 25-30 minute walk away. The Frumoasa Monastery has one of the prettiest church interiors I've seen, with huge floor to ceiling frescoes. There are a set of ruins and some pretty gardens around this 17th-century monastery.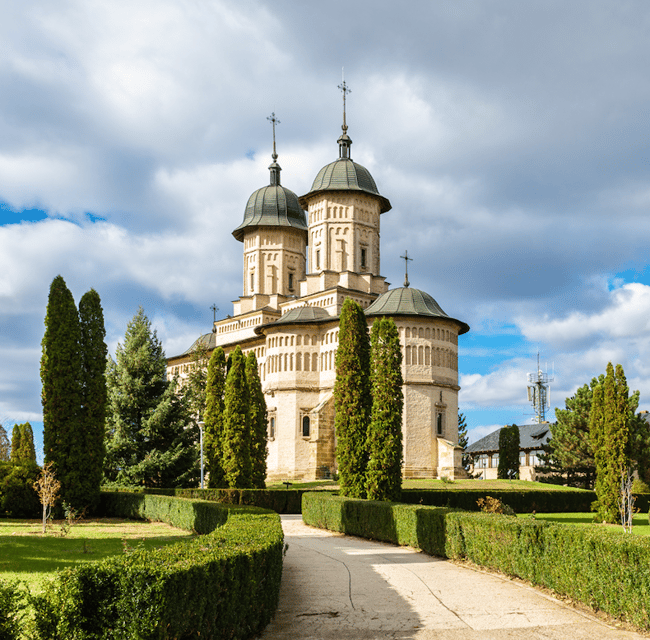 Golia Monastery
When you're walking around Iasi, it's pretty normal to run into buildings that have been around for hundreds of years … Golia Monastery is one of those pretty, pretty sites boasting a few hundred years of history. The monastery itself is rather stark and austere (built in the classically straight forward religious style popular back in the 1600s) but the church is something to brag about. Bright white walls with octagonal towers are topped rounded domes, which couldn't be prettier if you catch this spot on a day with blue skies.
Address: Strada Cuza Vodă nr. 51, Iași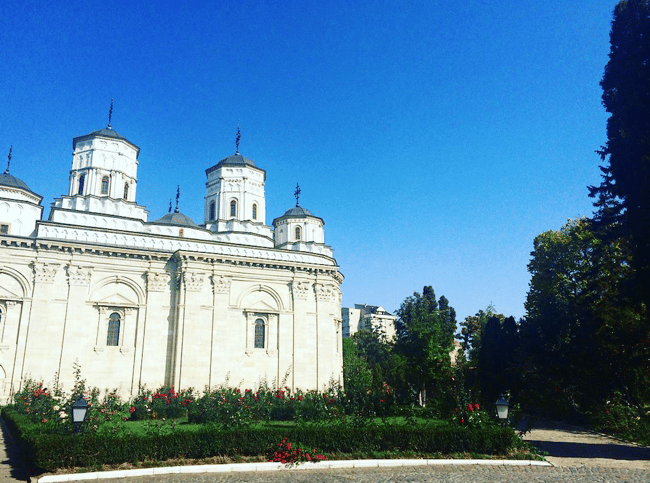 Galata Monastery
If you're not tired out by reading about the A-list of 400+ year old monasteries in Iasi, then you're definitely ready for a whole semester there. And this particular monastery is one to add to your list. Galata Monastery is perched on top of one of the rolling hills on the western side of Iasi and is made up of an impressive church built in the Moldavian style, a princely palace, a bell tower and a fortification wall (some of these structures date back to the late 1500s).
Address: Strada Mănăstirii nr. 4, Iași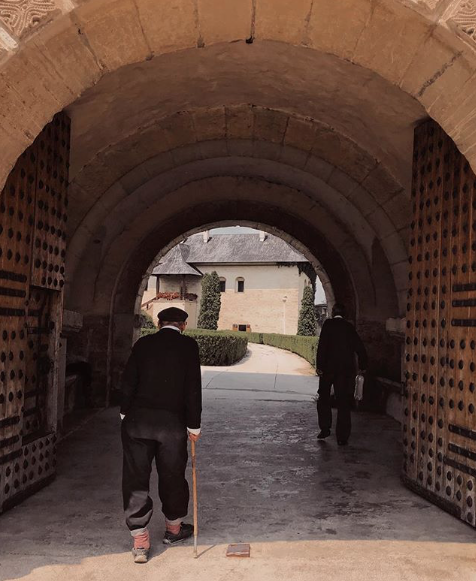 Spend a semester abroad volunteering at the Orphanage Program in Romania
Take a semester to take vacations to travel all around Europe and spend time snuggling orphans and helping families adjust to life with a child with mental or physical difficulties. ILP is a non-profit organization based in the US who sends college-aged to do just that, for a whole semester.