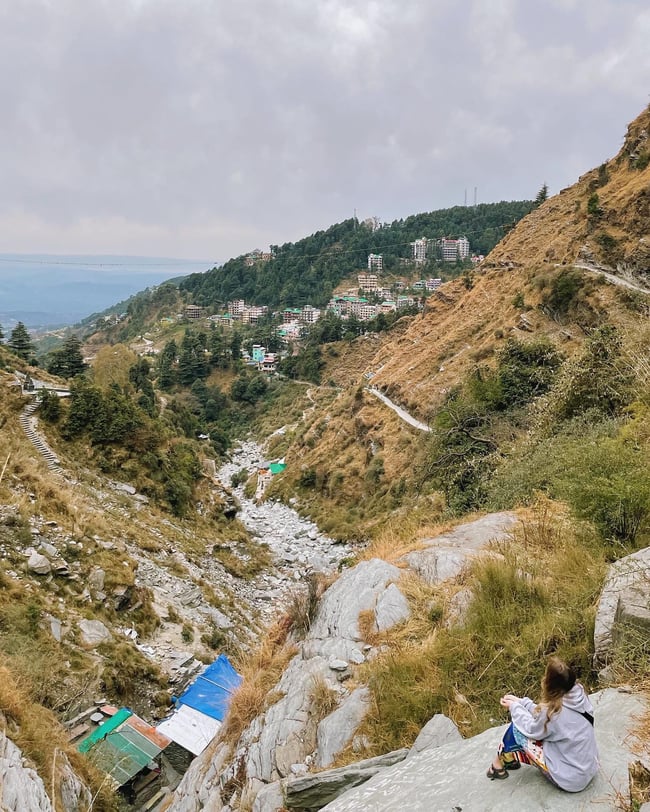 Soak up mountain views from the gondola, see where the Dalai Lama lives, hike to the prettiest waterfall for sunrise, and more — we love a weekend in Dharamshala!
One of the best parts about actually living somewhere for a full semester (rather than just visiting for a week) is all the places you get to explore. When I was living in Europe and Asia as an ILP volunteer, there were so many weekend trips I fell in love with that wouldn't have happened if I was only on vacation in that country for a week or so. One of those places for our ILP India volunteers is the charming mountain town of Dharamshala — a perfect mix of history, stunning Himalayan mountain views, our go-to shopping streets, celebrity (hello, Dalai Lama!), and waterfall hikes. It's one you won't want to miss.


---
What's this about volunteering abroad in India for a semester?
---

ILP volunteers tend to visit Dharamshala at least once in their semester, which means you have quite a few insider tips we've put together below to make sure your trip here is just as dreamy.
A Little Intro To Dharamshala
You'll find this mountain town in Himachal Pradesh, a gorgeous little getaway nestled between towering mountains, filled with shops, temples, stunning views, and little cafes. Before we start into the history of this place, you'll want to know that the city of Dharamshala splits into two halves, found about 3 miles away from each other — Lower Dharamshala is the commercial hub, filled with markets, shops, grocery stores, houses, apartments, etc.
Upper Dharamshala is also called McLeod Ganj — it's where most ILP volunteers spend their time. McLeod Ganj has been the headquarters of the exiled Tibetan government for decades and is currently home to a large Tibetan community, as well as the residences of his holiness, the Dalai Lama. You'll find Tibetan markets, food, temples, shops, and more in this upper part of Dharamshala. Thanks to the ties with Tibet, McLeod Ganj is sometimes called Little Lhasa (are you keeping up with all of the nicknames yet?).
We'll dive into the things to do in just a minute but will have a section of activities in McLeod Ganj to help you separate what is found in Lower Dharamshala versus Upper Dharamshala.
Things To Not Miss
In + Around Dharamshala
Again, as a caveat, most ILP groups tend to do the activities in and around McLeod Ganj, but here are a few Lower Dharamshala things to check out while you're here:
Kangra Art Museum
A modest museum featuring costumes, statues, pottery, and jewelry dating back to the 5th century. Kangra is a district found in Himachal Pradesh, with Dharamshala serving as the administrative headquarters. This museum preserves the cultural heritage and history of this part of India, with four galleries featuring archaeology, Kangra miniature paintings, jewelry, and textiles. Get more info here.
The Tibet Museum
This museum serves as a memorial for Tibet's battle for freedom and exile. Inside, the museum features exhibits detailing China's oppression of Tibet, and Tibet's exile to India, as well as exhibitions featuring Tibetan textiles, literature, and photography.
Along with a film, there's also an exhibit of 108 questions (and answers) from the Dalai Lama, a compilation of numerous interviews, publications, and public appearances. Plan on visiting for 1-2 hours. Learn more here.
(This museum is found closer to McLeod Ganj, kind of in that hazy middle ground between the Lower and Upper halves of Dharamshala).
Take The Cable Car
It's a practical way to travel between the Lower and Upper parts of Dharmshala (without hiking up those steep hills!) but it's also a very pretty view. Soak up the colorful houses, markets, and temples below on the 20-minute roundtrip ride (or 10 minutes, one-way). Get more info here.
In McLeod Ganj
This Waterfall Hike
BhagsuNag Falls is a must-see, found just a couple of miles away from McLeod Gaji. It's a towering waterfall, found in the village of BhagsuNag. In the past, ILP volunteers have gotten up early enough to make the 20-30 minute walk to reach the falls before sunrise, so they could watch the sun crest over the mountains, painting a pretty pink sky above the tumbling blue waters. The trail starts at the BhagsuNag Temple, which can be a nice stop before or after your hike. Find it here.
Trek to Triund
You're in the homeland of the Himalayas, after all! Triund Trek is one of the most popular for visitors taking you through green meadows, views of the Kanga valley, and the impossibly high peaks of the Dhauladhar mountain range. Many people take a segment of this hike if they're short on time, starting in McLeod Ganj and taking a taxi to McLeod Ganj to Galu Devi, where you can reach Triund in about 3 miles (doable in a day).
However, if you'd like to tackle the full thing, it's a 2-3 day adventure for the 9-kilometer (one-way) hike. This site has tons of preliminary info about the trek, and many tour operators can help arrange the gear and other details to make your hike easier.
Do A Little Shopping
ILP volunteers tend to love the souvenirs and shopping at the Tibetan markets in McLeod Ganj. You'll find a whole spread of woven rugs, carefully sculpted carvings, tapestry paintings, prayer beads and flags, additional souvenirs, and other handicrafts for sale in the shopping districts. Kotwali Bazaar, shops along Jogiwara, and McKeod Ganj Central Square are all ones to check out (one of the oldest shops is found here: Nowrojee and Son opened in 1860!).
What About Meeting The Dalai Lama?
McLeod Ganj is the residence of the Dalai Lama (more specifically, the Tsuglagkhang Complex). The temple and monastery complex is absolutely worth a visit, filled with rows of golden prayer wheels, painted tapestries and murals, adorned relics and statues, and towering stupas (find it here).
It's quite a complex process to meet the Dalai Lama — he travels often, so you'll need to make sure he's in town while you're there. He also has audiences with the public on invitation only, so there's an application to fill out as well. There are times when the Dalai Lama does hold public conferences and teachings that you may be able to attend.
The official office has more information if you'd like to try your luck while you're in McLeod Ganj ... but the Tsuglagkhang temple and monastery complex is still worth a visit even if a visit doesn't work out! There's a beautiful walking path (though steep) covered in prayer flags, prayer wheels, and shrines on the nearby 1.5 Kora Circuit if you want to fit in a little hike with lovely views after your temple visit.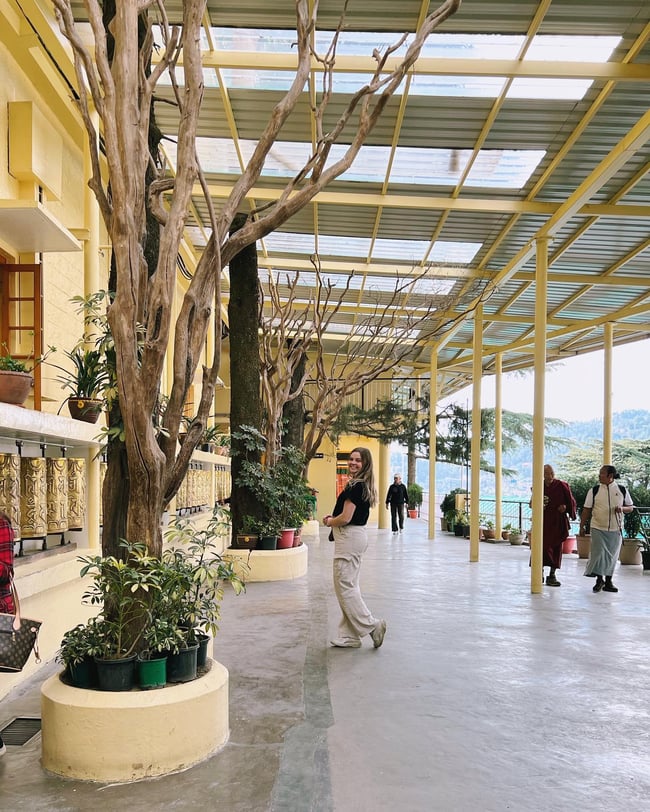 When It Comes To The Food
I've been known to pick a country to visit based on the food ... I wanted to visit India for tons of other reasons, but the food was a big part of that decision! Depending on where you are traveling in India, the food varies wildly (make sure you try all the local favorites). In this part of India, there's a strong Tibetan influence, which impacts the cuisine. It's also a hot spot for backpackers, so you'll also find some restaurants serving Western food (you can even find a couple of Italian and Mexican restaurants here, along with a KFC and a Dominoes). Here are a few things to keep an eye out for:
Momos — These Tibetan dumplings are delicious, typically stuffed with veggies or meat. Try them steamed or fried — you'll see momos served on street carts, as well as in cafes and restaurants all around Dharamshala.
Thukpa — If you're visiting when temperatures are a bit cooler, make sure you try this classic soup. Thukpa is a noodle soup, filled with vegetables and meat, all mixed with a curry-like broth. It's a yummy, filling, and warming soup.
Take A Cooking Class — Find a free afternoon in your schedule to learn to make Tibetan classics during a cooking class. It's a popular activity in McLeod Ganj.
A Few Insider Tips
Getting To + Around Dharamshala
Most arrive by bus (the airport and train station are found outside of Dharamshala), with the main bus station found in Lower Dharamshala. As a reminder, all ILP volunteers in India will have their vacations planned and prepped for them, so all these travel details will be figured out for you (how handy!). In the past, ILP groups have arranged a van to take their group to Dharamshala for the weekend.
As far as getting around Dharamshala, things are very walkable. Public buses also crisscross the routes between Lower and Upper Dharamshala, same with auto-rickshaws.
When To Visit?
This hill station is popular year-round, but March to July is typically the most popular time to visit. The hot summer months make these cooler mountain towns more popular, so expect crowds. However, the trails are lined with wildflowers, and the weather is quite nice, so it's a good time to visit if you don't mind sharing the space with other tourists.
From August to November, there's a bit more rain in Dharamshala (be aware of roadblocks) but the mountains are at their very greenest, making for some amazing views and hikes. The waterfalls are also at their fullest.
December to February has lots of snow in Dharamshala (with very cold temperatures). It's still a lovely getaway if you're wanting a cozy hotel with mountain views blanketed in snow.
How Long Should I Visit?
ILP groups tend to take a weekend to visit Dharamshala, but you'll want more time to pack in more time-intensive activities, like the Triund trek. A two-day trip is the perfect amount of time to soak in the sites, try out a few restaurants, take a waterfall hike and a shopping trip, and tour a temple or two.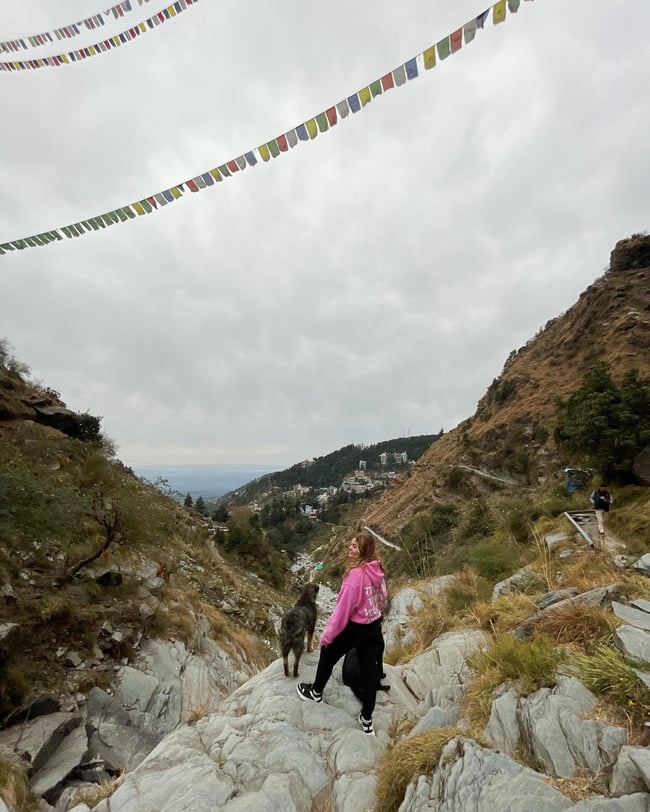 Thinking that trip to India is out of reach?
Not even close! ILP sends groups of volunteers to India for a semester of teaching English, service, and traveling. Come check out to see if a semester with ILP is the right fit for you: