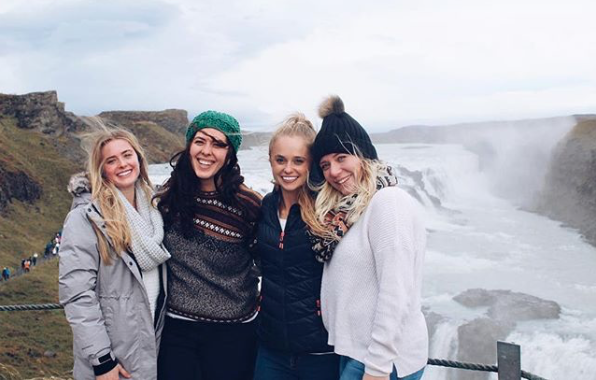 Is backpacking Europe (or another country) at the top of your bucket list? Is money standing in the way of making that dream a reality? We can help make that happen.
If you're starting to get just a little bit jealous of your friends who are posting picture after picture of their amazing European vacation and wondering how you can make that happen on a budget, you're in the right spot. The same thing happened to me, but in reverse — I was constantly getting asked how I was able to travel around while still in school, and here are my secrets.


---
Are you thinking about traveling Europe?
Check out this Europe Destination Guide to help you plan your trip.
---

The first thing you will want to keep in mind when backpacking on a budget is this trip is not going to be glamorous. There will be tough times where you're on rather terrible itineraries and stuck in the airport for the night, you won't be eating gourmet meals every night, and you will not be staying in fancy hotels. That being said, all the tough things you are going to deal with don't even compare to the amazing adventures and all the countries you're going to be able to see! Here are a few guidelines on how I was able to backpack through Europe on a budget:
Visit the Right Countries
When Booking Your Flight
Don't Forget About Buses And Trains
Check ALL Luggage Fees Before You Leave
Book The Right Accommodation
Pack Light
Bring Your Own Snacks
Visit The Right Countries
A weekend in NYC is going to be more expensive than a weekend in Idaho Falls, Idaho ... right? The same goes for cities and countries in Europe. There are some gorgeous countries that are amazing to visit, but not too friendly on the wallet.
Our suggestion? Head to Eastern Europe. Places like Hungary, Slovenia, Poland, the Czech Republic, and Ukraine along with Lativa, Lithuania, and Estonia because they are way more budget friendly than Italy, France, England, Norway, Sweden, Iceland, and Switzerland.
Another tip? Don't travel to countries on the euro. Lately, it's been similar exchange rate wise, meaning you'll be paying prices similar to what you'd pay at home for activities, excursions, and food. Other currencies that don't exchange well against the US dollar (historically) have been the British Pound and the Swiss Franc.
By choosing more budget-friendly countries in the first place, you will be spending less for food, accommodation, transportation and activities; you can easily spend 3-4 days in Hungary on the same amount of money as what you would spend in 1 day in Switzerland. To help you map out your itinerary based on budget, we have this post all about the best European countries for budget travelers.
When Booking Your Flight
To Europe
When you're booking your flight from the United States to Europe, my best advice is to follow some accounts that scout of cheap flights. I'm currently signed up for a handful of email subscriptions and follow some accounts on Instagram that alert me to great deals out of my home airport (and nearby airports). I've been able to snag all of my great flights because I've had an eye out.
One thing to know is all about the timing. These deals sometimes are only up for a couple of hours or a day, so you'll need to be ready to just jump on a good deal. I can't tell you how many times I've been scrolling Instagram then ended up booking a cheap flight for my next vacation right then and there. Prices typically go up after that short window, so text your travel buddies and make sure they're ready to go!
Wondering where to find these cheap fights? Get emails for cheap flights delivered straight to your inbox.
Within Europe
Once you arrive in Europe and want to do some country hopping, fly on budget airlines. Budget airlines will be your best friend if you want to country hop in Europe. You can get major deals from hubs: sometimes less than $20 from country to country for a one-way ticket. We love love love those prices. Just know that some budget airlines can be tricky — sometimes, you can end up paying way more for a ticket just because of fees. For tips on avoiding all the budget airline fees check out this blog post.

But so you can get an idea of how much you can save, check out how to get cheap flights in Europe. Some one way tickets from major hubs can be around 30$!
We suggest looking at airlines like:

RyanAir

Easy Jet

Wizz Air

Wow Air

Iceland Air

Blue Air

City Jet

Transalva

Air Baltic
Norwegian Air
Keep in mind that you can also travel by overnight bus and by train in Europe. Sometimes, those options will be quite a bit less than a flight. We love looking at Rome 2 Rio where you can type in where you are and where you want to go, and it will show you all the ways you can get there, and what they should cost. Super handy.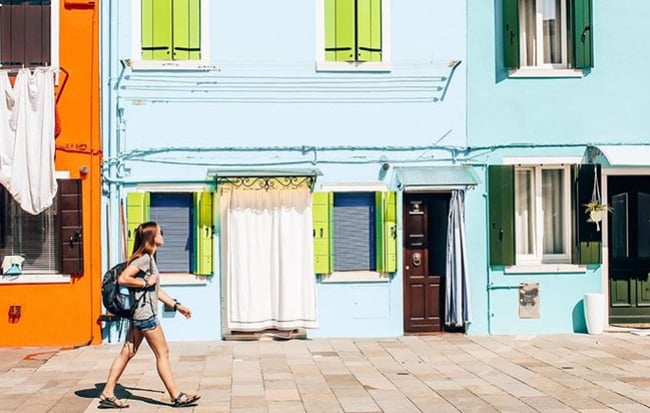 Don't Forget About Buses And Trains
My biggest piece of advice for travelers in Europe: forget the flight! Sometimes you can find a great deal which is awesome, but most times, you can get a cheaper bus ticket or train ticket and do some serious city hopping and country hopping on a budget. It's also gorgeous — the train ride from Germany to Austria was one of the prettiest drives I've ever been on.

I've booked bus tickets to other countries for less than $10, but prices are kinda all over the map. Some routes are close to the prices of a really good flight, but you typically have way more options when traveling on bus and train (plus it generally is considerably cheaper than a flight in most cases). Personally, I love booking on flixbus.com and omio.com. On Omio, you can also book flights which really lays out all of your transportation options.
Both Omio and Flixbus are very mobile friendly which is great for last minute bookings on your phone or tablet if you're not traveling with a laptop. They also tend to have better baggage deals than these budget airlines, so you won't be paying for any fees which also saves you money.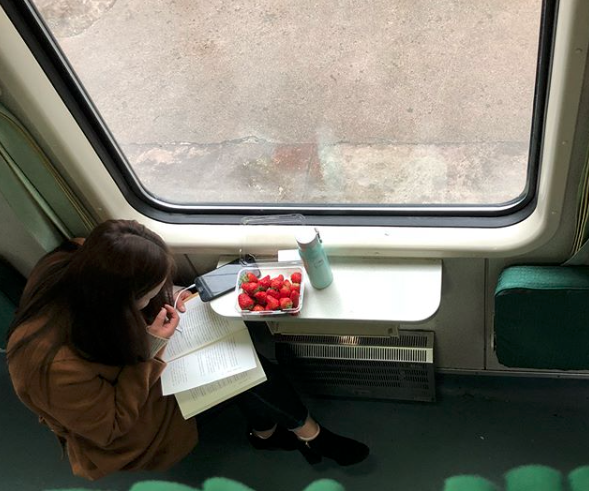 Check ALL Luggage Fees Before You Leave
Especially if you're backpacking Europe, you want to know all the baggage fees for all the flights, and trains and buses that you will be taking to help you avoid paying for baggage fees.

Keep in mind that these budget airlines you will be flying on are going to have strict guidelines for what size of bag you can carry on the plane (Europe's carry on allowance is much smaller than American airlines). If your bag is bigger than what is typically allowed, make sure you budget for that.
We have this post all about avoiding baggage fees here to help you out.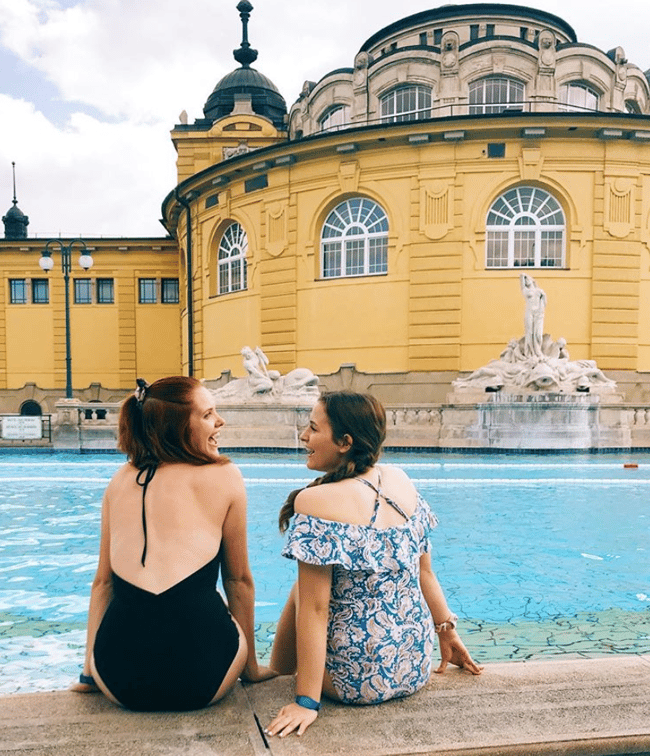 Book The Right Accommodation

Stay In Hostels
If you're not much a traveler, you might not know that hotels are the last place you should stay when traveling, especially in Europe. Hostels are MUCH cheaper than hotels typically, and do come with some perks. Many hostel owners speak English (or try to), let you check in at all hours of the night — which is handy when your bus arrives at 2 AM. Oh, and there's usually a public area where you can meet friendly travelers from all over the world.
Keep in mind that you will most likely be staying in a room with other people, but that helps keep the cost low. So instead of booking a room with only 1-2 beds, you might book a room that's full of bunkbeds, allowing maybe 6-12 people to stay in. In that case, you'll probably be sleeping in the same room as a stranger. They'll usually have lockers where you can put your valuables. It's a different experience the first time you do it, but everyone that stays there is a young, budget traveler like you, just looking for a cheap place to stay for the night. So it works! Many hostels also have a private room option that costs a little bit more, but typically still much cheaper than a hotel would be.

Here's more about how to find a good hostel so you know you're booking something that's comfortable, safe, and a good pick for your type of trip.
Opt For AirBnB
Another things we love is Airbnb; you can usually get a good deal if you stay in someone's apartment (and split the price with your friends or ILP group) than paying for a pricey hotel room. This is a fab option if you're traveling with friends, want access to a kitchen, and aren't a huge fan of the hostel options in your city. I was traveling in Slovenia and there wasn't a single hostel in the city I was traveling in, and I wasn't going to pay for an expensive hotel. Luckily, there were more than a few Airbnb choices which fit my budget.
Get the breakdown between the differences of an Airbnb and a hostel here. And get the info on how to choose a good Airbnb here.
Overnight Buses And Trains
You can also pay for transportation and a place to stay for the night by booking an overnight train or overnight bus. Sometimes, that can help your budget stretch further! Just a word to the wise: you never sleep as well on a train or a bus than you do in an actual bed, so I'd suggest not booking overnight buses several nights in a row. They can be handy though, just use those overnight itineraries sparingly!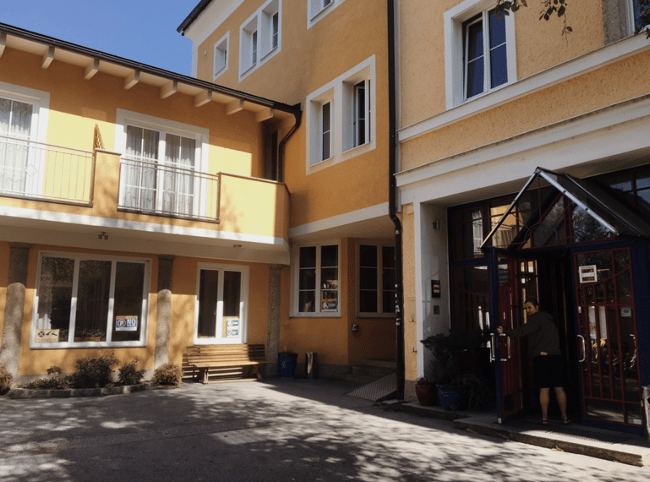 Pack Light
This will help your budget (and your back .... no one likes carrying around a heavy pack all day). Packing just one bag will help you avoid any baggage fees on your trip. If you're making a few flights during your whole trip, those $20 or $50 fees add up! In general, you'll want to pack the bare minimum of what you might need; One jacket, not two. Two pairs of pants, not four. We suggest wearing your heaviest gear on the plane (your bulkiest pair of shoes and your heaviest jacket) to help you save room in your bag.
You can often always do laundry at where you are staying (especially if you are in a hostel) so you can save space that way by just doing laundry on a couple of your days instead of brining enough new outfits to last you your whole trip.
Wondering how to make it all fit? Check out this blog for tips on what to pack and how to fit everything into a backpack for a 10 day (or more) trip. Remember, when you're backpacking Europe, you will be carrying everything you bring from city to city, so pack light!
Bring Your Own Snacks
Food in Europe can be expensive. If you will be traveling in Western Europe and more touristy cities, plan on prices similar to what you would see in the US. One way you can help save money is by packing up granola bars, peanut butter and other travel snacks to eat for breakfast and a snack instead of spending money while you're backing through tons of European cities.
Another pro tip is to book accommodation that includes breakfast. Some hostels have breakfast included which isn't much, but it's another cost you won't have to worry about for a day or two.
That being said, a huge part of the culture of many of the cities you will want to see are found in the food. Don't be that person who goes to Italy and misses out on gelato and the best pasta of your life because you packed granola bars for lunch. You can find some deals if you hunt around (usually a 10-minute walk outside of the main touristy streets will mean lower prices) plus, you can always split a large meal with your friend and save that way.
My favorite foodie tip for saving money but still enjoying the culture is to visit a grocery store instead of a restaurant for breakfast and lunch, and then eat out for dinner. I'll grab some basic ingredients and picnic in a park or on the crumbling ruins of a castle (true story). I'll grab a loaf of bread, some cheese and salami, a couple of apples and I'm set. It's going to be way less expensive than dining out, and is so fun.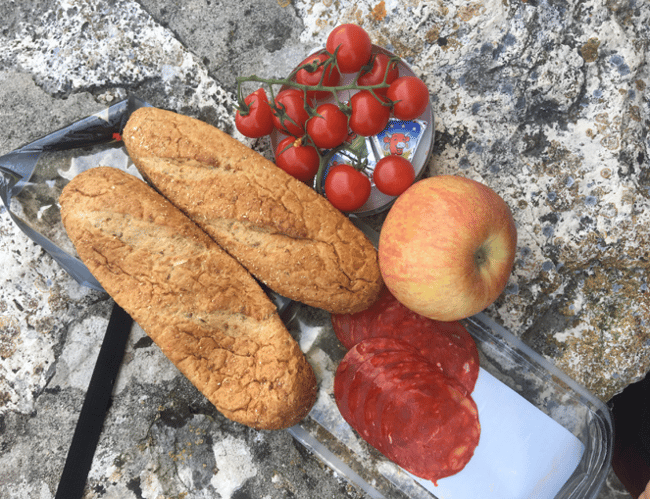 One more major tip —
Come volunteer with ILP! It's my biggest secret. It was so easy to travel around europe because I was already living in Europe for a semester ... it's a lot cheaper to fly to Germany from somewhere in Europe than it is from the US.

We have schools all over Europe where you can teach English part time, and backpack Europe on vacation (and on the weekends). Check out all of the ILP countries right here and come fill out an application!