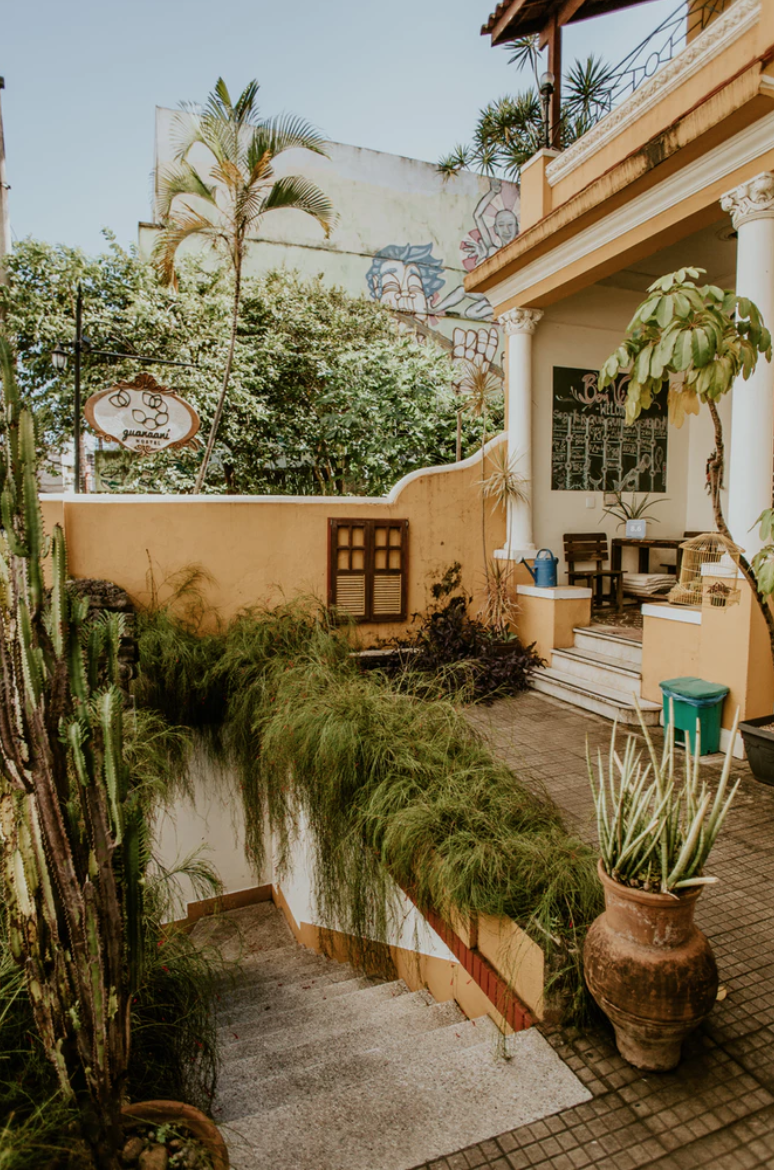 If you are new to the world of hostels, welcome! They are definitely the way to go if you're in your 20s (like us) and looking for a really awesome deal so that you can spend your money on adventures instead of a fancy hotel.
---
Traveling the world doesn't have to be expensive!
Here's how to pay less for an entire semester abroad
---

If you're on a college budget, then you probably want to save money where you can right? Booking at a hostel (instead of a hotel) is one huge way you can do that — they're way less than a hotel, often less than an AirBnB, and have a few perks other options don't offer. And if you're feeling a little lost on what essentials your hostel should consider (and how to even pick a good hostel from all the options, don't despair: we're here to help!)
What's A Hostel & Why Choose That Over A Hotel?
I had no idea what a hostel was until my first trip to Europe — and I was hooked. It's one of the biggest tips I tell when people ask how I travel the world on a budget.

Hostel owners cater to travelers like you who are young and adventurous, need a cheap place to stay, have probably never been to that city before, and don't have transportation. A good hostel will try to be accommodating by giving you insider tips on the best places to go see, how to get around, etc.

One major thing that sets hostels apart from hotels is that many offer shared rooms. So instead of booking a room with only 1-2 beds, you might book a room that's full of bunk beds, allowing maybe 6-12 people to stay in. In that case, you'll probably be sleeping in the same room as a stranger. They'll usually have lockers where you can put your valuables. It's a different experience the first time you do it, but generally, the crowd staying there are young, budget travelers like you, just looking for a cheap place to stay for the night — and it works! Many hostels also have a private room option that costs a little bit more but is typically still much cheaper than a hotel would be.

A few other things to consider with hostels — many owners speak English (or try to) and most have check-in hours all hours of the night (which is so handy when your bus arrives at 2:00 AM, and all hotels/AirBnBs have a strict check-in window). Another perk? I love the common areas where you can cook or hang out in, and give you the chance to meet friendly travelers from all over the world.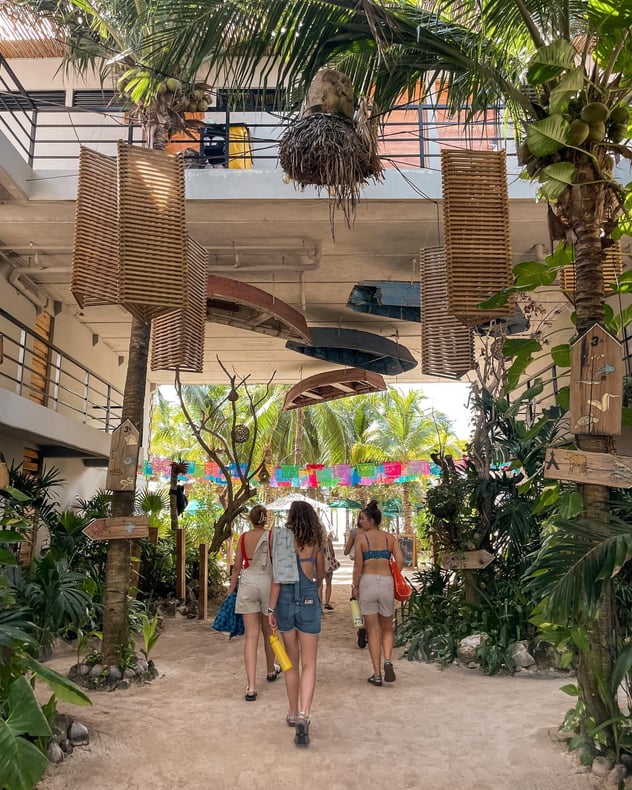 Essentials I Always Look For
There are tons of hostels all over the world — sometimes over a hundred in the same huge city. While hostels all kind of follow the same description, there are a few things I look for when making my final decision (especially when I have lots of hostels to choose from).
Location
Location is what I look for first. When I'm traveling, I am relying on public transportation and my feet get me around, so I strongly prefer to book a hostel that's close to the center of town (if I'm planning on activities in that area of the city) or near a bus/train station.

I had a friend book a hostel when I was traveling in Asia, which meant a 90-minute metro ride + walk to arrive at our hostel, instead of just paying a few dollars more a night to stay right in the city. We lost out on a lot of time because we were staying so far away from what we wanted to see.

You'll see that price typically is higher for close-location hostels, so if that's not in your financial budget, you'll need to budget time to walk longer to arrive at your activities or more time/money on public transportation.
Price + Reviews
The next thing I deem essential is price. Hostels are typically extremely affordable (I've stayed in places $4 a night!) but prices do fluctuate depending on where you are traveling if you're staying in a private/shared dorm room, and the location (like we pointed out, more central hostels are typically slightly more).

Reviews are also something I look at before booking — I always book my hostels on Hostelworld and they display an overall star rating for each hostel (and a star rating on different categories, like location, prices, staff, cleanliness, etc). Plus, they list out all the reviews they've had, good and bad. I'll look at what travelers say about location, staff, amenities (water temperature/pressure, clean kitchen/bathrooms), noise complaints, etc. to make sure it's a good hostel for me. Travelers aren't shy if they feel like the place is cheap, and not worth staying at — I feel that most of the time, overall reviews are honest and accurate.
That These Things Are Included
Hostels don't really have a standard of what's included, so make sure you look into the details to know. I like to look for these things:

WiFi: Sometimes it's not included everywhere, and I rely on WiFi to not only plan the details of my trip but to stay in touch with friends/family while I'm traveling. It's a must.

Towels: Some include towels in your stay, but others don't. Handy to know if I'll need to pack up my microfiber towel, or need to rent one for a fee at the hostel when I arrive.

A/C: Sometimes not a big deal, but sometimes a huge deal if you're in Europe during a summer heatwave, or need a break from the sun when staying somewhere tropical. Sometimes you can book a room with A/C for a bit more which is so worth it in some locations.

Breakfast: A sometimes handy perk that can be nice to help you cut costs a little bit. Most hostels that include breakfast have a basic menu (toast, tea/coffee, cereal, and not much else). However, I've also stayed at hostels where we had a very early morning, and they woke up earlier to send us off to the bus station with breakfast (fruit and sandwiches, with little containers of juice). So nice.

Tours + Maps: Most hostels will provide a city map which I always take advantage of — I like to ask whoever is at the check-in desk what they recommend for 1-2 days (or however long I'm here), and what restaurants they like as a way to get a local's take on things.

+ Other Perks: I love staying at places that have free bike rentals if it's an option to bike to the beach or around town. It's a fun way to spend the day. Other hostels will help you arrange tours and excursions for an added price. It can be a simpler way to experience an attraction (like the hot springs in Budapest), a snorkeling tour, help you get from one city to another, or other excursions.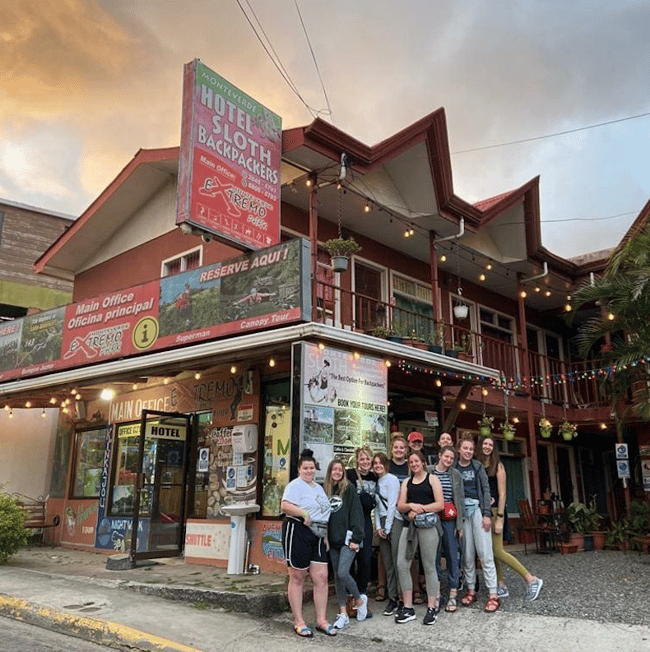 A Few More Tips For Booking
Book On Hostelworld
I book the majority of my stays on Hostelworld — they have such a reliable database of hostels to choose from, plus I already mentioned how much I love their star ratings and reviews. I also love their app, which gives you even more access like saving all of your past trips, and future trips, and has a community database where travelers can ask questions.
Get the app here on Android and here on iOS.
(Sometimes, parts of the world don't have as large as an online presence in Hostelword, so I check out sites like Booking and Hostels.)
Consider The Vibe Of The Hostel
There are louder, more party-based hostels out there which I avoid completely. When I travel, I'm there to see the city, schedule day trips to the jungle, hang out at the beaches after a day of snorkeling, and experiencing Old Towns — and come home exhausted. I do not want to be in a hostel with dance parties or a reputation where travelers are coming and going all hours of the night (remember, you'll typically save money if you stay in a dorm room).
The reviews are going to be key here (and the hostel's description), plus looking at pictures to see if it's a crowded and loud place to stay, or more a charming, quiet, relaxed hangout space.
Dorm Rooms VS Private Rooms
If I'm traveling with a group, I love booking dorm rooms. The size can vary hugely, sometimes shared dorms are three or four people, or more like 11-25+. Once while traveling through Europe, the three of us booked a four-bed dorm, so it was just one traveler from Italy in that room with us (who turned out to be a good friend I still keep in touch with today on Instagram).
When I'm traveling with one other person or plan on spending a lot of time in my room (working, studying, sleeping in, etc), I like to go for a private room. I like the luxury of spreading my stuff out, knowing I'm the only one in the space.
Get Recommendations From ILP Volunteers!
On our blog, we're always trying to share places that our volunteers say they stayed at and loved. Check out our posts to see if we have information about a city you're traveling to. If you're headed to Paris, we've got some recommendations on where to stay there. Preparing for your adventure in Krakow? We've got you covered.
Just plug the name of the city you're going to in our blog's search bar and you can quickly see if we've got tips for your trip there, like where to eat, what to do, and of course ... what hostels other volunteers have said they loved.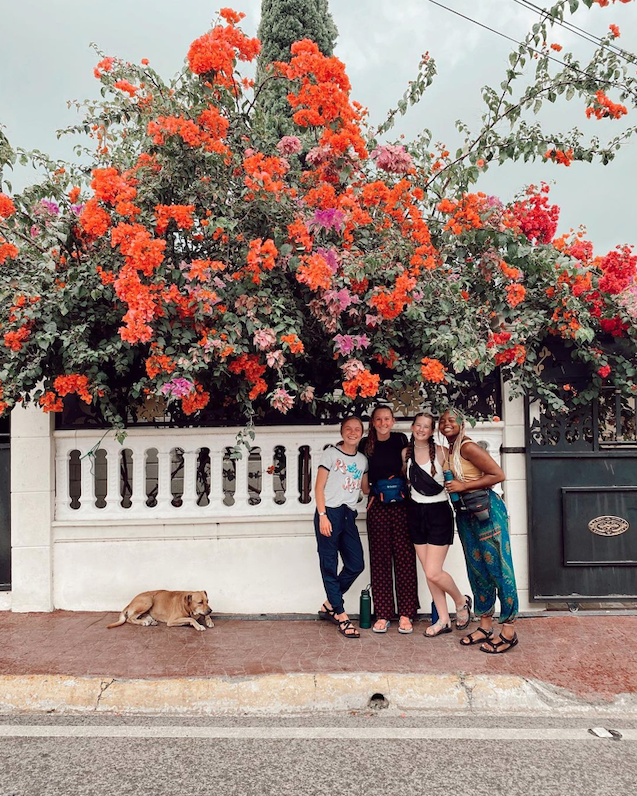 Ready to take the adventure of your lifetime and volunteer abroad?
You'll be teaching English (no experience necessary) or volunteering in an orphanage part time — that means you get free time every day to explore your city, and always have weekends off to see even more. Oh, and we throw in some vacation time so you can really put these hostel booking tips to the test.