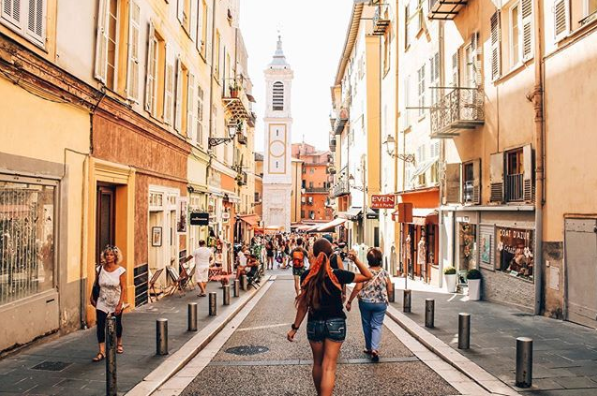 Keeping up with your Instagram can be a lot of work, but luckily there's more and more apps coming out every day to make things really easy.
Instagram is a great place to share your daily life, run a business, and show off your travels! Whatever you use it for it takes time and work to make it look top notch. These apps make the process a piece of cake and are awesome tools to have as you make your Instagram what you want it to be!
Hey- check out these tips on how to grow your Instagram while you're at it!
Here are the apps you should be using to manage your Instagram easier!
Photo Editing Apps
To have a killer Instagram you want your pictures to look dreamy and consistent. Having the right editing app is what you need! Experiment with different ones to see what works best for you and what style you like best. There are a lot of options, but here are, in our opinion the best editing apps.
Lightroom
Filmborn
Snapseed
VSCO
Lightroom
Lightroom will be a great go - to and honestly, the only app you may need! Lightroom is awesome because you can buy presets and easily apply them to your pictures. Check out our favorite presets right here. You can also tweak the presets to get them to perfection for each picture.
Get it on the App Store
Get it on Google Play
Filmborn
Filmborn keeps things simple while still giving you the tools you need to edit rad pictures! There are nine pre-made filters you can use, or you can edit your own completely with easy -to-use adjustments and settings.
Get it on the App Store
Snapseed
We love this one! With over 25+ tools to edit anything you could think of! Once you find a edit you love you can save it and easily apply it to other pictures in the future. It's perfect to use for a fast edit that still looks top notch.
Get it on the App Store
Get it on Google Play
VSCO
This app has everything you are looking for and more. It has "advanced presets" which covers a huge range of photos, can edit video, and even share your edits on the app with the rest of the VSCO community. It's easy to use and highly recommended by those who use it. The app is free, but you might budget a few dollars to purchase filters that fit your style.
Get it on the App Store
Get it on Google Play
Planning Apps
Now that you have pretty, edited pictures what do you do? Planning out when you'll post and what captions you want to use is important and will actually save you time in the long run! Here are a few tips and apps to help you out.
Think Ahead
Use Your Notes App
Make A Calendar
Use A Planning App
Think Ahead
When you start planning think ahead about what your focuses are on your Instagram. Are you a foodie, body positive, travel obsessed, quote lover, or all of the above? Choose a few areas to really focus on and this will help you a ton in your planning as well as narrow down what your account is all about.
When planning ahead you can also look forward to see what is happening that month. This is an awesome guide showing you different, random dates each month. If you're looking in January you'll see that the 27th is National Chocolate Cake day. So, grab some chocolate cake and make a rad post on your Insta that day!
Use Notes App
Use your Notes App on your phone to your advantage! Keep track of a few things to help you stay organized.
1) Keep track of where you're going on upcoming vacations or local outings. Just jot down the names of those places and look at them frequently so they are on your mind. You'll think of possible picture ideas and things you want to try and can keep your ideas all in one place to make planning easier.
2) Keep track of captions, travel quotes, or thoughts you have. Keep these in one place so as you are choosing captions you have a pool to choose from! There's nothing worse than having a rad picture and not knowing what to say with it!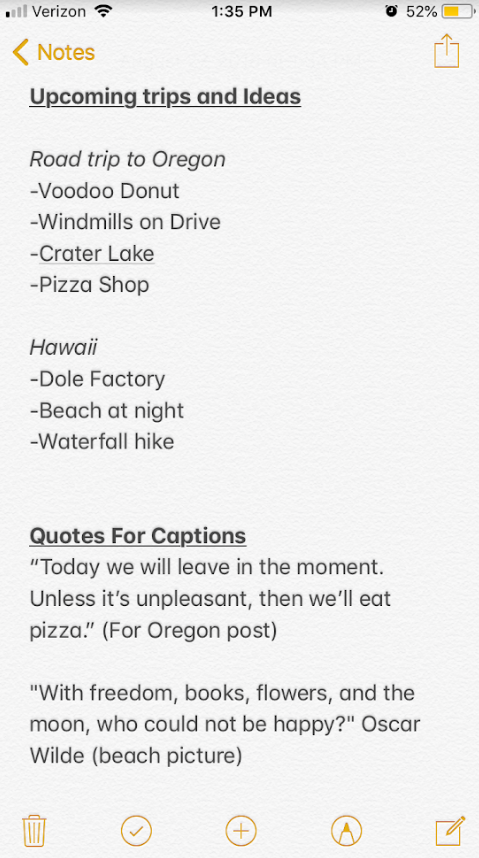 Make A Calendar
Use a calendar app or print out a paper calendar. On each day write a note of which picture you will use, what hashtags you will use, and which caption to attach with it. Then, you can visually see it lined out and see which days you need to add content to.
There are great apps you can use to help you plan ahead and post your content Keep reading to see what we recommend!
Posting Apps
Take the hard work out of it and use apps to schedule your Instagram posts for you! You'll have consistent content being posted so you don't have to worry about missing a day! Check out these ones for easy help.
Later
Later is a great app to start off with. It will help you organize your pictures and videos and has a lot of great tools when it comes to scheduling your posts. There are a few specific things we love about this app:
The calendar within the app is amazing and a great visual. It shows you which order your posts will appear in so you can see how it all flows together.
The auto publish is awesome and will let you choose the date and time you want your posts to appear. Just schedule it and let Later do all the work.
Oh, and it's free! You can sign up for the "Free Forever" membership give you the ability to post up to 30 posts a month absolutely free. If you need more than posting ability you can sign up for other plans that do charge you.
Get it on the App Store
Get it on Google Play
Buffer
Buffer is one of the most simple apps around and gets right to the point of organizing and posting to you Instagram. You simply connect it to your Instagram account and it walks you through what you need to know.
Buffer also easily connects you to Twitter, Facebook, and Pinterest if you are wanting to manage other social media platforms.
With Buffer you can get up to 10 posts for free, or for just $10 a month you can get up to 100 posts for free.
Get it on the App Store
Get it on Google Play
Hootesuite
Hootesuite is similar to the other two apps when it comes to organizing and posting to Instagram. It also helps a lot when it comes to the analytics of your page.
You can see what times are most popular for your followers to be on Instagram (then you'll know when to post), and even compare your Instagram to your competition's page, showing you what trending hashtags they are using and what is helping them reach the most viewers. Pretty awesome if you want to grow your Instagram following!
Get it on the App Store
Get it on Google Play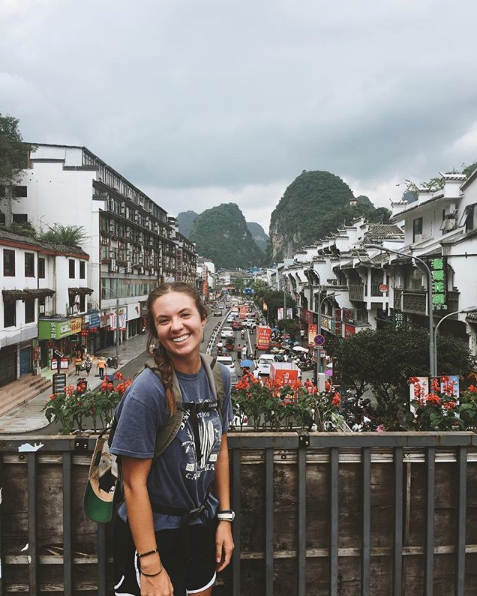 Now that you know some tips and tricks for your Instagram you need some rad pictures to post. Volunteering and traveling with ILP will take you to some pretty incredible places and give you more than enough experiences to post about!

Click the button below to learn more about ILP and what your time abroad will be like!