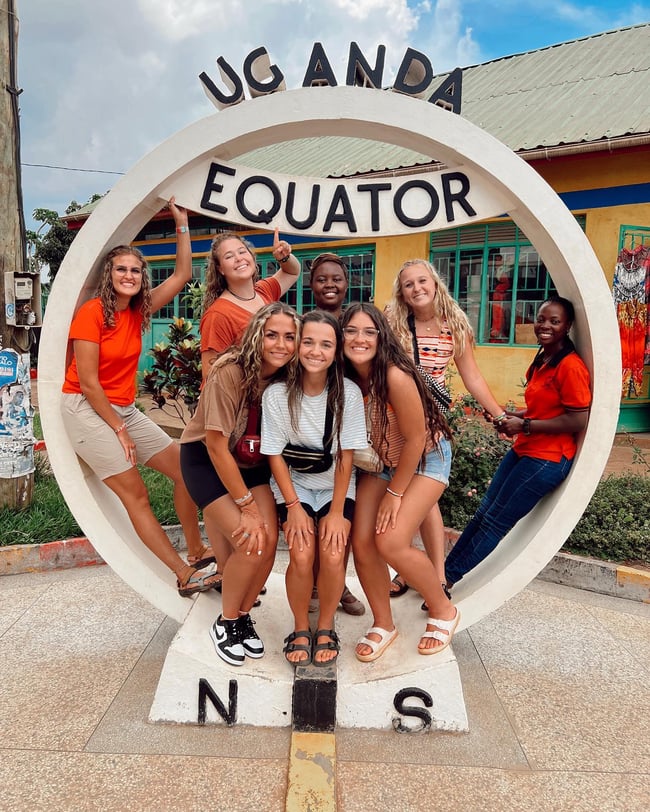 Are you spending a whole semester in Uganda with ILP? See if you can cross off everything on our list of things that are bound to happen!
An ILP semester is all about experiences and adventures. No matter where you go with ILP, you're set up with a part-time volunteering schedule, with every weekend off to explore. Plus, there's scheduled vacation time so you can jet off to see new parts of your country or hop over to a nearby country for even more adventure.
In Uganda, that level of adventure and experience is taken to a new level, just by how this program is structured! As an ILP Uganda volunteer, you're living in a small suburb. You're instantly a part of the local neighborhood and live with your whole ILP group (who get really close to the in-country staff here to help you out). Your group teaches English to a few schools in the area and lives just a bumpy bus ride away from our favorite things to do in this country.
See why you're set up for a jam-packed semester?


---
READ NEXT: Learn a little more about volunteering in Africa with ILP!
---

To help you make the absolute most of your 3-4 month experience, we've talked with ILP Uganda alumni to make a list of "must-dos" while you're here. It's a mix of our favorite things to do on vacation or on the weekends, plus the day-to-day things that you'll come to love. We've made a Ugandan Bingo Template you can print off and use to fill in the list (found below) to see when you get your first bingo!


Everything you need to know + how to play is below:
Your Uganda Bingo List
The B Row
Hike to see zebras — We can't resist taking a trip to Lake Bunyonyi (more on that later), if only to spot these striped friends hiding in the leafy plains of the island home.
Playing soccer with the kids in your neighborhood — Another easy one! The kids in the neighborhood love playing soccer with the ILP groups in the street, or up the hill on a field that overlooks the neighborhood. The kids have a bit of a winning streak, but maybe that'll change during your semester.
Washing your clothes by hand — There isn't a washing machine where you are living, so you'll get quite the lesson on how to hand wash your clothes on your ILP semester. Here's what one alumna had to say about her experience:
"LAUNDRY DAY 🧺🧼🫧👗 Laundry here takes quite a bit of time! Not just throwing it into the washer. I hope you're ready to get your hands dirty (or clean?) 🙌🏼 First you dump all your clothes in a bucket with laundry soap to soak, then you scrub each piece with bar soap 🧼 Really makes me consider whether or not a t-shirt is actually dirty enough to put in the dirty clothes bag. After you rinse your clothes a few times it's time to hang them on the line. So fun to have all your clothes displayed for everyone to see 😃😜😆 Cross your fingers that it doesn't rain while your clothes drying 🤞🏼 ... It was actually kinda relaxing to clean all my clothes but I still wouldn't mind if someone mailed me a washer/dryer 🫶🏼"
Drink fresh passion fruit juice — The food is a big part of any new destination but in Uganda? It's all about the things to drink. Tea and coffee are big exports (and make for excellent souvenirs) but volunteers think the freshly squeezed passion fruit juice really takes the cake.
Abseil down a waterfall — Head to Sipi Falls on any free weekend for this bucket list activity! We have all the info about this must-have experience, here.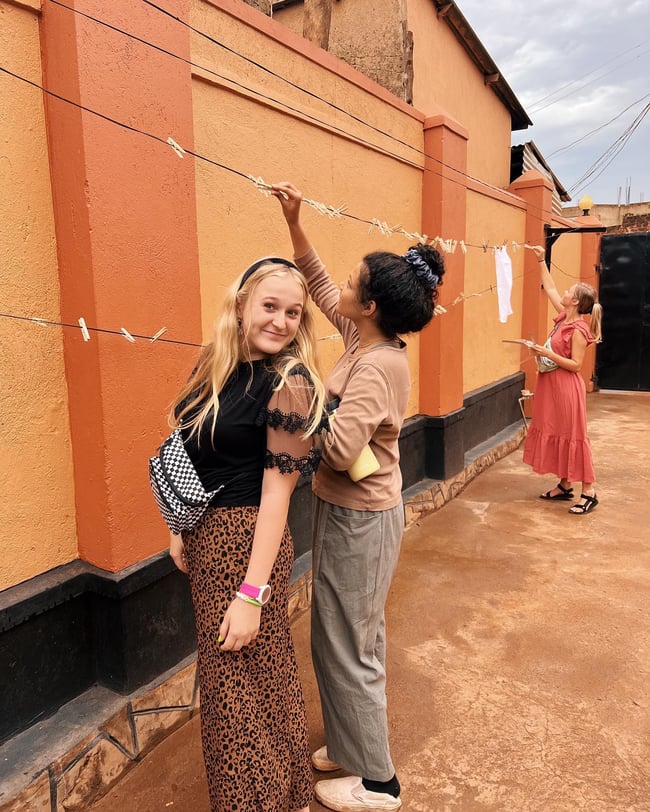 The I Row
Take in the view at the Gadaffi mosque — We talk a lot about the safaris and high adventure activities volunteers have in Uganda, which is maybe why the stunning architecture can come as a surprise. This is a favorite day trip activity for ILP volunteers.
Make a traditional meal — All ILP volunteers have meals provided during their semester, but Uganda volunteers have the perk of having the sweetest cook make their meals. She loves when volunteers come help make breakfasts, lunches, or dinners … especially when they share recipes from home. Bring a few recipes to make and plan on learning a few Ugandan favorites.
See a soccer game — Come support the local soccer team, the Uganda Cranes! Groups have loved attending matches at both of the stadiums nearby. Get the details on attending a match here (and some black, yellow, and red outfit inspiration to support the team in their classic colors).
Cram into a crowded bus — You'll be using buses and shuttles to get around to most of your destinations around Uganda (this handy bus guide can help). Plan on a very crowded and bumpy ride!
Play games during the power outage — The power will go out, which means having a backup plan to watch a movie on a projector in the courtyard with your group. We love these group games to play instead.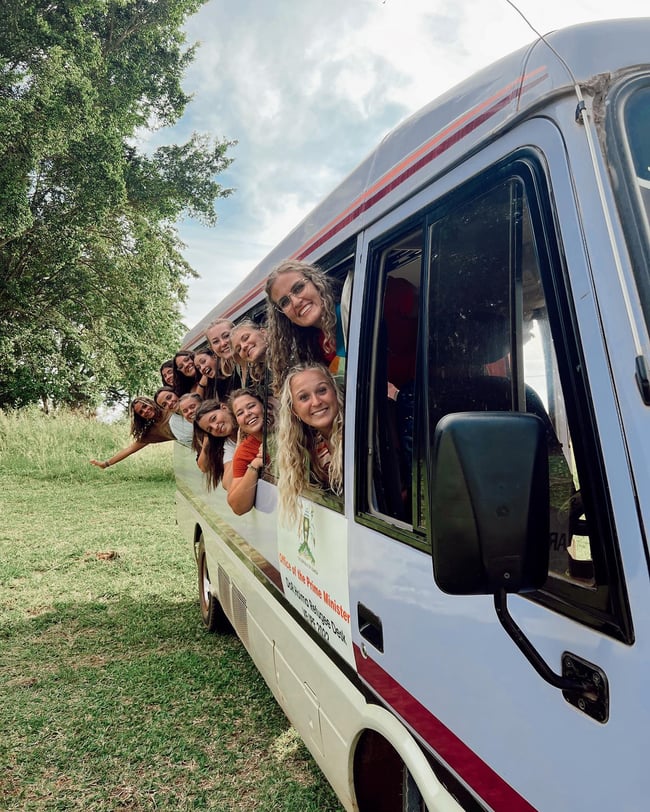 The N Row
Shell some jackfruit — The fruit in Uganda is pretty unbeatable. Plan on old favorites like sweet pineapple and potentially new ones, like spiny jackfruit. If you've never seen this fruit before, it's quite the sight: they're huge, bright green, and covered in little spikes. You crack the fruit open and pull out the little pods of fruit between thick fibers, (kind of like the pithy part of a grapefruit or orange). You'll see fruit vendors on the street shelling jackfruit, but it makes for a fun (and rewarding!) activity for your group to try, too!
Spot Uganda's most famous bird — The gray crowned crane isn't hard to miss, once you spot it. These large birds have a spray of golden feathers, creating a crown on their gray and red heads (which has some similarities to the Ugandan flag, don't you think?)
The Free Space: "Mzungu!" — You'll hear this phrase called out almost instantly ... it roughly translates to "white person" or "foreigner" and you'll hear it all of the time. It's not derogatory; people just want to talk to your group and don't know your names, so they shout "mzungu!" to get your attention. It's so common, it was an easy pick for the freebie middle space in this game of Bingo.
Take a Teva picture — Groups in Uganda tend to live in their adventure sandals … whether you love Chacos or Tevas or another brand, it's inevitable that one day, you'll get caught in the rain and end up with feet and shoes covered in red mud. Welcome to life in Uganda!
Go on safari, of course! — You probably are headed to Uganda to see lions, giraffes, leopards, and elephants, right? Murchison Falls is our favorite spot to go on safari, but you can check out our safari guide here for even more info (and pictures).
The G Row
Peanut butter or g-nut sauce? — There's a popular spread here made with g-nuts that some volunteers like more than peanut butter. You'll have to pick some up at the local market and do a taste test.
Get stuck in traffic — Plan on hitting this square multiple times. The traffic (especially around Kampala) is rather infamous. Sometimes, a 1-hour ride will be more like a 4+ hour ride depending on the traffic!
See the Nile River— This one's a bonus because you'll get 2 in 1! When you visit Murchison Falls National Park (a location in the N row), not only do you get a safari, but you can say you've been to the Nile River. The oh so famous river surges through a narrow gap into a massive drop, creating the Murchison Waterfall ... also known as the most powerful waterfall in the world.
Help with some chores — You'll quickly notice that some daily chores here look different than they do at home for you. Many families head to a well to pump water to bring home and carry groceries and other supplies in baskets (sometimes balanced on heads). Make friends with your neighbors and jump in to help out.
Do all the shopping — Don't tell, but there is one particular market in Uganda that may be our favorite spot to shop (maybe ever?). Say hello to the African Craft Market, your number one stop for brightly dyed fabrics, woven baskets, painted drums, artwork, and more.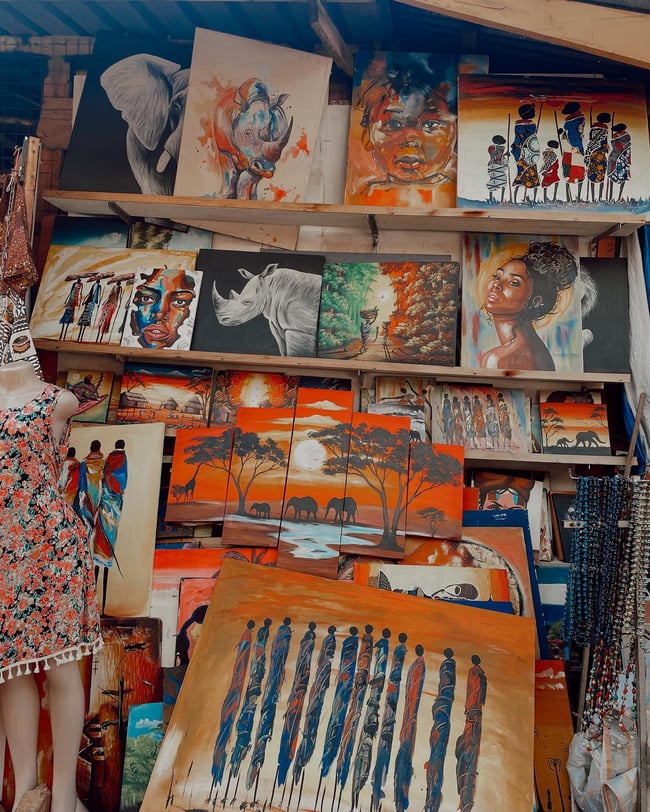 The O Row
Avoid zooming boda bodas — This is a square you'll likely get the first time you step outside for a walk. Boda boda are zippy little motorbikes that people use to get around. They come around corners very quickly. Make sure to always keep an eye out.
Dance in the rain — This warm and tropical country sometimes has quite the rain storms. Rainy season is from March to May and from September to November, but you'll have some rain every month, meaning all ILP groups will have the chance to dash outside, take the laundry off the line, and have a dance party while it pours.
Visit the equator — When else can you say you stood on the world's equator? Just outside of Kampala is a spot where you can stand on the equator line, shop at a couple of souvenir stands, and see if you believe the whole "water runs different directions depending on which hemisphere you are in". Supposedly, water swirls counterclockwise in the Northern Hemisphere, and clockwise in the Southern Hemisphere. Go figure?
Zipline over this lake — Come to Lake Buyonyi for what some volunteers think is the dreamiest vacation of the semester. Found in the southwestern corner of the country, groups spend time swimming, canoeing, hammocking, relaxing, and ziplining over the crystal blue waters.
Get the biggest group hugs — The kids you teach and the ones in your neighborhood are so loving. Most volunteers feel instantly loved the minute they meet their students or walk outside … the kids here tend to run right up to you to say hello or pull you into a massive group hug. Several volunteers were so glad they brought stickers or strings for friendship bracelets to make with the kids outside of teaching.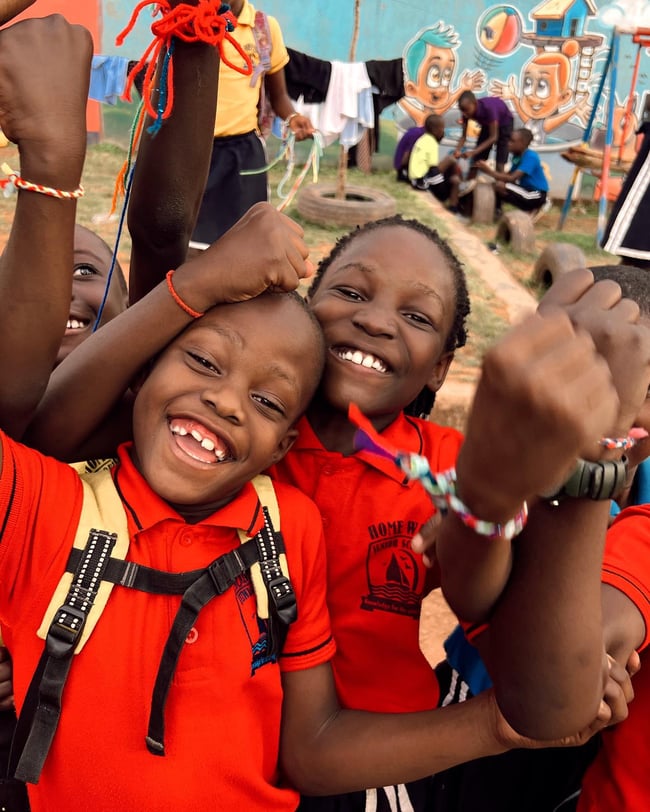 Snag Your Bingo Card Here
We've created this template so you can write out whatever experiences you want from each row, in whatever order you want … See if it takes you 1 week to get your first Bingo, then two diagonal Bingos before you're here a month, and of course, the goal to hit a Bingo Blackout before you come home.
To grab it — just right click on the template and save it to your computer for printing.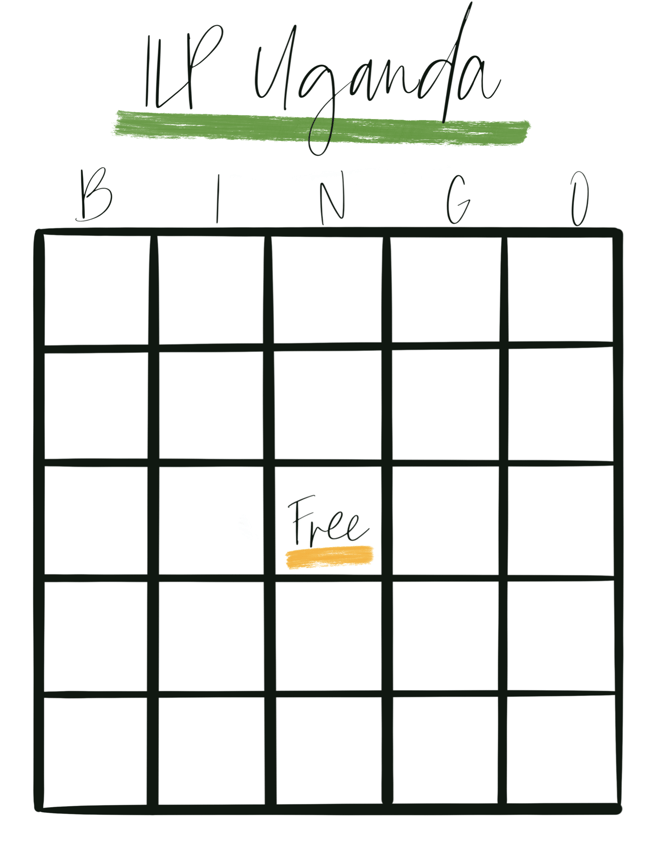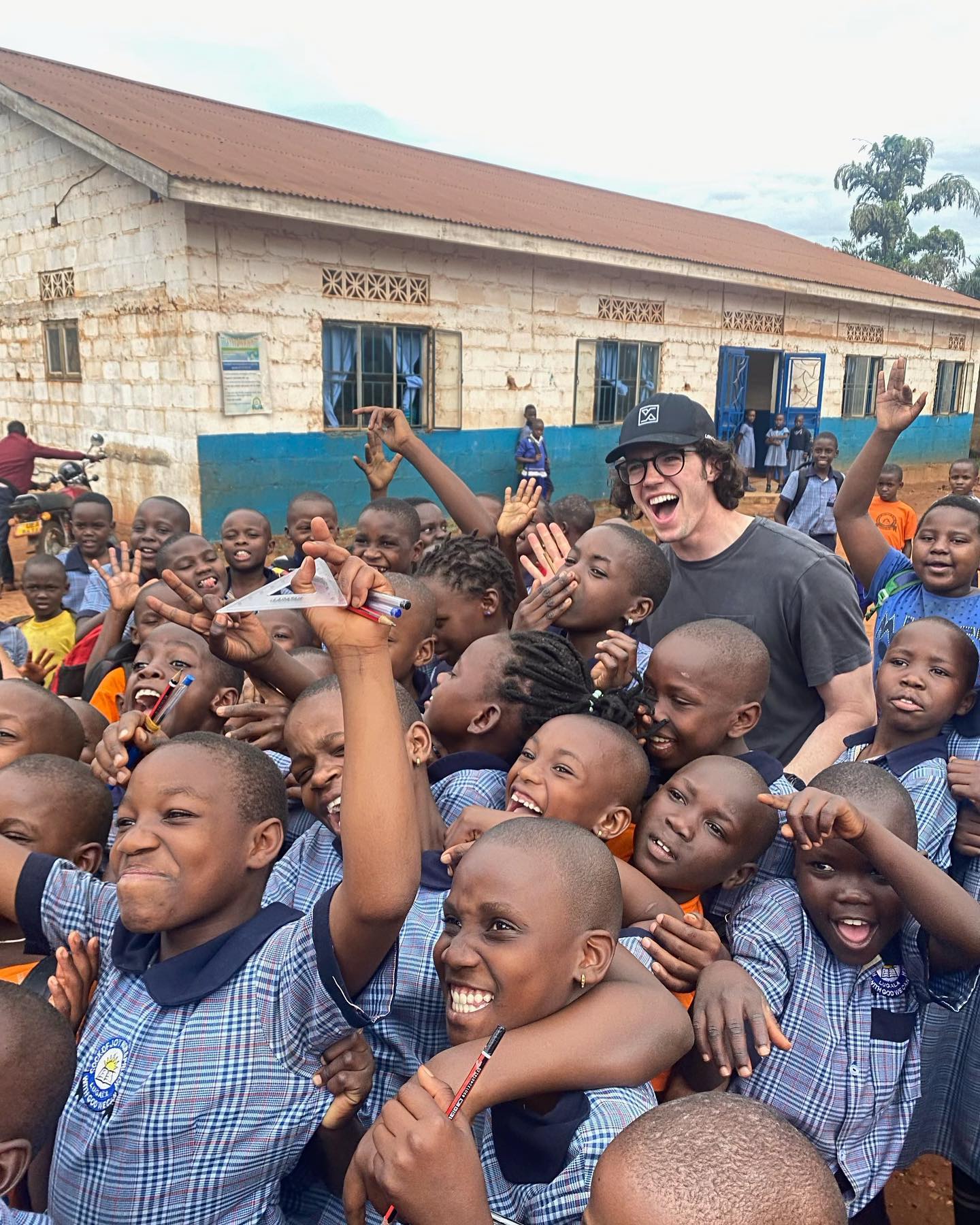 Lucky you!
You can come to Africa with us! We're now accepting applications for a semester of safaris and giving back. You'll be set up with a group of volunteers (so you're never alone), complete with vacation time and weekends off. Get more info here: