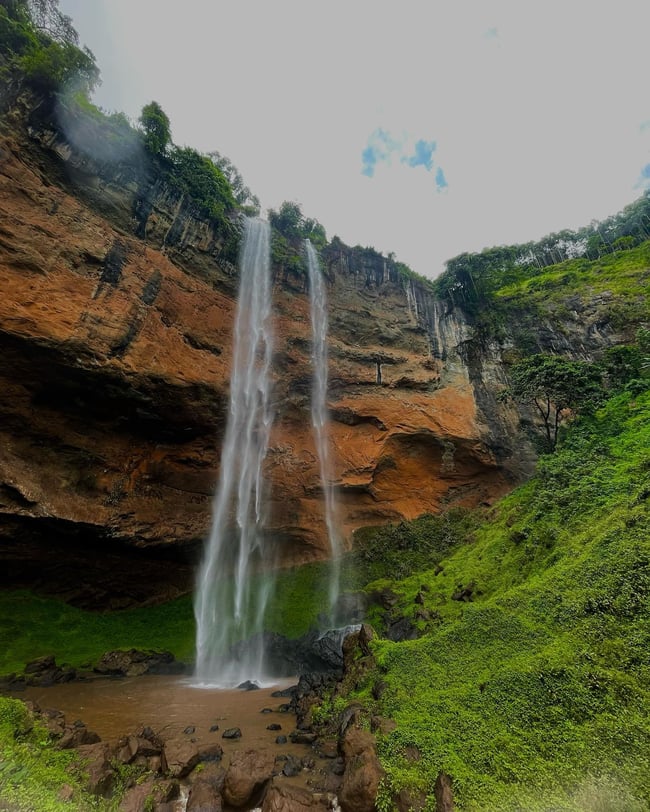 "It might be the most amazing place I have ever been to."
With a quote like that, how can you skip out on exploring these waterfalls when you're living in Uganda for a semester? One of the biggest perks of spending an entire semester in a country is getting to experience all the things that most people miss if they are only visiting long enough to go on safari. Our current crush? Visiting Sipi Falls.


---
Ready to really experience Uganda?
Come see what volunteering in Uganda is like with this guide.
---

I'm pretty sure you counted on safaris on your trip to Africa but what about a trek through the thick jungle only to pull on a harness and rappel down the side of a thundering waterfall? I think you can see why we love Sipi Falls oh so much. We've talked to a handful of ILP volunteers who have made this weekend trip happen — it's easily one of the highlights of your semester in Uganda. Here are the details to make it happen while you're here.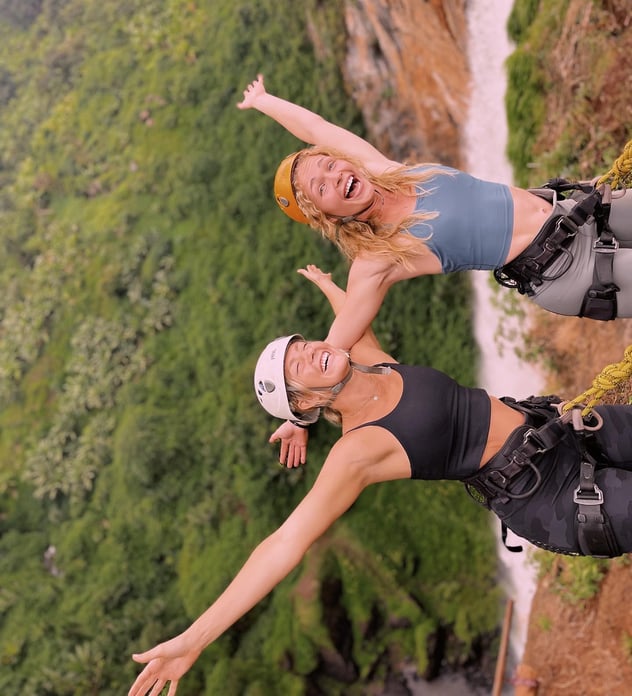 All About Sipi Falls
The falls get their name from a small trading center and town that is nearby, but the thundering waterfalls are really the main draw. Sipi Falls is a series of three waterfalls where you can spend most of the day climbing down to the base of one, only to climb up to see the other two. The one you'll see the most pictures of is the main waterfall and biggest attraction.
Sipi is nearby the city of Mbale to help you orient yourself, about an hour away.
The small town of Sipi is where you'll typically start your trek. We have more info on how to do this on a budget, with some tour options for you to consider. The falls themselves are found above the small town of Sipi, through a lush hillside that sport some pretty stunning views.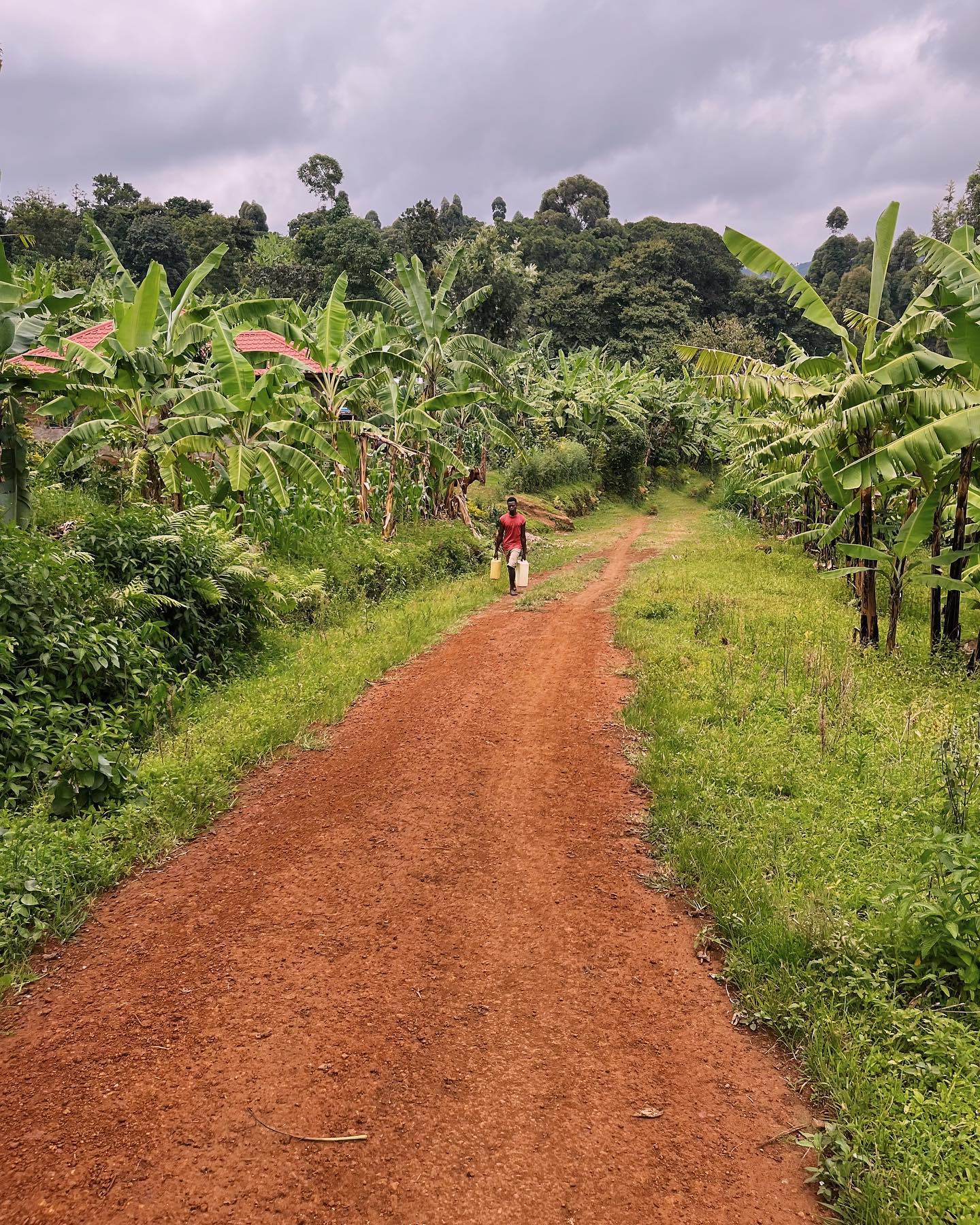 What's The Hike Like?
The hike has a couple of different routes that your guide will take you to: You might hike high in the hills, through banana plantations and pockets of pine trees, until you round the corner and see one of the falls. If you arrive from the top, you'll need to climb down wooden ladders to the pool of the waterfall, where you can go for a swim in that first waterfall. Then you'll hike back up to admire the other two falls. There's also the opportunity to rappel down, which is a crazy, adrenaline-filled adventure we love!

Or, you might come from the base, where you can admire the pools from below, before hiking up wooden ladders to see the other falls.

There are hiking options that include a short 30 minute hike, or all day routes to see all of the falls and the surrounding views. It's about a 4.5 mile hike if you do all three falls, so just prep for that. We suggest seeing all three falls (don't worry, we have more details on how to do this below) ... or at least abseiling the main fall.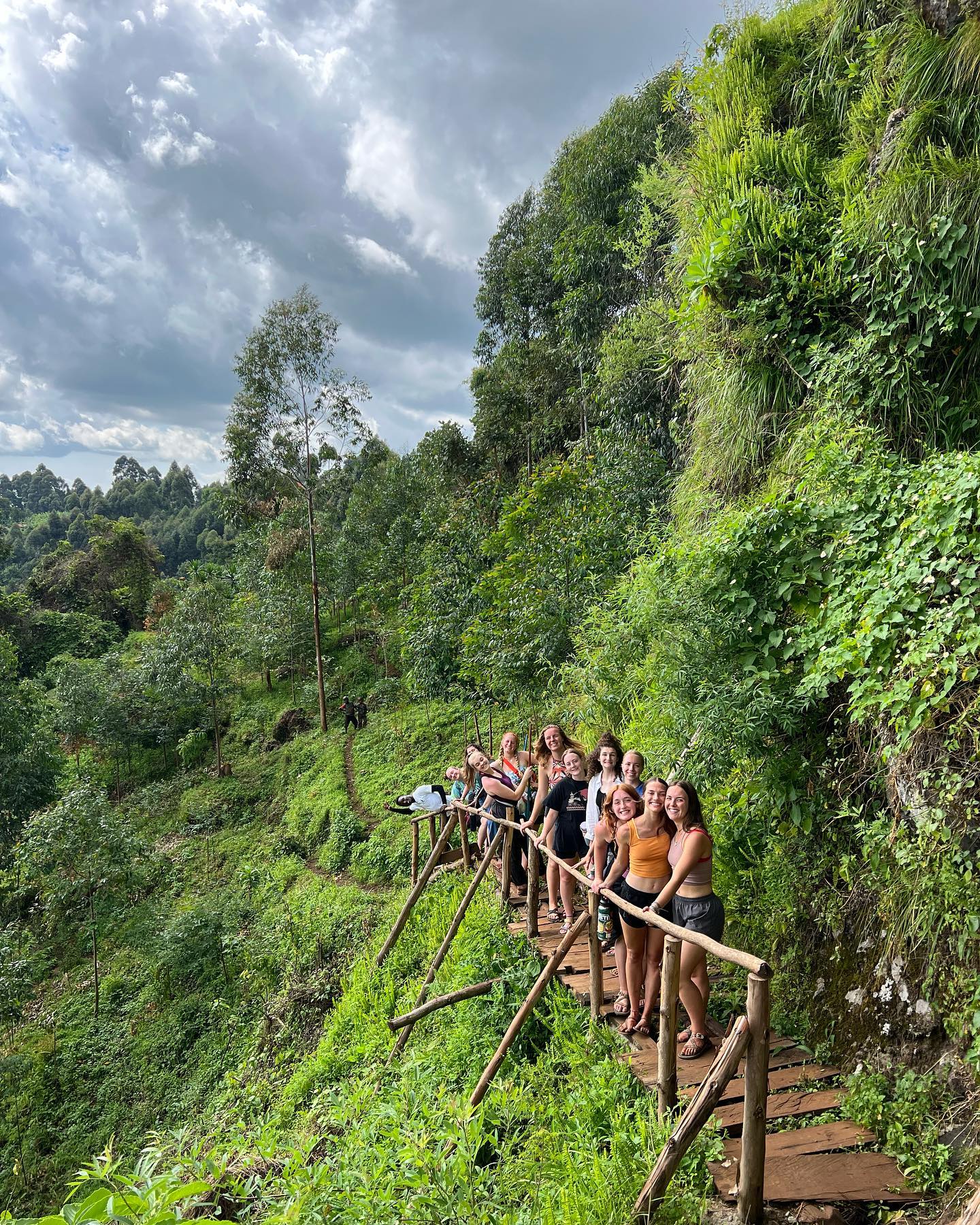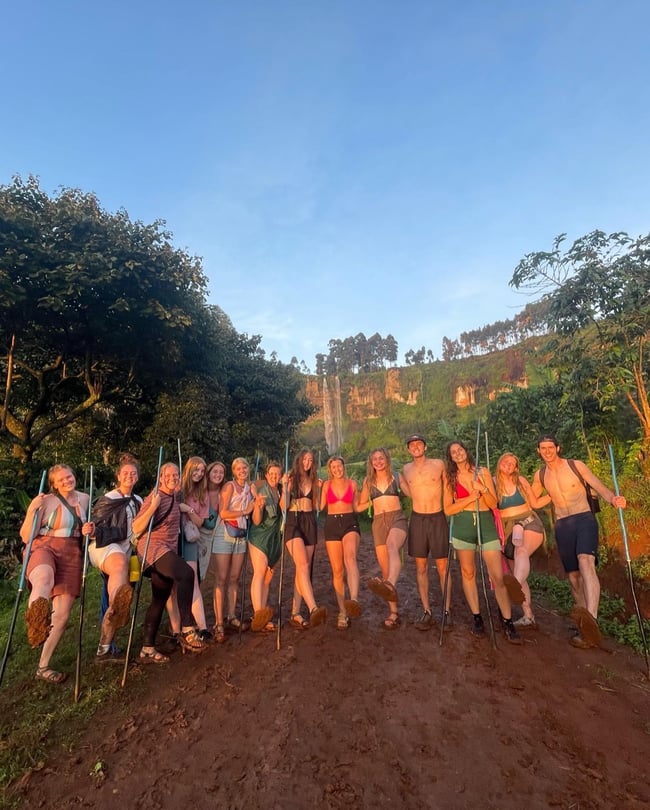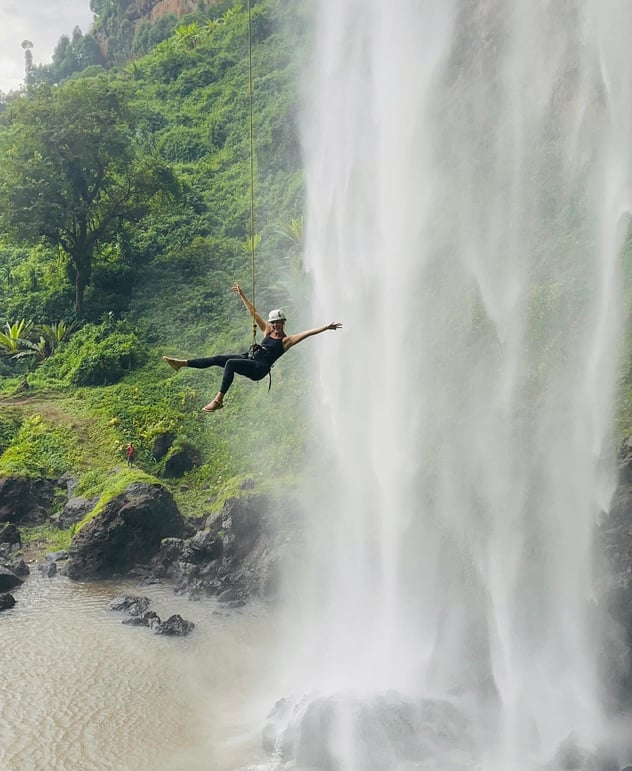 Do I Need A Guide?
That depends. You can definitely do the hike on your own (or by hiring a local guide in Sipi) but you will absolutely need a tour group who can set up you up with all the gear to go abseiling down one of the waterfalls.
Go With A Tour Group
If you're going with a more established tour guide, you'll get set up with all the gear to go abseiling, plus you can get more info about the falls you're hiking. It's our suggestion for ILP volunteers who are looking for a bit of adventure.

In the past, groups have gone with a few separate companies — one is Casa Sipi Falls Lodge. We have their contact info below under "Places To Stay". It's $50 to do the abseiling which is 100% recommended if you talk to our ILP volunteers. You can do a tour independently with Casa Sipi Falls Lodge, or also stay there for the night (which we recommend)

Or you can contact Denis, who is our go-to man for all the safari adventures. You can contact him on WhatsApp here: (+256 759 046262). He also arranges tours to the Wanale Ridge and Sipi Falls.

Other groups have gone with Mulima Mountain Adventures too. They have a couple of different tour options for abseiling and hiking around the Sipi Falls area.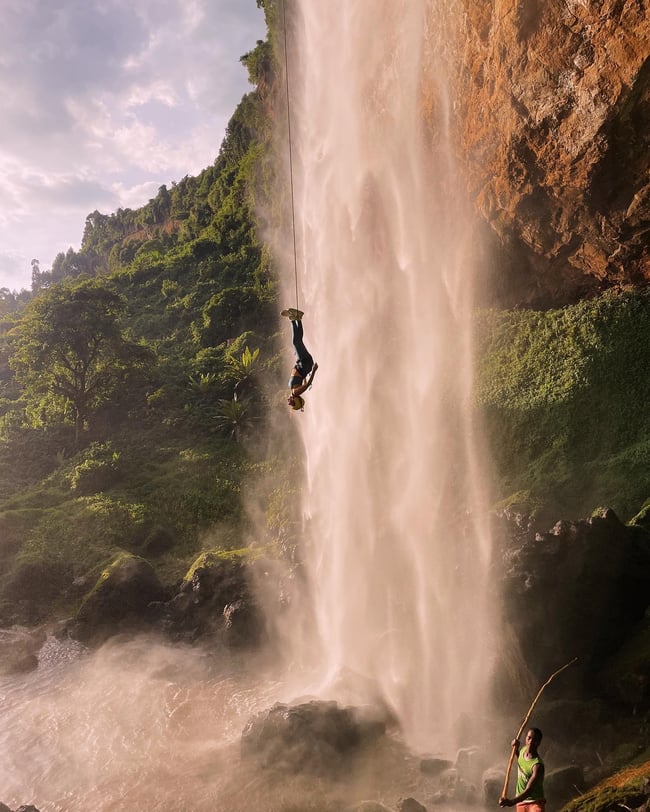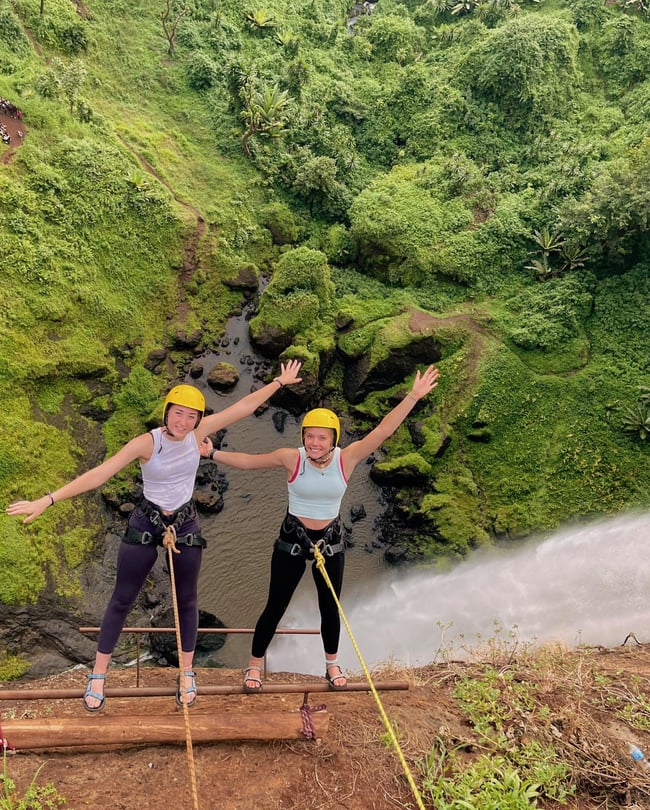 Go Local (Hike Only)
If you go with a local guide just head to the Sipi town and start asking around (or wait long enough for people to approach you). Plan on paying 2,000 - 5,000 schillings for a local guide (usually kids trying to earn money after school). If you have room in your budget to pay more, it goes a long way. You can find a few kids willing you show you the way in the village. For this option, you'll need to taxi up to Sipi Village and ask around to get a local guide who can take you to the falls.
It's about a 15 minute hike from the village to the falls.
Go On Your Own (Hike Only)
You don't need to go with a guide if you don't want to (though the locals will tell you that you'll get lost and you have to have a guide ... not necessarily true). Since it's just a walk from Sipi Town to the falls, you can go on your own if you'd like. Just walk along the main street towards the falls — you can see the largest waterfall from the main street. You'll need to walk through a lodge's property (again, someone may tell you that you have to join a tour, but you don't). You'll need to pay a fee to pass through which is about $1.
Once you go through the lodge's property and into the jungle, keep following the trail for about 10 minutes. You'll walk over a wooden bridge and a small meadow then boom — you're at the top of Sipi Falls.
If you want to hike to the bottom of the falls which is highly recommended, you will need to go with a guide. The trail isn't as clear cut plus you'll be walking through private property. Best to do that part with a guide.
Hike Even Farther
Mount Elgon is part of the mountain range that Sipi Fall is apart of — it's the 4th highest peak in all of Africa and is nicknamed Uganda's Kilimanjaro. You'll want to plan 3-6 days to handle the trek but it's definitely the adventure more hardcore hikers are looking for. There are a few trailheads, but one is just a continuation of Sipi Falls so if you love what you're seeing around Sipi Falls, you'll probably love the hike to the summit of Mount Elgon. Get more info on that here.

Getting There
Get To Mbale
I'm guessing you'll be heading here from Kampala or somewhere nearby. You're going to want to get yourself to Mbale. We have some transportation suggestions on this Mbale city guide.
It takes about 4-8 hours to get from Kampala to Mbale. If you'll be staying with the Casa Sipi Falls Lodge, they have transportation arrangements.
Mbale To Sipi
When you're in Mbale, you're really close. You can either hire a taxi to take you up to the Sipi Village (best if you're going to hire a local guide to take you to the falls) or catch a mini bus to do the same. Just make your way to the minibus station and ask around to the minibus who'll take you up there. You'll need to wait for the bus to fill up, which can take an hour or two.
Or arrange options with your tour. If you'll be staying at the Casa Sipi Lodge, you can just head there, and you'll have transportation arranged as a part of your tour. Same goes with Denis: whoever you book with, you'll just need to figure out where you need to be before the start of your hike. You'll be able to catch a taxi in Mbale to take you to where you need to go (if necessary) once you arrive.
It's about an hour to get from Mbale to Sipi, though a mountainous road.
Hiking Wanale Ridge
Complete with mudslides, branch ladders and waterfalls, this is one of the more intense hikes you'll experience in Uganda, but so worth it. Past ILP groups have been able to add on the Wanale Ridge hike while they're near Mbale to go to Sipi Falls. Wanale Ridge is right on the border of Mt. Elgon National Park, about an hour away from Sipi Falls and just on the outskirts of Mbale city. You can trek up with a guide, set up camp for the night, and wake up to a breakfast right on the ridge, while the sunrise is warming up the surrounding hills, then hike back down. It's an absolute must, if you ask me.
Get all the details on hiking Wanale ridge here (along with some pretty spectacular pictures of what's waiting for you).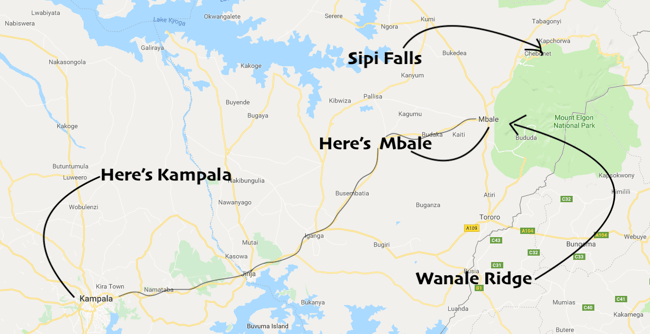 Places To Stay For Sipi Falls
Since it's a bit of trek to get here from Kampala, you can find a couple of places to stay right near the falls, letting you arrive in the evening, get a good night's rest, then wake up early for a hike. You can also stay in Mbale (or Sipi for that matter, though options are really basic) if you'd rather, but most volunteers typically stay at the Casa Sipi Falls Lodge and go that route for hiring a tour guide.
Stay At Casa Sipi Falls Lodge
It's very close to Sipi Falls and you can stay in rooms that look like traditional huts, but with some conveniences you recognize from home (like a plumbing and a comfortable bed, along with WiFi and power sockets so you can charge your phone). Kelsey, an ILP volunteer, also mentions that "the lodge does offer some activities you can take advantage of, like a morning walk to see the sunrise, a walk through the forest to see a few more waterfalls, and a coffee tour where you can make your own coffee from beans".
Room prices range, but you can get a double room for $60 and a triple room for $80 a night, which includes breakfast. Not bad if you're splitting that with a friend or two.

Get more information here.
They do offer abseiling, too and meals. One ILP group paid around $170 per person to stay at the lodge, have transportation arranged for them, abseiling, and meals, plus the chance to hike Wanale Ridge which is quite the deal.
Insider Tips
A Bit About The Hikes
The hike to Sipi Falls is "pretty hard so be aware of that" according to Kelsey. "But once you get to the bottom waterfall, you can repel down the side of it which is basically epic". Plan on paying about $50 USD for that epic experience if you're going with Casa Sipi Falls Lodge.
If you don't want to hike the falls, you can hire a taxi to take you up and back to a pretty viewpoint.
The hike to the ridge is rustic, with piles of branches to climb up instead of ladders and some muddy pathways. Plan on going slow and being careful to get those stellar views!
When To Visit?
Year round is a good bet, though the power of the falls will fluctuate according to all the rain. In the rainy season (usually months like March, April and May get the most rain, though it tends to rain a bit more in November as well) you'll see a fuller, more powerful waterfall and more greenery, though every other month of the year is worth visiting in, too. Just so you know, if you visit when it's rainier, you'll have to deal with mud when hiking, along with greener views.
If you're looking for a time table, June to August and December to March are the "best" time to visit — you'll find drier trails during these months.

If You Do Some Swimming
There's a bit of swimming pool at the base of the main fall and you're totally welcome to take a dip. However, keep in mind the culture of the country you're in. Uganda is a very religious and conservative country and culture and we ask that you keep that in mind when hiking and swimming. After your swim, make sure you're putting on your loose flowy clothes that keep you covered up.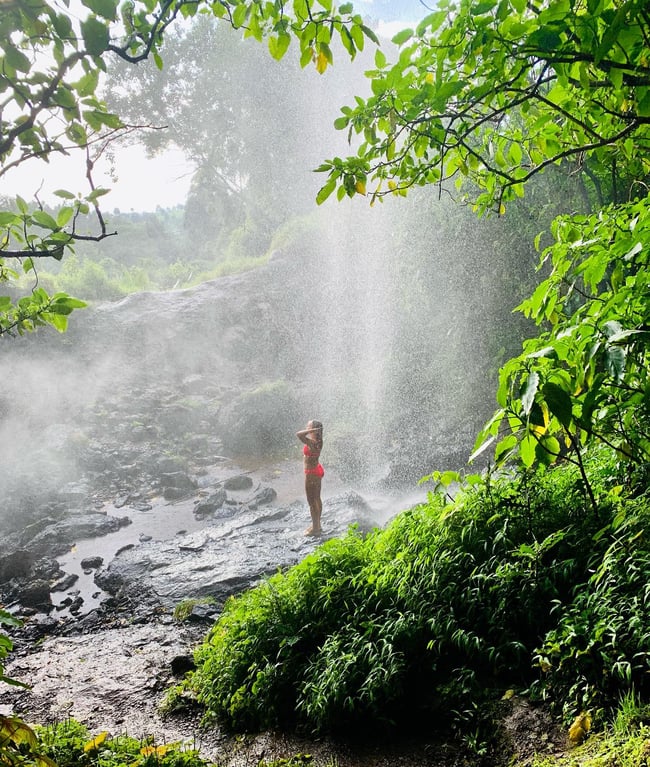 Ready to pack your bags and come to Africa?
We thought so! Come see what at typical day looks like, more pictures of the country (and neighborhood) you'll call home, and other info (like what to expect before living in Africa) you'll need before packing up your back and living in Uganda!